Almost all TikTokers are looking for an easy way to increase their followers and video views. We all know about long-term strategies but is there a definite answer to how to get 1k followers on TikTok in 5 minutes?
No matter if you use TikTok to grow your business or want to use it personally and make money, we have your answer. In this article, we will show you how to get 1k followers on TikTok in 5 minutes hacks and tricks.
How To Get 1k Followers On TikTok In 5 Minutes
Having lots of followers is what many TikTokers are looking for these days. To make it short, there are two different methods you can try to increase your followers; either buy them or attract users organically.
Each of these methods has its pros and cons. For example, if you decide to buy followers the audience you receive might not be interested in your content. On the other hand, attracting users organically can take more time and effort. So, let's dive into each method to find out which one works for you.
Method 1: Buy TikTok Followers
The easiest solution to get 1k followers on TikTok in 5 minutes is buying them. However, this method has its own risks and cons such as losing engagement rate, getting banned on the platform, or receiving inactive/fake accounts. Considering these possible issues, if you still want to know how to get 1000 followers on TikTok in 1 minute for free, we will show you some of the safest platforms to buy TikTok followers.
1. Insta Followers
The name says it's all about Instagram, but in fact, this platform provides followers for Instagram, TikTok, Twitter, and Facebook. With Insta Followers, it takes only a few seconds to get followers and they guarantee your account's safety. After purchasing your package, you will immediately receive the followers. (For packages with a larger number of followers, it might take more time).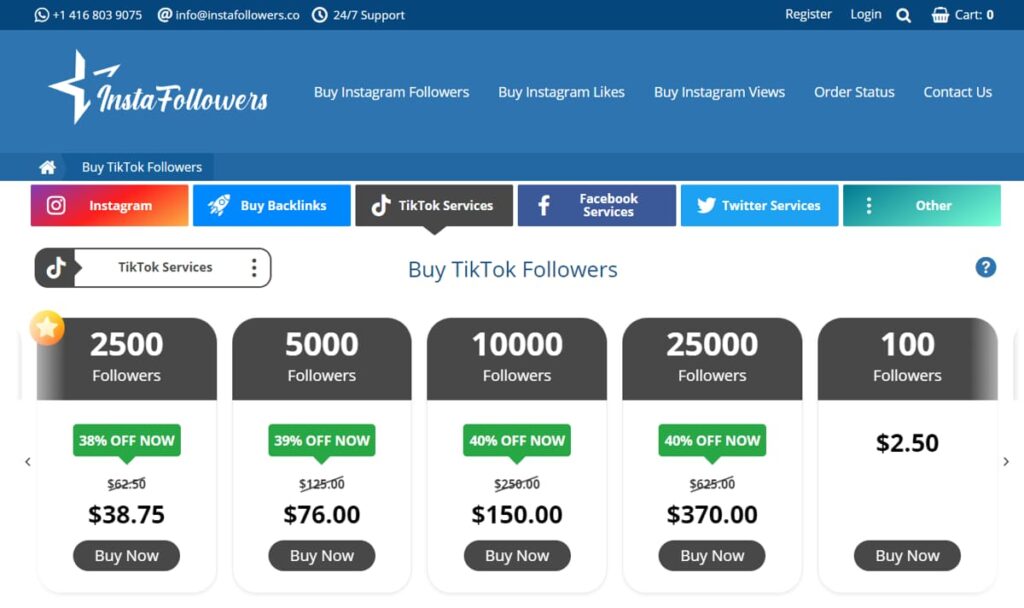 The main problem with this tool is that it doesn't provide any targeting options for your followers. This means the audience you receive might not be interested in your content and can unfollow you after a while.
Insta Followers Pros
No password is required: You will receive the bought followers by providing your profile link.
24*7 Customer support: You can contact their team on WhatsApp in case of any issues.
Fast Delivery
Refund guarantee: If you don't receive your followers by the end of the estimated time (for larger packs can be up to 3 days), you will get your money back.
Insta Followers Pricings
Want to use Insta Followers to increase your TikTok followers? Here is the pricing of their packages:
100 Followers: $2.50
2500 Followers: $38.75
5000 Followers: $76.00
10000 Followers: $150.00
25000 Followers: 370.00
2. Social Wick
With over 11M orders, Social Wick is the answer to those who want to know how to get 1k followers on TikTok in 5 minutes. This platform supports Instagram, YouTube, TikTok, Twitter, Facebook, Twitch, and Spotify and allows you to purchase any kind of interaction you need. (Likes, shares, followers, views, comments, etc.).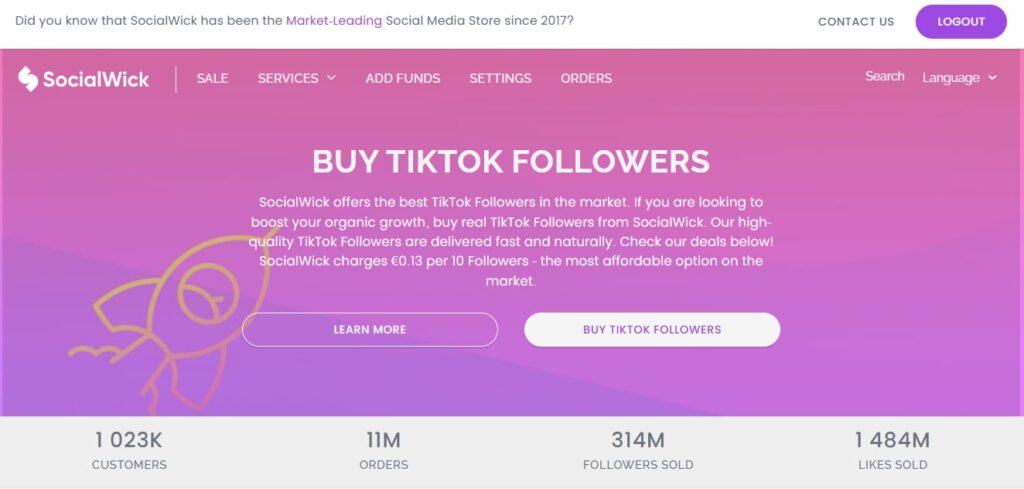 Social Wick Pros
Fast Delivery: Within minutes of making a purchase, their team will start working on delivering your followers, likes, and other purchased packs.
Easy To Use.
24/7 Customer Support: If a problem occurs, you can always alert their support team.
Free refill: If you lose your followers within 60 days, they will fill it again for you.
No Password Required.
Social Wick Pricing
One of the good points about Social Wick is the customized plans that allow you to set how many followers you like and buy the package. Here is how much they cost:
1000 Followers: $12.99
2500 Followers: $32.48
5000 Followers: $64.95
10000 Followers: $129.90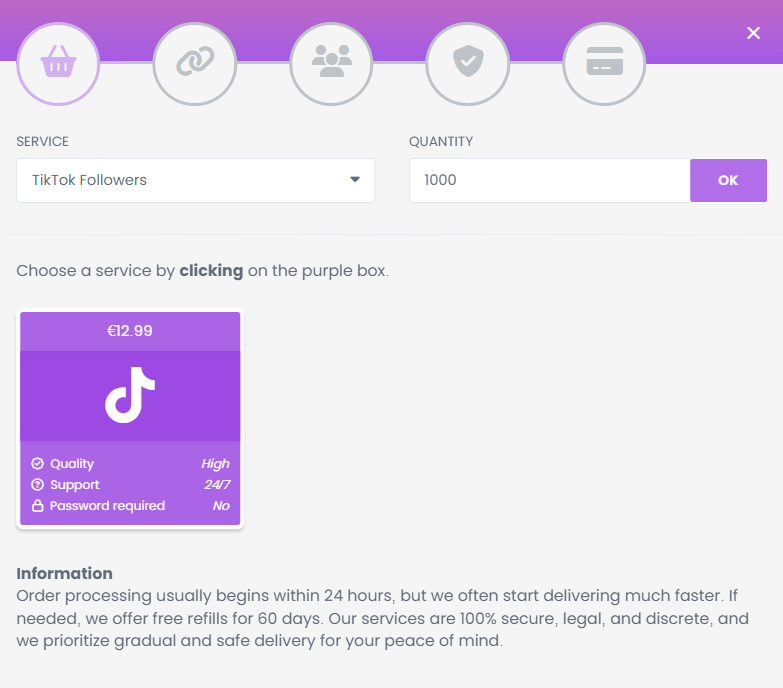 3. Tik Fuel
Another safe app that helps you find out how to get 1k followers on TikTok in 5 minutes is Tik Fuel. This app claims to provide organic and real users (no bot or fake accounts) that will keep interacting with your posts. All you need to do is choose the number of followers you need and make the payment. After five minutes, you will start receiving your followers gradually.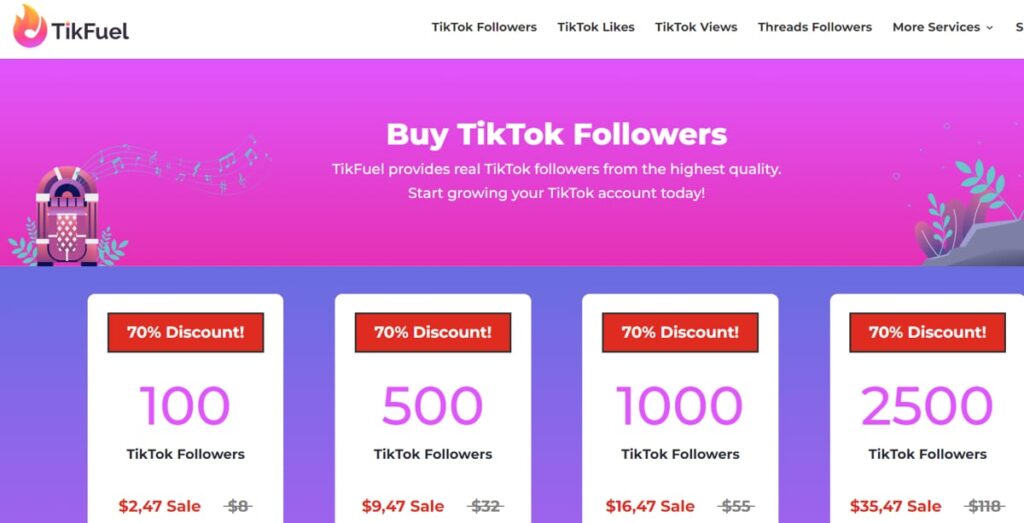 Tik Fuel Pros
Real Followers: You get accounts created by real people in their network. This way, buying followers is harm-free and fully risk-free.
Quick Delivery: You will receive your purchased pack gradually without passing TikTok limits.
Life Time Guarantee.
24/7 Support.
Tik Fuel Pricing
Are you thinking about using TikFuel to increase your followers? Here is the pricing of their plans
100 Followers: $2.47
500 Followers: $9.47
1000 Followers: $16.47
2500 Followers: $35.47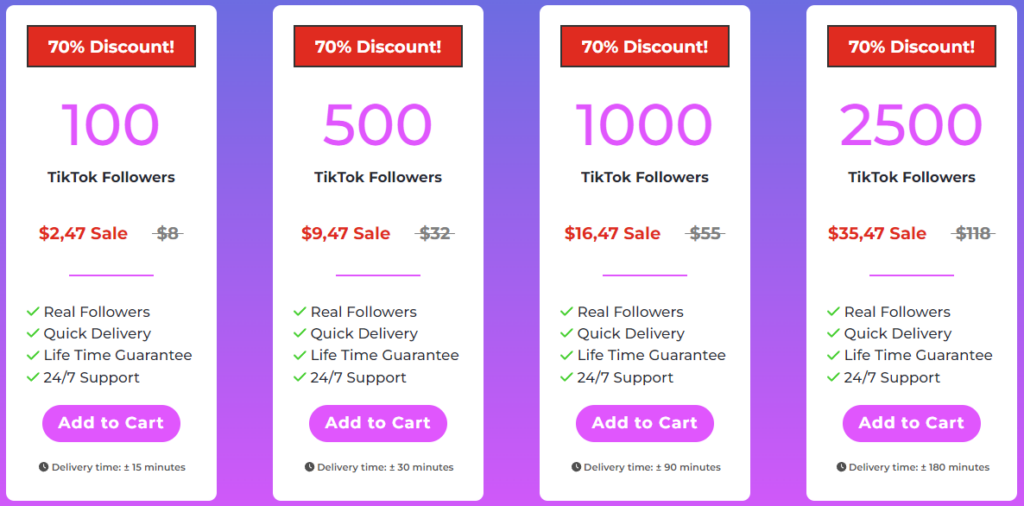 Method 2: Get 1000 Free TikTok Followers Organically
Growing your TikTok following organically may take more time and effort, but it can lead to a more engaged and loyal audience. Here are some organic methods to help you get 1000 free TikTok followers.
1. Duet with Others to Get More Followers
One of the unique features on TikTok that you can't find elsewhere is Duet. Using this feature you can collaborate with other users by creating split-screen videos. By duetting with well-known creators or trending TikTok videos, you have more chances to appear on the 'For You' page.
Make sure to choose duet partners whose style and interests align with yours to ensure that you attract the right audience. If you are familiar with this feature and know how to duet on TikTok, start using this opportunity now to reach 1,000 TikTok followers.
2. Use Hashtags
Similar to all social media platforms, hashtags can help your content visibility by suggesting it to a targeted audience. When you include relevant and trending TikTok hashtags in your video caption, a wider audience can discover and interact with it.
So, research popular hashtags within your niche and add them to your videos. Also, if you are using TikTok for business, consider creating your own unique branded hashtags to encourage user-generated content and community engagement.
3. Monitor Your TikTok Analytics
To improve your content strategy, find gaps, and enhance it, it's essential to analyze your performance once in a while. By reviewing data such as views, likes, shares, and audience demographics, you can gain insights into what types of content your audience likes.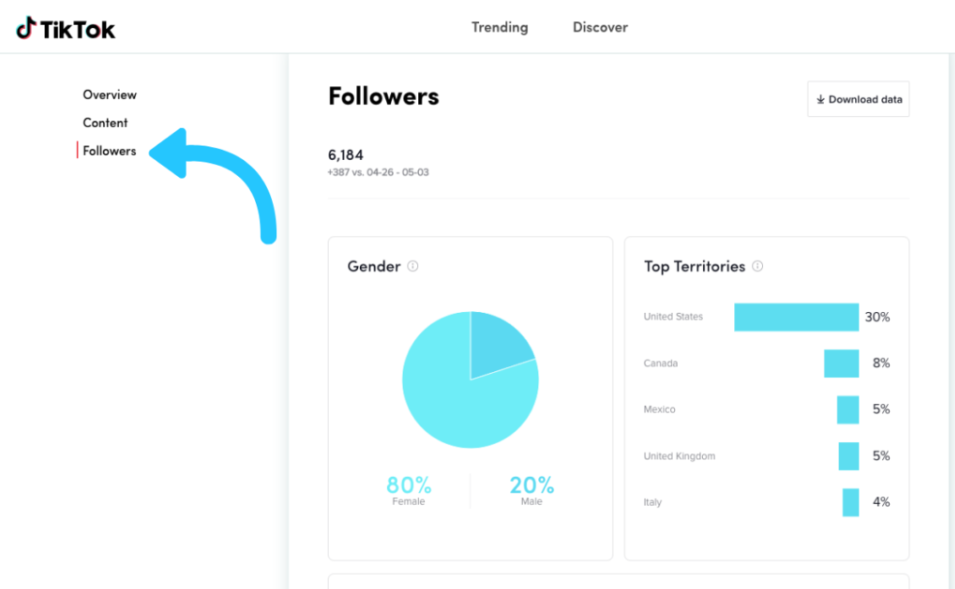 The good news is that the app itself generates this data for you and you can check on your profile, under the Analytics tab.
4. Jump Into Trends
We all know TikTok with its trends and challenges! For those who want to know how to get 1k followers on TikTok in 5 minutes for free, creating content around trends is the quickest solution. TikTok algorithm detects audio, filters, and subjects that are becoming viral and suggests them to more users.
So, explore the 'For You' page regularly to find trending audios and hashtags in order to create content around it.
5. Find The Best Time For Sharing Posts
The next step in how to get 1k followers on TikTok in 5 minutes free, is finding when your target audience is most active on TikTok. Understanding when your target audience is most active on TikTok is crucial for maximizing your video's reach. The best time to post depends on your location, audience, and niche.
To find the best times to post on TikTok, keep your eyes on video views and your analytics. You can test at different hours of the day to find which one works the best for you.
Read Also: The Best Time To Post On Instagram
6. Collaborate With Influencers
With the rise of social media influencers across different niches, there is a new effective way for brands and businesses to grow their audience. Collaborating with influencers is a powerful strategy for growing your TikTok following and boosting your reach to a wider and more engaged audience.
Influencers on TikTok have already established themselves in their niches, and partnering with them can provide you with valuable exposure. So, the next solution for how to get 1k followers on TikTok in a 5-minute hack is by working with your niche creators. But how to find them? We have your answer in the next heading.  
How To Find Influencers Collaborate With?
Up to here, we've discussed different methods for getting 1000 free TikTok followers organically and inorganically. As we've mentioned, one of the easiest and quickest ways to increase your followers is by finding and collaborating with influencers in your niche. Now let's make this process even easier for you with the help of Ainfluencer.
Ainfluencer is a 100% free end-to-end influencer marketing platform focused on Instagram and TikTok that connects brands with their best influencer match. In this marketplace, brands can discover influencers by niche, country, gender, audience type, and more than 20 criteria to invite for collaborations.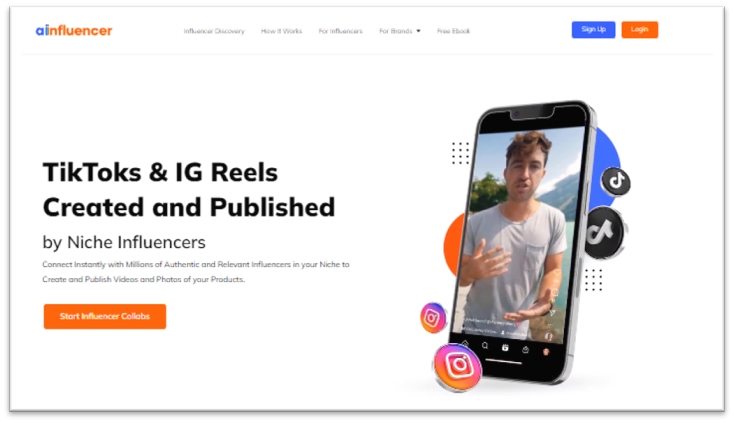 Using Ainfluencer, in a few simple steps you quickly set up your campaign and get exposed to over 500,000 influencers on TikTok and Instagram. This is when you sit back and receive offers and proposals from influencers in your niche. Negotiate with them, pay them, and get your partnership collaborations rolling out.
Conclusion
Getting 1k followers on TikTok in 5 minutes is not an easy task, but it's possible with the right strategies. While buying followers may seem like a quick solution, it's not recommended as it can harm your engagement rate and risk getting banned on the platform. Instead, focus on organic growth by following the methods we mentioned in this article to get real and targeted followers.
FAQs
1. Is It Possible To Buy Followers On TikTok For Quick Growth?
While it's technically possible to purchase followers, it's not a recommended strategy. These followers are often low-quality and may not engage with your content. It's better to focus on organic growth through engaging content and genuine interactions.
2. Should I Switch To A TikTok Pro Account For Better Analytics?
Switching to a TikTok Pro account is a good idea as it provides valuable insights into your content's performance. You can track views, engagement, and audience demographics, which can help you refine your content strategy.
3. What's The Best Way To Collaborate With Other TikTok Creators?
Collaborations on TikTok can be a great way to gain followers. Start by reaching out to creators who share a similar audience or niche. Be clear about your collaboration idea and how it benefits both parties. Remember that successful collaborations often involve creativity and mutual promotion.
4. How Can I Keep My TikTok Content Original and avoid copying others?
While you can draw inspiration from popular trends, ensure you add your unique twist or personality to each video. Try to showcase your creativity, humor, or expertise in a way that sets you apart from others in your niche.