Nowadays, it's increasingly challenging to overlook the widespread popularity of social media platforms. Among these platforms, one application that stands out is TikTok. TikTok as an advertising platform gets chosen for presenting different TikTok brands.
As a result of what we said, brands use TikTok to make money and get noticed in the social media world. This article will show you what TikTok marketing is about and different famous Tiktok brands, highlighting how business and social media work together.
What Is TikTok Marketing?
With the use of social media globally, many marketers are utilizing social media platforms to improve their brand awareness and increase audience engagement and website traffic. TikTok stands out as one such platform, boasting a membership of over a billion users. Marketers can
TikTok marketing involves the promotion of brands and engagement with potential customers through various forms of content. With its active user community and lots of funny, viral videos, TikTok offers unique opportunities for marketers.
You can use TikTok to demonstrate how to use products and show different ways they can be used. You can also participate in challenges, follow trends, and create funny content to entertain your audience. Additionally, TikTok provides the opportunity to sell products, attract potential customers, and enhance brand recognition.
10 Famous Brands on TikTok
Now that you understand the advantages of TikTok marketing, let's take a look at some TikTok brands that are collaborating with TikTok and making their presence known on this platform.
1. Gymshark
Are you in search of the best gym clothing outfits that perfectly match? Gymshark is one of the best British TikTok Brands that present fitness clothing and accessory acknowledged by Ben Francis, located in Solihull, England. It started in June 2012, creating and selling its fitness clothing. By 2020, Gymshark's value was more than 1 billion.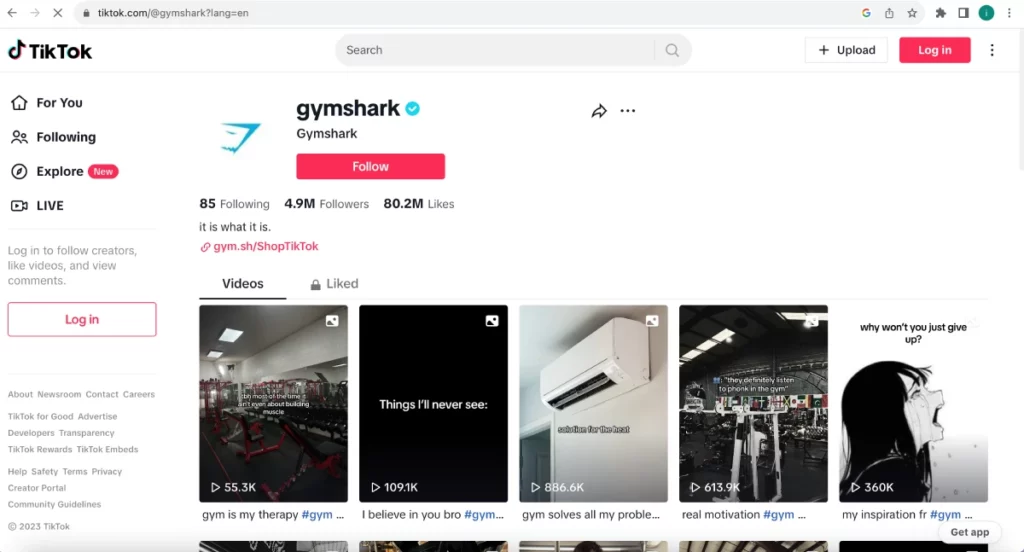 It is now a big fitness brand on TikTok with 4.9 million followers. They connect with fitness lovers using workout challenges, motivating health transformation stories, and relatable fitness humor, making the gym feel friendly and inviting.
2. Levi's
Levi Strauss & Co. is a renowned American clothing company famous globally for its Levi's brand of denim jeans. It all began in May 1853 when Levi Strauss, a German-Jewish immigrant, relocated from Buttenheim, Bavaria, to San Francisco, California. He did this to establish a West Coast branch of his brother's New York dry goods business. With 1.2 million TikTok followers, Levi's offers a peek into its brand through educational videos.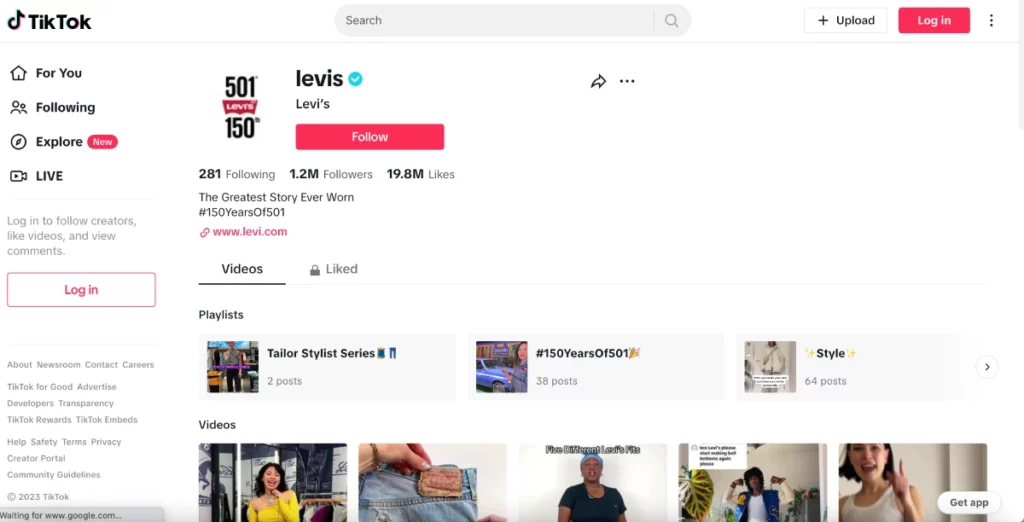 3. Crocs
Looking for comfortable shoes? Crocs started with Andrew Reddyhoff creating the original sandal design. He made a comfy foam boat shoe that's slip-resistant and can even float, perfect for water activities. Their successful approach with 1.2 million followers involves unique music, hashtags created just for the brand, and lively, colorful content that keeps viewers entertained.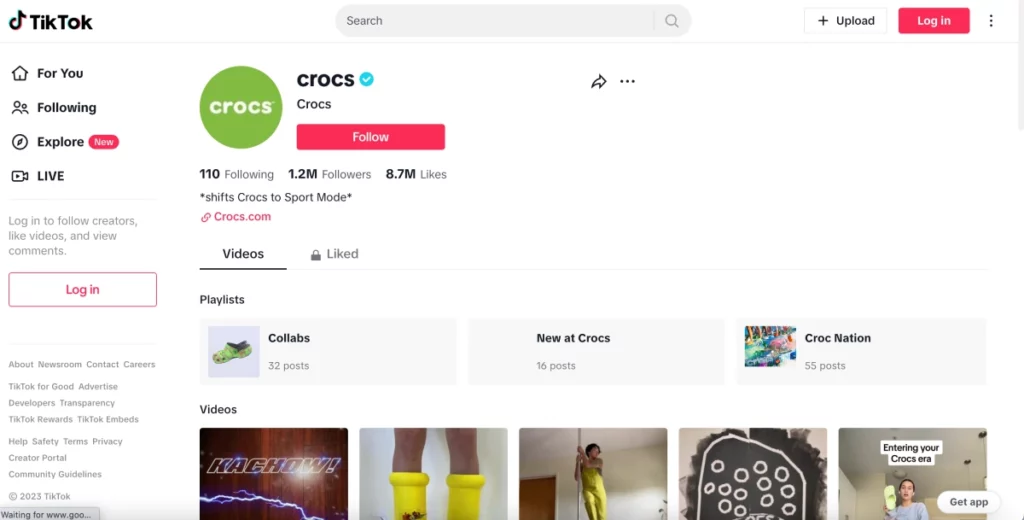 4. Guess
In 1982, Guess as a TikTok fashion brand began when Georges, Maurice, Armand, and Paul Marciano made a style book. They then started selling jeans with light, fitted denim and ankle zippers. They grew by adding licensed products like watches, eyewear, and fragrances. Guess has 301.9 k followers on TikTok. What's interesting is that they're among the rare fashion TikTok brands on the platform. Their content is appealing, and they teamed up with TikTok.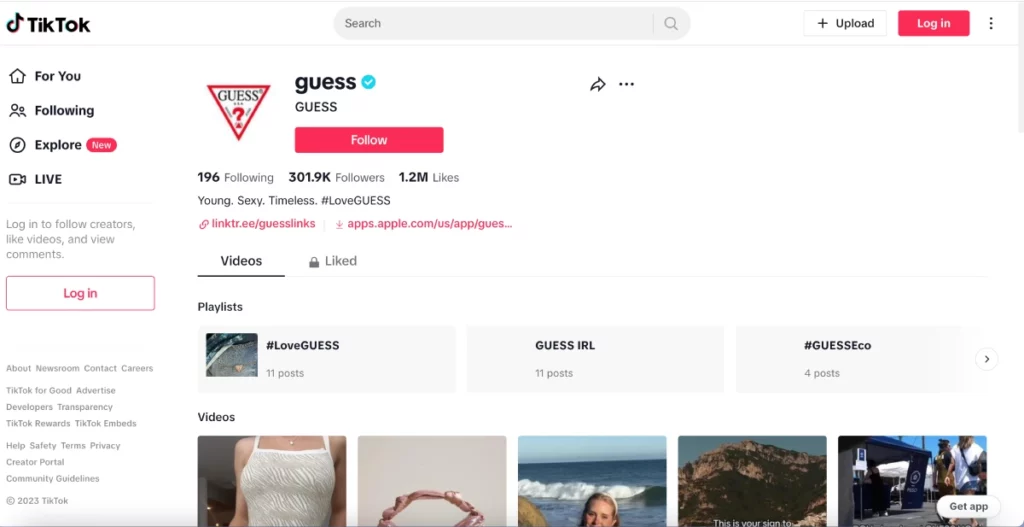 5. Zara
A very popular and common fashion brand on TikTok is ZARA, a Spanish multinational retail clothing chain, that is renowned for its fast-fashion approach. The brand offers a wide range of clothing, accessories, shoes, beauty products, and perfumes. The company's headquarters are located in Arteixo, A Coruña, Galicia. ZARA holds the distinction of being the largest company within the Inditex group. Zara now has 8.6 million followers and is very productive on TikTok.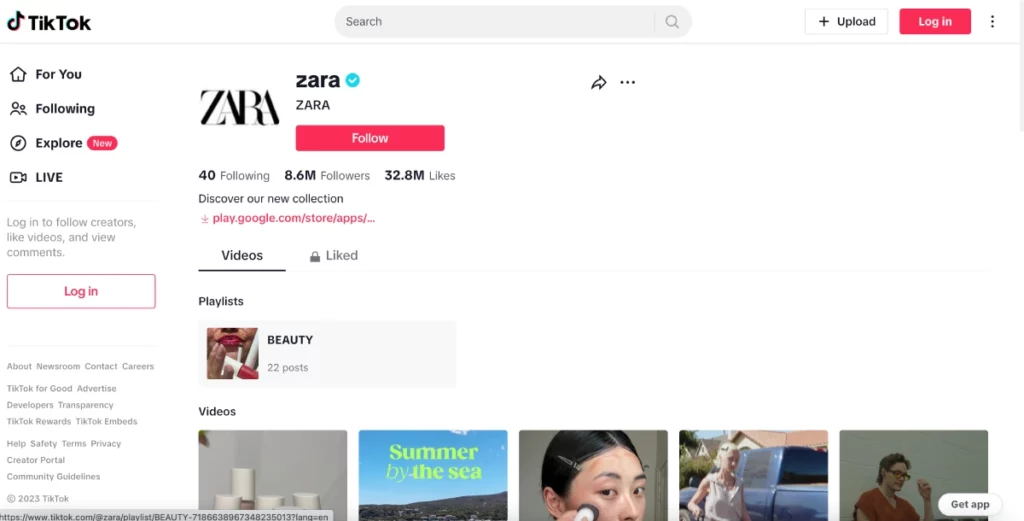 6. Prada
Can you name a very luxury famous brand? Prada is an Italian luxury fashion brand established in 1913 by Mario Prada in Milan. They're known for leather handbags, shoes, travel gear, and fashionable accessories. Prada collaborates with Luxottica for eyewear and L'Oréal for fragrances.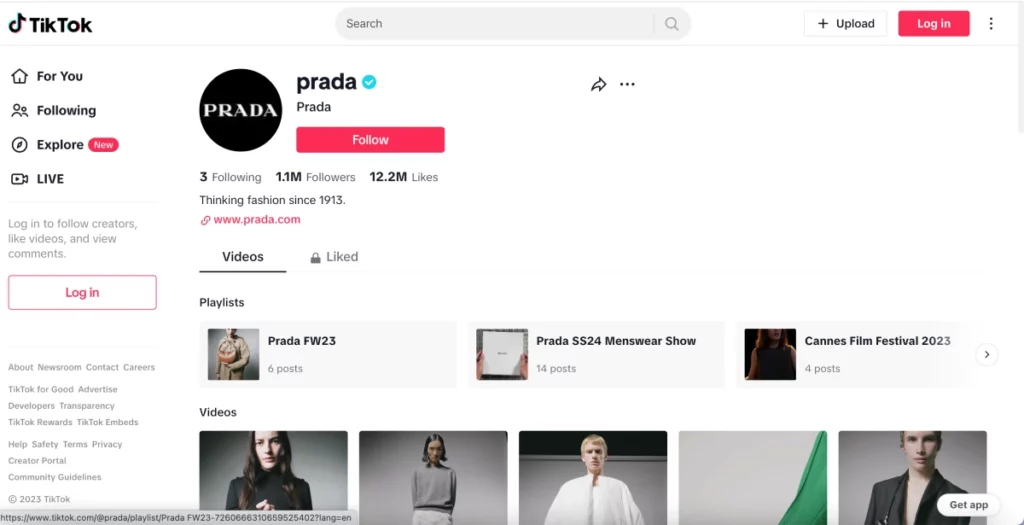 Prada's approach to TikTok mirrors its product strategy, focusing on quality rather than quantity. Despite posting fewer than 20 times on the platform, their luxury brand content consistently receives millions of views and tens of thousands of likes. With 1.1 million followers on TikTok, it has become a very popular brand on this platform.
Read also: How To Use TikTok For Affiliate Marketing 
7. Calvin Klein
Calvin Richard Klein, born on November 19, 1942, is an American fashion designer. He started the company that eventually became Calvin Klein Inc. in 1968. Besides clothes, he's also known for perfumes, watches, and jewelry carrying his name. Calvin Klein with 1.5 million followers on TikTok is creating highly fashion videos and challenges as one of the wonderful TikTok brands.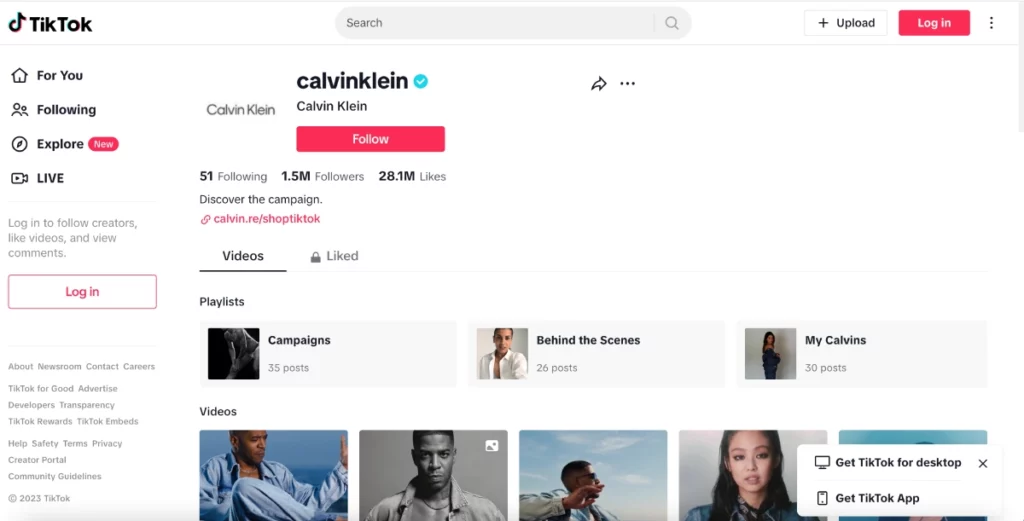 8. E.l.f
Looking for high-quality skin products? E.l.f. is a cosmetics brand headquartered in Oakland, California, USA. It was established by Joseph Shamah and Scott Vincent Borba in 2004. Their product range comprises skincare, bath items, mineral-based makeup, professional tools, eyeliners, lipsticks, glosses, blushes, bronzers, brushes, mascara, and more. With 1.1 million followers on TikTok, E.l.f. Is doing pretty well on this social media platform.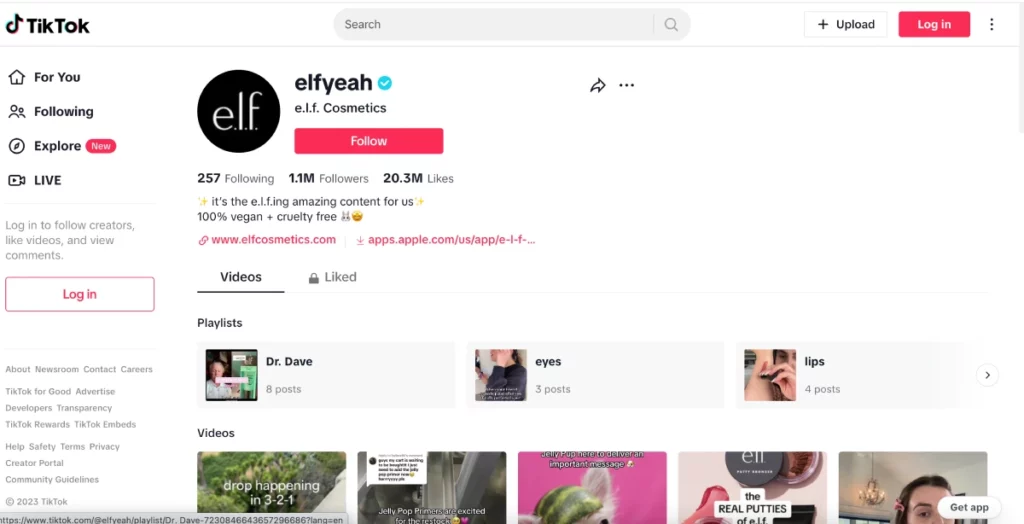 9. Fenty Beauty
Seeking colorful makeup supplies? Fenty Beauty, created by Rihanna, is a cosmetics brand that debuted on September 8, 2017. Renowned for its wide inclusivity across diverse skin tones, its Pro Filt'R foundation gained immense popularity upon its initial launch. The original foundation lineup offered 40 shades, which has now grown to encompass 50. With 2.5 million followers TikTok is very popular on this platform.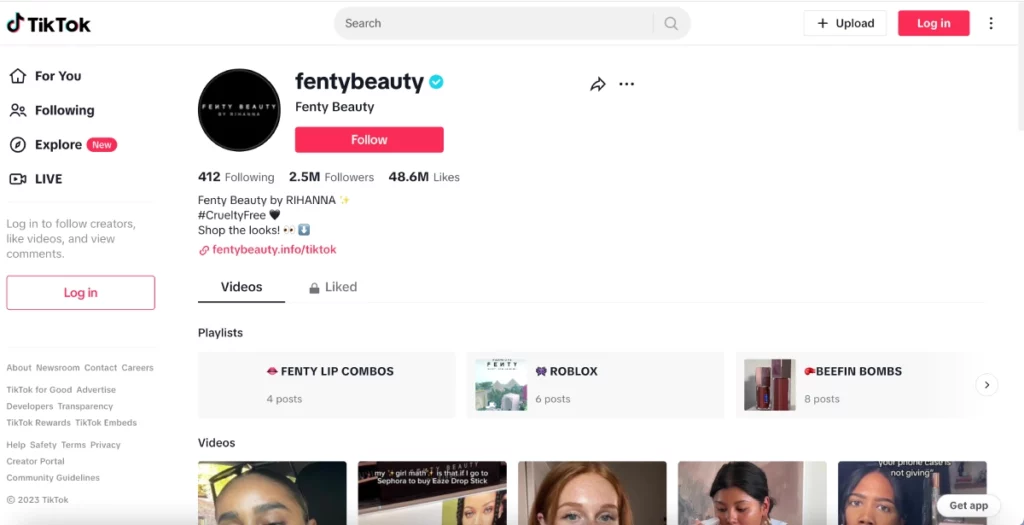 10. Lululemon
Lululemon Athletica Inc., often referred to as Lululemon is a Canadian multinational athletic apparel retailer. Its headquarters are located in British Columbia, and it is incorporated in Delaware, United States. Lululemon is the ultimate destination for the world's softest leggings. Luluemon has 768.3 k followers on TikTok and is having some sports challenges for its audiences.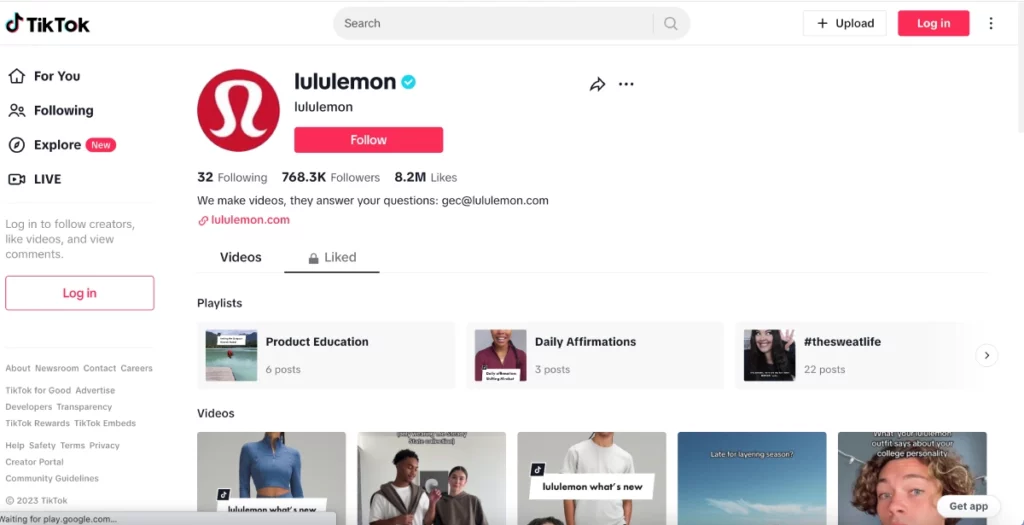 How to Collaborate With Brands
Whether you're an influencer or a brand struggling to establish connections, don't worry. Ainfluencer is a leading influencer marketing platform that connects content creators and influencers with brands looking for partnerships. With Ainfluencer, you can access a wide range of brand campaigns and opportunities that match your content style and audience.
With a user-friendly interface, creators can easily craft their influencer profiles and search for brands using robust filters. The best part? Ainfluencer is entirely free for both influencers and brands. Don't waste a second and sign up.
Conclusion
TikTok is a dynamic platform for brands to connect innovatively with audiences. TikTok brands like Gymshark and Calvin Klein show different strategies to engage users. Despite varying success, TikTok empowers brands with creativity and authenticity, enhancing digital excellence. As TikTok evolves, exciting brand campaigns will continue to shape marketing in a changing digital age.
FAQs
1. What TikTok Brands Should Not Do?
A major mistake with TikTok business marketing is pushing sales too aggressively. TikTok is about fun and engaging content, not constant sales pitches. Overdoing sales can discourage potential followers and customers.
2. How Do I Find TikTok Brands?
Utilizing TikTok's Discover page is a helpful method to find relevant brand hashtags. Even within a highly specific niche, it's likely you'll find at least one Creator producing content in that area. Ainflunecer is a top influencer marketing platform that links content creators and influencers with brands seeking collaborations. Through Ainfluencer, you can find brand campaigns and opportunities that suit your content and audience.