With over one billion active users on TikTok every month, there is a huge competition between users to increase their followers and likes. TikTok captions are one of the places you can invite content visitors to interact with your content and stop scrolling. But how to write an engaging caption?
No matter if you are an influencer who is looking to find out how to earn money on TikTok or a business owner who wants to grow, your captions are one of the important things to consider. In this article, we will show you some of the best captions for TikTok videos that you can add to make your videos more engaging. 
What Are TikTok Captions?
Similar to other social media platforms, TikTok provides a section under your content to provide context, add humor, convey emotions, or ask questions. You can tag people, add hashtags, or write engaging text, up to 2200 characters, to invite users to interact with your content.
What To Include In TikTok Caption?
Many users wonder what to include in a caption to help its discoverability. Here are some key factors to consider.
Text: A brief description of what your video is about
Calls-to-Action (CTAs): Encourage viewers to like, share, comment, or follow your profile through CTAs.
Hashtags: Include relevant and trending TikTok hashtags to increase the discoverability of your video within TikTok's algorithm.
Top TikTok Caption Ideas
Let's read some of the best examples of context you can write in the caption of your TikTok videos. For better results, make sure to find the best hashtags, end with a call to action, and find the best time to post on TikTok to maximize your reach. 
Short TikTok Captions
Almost everyone knows how to use TikTok and how to add captions on TikTok. So let's dive straight into some of the best ideas. If you don't want your captions on TikTok to look messy, you can write some short and engaging captions. Here are some short TikTok captions that go viral: 
Watch till the end!
Dance vibes only!
This is not a drill.
TikTok time – let's go!
Not sure how I feel about this
More issues than Vogue.
This is your sign.
The rhythm of my life.
The moment you've been waiting for.
Life's a TikTok party!
Infinite creativity, 60 seconds! 
When you can't decide between ____ and _____!
We've been waiting all year for this.
I'm making magic happen.
Look what just dropped.
Haters are my greatest motivators.
I love this trend so much.
Ready, set, TikTok! 🎬
You need to try this.
Know your worth. Then add tax.
 _______ school is in session.
TikTok trends, I'm in! 📈🔥
Thanks but no thanks.
Escape the ordinary.
Run don't walk to snatch this up.
When nothing goes right, go left. 
It's a vibe.
I see it, I like it, I want it, I got it.
Reality called, so I hung up.
Funny TikTok Captions
Want to add pieces of humor to your TikTok posts? Here are some funny TikTok captions you can try. 
Life is like hell until we die.
Well, what did you expect?
Don't ask me the time, it runs late just like me.
Life happens. Coffee helps.
The best duets are with me and my bed.
 My jaw is on the floor.
The party doesn't start till I TikTok.
Do you think that hashtags look exactly like waffles? Or it's only me!
I should have gone to bed hours ago.
 Don't try this at home.
An Oscar-worthy performance.
Eat, sleep, do TikTok, and repeat.
I was today years old when I learned this.
I didn't go to the gym today, but I did spend hours trying to learn this dance, so that's pretty much the same thing.
My Day: Wake up, TikTok, Sleep.
My life isn't perfect but it's the best thing that's ever happened to me.
My horoscope told me to try new things, so I did this.
I'm doing great thanks for asking.
If I was a writer I'd have a better caption.
It's me, the best dancer on your feed.
After Tuesdays, even the calendar goes WTF.
If you mess up, just tell everyone you made a new dance for TikTok.
We're just in a silly goofy mood.
Light travels faster than sound. This is why some people appear bright until they speak.
Friday, this is my second favorite F word.
If you laugh, you have to like this video.
They say don't try this at home… so I went to my friend's home!
My excuse for any situation is, 'Sorry, I was making a TikTok'.
Aesthetic captions for TikTok
Want to make your captions look unique and aesthetic? Here are some of the best tiktok captions ideas you can choose and add to your videos.
I was born to do this.
Dancing to the rhythm of beauty.
Never settle.
You're right. I'm NOT perfect. But I'm unique!
Be yourself; everyone else is already taken.
Do whatever makes you happiest.
It's the little things.
Let your soul dance through the aesthetics.
Be happy. Be bright. Be YOU.
 Only looking forward.
I am here to avoid my friends on Facebook and Instagram.
If you can dream it then you can do it.
Why look up at the stars when the biggest star is me.
There are no winners in life…only survivors.
Calm vibes, soft hues – my aesthetic sanctuary. 
I know I left my sanity around here somewhere.
Cute accessories help people to build confidence.
Let's dance like it's an aesthetic dream!
I should've left my phone at home 'cause this is a disaster.
Smile…it confuses people..!!
Practicing the next TikTok dance.
Finding beauty in the little things – like TikTok filters! 
I did the whole thing in one take.
What dreams are made of.
Say yes to new adventures.
One is never over-dressed or underdressed with a Little Black Dress.
Wifi. Food. My bed. Perfection.
TikTok Captions With Questions
Want to invite your viewers to comment on your posts with good TikTok captions? Here are some captions for Tikok with questions.
What do you think?
But why?
Can you guess what happens next? Comment your predictions! 👇
Do you agree?
Who else is obsessed with TikTok trends? Let's connect!
Do you agree?
Ready for a challenge? Try this dance and tag me!
How do you think they did?
What's your go-to dance move when no one's watching?
Tag a friend who needs some TikTok inspiration!
How do we feel about this?
Favorite TikTok trend: Share yours in the comments
A blessing or a curse?
Who's up for a duet? Let's create magic together!
Anyone else or just me?
Which one would you choose?
Cute TikTok captions
If you are looking for good TikTok captions that are cute, we have you covered. Here are some of the best ideas that you can copy and paste into your caption section.
City girl/boy.
Dancing my way into your hearts! 
Confidence level: No filter.
Postin while ghostin. 
Better off without you.
They can't help but stare.
I'm here to have a good time.
See you soon L.A.
Messy hair don't care.
Tell her about me.
Another day, another chance to be a TikTok star.
They said it was a challenge but they've never met me.
Guilty as charged.
All you need is love and TikTok.
Warning: This video may cause excessive 'aww' reactions! 
Dancing is life.
Why are you so obsessed with me
Friends don't let friends make TikToks alone.
This is what we do when we're bored.
Dance like no one's watching.
Cutest TikTok dance challenge: Can you resist smiling? 
TikTok fun – served with a side of adorable! 
Making my way to the #foryou page.
I did the whole thing in one take.
When TikTok makes everything cuter – even Mondays! 
Captions For Best Friends
Are you creating a video or dance challenge with your best friend? Here are some caption ideas you can add to your videos:
Best friends who TikTok together, stay together! 
Life was meant for Best Friends and Good Adventures!
I was an innocent person…then my best friend came along.
Best friends forever, and TikTok partners for life! 
Sometimes, being with your best friend is all the therapy you need!
Dancing through life with my partner in crime! 
Finding friends with the same mental disorder: priceless!
A sweet friendship refreshes the soul!
When you find your TikTok soulmate – best friends for infinity! 
Friendship isn't a big thing. It's millions of small things.
Friends don't let friends make TikToks alone.
Happiness is having friends who make a TikTok with you.
Through ups and downs, TikTok bonds us tighter! 
Best friends who laugh together, stay TikTok famous together! 
Sorry, only my best friend is the best.
We do not keep friends to spend time with, we keep time to stay with friends.
TikTok memories: Capturing the best moments with my ride-or-die! 
Friends buy you lunch. Best friends eat your lunch.
True friends don't judge each other- they judge other people together.
From awkward dances to amazing memories – my best friend makes TikTok perfect! 
Good friends are like stars.
We'll be the old ladies causing trouble in the nursing home.
A day spent with a friend is always a day well spent.
I would rather walk with a friend in the dark, than alone in the light.
Friends don't let friends do silly things alone.
How To Earn Money From TikTok?
In the last parts, we've shown you what to include in TikTok captions to increase your followers and views. As your TikTok following grows, you have the potential to collaborate with brands and businesses to monetize your posts. Brands are actively looking to partner with talented TikTok influencers like you to reach their target audience.

One of the best influencer marketing platforms that connects influencers and brands easily is Ainfluencer. Ainfluencer provides a network of influencers (more than 500,000 active users) and businesses of all sizes, helping them to find their best match for collaborations.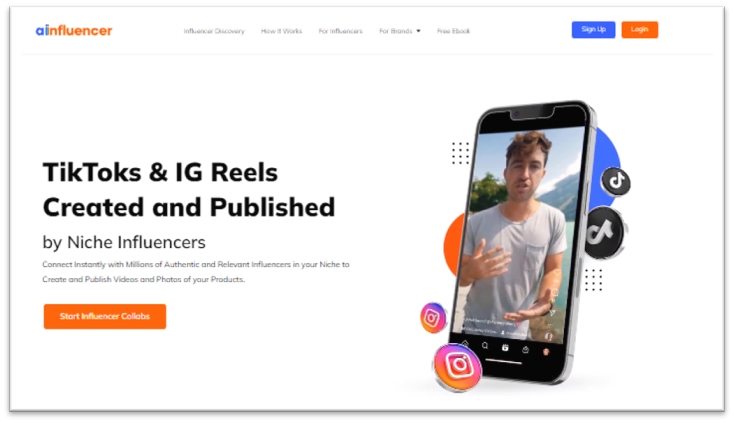 With the help of AI and powerful targeting tools, based on hashtags, locations, budget, and more than 20 filters, influencers can find brands that align with their values. And the best part is, Ainfluencer is completely free for both brands and influencers.
Conclusion
While creating high-quality videos is the most important factor for growing your TikTok account and attracting followers, writing an engaging caption is also essential. In this article, we've provided more than 150 TikTok caption ideas you can try to attract and engage your viewers.
You can combine these ideas with a simple call to action and trending TikTok hashtags to maximize your reach.
FAQs
1. What Is A Good TikTok Caption?
A good TikTok caption is concise, and engaging, and complements the video content. It adds context, humor, or intrigue, making viewers want to watch the entire video. A perfect caption aligns with your personality and style, uses relevant hashtags, and encourages interaction with your audience through calls-to-action (CTAs). Embrace creativity, and keep it lighthearted to make sure you are writing TikTok captions that go viral.
2. How To Do Better Captions On TikTok?
To create better captions consider using these TikTok captions ideas:
Be Concise: Stick to the character limit and make every word count.
Add Value: Offer something entertaining, informative, or relatable.
Use Emojis: Emojis add visual appeal and convey emotions.
Follow Trends: Incorporate trending challenges, sounds, or hashtags.
Show Personality: Let your unique voice shine through the caption.
Optimize for SEO: Use relevant keywords to improve discoverability.
Encourage Engagement: Include CTAs like asking questions or requesting likes and shares.
3. Do TikTok Videos Need Captions?
TikTok videos don't necessarily need captions, but they can significantly enhance the viewing experience. As many users watch TikTok videos with the sound off, captions add valuable context to the content. They enable viewers to understand the message, humor, or challenge even without sound. Captions also improve accessibility for viewers with hearing impairments and can boost the video's reach and engagement. While not mandatory, adding captions can make your TikTok videos more inclusive and enjoyable for a broader audience.

4. Are There Any Character Limits For TikTok Captions?
In recent updates, TikTok has increased the captions character limit to 2200 characters. It is essential to keep your captions concise while conveying your message effectively.