TikTok's popularity has exploded in recent years, and now it is known as one of the best and most popular video-sharing platforms. On TikTok, there are lots of videos on dance, humor, entertainment, inspiration, and more!
And while you can't access TikTok videos without an Internet connection, you may look for ways to watch them offline.
If you're looking to download videos from the TikTok official app, it does not offer this feature.
However, you can easily download your preferred TikTok using free TikTok video downloaders. Additionally, these TikTok downloaders allow you to save these media files without watermarks that often irritate users. Hence, this guide will introduce the best TikTok video downloaders.
15 best TikTok video downloaders
Here is a list of the best TikTok video downloader apps you can use:
1- Ssstik.com

Ssstik.com is an online TikTok video downloader app that allows users to download TikTok videos for free, without the watermark, and in a variety of resolutions, including 4K, 2K, 1080p, 720p, etc. It can also extract sound from TikTok videos and convert thumbnails and subtitles.
2- iTubeGo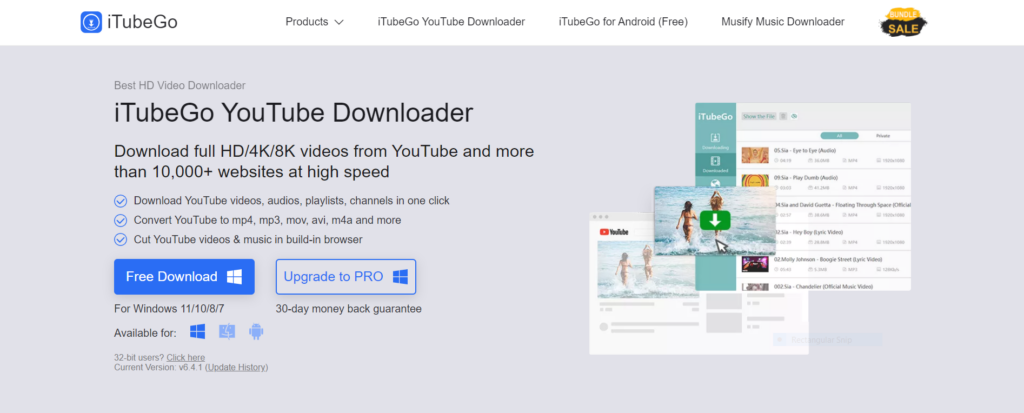 iTubeGo is an ideal tool for downloading TikTok videos. This media player is adaptable and can support a variety of audio and video formats. When you download videos, it also looks for subtitles online.
TikTok videos from this tool can be converted to MP3, MP4, 4K, and HD MP4 videos with its built-in video converter. Additionally, it allows you to convert videos into MP3 audio files. It can play a variety of audio and video formats. Videos can be downloaded from sites like Facebook, Tiktok, Instagram, and YouTube.
3- 4KTokkit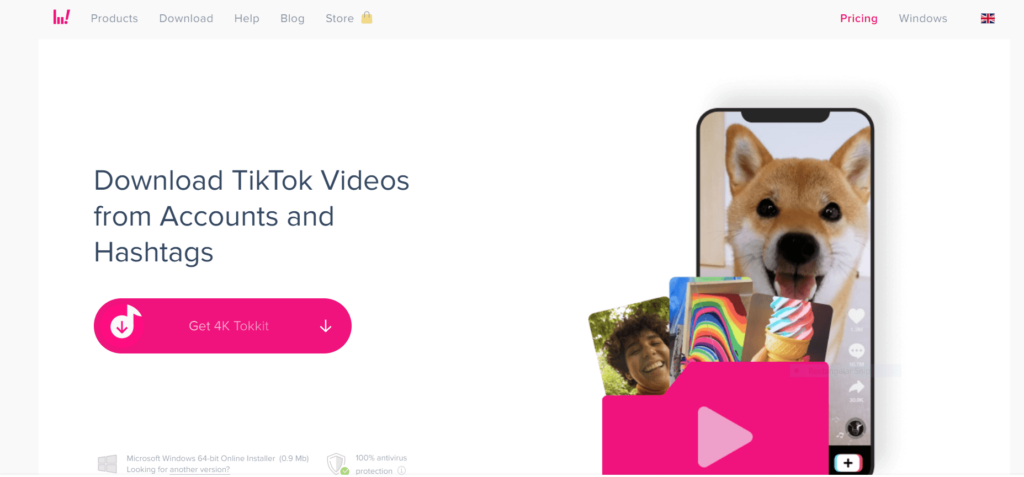 4KTokkit is a reliable TikTok video downloader. It is used to view, download, and save TikTok videos that were uploaded by your favorite TikTok influencers and content creators.
Furthermore, 4KTokkit enables you to save several videos at once. All of a single TikTok creator's posts can be downloaded quickly and with little effort. You are able to copy and save captions that were used in particular posts using the premium edition of this tool.
4- SaveTok
The popular TikTok video downloader SaveTok enables you to save HD videos from this social media platform. Like many other similar TikTok video downloader apps, this app also acts as a TikTok watermark remover and saves media files without watermarks that often irritate the users.
5- TTDownloader

Unlimited TikTok videos can be downloaded with TTDownloader by following a few easy steps.
To download the video and save it to your device, just paste the copied link into the text bar provided on the TTDownloader website and then click Get Video.
You can then download the video as an MP4 file or a music file in the MP3 or M4A formats via the download link that will appear. You can decide whether or not you want the file to have a watermark.
6- SnapDownloader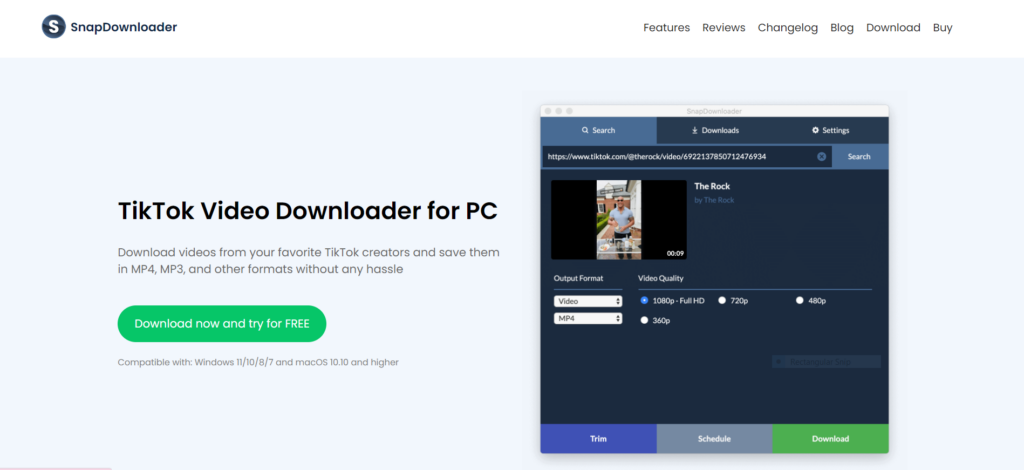 You may easily download TikTok videos in MP4, MP3, and more formats using SnapDownloader. By downloading multiple TikTok videos at once, this TikTok video downloader helps you save time. You can save videos at once and save up to 100 TikTok links in the app.
7- YTSaver

This TikTok downloader enables you to download all of your favorite songs and videos from the platform in high quality without any limit.
If you are looking for a way to complete your TikTok download without a watermark, TikTok videos with resolutions up to 8K can be downloaded without watermarks in MP4, M4A, MOV, 3GP, etc., using YTSaver.
To download TikTok videos, all you have to do is paste its URL into the box provided and press the download button. Even numerous videos can be downloaded at once.
8- SnapTikApp

SnapTikApp lets you download unlimited TikTok videos in HD quality. You can use this TikTok downloader to complete your TikTok download without a watermark.
It just requires pasting the copied link of the video you wish to be downloaded into the text bar on SnapTikApp's web page and then clicking on the download button.
9- QLoad.info

QLoad.info is a free TikTok video downloader for all devices. It helps you download videos without a watermark or TikTok sign. All you need to do is to copy the link of the video that you want to be saved on your device for offline use and then paste the link into the text bar on the QLoad.info's web page.
10- Qoob Clips

Qoob Clips is a quality TikTok video downloader that lets you explore and download an unlimited number of Instagram and TikTok media files.
Viewing and downloading content through Qoob Clips is very easy. You need to install Qoob on your desktop, enter your username and start viewing content, which is automatically downloaded to your PC.
11- TikMate

This TikTok video downloader acts as a TikTok saver you can use to save videos you are interested in on TikTok.
The initial version of this tool is an online application that you may use to download videos from TikTok using the video's URL.
Only the MP4 format is supported by the platform. TikMate Online, however, is not only a web-based tool; it also supports an Android app.
12- LoveTik

You also have LoveTik as a TikTok downloader. You can choose to download a video with or without the watermark using this tool. The option to download a video's audio alone is also available, and it can be useful occasionally.
This TikTok video downloader app has no restriction on how many videos you may download each day; you are free to download as many videos as you like.
13- ExpertsPHP

Using only a URL, you may download videos from TikTok to your mobile device with the help of the user-friendly web application known as ExpertsPHP. You can save videos with this TikTok video downloader to your phone, computer, laptop, and Chrome tablet, in addition to your phone. All content in HD resolution is automatically downloaded by ExpertsPHP in P4 format.
14- MusicallyDown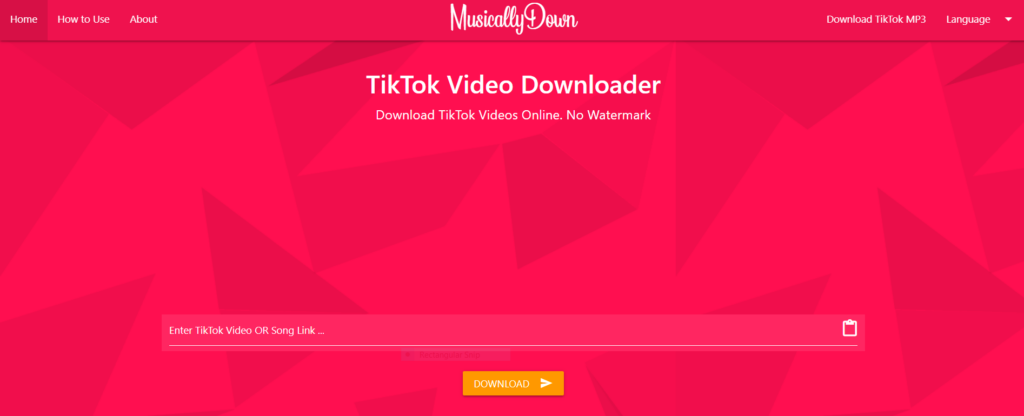 This free TikTok video downloader app allows you to download videos from TikTok on any device. Simply copy the video's URL from TikTok and put it in the box provided on MusicallyDown's website before selecting "Download" to download the video.
15- SaveTT

One of the websites that you may use to quickly download TikTok videos is SaveTT. The website is user-friendly and easy to use.
Aside from downloading the videos in MP4 format, you can also download them in MP3 format if what you are interested in is the audio of the video.
Conclusion
In conclusion, free TikTok downloader apps offer users an easy and convenient way to save their favorite videos. Whether you're looking for a way to back up your own content or just want to have access to your favorite videos offline, these TikTok downloaders can help.
Every free downloader offers different features and may require different levels of user input, so be sure to read the reviews before downloading one.
FAQs
1- How can I download TikTok videos for free?
By using free TikTok video downloaders, you can simply download TikTok videos. All you need to do is to copy the video URL and paste it into the input box of the downloader app, and then download the video or audio.
2- What apps can download TikTok videos?
There are so many free TikTok video downloader apps out there that can help you download TikTok videos with or without a watermark. Here is a list of them:
1- SaveTT
2- TikMate
3- SnapDownloader
4- Ssstik.com
5- iTubeGo