TikTok has quickly become one of the most popular social media platforms in recent years, and businesses should definitely take advantage of this. If you're looking to grow your business in 2023, TikTok is an ideal place to start. But how do you ensure that your content reaches the right people and gets maximum engagement? Fortunately, there are plenty of useful TikTok tools out there that can help you grow your TikTok marketing strategy and make the most of TikTok for your business.
Some of these tools, for instance, help you find TikTok influencers to collaborate with, which will streamline growing your business.
Now let's get to know some of the best TikTok marketing tools.
Ready? Let's dive right in!
Top 6 TikTok Tools for Marketing 
You may be wondering if some tools can boost your TikTok account! The answer is definitely YES!
TikTok is a powerful social media platform for promoting your business. With its ever-growing user base, it's essential to understand the various TikTok tools available and how they can help your marketing efforts. 
From tracking analytics to creating great content, there are plenty of tools that can make marketing on TikTok easier and more successful. Let's read more about these tools.
1- Ainfluencer
If you are looking for a TikTok influencer marketing platform where you can connect with thousands of TikTok influencers, you are at the right place!
Unlike most of the TikTok marketing platforms, Ainfluencer offers a free sign-up for both brands and influencers. This will make it easier for both of them to test the platform and discover how it can help. Furthermore, brands have access to more than 500k influencers who are available on TikTok and Instagram. 
The best part is that brands can quickly find a suitable influencer for their campaign by selecting factors such as the influencer's gender, category, location, and hashtags they use. Furthermore, it is possible to dedicate your budget to finding influencers in that range.
So, you won't even have a problem sending messages on TikTok because everything is done on this platform. And it's all free! 
If you want to work with one of the best TikTok growth tools, why not join Ainfluencer now?
Ainfluencer Features:
Free to Join, 
Creating Campaigns, 
Finding TikTok and Instagram Influencers, 
Negotiating with Influencers via Chatbox, 
Inviting Influencers to Collaborate, 
Sending Offers to Brands, 
Has an App for Influencers' use.
2- Hootsuite 
TikTok is one of the largest social media in the world. So, it is no surprise that marketers are looking for ways to leverage their reach. One way to do this is by using Hootsuite's TikTok marketing platform. The platform provides reliable, easy-to-use tools and resources for businesses looking to capitalize on the power of TikTok.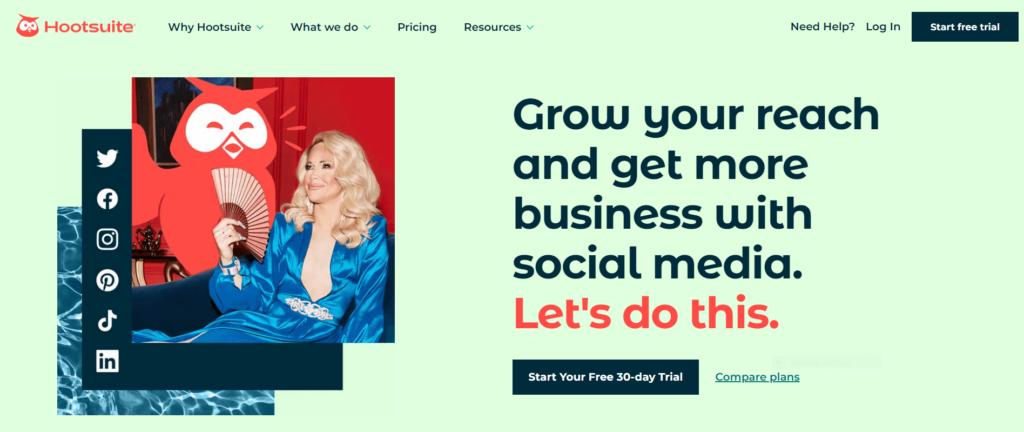 Hootsuite is one of the best TikTok growth services, which is popular in social media marketing. Therefore, it provides you with everything you need to make an impact on TikTok. Their suite of TikTok tools allows users to easily manage campaigns, identify trends, and measure performance. With Hootsuite's advanced analytics tools, marketers can gain invaluable insight into their audience and tailor their efforts accordingly.
Hootsuit Features:
Planning and Scheduling Social Media Posts, 
Analyzing the Performance of Influencers in Different Social Media, 
Monitoring Competitors' Performance,
Creating and Managing Social Media Advertisement,
Has a Mobile App.
2- Social Champ
Enter Social Champ – the ultimate TikTok tool for successful marketing campaigns.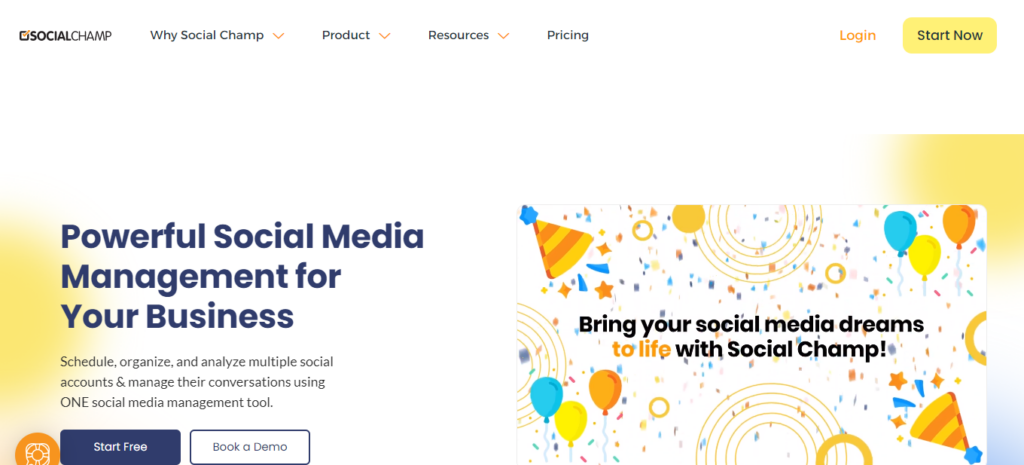 With a comprehensive set of tools, Social Champ is designed to help you get the most out of your TikTok presence. From finding the right TikTok influencers to creating content that resonates with your target audience, Social Champ has all the features you need to create buzz-worthy campaigns and attract new customers. 
The platform also offers a range of TikTok analytics tools, so you can track your performance over time and discover which strategies are proving most effective. With Social Champ's one-stop-shop approach to TikTok marketing, brands can quickly build their profile on this powerful platform and drive impressive results in no time!
Social Champ Features:
Social Media Scheduling, 
Monitoring Analytics,
Bulk Upload,
Custom Content Creation,
Have a Mobile App. 
3- Loomly
For those looking for a tool to maximize their TikTok presence, Loomly may be the perfect solution.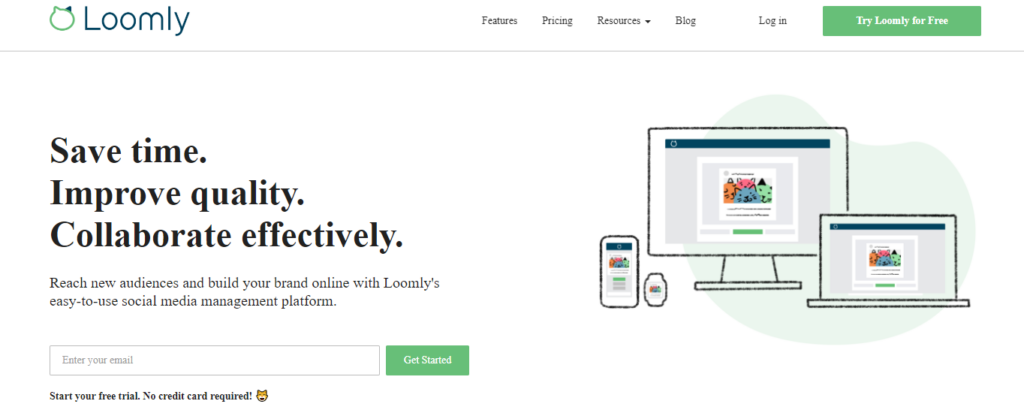 Loomly is a TikTok growth tool that allows users to easily create and execute social media campaigns from start to finish. It offers tools for publishing content, managing accounts, tracking performance, and more. With the intuitive drag-and-drop editor, users can quickly design visuals that engage viewers while staying on brand. Plus, with the scheduling feature, content can be automatically published at optimal times for maximum reach and engagement. Users also get access to advanced analytics so they can track which posts are performing well and see how they compare against competitors.
Loomly Features:
Creating Social Media Campaigns, 
Designing Visuals, 
Automating publishes,
Analytics.
4- SocialPilot
If you look for one of the best TikTok growth services for small and mid-sized businesses, SocialPilot is here to help. It offers its users a set of TikTok tools to grow their presence on this popular social network. 
With SocialPilot's marketing suite, users can easily create, schedule and post content directly from the platform to TikTok. It also provides analytics insights to help them measure their performance and track progress over time. Additionally, it allows its users to collaborate with team members effortlessly by giving them access to powerful collaboration tools such as task management and reporting.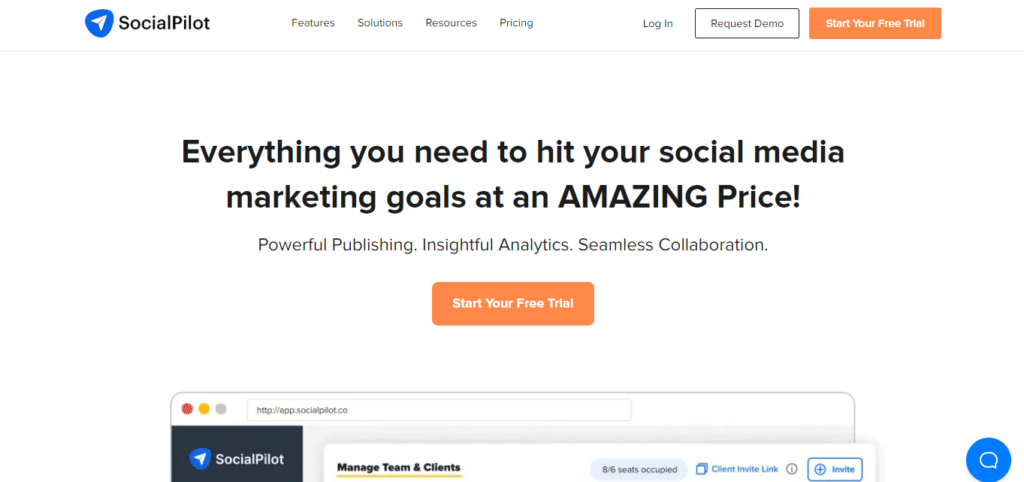 SocialPilot claims to help businesses maximize their reach on TikTok with ease. Additionally, it offers to simplify the process of finding new followers, engaging with existing ones, creating compelling content, analyzing performance metrics, and more – all in one place!
SocialPilot Features:
Social Media Scheduling, 
Affiliate Marketing, 
Connecting with Influencers on Different Social Media,
Analyzing the Campaign Performances, 
Team Collaborating.
5- Iconosquare
A review on this site shows that Iconosquare is a powerful TikTok marketing platform that can help businesses get ahead in this competitive landscape.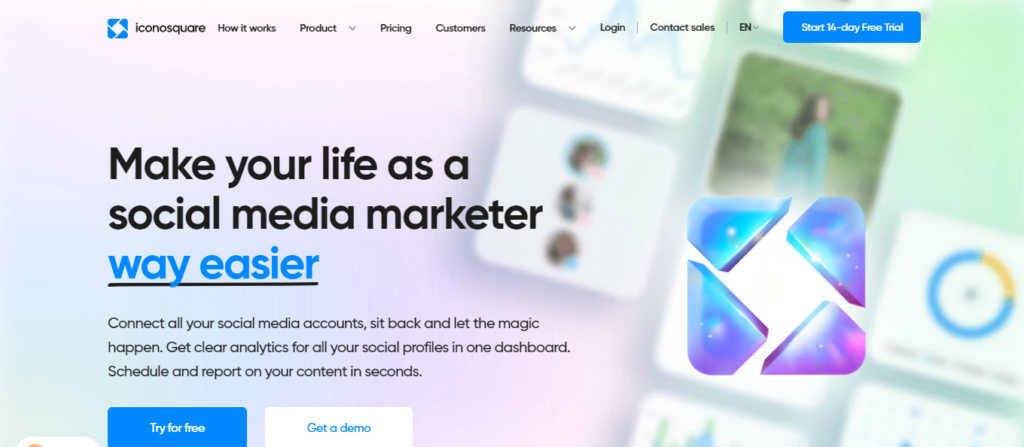 Iconosquare allows you to analyze your videos, post content, track performance, and even boost posts with advanced targeting options. Furthermore, this platform offers features, such as audience segmentation tools, so you can target your desired demographic or TikTok influencer marketing tools that let you easily identify and collaborate with top influencers on TikTok. 
Plus, Iconosquare's data insights provide valuable information about user engagement, so you know what's working—and what isn't—in real-time.
Iconosquare Features:
Scheduling Campaigns, 
Analyzing Campaigns, 
Content Management, 
Keyword Tracking,
Visual Analytics.  
TikTok Editing Tools
Are you trying to boost your TikTok presence? Want to make sure that your content looks great and stands out from the crowd? You're in luck! There are the number of editing tools available to help you take your videos to the next level. Here are some of the best TikTok editing tools out there. 
1- Beecut
First up, Beecut TikTok Editing Tools are great options for anyone looking to take their TikTok videos to the next level. With a suite of powerful and easy-to-use video editing tools, Beecut helps you create stunning visuals in no time. Whether you're a novice or an experienced user, Beecut's features make it easy for anyone to produce and share high-quality content.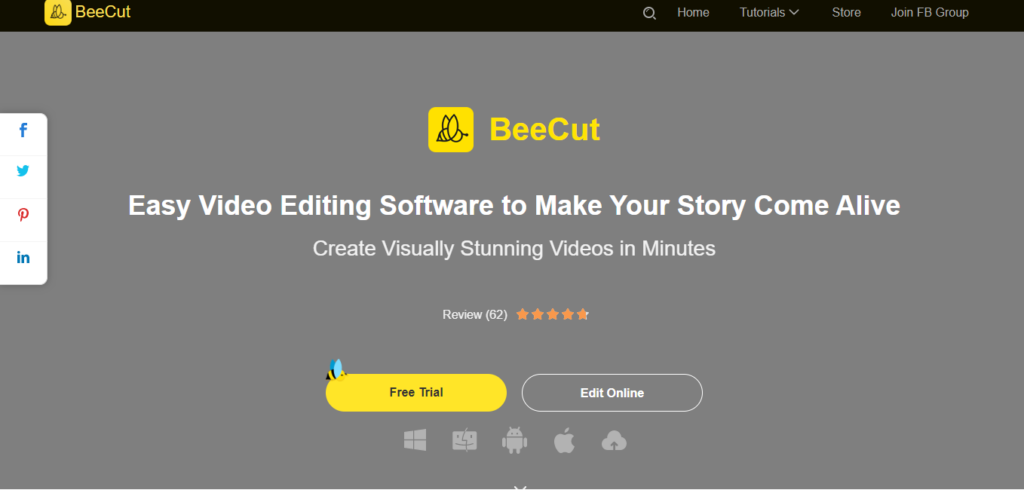 From basic trimming, splitting, and merging tools to complex effects like slow motion, Beecut's user interface is designed with simplicity in mind. 
With access to thousands of soundtracks from all genres of music, creating captivating videos is effortless with Beecut. And its suite of advanced color correction tools ensures that your videos look more professional than ever before!
Beecut Pros:
Easy-to-Use,
Compatible with Windows, Linux, Mac, 
There Is a Mobile App, 
It Offers All the Video Editing Features. 
Beecut Cons:
Inability to Add Voice Over, 
It Can't Work With High-End Videos (Like 4K UHD),
Lack of Chroma Key Function.
2- Zoomerang
This TikTok video editing tool is one of the best tools for improving your TikTok game. It offers a range of options to help you create awesome content that stands out and captures users' attention. 
With Zoomerang, you can add special effects, transform your videos with color grading and edit them in any way you like.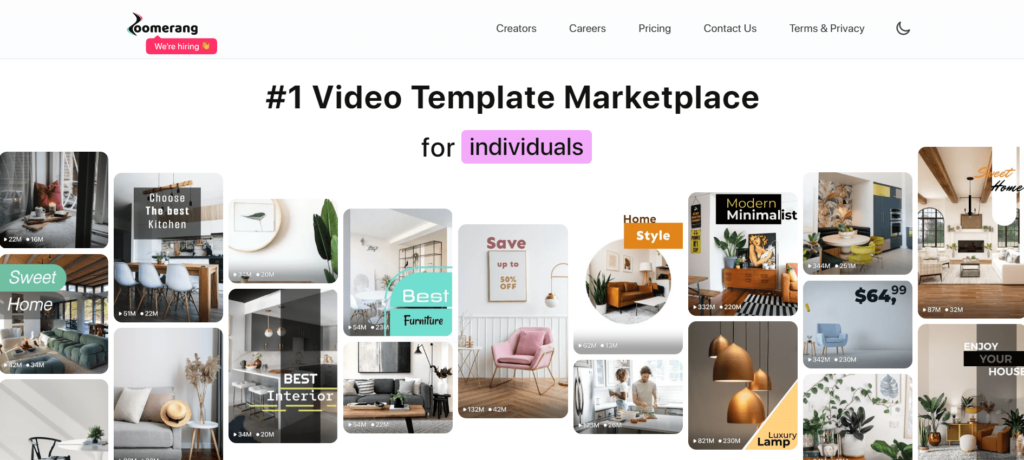 The app also provides many editing options like trimming, cropping, adding music, and sound effects. Furthermore, you can add an overlaying text on top of images and videos. Using this tool, you can even speed up or slow down the video clips to give them some extra finesse. Plus, many filters are available to choose from, so you can customize your content further! All these features make Zoomerang a helpful tool for creators who want to take their TikToks to the next level.
3- Adobe Premiere Rush
 This powerful, intuitive software has been around since 2018. However, Adobe Premiere Rush has quickly become the go-to editing tool for TikTok creators recently. 
With its user-friendly mobile and desktop apps, Adobe Premiere Rush is among the top tik tok tools for creating high-quality videos in minutes.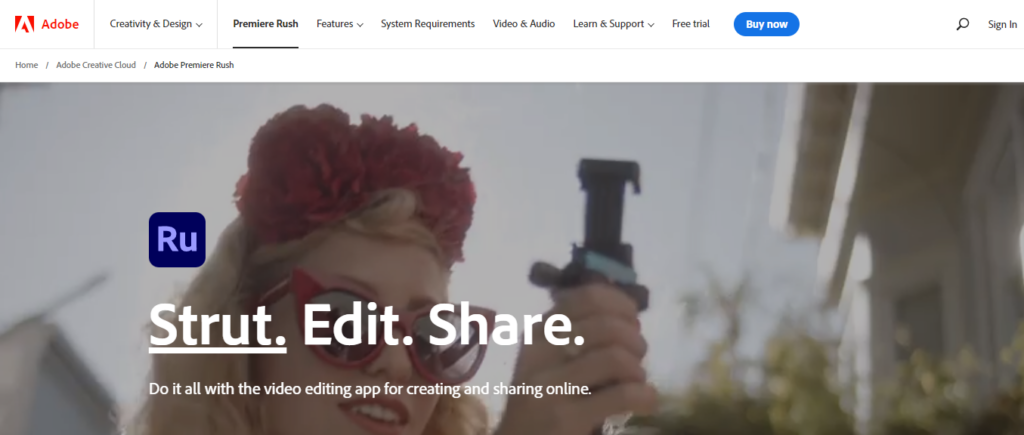 Whether you're a professional editor or someone just starting out on TikTok, Adobe Premiere Rush offers an impressive range of features to help you create engaging and eye-catching content. From auto reframe options that resize your clips to social media presets that make sure your video looks great across platforms, Adobe Premiere Rush makes it easy to upload polished videos straight from your phone or computer.
Adobe Premiere Rush Pros:
Simple Interface,
Great Editing Tools, 
Quick Steps From Creating  to Publishing, 
Many Built-In Effects.
Adobe Premiere Rush Cons:
Lacks Advanced Features (Such as Color Correction),
More Expensive than Other Tools, 
Slow Rendering.
4- CapCut
One feature that most TikTokers look for in a tool is its ease of use. People don't like to struggle with an app to figure out how to work with it. And that's what CapCut had in mind.
CapCut has quickly become one of the most popular TikTok editing tools out there, and it's easy to see why. This user-friendly app is packed with features that make it easy to create unique videos for any platform. Therefore, CapCut has everything you need to take your TikTok content up a notch, from its intuitive drag-and-drop interface to its wide selection of filters and effects.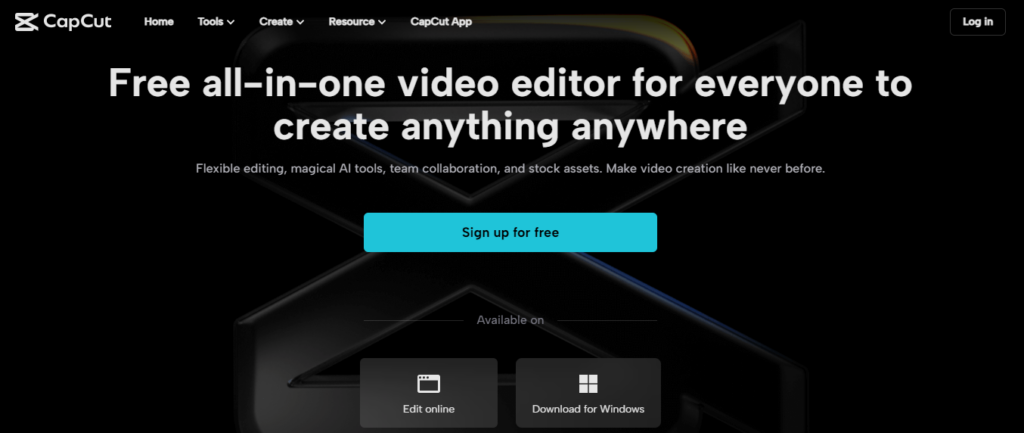 The best part about using CapCut? It doesn't take a lot of time or effort to get started. With just a few clicks, you can easily add text, graphics, music, and other elements to your videos. You can even save time by using one of the many pre-made templates available in the app – so you can easily start creating great content without any prior experience!
Capcut Pros:
Simple Interface, 
Multiple Copyrighted Songs, 
Several Useful Effects and Filters, 
Most Features Are Free to Use. 
Capcut Cons:
Lack of Effects Such as Background Remover, 
Not Compatible with Frames Higher than 60 FPS,
Can't Support Landscape Mode on Mobile.
5- Canva
Canva is an awesome tool for creating stunning visuals. With its innovative design editor and a broad selection of templates and fonts, it makes it easy to create stunning graphics and polished posts – perfect for spicing up your TikTok account.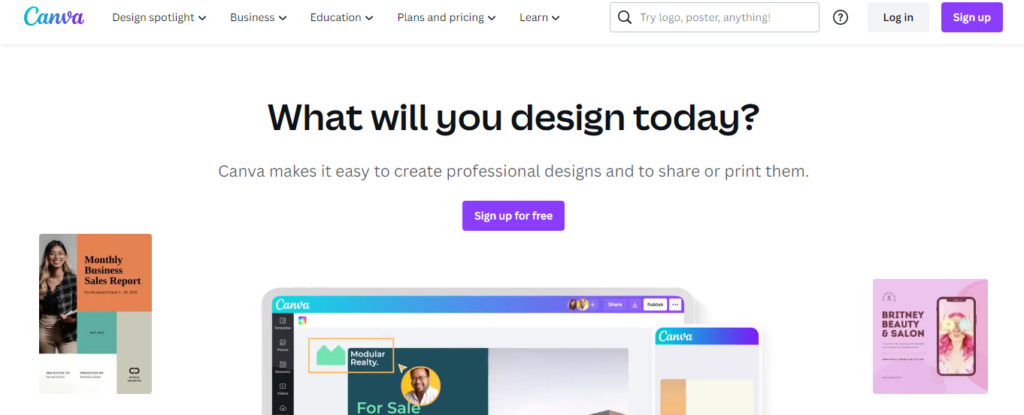 Canva Pros:
Range of Photos, 
Easy-to-Use for Beginners,
Great Source of Preset Designs.
Canva Cons:
Limited Free Options,
Cannot Download the "Raw" File,
Limited Export Settings.
12 Best TikTok Tools to Gain More Following
If you're looking to get more followers on TikTok, there are some great tools out there to help. TikTok auto follower can be an easy way to quickly get more paid or free TikTok followers, leading to a growth in your online presence.
The auto-follower tool automatically likes and follows other accounts that match the keywords you enter. This helps increase your following, as those users will often check out your account after being followed or liked. You can also use these tools to target particular audiences, letting you focus on people who are already interested in what you have to offer. 
Note that it's very important to use these tools carefully as this could lead to your account being banned from the platform. Use them conservatively but consistently for the best results! In this regard, read more about the TikTok ban to avoid using any tools in a way that is not allowed. 
1- TikFame
Are you an up-and-coming influencer on TikTok? Do you want to gain more followers quickly? Lucky for you, there are tools out there to help. TikFame provides auto-follower tools that can give your account a boost and get your content in front of more people.

TikFame offers one of the best auto-follower services on the market, which makes it possible for brands to get free TikTok followers. It's easy-to-use, with just a few clicks between signing up and receiving hundreds of new followers right away. 
You don't need to worry about bots or fake accounts either; every follower is real and actively engaging with users like yourself. Plus, if you ever have any questions or need help using the service, their friendly customer support team is available 24/7 to assist.
TikFrame Features:
Claims to Add  Real Followers,
Quick and Easy-to-Use,
Available Support Team (24/7),
Has Website and App.
2- Tokmatik
To help those looking to take advantage of this powerful platform, Tokmatik is offering a range of tools that can help you get more followers quickly and easily.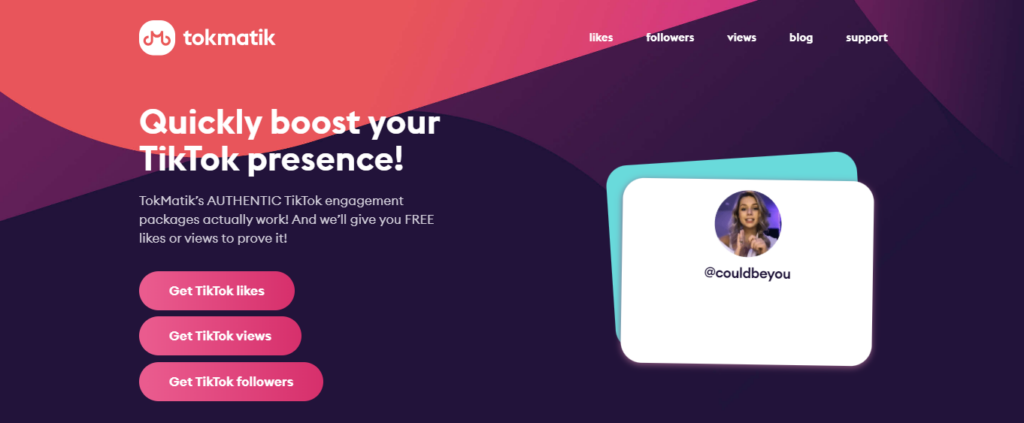 Tokmatik has created a suite of auto-follower tools specifically designed for TikTok users. Their software allows users to automatically follow other accounts on the app, giving them access to larger audiences while they focus on creating quality content. This automation feature eliminates the need to manually monitor the activity of each account being followed, freeing up time that would have normally gone into targeting potential followers. The process is also much faster than traditional methods, making it easy to build your following in no time at all!
However, while these tools will help you get more followers in number, they won't help you improve your engagement rate. That's why it's always recommended to focus on creating quality content to reach organic followers who can engage with your posts.
Therefore, it is crucial to learn more about how to grow on TikTok to have a better performance on this platform without the need for TikTok tools to gain followers. 
Tokmatic Features:
Add to the Number of Followers, 
Get More Views, 
Increase Likes on TikTok Posts.
3- Tik Hashtag
If you're looking for an easy way to increase your following on TikTok, hashtag tools like Tik Hashtag may be the solution. Since hashtags can be a powerful tool for helping people find and follow your content, it's crucial to use them strategically. With the right hashtag tools, you can turbocharge your follower growth on TikTok and get more eyes on your videos than ever before. 
On this free website, you can add a hashtag or a keyword to give you more ideas about the related hashtags.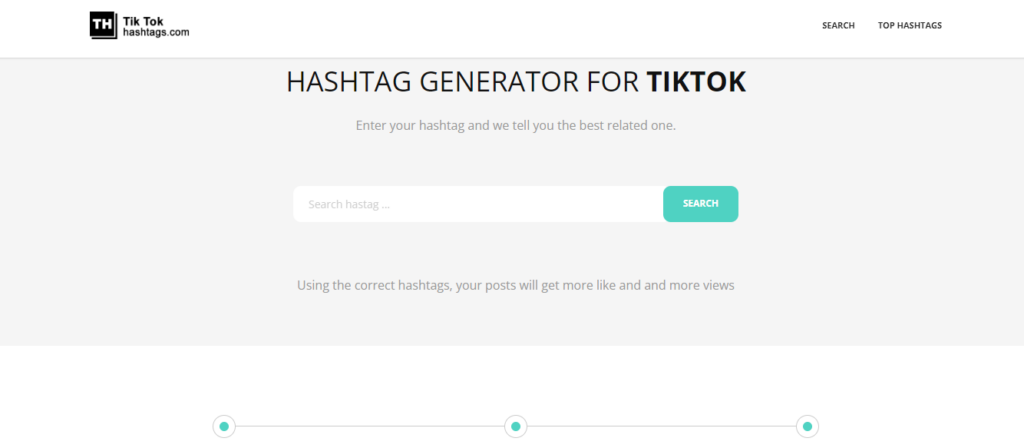 It's important to note that not all hashtags are created equal – some are more popular or have more reach than others.
By leveraging specific hashtag strategies and utilizing existing data from other users' videos, you can maximize the impact of your posts and draw in larger audiences with ease. Therefore, knowing the trending TikTok hashtags can also help you improve your views and engagement.
From discovery tools to hashtag generators, there are plenty of helpful resources available for getting ahead on TikTok!
TikHashtag Features:
Finding Popular TikTok Hashtags,
Adding Hashtags to Favorites for Future Use, 
Creating Your Hashtag Collection.
4- TokCaptain
The other great tool to increase TikTok followers is TokCaptain. As a great resource for helping users grow their accounts, TokCaptain provides an easy-to-use platform that will help you quickly become an influencer. It's an essential tool for anyone who wants to make a name for themselves on the popular social media app.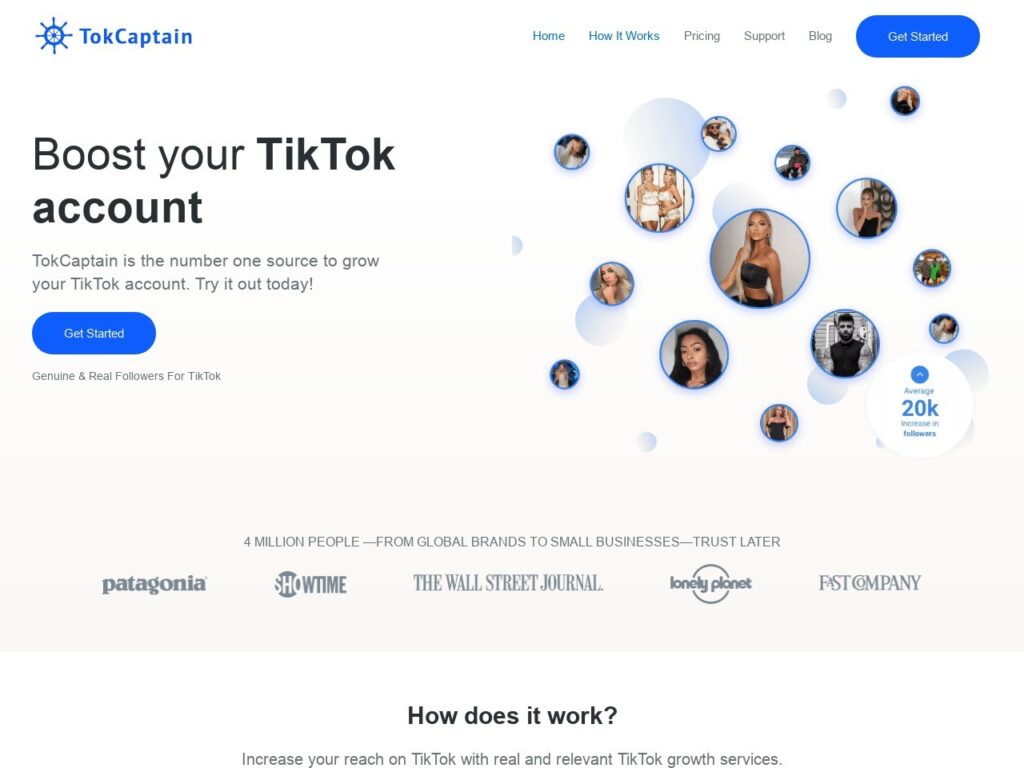 The TokCaptain's automated system and advanced algorithms helps users reach new levels of success in no time. From providing analytics on your posts to helping build relationships with other accounts, this tool has everything you need to take your account further than ever before. Plus, it comes complete with powerful features like content optimization and hashtag research so you can maximize your visibility even faster. 
Best of all, it is affordable for almost everyone. Therefore, you can start growing immediately without breaking the bank.
TokCaptain Features:
Claims to Add Real Followers,
Increase Engagement, 
Easy-to-Use, 
Affordable Price.
5- Fireliker
If you're looking for ways to increase your following on TikTok, it's time to explore the power of Fireliker tools. Fireliker is a powerful platform that provides users with a wide range of tools and services to help them get more followers, likes, views, and shares on TikTok. Not only will you be able to grow your account quickly, but you'll also benefit from an improved profile ranking algorithm that helps your videos stand out from the competition.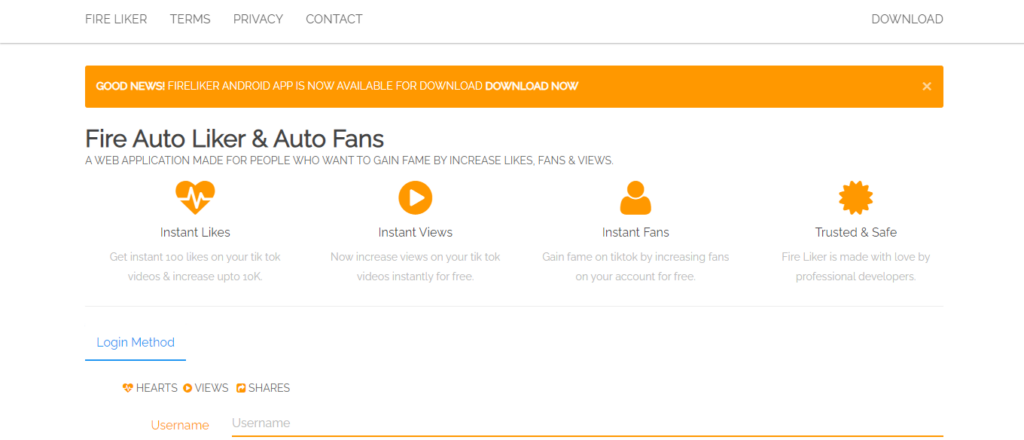 Using Fireliker tools, you can easily target specific audiences and regions, which allows for laser-focused growth strategies tailored to each unique user. You can even create campaigns and TikTok ads based on topics relevant to your content so that viewers who are interested in those topics can find your videos easily.
Fireliker Features:
Increasing Views, 
Boosting Likes,
Getting More Followers.
6- TikTok creator tools
As the name implies, TikTok Creator Tools refers to a set of features and tools that can improve content creation on TikTok. And the best part is that if you have TikTok, you have access to its creator tools.
You can tap on the Menu button on top of your profile page and access TikTok Creator Tools. Some of the most useful features this tool has are TikTok analytics and Promotion tools that can help you analyze your content or use TikTok to advertise for your channel.
TikTok Creator Tools Features:
Content Creation Features, 
TikTok Analytics, 
Promotion Tools, 
TikTok Ads. 
7- Viamaker
Are you a TikTok creator looking to take your content to the next level? Viamaker claims to have all the tools you need.
Viamaker is one of the most popular video editing apps for social media platforms like TikTok. It offers an array of powerful editing and creating tools, like custom transitions, effects, filters, a music library, and more. With Viamaker's cutting-edge technology, you can make your TikTok videos stand out from others with ease.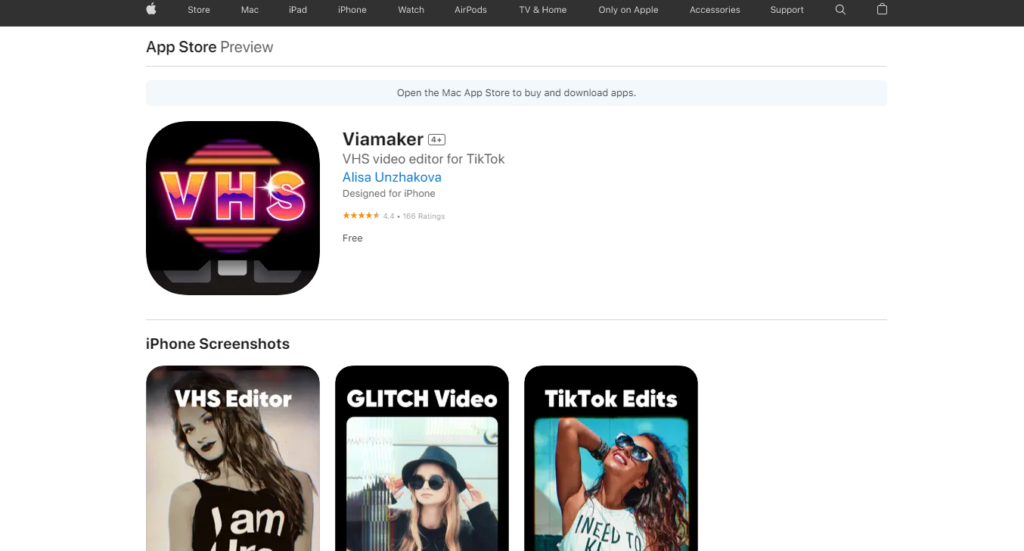 You can also add text and stickers and even use templates to quickly create stunning visuals for your posts. Plus, it supports multiple video formats so that you can easily upload them directly to social media without any hassle. So if you're looking for an easy-to-use toolkit for making amazing videos on Tik Tok, look no further than Viamaker!
Viamaker Features:
Music Library to Use Over Videos, 
Video Editing Filters, 
Custom Transitions.
8- Media Mister 
TikTok is the most popular short-form video platform and it has given rise to a new generation of content creators. For these digital stars, having the right tools is essential for creating captivating content that engages their audience.
Media Mister is one of the useful TikTok tools designed to help users create stunning visuals, boost engagement and grow their online presence. 

Media Mister's suite of TikTok tools offers everything from video editing and audio effects to hashtag generators, analytics dashboards, and more. It provides creators with access to all the elements they need to craft engaging videos that will keep their fans coming back for more. It also helps them stay up-to-date on trends by providing insights into what's trending across different social media platforms. This makes it easy for creators to tailor their content in order to maximize its reach and impact.
Media Mister Features:
Grows Followers on Different Social Media (Instagram, TikTok, Facebook, etc.),
Claims to Add Real Followers, 
Increases Views. 
9- Grin
TikTok creators have plenty of tools to help them create high-quality content, but the latest addition to the arsenal is something special. Grin is a new tool specifically designed for TikTok creators that helps streamline the workflow and make creating videos easier than ever.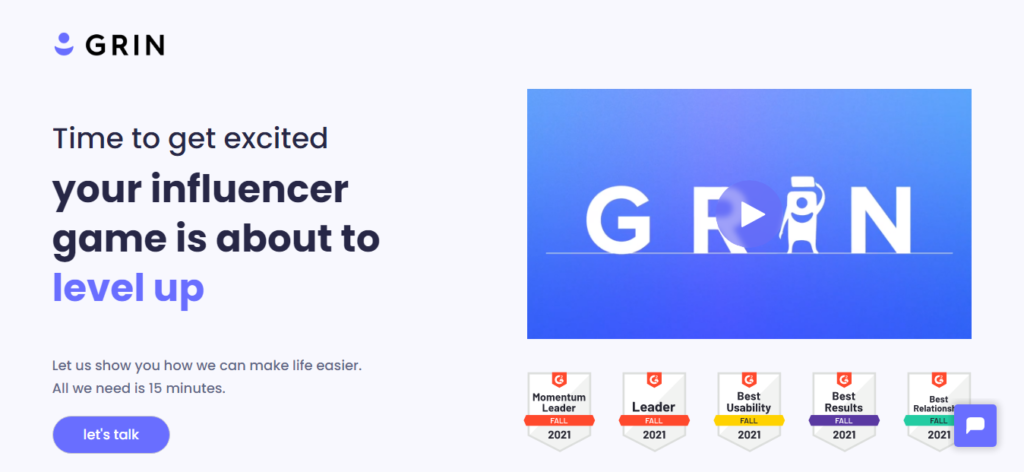 Grin allows creators to easily manage their videos from one dashboard. From there, they can edit clips and add effects, trim video lengths with ease, and select motion graphics or images from the library, all without ever leaving the app. It even includes its own music library, so users don't have to spend time searching for tracks. Plus, with an intuitive user interface, anyone can quickly learn how to use it effectively in no time!
Grin has been praised by many known TikTok influencers as a must-have tool for any creator looking to up their game on TikTok.
Grin Features:
Finding Influencers to Collaboration, 
Creating Campaigns, 
Analyzing Campaigns. 
10- Creator.co
Are you a TikTok creator looking for the ultimate tool to help you create awesome content? Look no further than Creator.co, an amazing new set of tools created specifically for TikTok creators.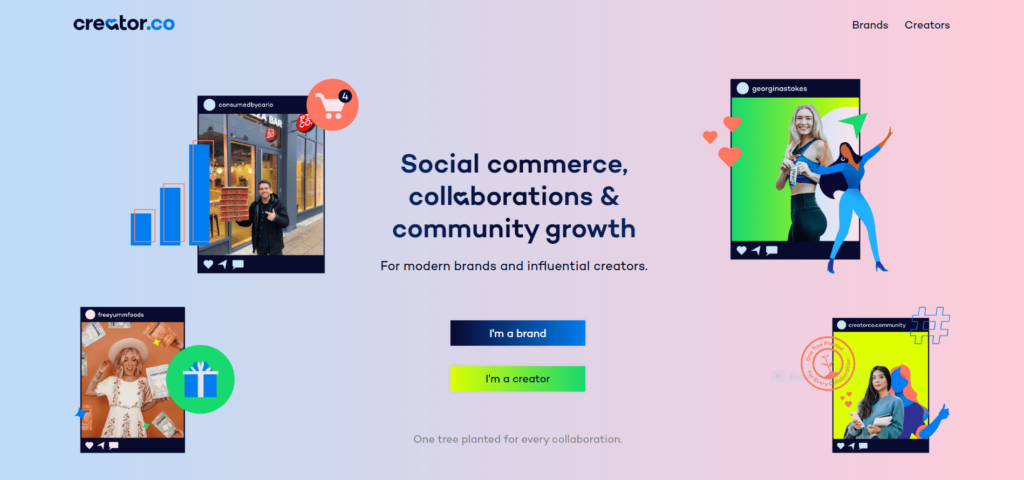 Creator.co is a powerful suite of tools that helps streamline the process of creating and sharing amazing content on TikTok. It includes features like scheduling posts, analytics, insights, and more. In addition, it provides helpful advice from experts in the field. The social media experts can help you take your content to the next level. With this tool, you'll be able to maximize your reach and success as a creator on TikTok. 
For aspiring influencers or anyone wanting to take their content creation skills up a notch, Creator.co is an absolute must-have! Get ahead of the game today with these incredible TikTok tools!
Creator.co Features:
Influencer Search Tool, 
Facebook Ads, 
Campaign Creation Tool.
11. Lucky Tok Tools
Almost all the tools mentioned in this article were websites, but Lucky Tok Tools act differently. It's a game you play to win followers! A new fun method for increasing the number of your TikTok followers. You should download the app and use it on your mobile phone.
Here is how the game is played: you flip cards and discover the number of followers you win. After that, the app will suggest hashtag combinations that can help you get more likes on your posts. Therefore, Lucky Tok Tool is not just a game; it can help you grow your TikTok by using better hashtags.
However, you should note that some apps may ask you for permissions that they do not need. Regardless of how useful they may be, you should avoid granting permissions that could affect your social media accounts or other important information on your phone.
Lucky Tok Tools Features
Adds Followers Through Games.
Conclusion
All in all, TikTok tools are helpful websites and applications for businesses to create more powerful content. With its vast audience and powerful features, you can reach more potential customers than ever before. Whether it's creating an engaging video, running an ad campaign, or simply sharing your product with the world, TikTok is a great platform to help grow your business. Don't wait any longer – start using TikTok and see how much potential your business has!
Additionally, don't forget to introduce your brand to more people on TikTok using TikTok influencer marketing. With the help of TikTok influencers, you can grow your online market and attract more potential customers. Therefore, do not hesitate to join Ainfluencer as a brand to connect with thousands of influencers who are active on Instagram and TikTok and can help you with your online marketing. 
FAQ

1- What Is the Best TikTok Tool?
Are you looking for the best tool to help you create, manage and track your TikTok presence? Look no further than Hootsuite! This powerful social media management platform is one of the top tools when it comes to managing your TikTok content. 
Hootsuite allows users to schedule posts easily and stay organized by organizing their content into streams. It also provides analytics so that users can track engagement, reach, impressions, and post-performance on all of their social media accounts. The dashboard also offers an array of custom reports that help businesses understand their audience better and optimize their content accordingly. 
2- How to Grow 1,000 Followers on TikTok?
You can use different methods to grow your followers quickly. Although you can always buy followers, it is not a recommended option because TikTok can discover the bots and fake users and may delete their accounts; so, you will lose your followers too. Therefore, check out some methods like using hashtags, following trends, and participating with TikTok influencers. However, you should not forget about creating quality content. 
3- What Is the Best TikTok Growth Service?
Many TikTok growth services claim to help you get more followers, likes, and views on the app. However, not all of them are reliable, safe, or effective. Some may use bots, fake accounts, or spammy methods that can harm your reputation or get you banned from TikTok. Therefore, we suggest using the power of influencers to grow your business on TikTok. In this regard, you can count on Ainfluencer to get in touch with TikTok influencers to create campaigns to improve your online presence.