TikTok is a popular social media platform for creating and sharing short videos. Whether you want to connect to a TikTok creator to send an offer or only start a conversation with one of your friends, you can use TikTok messaging. This article will tell you how to message someone on TikTok in simple and easy steps.
If you seek to message TikTok content creators to start collaboration, you should learn about how to find TikTok influencers. To reach this goal, TikTok influencer agencies can be helpful. They connect brands with thousands of TikTokers to send messages to creators quickly and form their partnerships.
One of these agencies is Ainfluncer which allows brands and companies to easily find TikTok influencers in their niche.
We'll get to that later, but first, first, let's see who can send a message on TikTok.
Who Can Send Direct Messages on TikTok?
Unlike other social media platforms like Instagram and Facebook, TikTok has strict rules about sending direct messages to reduce spam and other violations. Therefore, TikTok doesn't always let you send messages. In order to send a direct message to someone, you should have the following factors:
Be over 16 years old,
Have registered your phone number in the app,
Have followed the recipient.
Otherwise, you are not allowed to send messages to anyone.
Therefore, if you can't send a message, make sure you have followed these rules and have a stable internet connection.
Additionally, note that you can't send too many messages to several creators at once. You will receive an error message. Accordingly, you can't follow too many creators in a short time span either.
If you meet these criteria and follow the mentioned rules, you can message tiktokers in two ways:
1. How to Message Someone on TikTok on Mobile
As mentioned, you can only send messages to your following list. Therefore, if you want to send a message to someone, first follow them. Then:
Go to that person's profile.
Tap on the Messages.
Write your message and send it to that person.
You can also follow these steps:
Go to your Inbox, which is located at the bottom of your screen.
Tap on the icon in the top right corner. It's a pen on a note.
You will see a search box here. Enter the name of the recipient.
After selecting the recipient, write your message in the chat box and hit the send button.
2. How to Message Someone on TikTok on the Web
You can easily use your TikTok on your PC too.
Go to the TikTok website and log in.
As soon as you follow someone, the messaging button will appear on their profile. Therefore, go to the profile of the person you want to send a message to. If you haven't already followed them, click on the Follow.
Click on the Message, you can easily write a message and send it to that person.

The other method is the same as the steps of sending message on TikTok mobile:
Click on Inbox or Message on your profile.
On the search box, enter the name or username of the recipient.
Select the recipient.
Write your message.
Click Send Message.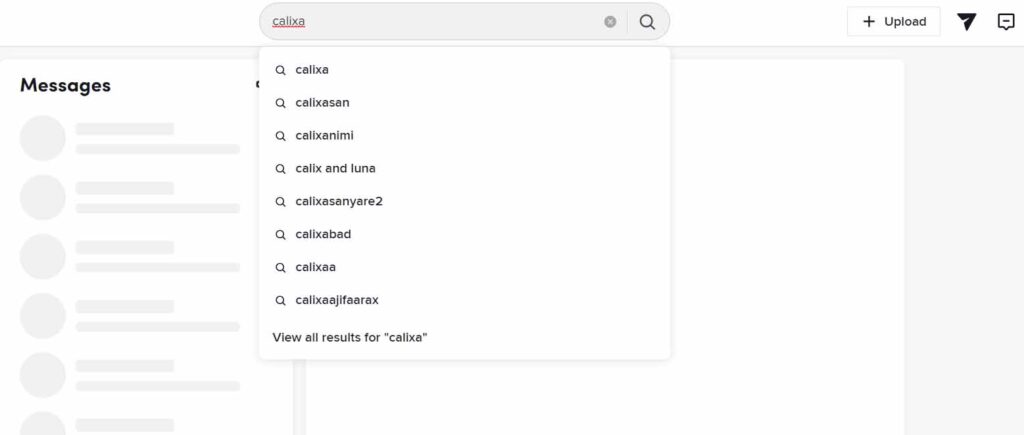 Can I Send Messages to Someone Without Following Them?
Generally, you are not allowed to send a message to someone you don't follow unless they have changed their privacy setting and allowed messages from everyone. In this case:
Go to that person's profile.
If they allow everyone to send them a message, you can tap on the three dots on the right corner of the profile and select Send Message. You should note that this option is not available on all profiles. Only people who allow non-followers to send them messages have this option.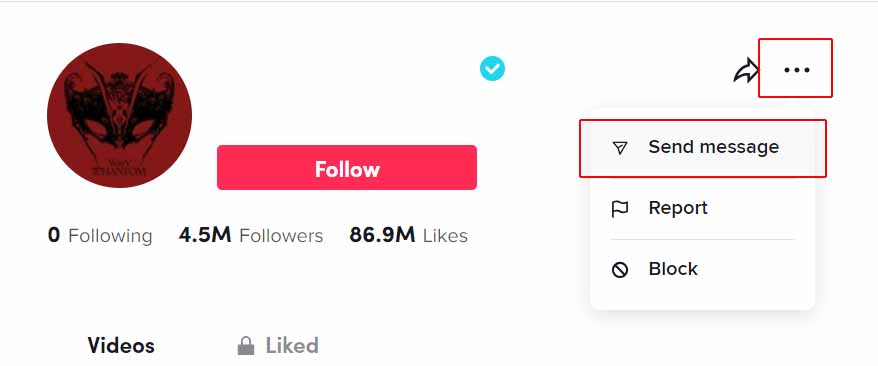 Furthermore, your message will be sent as a message request. Therefore, TikToker might avoid opening it.
Do you know how you can prevent everyone from sending you a message? In this case, take the following steps:
Go to your Messages.
Click on the Setting, which is the icon in front of the Messages. The message setting will open.
In this window, you have two options. If you don't want to let anyone send you a message, select No One; otherwise, select Friends to allow your friends to send you messages.
Save the settings.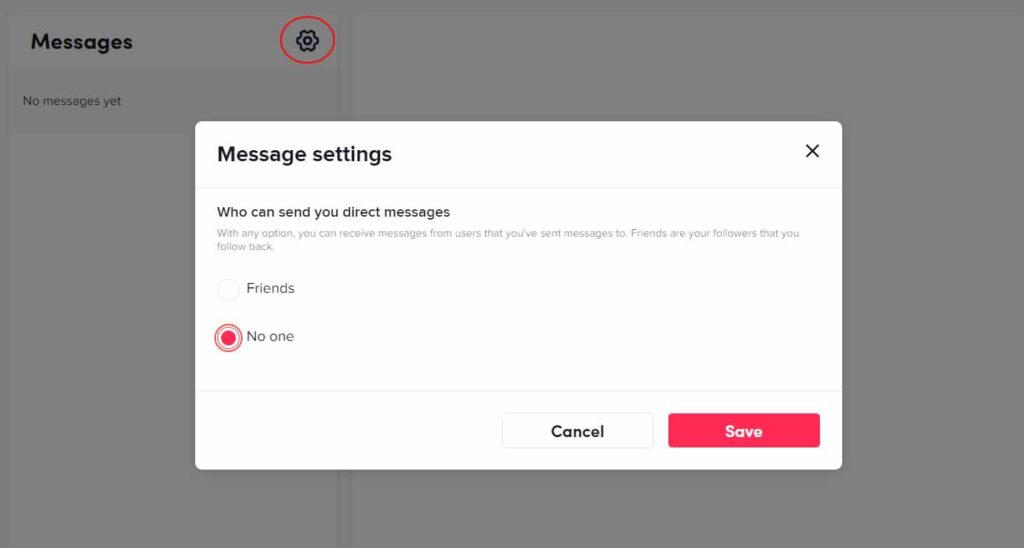 If you have a business or creator account, you will have one more option in this setting. You can allow Everyone to send you messages.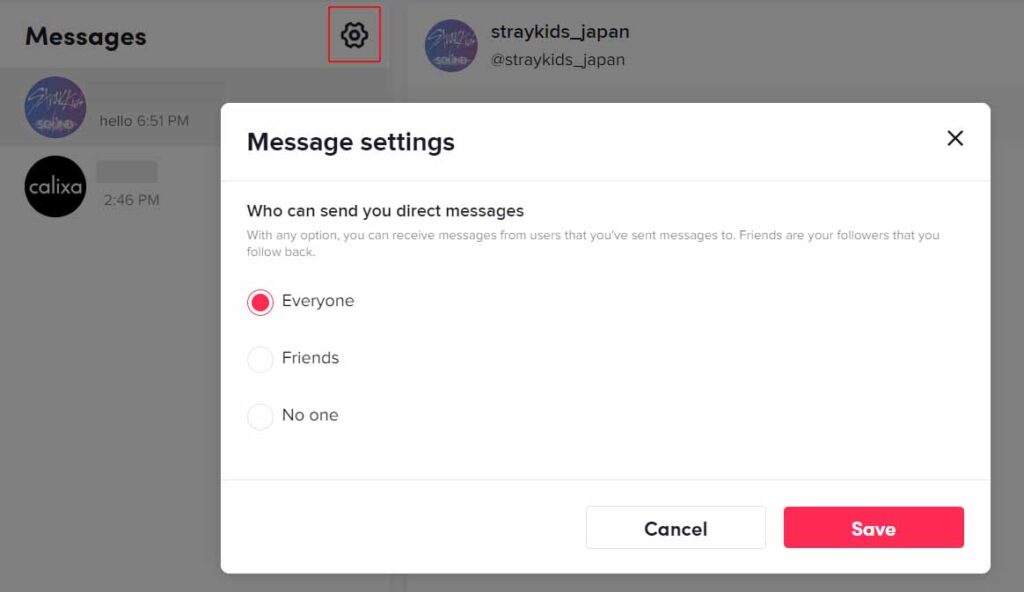 How to Know If Someone Read Your Message on TikTok
Currently, there is no way to know if someone has read your message on TikTok. There is a toggle icon for Read Status in the app settings, which can be used to turn on or off read receipts. If the toggle icon is green, then read receipts are on, and if the icon is blank, then the option is turned off.
When read receipts are on, the sender should see either 'sent' with a small arrow icon or 'seen' with a checkmark icon. However, this feature is not available for all users and regions. If you don't have this option, then you will not be notified if they read your message, and there is no way to know if they've opened your message unless they tell you.
How to Turn Read Status on TikTok On or Off
Read status lets you see if someone has read your direct message and vice versa. You should turn on this status to be able to see the status of the delivered message. However, the other person should also have read status turned on, too. Therefore, whenever you send a message, you can find out if it is read by the recipient.
To turn the TikTok the 'read' status on or off:
In the TikTok app, tap 'Profile' at the bottom.
Go to 'Settings' and 'Privacy'.
Tap 'Privacy', then select 'Direct messages'.
Turn the Read status setting on or off. The setting is turned on by default for users aged 18 and older.
How to Message on TikTok Without a Phone Number?
Several methods can help you send messages on TikTok without a phone number:
Create your account using other options rather than signing up with your phone number. You can use your Gmail, Facebook, or Instagram to sign up on TikTok. Therefore, you can easily send messages to people you follow without needing a phone number.
If you don't have a valid number to create an account, you can use Google Voice, which will give you a free phone number to link to your TikTok account.
However, being able to message someone on TikTok without a phone number doesnt mean they can send annoying messages. In this case, you can block the user and delete the messages they send. Let's see how to do it.
How to Block a TikTok User from Sending You DMs?
You can easily block an annoying user on TikTok. If you receive a message that annoys you or appears to be spam, you can block the user from sending further messages by following the steps below:
Open the message.
Tap the More Option on top of the page.
Tap Block.
Confirm you want to block the user.
From now on, the user can't send you messages.
Now that you have blocked the user, you can delete the messages you don't want.
How to Delete and Mute Direct Messages on TikTok?
All the options related to the TikTok messages are under the More Options button. Therefore, follow the previous steps; this time, instead of Block, tap Mute to turn off the message's notifications.
To delete a message, tap and hold the message you want to delete, and then tap Delete after selecting the message. However, deleting a message does not remove it from other people's messages. It is only removed from your Inbox.
Stats show that any ad on TikTok has the potential to reach up to 945 millions users, which is a huge chance for businesses to introduce their products and services. One of the first steps to reach this goal is to find a creator and send them your offer. How is it possible? We will see next.
Send Messages to TikTok Influencers
Since TikTok is a popular platform, most brands are looking for influencers to connect with. However, it is not easy to find TikTok influencers on the platform because you have to search among millions of users. On the other hand, top TikTokers may receive many messages during the day and may not see your messages immediately. So, what should you do to talk and deal with them?
There is a simple solution to this problem. You can easily sign up on Ainfluencer for free and search for Influencers on TikTok and Instagram. Ainfluencer is a 100% DIY marketplace that connects brands and influencers to create a partnership. Both brands and influencers can benefit from joining this community.
As a brand, you can search for influencers based on their categories, gender, location, or the hashtags they use. You can also message them directly and invite them to collaborate. They are more likely to see your messages on our marketplace because they are here to participate in various influencer marketing campaigns. So don't hesitate to join this community and grow your business online!
Bottom Line
TikTok has certain rules about sending messages to make this place safe and respectful to all its users. Therefore, only the people who follow each other can easily send direct messages on this platform. As mentioned, if you are a brand that wants to connect with influencers on TikTok by sending them messages, your work will get easier if you join Ainfluencer and create a campaign and send them to the influencers who are the proper options for your business.
FAQs
Who Can't Send Direct Messages on Tiktok?
Generally, users under 16 can't send any messages on TikTok. Additionally, some users only allow their friends to send them messages. Therefore, if you don't follow them, you can't send any messages.
Why Can't I Message People on TikTok?
TikTok users can change the settings of who can send them messages. In some cases, they may not allow anyone to send a message. Therefore, even if you follow the user, you may not be able to send a message.
Who Can I Permit to Send DMs?
The message setting on TikTok has three options. You can only allow your friends or followers to send you messages. The other option is Everyone, so no matter if they follow you, they can send you a message request. The third option is No One, which doesn't allow anyone to send a message even if they are friends.