TikTok is one of the most popular social media platforms these days with over one billion active users in a month. There is no exact answer to how its algorithm ranks videos and makes them viral. However, some simple methods such as sticking to the optimum TikTok video size which leads to high-quality video can help.
If you are a TikToker who is looking for how to make money on TikTok or a brand that wants to grow its customers, we will help you create better videos. In this guide, we'll delve into the key aspects of TikTok video size in 2023, including dimensions, video length, file size, and ad specifications.
Maximum TikTok Video Size
One of the most important factors to consider for sharing high-quality content is TikTok video size. Here is everything you need to know about what size is TikTok video.
1. TikTok Video Dimensions
TikTok video dimensions show how your content appears on users' screens. These videos can be uploaded in portrait and landscape and each of them follows a different Tiktok aspect ratio. However, we recommend you upload portrait videos since the platform is designed for phone screens.
By using the TikTok camera to record your videos, they'll be automatically in portrait mode and the TikTok aspect ratio is 9:16. Also, the best TikTok video dimensions are 1080 *1920.
2. Length of TikTok Videos
In the first launch of the app, TikTok videos could only be up to 15 seconds long, but now it's completely different. Today TikTok offers flexibility in video length, allowing users to create content ranging from short, fun clips to longer ones.
In 2020, TikTok introduced 3-minute videos for creators looking for more room but still creators kept requesting longer videos. As of 2023, TikTok videos can be up to 10 minutes in length, giving creators more room for creativity. This expanded duration opens up new possibilities for engaging storytelling and detailed tutorials.
3. TikTok File Size And Type
If by looking for TikTok video size you mean the size of its file (measured in MB), your answer depends on your device and video type. If your device is Android, you can upload videos up to 72MB but this number increases to 287.76MB. For TikTok ads, video size for TikTok can be up to 500 MB.
TikTok is compatible with different video formats, including MP4, MOV, and HEVC (H.265). MP4 is the most popular and preferred format on TikTok due to its balance between video quality and compact file size. While MOV and HEVC formats are also supported, they might lead to larger file sizes.
4. TikTok Video Ad Specs
If you are looking for a social media platform where brand advertising is available, TikTok is a good option. For marketers and businesses using TikTok's advertising platform, sticking to the correct TikTok video size is important for better performance.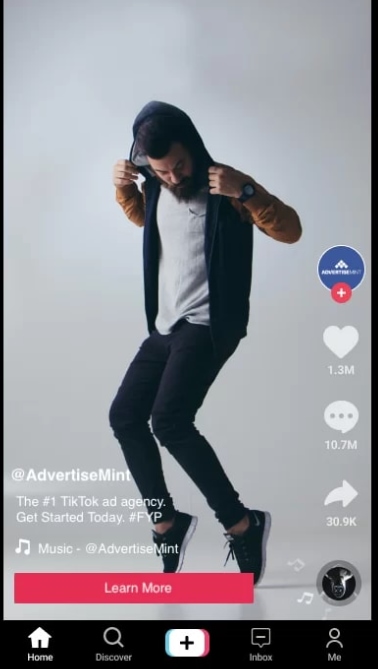 There are different types of TikTok ads and each of them follows a TikTok video format size.
In-Feed TikTok Video Ads: Up to 500 MB file size, MP4 or MOV, MPEG, and . AVI file formats. TikTok aspect ratio: 1:1, 16:9, and 9:16. We recommend you share in-feed TikTok video ads between five and 16 seconds long to achieve the best results.
Newsfeed TikTok Video Ads: Similar to In-feed ads, p to 500 MB file size, MP4 or MOV, MPEG, and . AVI file formats. TikTok aspect ratio: 1:1, 16:9, and 9:16. For better results, we recommend sharing longer videos up to 60 seconds long.
How To Earn Money On TikTok?
Now that you know how to create and share high-quality content on TikTok by following the best TikTok video size ratio, let's see how to earn money from your content. There are different methods to earn money such as hosting lives, joining the TikTok creator fund program, etc. But becoming an influencer and collaborating with brands is one of the best options.
No matter what service or content you share, there are many brands that are looking for creators like you. Once you reach the 5k followers, you are ready to start working with brands. But how to find them? Well, Ainfluencer is designed for people like you.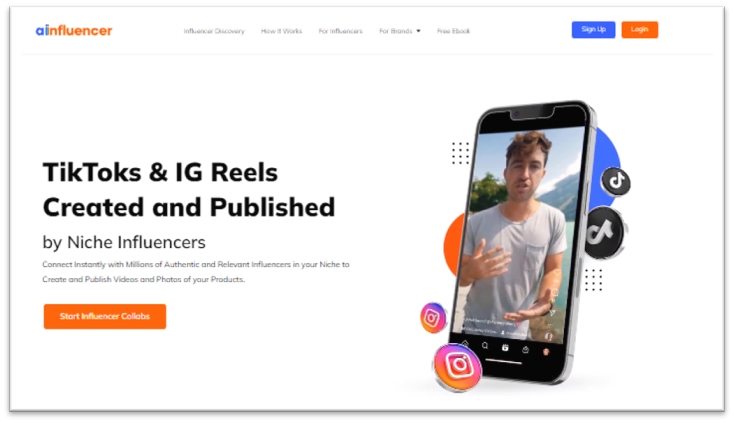 Ainfluencer is an influencer marketing platform that connects with influencers across different niches and industries. Using the powerful search engine and targeting filters (based on hashtags, language, location, niche, budget, engagement metrics, and more than 20 other filters) you can find your best collaboration match.
This platform includes all the steps of a collaboration from finding your match to making the payments. So if you are ready to join the community of more than 500,000 influencers on Ainfluencer and start earning money, sign up on the platform for free now.
Conclusion
Understanding the size of TikTok videos is essential for creators and advertisers alike to grow their accounts by sharing high-quality content. In this article, we provide a full guide on everything you need to know about TikTok video dimensions, aspect ratio, file type, and size.
FAQs
1. What Are The Specifications For TikTok Video Ads?
For TikTok video ads, the recommended length ranges from 5 to 60 seconds. The resolution should be a minimum of 720 x 1280 pixels with a 9:16 aspect ratio. The video file size can go up to 500 MB, and accepted file formats are MP4 and MOV with H.264 codec and AAC audio.
2. How Many Hashtags Can I Include In My TikTok Video Description? 
There's no technical restriction on the number of hashtags you can include to promote your TikTok video. You're free to add as many hashtags as you wish, as long as they fit within TikTok's character limit for captions, which is currently set at 2,200 characters. So, feel free to leverage hashtags to enhance the discoverability of your content and connect with a wider audience.
3. What's The Recommended Video Length For Optimal Engagement On TikTok?
Shorter videos, around 15 to 60 seconds, often perform well in terms of engagement on TikTok. However, the ideal video length can vary based on your content and target audience.
4. Does TikTok's Video Size Policy Change Frequently?
While video size for TikTok guidelines doesn't change drastically, it's always a good practice to check for updates on their official platform resources to stay current with any changes or new recommendations.