If you have worked with different platforms on the internet, you might be familiar with hashtags and their importance. One of the places where hashtags are used a lot is Instagram. By using the appropriate hashtag on this social network, you will not only get more views and likes but also convert more viewers into followers due to the fact that you have been able to attract the right audience. But you may have questions about using hashtags: which hashtags to use? Or how many hashtags are enough for posts and Instagram reels? You will get answers to all your questions in this post.
Start Instagram Marketing Right Now!
If you have launched a new Instagram page and want to become more visible to your target audience, you should use hashtags for your posts and reels, but that's not enough. It will take a long ride for you to become popular on this platform, especially with all the competitors you have. That is why you should invest in influencer marketing to draw more attention to your brand. The method is very easy. You only need to sign up on Ainfluencer as a company or brand and search for the proper influencer for your market.
Never underestimate the power of influencer marketing on Instagram. Use as many tools as you can to become discoverable by more people. Otherwise, the process of getting your brand recognized and known by your target audiences will take time.
Why Are Hashtags Important?
Hashtags are combinations of letters, numbers, or emojis preceded by the # symbol. They are used to categorize and organize your content and make it more noticeable.
Hashtags are important in Instagram because they help users to discover and explore content related to their interests. Adding a hashtag to a post makes it searchable and visible to anyone who searches for it. This means that hashtags can increase the visibility and reach of a post, making it more likely to be seen and engaged with by a larger audience.
Additionally, using relevant hashtags can help users connect with others who have similar interests, leading to increased engagement and community building on the platform. Overall, hashtags are an essential tool for increasing visibility, engagement, and community on Instagram.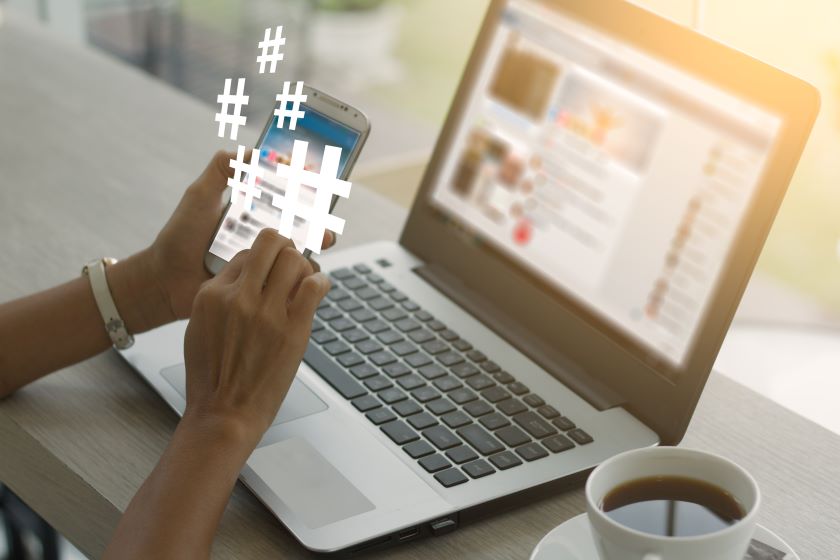 Here are some reasons why you should use hashtags on Instagram:
Hashtags can make your content more noticeable by appearing in the corresponding hashtag's feed.
Using trending hashtags relevant to your content can help you get discovered by industry trends.
You can promote your brand by creating a unique hashtag for your business or campaign.
Hashtags can help you engage your audience by encouraging them to use your hashtags or join conversations around them.
Hashtags can help you track your performance by measuring how many people are using or interacting with your hashtags.
How To Use Hashtags On Instagram?
Now that we know the importance of using hashtags for Instagram reels and posts, it is time to learn how to use hashtags on Instagram. Because we know that sometimes even the trending hashtags might not be the right hashtag for our post. Thus, let's find out how to use hashtags to make our posts reach more views.
To use hashtags on Instagram, you must type a pound sign (#) followed by your keyword or phrase, with no spaces. The hashtags are used either in the caption or comment field of your photo or video. You can choose from popular hashtags that pop up as you type or use a tool to suggest new hashtags based on relevance. Here are some steps to use hashtags on Instagram effectively:
Identify the most relevant hashtags for your content. You can use hashtags related to your industry, niche, topic, theme, style, location, etc.
Use a mix of popular and niche hashtags to reach a wider audience. Popular hashtags have more posts and views, but also more competition. Niche hashtags have fewer posts and views but also less competition and more targeted followers.
Limit the number of hashtags you use per post. Too many hashtags can look spammy and reduce your engagement. A good rule of thumb is to use between 3 to 9 hashtags per post.
Use various hashtags for different types of posts, such as photos, videos, stories, reels, etc. This can help you optimize your content for diverse formats and audiences. Read more about the impact of Instagram reels on influencer marketing in 2023.
Track the performance of your hashtags to determine which ones are working best for your content. You can use tools like Later or Hootsuite to analyze your hashtag metrics and optimize your strategy.
How Many Hashtags To Use On Instagram Reels?
Instagram allows up to 30 hashtags per post. However, it is not recommended to use them all. Although you may think that the more hashtags you use, the better performance your post will have, it won't always work well for you because too many hashtags might spam your post, and instead of being seen by all hashtags, you might not be visible to your audiences at all. Therefore, always choose the most appropriate hashtags for your post. Narrow them down to 9 or 10 hashtags for each post or if you want to use the minimum number of hashtags, choose between 3 to 5 hashtags per post. Choose them from different types of hashtags, which we will explain further.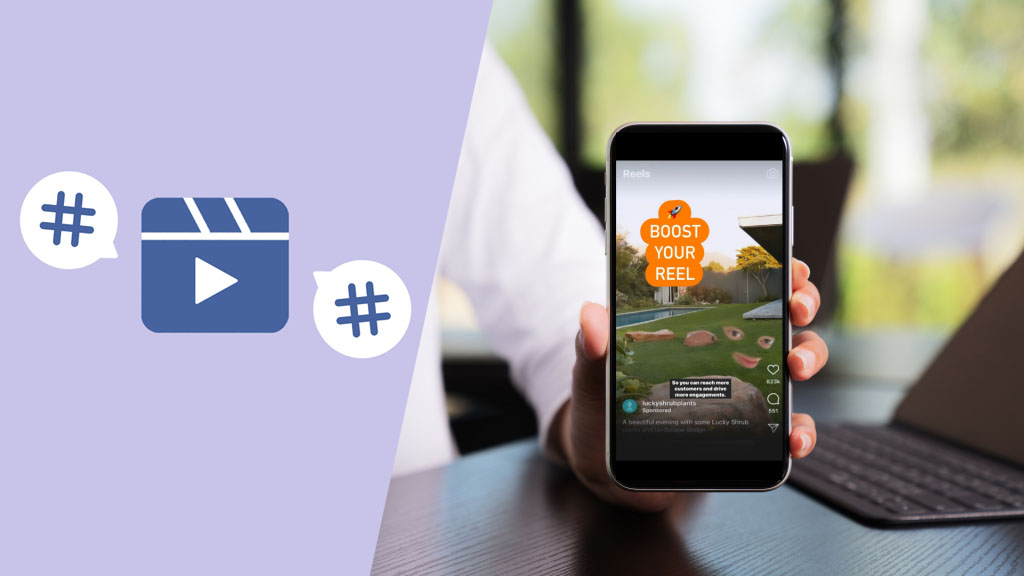 What Are Instagram Trending Hashtags?
Instagram trending hashtags are the ones that are frequently used by a large number of accounts and are relevant to current events, topics, or interests. They can help you get more exposure and engagement by joining popular conversations and reaching new audiences. Trending hashtags come and go, so you should be able to use them at the right time when they are still hot. Thus, you should find trending hashtags to use for your posts.
Furthermore, you should know that adding a trending hashtag for a post that doesn't have anything to do with that subject is not a good idea. Therefore, if you want to use a trending hashtag, you should post a related photo or reel to that hashtag so that you get more chances of being seen and liked by people who follow that trend.
How To Find Trending Hashtags For Instagram Reels?
The trickiest part is finding the right hashtags for your post, especially the ones trending on Instagram. You can always dedicate one of your Instagram hashtags to the trends. But how to find trending hashtags? Here are some tips to find trending hashtags on Instagram:
Use the search function on Instagram. You can type a keyword or a hashtag in the search bar and see the related hashtags and how many posts they have. You can also tap on a hashtag to see the top and recent posts using it.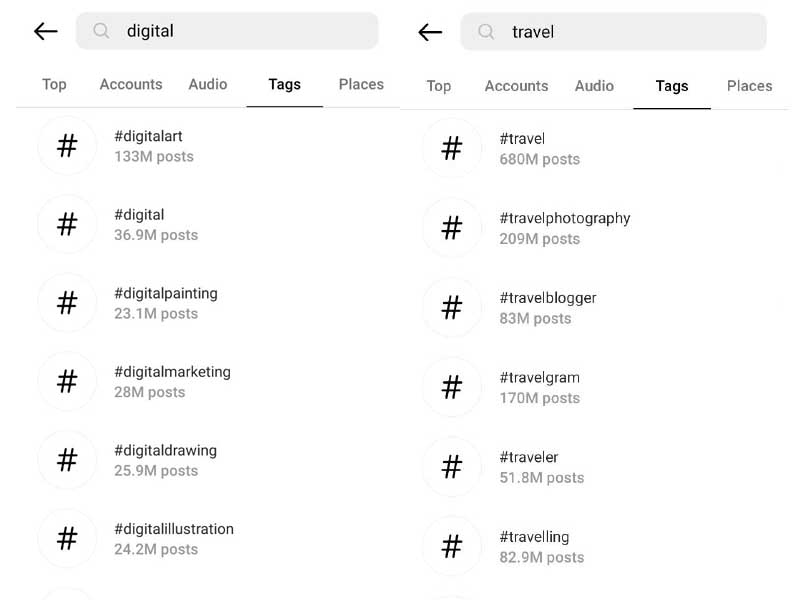 You can use tools like the Picuki website. This website lists trending hashtags and profiles. There you can find the trending hashtag that is related to your business. Furthermore, you can download Instagram photos using this website too. If you want to download Instagram reels, in this post you can find the top tools to download Instagram reels.
Instagram's Explore page can always tell you a lot about what is trending on this platform. However, the Explore page doesn't work the same for all users. Every user will see different content on their Explore page, and this is based on the posts they like and the people they follow. The Explore page is a great way to discover new content and accounts that match your interests. It can also help you get more exposure and engagement for your own content if you manage to get on it. You can find a sit on this place if you use the right hashtags. Read more about the Instagram algorithm in 2023.
Are there any hashtags I should avoid using?
Yes. You can't use some hashtags or your post will be deleted or not shown to your audiences. These hashtags are known as banned hashtags that Instagram has blocked or limited because they violate the community guidelines or terms of use. However, your followers can still see your post while visiting your profile. Additionally, you should avoid using offensive words or any hashtag that is considered rude, hateful or discriminatory. It will hurt your reputation and make Instagram ban your account.
Types of Instagram Hashtags
Instagram hashtags are listed in different categories. For your posts to have better performance and reach more views and likes, it is recommended to mix hashtags from different categories. Here is the list of 10 types of Instagram hashtags that you can use for your posts and reels.
1. Products or Services hashtags
If you are introducing a product or service in your post, adding a product hashtag can be useful for making your content more discoverable and relevant to your target audience. This type of hashtag describes a product or service featured in your post, such as #sweater or #coffeeshop. They can help you reach users searching for or interested in your product or service.
However, product or service hashtags are also very broad and generic, which means they have a lot of competition and noise. For instance, #sweater has over 13 million posts on Instagram, while #coffeeshop has over 37 million posts. This makes it harder for your post to stand out and get noticed by your ideal customers. Therefore, it is recommended to use product or service hashtags in combination with other types of hashtags.
2. Branded Hashtags
As a company, you should always have at least one branded hashtag that contains your brand name, slogan, or anything that represents your brand identity. Brand hashtags are useful for creating brand awareness, building a community, and generating user-generated content. You can use them to get your brand and products in front of a wider audience. While choosing a branded hashtag, consider it to be short, simple, and easy to remember.
3. Campaign Hashtags
Campaigns are so popular on Instagram. It can leverage your conversion with your audiences. Therefore, if you are running a campaign, always choose a unique hashtag for it so you can track the activity relating to the campaign. Choose a fun hashtag so that more people will use it in their posts.
4. Event Hashtags
Important events and conferences usually have a dedicated hashtag. If you participate in one of them or want to talk about them, you must use the specific hashtag of that conference. In addition, you can also create an important event yourself. For example, the introduction of Apple products is always a trend and has a specific event hashtag. Usually, the same hashtag becomes a trending hashtag on the promised day. You can also do this with a good trick so that you can become more visible among your competitors.
5. Category Hashtags
Category hashtags on Instagram are the ones that describe the general category or topic of your content, such as #fashion, #art, #fitness, #travel, etc. You should note that category hashtags are very competitive and saturated, which means they have a lot of posts and users. For instance, #fashion has over 1 billion posts on Instagram, while #art has over 900 million posts. This makes it difficult for your post to rank high and get noticed by your ideal customers. Try to find the most proper category hashtag or mix it with other types of hashtags. If you are an art lover who wants to sell art, this list of art hashtags can help you perform better on Instagram.
6. Cultural Movement Hashtags
Cultural movement hashtags are the ones trending on a specific event or action. For example, #BlackLivesMatter is one of the cultural movement hashtags. As a brand, you should be aware of this type of hashtag and use them to show your support for special cultures or people. Although this is not a hashtag to use for your everyday posts participating in cultural movements can brighten your brand's name.
7. Location Hashtags
Assume you have a hair salon in a city or area. It will be a better strategy to target people in your region. Therefore, using location hashtags can be helpful. For example, #hairsalonLA can tell users your hair salon is in Lose Angeles. It is better to combine your location and the service you offer to create a more meaningful and practical hashtag.
8. Phrase Hashtags
You can inspire your audiences with specific phrases like #bebrave. Even your slogan can become a phrase hashtag too. This type of hashtag can be produced specifically for your brand. Choose phrase hashtags strategically and appropriately.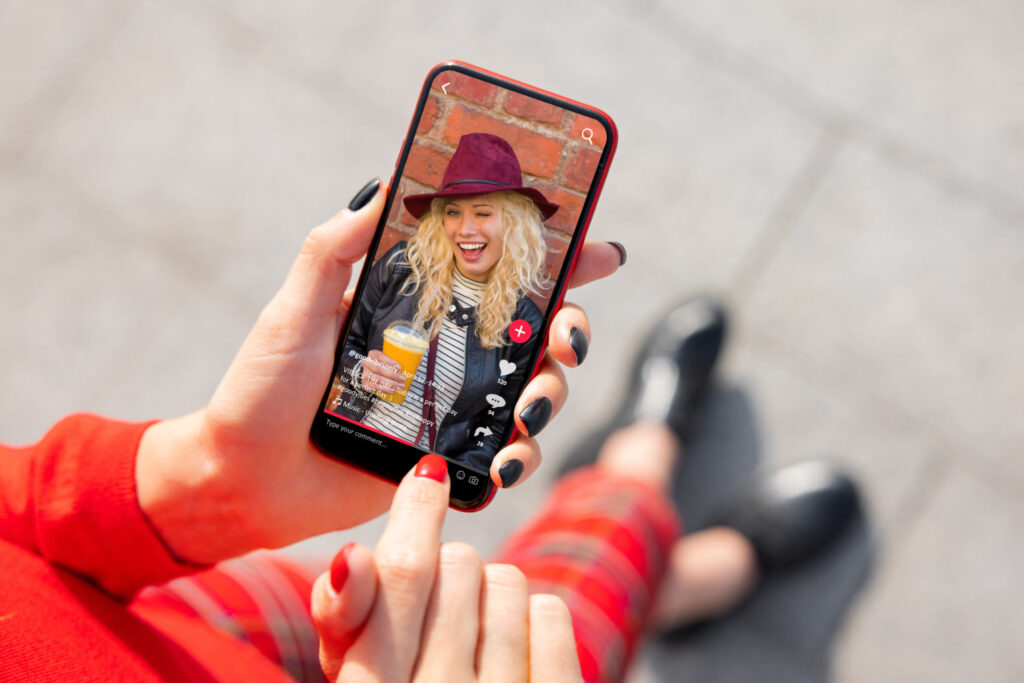 Tips To Use Hashtags On Instagram
Hashtag is a powerful tool that can increase the visibility of your posts and help you grow your Instagram account. However, you should also use them wisely and strategically. Here are some tips for using hashtags effectively:
Use relevant and specific hashtags that match your content and niche.
Use a mix of popular, trending, and niche hashtags to reach a wider audience.
Use up to 30 hashtags per post, but don't spam or overuse them.
Use different hashtags for different types of posts, such as photos, videos, stories, reels, etc.
Use an Instagram hashtag generator to find the best hashtags for your posts.
Use location hashtags. This is a great way to make your content more discoverable and relevant to your target audience. Location tags can help you reach local users who might be interested in your business or service.
Use calls to action. These are prompts that encourage your audience to take a specific action, such as liking, commenting, sharing, saving, or clicking on a link. Calls to action can help you boost your engagement and reach more people on the Explore page.
Work with influencers. Influencers are users who have a large and loyal following in a specific niche or industry. Working with influencers can help you expose your brand or product to their audience and increase your credibility and trustworthiness. You can start collaborating with influencers by signing up for free on Ainfluencer website.
Follow relevant influencers. They can always help you find trending and popular hashtags.
Learn from posts that are already on the Explore page. You can browse the Explore page and see what kind of posts are trending in your niche or industry. You can also see what hashtags, captions, formats, and styles they use. Then, try to emulate their best practices without copying them.
Check your competitors' post and see what hashtags they are using. This will give you a better idea of what is trending in your market and what hashtags are more popular.
Bottom Line
Instagram hashtags have an important role in showing your Instagram reels and posts to more people. They are here to help you become more discoverable and reach more followers on Instagram. Therefore, you should know which hashtags to choose to have a better performance compared to your competitors. Furthermore, creating high-quality content and adding trending hashtags can make you visible to more people.
But don't rely only on this strategy. One way to introduce your brand to more people is through influencer marketing. Ainfluencer is here to help you connect with top influencers in your market and start Instagram influencer marketing. You can sign up for free on our marketplace and find top influencers to collaborate with.
FAQ
What are hashtags for Instagram post for likes?
Some hashtags are used to reach more likes, including #like4like or #follow4follow. But it is not recommended to add this type of hashtag only to gain likes. Instead, have a strategy for using hashtags. Add a combination of different types of hashtags to reach more viewers naturally.
What are famous hashtags for Instagram reels?
Instagram reel hashtags are popular and widely used by people to create and discover short videos on the platform. They are usually generic and trendy hashtags that have a lot of posts and views. Some examples are #reels, #instagramreels, #reelitfeelit, #viral, #trending, #foryou, etc.
How do I hide Instagram hashtags from a post? 
It is more common to use hashtags in the caption. But if you don't want others to see your hashtags as their view your post, write the hashtags in the first comment.
What are famous travel hashtags for Instagram?
If you are a traveller or in the travel industry and want to be discovered among others, here are some of the famous travel hashtags you can add to your posts: #travel, #travelgram, #travelphotography, #wanderlust, #explore, #vacation. Do not forget to dedicate a hashtag to the place you visit. You can also check the list of travel influencers on Instagram for more ideas.