Influencer marketing is more popular than ever, and it keeps expanding as more and more businesses hire influencers to advertise their products.
You know that your business demands every advantage you can get in today's competitive market to succeed. So what can you do to gain an edge?
Develop influencer marketing strategies.
According to a recent report by Visual Objects, 25% of small businesses employ influencers to support their social media marketing efforts.
The benefits of influencer marketing for small businesses are obvious to marketers when it comes to small business advertising.
But what is influencer marketing, and why is influencer marketing important, especially for small businesses? Let's dive in!
What is influencer marketing?
Influencer marketing is a type of advertising that focuses on using key influencers to spread a brand's message to a wider audience. Bloggers, media personalities, and even celebrities can serve as influencers.
The way influencer marketing programs employ reputation and trust to reach consumers sets them distinct from other types of marketing. Consumers frequently place greater trust in influencer marketing than they do in brand advertisements.
Bear in mind that not every type of influencer can help you meet your needs. You should find influencers who are qualified, niche-related, and have engaged followers.
Are you looking for the fastest and easiest way to find qualified influencers? Using an influencer marketplace like Ainfluencer can help you.
Ainfluencer acts as a middleman and helps both brands and influencers connect and collaborate. This search tool is packed with lots of useful features and an AI-powered search engine that allows brands to filter influencers based on location, hashtags, category, gender, language, number of followers, etc.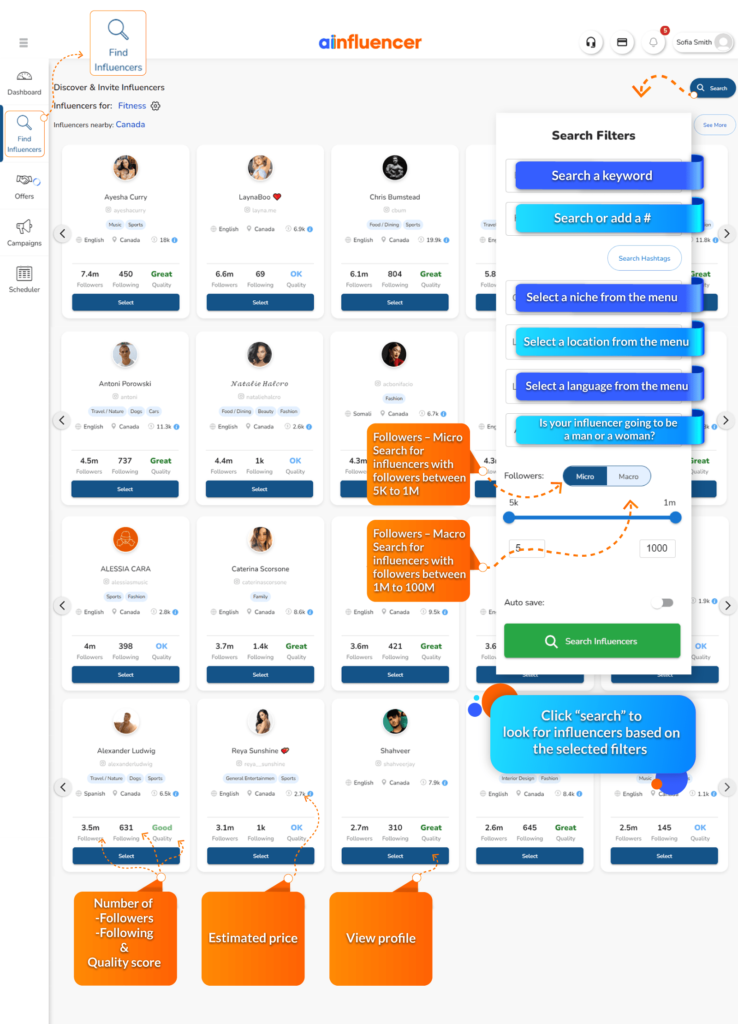 Benefits Of Influencer Marketing For Small Businesses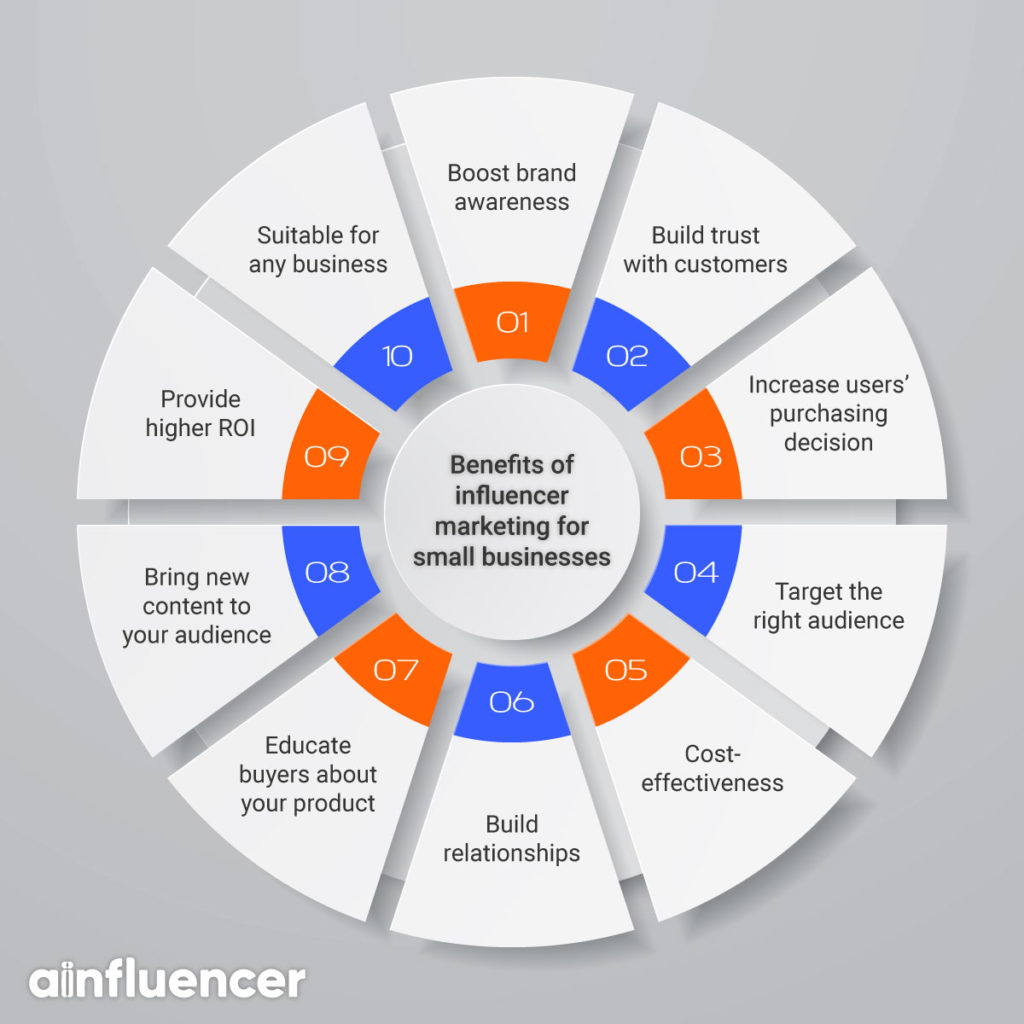 #1 Increase users' purchasing decision
By using influencers in marketing, brands are able to reach a wider audience, create more authentic content and increase their ROI because influencer marketing has a significant impact on consumer purchasing decisions.
For example, one study that examined Twitter marketing found that 49% of people rely on influencers' recommendations when making purchase decisions. It would increase users' purchasing intent by 5.2 times.
#2 Build Trust with customers
One of the benefits of influencer marketing for small businesses is the trust influencers build with their followers, which can translate to consumer action when they support a company's products and services.
Using influencers in marketing also creates an organic ad experience for users. Sponsored posts are less disruptive than pop-up or banner ads since they are integrated into users' Instagram feeds.
#3 Target the right Audience
One of the most important benefits of influencer marketing for small businesses is that it helps them target the right influencer.
When you work with niche influencers in your market, you can be sure that brand messages are being sent to a particular audience who are most likely to be interested in your product or service.
That's why clothing brands try to work with fashion influencers, beauty and cosmetic brands with beauty influencers, etc.
#4 Boost Brand Awareness
Increasing brand awareness is the importance of influencer marketing. Influencers' followers will surely become more aware of your business as they produce content featuring your products.
This is especially useful for new eCommerce businesses without a large following. It's also a great technique to generate excitement for the launch of a new product or collection.
#5 Cost-effectiveness
Influencer marketing for small businesses is a cost-effective strategy. If you have a small business and a limited budget, you can use micro influencers to make the most of brand advertising.
#6 Build Relationships
One of the other benefits of influencer marketing for small businesses is helping build relationships. If you get along well with influencers, you'll be invited to their live events, joint ventures, and other ceremonies, which will allow you to meet new people and establish new relationships.
#7 Educate buyers about your product
Small businesses' products are lesser known, and using influencers in marketing their products is a non-sales way to market to their potential customers.
Giving influencers in-depth information about your product will enable them to produce compelling content that educates their audience about it.
Not only does this increase your sales, but it also motivates clients to provide user-generated content that promotes your products. As a result, your brand becomes more well-known and gets more exposure.
#8 Bring new content to your audience
One of the reasons that proves the importance of influencer marketing is that influencers can help bring fresh content to your audience.
One of the responsibilities of a marketer is to generate new and creative ideas. There's no doubt that it's the enjoyable part. But if your team is small, it can be exhausting to always come up with new ideas.
Small business influencers can bring fresh, out-of-the-box marketing ideas to the table. With little effort on your part, they can suggest innovative ways to promote your product because they will have a fresh perspective on your brand.
#9 Provide higher ROI
Influencer marketing, which offers a higher return on investment than other marketing channels, helps big brands attract more customers and helps small businesses grow by increasing their visibility.
#10 Suitable for any Business
Influencers are typically experts in their fields, for example, health, fitness, traveling, cuisine, beauty, business, technology, science, etc.
As long as you find the influencers that are best suited to your needs, there is always room for everyone, regardless of how big you are or what industry you are in.
To effectively communicate and work with influencers, businesses may employ a variety of influencer marketing techniques.
Now that you know the benefits of influencer marketing for small businesses and the importance of influencer marketing, let's see what influencer marketing preparations for mall businesses are.
Influencer Marketing Preparations For Small Businesses
#1 Set Clear Goals
The first item on our influencer marketing checklist is setting clear, measurable goals.
What is it that you plan to achieve with influencer marketing? Your goals can range from boosting awareness to increasing sales.
Ask yourself the questions below so that you're better able to zero in on your goals:
do I want to influencer marketing to:
Best Black Friday. Ever!
Instagram influencers a
Spread the buzz around my business using influencer marketing?
Bring new products?
Reach out to prospects?
Use influencer marketing to drive up sales?
A well-detailed influencer marketing strategy will help you achieve many goals.
#2 Identify Your Target Audience
After the goals are set, it's time to designate the right market.
This is the phase where you want to make sure you've done enough research on your prospects and know a great deal about the audience you want to reach.
#3 Determine The Budget
Moving on to the third item, you need to set the campaign's budget.
Since influencer marketing is relatively cheaper than other marketing tactics, you don't need to spend a lot to see results.
Determining the budget mainly depends on one factor: the number of influencers in your campaign and their reputation.
So, for instance, nano-influencers will charge less, or you may even be able to compensate them by giving them free products.
#4 Create Personas
Next, you need to check whether you have created buyer personas.
This is where you should outline a clear picture of your customers.
In other words, you should ask yourself, "Who are my customers?" and come up with a fictional representation of their personalities.
There are some relevant details you have to include:
Income
Age
Marital Status
Interests
Problems
Fears
Goals
Online Behavior
Social Media Activity
#5 Choose The Appropriate Social Channel
To get the most out of your influencer marketing campaigns, you need to choose one of the popular social networks that are often used for this purpose.
Generally, Instagram is widely considered the powerhouse of influencers.
You will also need to consider your audience when looking for the right channel.
If your current customers and target market are more active on YouTube, then choosing a different platform could negatively affect your overall efforts.
#6 Curate Alluring Content
You need to specify what content you want to share with your audience. Based on this, you should produce appropriate visual and textual content.
Framework and the structure of the content provided by the influencer must be observed, and the necessary authority must be given to the influencer to be able to provide the creativity required in presenting content.
#7 Find The Best Influencers
This step is super important.
If you end up collaborating with the wrong influencers, all your efforts will waste away.
Remember that influencers will be responsible for delivering your brand's message and helping you achieve your goals.
So it's highly important to choose the ones that perfectly fit your brand's identity.
Finding the best influencers can simply be done using old-school methods such as Googling and browsing through popular content on social media.
However, you should take a shortcut around these and use an influencer marketplace.
Ainfluencer's Do-It-Yourself marketplace allows you to access an extensive, diversified database of influencers, as mentioned earlier.
#8 Schedule Campaigns
You need to set a specific schedule for your campaign.
There are some details you should keep in mind like:
Campaign period
Collaborating influencers
Content format, and publishing date
Your campaign should follow a timeline, with everything being precisely detailed.
#9 Monitor The Campaign
A successful campaign isn't only about a starting and endpoint.
It's the course of it that really matters.
You should keep a close eye on its direction after launch.
Things like the specific time and date of publishing content, the way people interact with it,
#10 Measure The Outcome
Finally, it's time to evaluate the campaign's results.
Assessing all the available metrics and measuring the outcome is what you need to do now.
There are plenty of reasons for the spike in demand for a data room banking, such as convenience and increased productivity.
In this phase, you should analyze all the data you collected throughout the campaign.
By data, we mean metrics such as:
Clicks
Conversions
Impressions
Profile visits
Conclusion
In conclusion, influencer marketing is an effective and affordable way for small businesses to reach new audiences. By partnering with influencers who have a large following, businesses can tap into new markets and gain exposure to potential customers. Furthermore, influencer marketing can help build brand awareness and create a favorable image for the business. Finally, influencer marketing can lead to increased sales and ROI for small businesses.
1- What are the benefits of using influencer marketing?
1- Expand the audience and brand awareness
2- Build trust and credibility
3- Add depth to your content strategy
4- Long-term, win-win partnerships
5- Boost your bottom line, ROI, and SEO
6- Drive decisions about buying
7- Bring in greater sales
8- Cost-effective and time-saving 
9- Appropriate for any business
10- Unlimited sharing potential on social platforms
2- What are the three main goals of influencer marketing?
1- Build brand awareness and strengthen brand image
2- Increase social engagement and interactions
3- Improve conversions 
4- Gain customer insight and data