From tutorial posts to styling tips, Canadian fashion bloggers can provide valuable content for your Instagram account. Follow these bloggers to stay up-to-date on the latest trends and see how your brand can benefit from their followers. Plus, they often have great photo editing skills, so your clothing pics will look super sharp!
We've rounded up a list of top Canadian fashion bloggers to help you grow your brand, increase brand awareness, and connect with new customers.
How to find top Canadian fashion bloggers?
Looking for the top Canadian fashion bloggers?
There are plenty of resources available online to help you find them. Some popular tools include Google search, Canada fashion blogs, hashtag search, and influencer marketing platforms.
Begin by searching through popular Toronto fashion blogs and taking advantage of influencer marketplaces.
Ainfluencer is on the list of top influencer marketplaces that connects brands and influencers. It is 100% free with no hidden fees.
You can explore and find influencers based on location, category, number of followers, engagement rate, quality score, etc., on Ainfluencer.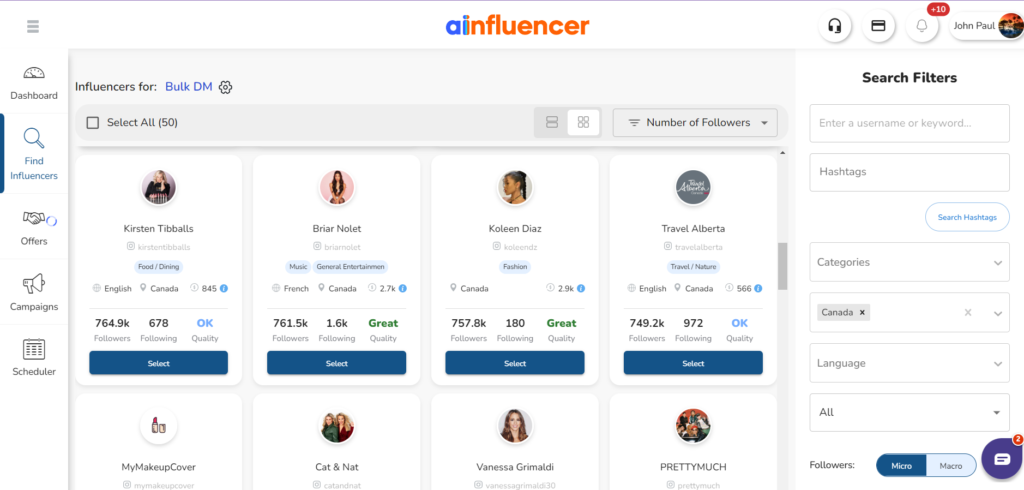 In order to find the best Canadian fashion bloggers, set the location to Canada and the category to fashion. Also, check out this video for a more detailed guide on how to find the right influencers in your niche.
36 Canadian fashion bloggers you should follow
Here is the list of top fashion bloggers in Canada to inspire you:
#1 Jenny Needham (@peacelovejennyblog)
Jenny is one of our favorite Canadian fashion bloggers based in Toronto with over 14k engaged followers. Her blog covers content from food to lifestyle, but her focus on fashion and styling is unique and just helpful.
#2 Lisa Wei (@lisawei)
Lisa's love for fashion blossomed, especially when she started her profession as a Canadian Instagram influencer. She turned to modeling, which led to her passion for style. Her Instagram feed is filled with fashion trends of color, travel, and beauty.
#3 Liat Neuman (@liatyomanchic)
Liat is a stylist and a Canadian fashion blogger with over 30k followers taking Instagram by storm. She's been dedicated to growing to produce predominantly style content. Her feed is filled with posts from shoots with colorful items and her edgy style sets her apart from the competition.
#4 Samantha Sito (@samanthasito)
Samantha is a name you might know if you're a fan of fashion and style. Her feed is a balanced mix of beauty, travel, and fashion content. Her YouTube is filled with a number of try-on hauls, and her Instagram feed serves some serious style inspiration.
#5 Zeba (@ellaprettyblog)
Zeba is a lifestyle and fashion blogger based in Toronto. With 30k followers, this micro influencer teaches you how to look good and feel your best at the same time. 
We love her blog because she shows exactly how you can style basics that are most likely already in your wardrobe!
#6 Ping (@pinggyu)
Ping is a Canadian fashion blogger based in Toronto. She is a nano influencer, but her Instagram game is just as flawless. Her style envelops a casual chic vibe that will serve you some serious fashion inspiration.
#7 Katia Hanine (@lapiz_of_luxury)
Katia is among the finest Canadian influencers inspiring women of all sizes to be courageous and confident in their choices.
This Canadian fashion blogger combines classic and modern pieces with a minimalistic approach that just draws you in. Don't miss her.
#8 Safinaaz (@thegreycanvas)
One of the best Canadian fashion bloggers, Safinaaz, created her blog to share aspirational and affordable style and beauty tips. She is your shopping bestie and inspiration for minimal fashion outfits.
Safinaaz constantly shares sale and deal alerts on her Instagram Stories.
#9 Carly Alexandra (@carlyramsay)
The Toronto-based photographer, stylist, and creative director, Carly, has more than 50k followers on Instagram.
She posts mostly under-exposure clicks of her style on her IG account. She's entertaining and a lot of fun to watch.
# 10 Carolyna Bauer (@carolynabauer)
Carolyna's page is all about affordable outfits, travel, and beauty tips. With more than 90k followers, she is one of the best Canadian fashion bloggers on our list.
She has found great success on social media as well as featuring on popular Toronto fashion blogs. Follow her blog for an inside peek at her sense of fashion and lifestyle.
#11 Flora Law (@Thefloralaw)
Flora has been blogging for a long time now. She believes in finding and focusing on the things in life that bring you joy, and it's reflected in her taste in fashion and style as well. Check her account out if you want beauty and fashion advice with a smile!
#12 Brett Poschmann (@theposhman)
Meet Brett who dresses each and every day to inspire us with his short yet attractive Reels. He is one of the well-known Canadian fashion bloggers when it comes to men's style.
#13 Annie (@dualcitizens)
Annie is a Canadian influencer who shares a love of blogging, sharing her views on fashion, tips on getting the best deals, and how to decorate with style. This Toronto-based fashion blogger helps fashion-related brands increase brand awareness as she partners with brands that she knows are best for her audience.
#14 Ashkan Hobian (@ashkanhobian)
Based in the Toronto area, Ashkan is among the best Canadian Instagram influencers in the fashion and lifestyle category. He shares snippets of his current inspirations including fashion, food, decor, and more.
#15 Toni Olaoye (@toniolaoye1)
Toni is a Canadian clothing style inspiration with over 150k followers.      She started blogging not so long ago and was instantly hooked. Through her IG account, she's able to collaborate with brands she loves and express her opinion on topics related to fashion, beauty, and lifestyle.
#16 Deya (@Deyakannesha)
Based in Toronto, Deya is on the list of creative Canadian fashion bloggers with 188k followers. Follow her account not only for fashion tips and beauty advice but also for her captivating personality and colorful style inherited from her South Asian background.
#17 Tee (@thatsotee)
Tee's IG account has grown into a visual diary where she shares her travel adventures, life experiences, style inspiration, beauty tips, and tutorials. This Canadian Instagram influencer with over 180k followers is there to empower her readers to use clothing as a tool to gain confidence and become the best version of themselves.
#18 Audrey Rivet (@audreyrivet)
The content creator and graphic designer, Audrey is a Canadian clothing style icon and one of the best Canadian fashion bloggers on the list. She is a travel addict with a love of effortless style. Her blog is a truly diverse lifestyle destination, providing empowering yet easy-to-implement content including fashion, travel, and beauty.
#19 Kelly (@kellyhesun)
Kelly is a fashion blogger inspiring your wardrobe and photo. She describes her account as a place for the millennial woman who loves to travel, sees beauty in the ordinary, and aims to live wholeheartedly.
#20 Betty (@Itsbettylam)
Betty is one of the best Canadian fashion bloggers based in Toronto. You can find amazing content on her page not only about fashion but food, lifestyle, and self-care. In fact, she is counted as a wellness influencer as well.
#21 Jessica Lam (@jessicailam)
Jessica describes herself as a girl who loves coffee, clothes, and creepy TV shows! She is a Canadian fashion blogger based in Toronto giving your major daily style goals.
#22 Valeria Lipovetsky (@valerialipovetsky)
Valeria is a Russian-born Israeli Model, YouTube Content Creator, and Social Media Star from Cherkessk, living in Canada. Valeria established herself as one of the top models in both Israel and Canada. With around 2M followers on Instagram, she is one of the best Canadian Instagram influencers.
#23 Coco Rocha (@cocorocha)
Mikhaila known as Coco is one of the top Canadian fashion bloggers and a successful model. She is known as one of the first "digital" supermodels and is known for her younger models' advocacy. Rocha is also the founder of the Coco Rocha Model Camp and co-owner of the Nomad Management Modeling Agency.
#24 Jessica Mulroney (@jessicamulroney)
Jessica is one of the successful Canadian fashion bloggers, stylists, and marketing consultants. She is noted for her previous work with Kleinfeld Bridal, past guest appearances on Canada fashion blogs, the TV show Good Morning America, and host of I Do, Redo. She is a fashion advocate and contributor to Sun wing's Wedding Vacations magazine.
#25 Saima Khan (@saimascorner)
Saima Corner is a brand created by Saima Khan, a Canadian influencer known for her fashion taste and hijab tutorials. She graduated from the University of Toronto, majoring in sociology and minoring in anthropology and psychology. From an early age, fashion was her passion.
#26 Hanan Tehaili (@hanantehaili)
The Toronto-based Canadian influencer, Hanan is a YouTuber and lifestyle influencer whose eponymous channel focuses on style tips for the traditional Muslim hijab. Her hijab tutorials and general beauty advice have brought more than 390k followers to her page.
#27 Shadi (@dressinheels)
The Canadian Instagram influencer and model, Shadi is one of the top Canadian fashion bloggers with more than 340k followers on Instagram.
She is a brand ambassador and media partner of Luxury Interiors.
#28 Catarina Moda (@caterinamoda)
Caterina is a plus-size model and is among the most influential Canadian fashion bloggers. She attracted over 350k followers to her Instagram account due to her mix of fashion and lifestyle photos.
Catarina became a known online personality due to her curvy figures like Olivia Campbell and Jess Megan. She first began her modeling career in 2013. If you are looking for a body positivity influencer, she is your go-to option.
#29 Kayla Seah (@kayla_seah)
Kayla is one of the Canadian fashion bloggers who follows the trends in her best way. She's the brain and creativity behind the blog notyourstandard.com which won the Webby Award for "Best Lifestyle Website." In comparison, her blog covers content from food to travel, beauty, and decor. Her focus on fashion trends, styling, and shopping is unique and just plain helpful.
#30 Ania Boniecka (@aniab)
Ania's love for fashion blossomed when she moved to Canada as a young girl. Due to a lack of extra-curricular activities at school, she turned into a model, leading to her passion for style. Her Instagram feed is filled with fashion trends of color, bold prints, and inspirational styling like no other. Ania is among well-known Canadian influencers in both fashion and lifestyle.
#31 Michaela Jane (@micjanee)
If you're looking for everyday fashion inspiration and an account that is purely dedicated to fashion, then look no further than Michaela. Her page is all about clothes, with a large majority focusing on street style. With around 140k followers, she is one of the finest Canadian fashion bloggers.
#32 Tessa Lindsay Garcia (@tessalindsaygarcia)
Tessa's feed is all about style, fashion, and home decor. Her fashion is fun, flirty, and fabulous, with bright colors and some killer accessories. She's also a YouTuber who follows her early mum life and already features a couple of try-on hauls. Tessa is a Canadian clothing style icon with over 120k followers.
#33 Cristina Monti (@cristinamonti)
Cristina is the Canadian queen of street style fashion. This Canadian Instagram influencer is in love with denim outfits, and she always mixes it up with florals to serve great looks on her feed.
You can also check out her blog, The Boho Flow, for more fashion, beauty, and lifestyle inspiration.
#34 Erin J (@lifew.erin)
Erin took her lifelong passion for beauty, fashion, and travel and funneled it into her IG account. She is a huge fan of sustainable fashion and one of the most inspiring Canadian fashion bloggers.
#35 Vickie (@Vickielaliotis)
Vickie is a style blogger and digital entrepreneur based in Alberta. Her account covers everything from daily outfits to beauty, and hair. She is the founder of the shop barretta and has 38k engaged followers.
#36 Lyndi Barrett (@stylecalling)
Lyndi's Instagram page features a range of try-on hauls as well as beauty tutorials. She is among the top Canadian Instagram influencers when it comes to styling.
Conclusion
By following the right Canadian fashion bloggers on Instagram, you can significantly grow your brand's visibility and reach. With the help of these Canadian influencers, you can create inspiring and engaging content that will resonate with your target audience.
So, what are you waiting for? Start connecting with these talented bloggers today!
1- Who are the biggest Canadian influencers?
Tom Daley, Sarah Nicole Landry, and cleo_ohsojazzy are among the top Canadian influencers.

2- What is a fashion influencer?
A person who influences the style and fashion choices of others through their personal style. Fashion influencers use their personal style to attract followers and help promote their brands or products.