In today's digital world, brands should discover a powerful strategy to connect with their target audience. Gone are the days when only celebrities and mega-influencers could impact consumer decisions. Nowadays, micro influencers, with their niche expertise and engaged followers, have become so popular among social media users. That's why there are several brands that work with micro influencers to empower their online presence.
Since it is still challenging to find the perfect micro influencers on social media, influencer marketing platforms have become the best solution for brands looking to tap into the potential of micro influencers. These platforms act as intermediaries, connecting brands with influencers who align with their values and target demographics. So, they are great places for influencers to get more brand offers, too.
Let's first dig more into the reasons why brands choose micro influencers for collaboration.
Why Do Brands Collab with Micro Influencers?
Major changes have occurred in how companies handle influencer marketing. With the proliferation of micro-influencers, smaller audience size is no longer a dealbreaker for forming collaborations with major brands.
Micro-influencers are one of the types of influencers that are well-known for generating substantial engagement in the modern days when it's all about the size and quality of your impact. 77% of marketers agree that micro-influencers are at the top of their desired influencers list. Here are some reasons that brands are looking for micro influencers: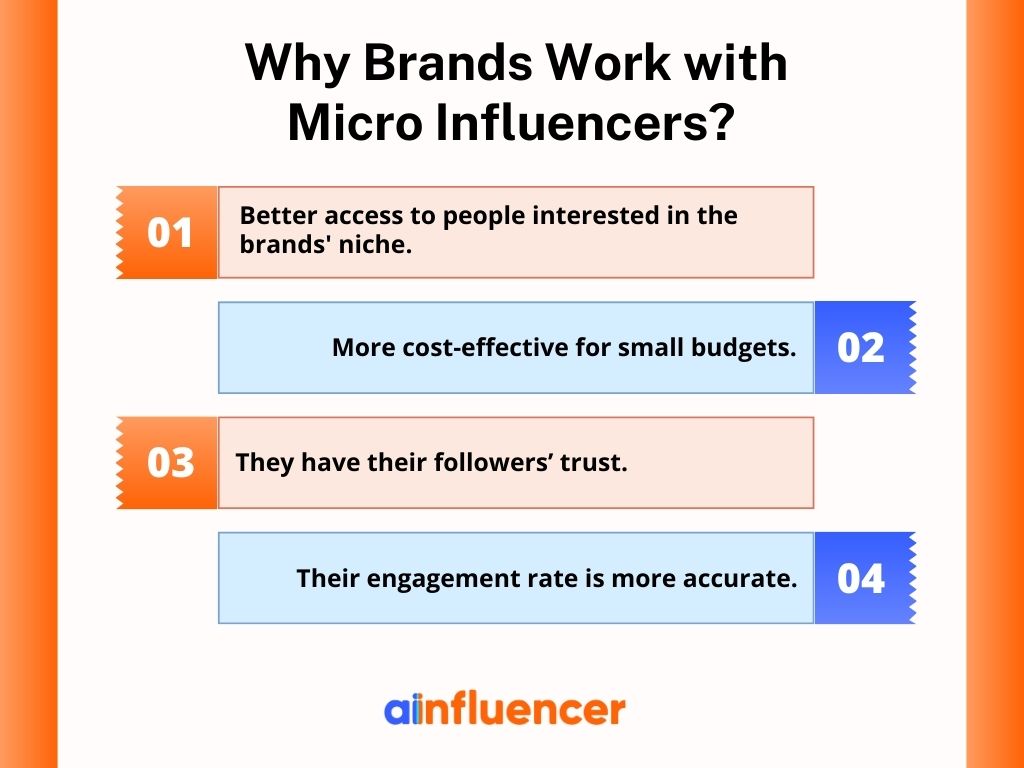 These influencers can give you better access to people who are interested in the brands' niche.
Micro-influencers are more cost-effective for small budgets.
They have their followers' trust.
Their engagement rate is more accurate based on the number of their followers.
This post will teach you all you need to know about the best micro-influencer brand deals. If you are a micro-influencer with an active audience, you have a chance to collaborate with these brands and even increase your chance of becoming a brand ambassador. Let's get started by looking at some of the most well-known companies that work with micro-influencers.
Top 25 Brands That Work With Micro-Influencers
As mentioned above, micro-influencers are the best option for most brands due to the number of followers and high engagement. No matter how popular a brand is, they work with influencers to promote their brand and products.
Here are 25 brands that work with micro-influencers most frequently:
1. Daniel Wellington
The first brand that works with micro-influencers on the list is Daniel Wellington. The timepieces produced by Daniel Wellington, a Swedish company, are known for their quality and style. This company started off with only $15K and by 2019 had expanded to a remarkable $200M in revenue. The brand's collab with influencers in order to expand its customer base has contributed to its success.
The watchmaker has found success by partnering with bloggers who have a smaller but dedicated following, particularly those writing about fashion and lifestyle topics. In addition, DW has been encouraging bloggers to use DW-branded hashtags in their own unique content.
2. Sephora
The second brand that works with micro-influencers on the list is Sephora, which is a well-known cosmetics retailer worldwide. Although it might seem unnecessary for such a famous brand to need influencers to promote its products, Sephora still works with top Instagram influencers.
 As a beauty brand looking for influencers, Sephora has figured out how to channel the influence of micro-influencers effectively. The #beautyuncomplicated campaign was created by the company last year to promote its new line of skin care products and spread the message that looking your best need is not difficult.
Beauty influencers have a great chance to find beauty brands to collab with on Instagram. Get ready to make money as a micro-influencer in this field.  
3. Nike
In the global market for fitness gear, footwear, and accessories for both men and women, Nike stands head and shoulders above all other brands. You only need to look at Nike's massive (and growing) Instagram following of over 303M to see that this company dominates its industry.
It's possible that you're already eager to work with Nike, but the company doesn't accept applications from influencers to become brand ambassadors; instead, Nike goes out of its way to find influencers.
On the other hand, if you join the Nike Affiliate Program, you can earn a fee of up to 11% on all legitimate sales that you help to bring in.
However, if you want to make money as a fitness influencer, you can still collaborate with gym clothing brands. To compete with top brands like Nike, the sportswear brands are also eager to work with small influencers to increase their brand awareness and sales.
Therefore, join Ainfluencer now to see the available campaigns in this field. 
4. AirBnB
The fourth brand that works with micro-influencers on the list is Airbnb. This American corporation facilitates the short-term online booking of lodgings and activities in 191 different countries.
The company is searching for 'Superhost Ambassadors' to assist new hosts in getting set up on Airbnb.
Superhost Ambassadors receive special perks such as early access to new features, monetary compensation for referring other hosts, and elevated support status. The application process is simple and takes place entirely on the Airbnb website.
Yet, there are thousands of brands and companies in the travel industry who look for micro influencers to collaborate with. Therefore, don't lose your chance of making money as a travel influencer on Instagram. 
What are you waiting for? Join Ainfluencer for free.
5. Starbucks
Because it collaborates with top Instagram coffee influencers to promote its products on Instagram, the coffee company has become one of the most popular brands on the platform. The use of micro-influencers is extremely beneficial for companies like Starbucks.
Did you know apart from top coffee brands, like Starbucks, there are lots of businesses in this industry that look for influencers to promote their brands? You can find several campaigns in this field on Ainfluencer. 
6. Adidas
Needless to say, Adidas is the famous brand that works with micro-influencers on social media. Undoubtedly, Adidas is one of the most recognizable sports brand in the world. So it seems sensible that they would be savvy users of social media. Today, it is also well-known for its virally successful influencer marketing efforts across social media platforms like Instagram.
Although this brand mostly collaborates with celebrities, there is still a chance for micro influencers to find a seat on the list of Adidas collaborations.
The results of Instagram collaborations between famous people and large numbers of followers and people who create material on a smaller scale are equally impressive.
7. Dunkin'
No introduction is necessary for the massive food and drink chain Dunkin'. In spite of its many partnerships with bloggers, it lacks a substantial social media following.
Dunkin can partner up with small-time bloggers as well as huge celebrities such as Charlie Damelio regularly.
8. Target
Another brand that works with micro-influencers on the list is Target. The American apparel giant Target has teamed up with Instagram influencers to promote their wares. In 2017, for instance, they debuted a new swimwear line and promoted it with the hashtags #targetstyle and #targetswim. Instagram users are still making use of those hashtags.
Instagram models and even athletes who like swimming can be the proper influencers for collaborating with brands like Target. If you find it interesting to promote colorful underwear or swimwears, you will find multiple brands looking for influencers like you.
9. Sperry
The famous fashion brand, Sperry, is a popular boat shoe company, who was an early adopter of micro-influencers. Knowing that during the rainy season customers are more likely to buy durable, fashionable shoes, they linked up with 100 Instagram micro-influencers who had previously purchased Sperry footwear.
Their perseverance was rewarded. Sperry saw a whopping 66% boost in traffic to their website from Instagram, with 4.7 million impressions, simply by focusing on fashion influencers that actually loved and utilized their shoes. People were more interested in seeing the rain boots in action, not on a model or in a studio that tried to replicate wet streets.
This effort by Sperry demonstrated the superiority of micro-influencers over larger influencers and even celebrities when promoting niche items. The influencers' followers connected with the #OOTD (Outfit of the Day) hashtag because it demonstrated that style and utility.
Want to find fashion brands that collaborate with small influencers?
10. Mejuri
Next on the list of brands that work with micro-influencers is Mejuri. Based in Canada, Mejuri, is a high-quality, reasonably priced line of everyday jewelry for men and women that is available both online and in brick-and-mortar stores.
The company needs Instagram jewelry influencers to represent the brand and promote its products in order to expand its customer base and increase revenue. With more than 1.1M Instagram followers, Mujuri may also feature you in their feed.
The best part is that influencers who are interested in joining Mejuri Fine Crew can apply directly to do so.
11. Glossier
The eleventh brand that works with micro influencers is Glossier. In exchange for promoting Glossier products in YouTube reviews, the company has launched an influencer program in which participants receive free or discounted products and other perks.
Since they've established this community, anyone who uses and appreciates their products may become an advocate for them. In actuality, the corporation employs more than 500 ambassadors.
"Our customers are our number-one mouthpieces and evangelists. They are doing exactly what we hoped they would. They are interpreting Glossier." –Emily Weiss, creator of Glossier. As reported by Vox.
How to work with Glossier: join Ainfluencer for free and check out the available campaigns or search for cosmetics to only see the available campaigns in this niche.
12. HelloFresh
HelloFresh is a meal-kit company headquartered in Germany that ships to various nations as well as the United States, Canada, New Zealand, and Australia. It tends to collaborate with influencers as it's the largest firm of its kind in the United States, and it owes at least some of its success to influential people.
The meal-kit company has mastered the art of using Instagram influencer marketing to its advantage. It has been collaborating with 'micro-influencers' who use the hashtag "#hellofreshpartner" on their social media posts.
13. Gillette
Next on the list of brands that work with micro influencers is Gillette. The brand is a producer of razors and is probably well-known among millennials and the generations before them, but the company saw the need to raise its profile with those in Generation Z and the younger generations.
In order to promote its Venus line in a way that would resonate with modern consumers, the company decided to create one of the best influencer programs in order to be able to invest in beauty influencers, primarily women.
All the way down to nano influencers with less than 10K followers, they sent out their "Influenster" package to influential women on Instagram.
The promotion showcased the influencers' regular use of Venus goods. Instead of luxurious celebrity bathrooms or carefully designed commercial sets, many of the images were taken in an ordinary bathroom that the typical viewer was likely to use or encounter.
The #ChooseToSmooth influencer marketing campaign was a huge success for Gillette thanks to the genuine content created by the nano and micro-influencers that participated in it.
14. Meller
On the list of fashion brands that collaborate with small influencers, we can see Meller, a Barcelona-based sunglasses and watches retailer. Meller has amassed a significant Instagram following thanks in large part to their frequent influencer collaborations.
Meller has deliberately woven influencers into the fabric of the brand from the very beginning, setting it apart from earlier firms that had to make adjustments to include influencers in their brand marketing strategy.
Basically, Meller is one of the brands with influencer programs planted on their website. They have a section of their website devoted to the content producers they collaborate with called 'Collaboration.' It's full of carefully selected photos of influential people (wearing Meller eyewear) and links to their Instagram accounts.
Currently, Meller relies heavily on fashion, leisure, and travel influencers. They are giving life to the products, drawing in a new demographic of trendy consumers, and releasing the full potential of influencer marketing for the business.
15. Coca Cola
The next brand to mention on the list of brands that works with micro influencers is Coca-Cola. You may assume that a brand as well-known as Coca-Cola, which could easily secure a celebrity spokesperson for their campaign, would pass up the opportunity to collaborate with micro-influencers, as it's one of the largest beverage producers in the world and its name is recognized by 94% of the people.
So, it may come as a surprise to find that Coca-Cola invested in micro-influencer campaigns, and more specifically, Belgian Instagram influencers.
Coca-Cola selected 14 influencers and content creators on Instagram to represent the company. Eight of them have less than 100K followers, while the other eight have more than 100K. Miette Dierckx, Yannick Merckx, and Alex Decunha were all significant contributors.
The plan was to have carefully selected micro-influencers in the travel, food, sports, and fashion industries talk about how much they enjoy drinking Coca-Cola and how it fits in with their everyday life.
Coca-social Cola's media strategy helped the company expand its reach in Europe, where the pervasiveness of advertising is lower than in the United States.
Besides Coca-Cola, which is one of the most popular drink brands, you can find sports drink brands looking for small influencers to collaborate with. So, if you find promoting these energizers interesting, several campaigns are waiting for you on Ainfluencer. 
16. Audible
Another brand that works with micro influencers is Audible, Amazon's progeny in the audiobook industry. It provides listeners with a wide selection of titles. Audible's marketing approach frequently includes partnerships with bloggers of all sizes.
Audible appears determined to take full advantage of the opportunities presented by influencer marketing, from working with A-list celebrities to working with micro-influencers with niche but devoted fan bases.
17. Asos
Next on the list of brands that collaborate with small influences is Asos, which revolutionizes the concept of purchasing online. It's certainly among the most well-known virtual boutiques offering clothing and accessories.
Like many other clothing brands looking for influencers, Asos also works with celebrities and bloggers to promote its products. The brand, however, went with an extremely original approach to advertising. When you can establish sponsored profiles for the same price as sponsored articles, who needs paid sponsored posts anyway? They did, in fact, name the influencers who work with them "Asos Insiders."
Simply put, it's a brilliant idea to even consider. They rely on influencers to spread their message instead of putting in the time, energy, and resources to cultivate their own loyal fan base. It develops naturally and appears to be completely genuine, which is of the utmost importance.
Are you a fashion blogger looking for clothing brands that work with small influencers? You're at the right place. Check out the available campaigns on Ainfluencer.
18. Canon
Next on the list of brands that work with micro influencers is Canon. When it comes to imaging technology, Canon is one of the few companies that can claim global leadership.
As can be said, Canon is another one of the brands with influencer programs on its website. Joining the Canon brand ambassador program is a fantastic way to advance your photography career if you have a genuine enthusiasm for the brand and its products. Your work and narrative will be showcased on Canon's brand ambassadors page.
Those interested in being Canon brand ambassadors can take their portfolios to a Canon office near them. They have a team of specialists who look over applications and narrow down the field.
As an Instagram photographer, you can check out different campaigns that would like someone like you to unbox their photography apparel and review the products. Since joining our marketplace is free, you don't need to think twice. 
19. La Croix
Another brand that works with micro influencers is La Croix. Micro-influencers have been helpful to this well-known brands. La Croix partnered with the Whole30 nutrition program and micro-influencers to promote their drinks instead of using the conventional methods utilized by the industry's other beverage giants.
You can get featured on LaCroix's profile if you utilize branded hashtags like #LaCroixlove or #LiveLaCroix, both of which are widely promoted by the company. Even influencers with fewer than a thousand followers can work with the brand.
LaCroix would even sends free case vouchers to micro influencers in an effort to get them to work with the company.
20. Headspace
The other brand that works with micro influencers on the list is Headspace. If you are a health influencer as well as a wellness influencer, Headspace might provide a fantastic chance for partnership. It's a top-rated app for good health since it facilitates meditation, sleep, and mental relaxation.
In order to spread the word about how effective Headspace is for relieving stress, this brand is looking for brand ambassadors. The application process for Headspace is handled entirely online.
Sharing your app experience on Instagram and including a tag for Headspace is another option to work together. Customers' own accounts of their time spent with Headspace are frequently highlighted.
21. Forever 21
Fashion companies are undoubtedly among the top brands that are focusing their efforts on influencer marketing. Forever 21 is one of the clothing brands that work with influencers that still seek for new influencers to collaborate with. 
In addition to working with influencers, Forever 21 used a hashtag strategy to engage with its followers. For example, fans and followers of the brand were able to share their favorite outfit with the dedicated hashtag #F21xMe.
If you're looking for clothing brands to collaborate with, you can find several available campaigns on Ainfluencer. 
22. Nivea
Known as the inventor of modern skin care, this German beauty company has always worked with celebrities and influencers. Nivea's name is famous enough that it may seem it doesn't need any more recognition. Although Nivea has Rihannas as its brand ambassador, it is still among the beauty brands that work with small influencers. Therefore, you may have a chance to work with this top skincare brand. 
However, don't forget that by joining Ainfluencer, you will have access to several campaigns that might be related to this category. 
23. BK Beauty
Another famous name among beauty bloggers is BK Beauty, which produces high-quality and luxury makeup brushes. As a well-known beauty brand looking to promote its products on social media, BK Beauty is one of the brands that work with micro influencers in fashion and beauty categories.
24. Knix
This Canadian brand is among the top women's apparel brands in the world. Knix is known for its wireless bras, period-proof underwear, sports bras, loungewear, and other related clothes. Therefore, Knix always looks for Instagram models or Canadian influencers  available to promote underwear and other women-related apparel. 
If you want to find small brands to collab with, there are thousands of related campaigns on Ainfluencer that you can choose from.
25. ChopFit
Staying fit is what most people wish for. That's why fitness influencers are so popular on Instagram and receive many offers from sports brands like ChopFit. 
As a fitness brand, ChopFit usually sells unique and limited products in this industry. Therefore, working with micro influencers can help this brand promote its one-of-a-kind products and reach more customers.
Are you searching for sports brands with influencer programs? You will have several choices on Ainfluencer.
How to Do Collab With Brands As A Micro-Influencer?
The seven essential ways in which you can start your journey for collaborating with different brands: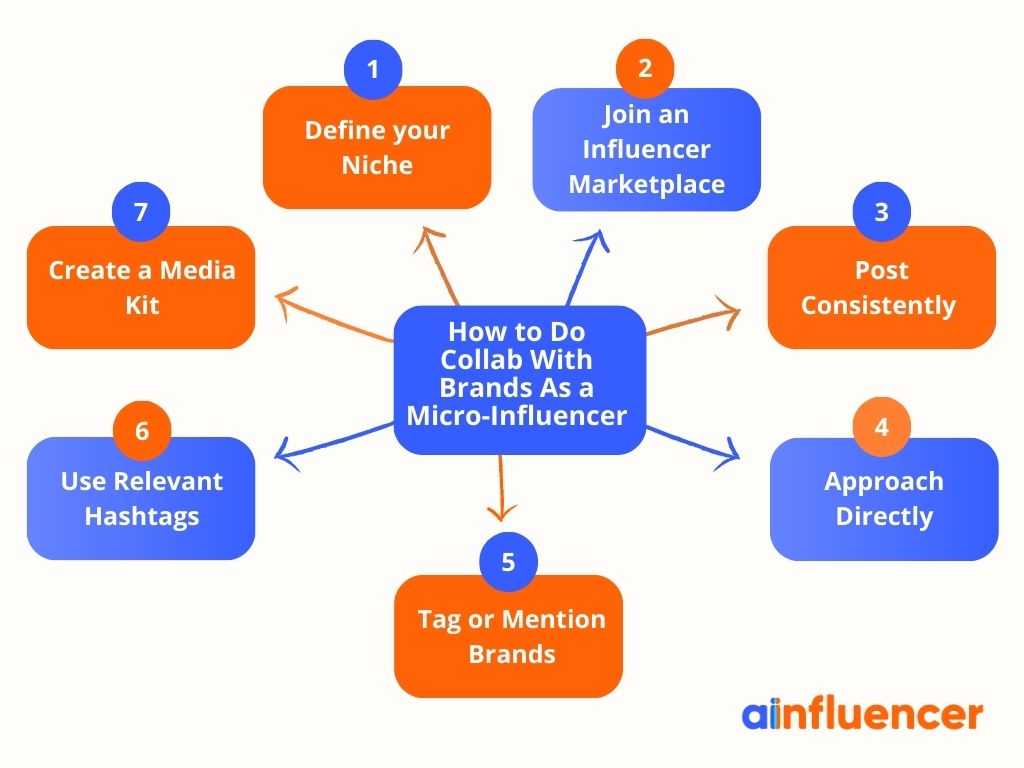 1. Define your Niche
It's not easy to get noticed in a market full of influencers. However, if you narrow your focus, you may find more success in getting discovered by companies.
The following questions can help you find your niche:
What is it that sets you apart from others in your field?
Where do you place your expertise, if any at all?
When you think about yourself, what do you care deeply about?
2. Join an Influencer Marketplace
Now that you've found your niche, it's easier to find related brands that work with influencers. Since you should always appeal to your audience by what you share, even the advertisement on your account should be related to what you usually do. So it is a must to find a campaign that is suitable for your niche and your followers.
This step might seem difficult, right? How can you find Instagram campaigns to collaborate with and make money on this platform? Shall you check out the brands' websites, one by one, to finally find a campaign that suits you?
Don't worry! If you're seeking a way to have your work seen by a wide audience, an influencer marketplace can be the answer.
Influencer marketplaces serve as a conduit between companies and influencers in the target industry.
There is typically a standard procedure followed by most marketplaces and platforms that deal with influencers:
After signing up, you'll be able to post a brief bio explaining your content interests and experience.
Brands that are interested in participating in the campaign will get in touch with you with more information.
Work together to advertise and promote their goods and services.
Ainfluencer Helps You Get Discovered by Brands Looking for Influencers
Ainfluencer is a 100% DIY and free influencer marketplace that connects brands and influencers. The influencers can easily join Ainfluencer and download its app to access the list of available campaigns and find the perfect brand to collaborate with and make offers to.
On the other hand, the brands that want to collab with influencers can also sign up on Ainfluencer for free and search for influencers based on category, language, location, number of followers, and hashtags to find the perfect influencer for their campaigns.
As you can see, if you join this marketplace as an influencer, not only can you send offers to available campaigns, but also brands can find you and invite you for collaboration. Therefore, you join for free and increase your chance of making money on Instagram without paying a cent! 
You can see an example of the Ainfluencer app's design below: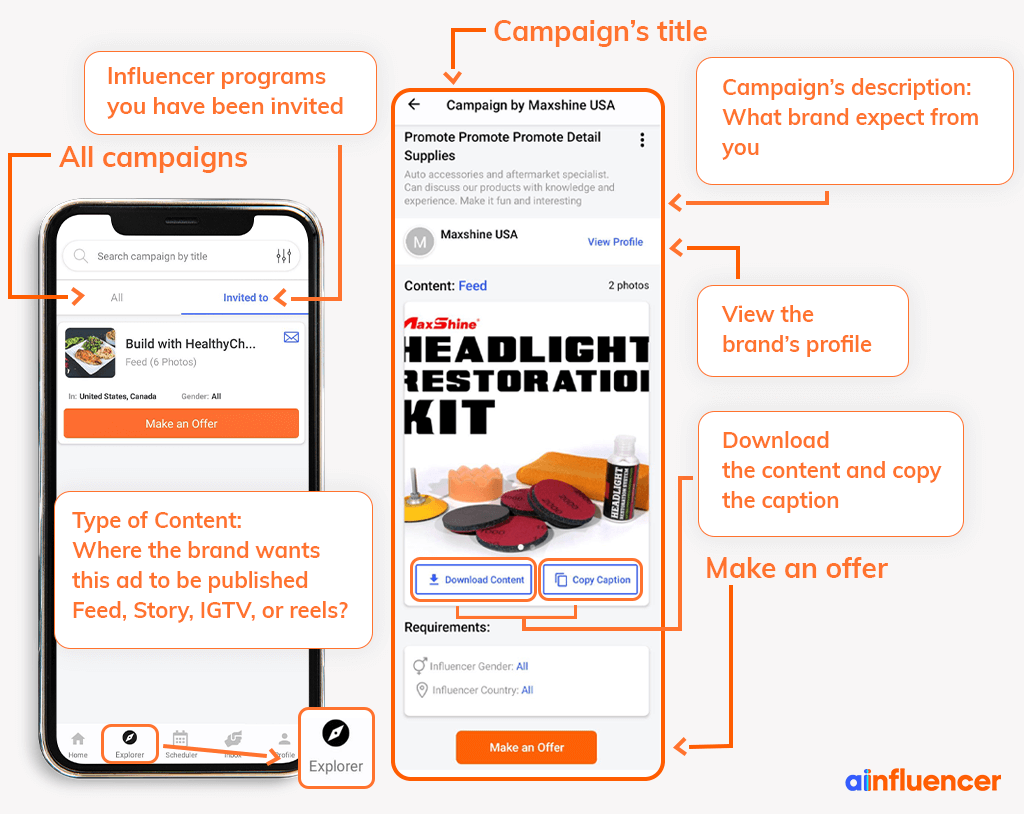 It's clear, easy, and simple to use.
3. Post consistently
Do you seek expansion in your social media following? Do you want to continue gaining new fans and sponsors? One must maintain uniformity.
Engaging in regular activity is essential if you want to grow your audience and get them to interact with you.
How often should you update your social media accounts, then? Everyday? Every week? Increasing the frequency of content posting has been shown to increase brand engagement.
How often should you update your social media accounts, then? Everyday? Every week? Increasing the frequency of content posting has been shown to increase brand engagement. If you know when is the best time to post on Instagram, you have a better chance of getting more views on your posts. 
Maintaining fresh and interesting information can be as simple as updating once or twice daily.
4. Approach directly
You should start reaching out to companies once you have established your own personal brand.
Finding a way to get in touch with the appropriate social media manager or marketing team is the first order of business. It's not that easy, though! Because you should explore the brand's website and/or social media for contact details. Also, be on the lookout for any specific needs they may have specified.
The second step is writing the actual pitch message or email. Think of unique methods to engage them in the pitch. Send them your media kit, a short bio, and a pitch that shows them how they might benefit from working with you.
Expert advice:

Dig into the company's content plans and history. This demonstrates that you cared enough to research their company and products to go above and beyond what was expected of you.
However, with the emergence of influencer marketing platforms and agencies, now it's getting much easier for influencers to find brands to collab with on Instagram. Therefore, this step sounds outdated, but you can still give it a try.
5. Tag or mention brands in your posts
This is a great way to catch the attention of companies eager to partner with influencers. Companies get a thrill whenever their customers talk about them online and link back to them.
It's possible to "tag" a brand on social media by writing the name of the business alongside the @ symbol in a post's caption or comment section.
The clickable nature of these @tags will alert the brand that you are endorsing them.
Brands can also be tagged in images on Instagram. You may also add a clickable link to images by tagging people or brands in them, and the latter will be notified if you do so.
6. Use relevant hashtags
If you're trying to find brands to collab with on Instagram, hashtags can help you out a lot. You can attract the attention of brands if you use relevant hashtags in conjunction with interesting content. Searching hashtags is a common practice for many brands as they seek out new material or influencers to highlight.
Check out some of the best justifications for including branded hashtags in your content:
Increasing exposure and adopted methods,
Gaining more followers,
Earning attention from brands (because they frequently check hashtags).
Using hashtags like #microinfluencers, #smallinfluencers, etc., frequently in the micro-influencer industry.
Most popular businesses, like Calvin Klein's #MyCalvins, have their own distinctive hashtags that consumers can simply remember and use to talk about the company online.
In order to find trending and branded hashtags in your niche:
Check out the #hashtags that other influencers are using (post captions.)
Monitor the brand hashtags that are being utilized.
7. Create a media kit
In order to introduce yourself to potential clients and showcase your work, a media kit is an excellent tool to use when reaching out to businesses and marketers. Influencers who want to work with brands are frequently asked to provide a media kit. 
As a result, not having one can cause you to lose out on potential partnerships and make you look unprofessional.
How, then, should one assemble a media kit for an influencer? When putting together your own media kit, keep these things in mind:
Don't forget to add your social media metrics!
Promote your statistics.
Exhibit completed projects and ongoing partnerships.
Specify a means of communication ( email, phone number, social media handles, website, etc.)
Create a pleasing presentational format.
Conclusion
If you are looking for brands that work with micro influencers, then you're in luck. You will start to get noticed, though, if you consistently provide high-quality content that marketers want, and engage with your fans on a personal level.
As long as you're bringing in the kind of audience that those brands are seeking, you can expect additional brand partnerships to come your way. Communicating with the businesses you partner with can strengthen your relationship with them. It may also lead to additional options for collaboration in the future. 
Apart from all the methods, joining a marketplace like Ainfluencer can speed up your chance of finding a brand that works with micro influencers. 
We believe that with these guidelines, you will be well on your way to becoming a prominent micro-influencer in your field and landing lucrative brand partnerships.
FAQs
1. How Do You Reach Out to Brands as a Micro-Influencer?
The best method to find brands for collaboration is to be available where they look for influencers. Join Ainfluencer to see the available campaigns and send your offer to start negotiating with brands for further process. 

However, you also have a chance to reach out to brands on their LinkedIn. However, joining an influencer marketing platform might not be as effective. 
1. Find the company on LinkedIn, click on the "People" tab, and look for employees with titles like "PR," "Collaborations," or "Influencer Marketing."
2. Inquire about the best way to get in touch with the company by sending a direct message on social media.
2. What Brands Work With Micro Influencers on TikTok?
Since influencer marketing is an important part of any marketing strategy, almost all companies in different fields look for social media influencers to work with. From beauty brands to clothing or even online markets can benefit from collaborating with influencers.
Some of the most well-known brands that are now working with influencers on different social media are:
Daniel Wellington
Sephora
Nike
AirBnB
Adidas
3. Why Do Brands Choose Micro Influencers?
There is a possibility of a higher return on investment (ROI) when using micro influencers rather than traditional celebrities. That's why it's more likely that your investment will yield a positive rate of return. In comparison to macro influencers, postings from micro-influencers receive 47% more engagement, exposing your brand to a larger audience of potential buyers.
4. How Do Brands Collaborate with Influencers?
Brands have different influencer programs, from asking them to share their ad on their posts to creating a collab video; many ideas exist to work with influencers. When collaborating with influencers, giveaways, sponsored posts, and unboxing are among the ideas brands follow.