Social media marketing has become one of the top methods for brands and companies to promote their products. TikTok is one of the popular platforms, especially for the Gen Z group. Most creators on TikTok are so popular and have millions of viewers, making them excellent collaboration options. Although it might seem easy in theory, when it comes to reality, you need to have plans and ideas about TikTok collaboration. This article will give you different tips and ideas for a creative and successful collaboration on TikTok.
As a brand, you should know more about how to find TikTok influencers. However, it is better to have an idea about this collaboration and after that send your offer.
Want to Start Collaboration with TikTokers?
As we mentioned earlier, one of the best ways to collaborate with TikTok creators is by joining an influencer marketing platform like Ainfluencer. We offer you an easy and free way to connect with TikTok influencers in different categories. You only need to sign up on Ainfluencer as a brand and search for influencers based on category, gender, location, number of followers, and hashtags they use.
Why should you collaborate with TikTok creators? Does it have any benefit for your business? Let's see what you gain from this partnership.
Benefits of TikTok Collaborations
TikTok collab has the following benefits for your business:
1. Increase Engagement
Any business creates a TikTok channel to reach more followers and find more potential customers, which is possible with a higher engagement rate. However, the type of collaboration matters too. The more creative and entertaining your content is, the more engagement you will get. Furthermore, user interaction is one of the factors that the TikTok algorithm considers. Therefore, more engagement can help your content find a way into the 'For You Page,' which is viewed by more people who are not your followers yet.
2. Enhance Brand Awareness
Creating collaborative content and posting it on the creator's channel put your brand's name in front of more people's eyes. Furthermore, people trust brands they know. So, anything you do to increase your brand awareness will lead to more credibility.
3. Boosts View Rates
When a creator mentions your channel during a collaboration, their audience will visit it to learn more about what you do or offer. Therefore, you will get more views on TikTok and increase your credibility with the next audience visiting your channel.
Now that you have considered collaborating with TikTok influencers, you should know some things to make this collaboration as successful as possible. Consider the following tips.
Tips About TikTok Influencer Collaboration
A TikTok collab seems like a great idea, but is it always successful enough for your brand? What can make this collaboration more effective? Answer the following questions before you start a collaboration.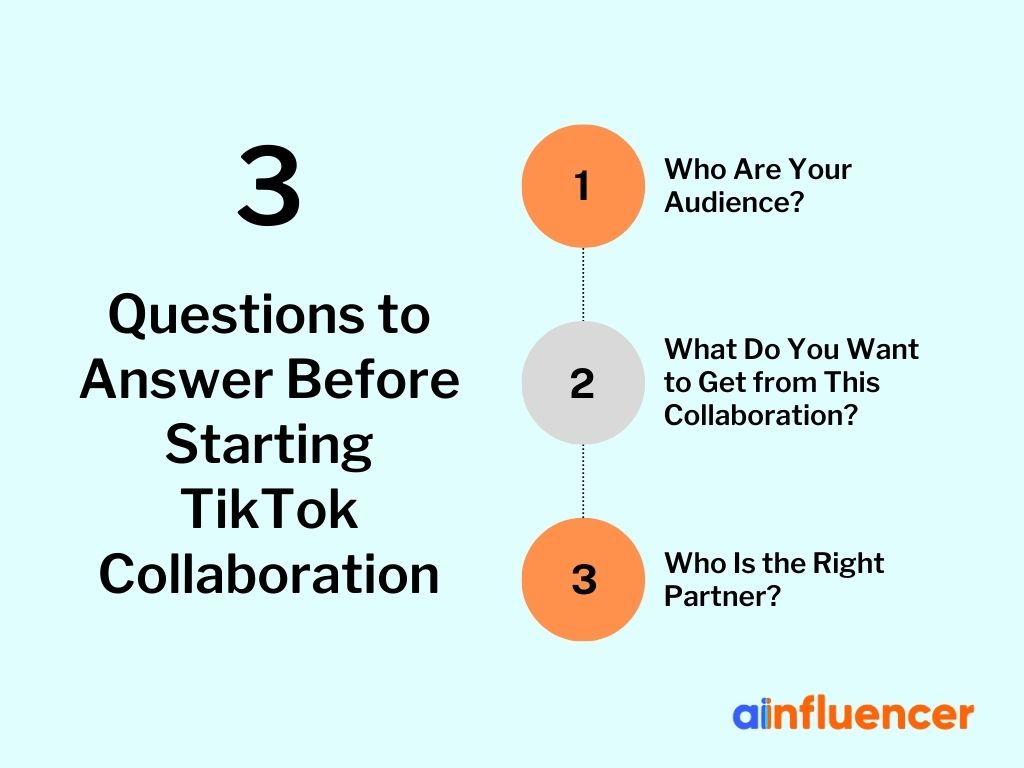 1. Who Are Your Audience? 
Knowing your audience should be the first step to writing a TikTok marketing strategy. You can't find the right influencer to collaborate if you don't know your target audience. So, take your time on this step as long as you recognize entirely who should see your collaboration as interesting and follow your channel.
Note that this demographic should be more than just the age or location of your audience. You need to know more about them, such as who they follow, what type of content they find more engaging, etc.
2. What Do You Want to Get from This Collaboration?
After discovering who your target audience is, it's time to have a goal for this collaboration. Which action do you want the audience of the collaborator to take? Do you only want to increase brand awareness, or do you want it to lead to more sales? Your goal of collaboration can help both you and the collaborator to make better content. It will also help you through the process of finding the right influencer on TikTok.
3. Who Is the Right Partner?
After recognizing the target audience and brainstorming about the collaboration type, it's time to find a creator for this partnership. The previous two steps might have narrowed down the list of influencers who are proper for a collaboration. But, you still have a long list of creators. To choose the perfect creator to collaborate with, understanding TikTok influencer rates can be helpful. 
Furthermore, don't worry about being low in influencer marketing budget because in most cases, even the nano influencers can be effective too.
On the other hand, if you want to work with top influencers with millions of followers, check out the list of most-followed TikTok influencers.
Still don't know how to find the right TikTok influencer for a collab? You're at the right place!
Find the Right TikToker to Collaborate
Let's check out different methods to find the influencers on TikTok.
1. Discover/Search Section
One of the first places to find an influencer is in the Discover section or the search bar. You can search for the creator's name and username or look for an influencer in a specific field by hashtags. So, always check out the trending hashtags on TikTok because most influencers use trends to stay on the top of the list.
However, this method has downsides because you should search for the influencer's name. So, you should know who you are searching for.
Furthermore, finding influencers by hashtags is also complex because general users might use the same hashtags too. Therefore, you should check thousands of pages to find out which one is an influencer.
These disadvantages will lead you to the next method, which is slightly better than this option.
2. Google Search
There is no doubt that you can find anything on Google. For example, you can search for top Mexican TikTokers and get to the list of those creators. In this case, at least you have a list of names, so you can check out their channels to know which is a better option for this collaboration.
But this method comes with downsides too. Since you should directly send the TikTokers your offers through direct messages, you should know how to send messages on TikTok. Therefore, it might take a while for them to check their messages to answer you. This process will take your time and is not the proper method if you want to run a collaboration as quickly as possible.
3. TikTok Creator Marketplace
The process of finding TikTok influencers might seem overwhelming. You should check the profile of thousands of influencers and send them messages. Sometimes, they will not even open your message due to the thousands of direct messages they receive daily. So, what other options do you have?
TikTok has launched a marketplace for brands and influencers to connect and collaborate called TikTok Creator Marketplace (TCM). Finding influencers in this marketplace will be easier based on their content creation field.
However, the one thing that this marketplace lacks is nano and some micro-influencers. Most of the influencers on TCM are top influencers with millions of followers who TikTok has invited. Although other influencers can also join this marketplace, they should have a certain number of followers, making some stay closed door!
On the other hand, most startups would like to work with nano influencers due to their limited budget. So, it still won't work for them.
What else? Are you getting hopeless about finding the right TikTok influencer to collaborate with? You still have one more chance.
4. TikTok Influencer Marketing Agency
One of the best methods to find the right influencer for collaboration on TikTok is using TikTok influencer marketing agencies. Ainfluencer is one of the agencies that provide you with a complete list of Influencers on TikTok and Instagram. The process is easy and quick; you should sign up on Ainfluencer, which is free, and start searching for the influencer based on different factors. You not only find influencers based on their categories, gender, and locations, but also you can define your budget to narrow down the list to influencers who accept this amount.
Furthermore, one of the best options you have on this platform is that you can define what type of influencer you are eager to find; it is possible to discover nano influencers on Ainfluencer, which makes you reduce the amount of your marketing budget to a minimum and still get the best results.
After finding the proper influencers, you can send them your offer, which is again available inside the platform, so you won't need to wait until the influencer sees your message among the thousands of messages they received from their fans.
It's easy, quick, and free; test it now!
How to Collab on TikTok? [TikTok Collab Ideas]
Like YouTube collab, you should decide upon the idea for your collaboration. Check out the following ideas for TikTok collaboration.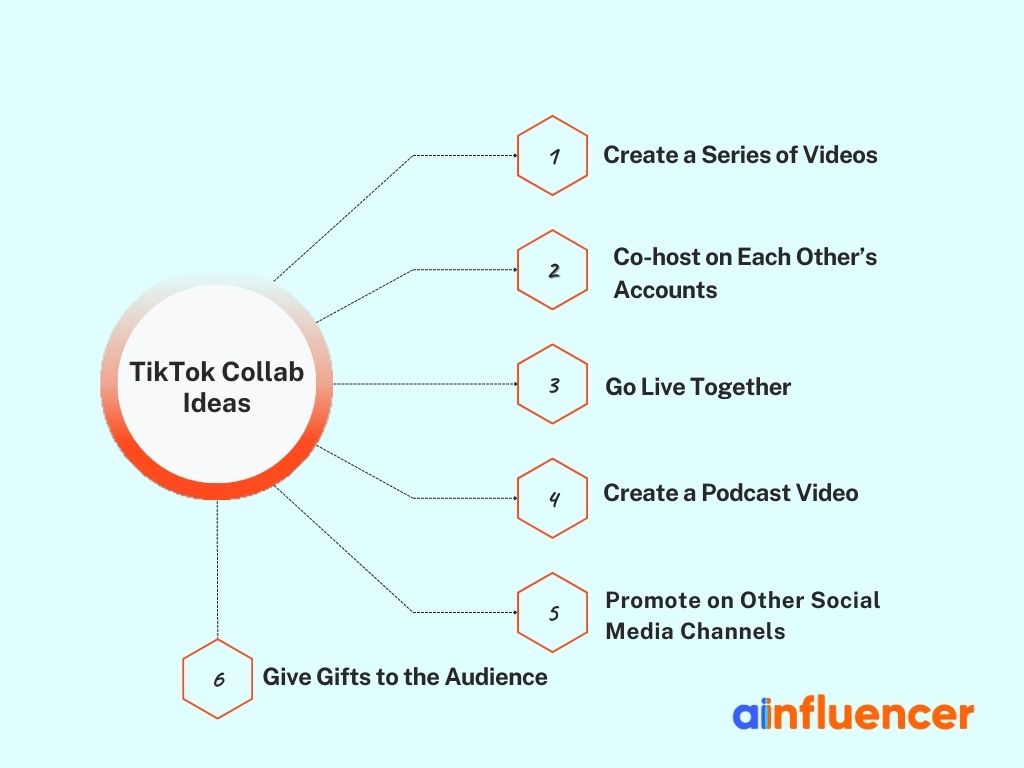 1. Create a Series of Videos 
With the help of the collaborator, create a story and divide it into different videos. A series can make people more eager about your content. So, they get more engaged. In this method, the creator will share the first episode on their channel and tell their audience to see the next episode on their channel. As a result, they will send more viewers to your account who are eager to know more about the story. In this way, it is more likely for them to follow you to see the next episodes.
2. Co-host Each Other's Accounts
To create a more authentic presence on TikTok, consider collaborating with a partner who has expertise in a particular aspect of your niche. By exchanging guest posts, you can showcase your knowledge and the value of your content to your audience without using traditional advertising methods that Gen Z tends to reject. Over time, these collaborations will expand your network and increase your visibility, enabling you and your partner to achieve greater success on the platform.
3. Go Live Together
Live streaming is so popular on social media. TikTok users enjoy this type of content because they feel more engaged with the creator. Therefore, find a creator who goes live occasionally and decide on a date to do a live stream together. Livestreaming can make more people notice your business, and it is more possible for them to follow your channel for more information.
4. Create a Podcast Video
Podcasts entertain more people; they listen to this content while on the road. One thing that can make it more appealing to listeners is to watch what they usually hear. If you or your collab partner have a podcast channel, film a podcast episode together. It can be an interview, storytelling, or talking about your business. Whatever you make, ensure it is informative to your audience and, at the same time, entertaining.
5. Give Gifts to the Audience
Giveaway is one of the best methods to promote your brand. Therefore, create a video together using your products. Ask the audience to do the same and share their content with your specific hashtags, so they can win one of your products. However, you should make this gift more valuable to the audience and for that reason, they are more eager to participate. Share the video on other social media channels too.
6. Promote on Other Social Media Channels
After creating a partnership with another creator, it is better to share the result on other social media platforms to make others informed too. Furthermore, you can promote the collaboration on other creators' channels too. Find other influencers in your field and ask them to share the video you have created. This way, you can inform more people about your brand and business.
4 Examples of TikTok Collaboration
Let's check out some examples of successful TikTok collaborations. The following example can help you find out how to collab with brands on TikTok. 
1.Duolingo x Scrub Daddy
We can see one of the best collaborations between the language learning app "Duolingo" and the "Scrub Daddy," the cute face of a dish scrubber. Together they created a funny video and posted it on their channels. Although they didn't seem to be in the same niche or field, the result of this collaboration was wonderful for both. Accordingly, the TikTok collaboration post reached 1.1M views on the Scrub Daddy channel and more than 3M views on Duolingo.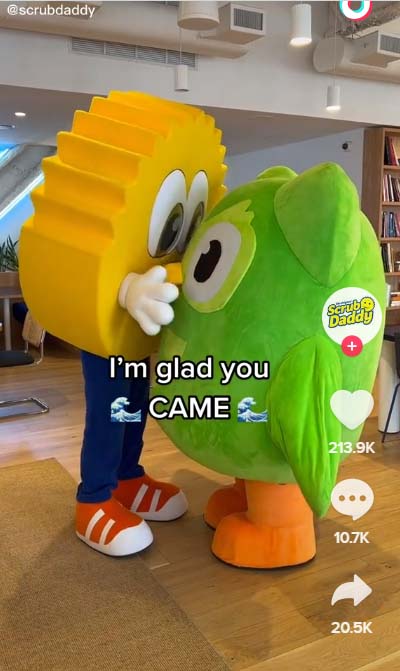 2. Khaby Lame x Hugo Boss
There is no need to introduce Khaby because he is one of the top influencers on TikTok and Instagram and also one of the highest-priced social media influencers. The collaboration between Hugo Boss and Khaby was one of the best collaborations on social media because the video created by Khaby and highlighted with #BeYourOwnBoss gained almost 6M views in less than two weeks.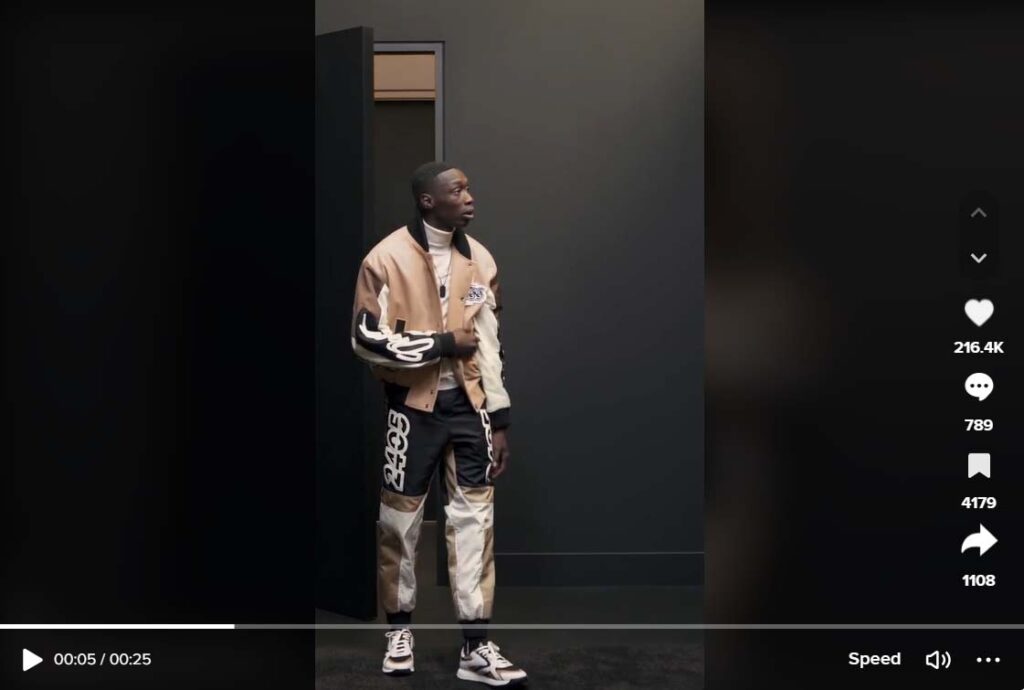 3. Zach King x Chipotle
The video creator, Zach King, is a well-known character on social media. His creativity in video production has made him a perfect content creator on social media to collaborate. Accordingly, Chipotle had a chance to collaborate with this top influencer for Halloween, and the result was terrific. King's creativity has won 4M likes and almost 88M views, which is a true win!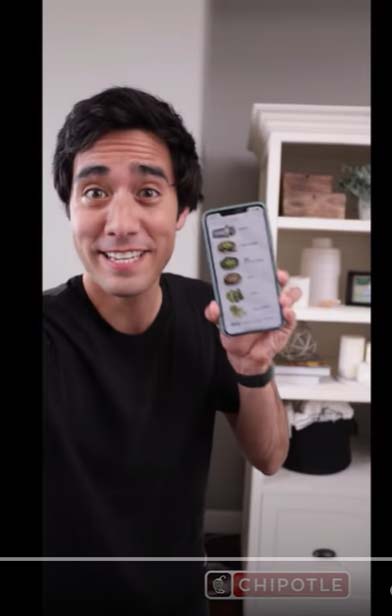 4. Magic Spoon x Super Coffee
The team of Magic Spoon and Super Coffee also acted well on TikTok. As the names indicate, they have related products, which made it easier for both to collaborate. Their collaboration type was preparing a giveaway together.
Bottom Line
TikTok collaboration is one of the best ways to improve your business on the TikTok platform. Before starting a TikTok collab, you should know what you want to gain from this partnership. Then, check out the ideas about collaboration type and seek the right influencers. However, collaboration is not always between a brand and an influencer; sometimes, two correlated brands can create a great video together, which will be a win-win collaboration for both.
As you can see, TikTok is a great place for creators to make money. Therefore, as a creator, you should know more about how to make money on TikTok.
One method to make yourself more visible to brands and businesses is by joining Ainfluencer community of influencers.
FAQs
How Do You Collaborate on TikTok?
Brands usually search for creators in their niche and send them their offers. If they accept, they can sign a contract and start creating a video together.
Can You Invite a Collaborator on TikTok?
One of the easiest methods to invite a creator to collaborate on TikTok is by joining Ainfluencer as a brand. You can access the list of thousands of TikTok creators on this platform and look for the proper influencer based on category, gender, location, and hashtags. Furthermore, you can create a campaign and invite influencers to participate. If they accept, you can go on making a video.
How Many Followers Do You Need on TikTok to Collab?
Generally, it depends on the brand who looks for a collaborator. However, the creators verified on TikTok have more chances to be chosen. On the other hand, the more followers a creator has, the more money they can make.
What Does Collab Mean on TikTok?
Collab is the short form for collaboration. It refers to the time when a TikTok creator and a brand start a collaboration on this platform; this can be influencer marketing, sponsorship, or a collaborative video. The TikTok collaboration post usually is shared on the channel of both parties. It means the brand can repost the collaboration video. 
How to Collab with Brands on TikTok?
TikTok influencers who look for brands to collab with on TikTok should make their channel more discoverable to them. As an influencer, you should know where brands and businesses search for TikTok influencers. That's why we recommend you join Ainfluencer to stay on the list of TikTok influencers that brands search for. After finding a brand to collaborate with, you can decide upon the type of collaboration.