TikTok is the second most used platform in Mexico after Instagram. Since more users are testing TikTok in this country, Mexican TikTokers are getting more popular each day and trying to beat each other by sharing fun and creative content. Let's see who are the most popular TikTokers in Mexico.
Since Instagram is more recognized in Mexico, we have created a list of top Mexican Instagram influencers to help you discover the right people to follow or collaborate with. However, most TikTokers are also famous members of other social media platforms like Instagram or YouTube. Therefore, it will be easy to find them on other platforms.
How to Find Mexican TikTokers to Collaborate?
The world of influencers is vast, making it difficult to find someone to collaborate with in your TikTok influencer marketing plan. To discover the right influencer for your business, you should take your time and check many profiles on TikTok and Instagram to find out which one to choose. But, we made it easier for you to find influencers in your area or suitable for your business type.
Assume you want to find a Mexican TikToker for your brand, which sells cosmetic products. Therefore, here the location, category, and gender of that influencer are essential. So, you can quickly sign up on Ainfluencer for free and click on Find Influencer. 
Here, you can search for Instagram and TikTok influencers based on different factors: location, categories, gender, and language. Furthermore, you can find influencers according to the hashtags they use.
Therefore, you can quickly filter the list of influencers to those more relevant to your business. Additionally, you may have a dedicated budget for your influencer marketing campaign; if you specify it, the list will get smaller, and you can find the perfect Influencer to promote your brand.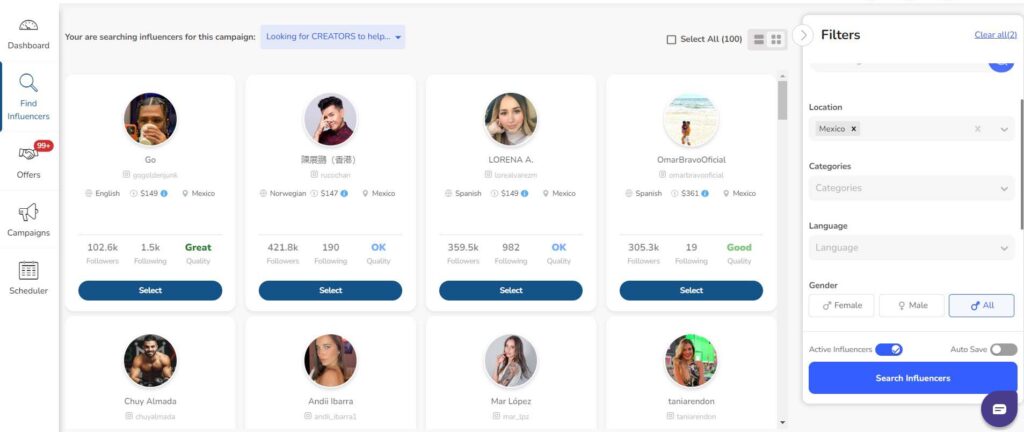 Remember, you don't need to pay anything; the registration is free. So, don't hesitate!
The List of the Most Famous Mexican TikTokers
From dance challenges to comic videos, these influencers have reached millions of followers on this popular social media platform. Let's get to know them more.
1. Kimberly Loaiza -@kimberly.loaiza
Known as the most popular social media figure in Mexico, Kimberley Loaiza has 75M followers on TikTok. She is a singer and dancer, and accordingly, most of her videos are dancing challenges or lip-sync.
Moreover, Kimberly is married to another Mexican TikToker, Juan De Dios Pantojas, who is a singer. As a couple, they usually go on stage together, making them more popular among their fans. Since Kimberly is so into fashion, she can be a perfect brand ambassador for clothing companies.
Want to know more about brand collaborations? Here is a list of inspiring brand collaboration examples that can help you improve your brand recognition and online market.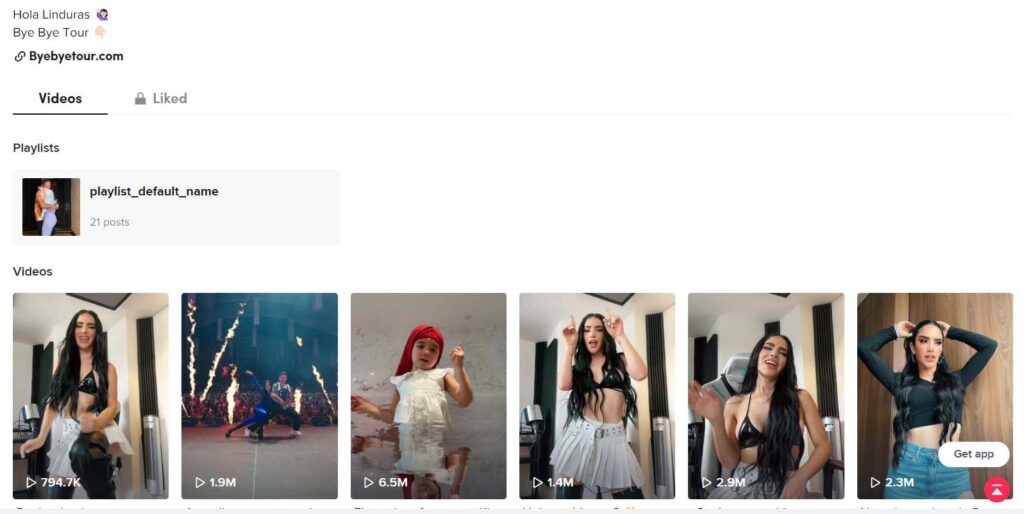 2. Domelipa -@domelipa
With more than 66M followers, Domelipa is one of the most famous Mexican female TikTokers. She usually shares dancing videos with trending music. She is one of the prominent social media figures for brands. Until now, she has collaborated with different brands that are mainly in the field of fashion and cosmetics, like Charlotte Tilbury, which is a luxury cosmetic brand in the UK.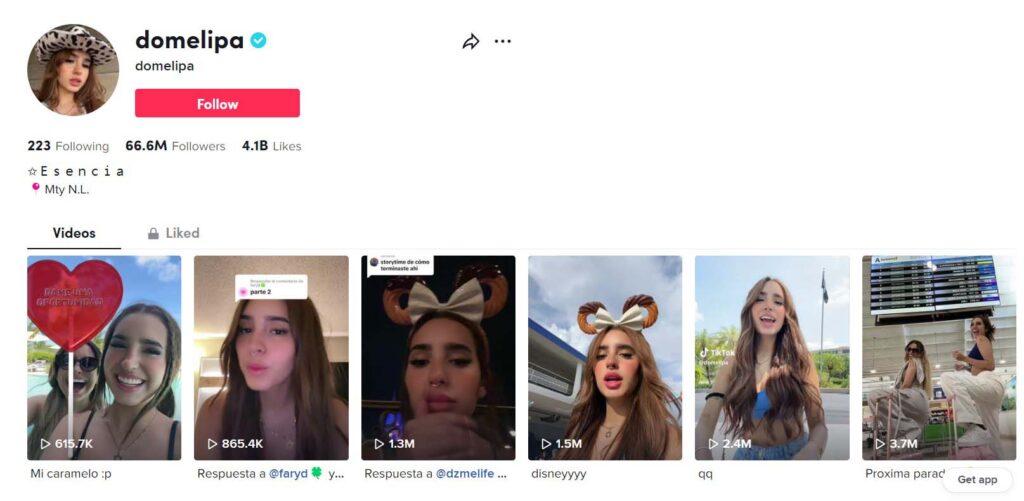 3. Darian Rojas -@darianrojasc
TikTok is not all about dancing videos. There are more creative people on this platform. Darian is among the most famous TikTokers, with up to 31M followers. She is primarily renowned for her comedy and fun videos. On the other hand, she is considered a fashion influencer and collaborates with top clothing brands like Levi's.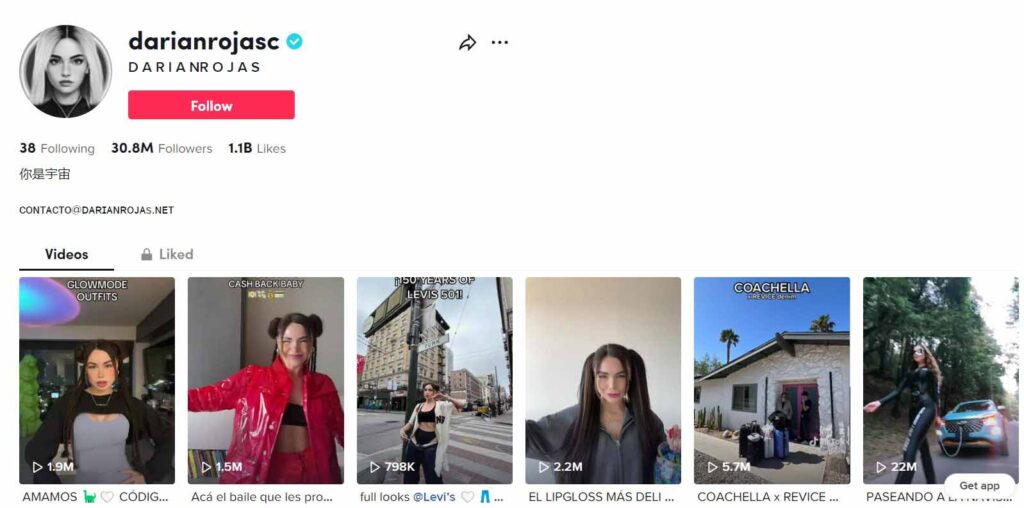 4. Ricky Limon -@rickylemon99
Comedians usually get more followers on TikTok because most people would like to laugh and have fun watching comedy videos on social media. That's why Ricky has 18.5 M followers on TikTok. Like other Mexican TikTokers, Ricky doesn't think creating videos is enough for his followers. He is entirely aware of the trends and challenges, so he employs both in his content, which makes his content more fun and viral.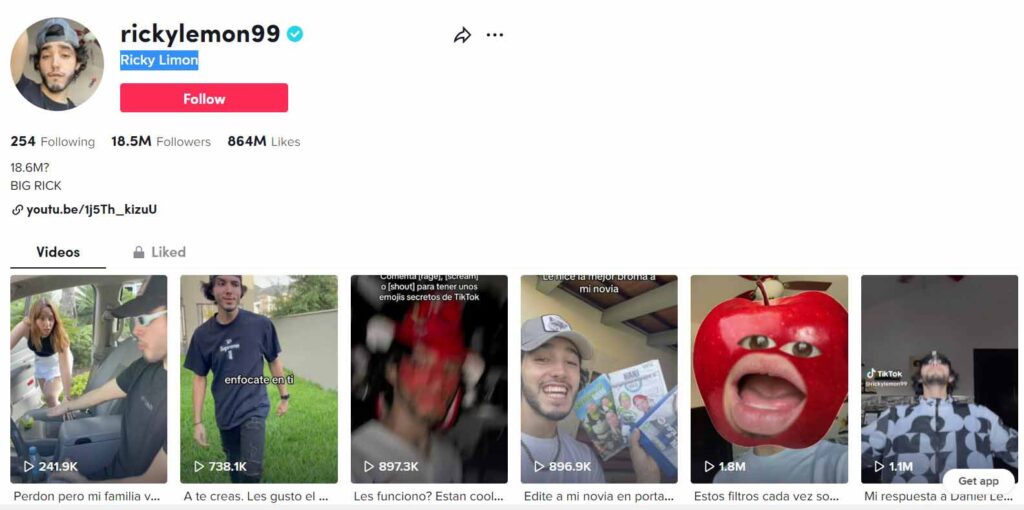 5. Fede Vigevani -@fedevigevani
Making people laugh is an art, and Fede is an expert in it. His TikTok channel has 17M followers, where he posts funny and comedy videos. As one of the most famous Mexican TikTokers, Fede still welcomes collaborating with other TikTokers. Moreover, this Mexican comedian is a perfect male fashion influencer who usually promotes clothing brands.
6. Lily Garcia -@lilyxgarcia
As one of the famous Mexican girl TikTokers with 17M followers, Lily Garcia is known for her storytelling and comedy videos. She also has a dog who has many fans on her channel. Moreover, Lily's hair color makes her more unique. That's why she can be a perfect influencer for promoting haircare or hair dye products.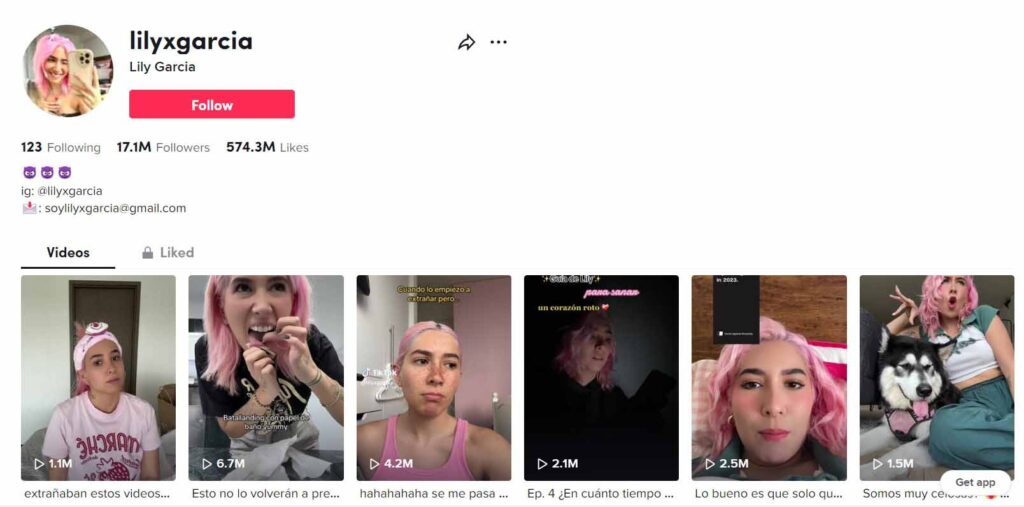 7. Tammy Parra -@tammy.parra
Makeup artists are so popular on social media. Whether on Instagram or TikTok, their tutorial videos always attract viewers. Tammy is also a famous Mexican girl TikToker who loves makeup videos. She usually works with other TikTokers to promote cosmetic products.
8. Calixto Serna -@mexicocookingclub
Being a food blogger on social media is a bit tricky because you should be able to share cooking videos and give recipes, and at the same time, do this job as fun and creative as possible. That's the challenging work Calixto decided to do on TikTok. He cooks Mexican foods for his 12M followers.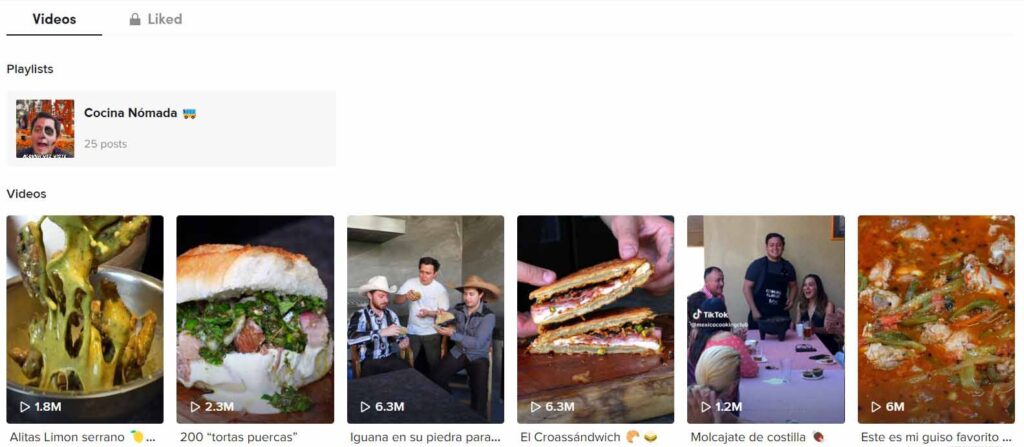 9. ElMariana -@elmarianaa
Most Mexican TikTokers are so creative in content creation. ElMarianaa talks about the latest news with a bit of humor and creates pranks. Actually, humor is the prominent hashtag he uses for his posts. With 12M followers, this type of content seems appealing to his viewers.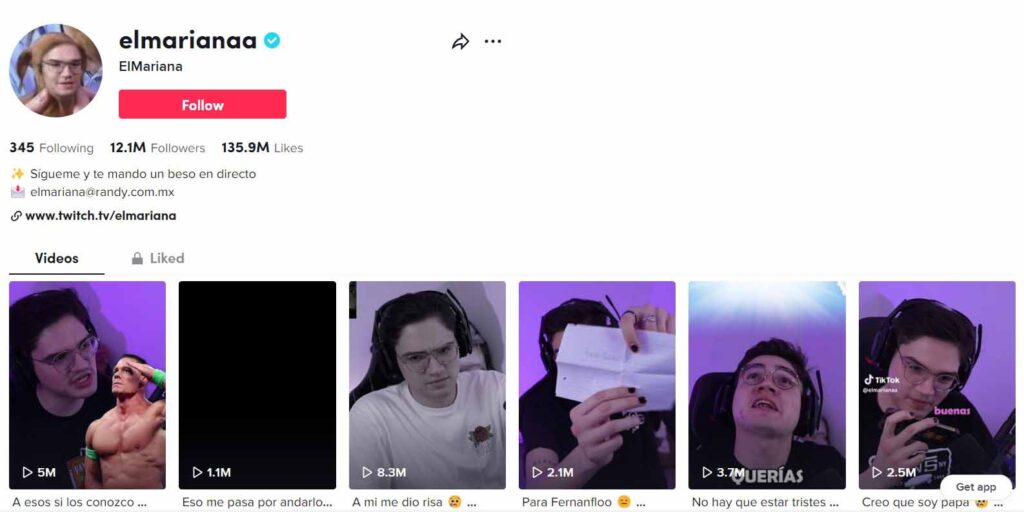 10. Dani Valle -@danivallem
His motto is live, laugh, love; that's why he has a TikTok channel: to make people laugh and stay positive. Dani is a comedian with 6M followers. All he wants to do is to create fun moments for his followers and make them laugh. He also has great stories for his videos, making him a creative storyteller.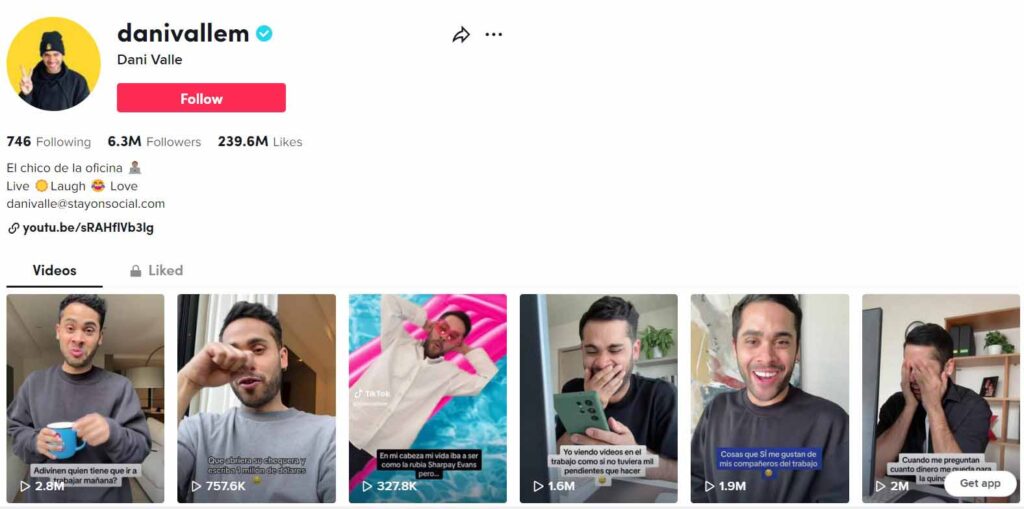 11.Sabrina Quesada -@@sabquesada
Like most TikTokers, Sabrina shares dance clips too. However, she tries to make her videos a bit different. That's why she usually shares POV videos. A POV (Point of View) video is where the camera is positioned to show the viewer what the person in the video is seeing and experiencing. That sounds interesting to her followers; now, she has 4.7M followers on her TikTok channel.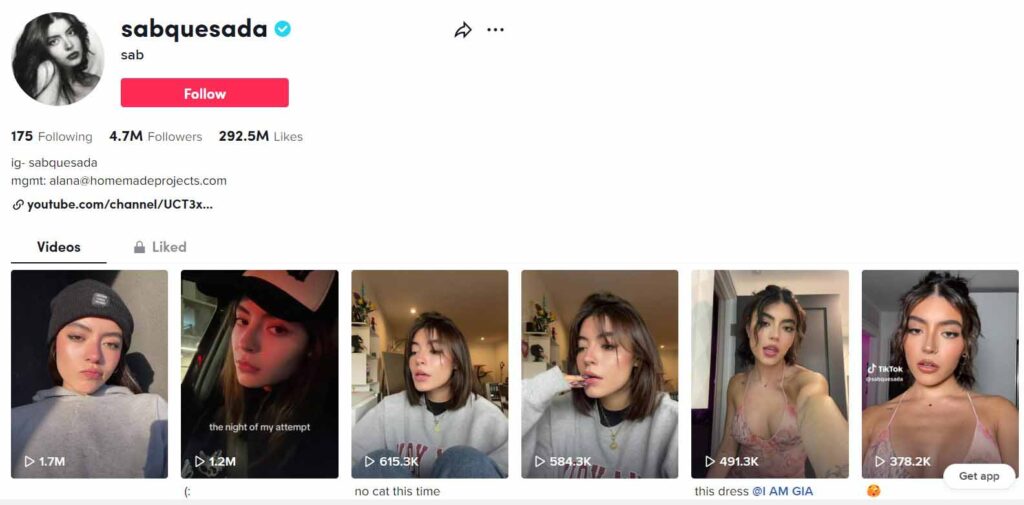 12. Annagrace -@ag.mcdaniel
With up to 2M followers, Annagrace is remembered for her skits and LGBT-related videos. She is passionate about basketball and loves dancing challenges. Because she doesn't want to lose her fans on other social platforms, she is an active user of YouTube and Snapchat. 
Did you know you can use Snapchat for marketing too? Read more about how to use Snapchat for business to discover if it's the right platform for your business.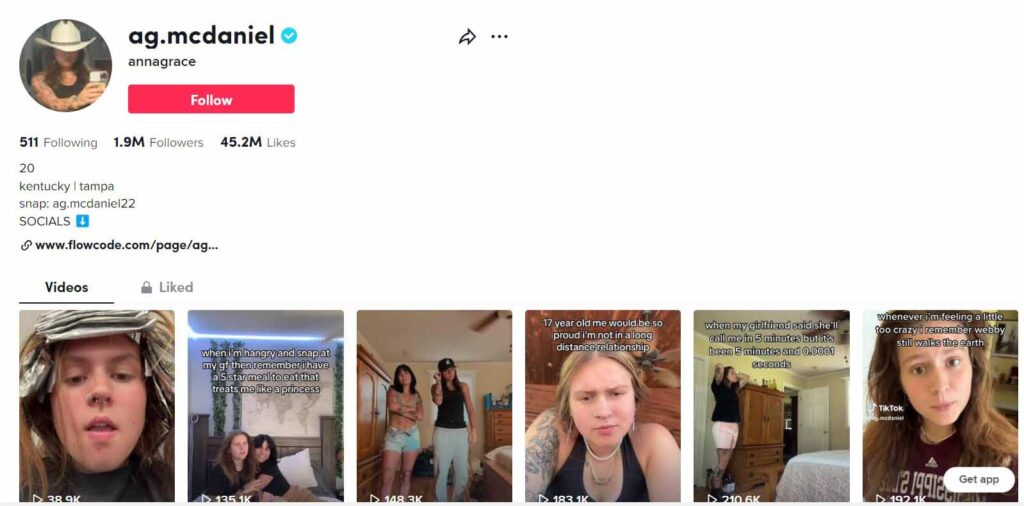 13. Kentaro -@kentaroyoneda
Social media can help you find out where to eat delicious food. That's why food bloggers are so popular on TikTok and Instagram. Kentaro is one of the famous Mexican TikTokers who taste different cuisines and shares his opinion with his 516K followers.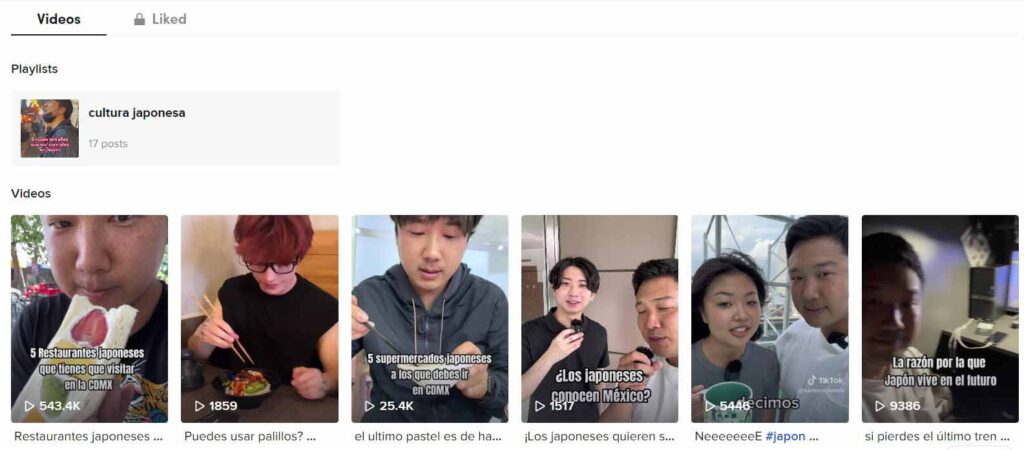 14. Cesar Gastelum -@cesargastelum04
Some Mexican TikTokers are only famous for sharing their daily life. Cesar usually plays the guitar with his friends and sings cover songs, and that sounds interesting to his 504K followers on this platform. Furthermore, he participates in TikTok challenges and collaborates with other TikTokers too.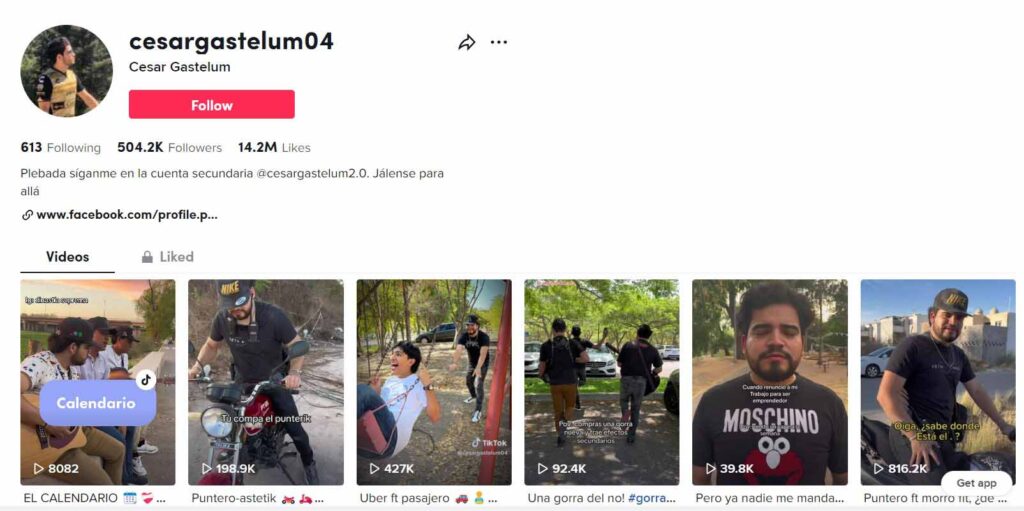 15. Odin Dupeyron -@odindupeyron
It's time to know a Mexican TikToker who is a motivational speaker. In a world of war and sad news, people love to hear something pleasant and bring hope to their lives, and that's what Odin does on his TikTok channel. Odin has 500K followers, and besides motivational speeches, he shares comedy videos to make people laugh. Moreover, Odin is a writer, actor, and well-known YouTuber with over 1.6M subscribers.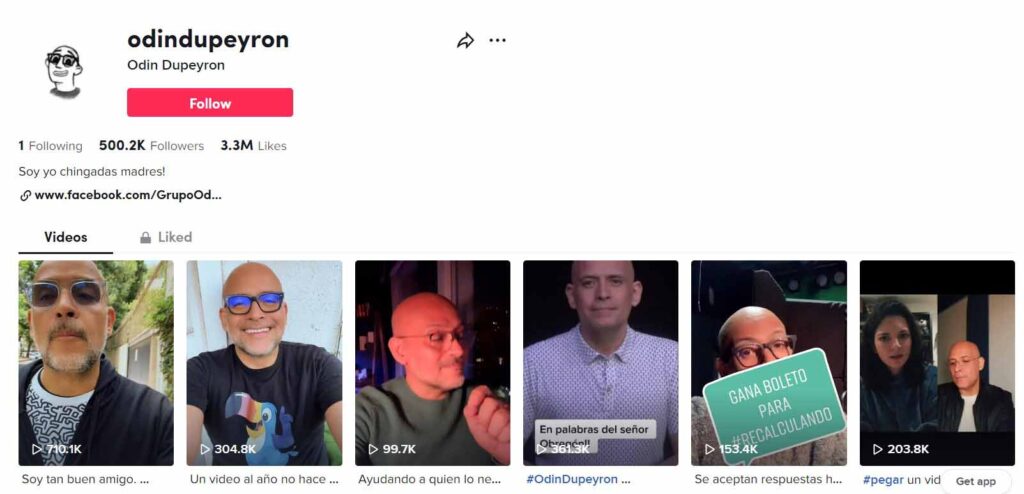 16. Diego de Jáuregui -@diegodejauregui
From dancing to cooking videos, you can find various types of content on Diego's TikTok channel. However, he mostly likes creating fun videos, following trends, and participating in different challenges. Diego has 469K followers and is one of the famous Mexican TikTokers.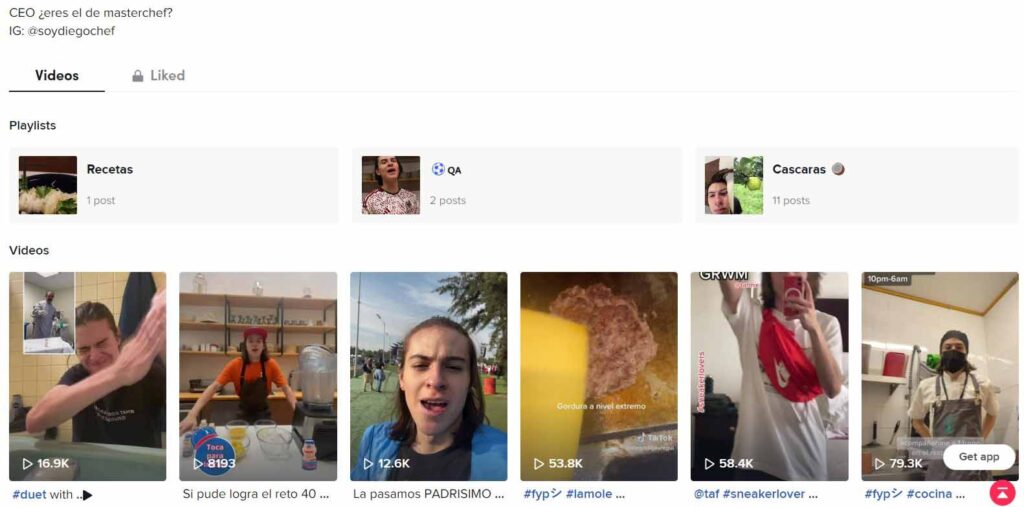 17. Tatiana del Real -@tatsdelreal
Although she may not consider herself a fitness influencer, most of Tatiana's posts show her doing workouts. However, she is an actress and musician with a musical group with her husband, Rodrigo de la Cadena. Tatiana has 496K followers on TikTok.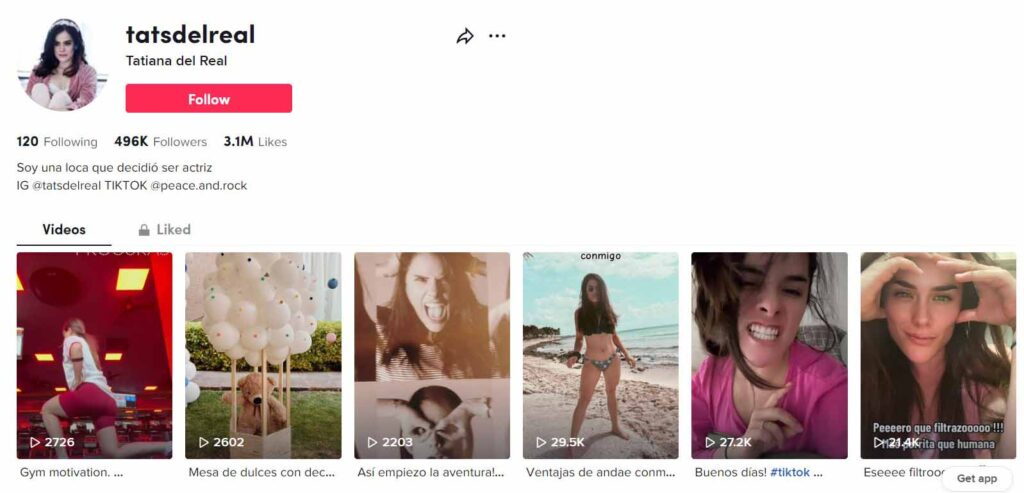 18. Sofia Salaz -@sofia.salaz
As a mom to two kids, Sofia still has much time to spend on TikTok and create fun videos for her 495K followers. Since she mostly posts makeup tutorials, she is considered a beauty blogger. Therefore, she usually promotes cosmetic products.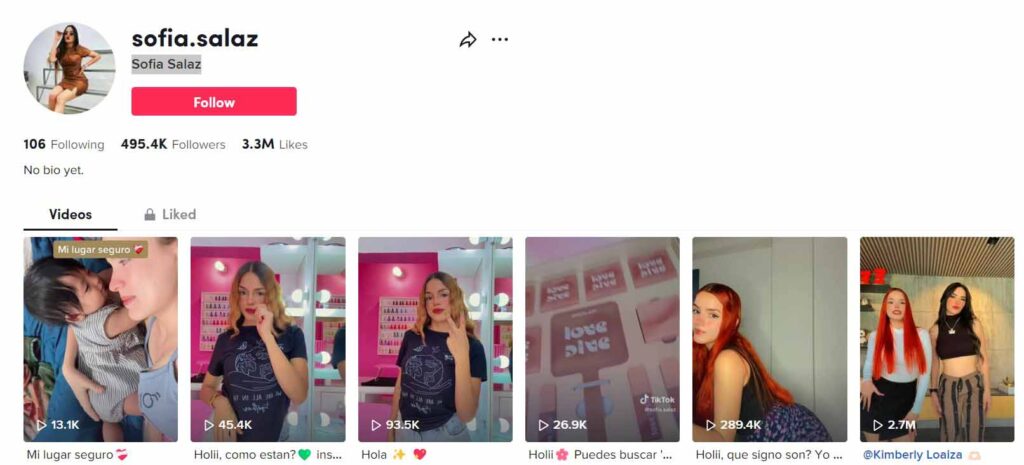 19. Jacob Valencia -@jacobvalenciaoficial
If you have a great sense of humor, you can become a popular TikToker because most people like to have fun surfing this platform. That's why Jacob has 498K followers on TikTok. He shares comedy and challenging videos. However, recently he has released a few songs and took one step closer to becoming a popular Mexican singer.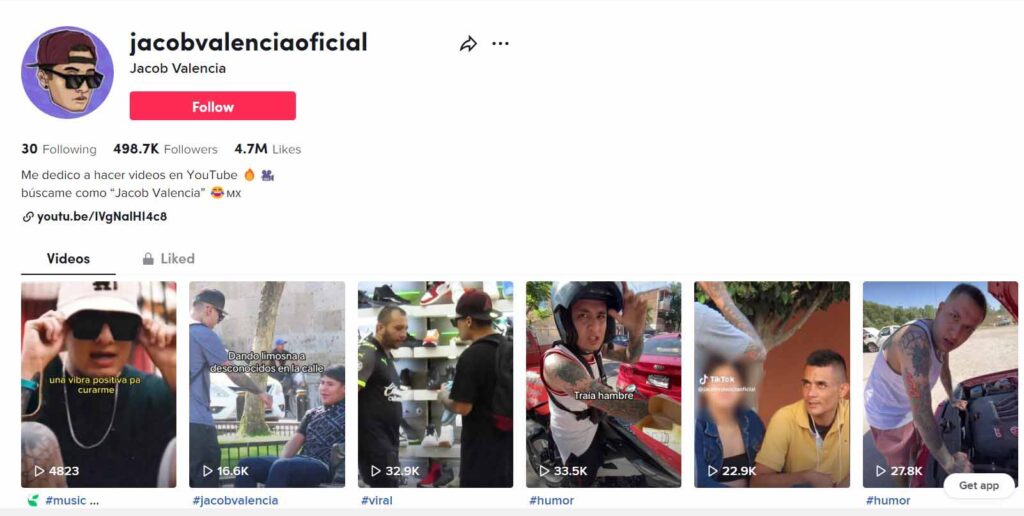 20. Jessi banda -@jessi_banda
With 497 K followers, Jessi is a micro-influencer on TikTok. She is a comedian who creates funny videos. Furthermore, she participates in challenges and tries her best to reach more followers and become a mega influencer. However, some tricks can help you increase your followers on TikTok. Wonder how? Read about how to get free TikTok followers.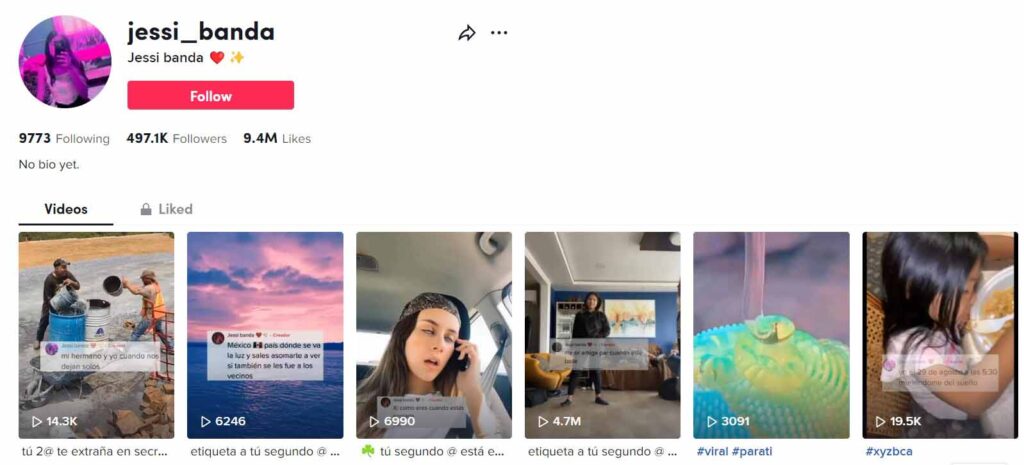 Bottom Line
As you can see, TikTok is popular in all countries, which makes it easier for businesses to find the right influencer in their area. Mexican TikTokers can receive offers from top brands and companies in their country or become their brand ambassador. Accordingly, TikTok and Instagram are two mutually-beneficial platforms for influencers and businesses.
Did you know you can also make money on TikTok? You don't need to have millions of followers; even micro-influencers have a chance to receive influencer marketing offers. However, it would help if you made yourself discoverable to brands and businesses in your area. Don't hesitate! Join Ainfluencer as an influencer and see how everything changes for your online career. It's all free! Why wait? 
FAQs
1- Who Is the Most Famous TikToker in Mexico?
There are lots of Mexican TikTokers who create different types of videos. But Kimberly Loaiza is currently the most famous Mexican TikToker with 75M followers. She is a singer and dancer. Additionally, her husband is also a well-known TikToker. That adds to her popularity because they usually sing together.
3- Is TikTok Popular in Mexico?
TikTok is getting more attention in Spanish-speaking countries like Mexico. At the moment, TikTok has around 62.4 million users in this country, making it the fastest-growing social media platform in Latin America.