Snapchat was launched back in 2011 and has quickly gained popularity among the younger generation. Its appeal to the youth has made it an excellent platform for businesses looking to reach out to Gen Z. On top of that, using Snapchat for business is getting more popular these days.
Generally using social media platforms for marketing purposes can be a highly effective strategy. And there are lots of influencer marketplaces for brands to get the ball rolling.
And Snapchat's widespread popularity, particularly among the younger demographic, offers businesses a remarkable chance to engage with their target audience. But, how can you leverage the power of Snapchat marketing? We are here to answer everything regarding this question.
Benefits of Snapchat for Business
Before anything else, it's important to know that Snapchat may not be the optimal social media platform for all businesses.
Nonetheless, if the following aspects of this social media platform align with your brand's principles, using Snapchat for business could be a suitable choice.
1. Large User Base
With over 750 million monthly active users worldwide, Snapchat offers a substantial potential audience for businesses to reach. This user base consists primarily of younger demographics, including millennials and Gen Z, making it an ideal platform for businesses targeting these age groups.
In the US, around 48% of users are between 15 and 25 years old.
2. Targeted Advertising
Snapchat's advertising platform allows businesses to target their ads based on various demographics, interests, and behaviors. Snapchat business managers can specify criteria such as age, gender, location, interests, and even specific Snapchat content preferences. This targeting capability helps ensure that ads are delivered to the right audience, increasing the chances of engagement and conversion.
3. Authentic and Engaging Content
Using Snapchat for business gives you a chance for showing the playful side of your brand. Snapchat's emphasis on real-time and authentic content allows businesses to connect with their audience in a more personal and engaging way.
By sharing behind-the-scenes glimpses, product demonstrations, exclusive promotions, or creative storytelling through the Stories feature, businesses can build a sense of authenticity and foster a stronger connection with their audience.
4. Creative Tools for Marketing
Considering the wide range of creative tools and features that businesses can use to enhance their content, Snapchat marketing can be an exciting experience for your brand.
Filters, lenses, stickers, and geofilters enable businesses to add visual elements and interactive elements to their snaps. These tools make the content more fun, visually appealing, and shareable, capturing the attention of Snapchat users and increasing brand exposure.
5. Stories and Discover
Just like Instagram story ads, you can use stories on Snapchat for marketing and promoting your products or services. Snapchat's Stories feature allows businesses to share a series of photos or videos that disappear after 24 hours.
This feature is ideal for businesses to showcase their products, provide exclusive updates, and tell engaging narratives. By utilizing Stories, businesses can keep their audience engaged and create a sense of urgency, as the content is only available for a limited time.
Discover, on the other hand, provides an opportunity for businesses to partner with Snapchat and create branded content, reaching a wider audience through the Discover section of the app.
6. Influencer Marketing
Snapchat has a vibrant community of influencers who have built large followings on the platform. Partnering with relevant influencers allows businesses to leverage their influence and connect with their followers.
Influencers can promote products or services, provide reviews or testimonials, or create sponsored content that showcases a business to their dedicated fanbase. This type of influencer marketing can help businesses reach a highly engaged audience and gain credibility through trusted recommendations.
One of the best Influencer marketing platforms for collaborating with influencers is Ainfluencer. This platform is free to use and it is the first DIY influencer marketplace in the world! there are more than 500,000 influencers on different platforms ready to collaborate with you.
7. Data and Analytics
Snapchat provides businesses with detailed analytics and insights about their ad campaigns. These metrics include impressions, reach, engagement, swipe-up rates, and more.
Businesses can track the performance of their campaigns, measure the effectiveness of their ads, and optimize their strategies based on the data. This data-driven approach allows businesses to make informed decisions, refine their targeting, and improve their return on investment (ROI) each of which is vital for Snapchat business.
How to Acess Snapchat Analytics Data
To access Snapchat Insights follow these steps:
Open Snapchat.
On the top left corner click on your Bitmoji/avatar.
Now on the new tab click on 'Insight' to see your Snapchat data.
8. Snap Map
For businesses with physical locations or hosting events, Snap Map provides an opportunity to promote themselves to nearby Snapchat users. By creating location-based geofilters or utilizing location-based advertising, businesses can target users who are in close proximity and drive foot traffic to their stores or events.
It's important to note that the effectiveness of Snapchat for business may vary depending on the industry, target audience, and specific marketing goals. Therefore, we recommend businesses evaluate their objectives and conduct thorough research to determine if Snapchat aligns with their marketing strategy.
How to Set up a Snapchat for Business Account
To make good use of Snapchat for marketing, you must create a Snapchat Business account. It doesn't matter if you're using Snapchat for a big company or a small business, having a Business account is necessary.
Snapchat business accounts have some benefits compared to normal accounts. Brands that use Snapchat for business can use features like:
Using Snapchat ads manager features for their campaigns.
Creating smart filters to have dynamic texts.
Using age filters so that your content reaches the exact audience.
Targeting users according to their location so that your custom creations reach an audience in a specific area.
Plus, with a Snapchat business account, you can create a Public Profile for Business, which gives your brand a permanent page on the Snapchat app, similar to a Facebook page.
Here is a step-by-step guide on set up your business account for Snapchat marketing:
Step One: Go to Snapchat Business Website
At the beginning, go to Snapchat for Business website and log in to your account.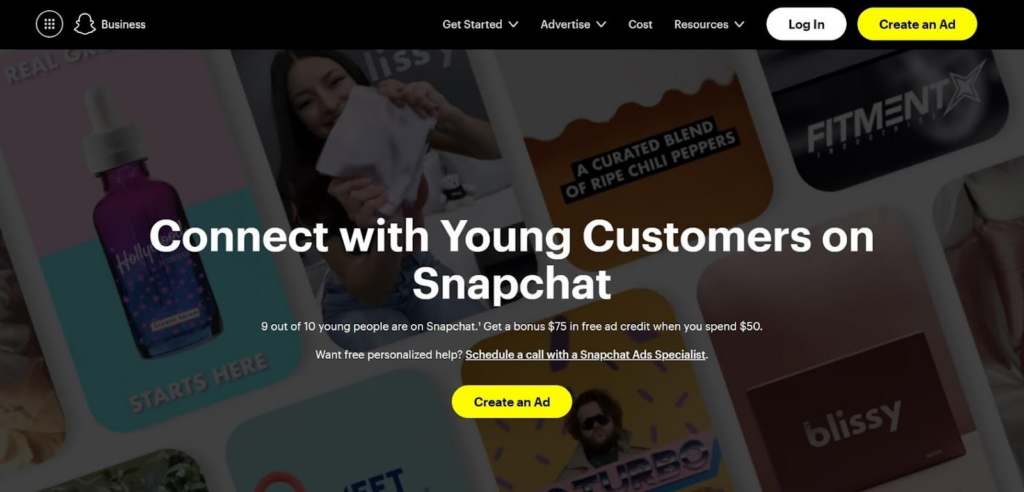 Step Two: Log in to Your Account.
If your business has no username already, start by making an account. And fill out the form by using the relevant information to your account, such as phone number and user name. But if you have an account, just log in.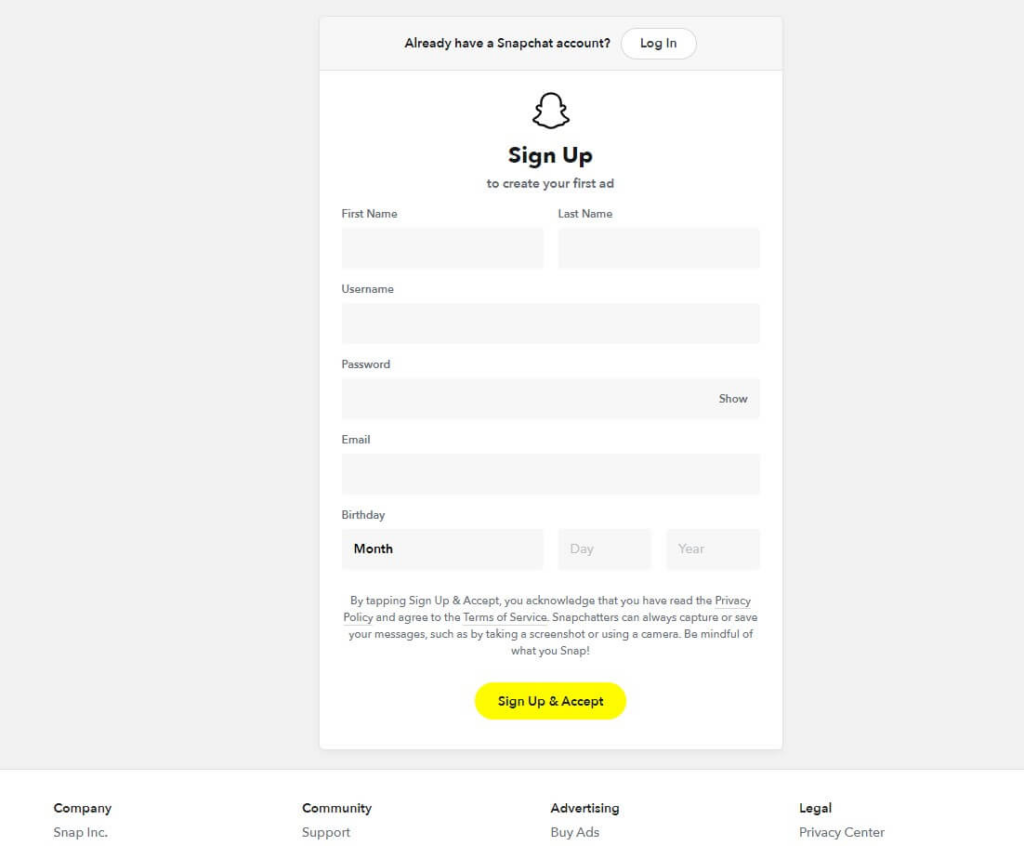 Step Three: Create Snapchat Business Account
Now, you have to enter Your business information and set up your account. Timezone is one of the most important sections for Snapchat marketing. Choose your time zone carefully.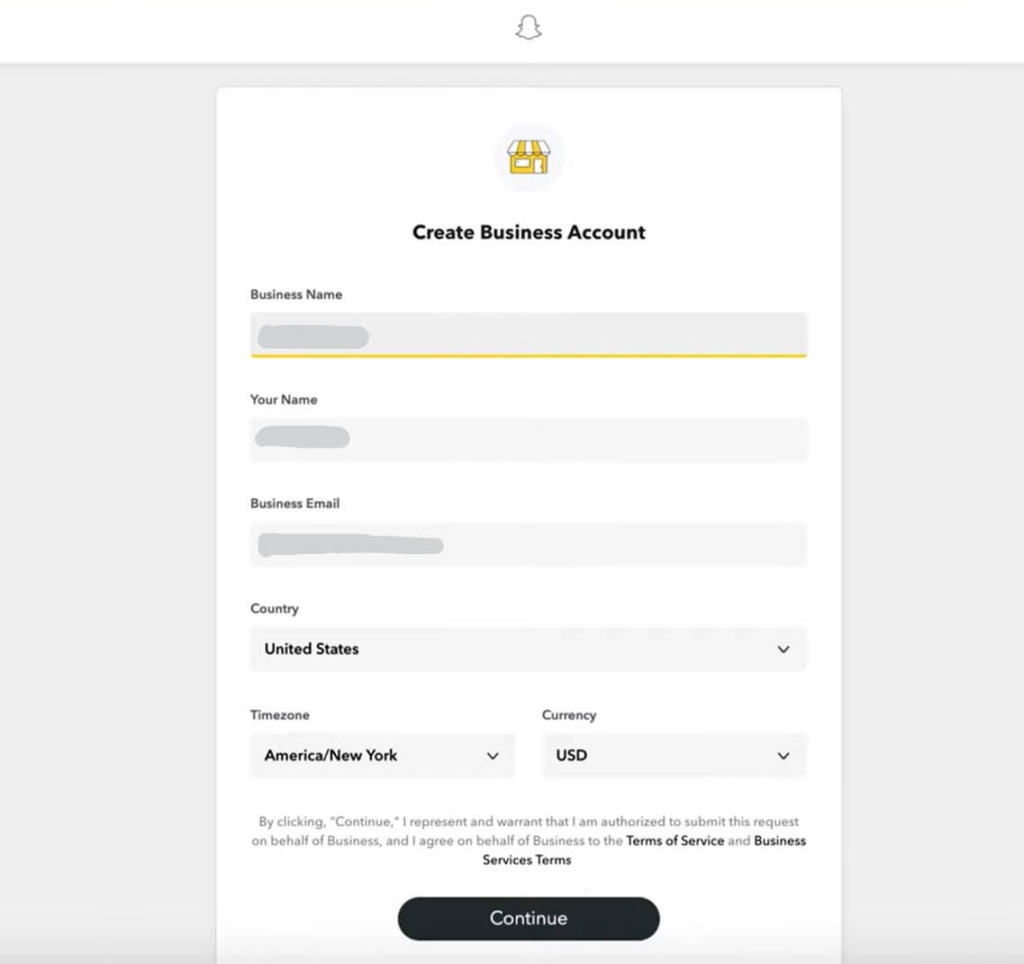 Step Four: Add a Payment Method
It's not necessary to choose a payment method at the beginning. But it's better to set up your payment method sooner.

In order to do so, click on the notification button at the pot right of the screen. Then click on the 'Missing Payment Method'. Here you have the option to use a credit card or PayPal account. Enter the information and click 'add'.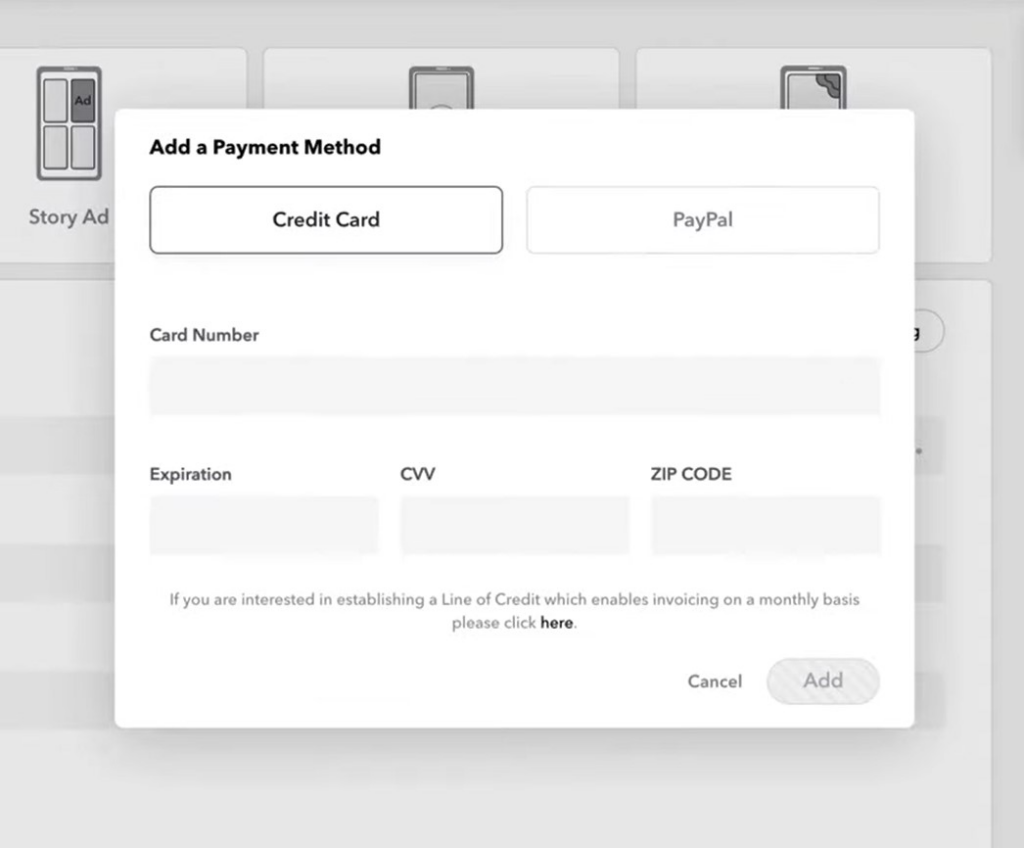 Step Five: Finish your Business Account
Continue filling up your business details by clicking on 'Complete Business Account'. Now, enter your business address in detail and select 'finish'.
In the end, click on the navigation menu located at the top left corner of the screen and click 'Business Details' from the drop-down menu. In this section, set a billing address and a phone number and save the changes.

Now, you are ready to use Snapchat for business purposes. Happy snapping!
How to Use Snapchat for Business
Up to now, you know beginner-level skills. Now, let us give you some tips for Snapchat marketing:
# Tip 1
If your business has recently joined Snapchat, the initial step is to inform your audience about your presence on the platform.
As Snapchat differs significantly from Facebook, Twitter, or Instagram, you will need to explore new strategies to attract more followers on Snapchat. You can cross-promote your Snapchat username, share your profile link, create a custom snap code, etc.
# Tip 2
Needless to say, Snapchat might not be suitable for every brand. Whenever you recognize it fits your brand, it's better to have a social media strategy as soon as possible.
Start with researching your competitors. After that, outline your objectives and create a content calendar. And lastly, ensure that your brand's look and tone maintain consistency and align with your brand's identity on other platforms.
# Tip 3
Keep in mind that you always need to track Snapchat metrics such as views, reach, and demographic information.
It helps you gain insights into whether your content is performing well or not. So, you can develop an effective Snapchat strategy based on that understanding.
# Tip 4
As you know, unlike platforms such as Instagram, Twitter, or Facebook, Snapchat separates content from friends and content from brands or creators.
To stay active and visible on Snapchat, you need to regularly create content, view snaps and stories, follow other Snapchatters, collaborate with brands and creators, etc.
# Tip 5
For creating more engaging content, it's good to use Snapchat's exciting features. You can add background music to snaps, incorporate polling, add a Snapchat filter or Snapchat lens, collect multiple snaps to tell a narrative, etc.
What is Snapchat Business Manager
Snapchat Business Manager is a handy tool that helps you easily manage your Snapchat business account. It's like having everything you need in one place! Just like Facebook Business Manager, it provides useful tools for managing your business, such as audience insights, product catalogs, etc.
Some of the top features are:
Lens Web Builder Tool: Engage your audience with custom AR lenses. You can either use pre-set templates or build one from zero.
Events Manager: It allows you to link your website to a Snap Pixel to measure how effective your ads are across different channels.
Audience Insights: If you want to know more about your audience, this feature enables you to gain insights into their preferences, interests, and specific needs through comprehensive audience data analysis
Instant Create: You can make a picture or video ad in just five minutes or even less.
Advanced Create: It enables you to build in-depth campaigns, limit your objectives, conduct split tests on your ads, and create new ad sets.
Catalogs: you enable a seamless purchasing experience within the Snapchat app by directly uploading your product inventories.
With these features, you can quickly create interesting content for your business on Snapchat and see how well it's doing with your target audience.
How Does the Snapchat Business Manager Work?
Snapchat provides separate platforms for managing Snap Ads and filters. Here, we will walk you through the process of using the business manager and offer practical tips and tricks for creating your first Snap Ads campaign.
To begin with, the platform is incredibly user-friendly and intuitive, making it difficult to get lost. If you are already familiar with Facebook Business Manager, the logic behind Snapchat's platform will be familiar to you as well.
To access Snapchat Business Manager, simply log in using your Snapchat account and password. Once you're logged in, you'll be able to see the various accounts you have access to. Choose the specific account you're interested in and click on the menu icon located at the top left corner.
Now, let's focus on the top menu, which consists of four columns: Advertise, Creating, Resources, and Settings. In this case, we'll explore the first column, Advertise.

You can choose to create campaigns: "Create ad" (with quick options limited to 1 ad set and 1 ad) or "Manage ads."
If you want to create campaigns, you need to consider these tips:
The success of your campaign relies heavily on setting the right objective. It is crucial to choose wisely before initiating the creation process. So, first, select the objectives.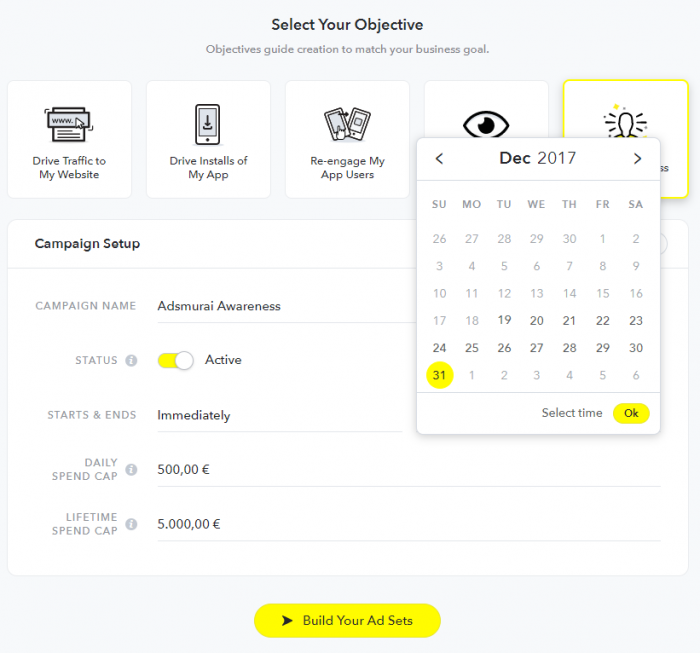 If you prefer not to launch the campaign immediately after creating it, you can pause it. However, please note that a campaign review page will appear prior to publishing.
In the event of a campaign delay after its creation, there is a possibility of misconfiguration for both the adset and ad. To save time and avoid potential issues, we recommend starting from scratch instead of trying to rectify the existing campaign.
The next step is to create the adset. When naming the adset, make sure it stands out from the others you plan to create. In terms of placement options, you can choose to exclude specific ones or, by default, open up the maximum options. The minimum daily investment required is 50€.
When you move on to demographics, you need to be careful with the "we don't want to exclude anyone". Segment your audience by age, evaluate the reach estimation on the right, and consider the reach within your budget. Only include "language" as a targeting parameter if it is necessary for your campaign, as it might impact your audience reach.
Within Snapchat Business Manager, you have the ability to add Custom audiences and Lookalikes by uploading databases. However, perform this step prior to setting up the campaign in the Custom Audiences section of the top menu. If you intend to retarget old video campaigns, it is advisable to contact Snapchat support.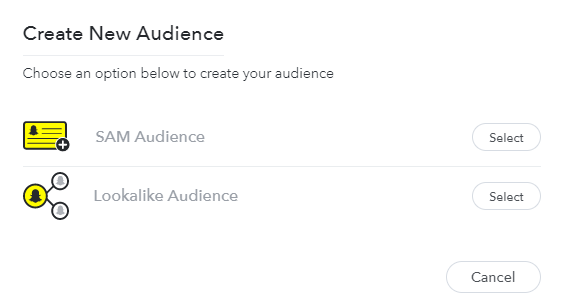 Please be aware that once the campaign is active, you will only be able to make modifications to dates, bidding, and budget.
If you want to create your Snapchat ad, first, you need to create the graphic, and then implement it into the ad. Once it's created, editing is not possible. Unfortunately, this aspect of the Creative Library: the organization of the creative library is one of our least favorite points. It lacks the flexibility to modify creatives, adjust their order, or rename each ad, resulting in a somewhat chaotic experience.
The specifications for ad creation are detailed and specific, differing significantly from the format used for Instagram Stories. It is important to review the rules to plan the necessary materials carefully.
Keep in mind that failure to comply with any of the rules will prevent the campaign from being launched, and you will receive a warning.
Snapchat's review and publishing process for campaigns is not as immediate as that of Facebook. Therefore, you need to allocate sufficient time for the creation and submission of your campaign.

Lastly, in order to create a geofilter, you can also create your ad, specify the dates and location, and make the booking. The minimum requirement is approximately 2 square meters of area, and the cost for a single day can be around 5€. The exact amount will vary based on the size and location.
How to Get More Snapchat Followers and Friends for Your Business
Snapchat has emerged as a popular social media platform, not just for personal use, but also for businesses. With its engaging features and large user base, Snapchat presents an excellent opportunity to reach and connect with your target audience.
Here we will guide you on how to gain more Snapchat followers to enhance your business presence and increase your brand's visibility.
Optimize Your Profile
Your Snapchat profile is the first impression users have of your business. To attract more followers and friends, make sure to optimize your profile by following these steps:
a) Craft a Compelling Bio
Write a concise and engaging bio that highlights your business, its unique selling points, and any special offers or promotions.
b) Add a Profile Picture
An interesting profile picture is necessary for using Snapchat for business. Use a high-quality logo or a professional image that represents your brand effectively.
Promote Your Snapchat Account
To expand your Snapchat network, promote your account across various platforms. Here are a few effective strategies:
a) Cross-Promotion
Leverage your existing social media channels, such as Facebook, Twitter, Instagram, and LinkedIn, to inform your followers about your Snapchat presence. Include a link or QR code to make it easy for users to find and add you.
b) Website Integration
Embed your Snapchat QR code or a clickable link on your website. Encourage visitors to follow you for exclusive content or behind-the-scenes glimpses.
c) Email Marketing
Include your Snapchat details in your email newsletters and promotional campaigns. Encourage subscribers to add you for exclusive Snapchat offers and updates.
Create Engaging Content
To attract and retain Snapchat followers and friends, it's crucial to create engaging and valuable content. Consider the following strategies:
a) Behind-the-Scenes Sneak Peeks
Showcasing the human side of your business by sharing behind-the-scenes moments or product development updates can captivate your audience and make them feel connected.
b) Exclusive Offers and Discounts
Reward your Snapchat followers with exclusive deals, promo codes, or limited-time discounts. This creates a sense of exclusivity and incentivizes users to stay engaged.
c) Interactive Stories and Challenges
Encourage audience participation by creating interactive stories and challenges. Ask users to send snaps related to a specific theme or ask for their opinions on a topic. Engaging with your audience boosts loyalty and encourages them to share your content.
Collaborate with Influencers
Partnering with Snapchat influencers in your niche can significantly expand your reach and help you gain more followers and friends. Look for influencers whose audience aligns with your target market, and collaborate on Snapchat takeovers, sponsored content, or shoutouts. Influencers can introduce your brand to their followers, giving you exposure to a larger and more engaged audience.
Engage and Interact
Building a strong Snapchat following requires active engagement with your audience. Respond to direct messages, reply to snaps, and participate in relevant conversations. Show genuine interest in your followers, and they will be more likely to engage with and recommend your brand to others.
Snapchat for Business: Pros & Cons
Observing the pros and cons of a platform like Snapchat for business helps make informed decisions, allocate resources effectively, and mitigate potential risks. By understanding the platform's strengths, businesses can leverage its unique features to optimize marketing campaigns.

Here are the advantages and disadvantages of this platform:
Pros of Using Snapchat for Business:
Younger audience: Snapchat attracts a younger demographic, making it effective for reaching and engaging with teenagers and young adults.
Authenticity and real-time content: Snapchat's ephemeral nature allows for real-time updates, behind-the-scenes content, and exclusive promotions, fostering authenticity and immediacy.
Creative storytelling: Snapchat's creative tools enable businesses to create engaging and interactive content, enhancing brand storytelling and capturing user attention.
Geofilters and location-based marketing: Businesses can use custom geofilters to promote location-based marketing and drive foot traffic to physical stores or events.
Influencer collaborations: Collaborating with influencers on Snapchat can increase brand visibility and reach a wider audience.
Cons of Using Snapchat for Business:
Limited demographic reach: Snapchat's appeal is primarily among younger users, potentially excluding older demographics from your target audience.
Ephemeral nature of the content: Content disappearing after 24 hours can limit its reach and longevity.
Limited analytics and metrics: Snapchat's analytics capabilities are less comprehensive, making it difficult to track and measure marketing effectiveness.
Competition for attention: Businesses need to create attention-grabbing content to compete with other Snaps for users' limited attention spans.
Advertising costs: Advertising on Snapchat can be costly, particularly for businesses with limited marketing budgets.
It's important to consider these pros and cons in relation to your specific business goals, target audience, and marketing strategy when deciding whether to use Snapchat for your business.
Conclusion
Snapchat has emerged as a powerful tool for businesses to connect with their audience in a unique and engaging way. Its dynamic features, such as disappearing content, augmented reality filters, and interactive storytelling, provide endless opportunities for creativity and brand promotion. With the right strategies and compelling content, companies can capture the attention of this tech-savvy audience and cultivate a loyal customer base.
FAQs
1-What Is Snapchat Used For?
Snapchat is a social media platform primarily used for sharing ephemeral photos and videos with friends and followers. It is known for its disappearing content, creative filters, and real-time updates. Users also engage with Snapchat for messaging, following news and entertainment, and exploring augmented reality experiences.
2-How Does Snapchat Work?
Snapchat works by allowing users to capture and share photos and videos, known as "Snaps," which can be enhanced with filters, stickers, and text. These Snaps are viewable by recipients for a limited time before they disappear.
Users can send Snaps directly to friends or share them on their "Story," a collection of Snaps visible to all their followers for 24 hours. Snapchat also offers features like messaging, Discover for news and entertainment content, and the ability to explore augmented reality experiences through lenses and filters.
3-Can Snapchat Be Used for Business?
Yes, Snapchat can be used for business purposes. It provides opportunities for businesses to reach and engage with a younger audience, create authentic and real-time content, leverage creative storytelling, utilize geofilters for location-based marketing, and collaborate with influencers.
However, businesses should consider factors such as the target demographic, content lifespan, analytics capabilities, competition for attention, and advertising costs before incorporating Snapchat into their marketing strategies.
4-Is Snapchat for Business Free?
While Snapchat itself is a free platform, there are advertising options available for businesses that involve costs. Snapchat's advertising features, such as Sponsored Lenses, Filters, and Snap Ads, typically require a budget allocation.
The specific costs can vary based on factors such as the ad format, duration, targeting options, and the size of the desired audience. It's important for businesses to consider their marketing budget and objectives when utilizing Snapchat's advertising services.