Italian Instagram influencers have a large and engaged following that can be beneficial for businesses looking to expand their reach through influencer marketing. By partnering with an influencer who has a strong connection to their audience, businesses can tap into new markets and gain valuable insights. Here are some of the top Italian influencers to help grow your brand and an easy way to find them.
How to find Italian influencers on Instagram?
Although finding influencers on Instagram using different hashtags or searching their names is straightforward, it isn't easy to find them according to their nationality. But, this problem is solved by using influencer marketplaces such as Ainfluencer. 
You can find influencers in any country by using this marketplace. The method is very simple; you only need to sign up on the Ainfluencer as a brand and search for influencers based on their country or the category you prefer. Thus, you will find the best influencer in the country you want with only a few clicks.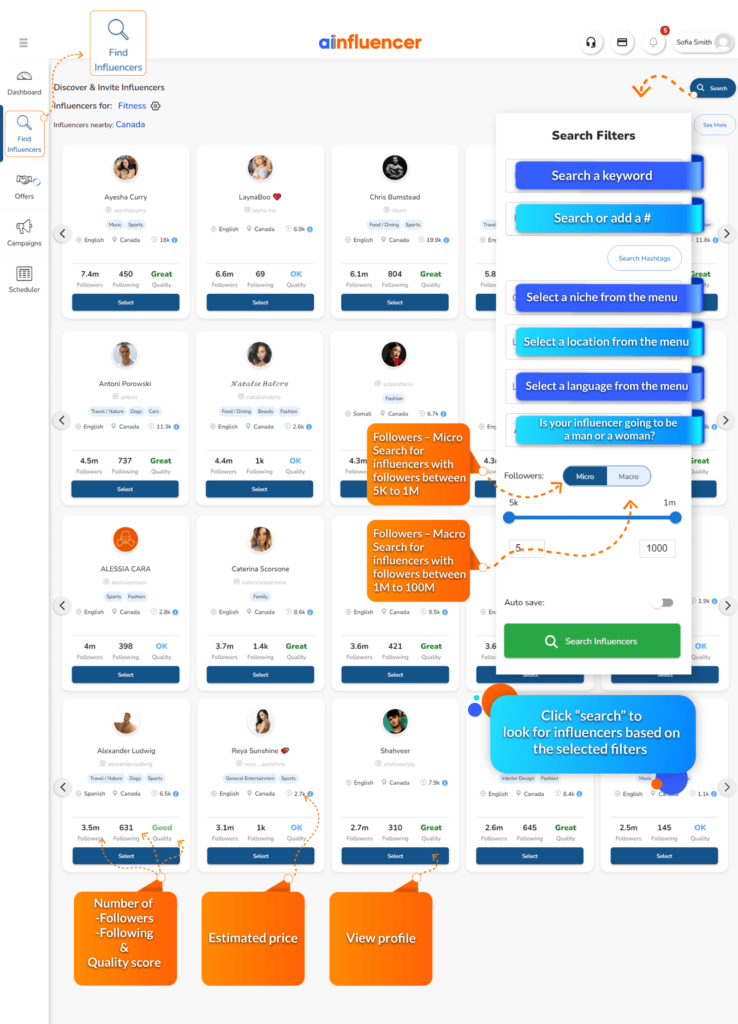 Top Italian fashion influencers and hottest models
1. Marzia Kjellberg (@itsmarziapie)
Marzia is a fashion blogger with 8.3M followers and lives in Milan. She commonly writes about her daily life, fashion, and new trends. Since she writes all the captions in English, she is considered a suitable Italian blogger for international ads.
2. Diletta Leotta (@dilettaleotta)
Diletta is an Italian TV presenter regarded as one of the hottest Italian models with significant taste in fashion. People know her as a sports blogger too. With 8.5M followers, Diletta is one of the macro influencers on Instagram.
3. Giorgia Tordini (@giorgiatordini)
Giorgia is another Italian fashion blogger with 392K followers. She has a unique style that makes her stand out in a crowd. She also loves traveling.
4. Paola Turani (@paolaturani)
Paola is one of the hottest Italian Instagram models and fashion bloggers with 2M followers. She has been on red carpets many times. That's why she is considered one of the most famous Italians on Instagram. She has a son and dedicates some of her posts to him. As a mom blogger, she can be an excellent choice for marketing kids' clothes or related products. (e.g. toddler life jackets).
5. Gilda (@gildaambrosio)
Gilda is also an Italian fashion blogger like Giorgia. Her style is unique, and the dresses she wears are somehow different from whatever we see on the market. Therefore, she can be the best model for unusual and special outfits.
6. Arisa (@arisamusic)
Arisa works as a musician. However, on Instagram, she is mainly known as a fashion blogger and model who chooses unique styles. She has 1.1M followers, which makes her page a great place to promote dresses and unique accessories.
7. Miriam Leone (@mirimeo)
Miriam Leone is an Italian artist who is also a model on Instagram. She is primarily a swimsuit model, but she also promotes jewelry. Miriam has 1.6M followers and updates her page almost every day. Thus, she is considered an active Instagrammer.
8. Chiara Ferragni (@chiaraferragni)
Without a doubt, Chiara Ferragni is one of the most famous Italian influencers. Almost everyone has heard her name as one of the top Instagram Italian Celebrities who has 27.9M followers and is one of the highest-paid Instagram influencers. Chiara is a fashion designer, a hot Italian model, and a luxury traveler. She has two children and dedicates some of her posts to them.
9. Chiara Biasi (@chiarabiasi)
Although Chiara Biasi is not as famous as Chiara Ferragni, she is still one of the well-known Italian influencers with 3.8M followers. She is a fashion blogger and model who mainly promotes swimsuits and underwear. She is cautious about her skin too, which makes her a good beauty blogger for promoting skincare products.
Top Italian male models on Instagram
10. Marco Castelli (@castellimarco)
The list of Italian influencers on Instagram will not be complete without mentioning Italian male models. Marco is one of the most famous Italian male models on Instagram. Apart from being a model, Marco loves luxury traveling. He has 639K followers and is considered an excellent figure for male outfits brands.
11. Fabio Atanasio (@fabioattanasio)
With 343K followers, Fabio is one of Instagram's most handsome Italian influencers. He is a model and male fashion blogger and writes a book about fashion. In his stories, he mostly shows how men's suits are made.
12. Mariano Divaio (@marianodivaio)
Mariano is one of the other famous Italian influencers on Instagram who has 6.7M followers. He is one of the top male fashion influencers and mostly posts about his daily life.
13. Lorenzo Liverani (@liveranilorenzo)
Lorenzo is mostly a photographer and travel influencer on Instagram. But since he has a good style, most brands have found him attractive for their outfits. Therefore, with 212K followers, Lorenzo is a handsome Italian male model too.
14. Pietro Boselli (@pietroboselli)
Having a good body and working out are two related concepts. Pietro is one of the Italian Instagram influencers who love being in shape. He has defined himself as a fitness influencer, but due to his ideal form and style, he is also known as a handsome male model on Instagram. Therefore, he can be an icon for clothing brands to promote their products.
15. Michele Morrone (@iammichelemorroneofficial)
Michele is an Italian actor who has 15.3M followers on Instagram. He is also a singer, musician, and fashion model. Due to his attractive style, he has appeared in most fashion shows of popular brands such as Dolcegabanna.
16. Raoul Bova (@raoulbovagram)
With 824K followers, Raoul is a well-known actor, model, and lifestyle blogger who mostly writes about his daily life. When you see his profile, he's mostly a family man who posts about his wife and two kids.
17. Fabio Mancini (@Fabiomancini)
Fabio was born in Germany to an Italian parent. Now living in Milan, Italy, Fabio has become an international male fashion model ambassador of fashion brands such as Emporio Armani, Bulgari, and many other popular ones. He's an actor, too, but he's mostly known as an Italian male model with green eyes and has 368K followers on Instagram.
18. Giulio Berruti (@giulioberruti)
Giulio is an actor who is mainly known because of his role in the movie Monte Carlo. But due to his great shape, especially his tall height, he became a famous male model internationally. Giulio has 436K followers and is a great photographer too.
Top Italian lifestyle bloggers on Instagram
19. Alice Campello Morata (@alicecampello)
Alice is a personal blogger and the mother of three boys. Therefore, her page mostly promotes children's clothes, toys, and other related products. With 3.1M followers, she is a famous lifestyle blogger on Instagram.
20. Elisa Zanetti (@elisazanetti)
Elisa is another mom blogger who has a cute little girl. She lives in Florence and has 243K followers. Elisa calls herself a mom influencer because she mostly writes about her daughter and promotes child-raising products. Since most of her followers might be mothers, she is an excellent figure for promoting products related to children.
21. Cami Hawke (@camihawke)
Cami Hawke is an Italian lifestyle blogger who writes about her daily life. She loves nature and mountain climbing. With 1.3M followers, her page will be a great place to promote particular products related to climbing, hiking, and nature traveling.
22. Diana del Bufalo (@dianadelbufalo)
Diana is an animal lover. Her cute dog is in most of her photos. With 1.7M followers, Diana is one of the micro influencers on Instagram. She writes about her daily life, dog, fashion, and traveling. 
23. Ambra (@ab_ambra)
Ambra is a mom influencer who introduces herself as a digital creator on Instagram. She has a baby girl who is the main character in almost all her posts and stories. Although she is known as a hot model on Instagram, her baby is more popular on her page. So, she can be a significant influencer if you want to promote children's clothes or toys. Her husband, Mike Showsa, is also an Italian influencer who creates fun videos.
24. Veronica Ferraro (@veronicaferraro)
Veronica is one of the blond Italians who has a personal blog. With 1.4M followers, she is not only one of the famous Italian female influencers on Instagram but also has founded a brand for swimsuits.
25. Benedetta Rossi (@fattoincasadabenedetta)
Do you like Italian food? As a country with the most delicious foods, cooking Italian food with unique recipes is intelligent content on Instagram. Bendetta is a chef who is popular for her delicious foods. She has 4.4M followers and gives recipes on her Instagram page. She also talks about her daily life, but her page is more likely a cooking page rather than a lifestyle.
26. Mike ShowSha (@mike_showsha)
We mentioned his wife Ambra, who is a mom influencer. Now it's time to become more familiar with the other members of this influencer family. Mike is a personal blogger who loves video games and sports. He has 1.4M followers and mostly makes fun videos on his stories and posts.
27. Alice Venturi (@alicelikeaudrey)
Alice has 343K followers and is a travel influencer who lives in Milan. However, since she loves makeup, she can be a beauty influencer too. 
28. Nicoletta Reggio (@nicolettareggio)
With 44K followers, Nicoletta is another famous Italian travel blogger. She loves visiting new places and taking artistic photos. She primarily promotes clothes and cosmetics products.
29. Beatrice Valli (@vallibeatrice)
Beatrice is the mom of three cute babies. As a mom blogger, she has a fabulous physique and is one of the hottest Italian models on Instagram. With 3M followers, she mostly promotes fashion and beauty products.
Top Italian Comedian Bloggers
30. Enzuccio (@realenzuccio)
People like fun videos. That's why comedian bloggers are so popular and receive many comments and engagements on Instagram. Enzuccio is one of the famous Italian comedian bloggers who has 637K followers. Apart from his fun videos, he loves football too.
31. Tommaso Zorzi (@tommasozorzi)
Tommaso is another Italian comedian blogger with 1.9M followers. He usually posts fun videos and loves kayaking with his partner, a well-known dancer, and artist, on Instagram.
32. Adam Waheed (@adamw)
Adam is a popular comedian blogger on Instagram. His posts are shared several times because they are funny and make people laugh. Adam has 4.8M followers and is one of the macro influencers on Instagram.
33. paola minaccioni (@paola_minaccioni)
A female stand-up comedian from Italy with 7.6K followers, Paola is still a micro influencer on Instagram. Still, she has the potential to become a more recognized person not only in her career but also on social media.
34. Mal Hall (@malhall)
Mal is a standup comedian with an Instagram page with 24.9K followers. He might not be as famous as other Italian comedian bloggers, perhaps because he doesn't create fun videos like others. Still, he is a well-known comedian in his career, and that's why most people follow him to see where he has his next standup.
35. Khaby Lame (@khaby00)
Almost everyone knows Khaby. His fun videos have been seen many times. We can also say no one is as funny as Khaby on this platform. With the highest number of followers, which is 79.7M, he is one of the top Instagram Italian celebrities.
Conclusion
Influencer marketing is a superb method to grow your brand in 2023. It's now easier to find the right person for your market using the Ainfluencer marketplace, where you can find influencers based on their nationality, category, or hashtags. If you want to enhance your business in Italy, you're in the right place. Find the right person among the top Italian influencers on Instagram listed in this post.
 1- Who is the most famous influencer in Italy?

Chiara Ferragni, with over 22M followers, is the most famous influencer in Italy right now. She is also one of the highest-paid Instagram influencers in 2023.
2- Who has the most followers in Italy on Instagram?

Khaby Lame has more than 80M followers on Instagram and is the most-followed Italian influencer at the moment.