As the first video-sharing website that made its users popular overnight, YouTube is the best platform to make money and increase your sales. While it wasn't that hard to create an engaging video and get thousands of views on this platform, with the emergence of new products and technologies, it's getting harder to stand out in the crowd of innovative TikTokers. That's why collaboration is so important on this platform. In this article, we will explore the benefits of YouTube collab and give ideas about having a successful collaboration.
Meanwhile, if you have a YouTube channel and want to look at it as a job, these tips on how to make money on YouTube can help you create better content and increase your chances of working with better brands on YouTube.
Let's dig more into what collaboration means on YouTube.
What Is a YouTube Collab?
When two or more people work together to create a video for YouTube, it is called a YouTube collaboration. By collaborating with other YouTubers, creators can share their skills, knowledge, and audience while creating exciting new content for their viewers. Whether it's a collaborative video or a series of videos, collaborations can help creators reach new audiences and build their brand on the platform.
Why Should You Choose YouTube Collab?
Most of the time, it takes a while for a channel to gain subscribers. That's why you shouldn't sit back and wait for your YouTube channel to become a popular place for your target audience. Therefore, having a marketing strategy can be helpful, and YouTube collab is one of the main ideas for this purpose. Collaborating with other YouTubers has the following benefits:
Reaching a New Audience: Every channel needs a new audience. Therefore, you should make yourself visible to more viewers, and this is possible through YouTube Collab. You can expose your channel to a whole new group of viewers by collaborating with other YouTubers.
Creating Innovative Content: Your subscribers want to view creative content. At the same time, it's not that easy to be creative all the time. You need to have a topic and create something that entices your viewers. YouTube collab is a great way to break this ice and become more innovative because you combine your content theme with someone else, which seems more interesting to fans of both channels.
Well, now that you are convinced that YouTube collaboration is beneficial for your channel, let's check out the collab ideas for YouTube.
8 YouTube Collab Ideas
Collaboration is possible in different ways. But, you should have an idea for it. The following 8 YouTube collab ideas can help you create better content.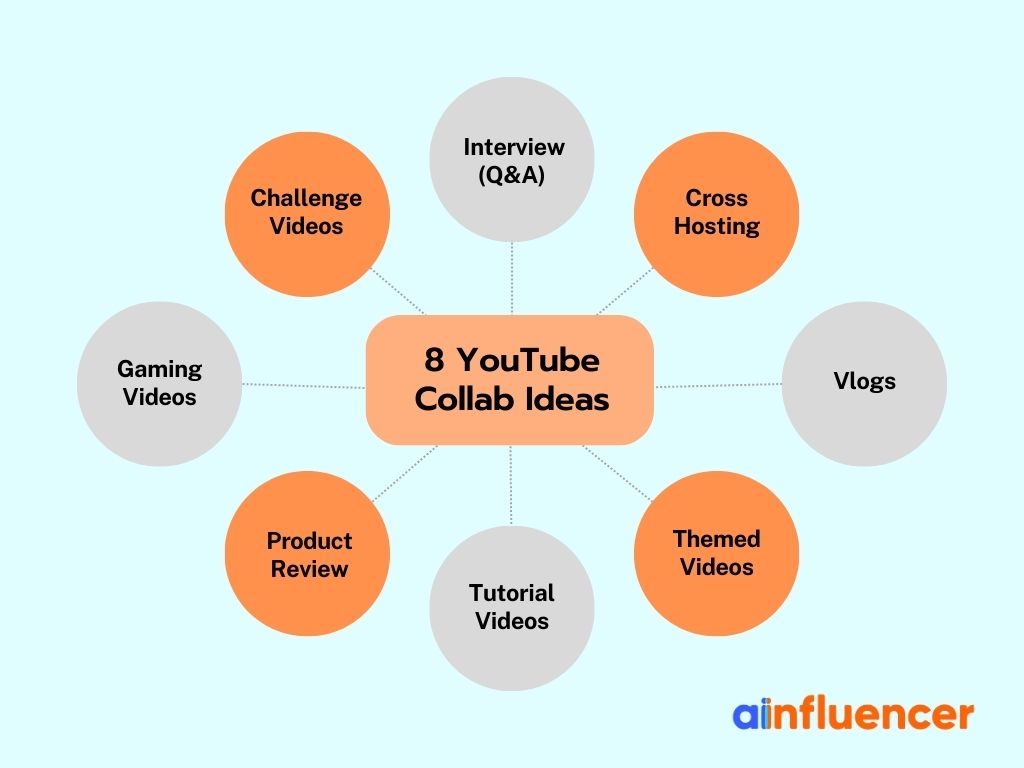 1. Interview (Q&A)
One of the best collab ideas for youtube is creating a question-and-answer video. In this type of video, a series of questions are listed, so the YouTuber can ask them from the other creator. The best part is that in Q&A videos, more than 2 creators can participate, which makes this video more engaging.
You may wonder where to find a list of questions. It's easy, ask your followers on social media platforms and make them feel they are part of this video creation. In this way, they will get more engaged with your content.
2. Cross Hosting
This type of collaboration has become popular in recent years. In this method, two YouTubers create a video and share it on each other's channel. However, they should note that the video they create should have a topic relevant to the other person's channel so that it is more engaging for their audience to see someone else talking about their interests. It also exposes each creator to a new group of viewers who may become their subscribers.
3. Vlogs
YouTube users like vlogs because this type of video creation is somehow educational or makes them connect with people from different parts of the world. Therefore, vlogs are crucial for your channel's growth. Therefore, create a great story for your vlog and make a video together.
Do you know who a vlogger is? Read our post about the difference between vloggers, bloggers, and influencers.
4. Themed Videos
If you want ideas for a collaborative channel theme, think about what you enjoy the most and know well. It could be your favorite music style, video game, movie, the latest episode of a series you love, and other similar things. You and your collaborator can also talk about recent events and share your honest thoughts, but remember to stick to a specific theme.
5. Tutorial Videos
One thing that brings more viewers to a channel is tutorials. People are eager to learn new things online, and YouTube is the best classroom. So, if you are a professional at something or offer a new service that requires education, join forces with another YouTuber in the same niche to create a tutorial video.
6. Product Review
The other idea for YouTube collab is to create review posts. By reviewing a product, creators are introducing something new to their subscribers. So, you can get your product reviewed by a creator in your niche. Also, reviewing products is one of the best ways to make money on YouTube.
7. Gaming Videos
Gamers dedicate a huge world to themselves on YouTube. So, the gaming YouTubers can join together and create a video about a video game, or they can even play a new video game together and share their opinions with others.
8. Challenge Videos
Social media is where entertaining videos get more views. An essay shows that almost 82% of people use YouTube for entertainment media. The good news is that challenges are among the top-viewed entertaining videos. Did you know challenges are one of the best methods used in viral marketing? People love to participate in different challenges, so as soon as they find a social media challenge interesting, they follow it and participate in it. That's why most challenges become a trend on other social media platforms. Find an interesting challenge and create a collaboration video.
5 Steps to Start a YouTube Collab
Starting a YouTube collaboration can seem overwhelming. First, you should find a creator and then uncover a great story to share with your subscribers. Therefore, you might be scared of starting a collaboration. But you should know that it's actually quite simple. Take the following steps one by one to create a perfect collab YouTube.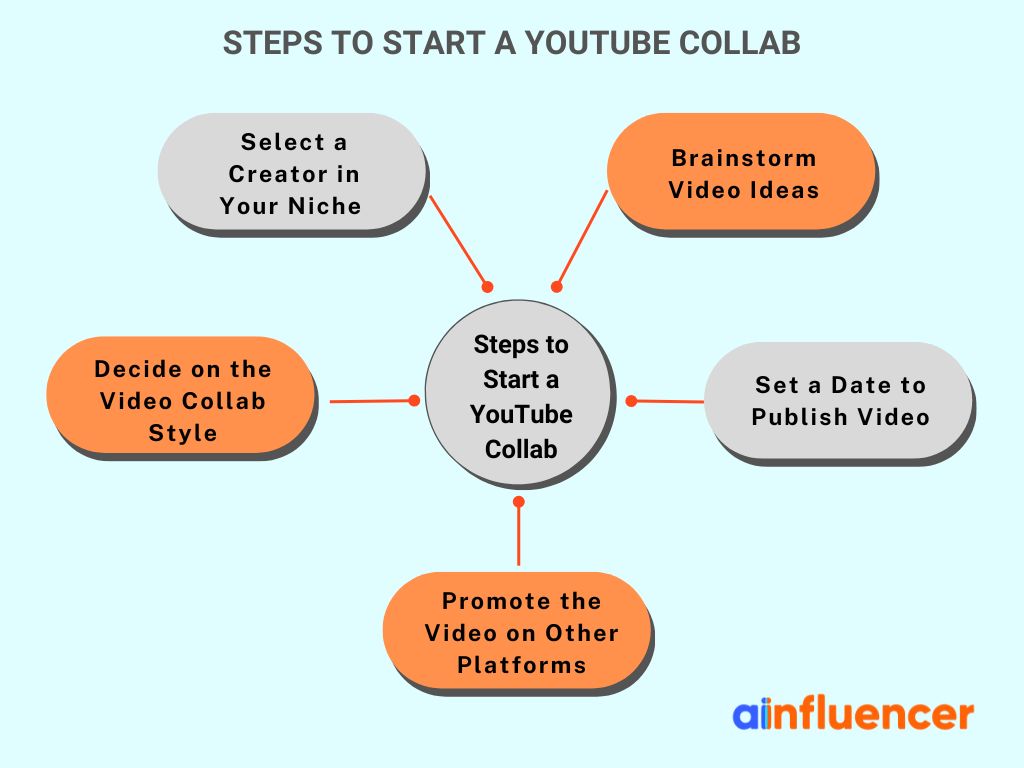 1. Select a Creator in Your Niche
The first thing you need to do is find someone to work with. So, take your time to discover the YouTubers whose content is close to yours. Also, since you want to introduce yourself to more people, choose a collaborator whose channel size is at least close to yours. Remember, it's a collaboration, so it should be mutually beneficial. Therefore, you are more likely to collaborate if you offer to make a joint video with a creator at your level.
2. Brainstorm Video Ideas
Before sending the collab email to a creator, you should think of what you want to do on this video collab. Therefore, it is better to have some ideas and complete the story with the help of the collaborator. Remember to check the creator's video to add a taste of their theme to the video as well.
3. Decide on the Video Collab Style
Now that the story is clear, you can select one of the YouTube collab ideas above to create a video. However, you should also consider your location. If both creators are in one city, they can meet and create a video together. But if they are in different locations, they should film their scenes separately and merge them together. Therefore, the story of the video should be in a way that is relevant to the video style.
4. Set a Date to Publish Video
The process of creating and editing a video collaboration takes time. But, you should have a date in mind when you want to share the video, especially if your story is about a special event. So, consider all the time it will take to create the video and come up with a realistic release date. Also, if you and the creator want to publish the video at the same time, decide on a date that works for both of you.
5. Promote the Video on Other Platforms
Nowadays, most YouTube creators are active on other platforms too. Although the audience of each platform might like different types of content, it is still valuable to your YouTube channel if you share the link of your YouTube collab on other platforms like Instagram Stories, Facebook groups, Twitter, and TikTok. Furthermore, if you have created a LinkTree account, you can specify a button for your YouTube collab on your profile.
Ainfluencer: The best way to Boost Your Online Presence
No matter if you are a newcomer to the world of social media or an old member of these platforms, you can always benefit from reaching more followers on platforms like Instagram, YouTube, or TikTok. Influencer marketing is one of the best options you will have to increase your brand awareness and followers.
Therefore, sign up on Ainfluencer for free to get access to a list of influencers on Instagram and TikTok. You can easily search for influencers based on their category, age, gender and location. So, find the right influencer to grow your business as quickly as possible. You don't have to think twice, it's all free, so let's go.
Bottom Line
Collaborating with other creators is a great way to increase the visibility of your YouTube channel. Take your time and find a creator at your level and in your niche. The hard part is deciding on the type of collaboration. So, choose one of the YouTube collaboration ideas from our list. Don't forget to share your collaboration on other platforms to get more views. Also, if you are new to YouTube, read more about how to become a YouTuber.
FAQs
What Does Collab Mean on YouTube?
Collab is the short form for collaboration. It refers to the time when two or more YouTubers work together to create a mutual video. This video will be beneficial for both of them because each creator shares the video on their own channel, so both can get a new audience. 
How Do YouTubers Collab with Each Other?
First, they search for a creator in their niche; they send the offer to that person. If the creator accepts the collaboration, they can decide on the video style and type of content they want to create. It can be an interview, review, cross-host, vlog, or other types of content.
Is It Good to Collaborate on YouTube?
Collaboration is always beneficial for creators. They can introduce their channels to more audiences at an affordable price. It's a mutually-beneficial method for YouTubers to get more subscribers.