When it comes to making money on YouTube, you may face challenges that can lead you to frustration. 'How to make money on YouTube' is one of those common questions that almost every YouTuber asks themselves. Well, maybe it's not the easiest thing to do, but some tricks can help you increase your chances of success here.
In the beginning, you should learn how to become a YouTuber to equip yourself with the necessary skills, strategies, and knowledge that will give you a head start.
However, making money may not be the first reason to create your YouTube channel and turn it into your career. Once you unlock your earning potential, you will enjoy using it.
You might think that only celebrities or bloggers can earn money through YouTube.
It's wrong because there are proven tactics accessible to everyone, enabling them to monetize their channel and generate income, regardless of their fame or previous experience.
Here in this article, we are going to discuss how to make money on YouTube and give you the top strategies. So stay with us!
How to Make Money on YouTube?
What's very important is to make compelling video content that can attract your target audiences. For instance, if you watch the 15 most viewed YouTube videos, you can see how successful they were in getting lots of views and engagement. In fact, their videos were interesting enough to attract audiences.
In addition to your content quality, there are several hacks on how to make money on YouTube.
Let's check these strategies one by one.
1. Deal with Influencers through Third-Party Apps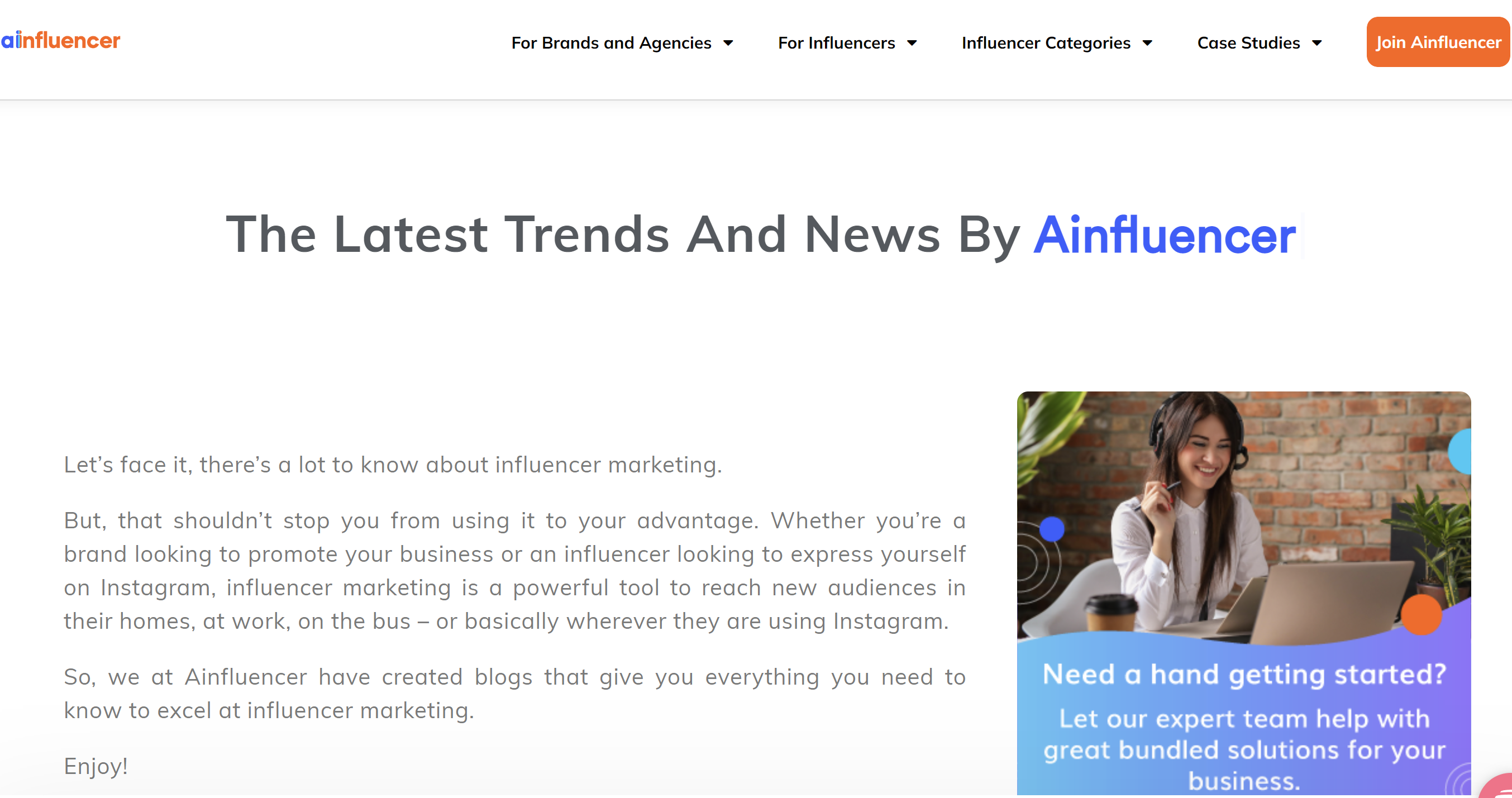 One of the most common ways to get paid on YouTube is to introduce your brand to influencers and make your deal. In this case, you should use a reliable third-party app to get a direct connection to influencers.
Ainfluencer is a well-known platform that offers you free DIY. It means you're able to find suitable influencers and access their information, such as followers, location, gender, language, category, following budget range, and quality. You can find over 500,000 influencers on this platform with just one click.
If you're curious about how Ainfluencer works, you can start by creating your free campaign and then send influencers an invitation to let them know your brand. You can see how easily you can connect to influencers directly and ask them to send you daily, weekly or monthly reports to check how your insights work.
As a brand, this way could be one of the most effective ways to earn money through YouTube.
2. Join the YouTube Partner Program
The YouTube Partner Program (YPP) is a program offered by YouTube that allows content creators to monetize their videos and earn money through various revenue streams. When you join the YouTube Partner Program, you can earn money from advertisements displayed on your videos, channel memberships, Super Chat, YouTube Premium revenue, and other monetization features.
To join the YouTube Partner Program, content creators need to meet certain requirements set by YouTube. These requirements include following YouTube channel monetization policies, living in a country/region where YouTube supports your activities, turning on 2-Step Verification for your Google account, and so on. After joining the YouTube partner program you may wonder
how many views on youtube to make money.
You should reach a minimum threshold of 1,000 subscribers and 4,000 watch hours within the past 12 months, comply with YouTube's policies and guidelines, and have an AdSense account linked to your YouTube channel.
Let's see how to enable the monetization option on YouTube: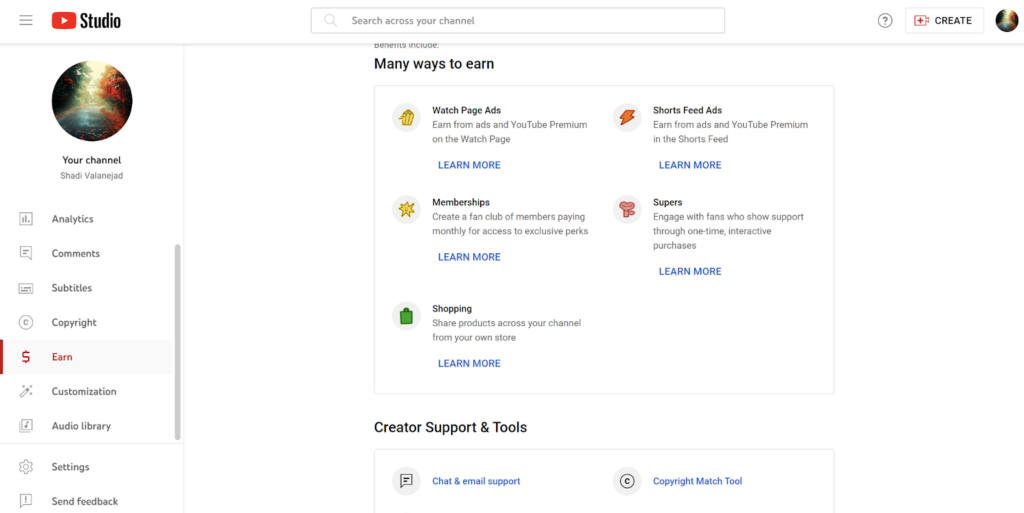 Sign in to your YouTube account.
Tap your profile in the top right corner.
Select the 'YouTube Studio' option.
Tap Earn in the left menu.
To continue the progress, you should read and agree to the YouTuber Partner Program terms and eligibility requirements.
Afterward, create a Google AdSense account or connect your existing account to your channel.
Now, set your monetization preferences.
After doing all those steps, you should return to the Dashboard and tap the Analytics tab. Then you should select Revenue from the tabs at the top and scroll down to the chart Monthly Estimated Revenue.
3. Introduce and Sell Your Products
Another way to make money on YouTube is to sell your own merchandise. There are various types of products to sell through YouTube channels. For instance, you can generate revenue by selling a variety of items such as coffee mugs, accessories, T-shirts, shoes, cosmetics, and more.
So, if you're asking how to make money on youtube without making videos, we recommend you introduce your own brand. Let's check the necessary steps in order to sell your products:
Design your product and turn it into a unique one.
Create your shop.
Turn on your YouTube Partner merchandise shelf.
Introduce and promote your products through videos and ads.
This interaction between you and your customers brings you lots of income.
4. Create Video Content and Sell them
Did you know that you can create video content and then sell it?
There are many interesting ideas for creating video content and then viral it. But you need to target the right audience and list your videos in a marketplace to let people easily find and purchase your videos.
You may wonder how many views are on YouTube to make money. In this case, you don't need to bother yourself to gain many views on youtube; you only need to license your content in exchange for money.
5. Sponsored Content
It is known as branded content on YouTube, which refers to videos or segments within videos that are created in collaboration with a brand or advertiser. In sponsored content, creators partner with companies to promote their products, services, or campaigns to their audience.
Sponsored content typically involves the creator featuring or discussing the sponsor's offerings in their video.
This can range from subtle product placements or mentions to dedicated segments or full videos focused on the sponsor's content.
In order to maintain transparency and comply with YouTube's policies and guidelines, content creators disclose any sponsored content to their audience. They may include a disclaimer or mention that the video is sponsored, ensuring viewers are aware of the promotional nature of the content.
6. Raise Your Funds
YouTube provides various tools and options for content creators to engage their audience and seek financial support directly from their viewers. It can involve launching crowdfunding campaigns, such as Kickstarter or Patreon, to gather monetary contributions from fans and supporters.
Crowdfunding on YouTube enables creators to connect with their dedicated fanbase and receive direct support from their audience. It offers an alternative funding model that bypasses traditional sources, allowing creators to maintain creative control and engage directly with those who appreciate their work.
7. Affiliate Marketing
Let's see the last strategy on how to make money on YouTube. Affiliate marketing on YouTube is a revenue-generating strategy where creators promote products or services in their videos and earn a commission for each sale or action generated through their affiliate links. By joining affiliate programs or networks, creators can access unique tracking links they incorporate into their video descriptions.
It allows creators to monetize their content by leveraging their influence and recommending products or services to their audience. They often provide informative and engaging content, such as product reviews, tutorials, or demonstrations, to showcase the benefits and value of the promoted items.
Conclusion
We discussed how to make money on YouTube by using 7 different strategies. You could get paid through YouTube ads, third-party apps, sponsored content, selling your merch or videos, becoming an affiliate marketer, offering channel subscriptions or memberships, and so on. Besides all these tactics, we've already mentioned, you need to create appealing content with high quality to attract more audience.

However, you need to consider YouTube Guidelines & Policies and agree to its terms and requirements; otherwise, you'll receive a warning first, and the next time, you will no longer be able to use your channel. Earning money on YouTube requires dedication and patience. The process takes time but delivers the expected results in the end.
FAQs
How Many Subscribers Do You Need to Make Money on YouTube?
According to the latest research on how many subscribers on youtube to make money, you should have at least 1,000 subscribers.
How to Make Money on YouTube Fast?
The easiest way to get paid through your YouTube channel fast is advertising. You can upload your videos and earn money from watch page ads and short feed ads.
How to Make Money on YouTube As a Kid?
If your age is under 13, you're not allowed to create your YouTube channel and earn money.