Brand collaboration is an important step in influencer marketing. When you want to monetize your account as an influencer and do influencer marketing, you need to find brands to collaborate with.
Ainfluencer is, of course, the best free DIY marketplace that helps you pass this stage with ease. But finding a brand doesn't mean that you're done! You need to keep the brand pleased so that you get good reviews, a high-quality score, and more collaboration requests. And to get these, you have to follow the brand's requirements. But what exactly are the brands' requirements?
When you accept a brand's offer, the brand will put some details for their desired post in the "Offer" section.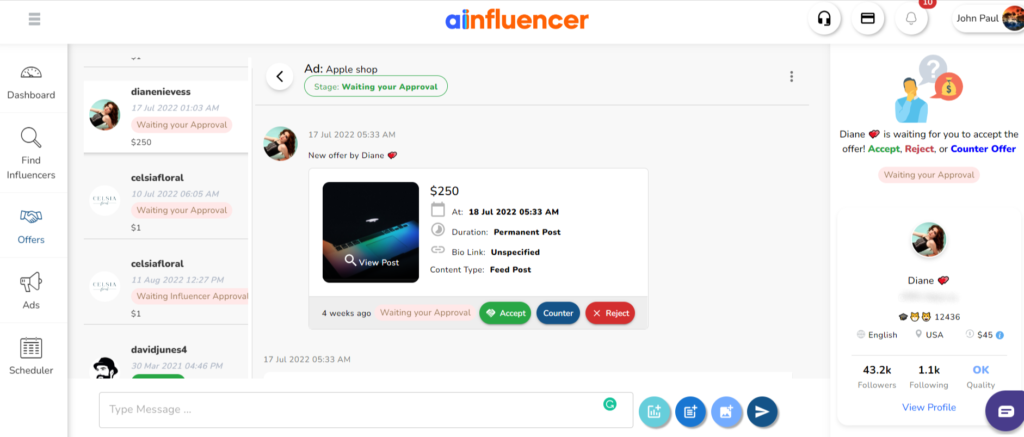 The brand might also ask more by writing other details in the chat box for you.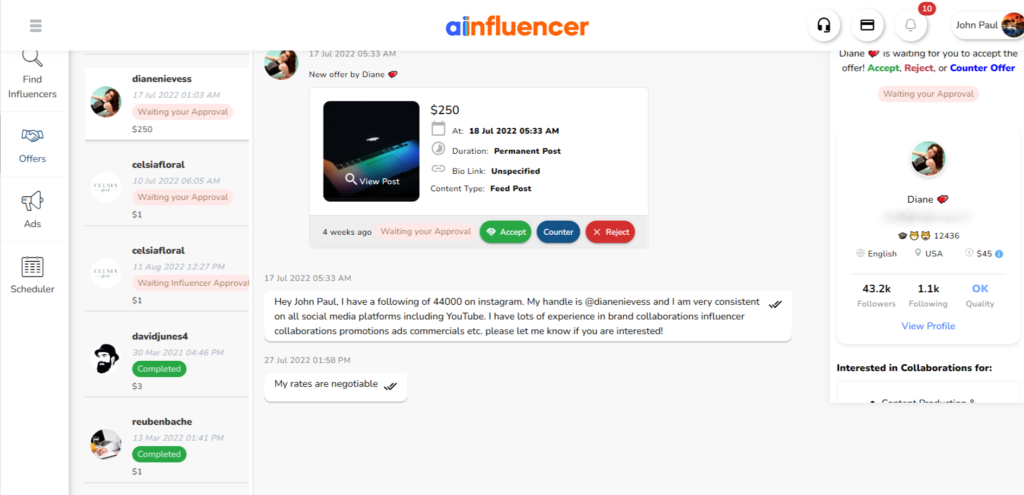 You may get asked to:
Share a particular content type, which can be Story, a Feed Post, Reel, etc.
Post specific photos or videos.
Write the exact caption and text the brand wants.
Post on a determined day and hour.
Pay attention to the desired duration for the shared content.
Tag or mention the brand.
Share the location while posting.
Put a specific link, such as their website's link, in your bio.
Doing what you're expected to do shows brands that you pay attention to your work and respect them. This, subsequently, results in brands' satisfaction and more collaborations.
You can, likewise, propose your own requests from the brand you're collaborating with. These requests can be related to:
Content of the post: You can decide what you like to share on your account. You may like to promote the products or services by sharing your own image/ video using them, or by sharing just banners.
Duration of the post: You determine whether you share the promotion posts temporarily or permanently.
The products: If you do not like to share some specific products, you can freely tell the brand.
Payment: And finally, you tell the price of sharing posts on your account.
Ainfluencer lets you discuss all the above-mentioned details on its chat box so that both brands meet their needs.