Instagram with more than 1.3 billion active users in a month is one of the most popular social media platforms these days. One of the coolest features added to this platform is Instagram Reels which is a copycat of TikTok videos. Almost everyone knows how to make reels using videos but do you know how to make a reel with photos?
Some might think creating a reel is only available by recording videos or using the videos from your gallery. But in the recent updates, you have more flexibility for creating reels. In this article, we will show you how to make a reel on Instagram with photos to stay updated with the latest Instagram Reels trends.
What Are Instagram Reels?
In August 2020, Instagram rolled out a new video type of content called Reels which allowed users to create short creative videos (up to 15 seconds) with soundtracks. After a short time, this feature became popular among users and now you create up to 90 seconds long.
Instagram Reels offers a variety of creative tools, such as music, text, effects, and more, enabling users to craft entertaining and visually appealing content. In the next parts, we will show you how to make a reel with photos in some simple steps.
How To Make A Reel On Instagram With Photos
If you already know how to make a reel on Instagram but are looking for a way to make a reel with multiple photos and videos (or just photos) don't worry. Here are the six steps showing you how to make a reel with photos.
1. Use The Instagram Editor Tools
If you don't want to use any third-party tools and apps to create your content, you can use the Instagram app itself to learn how to make a reel with multiple photos. Even though the editing options and filters are limited compared to other apps, it's the best way for beginners to create reel videos. In this part, we will walk you through the step-by-step process of how to make a reel with photos and music for total beginners.
Step 1: Access The Reel Camera
Start by opening the Instagram app tapping the '+' icon at the bottom of your screen and choosing the 'reels' option. If you want to share the reel video you can open the story camera by swiping your screen to the left. Another alternative way is going to your profile and tap the '+' icon at the top right corner of your screen. Then choose 'Reel' to open the camera.
Step 2: Choose The Photos
After opening the camera. the next step for how to make a reel with photos is choosing the photos you need from your gallery.
For this action, scroll your screen up to open your gallery.
Tap and hold on a photo to activate the multi-selection option.
Choose as many photos as you want, in order you want them to appear.
You can tap and drag them from the bottom bar to re-order them.
Once you are done tap 'Next'.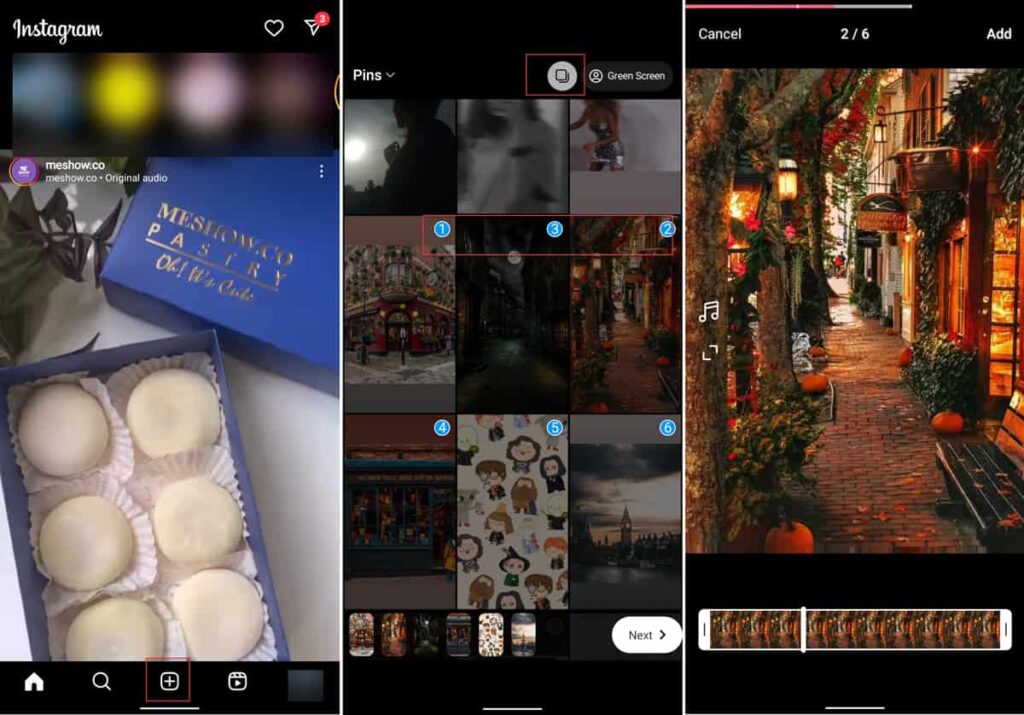 Step 3: Reseize The Photos
After following the above steps and choosing the photos, it's time to edit each of them one by one.
Use your two fingers to resize the images or use the 'Scale' option from the left menu.
You can add music to each of these images by choosing the 'Music' option and searching for the audio.
After editing each photo, tap the 'Add' button at the top-right corner of your screen.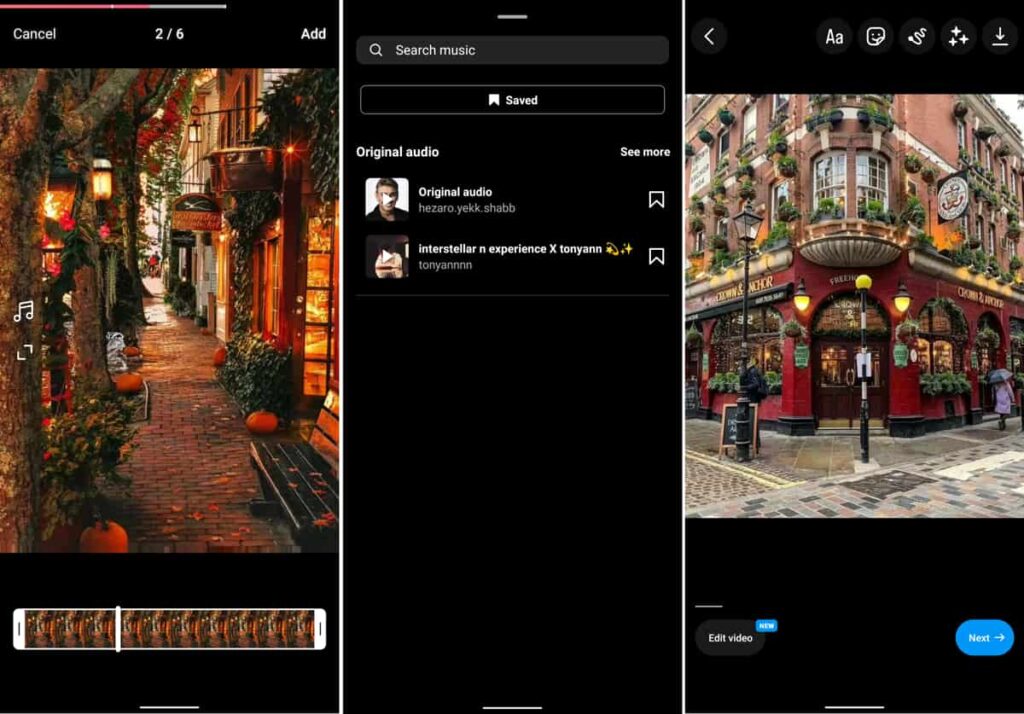 Step 4: Add Filters And Effects
After adding and reseizing each photo, Instagram makes the video ready for the next edits. In the new window, you can:
Save the video from the upper-right corner of the screen if you decide to share it later.
Add effects by tapping the star icon at the top of your screen.
You can also add as many stickers (Smiley-face icon ) and texts as you want.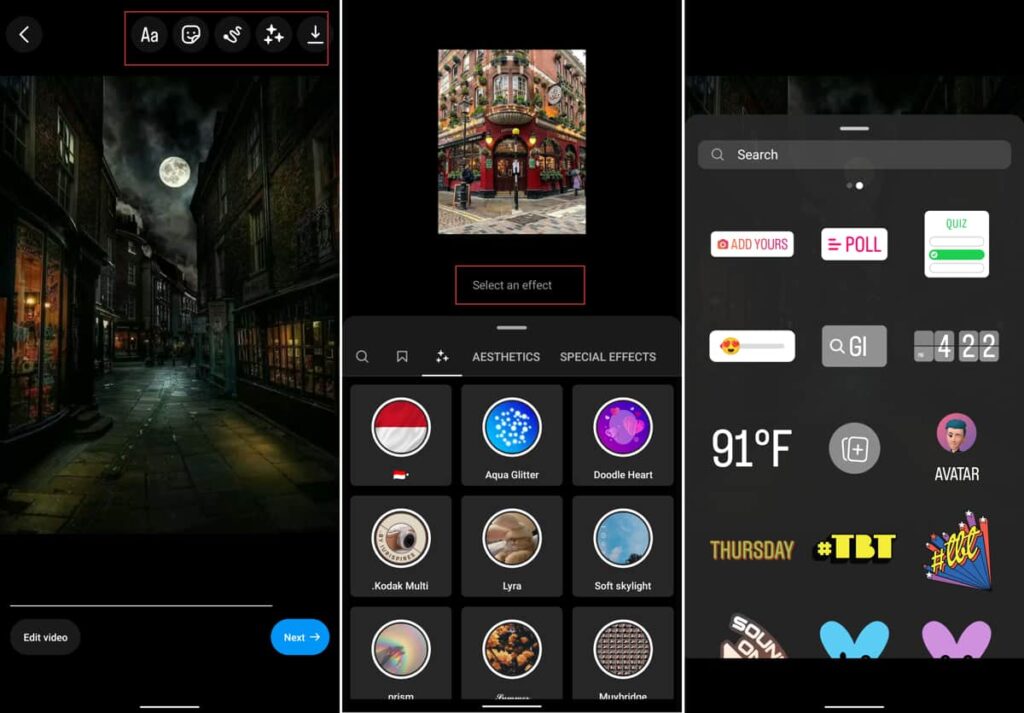 Step 5: Edit The Video
Now it's time for some new professional editing tools. After adding your effects and filters, tap the "Edit Video' icon at the bottom of your screen. Some of the available edit options here are:
Trim and Split the videos,
Reorder the photos,
Add clips and photos from your gallery,
Change the length and speed of each photo.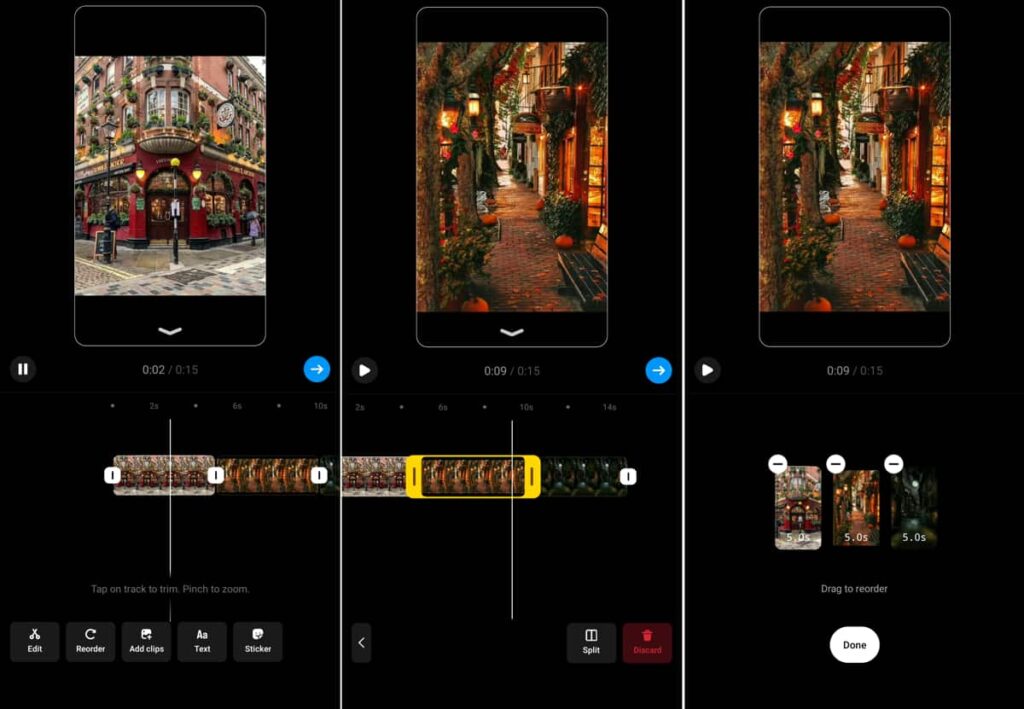 Step 6: Add details And Publish
Now your video is ready and you have found out how to make a reel with photos on Instagram it's time to publish it. By tapping the 'Done' option, you will be transferred to the post section where you can add:
Write a caption for your reel content,
Edit your Reel cover,
Tag people,
Add location,
And add some professional settings such as hiding likes, enabling auto-captions, adding, paid partnership labels, etc.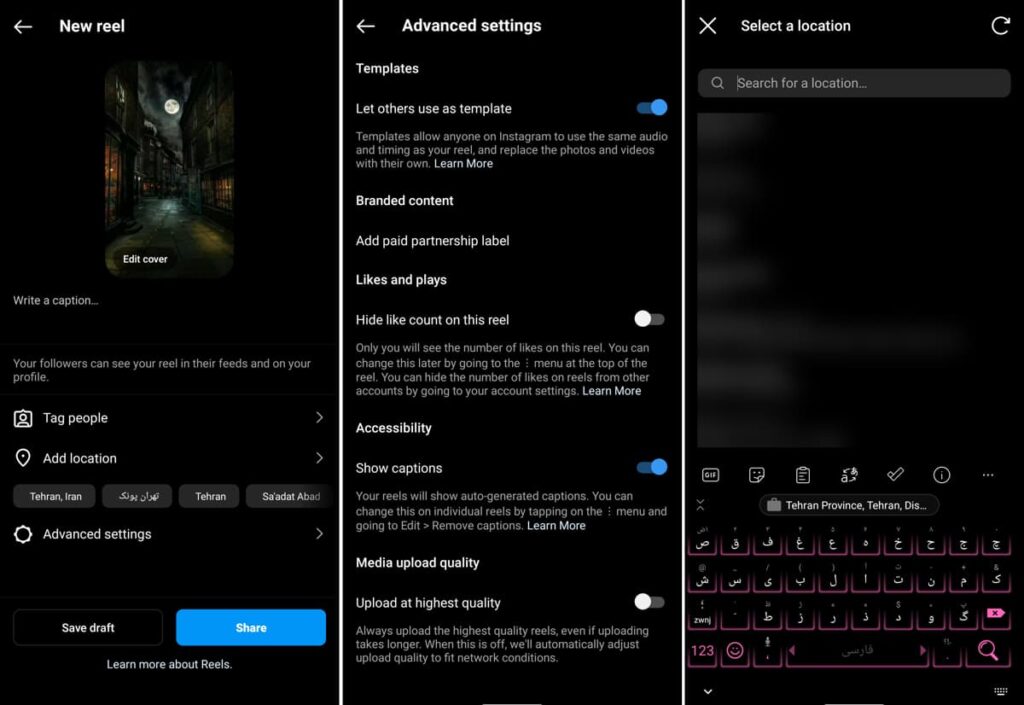 Try Canva Editor Tools
One of the best free tools for those looking for more advanced editing options is Canva. There are many free templates and stock photos in Canva allowing you to create a fun video in a couple of minutes. Let's see how to make a reel with photos using Canva. 
Start by signing up for a new account or log into an existing one if you have one.
Use the Canva search bar and look for 'Instagram Reels' templates. There are many paid and free options.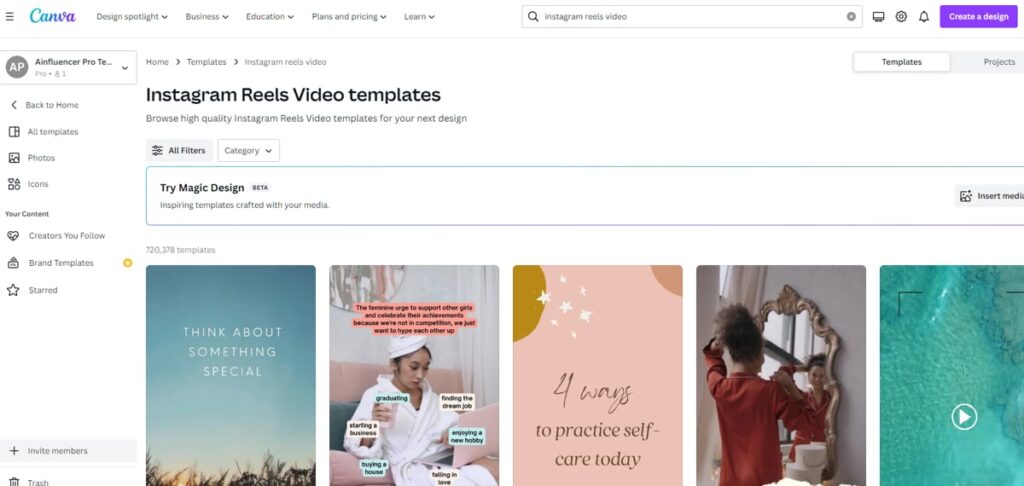 After choosing the template, It's time to add the photos. From the left menu click on the 'Upload' option and select the photos that you want. Make sure all of these photos follow the same image dimension. (You can also crop them in Canva).
If you are content for your brand, make sure to upload your logo and add it to the video.
Order the photos and add animations between them.
Add a background to the photos if you want and change its opacity.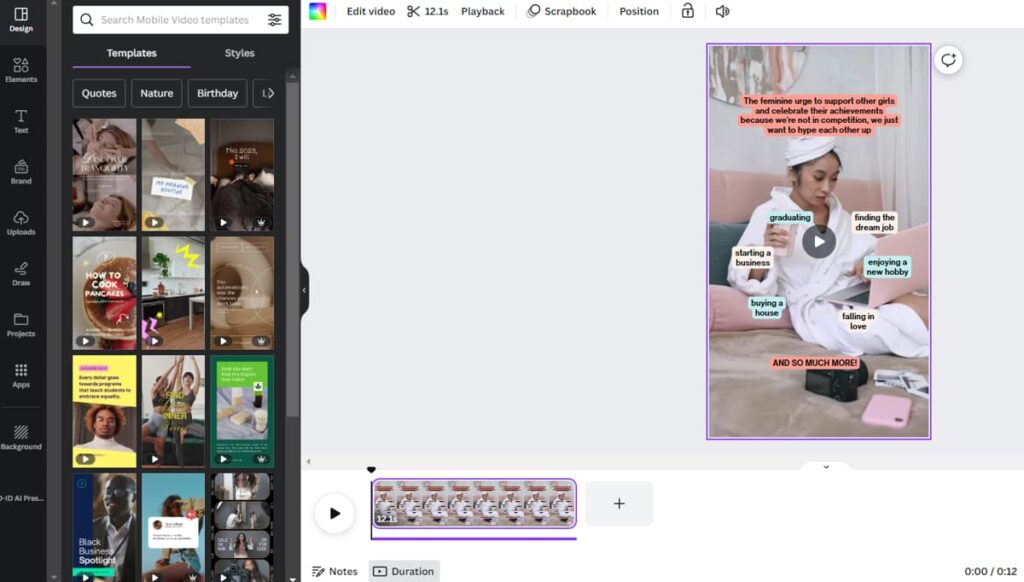 Name the project, choose the quality, and download the video.
Now open the video on Instagram and add your soundtrack. Then, follow the similar steps for adding details and sharing the post.
How To Earn Money From Your Reel Content?
Now that you know how to make a reel with photos and music on Instagram, let's show you how to earn money from it. If you are an Instagram influencer or a content creator with an established audience (more than 5k followers) one of the best ways to earn money is through sponsorships and brand collaborations.
Influencer marketing has proved its efficiency over the past decade and brands are regularly looking for influencers to work with. But how can you find brands in your niche as an influencer? That's where Ainfluencer comes in!
Ainfluencer is a free influencer marketing platform that connects brands and influencers (Instagram and TikTok influencers) of all sizes across different niches in a safe and trusted interface. With powerful search filters (based on hashtags, location, niche, language, budget, engagement metrics, etc.) you can find your best match in a couple of minutes.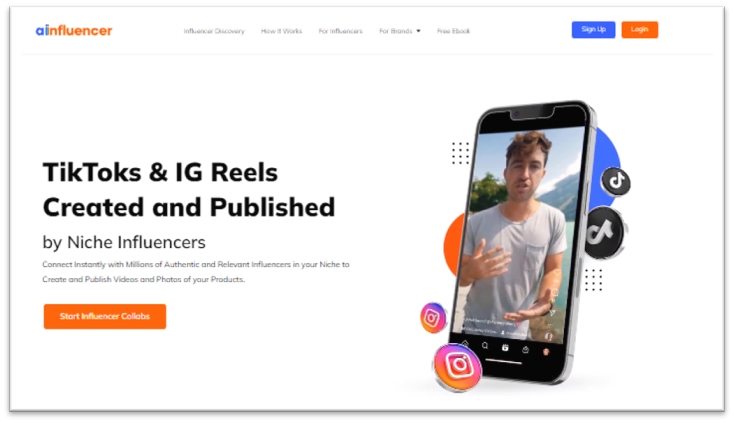 So what are you waiting for? Join the Ainfluencer community of more than 500,000 creators and start earning money now. The best part is it's totally free to use Ainfluencer for both brand and creator sides.
Conclusion
Reels are one of the coolest types of video content on Instagram that is popular among users and creators. However, some might think creating a reel video is only available through recording videos or uploading them from their galleries. But did you know you can also create Instagram reels only using photos?
In this article, we provided a full guide on how to make a reel on Instagram with photos and videos. If you are a beginner, the first method is the best way to try but for those looking for more advanced editing features, using other apps and tools is a perfect choice,
FAQs
1. Do I Need Special Software To Make A Photo Reel?
You can make photo reels using platforms like Instagram's built-in feature or third-party apps such as Canva, InShot, or Adobe Spark, which provide tools for arranging photos, adding effects, and more.

2. Can I Add Music To My Photo Reel?
Yes, you can add background music to enhance the atmosphere of your photo reel. Just ensure that you have the rights to use the chosen music, or for copyright-free tracks.

3. What Kind Of Photos Work Best In a Reel?
Choose photos that align with the theme or story you want to tell. Candid moments, highlights of an event, travel experiences, or a progression of images related to a topic can all work well.

4. How Long Should Each Photo Be Displayed In A Reel?
The duration can vary, but maintaining a consistent display time for each photo ensures a smooth and engaging pace. Usually, a few seconds per photo works well.