Ainfluencer is an awesome network for both brands and influencers to connect and benefit from each other's work. 
Influencers can earn money doing what they are great at and brands can expand their outreach with very little effort involved.
Ainfluencer simplifies the process of looking for your ideal brand or influencer and allows you to reach out with terms and a price suggestion in just a matter of clicks.
And once you reach out, it's incredibly important to offer the right price. Otherwise, you run the risk of losing your chance to work with that person.
But what is the right price? How do you value somebody's skills and know what to offer them?
Well, that's exactly what we'll try to answer for you in this article.
Price Suggestions for offers on Ainfluencer: How do they work?
First, we should learn more about our influencers' profiles and their insights which are accessible to all Ainfluencer users.
Check out this sample campaign that we've created for the company "HomeMade Bakery". We've prepared a video, a coupon code, some descriptions, and captions to give our influencer an idea about what we're looking for.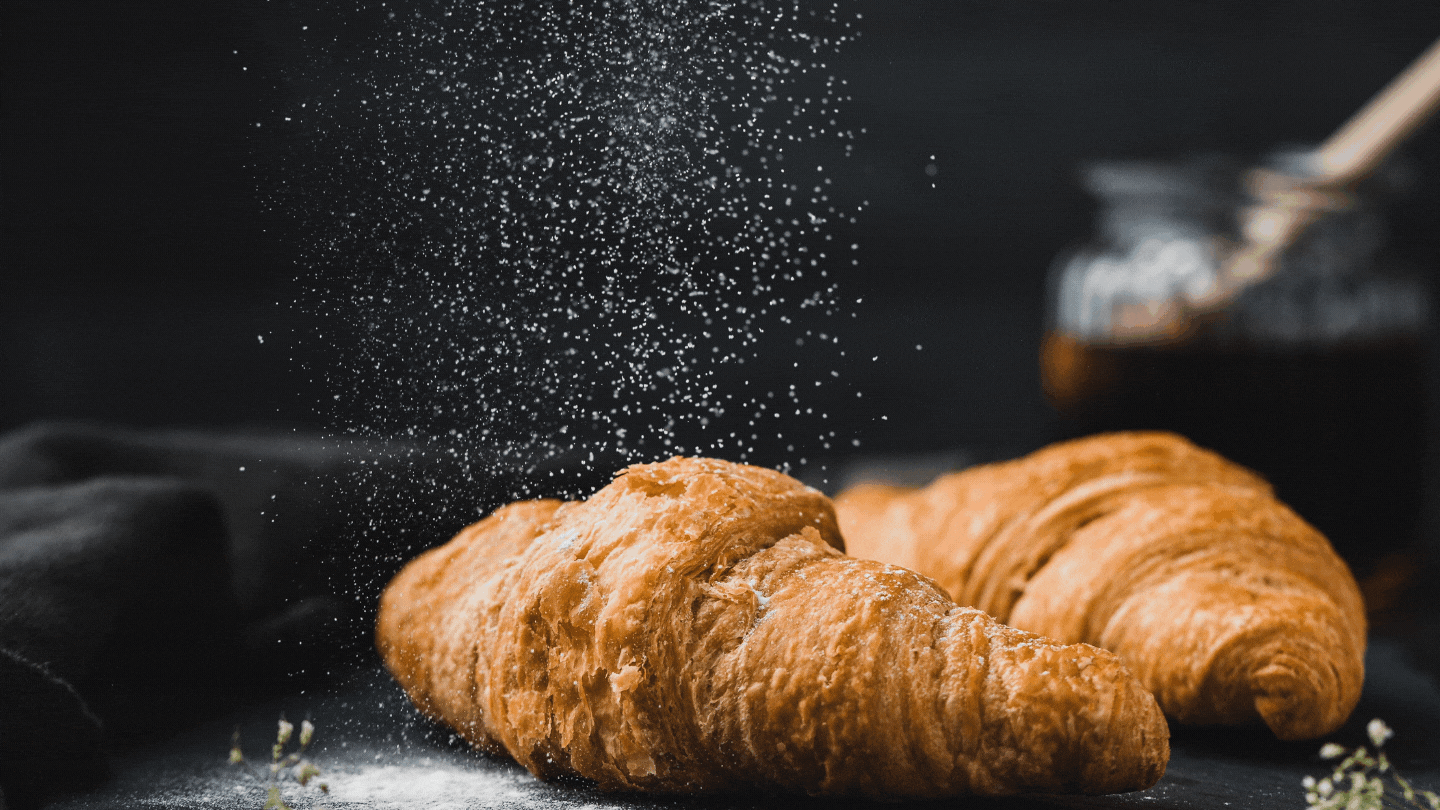 After entering the relevant hashtags (e.g., #bakery), niche (e.g., Food/Fining), Location (e.g., The United States), Language (e.g., English), Gender (e.g., All), and the number of followers (e.g., 5K – 1M), we can hit the search button to list our ideal influencers for this brand.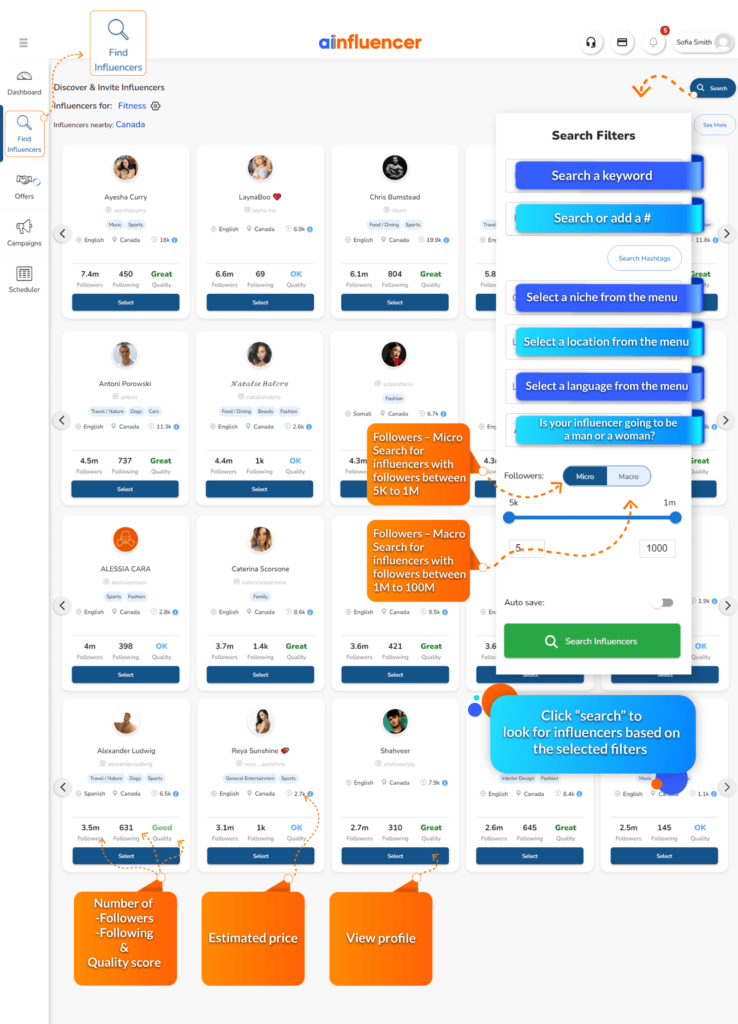 If we pick any influencer on the list and view their profile, we should see their insights – like their Q-Scores, their number of followers and followings, their engagement rate, and importantly, their estimated price.
But we should consider all of these metrics when negotiating with influencers.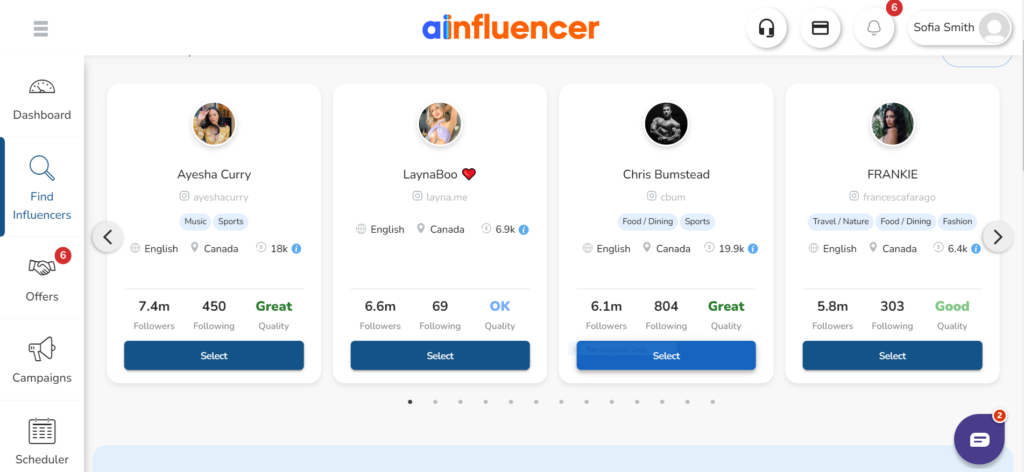 The estimated price on every influencer's account is a big help to understand price suggestions for offers on Ainfluencer better. But where does this estimated price come from, and to what extent can we rely on it?
The Estimated Price on an Influencer's Account
These insights into an influencer's profile, like their followers and engagement rate, help to guide Ainfluencer's estimated price metric and their quality score.
Not all content is priced the same either. Stories are worth 4x the estimated price of a normal post on one's feed while videos are worth 1.5x the post.
Ainfluencer's AI software creates these scores based on its huge database of influencers. It takes into account the pricing of other influencers, their followers' size, and other key data points to give its estimated price.
So, the estimated price gives brands and influencers some indication of how to negotiate when an offer is made
Ainfluencer does this to help guide price negotiations.
Although, these suggestions are not completely firm and influencers may be worth more or less.
This is why it's important to think of the price suggestion as a benchmark rather than a rule and to also consider other metrics like engagement rate, niche, and follower size independently.
If you see that your influencer has a high engagement rate, great content, and the right follower size, consider offering them more than the estimated price.
Negotiate an Agreement on Price Suggestions for Offers
All brands have the option of inviting influencers to work together. But not all influencers can invite brands to work together.
The brands that do allow influencers to make offers to work together can choose to make their campaign accessible to all. In this case, influencers can reach out with their own suggested price.
In your offers tab, you'll see two options: "In Discussion" and "Deals Closed".
You can view the influencer's profile in the "In Discussion" option to accept or reject their offer, or make a new offer. You can also send personal messages, change the campaign duration in a matter of clicks or agree on the price through the chat box.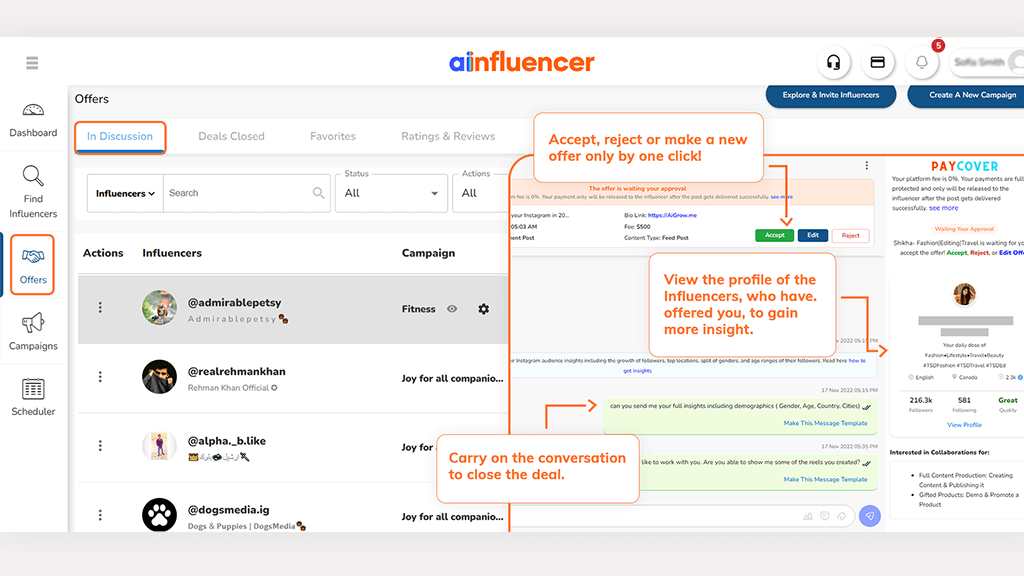 Tips to Price Suggestions for Offers on Ainfluencer
Our marketplace generates a range for the price, which says 1.5<Max/min<1.7, and calculates the cost.
The formula is constant for influencers followers > 100K
Engagement rate is not taken to account but shown in results
No price for less than 1k accounts
Stories worth 0.4 post
Videos worth 1.5 post
Influencer Payments and Formal Contracts on Ainfluencer
Once a custom offer is negotiated and accepted, it will be moved to the "Deals Closed" tab. This will be considered your formal contract as soon as the brands make the payment.
The influencer should publish the post and fulfill the criteria according to their contract. After the post is successfully published, Ainfluencer will release the payment.
This helps to keep your money secure until both your terms are met.
When negotiating your price and deal, consider these points:
Publishing dates or publishing schedule
Publishing duration
Placing the brand's link in the influencer's bio
The type of content and mode of delivery (ex. Stories, videos)
Conclusion
So, when you make your offers, use the estimated price as a benchmark to guide how much an influencer should be paid. But also, consider other factors.
If they are your ideal influencer, they have great engagement rates, they have high-quality content and they interact positively with their audience, then consider paying them more.