Ainfluencer is a marketplace that enables brands to find, connect, and collaborate with influencers. Brands can post campaigns and search over 700,000 qualified influencers and collaborate to generate traffic, leads, and sales. Influencer metrics are factors that determine an influencer's success. Looking at these metrics can help brands decide which influencers to reach out to and collaborate with to achieve their influencer marketing goals. Ainfluencer makes it easy to view an influencer's metrics and initiate collaboration. Read on to learn how influencer metrics work and what they mean.
What are influencer metrics?
Influencer metrics are social media-related data points that together act as a formula to measure an Instagram influencer's success and quality. These metrics can help brands make educated decisions when choosing an influencer. On Ainfluencer, brands can search for influencers and view their metrics. This way they can assess an influencer's quality and potential before deciding to collaborate.
4 key influencer metrics on Ainfluencer
When it comes to measuring the success of Instagram influencers, there are generally 4 factors: content, engagement, reach, and revenue. On Ainfluencer, detailed insights give brands an in-depth look at each influencer's metrics. These insights measure an influencer's success and their ability to increase brand awareness, bolster a brand's image, generate followers and facilitate sales. Brands looking to engage in influencer marketing should understand these insights and consider them before selecting an influencer to collaborate with.
Here are 4 key influencer metrics on Ainfluencer and what they mean.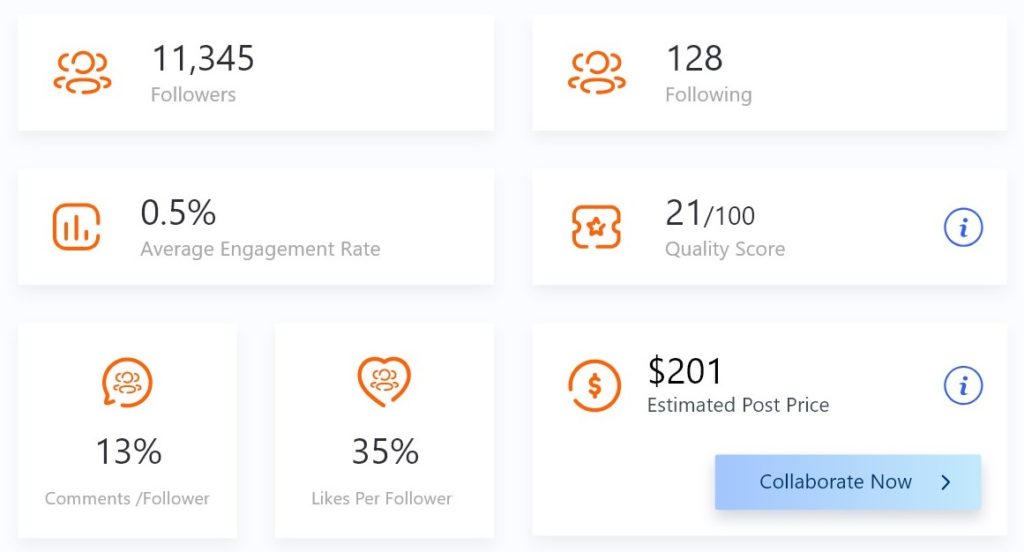 1. Quality Score:
On Ainfluencer, an influencer's Quality Score is a measure of their overall quality and social influence. Scored out of 100, the Quality Score is what's known as a catch-all metric. This means that it's composed of other metrics, providing an overall picture of an influencer's quality.
2. Followers:
Followers refers to the number of people who follow an influencer's Instagram page– the more, the better. A solid following generally means that the influencer posts interesting, authentic content and has a loyal fan base. When selecting an influencer for a marketing campaign, brands should look for interactive Instagram influencers with a substantial following.
3. Following:
Another important Ainfluencer metric is Following, meaning how many other accounts an influencer follows. At a glance, it might seem like one of the least significant factors in measuring an Instagram influencer's performance, but don't underestimate it; the number of accounts an influencer follows speaks volumes. Brands should look for influencers that follow a smaller number of accounts. Following fewer accounts signals higher status and influence as well as a strong Instagram marketing strategy.
4. Average Engagement Rate:
On Ainfluencer, the Average Engagement Rate is a key metric in determining the performance of a given influencer. Engagement refers to Likes, Comments, and Saves on Instagram, and is critical for success. It's a clear measure of how interested and engaged an influencer's audience is. Generally, influencers with a higher Instagram Engagement Rate are more likely to get brands the views, followers, and sales they need to succeed.
Bear in mind that the engagement rate doesn't only depend on the number of followers so it's important to take all metrics into account when selecting an influencer.
How to calculate an influencer's Instagram engagement rate
Although there are several ways to calculate engagement rate, here are the main formulas: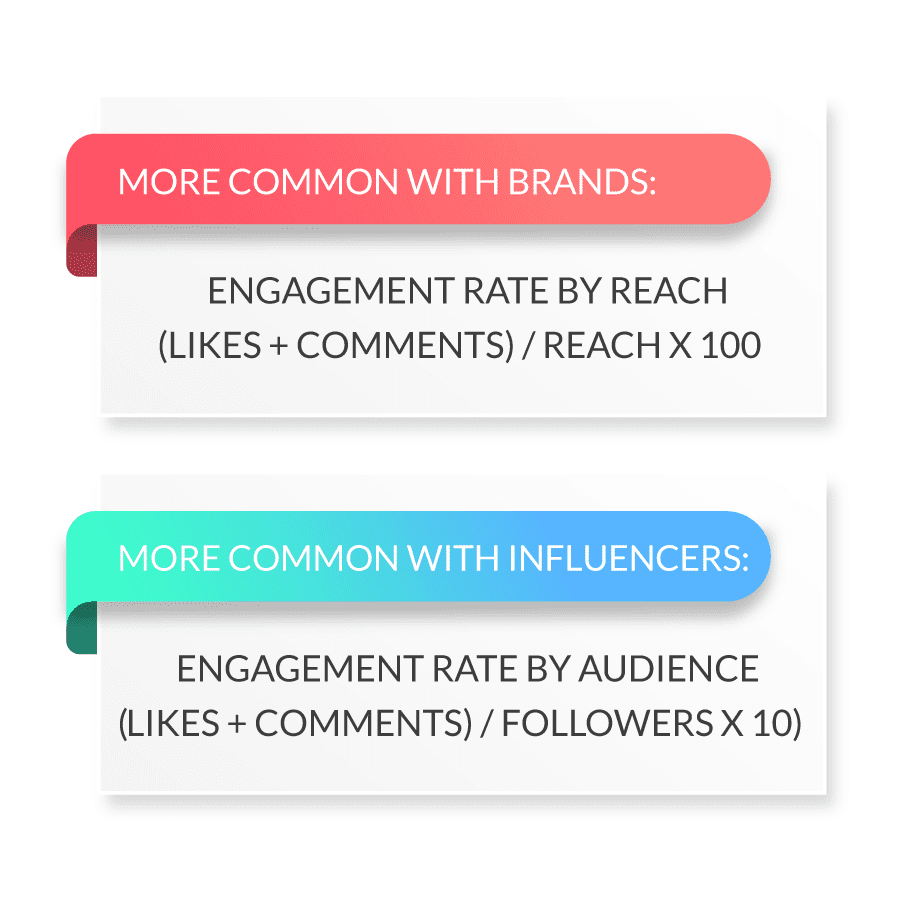 More common with brands: Engagement Rate by Reach = (Likes + Comments) / Reach x 100
More common with influencers: Engagement Rate by Audience = (Likes + Comments) / Followers x 10
Ainfluencer offers brands a detailed look at influencers' quality and performance through these key metrics. Brands can use these metrics as a guidepost when selecting influencers to work with, creating more successful collaborations, and meeting their marketing goals. Make your next influencer marketing campaign a smashing success. Sign up for Ainfluencer today!