10 Top Things to Consider When Finding Influencers
If I ask you to find an influencer for your Instagram business, there should be various ways that might come to your mind. Running an Influencer marketing campaign is the big motivation for brands to look for the best social media influencer that resonates with their niches and business goals.
It is marketers fair to make the right decision for building their influencer marketing campaign to choose effective, engaging, and brand-safe influencers. Growing brand awareness needs deep analysis and does not go around having numerous followers and an attractive Instagram feed. After learning how to reach out to influencers to promote your brand
Then It is essential to know the key factors you need to consider in finding influencers that are crucial to your success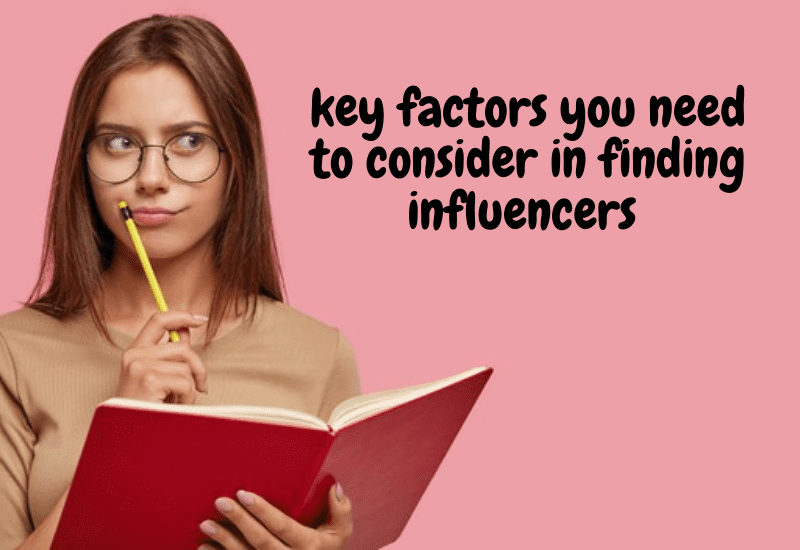 Reach
Reach is a major thing to consider an influencer's efficiency because it reveals how much an influencer has social media knowledge and skills to impress people. Achieving high reach is one of the most significant factors that can make a brand pick up the influencer to market their social business. Followers, subscribers, and views are an organic reach; they can generate a high engagement and a more influencer ROI.
Content
Content is king because it is the essential metric that leads to great social media engagement and reaches. Influences can showcase their sense of creativity in different ways, such as blogs, photography, videos, and post designs. So, an influencer uses its talent to identify which types of content best suit the target audience's interests, either new ones. Marketers should determine Influencers' content quality to be relevant, consistent with reaching out to their marketing goals and brand figure.
Engagement
Most brands prefer Instagram engagement to appear to explore feed. Engagement means likes, comments, and content shares; therefore, engagement is more valuable than reach; everyone could reach the content, but no one will easily engage with that. It is undeniable that a high reach causes higher engagement as it shows how much your content looks authentic and engaging that you receive a lot of interactions.
Build a trusted connection
Influencer connection is the social network's main goal to share a huge opportunity to draw brands' attention. Because establishing a trusted and engaging relationship with the audience and businesses is the secret of growing brand awareness. As a result, marketers or business owners can better team up with these social media influencers better expose their brand image and authority to a new audience.
Voice
Voice is the only thing that can create an emotional connection with the audience. Test out in-depth storytelling voice is a great way to break through the social media world and amaze people. The best Influencers are the ones who can unlock the marketing barriers and attract followers via a unique voice. Remember that brands should consider influencers' voices that best fit their brand personality.
Audience data and engagement
Data is a reliable source to calculate an influencer's social influence on the network. The first step is to know the audience enough to take the right path in making the relevant offers for them that include demography interests purchase Intentions, popular brands. So, audience data is crucial to brands' success in running an influencer marketing campaign.
Audience insights are worthy evidence that every social media influencer can honer because brands can comb through audience data to choose their partners to discover their insights and then partner them.
Regular social media activity
Daily social media marketing activities expose you to a wider audience. Post consistency is the key for influencers to keep the audience engaged and show how they are active on social media platforms. This factor matches audience engagement from compelling content such as entertainment, inspiration, education, and products offering content and added value for social media customers.
Be more motivated and responsible
Typically professional influencers are active on multiple social media platforms like Facebook, Instagram, and Twitter to reach and access different types of leads and loyal customers. It gives them the chance of being seen on every social media that put responsibilities on their shoulders. Influencers should learn how to execute their marketing tasks well and on time to leave a good figure for themselves.
Fee and price
Price is as important as other critical factors in the marketing campaign because several factors affect how much influencers charge for the services they offer.


The influencers reach and engagement
Their active social media channel
The number of posts and their types include things like images, videos, and audio
How accessible is an influencer
Agency charges
Based on these factors, marketers can figure a mind map of their marketing goals, influencer metrics, and campaign structure and then consider how much they are going to pay to work with an influencer marketing campaign.
Agreements
When you want to write a contract with influencers, it will definitely help marketers have a set of agreements to make a better, consistent, clear, and high-quality collaboration. Set your goals and do and don'ts in choosing your influencers. for instance, if you want to partner with an influencer that your competitor wants to use, it is better to be clearly mentioned in the official contract or write a non-compete agreement that will limit them from promoting a competitor in a period of time.
All in all, brands need to plan out for their influencer marketing campaigns with the top 10 critical factors when finding influencers. Ainfluencer comes to help Instagram marketers to find the easiest and smartest way to do influencer marketing in order to grow their brands and make money.