When it comes to finding the best Instagram influencers, numerous tips might pop into your mind to choose the right influencer to maximize the number of deals. Success in influencer marketing on Instagram is under the control of two main reasons an influencer's power or social influence and engaging content creation.    
Social conversation and the large market of the audience are important factors that marketers should research to avoid falling into the trap of wrong choices.
In Ainfluencer, you need to know some significant invitation tips to better generate a maximum deal and run a great Instagram marketing campaign by providing review engagement statistics in easy to consume chart format and see results unfold in real-time.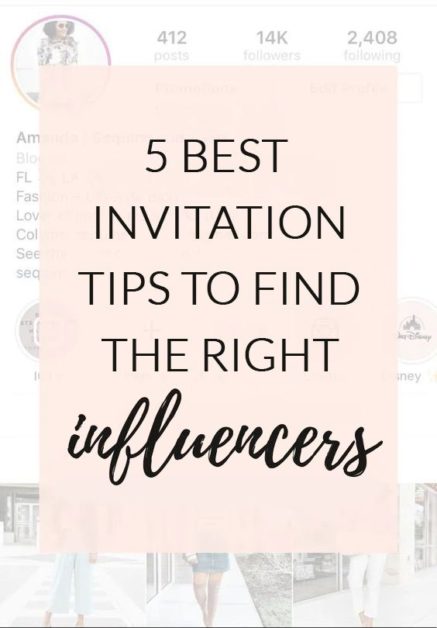 5 Best invitation tips to find the right influencers
Relevance means whether an influencer right fit your brand industry and activity or not. It is one of the first and best factors to help brands easily reach their marketing goal on Instagram. Finding well respected, industry-relevant online influencers with smaller, highly engaged audiences is the main part of rapid growth in influencer marketing success.
It is very important to step ahead in your marketing journey with an influencer who aligns with your Instagram marketing strategies, such as content creation, target audience, and promotional advertising tactics.
To succeed in influencer marketing, try to look for a relevant savvy influencer that matches your business goal. Many influencers might be active in your niche, but they are just interested in promoting products, not working professionally to serve the audience with valuable and useful information.
So, consider these tips to come up with a relevant influencer who can send your brand messaging around the Instagram world with the marketing strategy you prefer
Engagement is the second step of succeeding in finding the right suitable influencer to bombard your brand with the best engagement they can make. In the Instagram competitive market, a high level of Instagram engagement brings a great marketing chance for influencers to help marketers or brands to take advantage of their bright marketing results and followers to humanize their brands.
You can look for great influencers to guarantee meaningful connections to rapidly grow your brand awareness a high number of likes, comments, shares, and reposts.
The more interactive is an influencer, the more engagement can bring, so the more trust they can make around their audience.
Trust comes out of running several influencer marketing campaigns with different influencers or via brand partnerships together. This can prove an influencer's power and ability in generating real Instagram engagement.
Tip: Influencers with around 10k-100k followers, offer the best combination of engagement and broad reach. However, those with less than 1K followers receive likes on their posts 8% of the time, while others with more than 10 million followers only received likes 1.6% of the time.
Influencer metrics include both reach and impression as the third most significant metric that can turn users into followers. In partnership with Instagram, influencer reach is the size of the influencer's audience who potentially see their content.
Obviously, influencers' high engagement rates refer to an influencer reaching more of their audience, so the higher engagement rates, the higher number of followers on Instagram. The impression is the number of times your content is displayed
So, In this way, brands consider an influencer followers size that covers both reach rate and impression. It will really work if you maximize the reach metric to increase brand awareness
For instance, if you have 300 reach and 1000 followers, your reach rate is 30%.
Authenticity brings a loyal customer to influencers; the emergence of popular influencers opens up a new way to turn the Instagram platform into an authenticity market. Bloggers and mico influencers appear more trusted and authentic, improving the brands' marketing journey to make most of the Instagram marketplace and reach their business goal.
Influencers' great content marketing helps you to receive a lot of interaction; therefore, your brand can stay more relevant and authentic to your new audience.
In ainfluencer ad marketplace, authenticity comes out of the quality score because it includes different critical factors such as followers,avg engagement rate, and estimated post price.
The number of Instagram followers show their field of marketing activities. If you want to find an influencer specializing in the industry, you should pick up with nano or micro-influencers as they are experts in your niche and have your target audience. Ainfluencer works with most with nano and micro-influencers to generate more Instagram engagement.
Nano influencers are appropriate for local businesses or markets and can make engagement rate:7.2%
Micro-influencers are a great option for both big and small businesses with an engagement rate: 2-3%
Different types of influencers
Nano-influencers: 1,000–10,000 followers
Micro-influencers: 10,000–50,000 followers
Mid-tier influencers: 50,000–500,000 followers
Macro-influencers: 500,000–1,000,000 followers
Mega-influencers: 1,000,000+ follower
Putting it all together
Ainfluencer is the most cost-effective way to run Instagram influencer marketing campaigns. Getting started as an influencer to get sponsored posts on Instagram, you need to join Ainfluencer free ad market place to meet brands and make offers. Also, brands can create a free marketplace ad to start a marketing game. These invitation tips can help brands to make a wise choice in picking up their right influencers to generate maximum deal flow on influencers.