An influencer marketing program is a fresh approach to growing your business. So, it comes as no surprise that many brands and influencers join a reliable Instagram influencer marketing hub to connect more effectively.
Once you have set your goals and priorities, it is creating an influencer contract that officially starts your Instagram influencer marketing campaign. To do so, you should find the right influencers for your brand first. Then, obviously, you need to contact and invite them to your campaign. Should you be able to make a firm offer, eventually, you will have developed a creative collaboration. 
On Ainfluencer, you can use a free service and unlimited resources to take all these steps successfully. This article will tell you how and also offers invitation tips to increase deal flow in your program.
How to invite influencers on Ainfluencer?
Before doing anything on Ainfluencer to invite influencers, sign up as a brand and create your account within a few seconds by entering your name, email, and creating a password.
This simple and secure step allows you to access the Ainfluencer's dashboard and its features. Consequently, follow this guide to explore and invite influencers relevant to your campaign.
1. Create your Campain
Creating a cmpaign on Ainfluencer is a huge step towards finding the right influencer as it sets out the type of your content and your expectations of how it will get published. Also, it helps you receive offers from influencers you may not have invited in the first place.
Overall, you can indicate the following factors in the 5-step process of creating campaigns.
Select your goals
Provide a title and description
Select your post type, upload your content, and write a caption if required.
Complete the publishing terms and requirements – Campaign publication date, time span, and bio campaign.
Generate a few relevant hashtags to help Ainfluencer's AI find more targeted influencers.
2. Find influencers
You should explore and discover influencers who match your criteria before inviting anyone. Luckily, you can set those criteria in the Ainfluencer's search filter to ensure that the results are relevant and accurate.
Here are the choices you can exercise to prioritize your search results.
Search a keyword or relevant hashtag.
Select a niche.
Choose a location.
Single out a language.
Decide if you are looking for a man, woman, or both.
Opt for the number of followers. Micro influencers can have 5K to 1M followers as for Macro influencers, this number can range between 1M to 100M. Also, you can use the bar below the types of influencers to customize this number.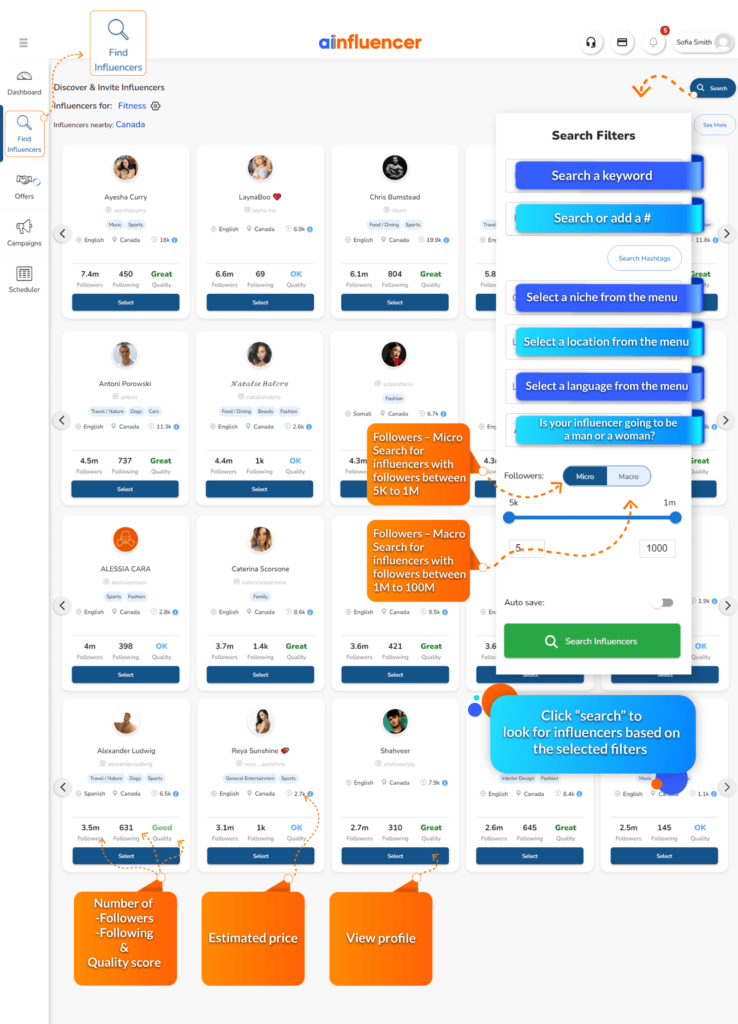 3. Invite influencers
Finally, you will have a list of influencers found by the Ainfluencer's AI search. Each influencer has a profile that provides enough information to indicate whether or not they suit your Instagram influencer marketing.
The following is a list of what you can initially see by looking at an influencer's profile.
Instagram ID address
Location, language, and estimated price
Followers, followings, and quality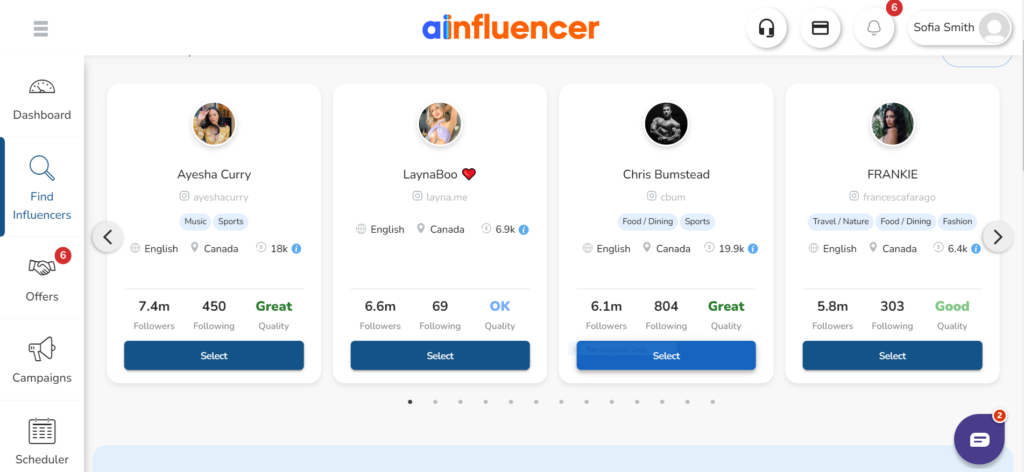 If that sounds good enough for you to decide, you can simply click on the "Select" button to send an invitation.
Another way to invite influencers is to choose from your offers. It is common for influencers to explore campaigns and select the ones they find relevant and interesting. So, they can send you an offer to invite them which makes it clear that they are open to working with you. All you need to do is look into their profile and consider their offer.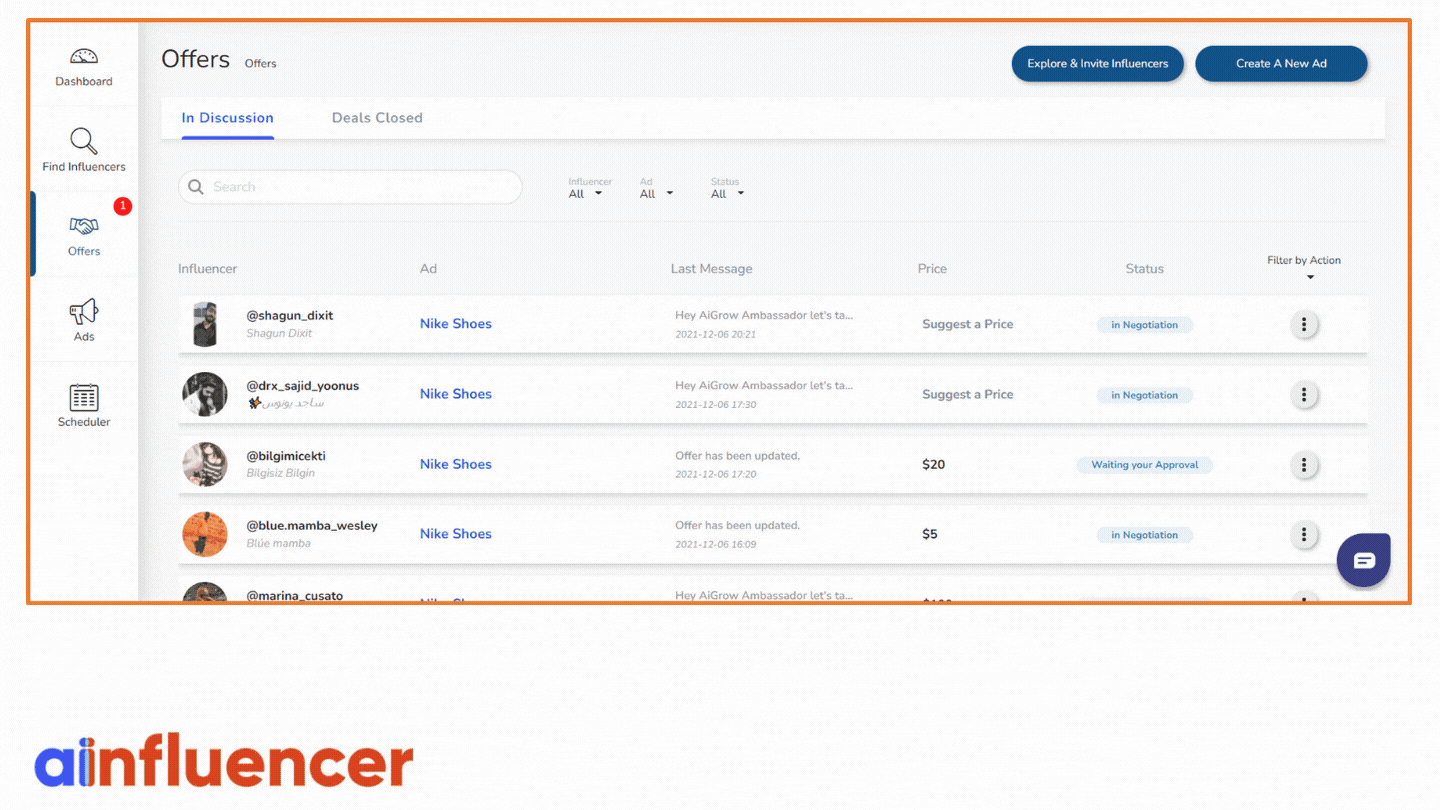 5 Best invitation tips to find the right influencers
As soon as you are confident about who you want to invite, you will access an in-app chat box to negotiate your terms and close the deal. Eventually, what you and your influencer agree on will be considered your formal contract.
Moving on, you will pay for the campaign, but Ainfluencer will not release the money until the influencer meets all your demands.
Here are 5 tips to help you find the right influencers.
1. Relevance
Relevance means whether an influencer right fits your brand, industry, and activity or not. It is one of the first and best factors to help brands easily reach their marketing goal on Instagram. Finding well-respected, industry-relevant online influencers with smaller, highly engaged audiences is the main part of rapid growth in influencer marketing.
It is crucial to step ahead in your marketing journey with an influencer who aligns with your Instagram marketing strategies, such as content creation, target audience, and promotional advertising tactics.
To succeed in influencer marketing, try to look for a relevant savvy influencer that matches your business goal. Many influencers might be active in your niche, but they are just interested in promoting products, not working professionally to serve the audience with valuable and useful information.
2. Engagement
Engagement is the second step of finding the right suitable influencer to bombard your brand with the best engagement they can make. In the Instagram competitive market, a high level of Instagram engagement brings a great marketing chance for influencers to help marketers or brands to take advantage of their bright marketing results and followers to humanize their brands.
You can look for great influencers to guarantee meaningful connections to rapidly grow your brand awareness and a high number of likes, comments, shares, and reposts.
The more interactive an influencer is, the more engagement they can bring.
Trust comes from running several influencer marketing campaigns with different influencers or brand partnerships. This can prove an influencer's power and ability to generate real Instagram engagement.
Note that influencers with around 10K-100K followers offer the best combination of engagement and broad reach. However, those with less than 1K followers receive likes on their posts 8% of the time, while others with more than 10 million followers only received likes 1.6% of the time.
3. Impression
Influencer metrics include reach and impression as the third most significant metric that can turn users into followers. In partnership with Instagram, influencer reach is the size of the influencer's audience who potentially sees their content. On the other hand, impressions are the number of times your content is displayed.
4. Authenticity
Authenticity brings a loyal customer to influencers; the emergence of popular influencers opens up a new way to turn the Instagram platform into an authenticity market. Bloggers and micro-influencers appear more trusted and authentic, improving the brands' marketing journey to make the most of the Instagram marketplace and reach their business goals.
Influencers' great content marketing helps you receive a lot of interaction; therefore, your brand can stay more relevant and authentic to your new audience.
5. Influencers types
Today, more niche and targeted influencers with a smaller audience who usually show more interest in engaging with a post are the best choices for brands. Any micro-influencer with even 5K followers can help you grow fast and organically.
So, make sure not to focus on mega influencers with costly offers as they may not be able to get you even close to your desired results.
Conclusion
On Ainfluencer, you can create your influencer marketing campaign from the ground up with a considerably low budget. You have all the tools you need to set the right goals, create your campaign, find influencers, and invite them to your campaign. So, don't miss another day as this is where you have to start.