Are you trying to establish a solid Instagram influencer program?
Not too long ago, a strategic Influencer program was only used for celebrities, but influencer marketing has witnessed sweeping changes. The thing is, with the rise of social media, real and relatable micro-influencers now attract a large audience that businesses can tap into.
Many businesses that would like to use influencer marketing are not famous enough to partner with celebrities. That said, many ordinary influencers with enough followers have stepped up and begun to pledge their support for small brands everywhere.
Small businesses who hope to target influencers are taking advantage of influencer marketing methods that are now widely available. And marketing hubs like Ainfluencer are helping to create incredibly successful Instagram influencer programs for these businesses.
As a brand or an influencer, you need the right channel to find one another and stand out. Marketing hubs have made it much easier to connect with brands and influencers, hubs like "Ainfluencer" – a down-to-earth Influencer marketing platform – that are designed for both brands and influencers to launch and develop their Instagram influencer advertising campaigns. These places provide an easy way to make deals and earn money.
But what is an Instagram influencer program? And in what ways can Ainfluencer come in handy when building effective influencer marketing strategies?
What Is Influencer Marketing?
An Instagram influencer program, also called influencer marketing, is a modern approach to promoting your brand with the help of an Influencer's natural charisma and their following. Brands that use influencer programs can expect niche content creators to promote their business to an already engaged audience. But will this really help your business?
Before answering this question, let's watch this video on what challenges influencer advertising poses and why Ainfluencer's influencer marketing can help.
The Value of Influencer Advertising
According to Mediakix, a 2021 survey revealed that almost 90% of Instagram users believe that influencer marketing is the most successful method of marketing products on Instagram.
In addition to having a high ROI (Return On Investment), a successful Instagram Influencer program helps to achieve a number of goals. In particular:
Increased reach
Increased brand awareness
The ability to interact with the public
Increased product engagement
Boosted website traffic
Targeting the Right influencer
Now that you have started to see the value of a strong influencer program, we should keep in mind that targeting the right niche content creator accounts for the lion's share of developing an influential marketing plan.
It is vital to consider some insights and KPIs (Key Performance Indicators) before taking any action.
Calculate your expected ROI. This is probably the most important KPI to consider.
Set clear goals that allow you to assess your progress over time.
Last but not least, you might not find your perfect content creator right away but it is important to stay focused and keep looking.
At Ainfluencer, we also understand that proper Influencer targeting brings to mind an endless list of questions – "how do you find an influencer who suits your Instagram ambassador programs the best?", "what would be the most effective way to contact them?", "will they accept your offer?", and the list goes on. Well, the ultimate answer to targeting the right content creator, making the right offer, and everything else can be found on Ainfluencer.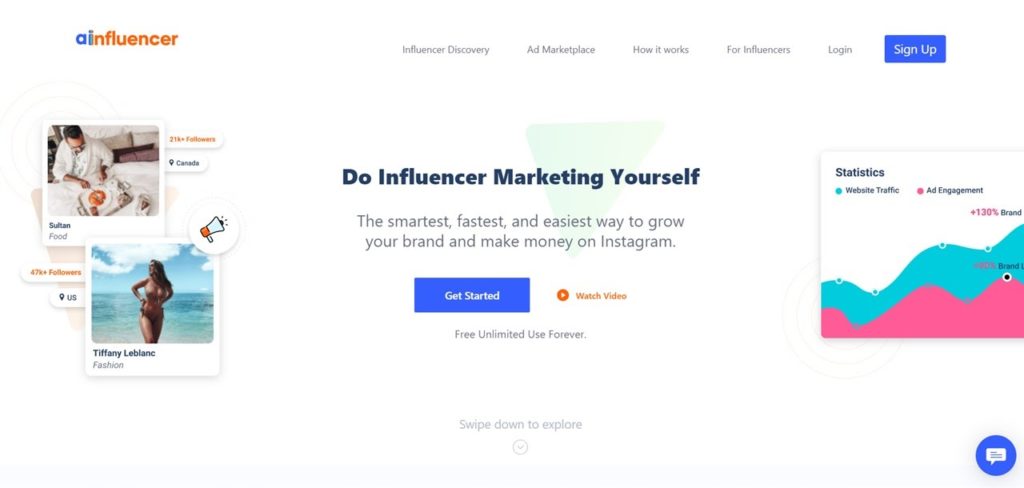 As mentioned earlier, sometimes the best channel to find each other is through an Instagram influencer marketplace outside of the Instagram app. Ainfluencer is not only that, but it is also a platform that offers important features to boost your Influencer program. Above all, it is free. So, you don't need to worry about surprise budget concerns once you decide to build your influencer program.
Let's watch this video on how Ainfluencer makes an Instagram influencer program and campaigns on marketplaces easy and fast.
How to Run a Successful Influencer Program on Ainfluencer?
If you want to work with leading niche content creators to guarantee the success of your Instagram marketing plan, then the only real option is Ainfluencer.
Here is how it works.
First, you sign up on Ainfluencer's secure platform without paying a dime. All it requires is that you enter your name, register an email and create a password for your Ainfluencer account. After that, select "I'm a Brand" and click on the "Register Free" button.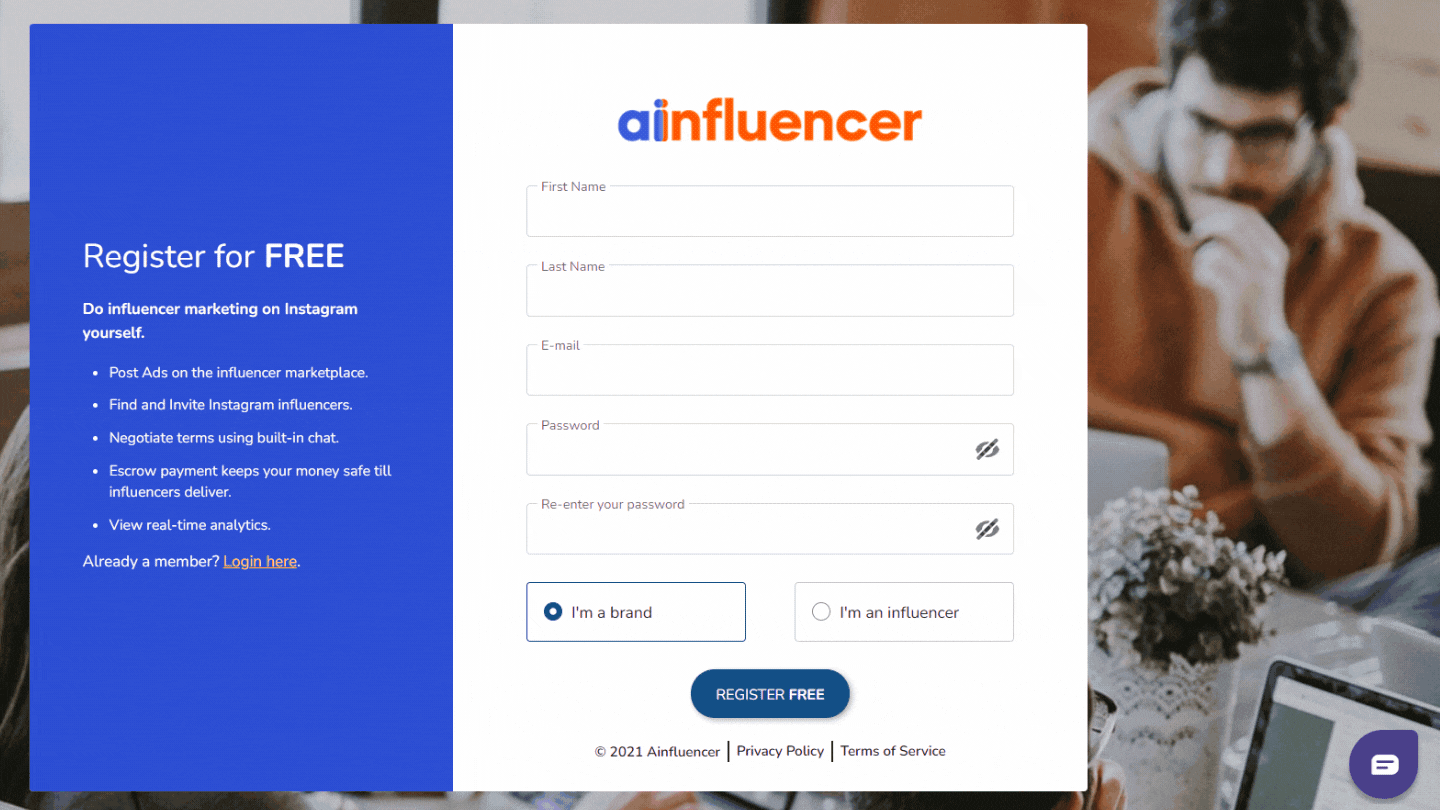 As soon as you sign up, you will see 5 tabs on your home screen. Here is what each tab has to offer.
1. Dashboard
You can see every single action that has been taken on your Ainfluencer account through the campaigns that you have created, the offers you have received from influencers, and invitations that you have sent to influencers regarding your Instagram influencer program which is published on your calendar.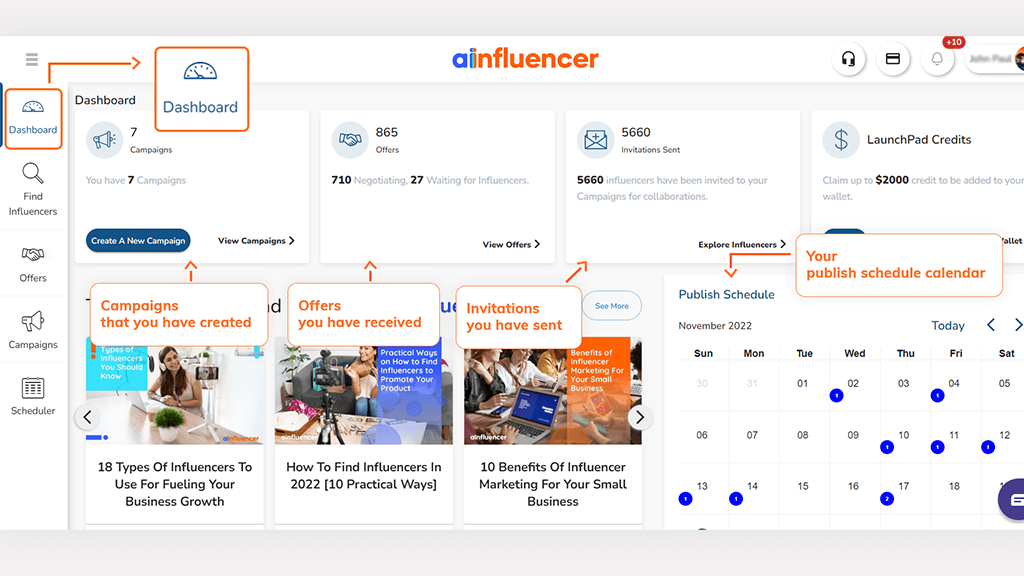 2. Find Influencers
The second tab on your dashboard can be used to discover and invite influencers that fit your Instagram marketing program's needs. This search can be done by selecting a variety of filters, such as your keywords, the influencer's location, language, gender, important hashtags, their content category, number of followers, estimated price, and engagement rate.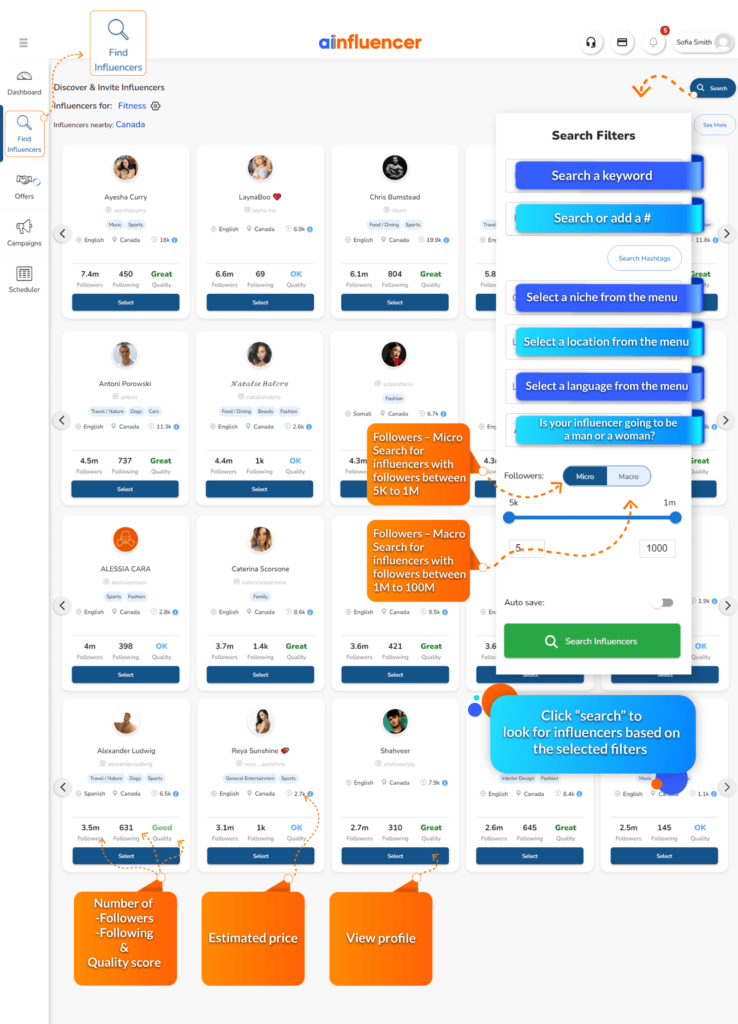 Let's watch this video to see how Ainfluencer works to explore and invite targeted influencers.
3. Offers
This tab shows the offers that you have received from influencers. Ainfluencer provides you with this incredibly useful feature to give you deeper insights into prices as influencers reach out with their suggested rates for your Instagram influencer marketing program.
This "Offers" tab has a convenient inbox with offers from other influencers which helps you to keep a tab of the different offers that you've received and lets you compare prices between different influencers.
If you want to avoid a conversation though, you have another option. Instead, you can choose from the three buttons at the bottom of each offer – "Accept", "Reject", or "Counteroffer".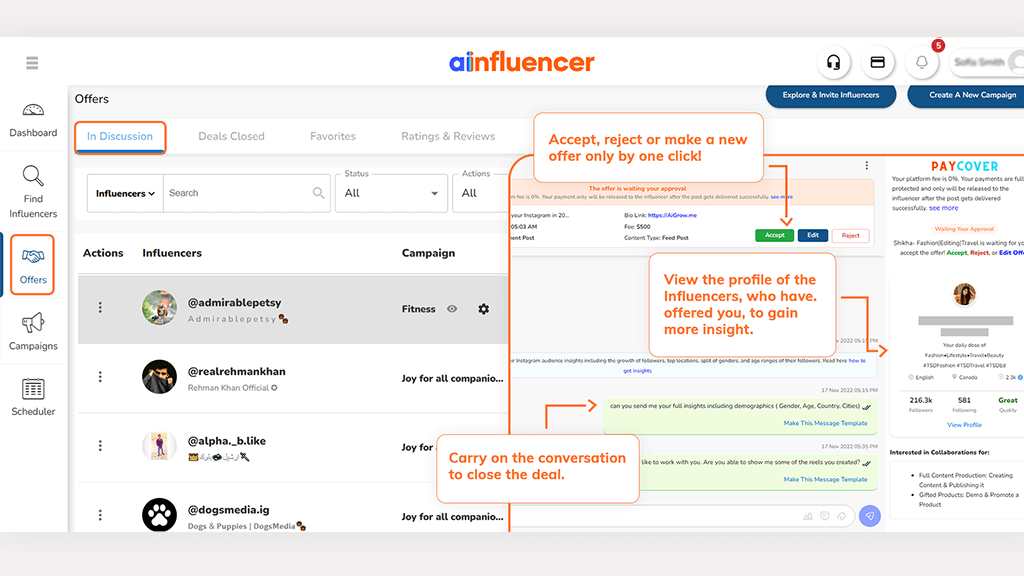 Here is a video on how to finalize a deal on the Ainfluencer marketplace.
4. campaigns
All of your campaigns for your Instagram influencer program will show up in this tab.
You can create eye-catching campaigns on Ainfluencer and track your influencer marketing campaign to measure its success through the insights and analytics provided on the "Campaigns" tab.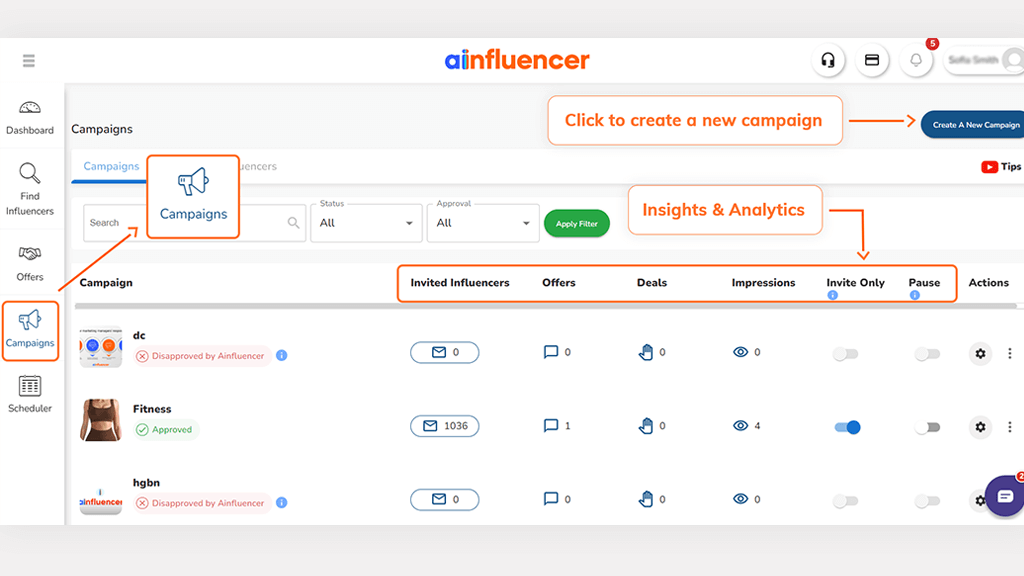 5. Scheduler
The "Scheduler" tab highlights all of your upcoming events and posts allowing you to easily manage your Instagram influencer program.
But, it can also do more! You can easily track the state of your posts through 3 indicators – pending, published, or failed.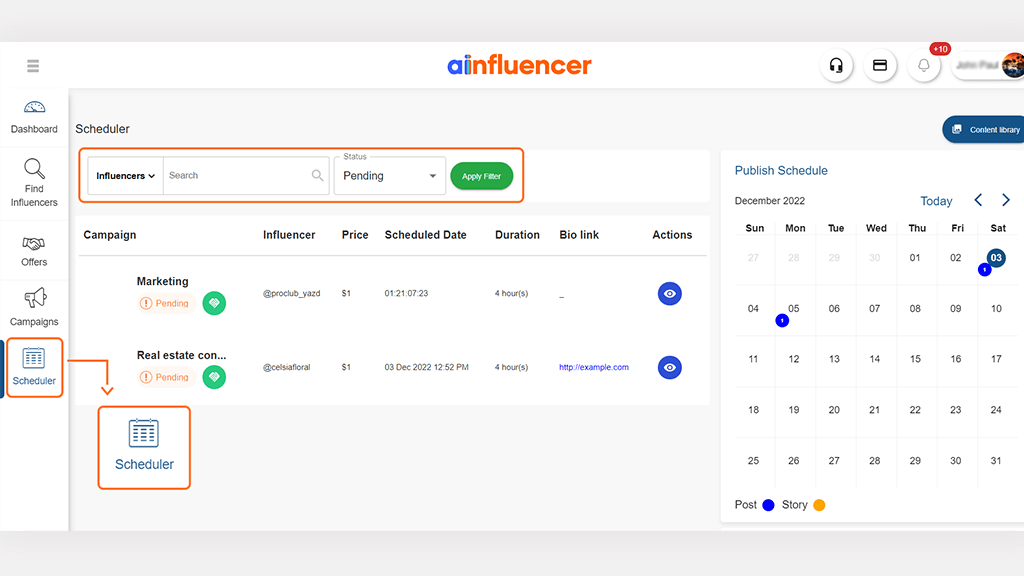 Starting an Influencer Program for Your Ecommerce Business with Ainfluencer
With the growth of Instagram ambassador programs, more brands are connecting with influencers than ever before. But, it can still be a bit scary to find the right influencer, contact them, and make a deal with them if you've never done it before.
As we learned earlier, you can start and develop your influencer program with Ainfluencer without having to tackle any of these challenges on your own. Ainfluencer will increase your chances of success by forming a bridge between brands and influencers.
To start your Instagram influencer advertising for your e-commerce business with Ainfluencer, all you need to do is follow the step-by-step guide below:
Sign up on Ainfluecer. Keep in mind that all services on Ainfluencer are free.
Go to your dashboard and select "Campaigns", click on "Create a New Campaign" and fill in the form that appears on the screen.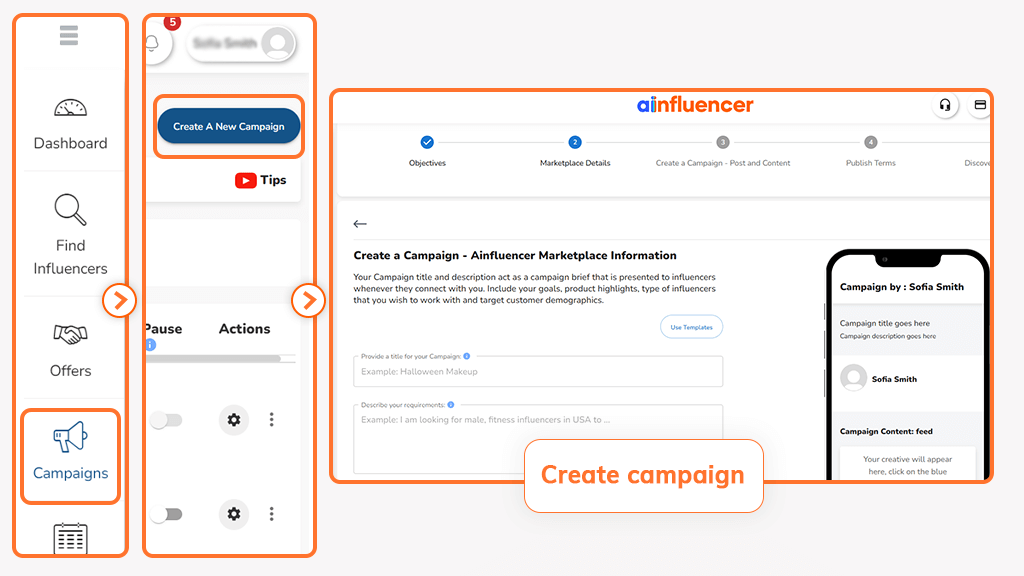 Provide a title and description of your campaign. There is an interactive image of a cell phone that shows how your campaign will look as you fill out your information.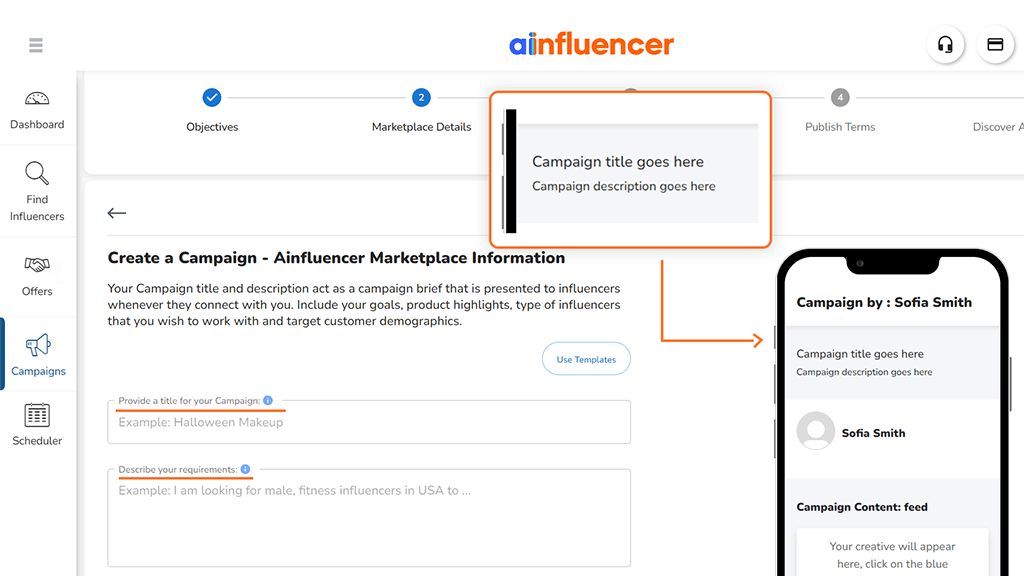 Decide if you want your campaign posted onto the influencer's feed or on their story. You should upload an example image or video, some hashtags and a caption to give the influencer an idea of what your brand is about.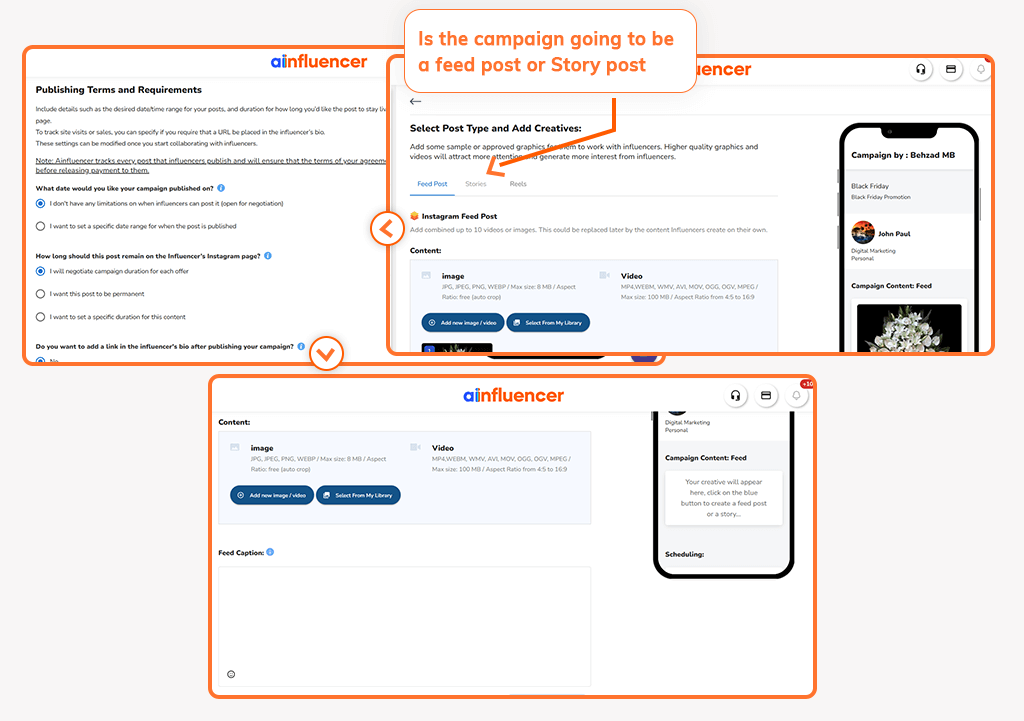 There are only 3 more questions to answer and then you are ready to go!
Decide if you have any limitations on when influencers can post your content or select potential dates to publish your content.
Consider how long this post will remain on the influencers' page by deciding whether you are willing to negotiate with the influencer, whether you want it to be a permanent post or if you already know how long you want it to be published for.
Do you want the influencer to add a link to their bio?
After making your mind up and answering the questions above, click on the "Create Campaign" button.
Congratulations! You have taken a giant step forward, but it is not over yet. The next section is probably the most rewarding step toward starting a powerful Instagram influencer program with Ainfluencer.
Once you hit "Create Campaign", you will be notified that your campaign needs to be approved by the admin. In the meantime, feel free to spend some time searching for the right influencer for your Instagram influencer program. The initial search will be based on the hashtags that you have chosen for your post but you can add more hashtags at any time. After getting the first results, you can select more specific filters – keywords, location, language, gender, other hashtags, the influencers niche, number of followers, estimated price, and engagement rate.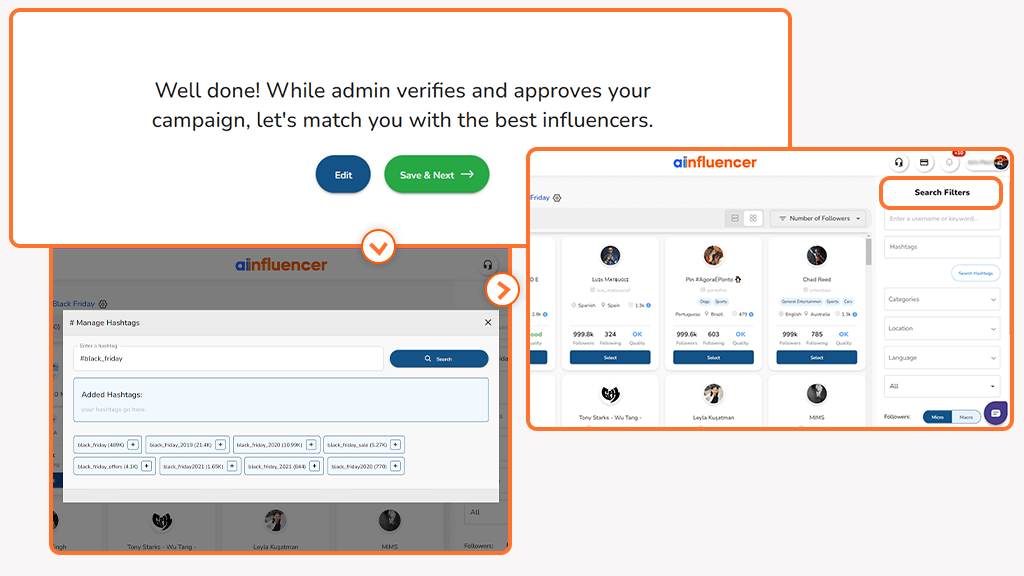 Ainfluencer is an all-in-one app for your Instagram influencer program. It allows you to create high-quality campaigns, schedule them, find the right influencers, receive offers, and track your influencer marketing campaign within just 5 user-friendly tabs.
How to Start a Career as an Influencer?
Are you not sure how to start making money as an Influencer? Well, I am happy to tell you that Instagram influencer marketing programs are now an important part of outreach for many brands. It has never been easier to make money from your Instagram! And it is totally possible to have a promising career working as an influencer.
There are so many non-celebrity influencers out there who are playing significant roles in the world of Instagram marketing. Businesses are well aware of the fact that influencers with even 1k followers can attract attention to their products and you can be one of them.
Here are 5 steps to starting an influencer career.
Create a professional account.
Select your niche. It is important to pick an industry that you identify with and can stick to.
Enhance your Insta profile with quality content and great visual aesthetics. Consider how your profile picture, bio, theme, and consistency in posts relate to each other.
Learn more about your audience. Analyzing your followers, getting insights into their demographics, and understanding their interests are extremely helpful steps that help to plan your future posts.
Attract businesses that use an Instagram influencer program. Use Ainfluencer as an influencer marketplace that is designed for both brands and influencers to connect.
How to Find Brands to Work with on Instagram?
Finding brands with influencer programs that you would like to work with is essential to making money as an influencer. But how do you find brands that are likely to be interested in working with you?
Here are some great ways:
1. Try Brands that are Currently Following You
Brands commonly follow users in their niche. So, you can easily scroll down your list of followers on Instagram to see whether a potential opportunity exists.
2. Search Relevant Hashtags on Instagram
Hashtags are a great tool to search for what you are specifically looking for on Instagram. Use hashtags to find businesses that have a similar vibe to you.
To find brands that may be willing to work with you in their influencer program, try searching the hashtags #campaigns, #ads, or #sponsored.
3. Use an Instagram influencer Marketing Platform
If you have ever gone through an influencer scam, and hopefully you haven't, you know that a reliable Instagram influencer marketing platform like Ainfluencer is seriously attractive.
On Ainfluencer you can find real offers and negotiate with legit brands all for free. Here is how.
First, download the Ainfluencer app on android or iOS, and sign up for free. Then, check out the 5 tabs at the bottom of the screen. Here is what each tab has to offer.
Home – You have access to your "Wallet" and "Library" here. View your invitations, add or disconnect Instagram accounts, see offers, and manage your post scheduler.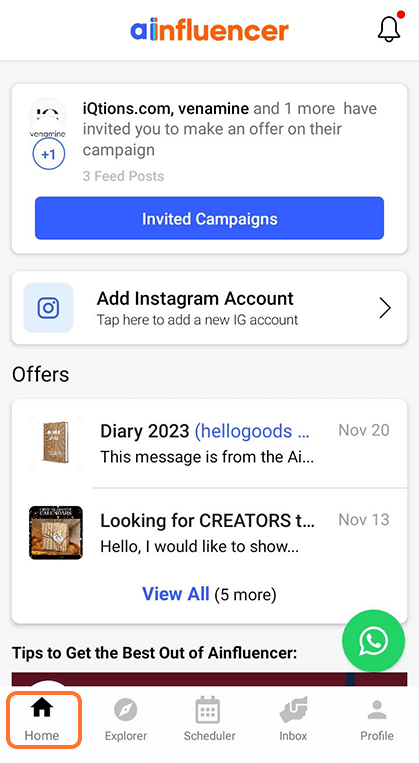 Explorer – Use Explorer to make money. There are two tabs in Explorer, the one on the left shows all available offers, and the one on the right is for the offers we have been invited to.
Like brands on Ainfluencer, you can also set a date and price to make an offer. You can see c
ampaigns that are paused and campaigns that are only available to the invited influencers. If that's the case, you can send a request to get an invitation from that brand.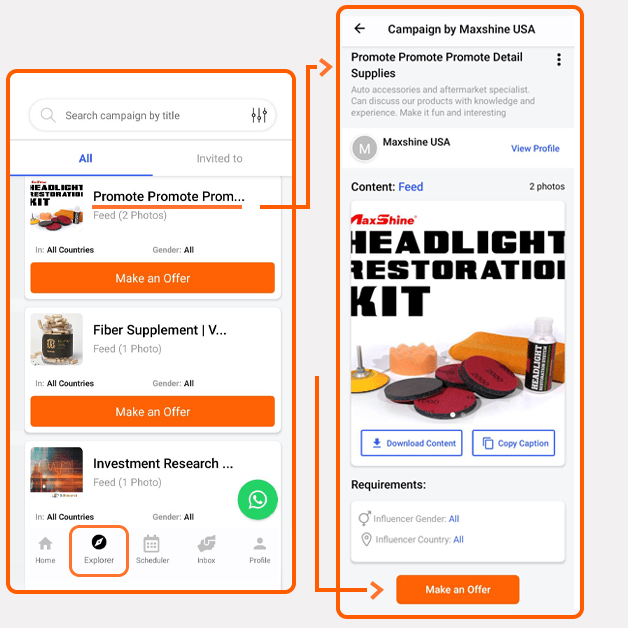 Scheduler – Here you can manage and organize all posts that you are dealing with. They are broken down into 3 options – scheduled, published, and failed.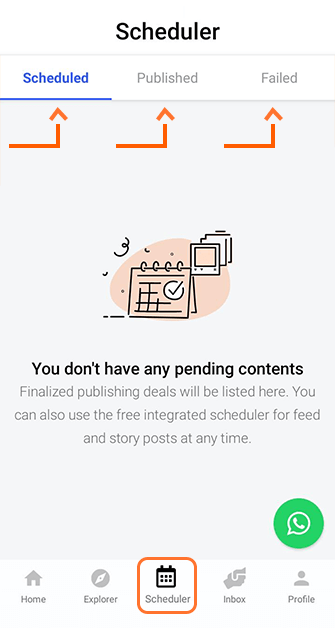 Inbox – if offers are rejected, accepted, published, pending, or deleted, you can manage them all through your Ainfluencer inbox.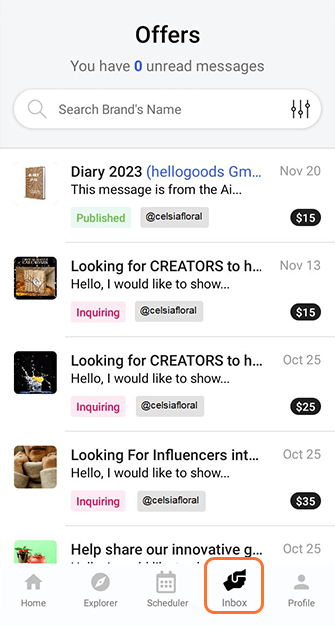 Profile – This is where you can edit your profile, add an Instagram account to your Ainfluencer dashboard, see your insights and analytics, check your wallets, and more.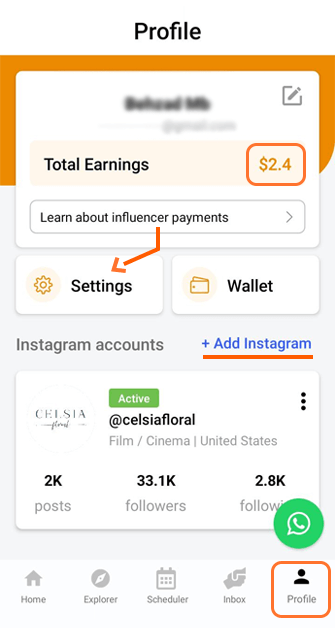 Conclusion
Strategic Instagram influencer programs are now a major part of Instagram marketing and to succeed, influencers and brands need a way to easily discover each other and manage their work.
While there are a few ways to get an offer through Instagram, an influencer marketing platform is probably your best bet. And we can't recommend Ainfluencer enough.
How do I run an influencer program?
Once you have set the goals for your Instagram influencer program, you should take the following steps.
1. Find the right influencer, preferably a micro-influencer whose activities are more niche and targeted.
2. Get in touch with your prospective influencer and close the deal.
3. Launch the campaign and measure the results.
Note that a reliable influencer marketing hub is a great help through all the steps above. Take Ainfluencer as an example, here is how it can help you:
1. You can use its search filters to find the influencer you are looking for.
2. Get in touch with that influencer and discuss your goals.
3. Use the insights it provides you with to assess the success of your campaign.
What does an influencer marketing hub do?
An influencer marketing hub or influencer marketing agency is a platform where many brands and influencers join to connect with each other in addition to a lot more features that can help you develop your own influencer program much easier.
For example, on the influencer marketing hub, Ainfluencer, you can use personalized search filters, in-app messaging, secure payment policy, insights, and many more items that create a killer campaign.