Although Instagram and TikTok are two popular social media for most brands and companies, they still lack something special: you can't add clickable links to your posts. Are you looking for a solution to this problem? The great news is that with LinkTree you can solve this issue and easily improve your followers, clicks, and sales. How is it possible?
In this article, we are going to tell you how you can gather your important links in one place with LinkTree, and improve your brand visibility online.
Do You Need Help Improving Your Online Market?
Why not try influencer marketing? This influencer marketplace allows you to collaborate with influencers to boost your brand and products. Additionally, you can promote your LinkTree profile and lead more people to this all-in-one place. Therefore, don't underestimate the power of influencers in your market.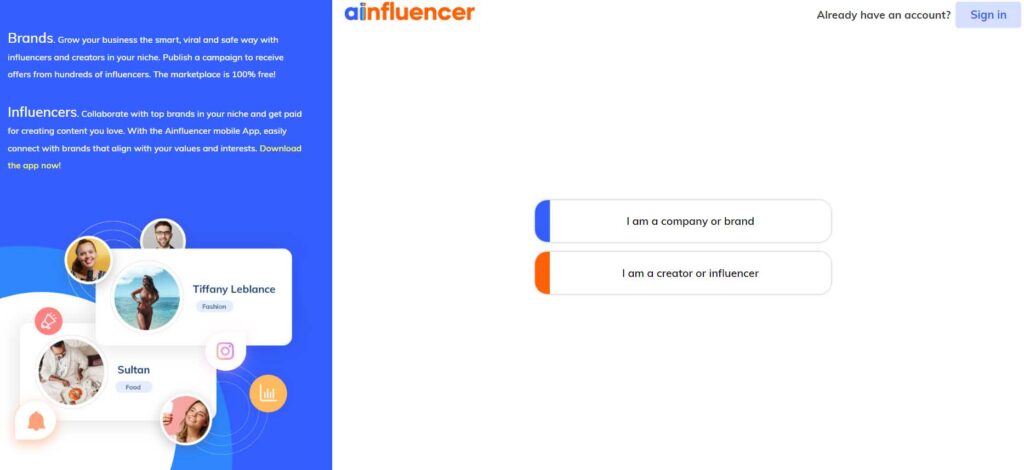 Sign up on Ainfluencer for free, search for influencers based on their category, gender, location, and hashtags they use. You can also dedicate a budget for your ad. And surprisingly, all these steps are free!
Now, let's see how helpful LinkTree will be to your business.
What Is Linktree?
As mentioned above, Linktree is a web-based service that helps you create personalized landing pages with multiple links to your content, such as announcing products on Instagram or creating vlogs on YouTube. Moreover, you can add your Shopify website to LinkTree, and make it easier for your followers to purchase what you offer.
There is a story behind creating every web or app. Let's see what LinkTree's story is.
LinkTree History
It was in 2016 when three friends, Alex Zaccaria, Anthony Zaccaria, and Nick Humphreys, decided to create a customizable landing page for social media users allowing them to add all their social media links and official websites in one place. The main idea was to overcome the limitation of social media platforms that do not allow multiple hyperlinks in their profile.
The idea of adding multiple links in one place was so appealing to most social media users that the site gained 3000 users in less than 24 hours, and crashed its server due to overload. It was surprising to them because they hadn't seen such interest.
The LinkTree group grew rapidly and fixed all the bugs. In just a few years, they were able to win several awards, such as being included in CNBC's "Upstart 100" list in 2019 and Fast Company's "Most Innovative Companies of 2020" list in the social media category. By December 2021, LinkTree also reached 23 million users.
Although the site started out as just a place to add social media links and websites in one place, they went further and partnered with Amazon, Shopify, and Spring to allow users to sell their products directly from their LinkTree profiles. As a result, the site is now not just a place to collect social media links but also acts as an e-commerce tool that allows users to sell whatever they want.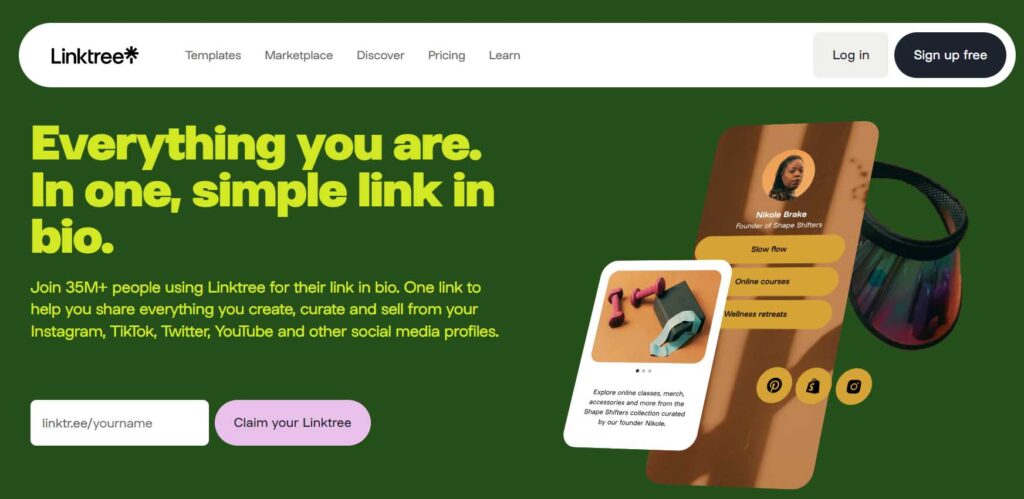 Now, LinkTree is one of the most powerful tools that can help companies to increase their brand awareness and sales. Furthermore, digital creators and influencers can also benefit from this website. They can gain more followers on their social media accounts.
With LinkTree, you can create a stylish and customizable landing page that serves as the gateway to your digital kingdom. It's like having your own escort, directing visitors to all the important destinations in your online realm with ease.
Was the story interesting to you? You will be fascinated to know how easily you can use this tool to elevate your business on the online market quickly.
What Are the Benefits of Having a LinkTree?
Having all your important links in one place is definitely beneficial, but that's not all you can do with this tool. We have briefly listed some of the benefits of creating a LinkTree account:
Increase Your Social Media Followers: Was it difficult to lead your Instagram followers to your other social media accounts, such as TikTok or YouTube? Now you can grow your TikTok followers by adding your profile link to LinkTree and sharing your LinkTree profile link in your bio of all your social media profiles.
Personalize Your Landing Page: You can create and customize your landing page with your brand colors, images, fonts, and icons.
Track Your Engagement and Performance: LinkTree gives you detailed insights about your followers.
Increase Your Sales: Add your Shopify or your website link to your LinkTree and boost your sales.
Simpler social media marketing.
Use Free Add-ons.: You can add email, music player, countdown timers, and other useful free ad-on to enhance your page.
No Commission: When you sell something on this tool, no commission is deducted from your sale.
Linktree Cons
In addition to all of the advantages LinkTree has, it comes with a few downsides.
– LinkTree is not free. You must upgrade to be able to use most options.
– Cryptocurrency is not accepted on this website. Your customers can only pay through PayPal and Square.
– Inaccurate stats. Some of its users think that LinkTree stats are not working well.
– The bio length is short.
Who Uses Linktree?
You may be wondering if LinkTree is the right tool for your business and if it is worth paying for the Pro version. If you are on the following list, LinkTree will surely help you:
Content Creators and Influencers: Embedding all your social media links in one place enhance the chance of getting more followers on every new social media you join. It can also help you improve your engagement on Instagram.
Small Businesses: This group can use LinkTree for brand awareness and sell their products, services, premium content, and more on social media.
Brands and Creatives: If you want to convert your online audience into customers, you can use this tool to showcase your merchandise and inventory in a digital storefront.
Independent Artists: Do you think Pinterest or Instagram is enough for showing your artistic designs? You can boost your clicks on these platforms or sell the digital format of your art.
Musicians: This tool allows users to add their SoundCloud accounts to their profiles. Therefore, as a musician or podcaster, you can benefit from using LinkTree.
Writers: Whether you are a well-known writer or a beginner, you can add PDF files to your landing page and let others read your writings. This is a great way to introduce yourself as a writer to more people.
How To Create an Account on LinkTree
Let's get down to business. We talked a lot about the benefits and uses of this wonderful e-commerce tool. Now, it's time to create an account together.
Like other platforms and websites, every account creation starts with signup. LinkTree allows you to sign up with your Gmail, or any other email you have. Therefore, enter the email and username.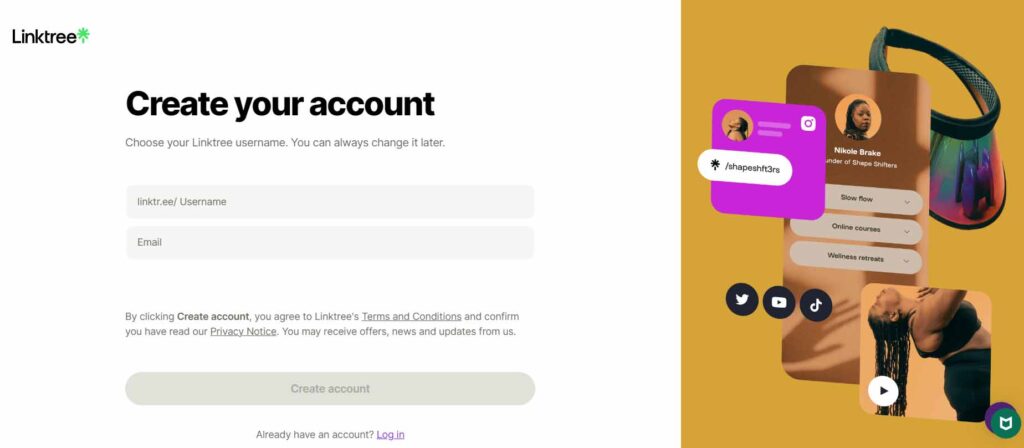 The username part allows you to choose a name for your LinkTree profile. This name will be displayed at the end of your Lintree link. So, choose it wisely.
On the next page, you will see LinkTree plans prices. You can select one of them or use the free version. However, you should note that in the free version, you may not be able to use some of the features of the web. But, you can upgrade your account whenever you want.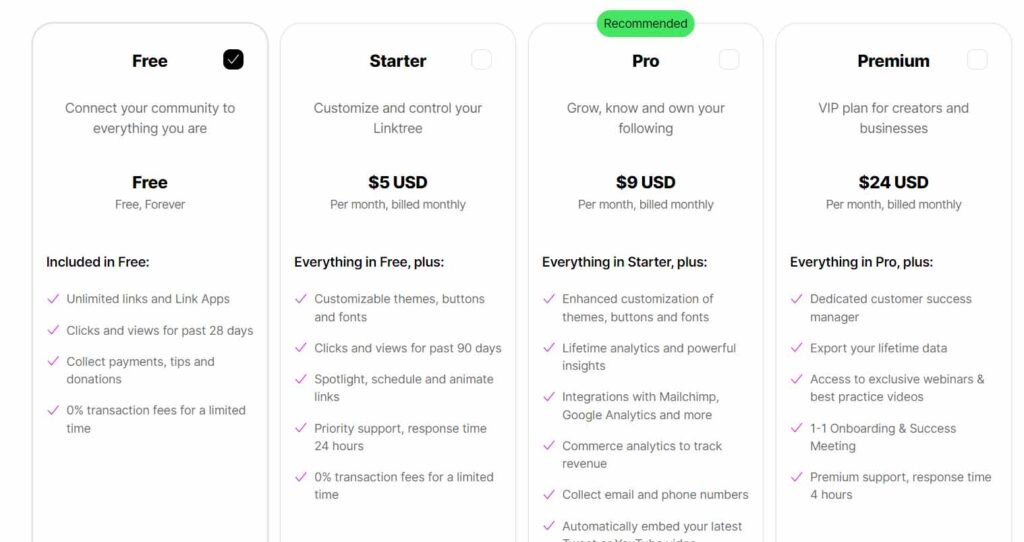 Now, you have access to your LinkTree account and can add your links, change the appearance of your landing page due to your preferences, use pre-designed themes, or create your own theme.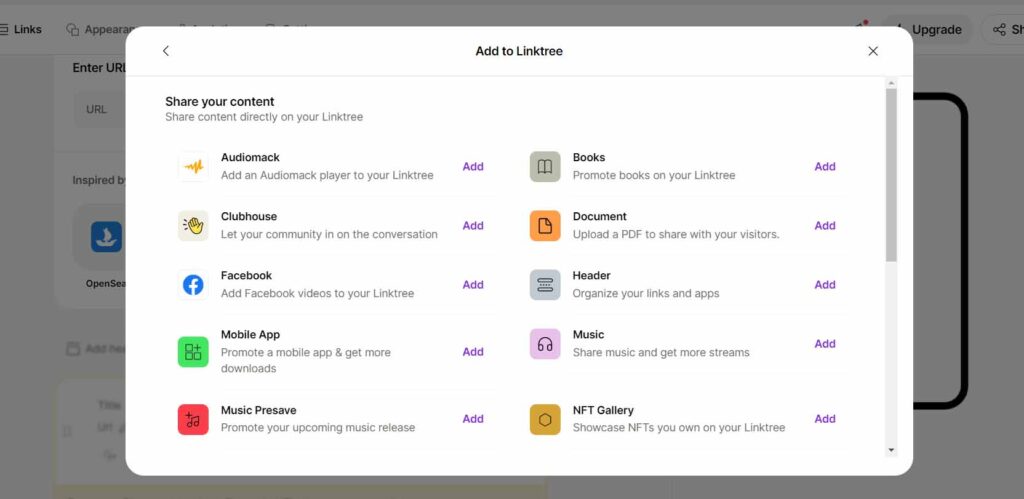 LinkTree is highly customizable. So, take your time to create a profile that best describes you. Furthermore, you can add links directly to your page without selecting an app from the Add to LinkTree option.
In the following, we show you how to create your profile to attract more people to your page.
Tips on Creating a More Engaging LinkTree Profile
Your profile reveals a lot about you. It can show people how creative, professional, and mindful you are. Therefore, while creating your profile, keep these tips in your mind.
1. Customize Your Design
Think about your LinkTree profile as your home. Therefore, choose templates and color palette that best describes your brand or business. Avoid creating a chaotic design. Instead, make it as simple as you can, at the same time, gorgeous and eye-catching.
2. Make Everything Clear
Don't just drop links on your page. Name them to make it clear to your audience where they should tap or click.
Why not add CTA to buttons? Ask your subscribers to take action. But define what they will get with that action. For example, you may run a campaign on Instagram, link to that campaign, and add a CTA like 'Join X Campaign', or if you have a seasonal discount on your website, write 'Purchase with 50% Off'. Just talk to your audience and lead them to what you want.
3. Organize Your Page
Declutter the links on your profile by using social icons to point visitors to each of your platforms. For example, people are familiar with Instagram icons. Therefore, instead of adding your Instagram to a button, you can add its social icon on top of the page. Then, add buttons.
You should note that people will get bored easily. They should find something they want on your page, or you should be able to direct them to a page that may attract them. An organized page can help your viewers find it easy to surf your page.
4. Play with Seasonal Features
Add something fun or creative to your profile to evoke an emotion in your audience. For example, if it's winter, add some snow or change the theme to colors that are closer to this season. This will show your viewers you are up-to-date and active on the platform.
Additionally, you can tell them you care about what's happening around you by adding hashtags or a design that defines an environmental or philanthropic movement.
LinkTree Pro: What Does It Offer?
Most people use the free version of LinkTree to inspect its features and options. But you will miss some critical features using it for free. So, if you're wondering if you should upgrade to another plan, like LinkTree Pro, let's see what you get.
Analytics and insights are the main features you may miss on the free version of this website. By accessing this feature, you can see how many viewers you have each day, where they have clicked or tapped on your page, and which links are more explored.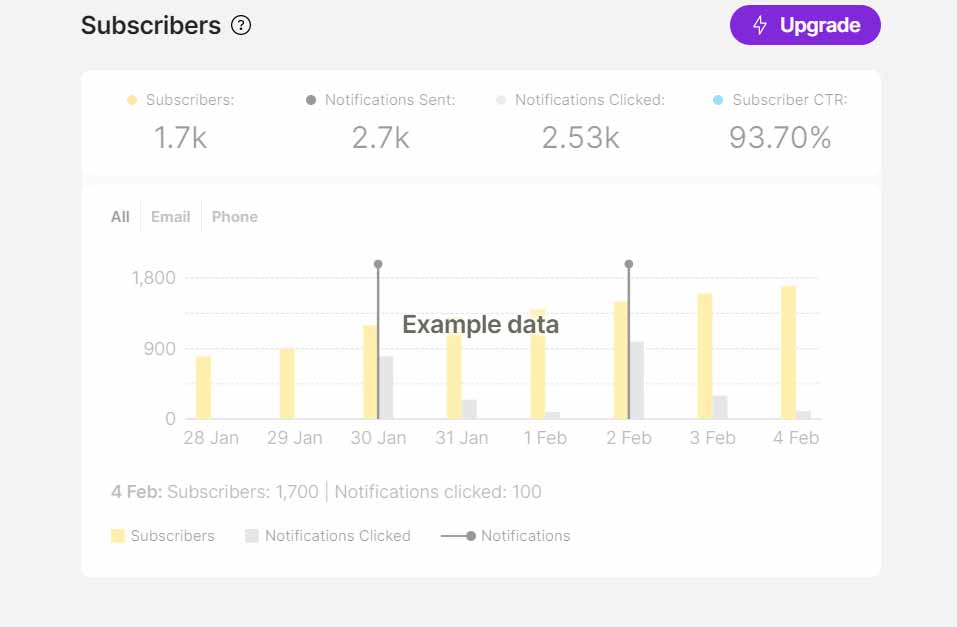 One great option you will have with LinkTree Pro is the ability to embed a video at the top of your profile. If you are a vlogger, it can improve your reach on YouTube or Twitter channel.
Additionally, you can give your fans the option to subscribe to updates via SMS and email, keeping them closer to the action!
Bottom Line
The best way to expand your business online is to choose an e-commerce tool like LinkTree and let your fans and audience follow you wherever you go. You can add all the links that are important to your business or profession in one place. Furthermore, you should try your best to amplify your online presence to be able to compete with your competitors.
Don't forget that Ainfluencer is here to help you boost your business with only a few clicks. Ainfluencer is a 100% DIY free marketplace to connect brands and influencers. Therefore, sign up on Ainfluencer for free to cultivate your business on Instagram or TikTok.
FAQs
Is Linktree Free or Paid?
While creating an account, you can decide whether you want the free version or buy a paid plan. Therefore, LinkTree is both Free and Paid. You can easily upgrade to a higher level whenever you want. 
Should I Add Linktree to Instagram?
The best idea is to put your LinkTree on all the social media you have. This way, you can share multiple links with your followers and direct them to your website, store, blog, social media accounts, or other relevant content.
Why Do Influencers Use Linktree?
It's useful for everyone with an online market to gather all their key links in one place. Influencers are not an exception. They still need to be seen on different social media to show brands that they are active on multiple networks. Accordingly, they can increase your chances of getting more offers on different social media.