The rise of influencer marketing has been rapid in the past few years. Studies show that more than 49% of people on social media rely on influencers for product recommendations. That's why brands have increasingly sought to find ways to work with influencers more effectively. One such method is influencer whitelisting, in which brands collaborate with influencers to run paid ads and connect with their targeted audience.
In this article, we'll go through everything you need to know about influencer whitelisting.
What is influencer whitelisting?
Influencer whitelisting is a relatively new concept in the world of online marketing. It refers to a list of brands that got permission from influencers to access their social media accounts and run paid promotions through dark posts.
Whitelisting is not like the traditional content where an influencer shares pictures or videos of herself using the products and puts "sponsored" or "paid partnership" on the post.
The following post shared by Kendall Jenner is an example of traditional sponsored influencer content, not whitelist influencer content: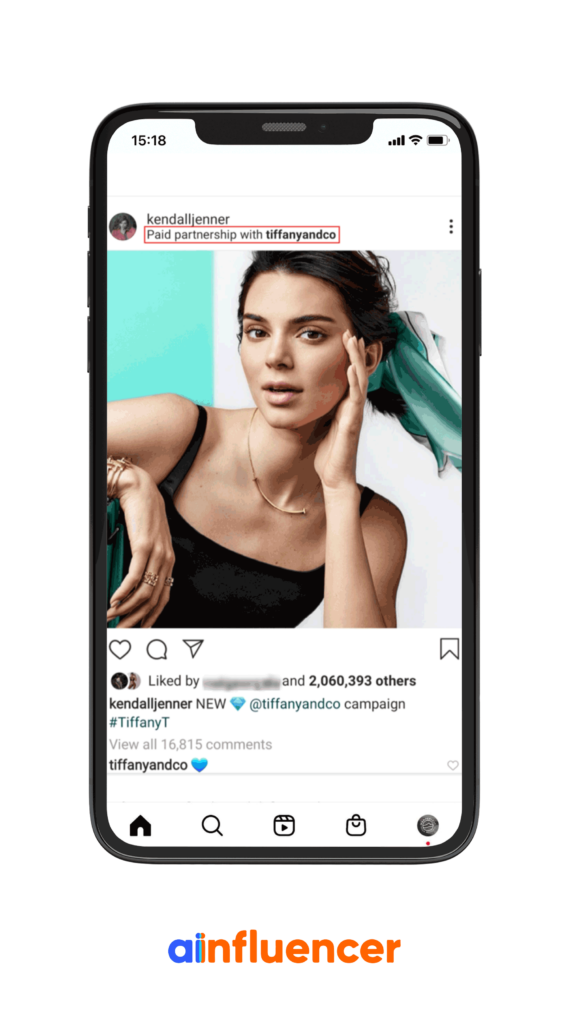 Whitelisting influencer content is when a brand posts as the influencer and promotes its product or service. Here is an example of promoting a tablet on Freya's account: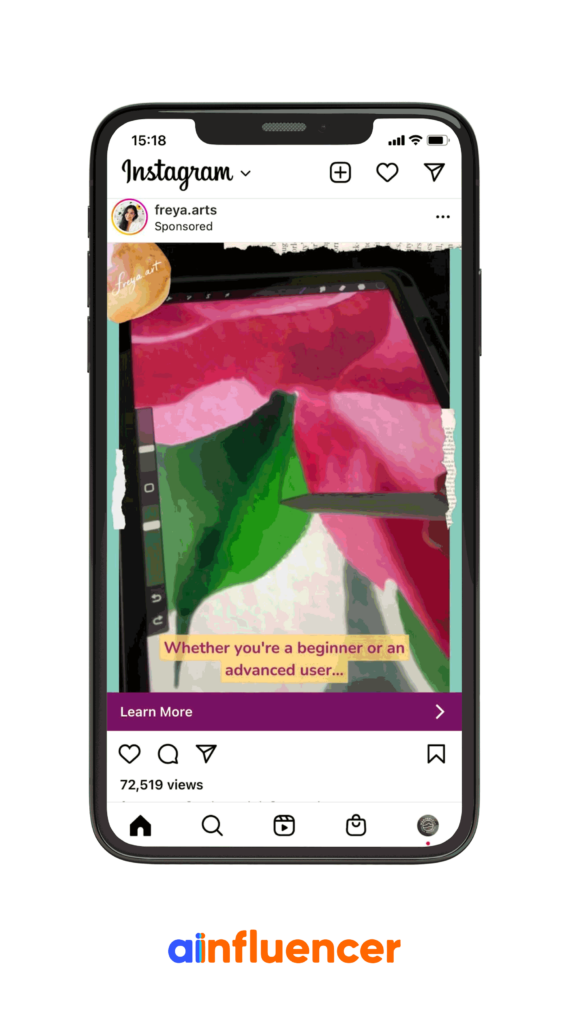 This post will only appear on the targeted users' timelines and not on Freya's profile or news feed.
Now let's see what exactly dark posts are.
What are dark posts?
Dark posts are a popular social media marketing tactic that is used by many businesses while sharing whitelisting ads. They are posts created specifically for targeted advertising purposes, meaning they only appear to a certain audience and not all. They do not show up on the influencer's homepage and news feed either.
Dark posts can be used to promote products or services on platforms such as Facebook, Instagram, TikTok, and LinkedIn.
Pros and cons of influencer whitelisting for a brand
Influencer whitelisting is a new trend that allows brands to take advantage of their content and promote products and services better.
Pros:
Here are some of the key benefits of leveraging influencer whitelisting social media:
The main advantage of whitelisting is that it allows brands to target specific audiences and gain more brand engagement and visibility.
Whitelisting content can maximize the ROI on ad spend, as people trust influencers' recommendations more than brands'.
Influencer whitelisting can be extremely effective in preventing unauthorized users from accessing company data or systems.
It also helps brands track their ROI.
Using influencer whitelisting, brands can create new audiences and use optimized content through A/B testing.
Brands can easily add CTAs to their whitelisting content and drive clicks to their website, homepage, etc.
The life span of whitelisting influencer content is longer than sponsored content.
Cons:
While there are several benefits associated with influencer whitelisting, it also has some drawbacks.
The first major con of influencer whitelisting is the lack of reach it offers. Selecting only a few audiences limits the potential brand awareness for your brand.
The flow of approving and accessing the influencer's account may be complicated and tiresome.
Influencers charge brands more for sharing whitelisting content than regular sponsored posts.
Pros and cons of influencer whitelisting for an influencer
The influencer whitelisting approach has been gaining as much popularity among influencers as it has among brands. Let's see what are the pros and cons of using it for influencers:
Pros:
On influencer whitelisting, dark posts allow influencers to display whitelisting content to their audience without cluttering their profiles.
Influencers get more money for whitelisting content.
As brands advertise their content to specifically targeted followers, influencers may get more interactions for the whitelisting ads than sponsored posts, which results in a high engagement rate.
Brands share the content with both the influencers' audience and their audience. So, influencers can get new followers as well.
The brand will do all the processes of creating, sharing, and optimizing the content, and influencers do not have to do anything.
Cons:
When a brand takes control of an influencer's account, the influencer may lose some control.
Due to whitelisting methods, brands and influencers may face tensions about the influencer's reach, the number of dark posts that have been run, and the company's permissions or limitations once access to the influencer's account is granted.
How to find influencers for whitelisting?
When you're planning to do influencer whitelisting to market your product or service, it's essential to consider some ways to find the right influencers.
Through the use of influencers, you can increase brand awareness, build relationships with potential customers, and generate leads. However, not all influencers are suitable for whitelisting; so how can you find the right ones?
One of the ways to find influencers interested in whitelisting is to search for hashtags, such as #ad, #sponsored, or #paidpartnership, and see if those influencers are interested in influencer whitelisting as well.
You can also use an influencer marketplace or search tools like Ainfluencer.
Ainfluencer
This DIY marketplace is among the top free influencer marketplaces and is full of influencers and brands ready to connect and collaborate. You can easily use its AI search engine, find your desired influencer, and then invite them to do whitelisting on Instagram.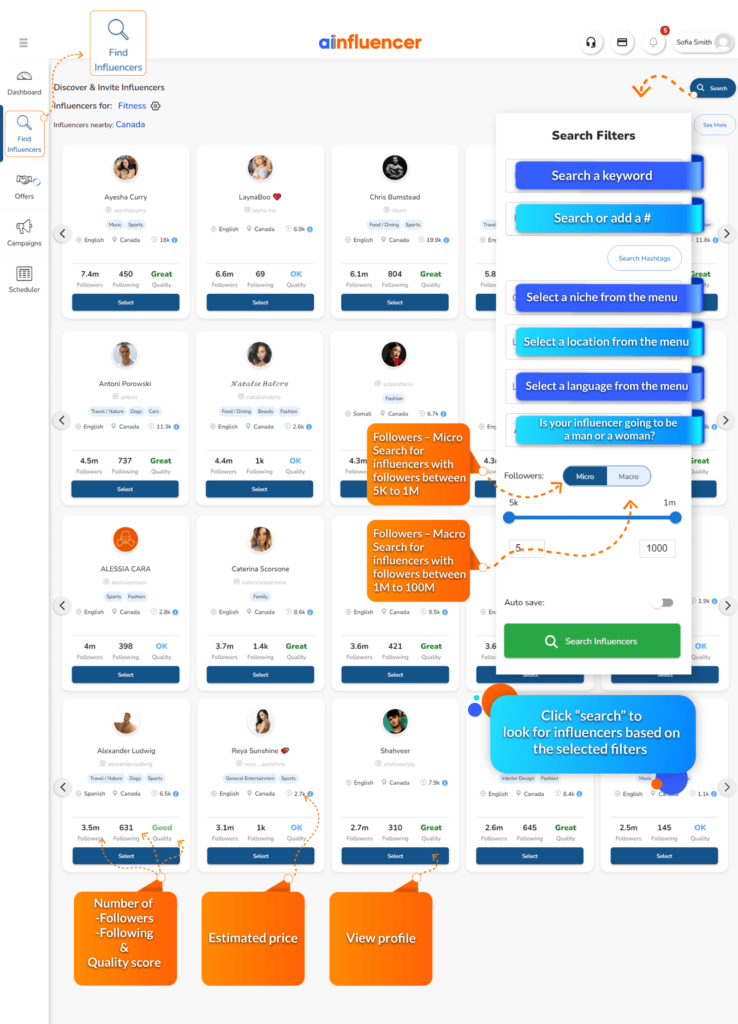 You can even use Ainfluencer's in-app chat box to connect with influencers and see whether they are a good choice for influencer whitelisting.
After finding your targeted influencer for whitelisting ads, do not forget to look into their engagement rate – which simply means the number of interactions their content receives from followers – as well as other stats such as reach and follower count.
How to set up influencer whitelisting on Facebook, Instagram, and TikTok?
After finding the right influencer for your brand and deciding to do influencer whitelisting, it's time to learn how to whitelist influencers on different platforms.
Setting up influencer whitelisting is relatively straightforward if you know what steps to take, which we will address below.
Influencer whitelisting on Instagram and Facebook:
To do whitelisting on Facebook and Instagram, both the brand and the influencer need to set up a Facebook page and a Facebook business manager account. Also, their Instagram account has to be linked to Facebook.
The influencer has to do the following steps to give brands access to the content:
Open "Facebook business manager" → go to "Business settings" → "Users" → Tap "Partners."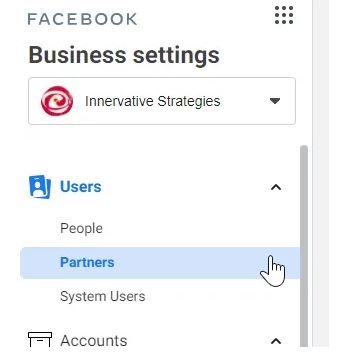 Click the "Add" button, and choose "Give a partner access to your assets."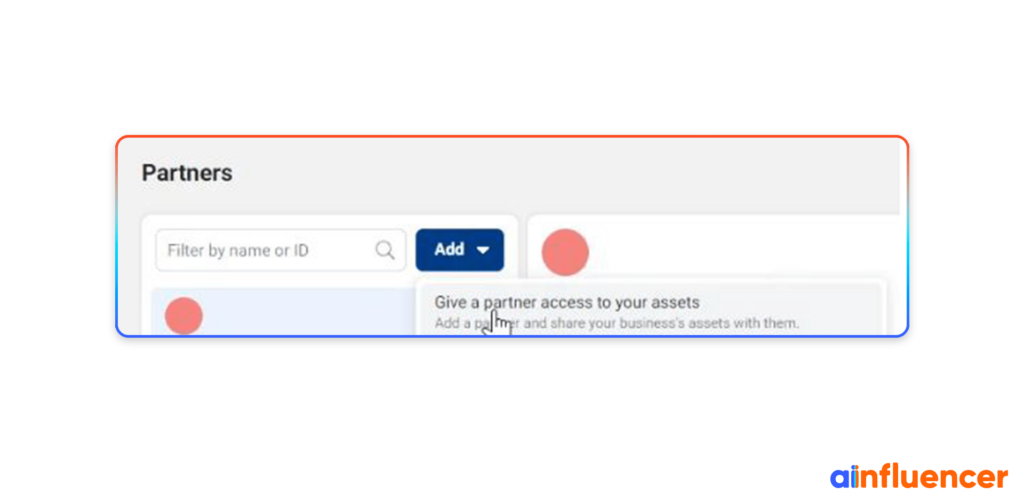 Type in the brand's Business manager ID and click "Next."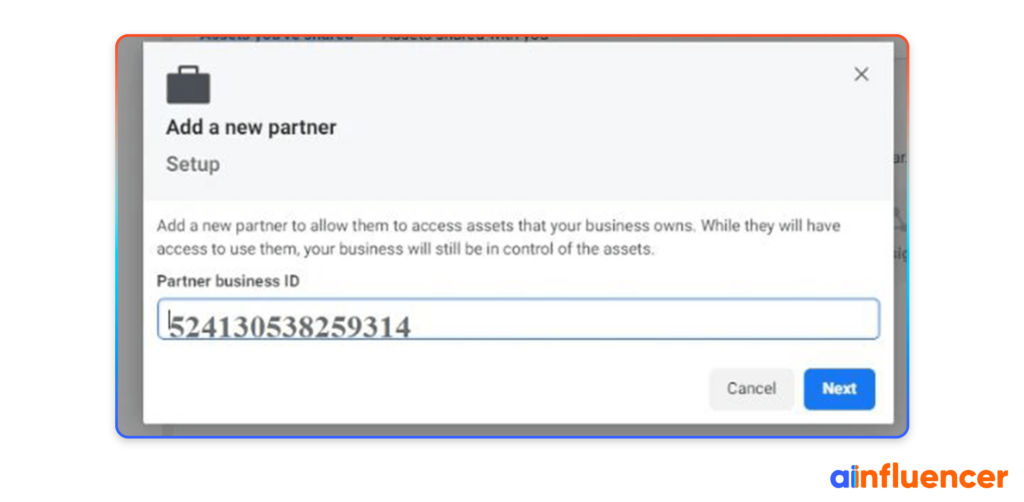 Now the influencer can choose which assets the brand can have access to (Instagram account/ Facebook page) as well as the permissions they can have.
The influencer needs to set the permissions for each account to "Create ads." He can also select other options and grant control to assets.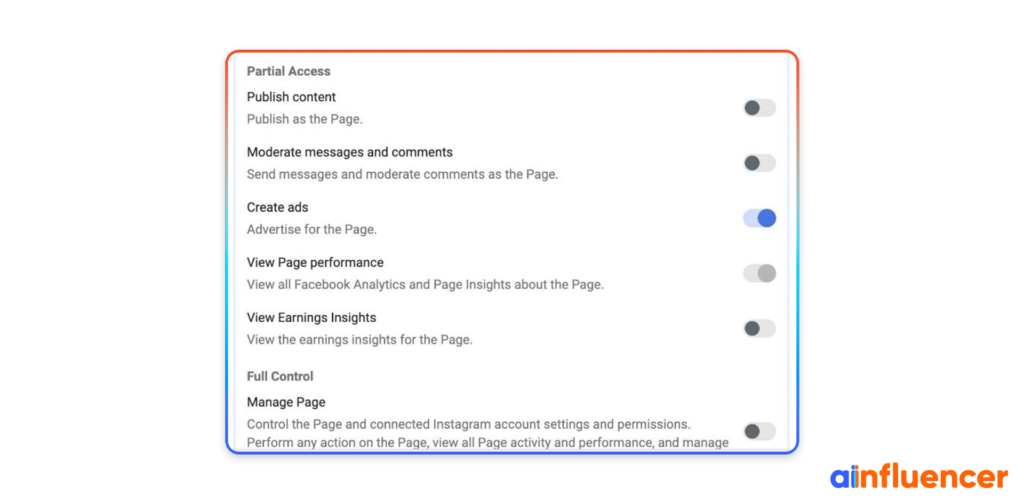 By saving the changes, the influencer's Instagram account and Facebook page are ready for influencer whitelisting.
Influencer whitelisting on TikTok:
Whitelisting influencers on TikTok is a bit simpler. Influencers can do it by providing the brands with an authorization code directly from the TikTok app. And to do that, they need to take the following steps:
Go to their profile → go to "Settings and privacy" → choose "Creator tools" → Turn "Ad settings" on.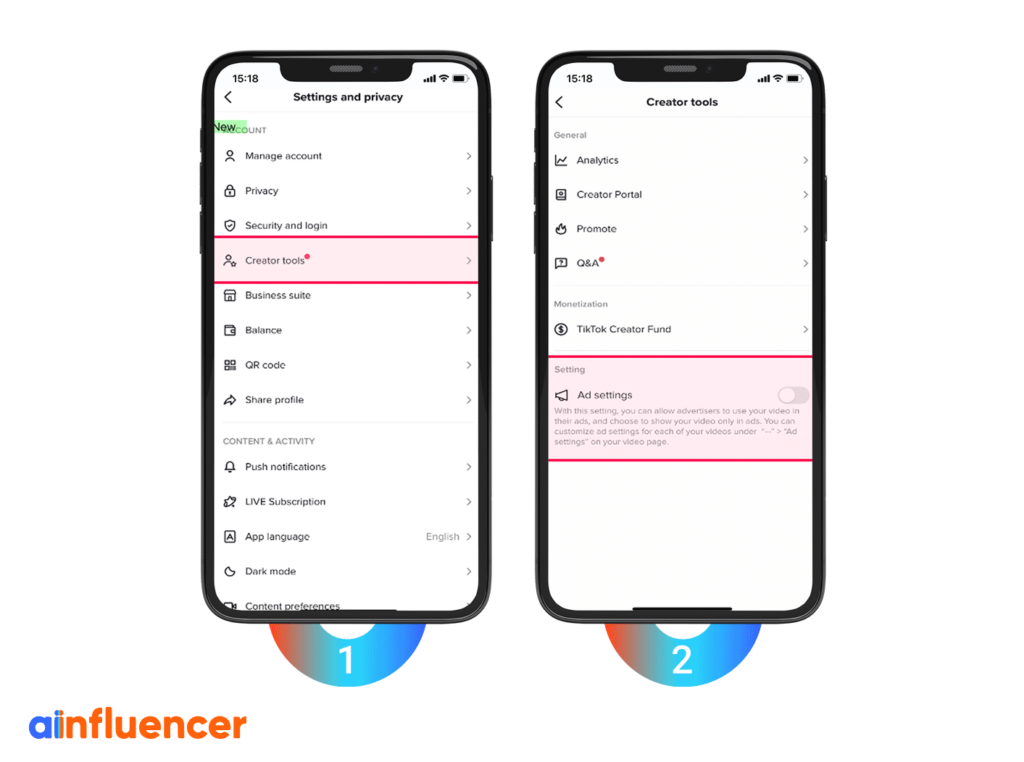 The influencers then can choose any of the posted videos on their account and authorize it. They have to:
Select the video → click on the three-dot icon → open "Ad setting"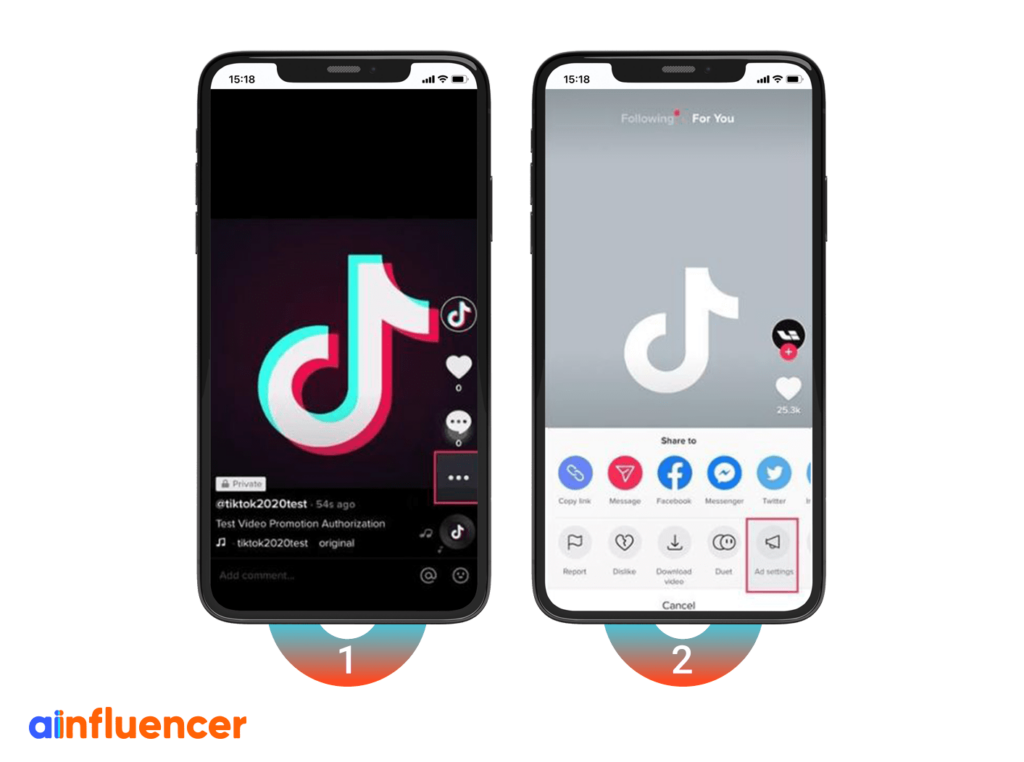 Agree to the terms.
Click on the "Generate Code" button.
Select the desired period for the code to be valid.
Click "Authorize" to get the code.
At last, the influencers have to copy the code and send it to you or those who will be whitelisting the content.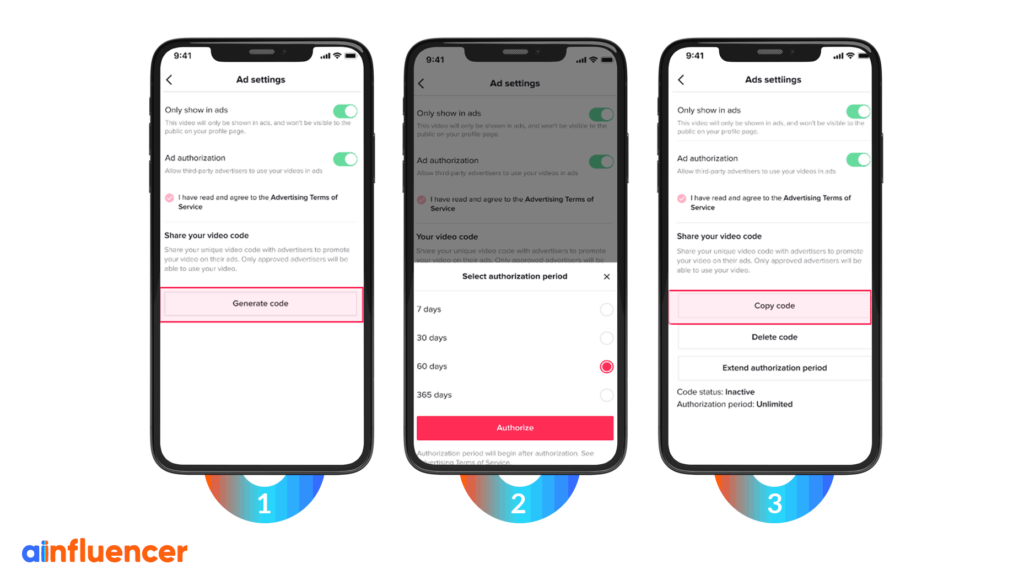 After getting the authorization code from the influencer, you can whitelist that content directly through your TikTok ads manager.
Tips for maximizing the impact of influencer whitelisting
Influencer whitelisting is a powerful tool for marketing and growing an audience for any business. It enables businesses to tap into the power of popular personalities, such as influencers and bloggers, to get greater reach and visibility. Here are some tips to properly employ influencer whitelisting in order to maximize its impact on your business's success: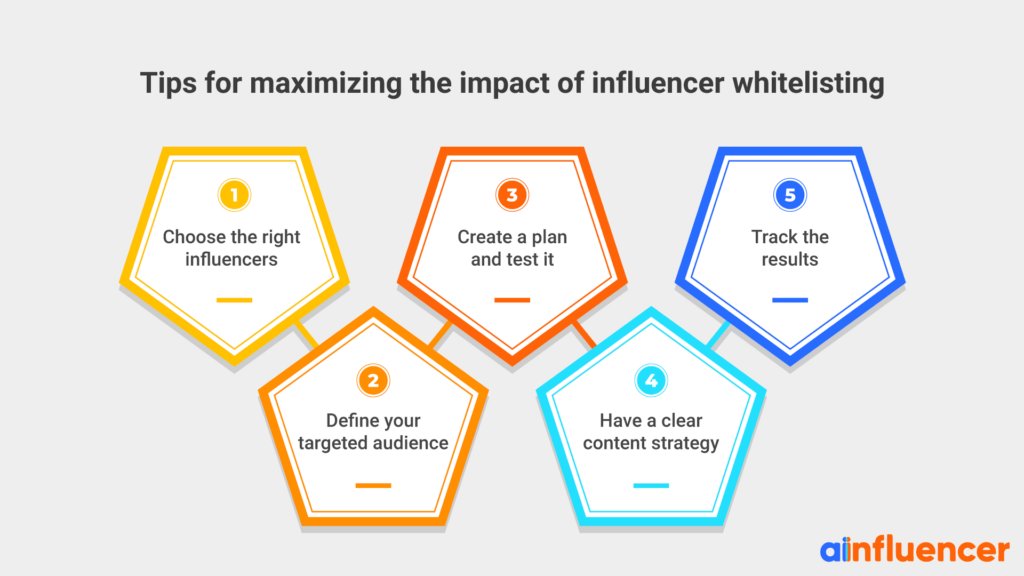 1. Choose the right influencers:
First and foremost, you need to carefully identify which influencers are right for your brand. This means researching their interests, the content they share on social media and other platforms, their engagement rates, as well as the size of their followers; all of this should be taken into account when deciding which influencers are most likely to be beneficial for your particular goal or campaign.
2. Define your targeted audience:
It's also essential to define custom and lookalike audience sets. Doing this will allow you to target specific groups that are likely to engage with your whitelisting content and are more likely to convert into customers. You can also use these sets to test different strategies in order to find what works best for your brand.
3. Create a plan and test it:
For successful influencer whitelisting, it is also necessary to create a plan that outlines your campaign's goal and other specific parameters around it. After the initial planning stage, you need to test different strategies in order to determine what works and what doesn't; this allows for greater insight into how effective an influencer whitelisting strategy can be.
4. Have a clear content strategy:
One of the other tips to maximize the impact of your influencer whitelisting is to have a clear content strategy. Carefully consider the type of influencers being chosen and the types of messages that will resonate with them. A well-crafted plan should be tailored to leverage each individual influencer's unique strengths to effectively attract their specific audiences.
5. Track the results:
Finally, track the results of your influencer whitelisting ads. Pick the metrics that best represent your progress and success. Take into account factors such as brand awareness, reach, and engagement rates amongst your target audience. Make sure you are looking at long-term objectives for each campaign so you can assess the channels that provide the most return on investment (ROI).
Conclusion
Influencer whitelisting is a great way to make sure your message is seen by the right audience. It requires a bit of extra time and effort, but with the right strategy and implementation, you can create meaningful relationships with the right influencers and have a successful campaign. Make sure to plan ahead and do your research before you start whitelisting influencers.
1. What is creator whitelisting?
Creator whitelisting or influencer whitelisting is when brands get advertising permissions from creators or influencers to use their account, audience, and content to run paid campaigns.
2. What is creator whitelisting?
The price of influencer whitelisting depends on different factors, such as the type of influencers, their engagement rate, etc. But generally, it ranges anywhere from $250 to $5,000.