Gone are the days when it was hard to discover the popularity of celebrities. Now, in the world of Instagram, fame is measured in followers, and more followers can lead to more income. People follow singers, actors, athletes, influencers, and other celebrities because they like their lifestyle, fashion choices, holiday destinations, and other routines. Do you know who has the most followers on Instagram?
You should know that it's not just the celebrities who have a large number of followers on Instagram. With the rise of influencer marketing and influencer marketing platforms, a non-celebrity can also have a chance in the game!
Let's dig into the competition of top-followed Instagram accounts.
20 Most Followed Influencers on Instagram
Well, you're still curious to see who has the most followers on Instagram. So, we've rounded up 20 most-followed Instagram accounts in the world.
1.Cristiano Ronaldo (@cristiano)
Does he need any introduction? Christiano Ronaldo is one of the most popular soccer players in the world. Currently, this Portuguese football player has 585M followers on Instagram, which makes him the most followed person on Instagram.
2. Leo Messi (@leomessi)
With 463M followers, Lionel Messi is the second person on Instagram with the most followers. Messi is also a famous soccer player in the world who is always in competition with Ronaldo. However, this time he lost the seat to Ronaldo and stayed in second place. Leo Messi is the representative of Pepsi, Mastercard, and Adidas on Instagram.
3. Selena Gomez (@Selenagomez)
Although Selena Gomez claims she doesn't like social media, with 417M followers, she stays in third place on the list of people with the most followers on Instagram. Selena is a famous performer, singer, and actress who believes that social media is stressful and she should stay away from it. Surprisingly, her absence on this platform has not prevented people from following this famous singer. She also has a cosmetic brand called RareBeauty.
4. Kylie Jenner (@kyliejenner)
You can't find any top list without the name of the Kardashian family. Kylie Jenner is a young model with 390M followers who has founded a cosmetic brand called Kylie Cosmetics.
5. The Rock (@therock)
Dwayne Johnson is the former WWE champion and now a superstar known as The Rock. As a surprise, the Rock is on top of the list of most-followed accounts. He usually posts about a healthy diet and lifestyle. Furthermore, Dwayne was on the Forbes list of top-paid entertainers for 2022.
6. Ariana Grande (@arianagrande)
As a young artist, Ariana Grande is one of the most famous singers and musicians among teens. However, it doesn't mean she is not popular among other groups. But most of her fans are teenagers. This singer, actress, and model has 371M followers on Instagram.
If you are searching for top models to collaborate, here is the list of top female models on Instagram.
7. Kim Kardashian (@kimkardashian)
Without a doubt, Kim Kardashian is the most famous person in the Kardashian family. She is considered a lifestyle influencer and has 356M followers. Additionally, Kim is a mom and posts about her family, but she is also a model and collaborates with top brands.
8. Beyoncé (@beyonce)
With 309M followers, Beyoncé is not new to the world of fame. She started her singing career in 1997, and now she is still a famous singer, songwriter, and also a businesswoman. Therefore, that's not surprising that millions of people have followed her on Instagram.
9. Khloé Kardashian (@khloekardashian)
As mentioned earlier, the Kardashian family is everywhere. Khloe is the other member of the Kardashian family who is not only followed by millions of fans but also among the highest-paid celebrities on Instagram. Khloe has 306M followers, and like all other sisters, she is the founder of a clothing brand called Good American Clothing.
10. Justin Bieber
This Canadian singer was on top of the news due to his break up with Selena Gomez and then marriage at a young age. This famous pop star has 289M followers on Instagram, which keeps him on top of the list of 10 accounts with the most followers on Instagram.
11. Kendall Jenner (@kendalljenner)
It seems the social media belongs to the Kardashians! Kendall is the half-sister of Kim Kardashian but is still known as one of the members of this family. She is a famous model with 288M followers. Moreover, she has created a nail polish line and a jewelry collection.
12. Taylor Swift (@taylorswift)
When it comes to social media, Taylor Swift should be on top of the list of celebrities with an active presence across various platforms. From Twitter to Facebook and Instagram, there is no platform that she has forgotten to join. This exceptional singer, actress, and model has 259M fans on Instagram.
13. Virat Kohli (@virat.kohli)
It might be a surprise to see the name of an Indian cricketer on the list of people with the most followers on Instagram. But that's true. It seems that this cricketer has many fans not only in India, but also around the world. Virat has 249M followers on Instagram.
14. Jennifer Lopez (@jlo)
When it comes to dancing and singing, JLo's talent is undeniable. Her captivating performances and magnetic presence never fail to enchant the audience. Jennifer Lopez is almost always on top of the News. Her lifestyle is very admiring to most people, and now she has 245M followers on Instagram, who are not only fans of her fashion choices, but also are interested in her cosmetic brand called JLo Beauty.
15. Kourtney Kardashian (@kourtneykardash)
As the oldest member of the Kardashian sisters, Kourtney is as famous as her siblings. She has 220M followers on Instagram. She owns a clothing brand in collaboration with her sisters, Kim and Khloe.
16. Nicki Minaj (@nickiminaj)
Calling herself Barbie, Niki Minaj is a well-known rapper with 219M followers on Instagram. Her style, rap performances, and accent are the things that make her a popular celebrity in the world.
17. Neymar (@neymarjr)
On the list of people with the most followers on Instagram, we can see a few athletes, mostly football players, which shows how popular this sport and its top players are. Neymar is one of the few football players that could stick to this list, with 208M followers on Instagram. However, he doesn't seem to be as active as Ronaldo or Messi; but he is one of the most up-to-date celebrities who has added his LinkTree account to his bio.
Check out Neymar's linktree to see other important places he is active.
18. Miley Cyrus (@mileycyrus)
Known as one of the sexiest singers and performers, Miley Cyrus has achieved great success in the music industry, with hits that have made her popular worldwide, gaining 208M followers on Instagram. She is also known for her distinctive style and stage presence, often pushing boundaries and challenging norms. Her performances have been characterized by their boldness and unique expressions.
19. Katy Perry (@katyperry)
Talking about Katy Perry resembles a vibrant and unique style, which has become one of her trademarks. Alongside her successful music career, she has also launched her shoe brand called "Katy Perry Shoes." As a fabulous Instagram marketer, she has dedicated a hashtag to her product #KatyPerryShoes to make her shoes more unique and recognizable on social media.
20. Zendaya (@zendaya)
Although she is at the end of the list, Zendaya is indeed a talented actress who has gained significant popularity in recent years, and her role in the Dune movie has further contributed to her rising fame. She has 179 M followers on Instagram and has collaborated with luxury jewelry brands leading her to become the brand ambassador for Bulgari.
If you are looking for an influencer to promote your jewelry, check the list of top jewelry influencers on Instagram.
Ainfluencer: The Ultimate Solution to Become One of the Top Followed Instagram Accounts
In today's digital era, establishing a strong presence on Instagram is crucial for both startups and established brands. With millions of potential customers on this platform, it is essential to include Instagram marketing in your digital marketing strategy. By making yourself visible to your target audience, you can avoid being overshadowed in the competitive and vibrant market.
But how can you connect with influencers or find them? Don't worry! You are at the right place. On Ainfluencer, you can easily and quickly find the right influencer for your market. Sign up on Ainfluencer for free, create a campaign, dedicate a budget for it, and then search for influencers based on category, gender, location, and hashtags they use. The process is effortless and free.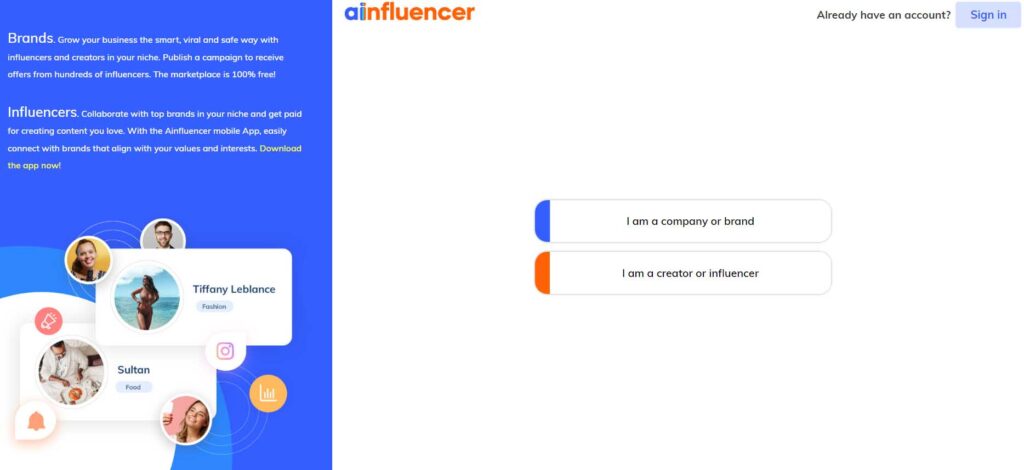 Bottom Line
There is no surprise that the list of most-followed Instagram people is full of celebrities and influential figures. That's because most people would like to follow what a celebrity or top influencer does. Consequently, most brands collaborate with top influencers to introduce their product to their target audience.
While it might be challenging to reach the top of the list of most-followed Instagram accounts, becoming as financially successful as the top celebrities and influencers through influencer marketing is not impossible, but it requires a careful strategy, consistent effort, and the ability to provide value to both the audience and the brands you collaborate with.
If you are looking for a place to introduce yourself as an influencer to brands and companies, join Ainfluencer as an influencer and make yourself visible and discoverable to them.
FAQs
Who Is the Most Followed Person on Instagram?
Apart from Instagram's own account, which has the highest number of followers, it's Chris Ronaldo who has the most followers on Instagram. He is also on top of the list of richest Instagram people.
Which Brand Has the Most Followers on Instagram?
Nike, with more than 90M followers, is the top brand on Instagram. With their strong brand identity and innovative marketing strategies, Nike has managed to build a highly influential presence on Instagram.
How Can I Gain More Followers on Instagram?
Having more followers on Instagram means more sales for your products or more offers as an influencer. Therefore, it's always necessary to improve your Instagram account. Read this article about the easy ways to get more followers on Instagram.