Brands can benefit greatly from influencer marketing, a form of marketing in which they work together with influential individuals to promote their products. It's a form of advertising that has grown steadily in popularity over the past decade, with thousands of companies and brands employing it to great effect.
Covid-19 may have had a global impact, but companies and marketers are still interested in and optimistic about influencer marketing effectiveness, which is expected to help increase revenue as one of its applications. Numerous studies have been conducted on its efficacy, and it is now routinely incorporated into marketing campaigns.
This blog has prepared 50 of the most exciting influencer marketing stats and facts for you to check out.
50 Top Influencer Marketing Statistics for 2022
The following influencer marketing stats, gleaned from recent studies, illustrate how influencer marketing has developed over the past 12 months.
1. Influencer marketing high worth
The first influencer marketing stat to know is how the growth of influencer marketing is significantly faster than ever. Even marketers can't deny the success of influencer marketing. From $1.7 billion in 2016, the market was expected to reach $9.7 billion by 2020. The constant increase was reflected in a $13.8 billion figure in 2021. It is anticipated that this year's influencer marketing will propel the market to a record $16.4 billion in revenue.
The global pandemic's effect on consumers, which accelerated their consumption of social media, the optimization of data collection that marketers used for social media ads, and the rise in popularity of short video formats on platforms like TikTok, Facebook, and YouTube, are all contributing factors.
2. Prioritizing influencer marketing strategies
Regarding promoting a product, influencer marketing was formerly seen as a luxury but is now deemed crucial. 93% of businesses report using influencer marketing, making it an integral part of every successful advertising campaign.
With so much riding on the influencer's ability to reach their target demographic, it's no secret that finding the proper one can be a daunting process for marketers. Brands need to connect with influencers, and we've got a fantastic solution for that.
How to find the right influencer?
Some brands may choose to invest extensive time and energy into searching their consumer base for influencers and then analyze the data to determine which influencer is the greatest fit for their company. You can also try searching for "influencers" on Google in the hopes of coming across a suitable match. Our third and final recommendation is to use influencer marketplaces like Neoreach, Ainfluencer, Julies, and many more.
With the help of influencer marketplaces, the problem of finding the right influencer for marketers and brands might be a minor deal now.
Ainfluencer, as an example, is an influencer marketplace that streamlines locating influential users on Instagram.
Ainfluencer: Find Instagram Influencers
One of the most convenient ways to connect with influencers is using a top-tier DIY marketplace.
You must choose a jam-packed platform with valuable features to locate the most relevant influencers to promote your business.
In contrast to its rivals, Ainfluencer does not require any upfront payment to gain access to its extensive database of influencers.
Additionally, you can negotiate with influencers for a price that works for both of you.
Here's an overview of Ainfluencer's dashboard: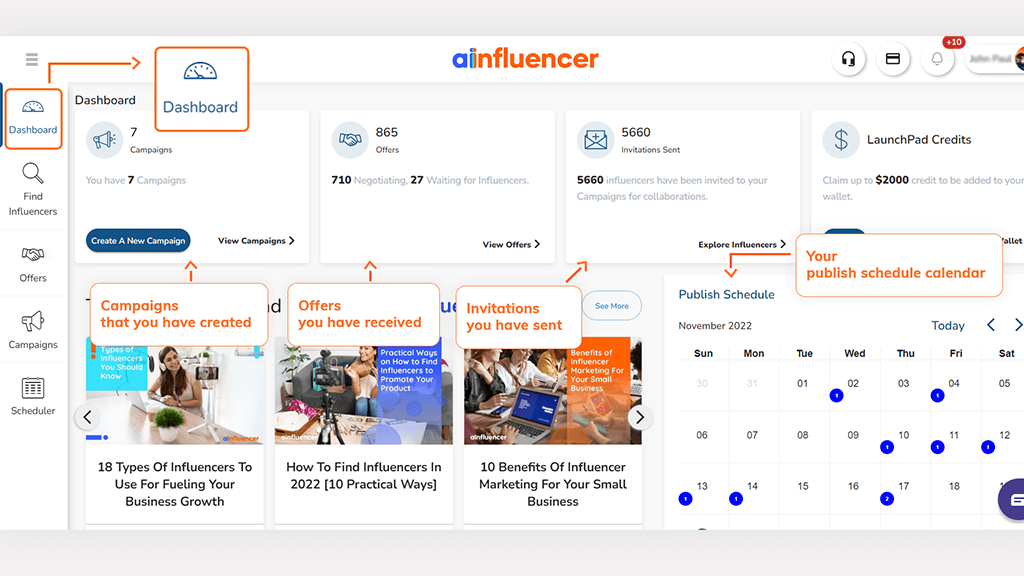 As you can see, it is simple and easy to use. In addition, Ainfluencer allows you to create campaigns and invite influencers or even allow them to find you.
Let's have a look at this video to find out more about Ainfluencer and how to utilize it to find influential people on Instagram.
3. The Most Preferred Platform for Brands
For Influencer Marketing Purposes, Instagram is the Most Preferred Platform for Brands.
The third influencer marketing stat must know is that Instagram is the social media channel for brands. Despite having fewer monthly active users (1.4 billion) than Facebook (2.89 billion), one of the most popular channels, Instagram's popularity surged in 2022, with the majority of marketers choosing Instagram as their preferred platform for influencer marketing initiatives. Instagram is the most popular social media platform for influencer marketing, but TikTok beats engagement.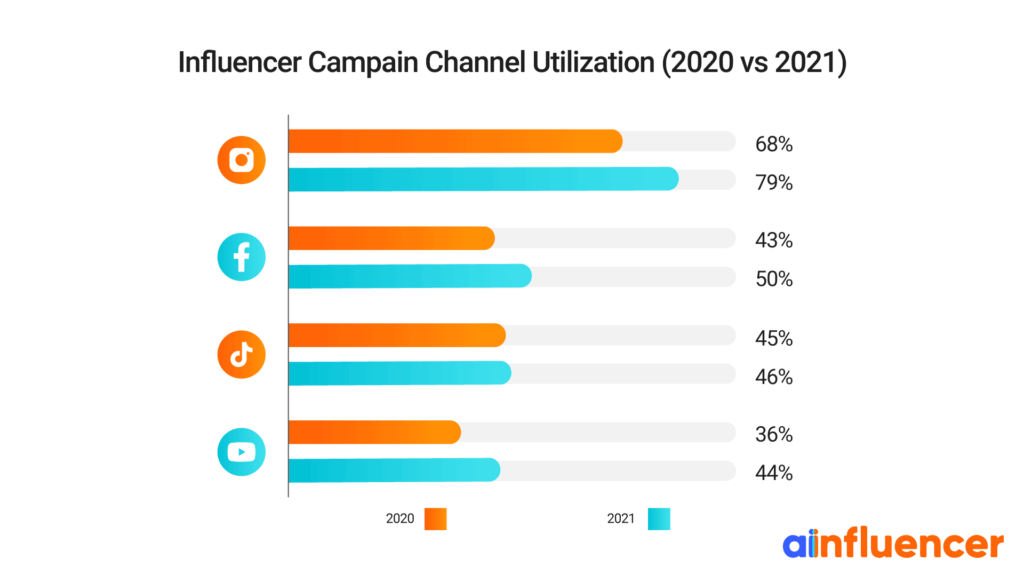 4. Impact of Micro influencers
Expect micro influencers to rise to prominence in 2022. Their audiences are typically more engaged and willing to take action, although they have fewer followers than mega and macro influencers.
Many professionals believe that micro influencers will become the preferred method of collaboration for smaller businesses. They convey honesty, familiarity, and credibility. Micro-influencers are gaining a more significant portion of the market. In 2021, their market share increased to 91% from 89% in 2020.
5. Use of micro influencers by brands
The fifth influencer marketing statistic to check out is how with the support of micro influencers, brands may expand their reach while reducing their advertising cost per action. Although their fan bases aren't as large as those of famous people, they can make a bigger splash with each post as the statistic advertising suggests that micro influencer marketing is predicted to develop more rapidly than conventional influencer marketing. Moreover, the cost of collaborating with micro and nano influencers is lower than that of larger ones. Their rates are typically lower than those of their more well-known contemporaries.
As for influencer stats, a person with 1K –10K followers can charge up to $100 for each post, whereas a person with over a million followers is likely to charge upwards of $10K for every Instagram post.
6. New breed of influencers
While traditional categories like beauty and lifestyle influencers are still very popular, new ones like skincare (skincare influencers) and pet (pet influencers) are cropping up.
Furthermore, limitations are relaxed as influencers expand their reach outside their traditional sphere. Beauty influencers, for instance, have branched out into related fields, such as travel, cuisine, and exercise.
7. Benefit of using a special type of influencer
The next influencer marketing statistic to consider is how companies would rather partner with nano and micro influencers because, contrary to popular belief, the majority of consumers prefer following influencers who look and act like us rather than celebrities. This preference contributes to companies' preference to partner with nano and micro influencers.
8. Interest in "influencer marketing"
Google Trends shows that interest in "influencer marketing" is increasing at 5000% every month. As a result of the increasing prevalence of influencer marketing, marketers are taking proactive measures to ensure that they are up to date on all of the most recent developments in research and trending topics.
9. Guidance role of social media
Any company that sees women as a key or secondary demographic of ideal consumers should take note of this figure. You need to be active on social media and familiar with the influencers that women care about if you want to sell more to them. 86% of women are engaged on social media, with a strong preference for Snapchat and Instagram, and this trend is expected to continue. More than half of all women have shopped because of an influencer's post. Authenticity and motivation are keys to influencing this group through important opinion leaders.
10. Introducing new products by influencers
Another influencer marketing stat to consider for future business collaborations is the fact that 41% of customers say they learn about at least one new brand or product each week thanks to an influencer, and 24% say they learn about at least one new brand or product each day.
11. The effect of Influencer endorsements
Influencer endorsements affect 22% of 18- to 34-year-olds' significant purchases.
However, even if people are primarily influenced by their friends and acquaintances, people can still be swayed by powerful outside forces.
The opinions of internet influencers will likely sway a younger audience. 22% of them admitted to making a major purchase as a direct result of an influencer's online recommendation. Therefore, if you want to increase your sales among millennials, bringing on the most appropriate influencer for your following is essential.
12. Top priority of advertisers
86% of advertisers said that expanding brand recognition was their top priority.
Several factors justify putting money into influencer marketing campaigns. However, the top purpose of influencer marketing efforts is to increase brand awareness. To give you an idea of what it can help you accomplish, here is a summary of the most typical objectives:
Acquiring New Customers (86%)
Finding and connecting with new people (74%).
increase in brand loyalty (69%)
Increasing sales conversions (46%)
13. The reason for using influencer marketing
Another statistic on influencer marketing that is worth mentioning is how 51% of businesses believe that influencer marketing aids in the acquisition of superior clients.
One of the main reasons companies use influencer marketing is to increase their customer base. It's encouraging that 51% of marketers believe influencer marketing has helped them find better clients. This is because forming the right kind of partnership will put you squarely in front of a target market rich in potential buyers.
14. Instagram popularity
Instagram's popularity isn't limited to the business world. So do people in influential positions. As for Instagram influencer statistics, half a million influencers have identified Instagram as their primary or secondary medium for spreading their message. This could be because Instagram is where they have the most fans, or it could be due to the fact that the platform provides them with a wide range of creative freedom.
15. Purchase decision
In response to a product they saw on Instagram, 87% of users purchased it.
Reaching a wider audience and inspiring people to take action are two of the most important goals of influencer marketing. However, 87% of users say they've purchased a product after seeing it on Instagram. With what sort of behavior are we dealing? Following the brand on social media, checking its website, or making a purchase are all examples.
16. Instagram's promoted posts
The next influencer marketing stats shows how Instagram has become integral to marketing strategies for popular fashion labels. 25% of all ad postings on Instagram have been fashion-related. That makes it the most famous avenue for advertising collaborations. Fashion is more popular than food, entertainment, and baby products combined.
17. Creating content
It's easy to make stunning material, but it takes more work to encourage people to engage with it. It's pointless to publish something if no one engages with it. Finding the key influencers that can assist in amplifying material is the next stage. Here is where modern marketing's two most effective strategies—content marketing and influencer marketing—come together.
18. YouTubers and Millennial
25% of millennial subscribers believe their favorite creators know them better than their friends do.
Another influencer marketing stat to consider is how some Millennials have the impression that their favorite creators on YouTube understand them better than their friends. Four out of every ten Millennials shared this sentiment. This demonstrates how significant of an impact YouTube producers have on the lives of younger generations.
19. AER of nano TikTokers
The average engagement rate (AER) of TikTok stars with fewer than 15K followers is 17.96%.
TikTok's user base has been increasing over the last few years, which has increased the number of opportunities for brands to launch influencer marketing campaigns on the platform.
TikTok influencers with less than 15K followers report an engagement rate of 17.96%, significantly higher than the average engagement rate of 3.86% on Instagram.
20. Content created by influencers
60% of marketers say they've seen better results with content created by influencers.
The next influencer marketing stat to keep an eye on is how marketing your business on social media demands content and lots of it. There is a significant need for content across all social media platforms, from Instagram Stories to social media advertisements.
Also, the content developed through brands' partnerships with influential individuals is doing better than the material developed in-house by such brands. This results in increased engagement on social media platforms, improved performance of advertisements on social media platforms, and even increased conversions on shopping carts, including embedded content provided by influencers.
21. influencers with fake fans
Invesp estimates that $1.3 billion was wasted on influencers with fake fan bases.
Statistics on influencer marketing point out how this is a real issue affecting us as marketers, and fraud arises when people claiming to be influencers approach a company and beg to help. In summary, they take your money (or product sample) and don't deliver. They are the least successful types of advertising initiatives.
Of course, the more widespread type of influencer fraud involves influencers exaggerating their power by amassing false followers.
22. Spotting fake influencers
50% of all marketers say that spotting false influencers is the most challenging part of their efforts.
After all, if you invest heavily in a marketing effort, you want to maximize the likelihood that your message will resonate with its target demographic. Regarding marketing, nothing is more costly than falling for a scam and losing money.
23. Efficiency of case studies
47% believe that case studies are the most helpful form of influencer content.
The next influencer marketing stat on the list is remembering that this is the corporate counterpart of sending out a free sample. It could also consist of boasting about the fantastic outcomes achieved with a client using the product. In any case, what you see here is actual application, not theoretical or theoretical constructs devised by the corporation.
24. Facebook, an effective platform
While 33% of marketers consider Twitter an essential platform, 45% consider Facebook the most effective platform for influencer marketing.
This influencer marketing data suggests that, while Instagram is significant, it would be unwise to discount the power of Facebook. Facebook has the most users of all Western social media platforms. Therefore, advertising there is effective for reaching virtually any target audience.
The cost of paid social media can be reduced by using influencer marketing. The return on investment (ROI) is maximized when both methods are employed.
25. Snapchat, not so popular anymore
Snapchat might be the least popular social media platform, but you should still use it. Snapchat's target demographic is young people, making it a specialized platform. This reminds me of the recommendation on the choice of network: go where your audience is. Snapchat users make up a sizable demographic, so if that's who you're trying to reach, you should buy some ads here. However, if you're hoping to make money from selling hearing aids or things for the elderly on Snapchat, you will probably be disappointed. Young people make up the vast majority of Snapchatters, and this demographic doesn't value or rely on their parents.
26. Influencers and their audience size
Around 38% of influencers use methods that inflate their audience size.
It's enough to make you question the goodness of human nature, isn't it? Select your influencers cautiously if you want to avoid getting scammed. It is essential that the people who follow them have a genuine interest in your brand.
Don't be put off by the prevalence of fraud in influencer marketing. While the potential benefits outweigh the risks, reducing the possibility of fraud will help your influencer marketing program generate an even greater return on investment. You can do that with the help of an influencer marketplace such as Ainfluencer.
27. Top YouTubers' content
The 3 top wealthiest Youtubers are
1. MrBeast with a $54M payday.
2. Jake Paul with a $45M payday.
3. Markiplier with a $38M payday.
Earnings for the YouTube community hit a record high of $300 million in 2021, up to 40% from the previous year, thanks mainly to rising video views and ad income. (The number of YouTube users has increased significantly in recent years, growing by 40% in the past five years to about 2 billion.) Ad revenue accounts for around half of their total income.
28. Influencers interactions with their fans
Among Instagram's influencers, Cristiano Ronaldo has the most genuine interactions with his fans. At a 2.4% interaction rate, Cristiano's 500M followers are a huge payday.
29. Influencers' fanbase on TikTok
With over 129 million active subscribers, Charli D'amelio is the most popular influencer on TikTok. According to Grin's Creator Search, Charlie D'amelio is the first TikTok influencer who has gained over 100M followers on TikTok.
30. The influencer with the most follower
Khaby Lame has more followers than any other creator on Instagram or TikTok. According to Grin's Creator Search, Khaby Lame has over 175 million actively engaged users across both platforms, Instagram and TikTok.
31. Increase in the interest of being a Youtuber
75% of the young people surveyed expressed an interest in a career on YouTube.
For the first time in history, becoming a full-time social media creator is a viable career option for the present and next generation of teens and adults.
32. TikTok and their Creator Fund
Next on the list for influencer marketing stats is how TikTok announced the TikTok Creator Fund in 2020 to support content creators who want to make a living on the platform by using their voices and creativity. To qualify for this fund, creators must have at least 100K views each month.
This is a prize to TikTokers for making a positive impact on the lives of a significant number of people. The initial investment of $200K is projected to increase to $1 billion within the next three years in the United States. Their goal is to amass a force of opinion leaders who can make a living through endorsement, sponsorship, and other forms of brand affiliation.
33. Couples and Influencer marketing
Together, couples are becoming the next big thing in online impact. Many people capitalize on their connections to advance their personal or professional brands. Factors contributing to this growth include reality television, in which shows like "Love Island" and "Strictly Come Dancing" has helped launch the careers of many influential public figures.
You could compare them to Tommy Fury and Molly-Mae Hague or Joe Sugg and Dianne Buswell. The former Duke and Duchess of Sussex (also known as Harry and Meghan) had over 10M followers between themselves on Instagram.
34. Influencers' content
Compared to branded posts, content created by influencers tends to do better.
While only 38% of customers trust brand-created content, 61% trust recommendations from influential people. Compared to branded pieces, material created by influencers performs better and generates more interaction, according to 60% of marketers.
35. Usage of ad blockers
Another influencer marketing stat to pay attention to is how users between the ages of 16 and 24 have been found to have the highest ad-blocking rates. Ad blockers not only limit annoying advertisements but also assist in shielding users from malicious software.
In 2020, 26.4% of internet users used an ad blocker. 27% of Internet users installed an ad blocker in 2021, and this percentage is expected to keep rising. Furthermore, almost 40% of adults in the United States are thought to use an ad blocker.
36. Value of diversity, equality, and inclusion
There will be a shift toward campaigns that value diversity, equality, and inclusion as benchmarks for success among influential people.
Another influencer marketing stat on the list is how In 2022, diversity, equality, and inclusion aren't just platitudes. They are rapidly being adopted as norms in their respective fields. It's encouraging to see both customers and influencers taking steps toward building more welcoming communities and sharing stories from diverse perspectives.
Today, many celebrities and public figures use Instagram and other social media to speak out against discrimination based on race and gender. A study conducted in 2021 indicated that Black influencers earn 35% less than white content providers. The study also found that BIPOC (Black, Indigenous, and People of Color) influencers earned 29% less than their white colleagues.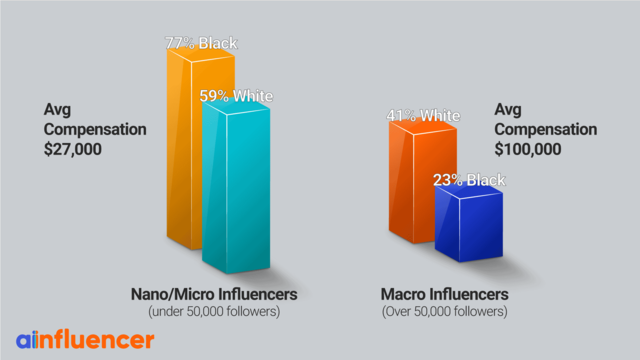 37. Use of AR
Augmented reality (AR) in brand influencer marketing campaigns is expected to increase.
To say that augmented reality (AR) is revolutionary would be an understatement. Games, navigation, and professional growth are just some of the many fields finding uses for it. Many industries, both B2B and B2C, recognize the benefits of augmented reality.
In the retail sector, for instance, augmented reality is used as a filter to enable virtual "try-ons" of products like garments and cosmetics.
You can bet that companies and their partners will figure out how to use these developments in their influencer marketing strategies. Brands and influencers may improve their game by taking advantage of augmented reality's rising popularity. Brands aren't the only ones taking advantage of influencer technology; people influencers are learning to employ augmented reality in their own content production.
38. Influencers and respect
54% of influencers say they will work with brands who respect them as they would any other publisher.
According to interviews with more than 50 content creators conducted by Crowdtap, these "influencers" have high standards for the brands with which they collaborate. Although they lack the prestige of the Wall Street Journal, brand executives and marketers can't bully them into submission since they've earned their position.
39. Growth content creators
The next influencer marketing stat to know on the list is that, according to projections, 1 billion people will consider themselves content creators. As the influencer marketing sector evolves and the creator economy expands, the democratization of content creation is expected to occur.
TikTok and Instagram are just two examples of the many social media sites streamlining the process of creating original content for publication. These systems are user-friendly, widely available, and equipped with tools that make it less challenging to create content.
40. US influencers, the most moneymakers
It's no surprise that American influencers make the most money, but those in Canada, the UK, and Australia all do well.
The large US consumer market is mainly responsible for the country's many influential people. Cities like Los Angeles, New York, Atlanta, Miami, and Chicago in North America have a disproportionate share of the region's influential people.
41. Paying influencers
Brands are just as likely to compensate influencers monetarily as they are to provide them with free product samples.
More and more companies are paying money to social media stars known as "influencers." Some 34.5% now compensate influencers monetarily, and the same percentage do so in the form of free product samples. Additionally, 25% of brands provided discounts to influencers, and a much smaller percentage (5.9%) favored giveaways as payment.
42. Fashion bloggers and promoting stores
The major department store chains have started working with fashion bloggers to publicize their stores and promote their new products.
The next influencer marketing stat on the list to pay attention to is how companies are increasingly producing "influencers" (celebrities with a large social media following) to promote their products. 34.5% currently pay influencers, while another 34.5% offer free products in exchange for reviews. Not only did 25% of firms offer discounts to influencers, but 5.9% preferred giving away free products rather than cash.
43. Influencer marketing and promoting products
Using influencer marketing, you can get influential people to help you promote your product.
Instead of concentrating on the market as a whole, a company should prioritize communicating with the customers most likely to become paying clients.
44. Fashion micro influencers on Instagram
Instagram is the platform for 77% of fashion micro influencers.
The following stats on influencer marketing to consider is that when influencers work in a visually exciting field, like fashion, they are much more likely to favor Instagram. On the other hand, just 31% of micro influencers in the entertainment/pop culture sector choose Instagram.
45. Influencer marketing reach
Partners in the influencer marketing space continue to place a premium on reaching a large audience.
Brands place a premium on influencers' connections with their target audiences when deciding who to work with. They find little value in collaborating with influencers that don't have much sway over their audience, a great rapport with them, or the wrong audience for the business.
46. Brand compatibility
Before working with an influencer, marketers should make sure their brands are compatible.
If you, as a brand, have done your due diligence, your influencer choice will be spot on. Keep in mind that they have established their own identity.
As a result, you should make sure the communications you provide to their target demographic ring true with them. You should persuade your influencers to tell your brand's narrative using their own words.
47. Social commerce trend
In 2022, social commerce will be a $992 billion industry, and it will be a major influencer marketing trend.
These days, the statistics for advertising show how advertisements are just one part of social commerce. Brands now have access to previously untapped markets thanks to the proliferation of social media.
The customer journey is simplified as a result of developments such as in-app purchasing. It is predicted that by 2022, global sales made possible by social commerce platforms will amount to $992 billion.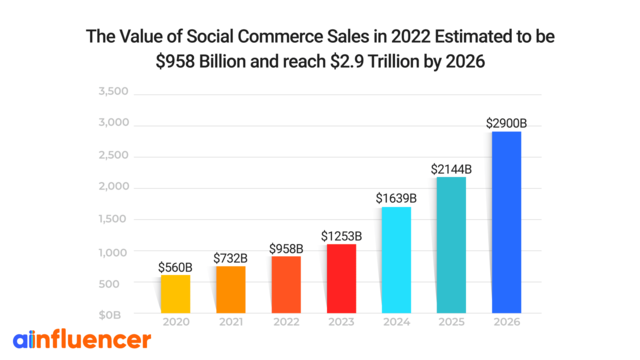 48. Company-customer relationships
"Social Media Changes the Relationship Between Companies and Customers From Master and Servant to Peer to Peer."
Another insightful remark from Jay Baer should be kept in mind by businesses when interacting with micro influencers. Since social media is a two-way street, the power to shape the story people tell about a brand now rests squarely in the hands of consumers rather than the companies that once dominated it. Customers and companies can have meaningful, peer-like exchanges.
49. Brands or powerful influencers
Certain companies have built enough online presence to be called influential. For example, Red Bull has amassed quite a YouTube following; their main channel alone boasts 10.3 million subscribers and maintains a slew of niche channels.
50. Problem-solving brands popularity
Consumers like brands that provide answers to pressing issues.
"People want to do business with you because you help them get what they want. They don't do business with you to help you get what you want."
Don Crowther emphasizes the importance of remembering why a company attracts clients. If you can't provide the people with what they want, no amount of endorsement from influential people will benefit your business.
Conclusion
The use of influential people in advertising is highly effective. A company's chances of success increase when it employs influencer marketing, especially if it forms a mutually beneficial relationship with content providers. There were significant shifts in the influencer marketing landscape in 2022. This post will be helpful in keeping you abreast of developments as the year progresses.
1. How effective is influencer marketing statistics?
Content created by influencers outperforms branded posts. Compared to 38% who trust brand-produced content, 61% trust influencer recommendations. Sixty percent of marketers said that content created by influencers outperforms branded postings and generates greater engagement.
2. Is influencer marketing effective 2022?
As 2022 progresses, influencer marketing will continue to be an effective method of increasing sales thanks to the rise of social commerce. With social media platforms growing more sophisticated, influencers can include links to online businesses in their videos or posts and turn fans into purchasers.
3. How big is the influencer marketing market?
U.S.$16.4 billion
Since 2019, the size of the worldwide influencer marketing market has more than doubled. The industry was worth an unprecedented $16.4 billion in 2022.