Instagram bio is the most effective way to make a first impression on new audiences at a glance.
An excellent Instagram bio might be a great source of discovery to motivate Instagram users to follow you.
I know that it seems challenging for Instagram businesses to write an attention-grabbing but optimized bio, but the truth is:
Creating an amazing Instagram bio is easy, as long as you follow the right set of strategies
So lets waste no more time and dive right into it:
Seven key things to create the perfect Instagram bio
Consider an easy, authentic name and username
The first thing that helps you create the perfect bio is picking up a unique, memorable name. Also, the Instagram username should obey form the name to look more authentic and professional.
But be aware that it's the easiest way to get exposed on Instagram. Taking advantage of your name plus your industry or brand name can make your business name branded and easy to search.
And as I mentioned, the first strategy is optimizing an Instagram name and username that match together; then, if you want to make a noticeable change, use your industry keyword in any part of your name.
Share your contact information
When you start an Instagram business, sharing your contact information makes it easier for people to trust you. Adding contact information in your bio proves how accessible you are, including your email address, phone number, and address.
Be sure that without this critical information; your Instagram business card won't get more eyes to connect with you easily.
Note your Instagram business category
The Instagram business category shows your Instagram business activity and niche. As it locates at the top of your Instagram bio and under your Instagram username, it is another critical part of creating a great bio.
There might be different kinds of business categories that you might wonder which one to choose, so it would be best to think of the first business category that best suits your Instagram business type.
Mention your skills and Self-description
Skills and accomplishments can make a great Instagram bio of you. Every local business needs to promote itself with an impressive casual blurb. It can include symbols and emojis to express your sense and skills better.
Since Instagram bio limits 150 characters, it is recommended to craft a small interesting bio caption to directly tell which skills you are good at.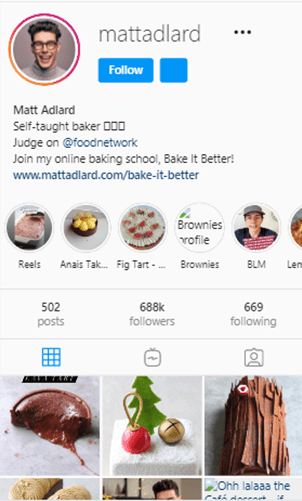 In this example, Mattadlard best explains the skill with its slogan and the blurb in the Instagram bio that is simple and sweet.
It says he's a self-taught baker, and he's always working on learning new recipes and ideas for putting together these incredible concoctions. So, In this way, every newcomer can identify the aim of this Instagram page.
Take advantage of relevant hashtags
You can get more eyes on your bio using relevant hashtags. Actually, it is critical to develop the best hashtag strategy for your account.
However, you can achieve this goal by having an effective Instagram caption. Still, a hashtag or keyword works best when you need to express your industry or introduce your branded hashtag for UGC content on Instagram.
Suppose you are interested in a targeted keyword by considering your audience. In that case, you can use that hashtag to build your brand on Instagram.
However, creating a community around your business on Instagram takes a long time to make most of it in growing your Instagram branding.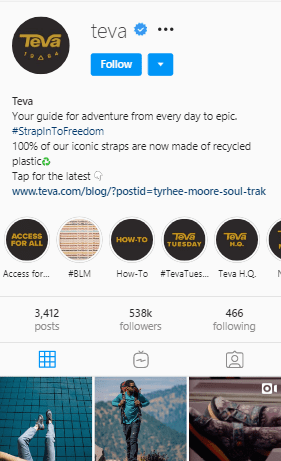 Teva created a relevant hashtag to make most of a genuine strategy for customers to be featured on Instagram when sharing their content to increase their brand identity through Instagram bio.
If you come up with the right keyword in discovering your target audience, it would really help your followers have a clear mind of who you are and how you can provide value to them.
Add your website link
Since there is no way to add clickable links in captions, adding a link in your Instagram bio is one of the critical parts of writing an Instagram bio.
The main reason is that it can help you to drive more traffic and generate sales through your Instagram channel.
Instagram bio link is the best source of getting sign-ups. It creates a clickable link that can cover both an Instagram story's URL and call-to-action (CTA) in your Instagram bio.
Besides, it would be a good idea to put multiple links in your bio to present all your links, videos, sounds, and contact info on a landing page.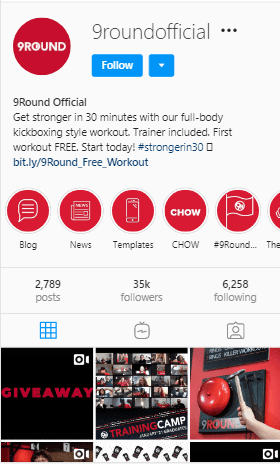 9Rounds takes advantage of a clear call to action to link to a landing page that encourages people to engage with their business to get more clicks and sign up. Their bio clearly details that the first workout with 9Rounds is free, giving people the chance to try out kickboxing.
Use a sense of humor and creativity
Getting creative with your Instagram bio is a high-value way to convey your brand message. Totally in 150 characters, you should use all parts of an Instagram bio to surpass your competitors. Still, suppose you could use a sense of humor and creativity. In that case, you can make your own brand slogan more motivational with a business purpose. Still, it would be best to deliver it with precise details.
Increase the visual appeal of your bio by center-aligning your profile bio.
Use inspirational words as a creative way of making your call to action
Get the help with the most intriguing fonts in your bio
Use some of the awesome Instagram bio fonts to make your bio outstanding
All in all, your Instagram bio is the business card. You should create your Instagram bio with your sense of creativity, simple but engaging to persuade followers to tap on your Instagram page blue button. Consider these 7 steps to help your new Instagram business to better appear in Instagram searches and grabbing attention.