Restaurant branding is popular and profitable, no matter what the size of your business is – from casual cafes and Pizzerias to big chain restaurants and even ghost kitchens, which have opened their virtual doors mere years after demand for restaurant meal deliveries started soaring.
The unstoppable rise of restaurants is astonishing worldwide, while it is also staggering to contemplate many competitors branding for restaurants.
Clearly, your business is upbeat and promising regardless of the type of restaurant you are trying to promote as long as you have the right branding ideas and strategies to stand out in your concurrent niche with thousands of other restaurants vying for each other customers.
In this blog post, we'll tell you about these game-changing ideas.
A master marketing plan for restaurant branding
What you need is a well-thought-out marketing plan for restaurant branding.
Random restaurant branding ideas, consulting with different restaurant branding companies, and coming up with various and disconnected strategies are resigned to inevitable failure.
For example, these thriving restaurants have worked for years, grasping the same concept of QSR (Quick Service Restaurant), and all they do is prevent stifling creativity rather than alter the basic notions of their marketing.
This is how much they are worth in a million US dollars today.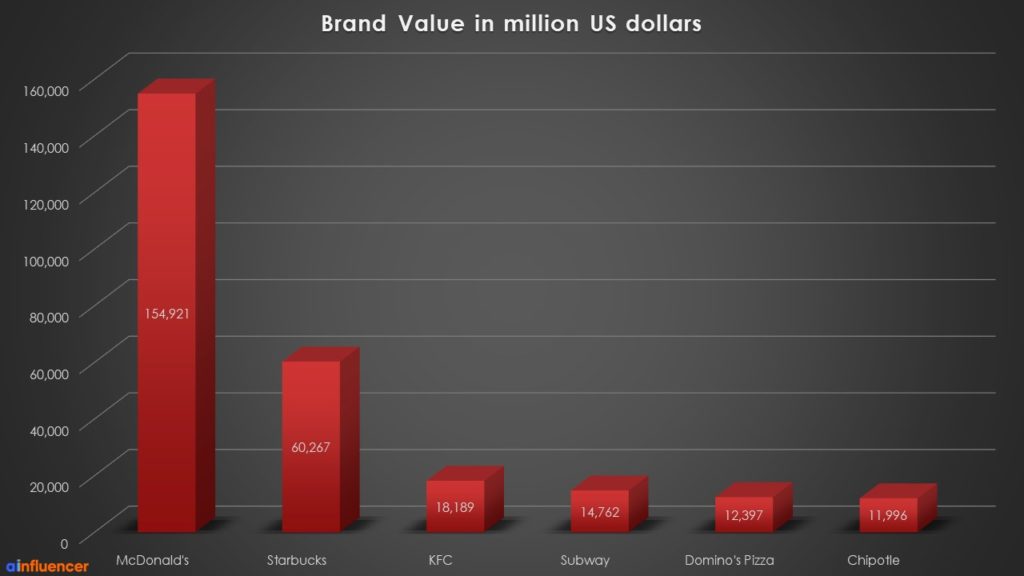 Long story short, following these steps, will help you develop a robust restaurant branding strategy.
1- Determine The "Why" Of Your Marketing Plan
Before setting any goals, you need to indicate your intentions. Say you are going to attract new customers, compel the customers' loyalty and encourage them to return, or any other final results that you expect to see.
2- Set your restaurant branding goals
The first thing that makes your restaurant branding more likely to deserve success is a definitive and quantifiable goal.
By way of example, your plan is to increase sales by 15% in 4 months.
This not only helps you work towards your goal more realistically but also gives you a way to track and measure your success.
3- Create personas
Buyer personas define your target audience and the right way to reach out to them.
See if they are a group of fans watching the games in your place or do they represent a specific age range; there are so many traits you can find about those who regularly pay you a visit.
Learn about them and make sure your restaurant branding ideas and strategies take account of them.
4- Allocate a reasonable budget
It is important to balance your budget, invest smaller, and spend more effectively.
Once you set your goals, the next step to move on to your restaurant branding is to learn how much you are required and capable of spending on your campaign.
5- Find your core values and qualities
Your marketing should center on the distinctive features you boast.
It could be the food, online service, location, interior design, and anything that helps you stand out.
Use this aspect of your marketing to set your restaurant apart from the competition and maximize the impact.
Winning Marketing Strategies
Before the evolution of digital marketing, it would be startling to think beyond billboards, TV ads, and some other conventional strategies.
Although some of them, such as "word of mouth," could be cited as timeless means of branding, we may well confidently say there are now more marketing options than ever.
Here are the factors a winning marketing strategy is centered on.
Get a website
Improve your social media presence
Work out an email marketing strategy
Use online reservations and delivery
Run a local search smoothly
Build a loyalty program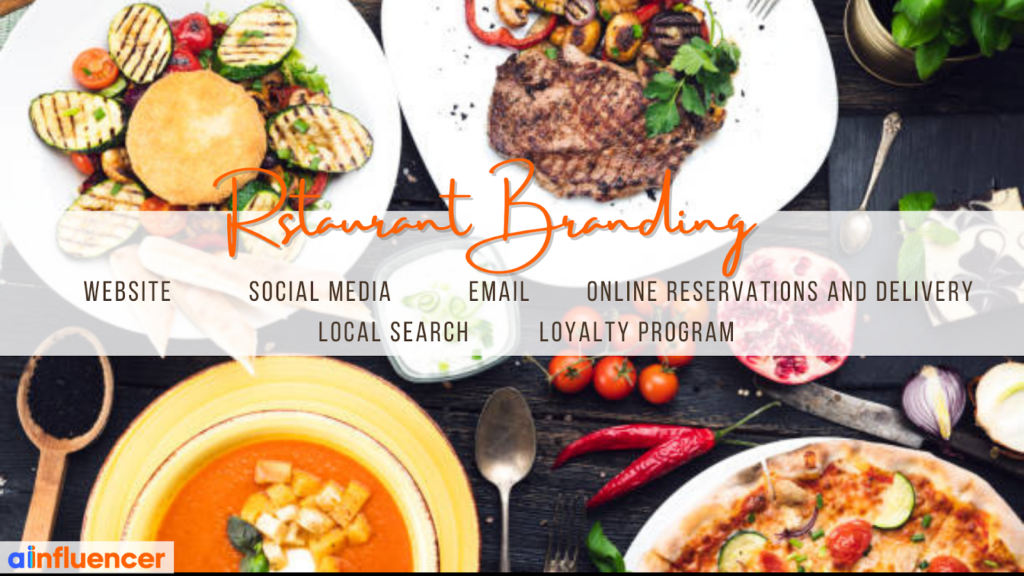 Turning to restaurant branding, there are ever such a lot of imaginative uses of these strategies for various ideas to be put into your business marketing.
Top Restaurant Branding Ideas
#1 Run Instagram Ads
Businesses can use Instagram ads to raise awareness and expand their customer base through visuals.
Also, businesses tend to earn $5.20 for every $1 spent on influencer marketing, and not unlike many other businesses, if you are opting to use influencer marketing, Instagram is a great place to have an auspicious start.
To make it work, make sure you can access a reliable influencer database that provides you with effective leads in accordance with your criteria.
Clearly, you have certain requirements after your local search and a few analysis to pick who you will partner with. What helps you link with the right person is an Instagram influencer marketplace, such as Ainfluencer.
Why Ainfluencer Instagram Influencer Marketplace?
First things first, Ainfluencer conducts a targeted search in a matching market to help you find the right influencer based on their niche, location, language, gender, and follower count.
It also offers real insight into influencers' activities, engagement rate, Q-score, and estimated price that is indicated by the best Instagram influencer calculator.
Here is how to use Ainfluencer.
Join Ainfluencer for free. It only takes a minute to enter your name, give an email address, and create a password.
Create your ad. This requires you to have worked out your intentions and goals to set your requirements on your dashboard. Creating a perfect ad on Ainfluencer helps you attract thousands of influencers to your business.
Find the right influencer using the search filter, insights, and analytics.
Moving on, you will be led to an in-app chat box so you can negotiate and create your formal contract. Note that one of the benefits of working on Ainfluencer is safe payment. This means that the money you pay will not be released until you ensure your requirements are fully met.
You can also get offers from many other influencers who are not invited by you, as they can search and find the right campaigns in the bargain.
Finally, manage multiple influencer marketing campaigns using your scheduler without missing a deadline.
#2 Create A Sense Of Community On Your Facebook Business Page
You may reap the advantages of Instagram's integration into your Facebook business page, but you should remember that a strong social media presence on Facebook is inseparable from your restaurant branding strategy.
While you use Instagram as the kitchen window to attract epicures to your place, Facebook is capable of playing some other roles vital to your customer loyalty program.
Post regularly: customers, events, special offers, hours changes, etc.
Treat your page as a business listing: Facebook is a business directory! Complete all fields, encourage reviews, and keep it up to date.
Interact with fans: Inspire debates, respond to comments, and follow them back.
Seasonally adjust your cover photos.
#3 Optimize Your Website
Customers look for information such as the menu, opening hours, and location on restaurant websites. How simple is it for customers to get this information from your website, particularly on their phones? Can it get any better?
How simple is it for people to make online bookings after you've covered the fundamentals? Is your digital menu ADA (the Americans with Disabilities Act) compliant? Is the reservations button visible and easy to locate? Is the process real-time and seamless?
Consider how your website represents your brand and gives them a taste of your restaurant before they dined with you. How can this be made better?
#4 Have Your Restaurant Listed On Restaurant Apps
Dining and restaurant apps are one of the top free restaurant branding strategies because being discovered on one of these means being found by people interested in your business. Because dining apps allow users to filter quite explicitly, the key to these is to include as many details as possible, such as:
Category
Website
Address and Phone Number
Working hours
Menu
Price Range
Photos
Other attributes, say WiFi, outdoor seating, parking, and special diets
#5 Voice The Purpose Of Your Business In One Statement
This relates to your brand identity and should be a written statement expressing your mission.
Is it to make nutritious foods more affordable?
Is it to promote family bonding?
The purpose of your restaurant should state what you provide, where and who you provide it for, why you do it, and how you do it.
Here are some examples to spark creativity and inspiration.
Buffalo Wild Wings – "Our mission is to WOW people daily!"
CC's Coffee House – "To serve everyone better than anyone else."
Celebrations Restaurant & Bar – "To capture the character of our community, boiling down its stocks, foraging its plants, and showcasing its produce; all in an attempt to capture a time and a space in the confines of a plate, but more often in a series of plates."
Bamboo Sushi – "To change the way people eat, inspiring a shift within the restaurant industry and beyond."
Avanti's Italian Restaurant – "We prepare and serve high quality, simple food, at a great value, in a home-like environment."
Boloco – "To better the lives and futures of our people. We use ridiculously delicious burritos to do it."
#6 Build Your Google Business Profile
Building your restaurant's Google presence is even more important than setting up your Yelp account.
This listing allows you to appear in Google Maps, local search results, and the Knowledge Panel on the right side of regular search results.
#7 Don't Miss Yelp
Yelp has always had a large user base and brings many fresh customers to restaurants. So, the importance of maintaining a properly optimized Yelp profile has not vanished yet!
#8 Encourage Customers To Write Reviews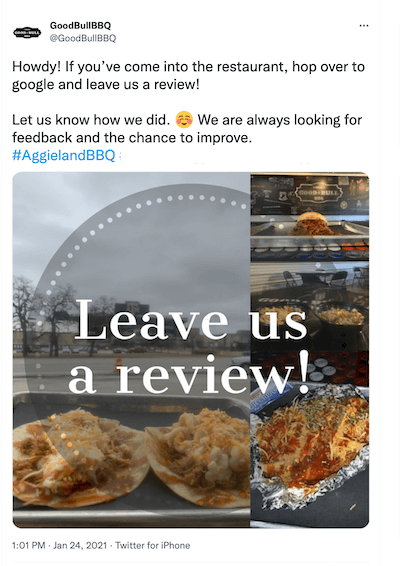 There is a growing body of opinion on the importance of online reviews. It can help restaurant-goers decide whether or not to pick "YOUR PLACE."
Although customers are almost always happy to leave them, they require some prompting. This means that soliciting feedback should be part of your restaurant branding strategy.
#9 Respond to Reviews
Engage with the reviews, whether they are positive or negative.
Engaging with positive reviews forms a strong bond between you and the customers.
On the other hand, responding to negative reviews can give you a second chance and an actionable remark to improve.
#10 Create Brilliant Email Marketing Campaigns
You can put new menu items, upcoming events, coupons, customer stories, and more in your restaurant's email newsletter.
Although you can include almost everything about your restaurant in your newsletter, there are two points to be cautious about.
First, do not let your emails flood through your customers' inboxes. You will be a stone's throw from being ignored perpetually.
Secondly, make sure your emails are personalized. The least you can do is have their names added to your emails.
#11 Send "Happy Birthday" Notes
Regarding your previous restaurant branding strategy, you can take your email marketing personalization to another level with birthday reminders.
This helps you with your customer loyalty initiatives and the chance to encourage them to dine at your place on this particular day.
#12 Use An Online reservation system
Online booking platforms are almost a must-have for your restaurant branding. Every month, they provide you with access to a wide range of customers looking for a fine eatery to eat.
Here are some of the top online reservation systems for restaurants.
OpenTable
Yelp Reservation Systems
EatApp
Tablein
Resy
Tock
So, with an online booking system development, you can be sure that your customers' data is safe and secure
#13 Don't Underestimate The Power Of Guest Data
Remember the birthday reminders?
Collecting guest data can revolutionize your restaurant branding strategy beyond email marketing.
Keeping track of how frequently guests visit you, their preferences, and when they celebrate key events like birthdays gives you the ability to send your customers targeted marketing that has a much higher chance of success than simply blasting them with random messaging.
Personalized restaurant marketing is the game's name here, and customers are increasingly expecting this level of service and hospitality. To elevate your restaurant management strategy, you can take some restaurant and hospitality management courses as well.
#14 Revamp Your Restaurant SEO
A modern restaurant branding strategy must consider how your restaurant will be found online for these types of local searches.
For restaurants looking to dominate in SEO (Search Engine Optimization), this is a huge topic.
Begin by taking a look at the following:
Google Business profile
Location information on your website_ The dubbed NAP
Google reviews Location keywords in your website URL structure
SEO-optimized website pages
#15 Create An Extraordinary Online Menu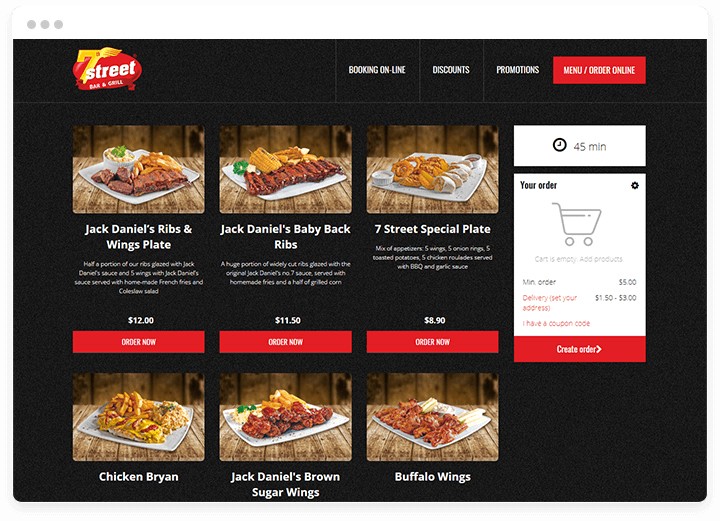 You probably understand the significance of having a website for your restaurant by now. However, if your website lacks a menu, you may pass up valuable business opportunities.
We'll go over the benefits of online restaurant menus and why having one is important, especially in light of the COVID-19 pandemic.
1- Get rid of the PDF menus
You can have an interactive online menu that is easier for Google to index.
What's more, unless you have a proper HTML version of your menu, you will feel compelled to change your menu every time you want to update a photo or edit almost anything on your menu.
2- Make your menu easy to navigate
Make it mobile-friendly so that people can read it on their phones. Also, use a font that is easy to read online.
Also, menu ADA compliance might be expensive. Nevertheless, partnering with a technology company to make your digital menu ADA-compliant for you can save you a significant amount of money!
The structure required for ADA compliance benefits restaurant SEO as well.
3- Improve sales
Optimizing for sales has to be the most essential factor to consider for creating an awesome online menu. After all, you don't just want people to read your menu; you also want them to order.
Include high-margin items, highlight high-margin items with different lines, colors, or formatting, promote cross-selling by recommending popular pairings, and the list of behavioral psychology to have an impact on dishes that diners pick can go on unceasingly.
#16 Use Your Website With Live Chat As An Ultra-Efficient Front Of House
Thanks to recent advancements in live chat technology, it is quickly becoming the preferred method of communicating with customers online.
With a little live chat pop-up, people will have direct access to your restaurant as well as a human touch if your live chat is operated by your host stand or reservation staff.
Potential diners can ask questions, and you can take bookings directly from the chatbox.
It's another way to get diners to interact with you, and it's something your competitors are not exactly bound to do.
#17 Mount Discount Campaigns
Coupon and discount campaigns are always fun to spearhead and a fantastic alternative to get people through the door.
There are various and sundry approaches to running these campaigns tremendously successful.
In particular, you could do this through your Instagram influencer marketplace, delivery apps, and so on.
#18 Retarget Your Ads
In essence, retargeting is an advertising system that displays advertisements to people who have visited your website but have not completed a transaction.
For restaurants, this is usually accomplished through an online reservation or a phone call.
All of the major platforms support retargeting. It takes some time to set up, but once done, it is a very powerful ad channel to follow up with the people who don't convert.
#19 Build An Unstoppable Restaurant Branding
Building a strong brand is an effective promotional tool in and of itself, and it can happen not only in the restaurant but also on social media and other marketing channels.
Strong restaurant brands are built on a thorough understanding of your restaurant's target market. Are they health-food junkies? Are they obsessed with bizarre desserts? Are you looking for people looking for a memorable first date?
Your brand should be built around your target market's design preferences and aspirations. Consistency is essential, and your promotional materials should represent your restaurant brand everywhere, particularly on social media.
#20 Take Heed Of Local Online Ads
In fact, the vast majority of your customers are locals. This means we should take our first tip more seriously.
Partnering with influencers who share an audience in your location is at the core of your restaurant branding through influencer marketing.
So, make sure to have access to the right influencer database – our ULTIMATE PICK is Ainfluencer.
#21 Promote user-generated content
Are you looking for a way to develop personal and intimate engagement with your customers? Then, don't underestimate the impact of user-generated content (UGC).
Customers are more likely to believe what other customers have to say about your restaurant than what you have to say.
Here are four reasons why you need to integrate user-generated content into your restaurant branding strategies:
1- This kind of content serves as social proof and convinces your prospective customers that your restaurant and food are worth paying for.
2- If your customers' content is high-quality, you don't need to hire a team of content creators and photographers. So it translates into cutting content marketing costs.
3- It boosts engagement and builds a community of loyal customers.
4- Adding a human touch to brands is a must, and restaurants are no exception. The restaurant industry involves more than just delicious food and splendid interior decor. People are the focus. Your restaurant's social media followers are curious about who visits your restaurant and also who stands behind your brand. Satisfy their curiosity!
#22 Start a blog
Nothing like starting a blog can offer you the chance to experiment with your restaurant's voice and personality. Setting up a blog doesn't necessarily mean that you have to be constantly posting. As you know, quality is way more important than quantity, but setting up your restaurant blog is a smart decision in case you need to share any news or an announcement with the public.
Using a blog lets you share your restaurant updates, events, announcements, new or seasonal food items on the menu, and introduce your restaurant team to your customers.
#23 Offline marketing strategies
In your restaurant marketing strategy, don't overlook the real world! Besides digital ones, offline marketing strategies for restaurants still work, particularly if you run a local restaurant. Any form of advertising or promotion that makes use of traditional offline media is known as offline marketing.
Here are some offline restaurant marketing ideas:
Events
Postcards
Free samples
Local newspaper, radio, and TV
#24 Show off your staff
In this era, robotic customer service is on the rise, and the human element is seriously lacking. Your customers enjoy seeing happy, smiling, and joyful employees and being served by them. So, show off your pleasant employees and what they do best to provide major reputation points.
Moreover, you can order a custom t-shirt for your employees that has your brand logo so that customers will also recognize them.
#25 Social media contests
Social media competitions are a great approach to inform your customers about your business, product, or service. Additionally, they can be utilized to reach out to new potential customers and raise brand awareness.
The most important thing when running Facebook and Instagram giveaways is to have an attractive prize. You'd better offer something appealing like free sides, extra drinks, pizza, dinner for two, free delivery for a week, etc.
Encourage users to enter your contest by posting about and tagging your business and/or using your hashtag on Instagram.
#26 Partner up with delivery services
The key to success in today's online-driven environment is ease of use. The ordering procedure is streamlined by several online delivery services, which internet-savvy customers frequently love. You can partner with services like:
Seamless
Eat24
Foodler
GrubHub
Delivery.com
#27 Organize promotions and events
Have you ever tried taking things a step further with a themed night?
Turning your restaurant into a Festive Wonderland at Christmas with matching dishes, drinks, and decor can help you attract individuals from further away who are seeking a unique experience.
This allows you to attract people who might not have passed your restaurant ordinarily and even makes them come back for a meal or drink.
Taking a stall at your local farmers' market or street festival can help take your business outside and even remind your past customers that you're still serving up and encourage them to visit again.
#28 Set up your socials
The next idea of great importance for restaurant branding companies is to make the most of popular social media platforms for restaurants, such as Facebook and Instagram.
Marketers can connect with and interact with potential clients on social media sites like LinkedIn, Twitter, Youtube, Facebook, Instagram, and even more recent ones like TikTok. Marketers can engage their audience through solid social media strategy and by producing interesting content.
#29 Send out an email newsletter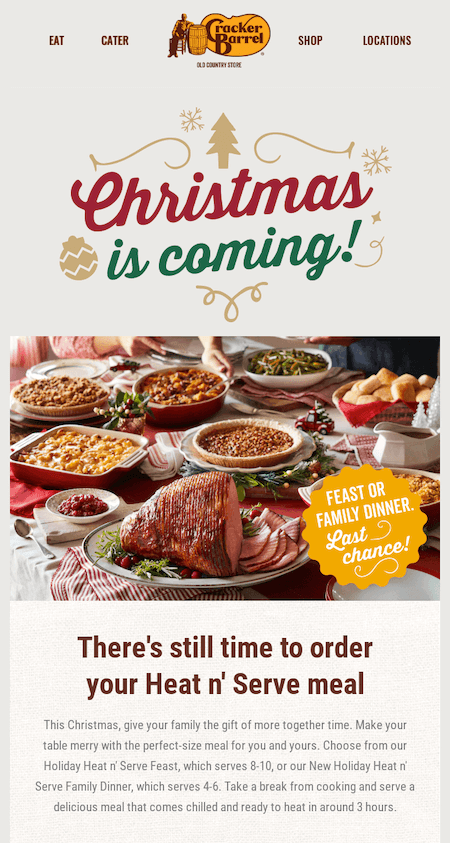 Any marketer's toolkit should include email newsletters. It can be applied to customer conversions, sales nurturing, and content marketing.
Do you wonder what your restaurant's newsletter can include? It can include new menu items, customer stories, upcoming events, coupons, etc. Bear in mind that users don't usually appreciate flooded inboxes. So your newsletter doesn't have to be weekly. You can simply send your customers a newsletter every month or so.
#30 Foodie photos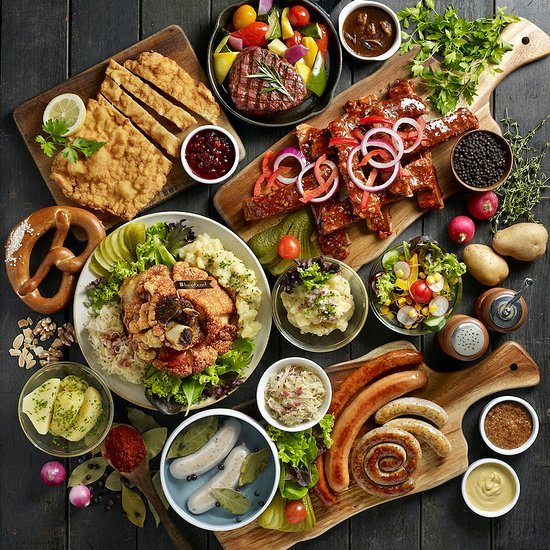 If you've ever used Instagram, you'll know that food porn is still very much a thing. The best way to promote your restaurant online is by taking and sharing high-quality, delicious-looking photos on your website and across different social media platforms. This guarantees drawing hungry eyes to your restaurant.
Conclusion
With a mature restaurant branding strategy, there is every chance that you will find the niche as one of the most promising businesses.
These 20 tips help you battle the challenges with conventional restaurant marketing strategies and understand people's notions of the new concept in business.
1- What does restaurant branding include?
Your restaurant branding centers around the type of your restaurant, its name and logo, your mission statement, social media platforms, your presence on Google, an awesome online menu, your website, and email marketing. 

2- What is the best restaurant marketing?
The best restaurant marketing emphasizes the restaurant's best attributes, builds a close relationship with customers, and takes digital marketing seriously. 

3- How can restaurants improve their marketing?
Restaurant branding ideas must evolve with the passage of time. Vastly improved promotional strategies involve keeping on top of new marketing trends and bringing in new ideas for owners and marketers.