The latest innovation in influencer pricing is the development of an Instagram influencer calculator.
Instagram influencer marketing is one of today's top-notch forms of product placement and promotion. Yet, there are quite a few challenges to rise above before you can pull it off, including finding the right influencer and negotiating with them.    
It is difficult to know how much you should pay an influencer. Like so many other professional services, prices vary widely, even for similar campaigns.
In this article, you'll learn everything you need to know about what an Instagram influencer calculator is and how to estimate rates and earnings in 2023.
How Instagram Influencer Calculator Works?
According to Statista, the influencer marketing market size was a $13.8 billion global industry last year, increased by over $3 billion compared with the preceding year. On top of that, the trend shows this number will continue to increase in the following years as well.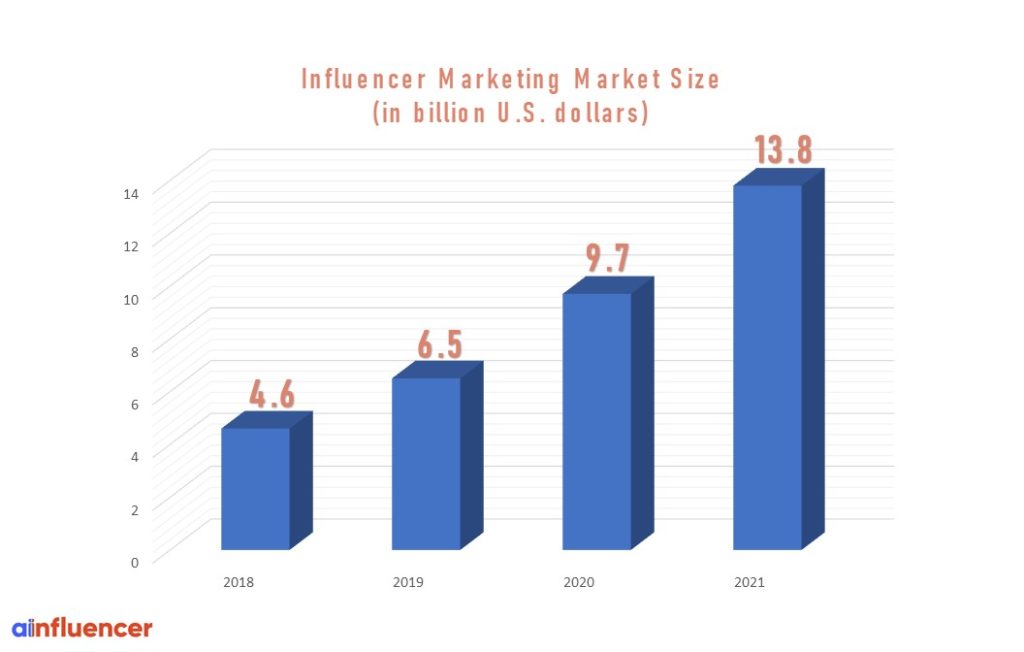 As influencer marketing could be developed to increase brand awareness, brand engagement, and sales, the first step is to find the right influencer based on your budget.
To estimate rates and earnings, an Instagram influencer calculator should consider some factors. For instance, the influencer's country, the number of followers, engagement rate, and quality of content.
The price also depends on the quality of a creator's audience, age, gender, and location.
The additional requirements a brand might have, include:
The bio link ad
Ad creation
The type of ad (feeds, Stories, IGTVs, Reels)
The length of your ad (How long your ad will stay on an influencer's account)
Both brands and influencers can say what payment to expect using an Instagram influencer calculator.
The tool brings more transparency to the market since it enables creators to know how to price their services.
Instagram Influencer Calculator to Estimate Rates
There are different types of influencers, and for some types, mega influencers, in particular, there may not be a clear-cut rule to estimate how much they will charge you.
However, for a more niche and targeted eCommerce marketing, you should try to find nano influencer or micro influencers with fewer but more engaged audiences.
On the other hand, nano and micro influencers are more predictable and affordable of course.
Rates should be based on an influencer's number of followers and engagement rate, but other criteria such as recognition, talent, or access to a specific audience can also influence a rate.
How much money do 10k Instagram followers make?
Instagram influencers with under 10,000 followers can make, on average, $88.00 per post. Those with under 100,000 followers average $200.00 per post, but these numbers often vary from account to account.
Most accounts in this level are instead, gifted with free products or discounts for posting. The actual price will depend on audience quality and engagement.
Instagram Fake Follower Checker
There are several reasons why measuring engagement rate is important. Instagram engagement essentially reflects whether your content matches the interests of your followers.
It is also a great indicator that shows if the number of followers you see is real. There is no point in having a large following if, in reality, your audience does not interact much with your content.
According to HypeAuditor, influencers with over 1 million followers should at least have a 1.54% engagement rate while this number can go up to 10.58% with a follower count smaller than 1K.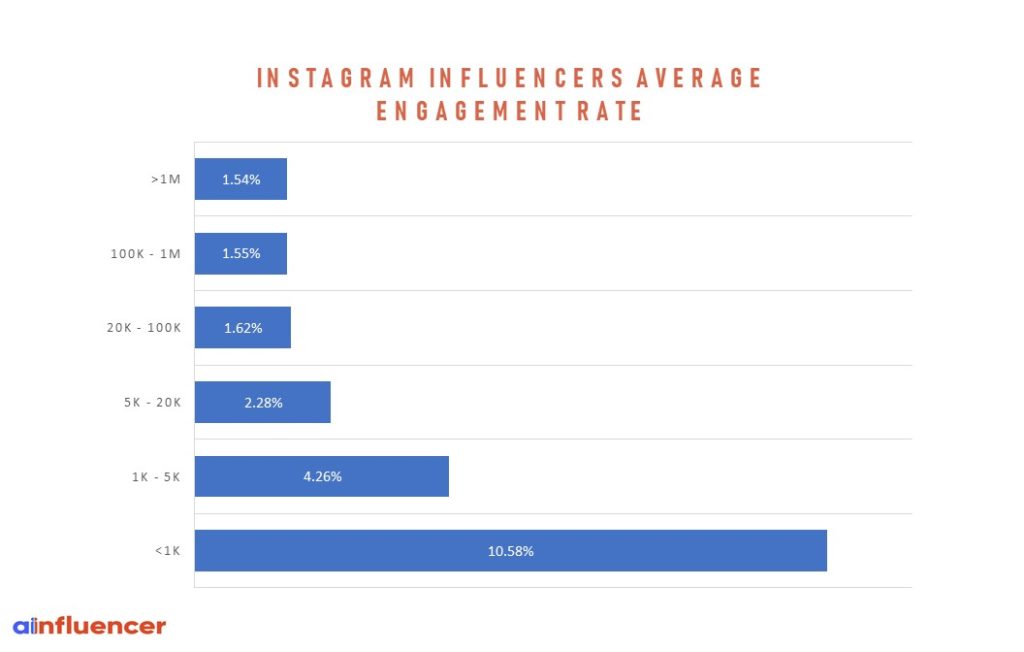 Here is how you can estimate an influencer's rate:
Engagement rate per post + extras for type of post (x #of posts) + extra factors = total rate
Essential Factors of Calculating the Cost of Instagram Influencers
No matter what kind of influencer marketing campaign you want to run, there are several factors to consider when pricing influencer services.
This is because no campaign, and no influencer, are the same. Here are some variables to consider, which may or may not be accounted for with an Instagram influencer calculator.
#1- Follower Count
This is simply how many followers you have. Because you can look over their profiles. While you'll want to make sure an influencer isn't using a lot of fake followers, profiles tell you a lot about the person.
The more genuine followers, the more potential eyeballs.
#2- Quality of Content
While it's a given that you want to choose an excellent photographer for Instagram campaigns, not all snapshots are created equal.
For instance, some influencers might prefer to use filters and a lot of photo editing, while others publish pictures closer to their natural state.
These stylistic choices can make a big difference in the price of a campaign due to the amount of work required.
#3- Engagement
Your engagement rate is the percentage of followers that engage with your posts. To calculate your engagement rate, divide the average number of likes and comments you get by your follower count, which will give you a percentage.
#4- Demographics
This is when it pays to have a niche.
If a brand is looking for college students who live in a particular city and would die to have their new eyeshadow palette, and that's your audience, you're instantly much more valuable to a brand than another influencer who only speaks to one of those target demographics.
Instagram Engagement Rate Calculator
The Instagram engagement rate is a metric that measures how many people engage with your content on the platform. This includes likes, shares, comments, saves, and other metrics.
A high engagement rate guarantees content that is bang on trend and appeals to your target audience.
If you want to calculate the engagement rate by yourself, you have public access to the data you need. All you need to do is use the formula below.
(Likes + Comments) / Followers X 100 = Engagement Rate
However, for a more accurate result considering all the posts published on an influencer's account, there are different Instagram engagement rate calculators available.
But the best tools you can use are top Instagram influencer marketing platforms that use all significant metrics to help brands find influencers who are the best match for your influencer marketing program.
They not only serve as a bridge to connect brands and influencers using an Instagram engagement rate calculator, Instagram influencer earnings calculator, Instagram payment calculator, Instagram influencer pricing calculator, and all sorts of other free calculators, they also make sure you have a secure contract and safe transaction while you oversee the success of your promotion and whether or not all your requirements are fulfilled.
Top Instagram Influencer Calculator Tools
As mentioned earlier, to get a more thorough and detailed result, you'd better use an Instagram influencer calculator tool. Here are some of the best free calculators and Instagram influencer marketing platforms to estimate influencers' rates and earnings.
1. Ainfluencer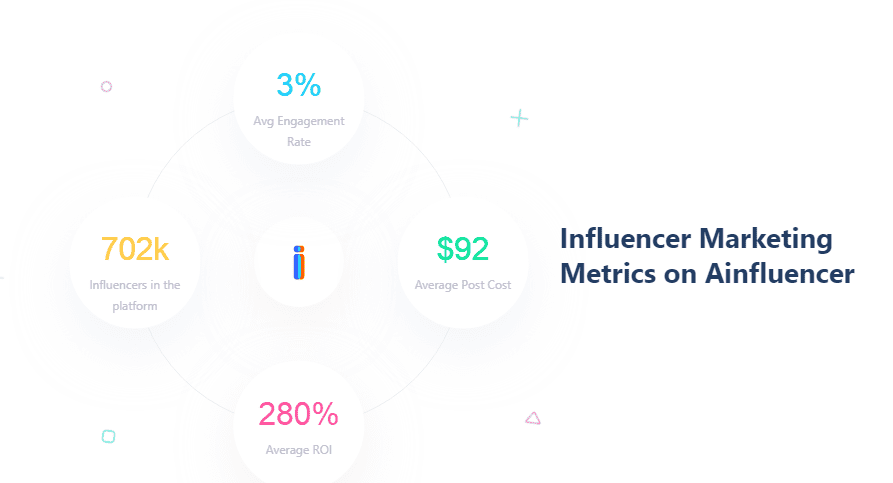 Ainfluencer is a DIY Instagram influencer marketing platform used by both brands and influencers to meet and make deals. It makes Instagram influencer marketing and ads on marketplaces easy and fast.
Here is how to use the Instagram influencer calculator on Ainfluencer.
First, join Ainfluencer.
Use the dashboard to create an ad or a campaign.
Go to the "Find Influencers" tab on your dashboard and add your search filter – keyword, category, location, language, gender, and the number of followers, etc.
You will access an endless list of influencer profiles that also includes one of the best Instagram influencer calculators available.
You can view the profile of any influencer on the list. Q-Scores, the number of followings and followers they have, their engagement rate, and, most importantly, their estimated price are all included in the information.
You can also find out more about them, including their Instagram account address, the average number of likes and comments on each post, and the ratio of likes and comments to their total number of followers.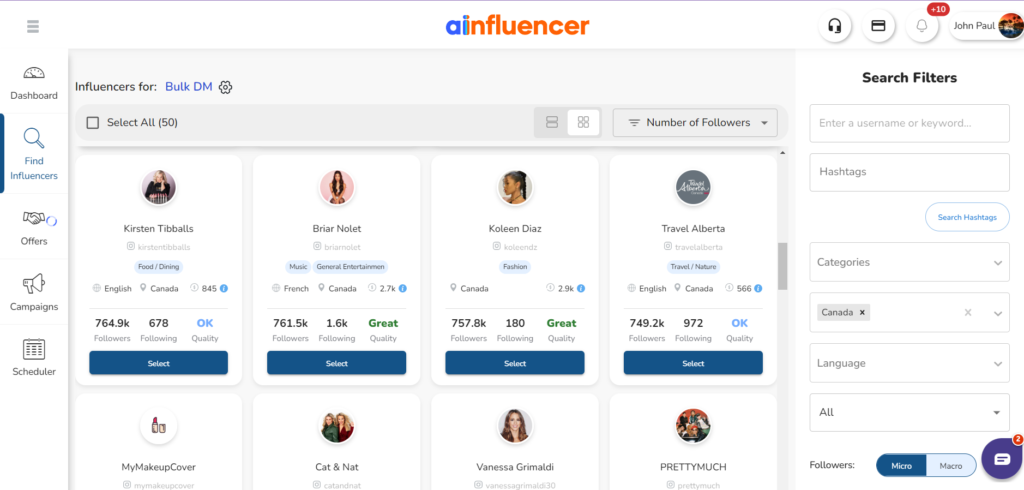 The Ainfluencer's Instagram influencer calculator provides you with the most effective tools in the following to develop a promising influencer marketing program.
Q-Score
Estimated Price
Engagement Rate
Average Likes per Post
Average Comments per Post
The Ratio of Likes to Followers
The Ratio of Comments to Followers
The Ainfluencer's Instagram Calculator to Estimate the Price
The Ainfluencer's Instagram influencer pricing calculator is extremely helpful in better understanding price suggestions for Ainfluencer offers.
The efficiency of an influencer will be evaluated using information from their profile, such as the number of followers and the Instagram engagement rate calculator. Finally, the price is determined by the quality score.
Ainfluencer becomes an automated marketplace to assess every influencer cost for each Instagram ad as it is built on Ainfluencer's artificial intelligence.
As a result, when an offer is made, the estimated price gives both businesses and influencers some idea of bargaining.
2. HypeAuditor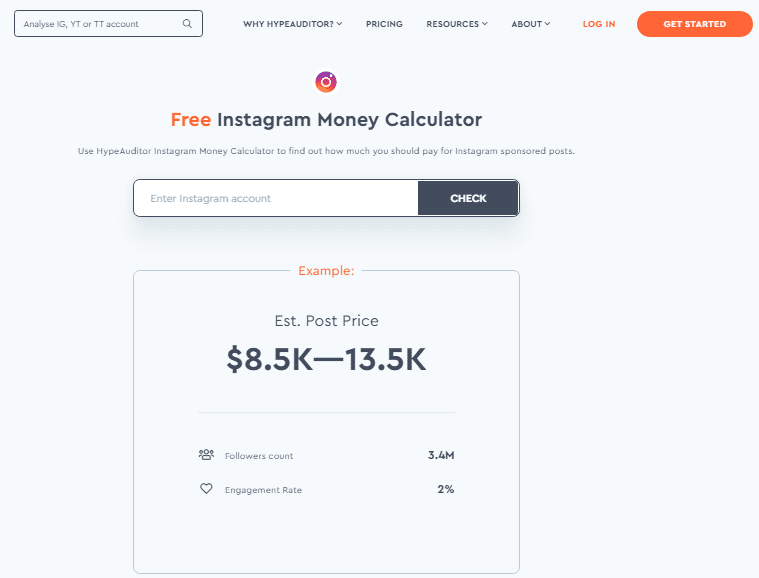 HypeAuditor is one of the top-performing influencer marketing agencies on the web. The great thing about the tool is its in-depth reports.
This platform won't disappoint you even if you are looking for advanced features of influencers.
It helps calculate the estimated earnings from a particular influencer's Instagram account.
Calculates based on various factors, including the Influencer's countr1y, several followers, the entire audience's quality, and the engagement rate.
It also consists of some helpful, frequently asked questions regarding your Instagram earnings.
3. Influencerfee

The Influencerfee increases your Instagram account's value as their IG money calculator integrates into websites for users easily. Their tool will tell your potential earnings on your Instagram account, fans engagement rate, and how to generate great content for new traffic and visitors.
Just enter the name of the Instagram creator account and get engagement rate, followers, and posts, Earnings per post, likes, followers, and comments.
It offers different services for Social Agencies and E-Commerce platforms.
Lots of useful information on their official website regarding price per posting, inquiries of Influencers, warning signs on fake fans, etc.
Conclusion
Using an Instagram influencer calculator can help to ensure that you are getting the most out of your sponsorship. By understanding the impressions and engagement rates of different influencers, you can find the right one for your brand. Additionally, using a calculator can help you budget for your sponsorship campaign. Finally, be sure to keep track of your results and use them to refine your strategy for future campaigns.
On top of that, Ainfluencer is a down-to-earth DIY Instagram influencer marketing platform that provides you with an efficient Instagram influencer calculator. On Ainfluencer, you can estimate all data you need, including the price, to make a better negotiation in addition to other features it boasts, such as the search filter, ad creation, and scheduler, so you can make sure you will develop the right influencer marketing strategy.
1- How is influencer engagement rate calculated on Instagram?
One way to calculate influencer engagement rate on Instagram is to divide your total number of likes and comments by your follower coun. 
However, a reliable Instagram influencer calculator can work more effectively and give you more details such as the influencer's estimate rate, etc.

2- How much money does 10k Instagram followers make?
Instagram influencers with up to 10,000 followers can make, on average, $88.00 per post. However, this pretty much depends on influencers' engagement rate and whether or not the number of followers indicate real loyal people who are interested in your niche.