Buying a new or used car is one of the biggest purchasing decisions one will make. As such, automotive industry brands need to think carefully about how they inform potential customers to help them make the most informed decisions.
Effective social media influencer marketing collaborations have been assisting brands in increasing brand awareness, sales, and return on investment.
From brand awareness to ultimately driving off the lot, automotive influencers with a dedicated and engaged following are the ideal partners to help retailers guide automobile purchasers through the customer journey.
In this blog post, you can see a list of 20 top car influencers to help you identify the right automotive influencers.
What is a car influencer?
In short, car influencers are people who are highly skilled at marketing and selling cars. They use their popularity and social media following to promote new car models and help sell more cars. Car influencers can be found all over the internet but are particularly prominent on social media platforms like Instagram and Facebook. They often work with brands to create sponsored content or endorse specific car models.
How to find car influencers on Instagram?
Instagram is a great way to connect with people who share your interests. If you're looking for influencers to feature your product or service, using Instagram is a great way to find them. There are several ways to find influencers on Instagram.
You can search through hashtags and location tags, check out your followers and tagged posts, Google, and use an influencer marketplace to find influencers in your industry.
Ainfluencer is one of the fast, free, and smart influencer marketplaces you can use to find car influencers.
This marketplace acts as a middleman and helps both brands and influencers find and collaborate. It is packed with lots of useful features and an AI-powered search engine that allows you to filter influencers based on location, hashtags, category, gender, language, number of followers, etc.
So if you are looking for a way to get car sponsors on Instagram, Ainfluencer can pave the way for you.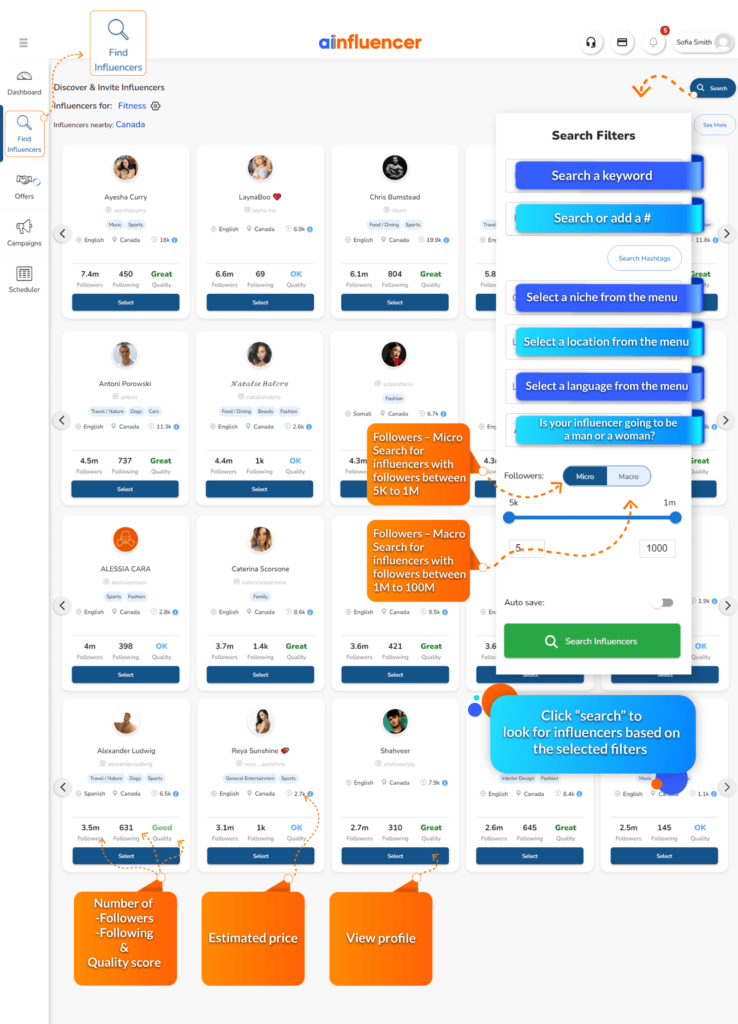 Note: Ainfluencer offers different solutions for brands and agencies. They can either take advantage of its DIY plan which is completely free or use one of the three pricing plans as follow. Pricing plans are suggested to those brands and agencies that don't have the time to spend on starting the process of influencer marketing themselves. 
20 top car Instagram influencers to follow
1- Cars Daily (@lowkey.cars)
Cars Daily is an Instagram account with 21.8K followers where you can see some of the best luxury cars. If you are one of the car influencers looking for the hottest cars, don't forget to take a look at this account.
2- GTA BOYYY Cars (@goblinvette)
Tamir aka GTA BOYYY is one of the car influencers on Instagram who has amassed 147K followers. He makes GTA video games come to REAL LIFE! He is well-known on different social media platforms including YouTube and TikTok. He has 4.4M followers on his TikTok account.
3- Carinsta Exotic LifeStyle (@exoticlifestyle_)
Carinsta Exotic LifeStyle is a Motor vehicle company. Its Instagram account with 161K followers is where fellow car lovers get encouraged to dream big thanks to videos and photos of insanely luxurious cars.
4- Autois (@autois)
This is one of the best Instagram cars accounts with 461K followers which all famous car enthusiasts will enjoy watching its photos and videos of top luxury and faster racing cars.
5– Lucky Lopez (@luckylopez)
Lucky Lopez is one of the successful automotive influencers on Instagram with 417K followers. This automotive expert discusses and shares all things about cars, such as car dealerships, rental cars, auto repair, automotive market, used cars, etc.
6- Joe (@raitisrides)
Joe is one of the car bloggers who caught the car bug at a very young age. He raced formula cars professionally for three years. He has a wide variety of knowledge about many different makes and models and is considered an expert in Corvettes, Porsches, and imports.
His Instagram account is where he shares his car reviews with his 103K followers on a daily basis.
7- Annie (@itslifeofannie)
Annie is one of the automotive influencers on Instagram who hosts car meets and shares her experience with her 307K followers. Her account is filled with her professionally taken photos of her with insanely luxurious cars.
8- GTR District (@gtrdistrict)
GTR District's Instagram account is so full of incredible automobiles and luxury cars photos and videos. If you are into becoming an auto blogger, this account will encourage you.
9- Cars & Bids (@carsandbids)
Cars & Bids is an ultimate automotive auction marketplace for modern enthusiast cars. Its Instagram account with 87.2K followers is a good choice for car influencers to get inspiration, ideas, and knowledge about cars.
10- Autotek Tuning (@autotek.industries)
Autotek Tuning is an automotive repair shop. Their Instagram account is full of photos and videos of luxury cars being repaired, car race videos, and car reviews.
11- R1 Motorsport (@r1motorsport)
R1 Motorsport is a shop you go to when you want to stand out. Their Instagram account with 260K followers is where they share detailed reviews, photos, and videos of the cars with car enthusiasts.
12- DuPont Registry (@dupontregistry)
The duPont Registry is an American brand name of print classified advertising publications specializing in luxury automobiles, real estate, and yachts. Their Instagram account is the source of supercars and is what all car bloggers look for.
13- DME Tuning (@dmetuningtexas)
One of the most renowned engine software brands in the world, DME Tuning, is well-known on a global scale. Since the start of DME back in 2015, they have been pioneering and innovating in the world of engine software, delivering results and building a reputation that is talked about throughout the automotive tuning world.
They have gathered 326K followers on their Instagram.
14- Lamborghini Owners Select (@lamboselect)
This Instagram account is made for Lamborghini owners and fans. It is full of different colors and models of Lamborghinis. If you are looking for other car influencers and what they share, you may find this account a must-follow.
15- Connie Peters (@xoconniepeters)
Connie Peters is one of the car influencers on Instagram with 20.4K followers. She drives cars and reviews them on her IG account.
16- Paul Vaillancourt (@montreal_supercars)
Paul Vaillancourt is one of the successful car influencers with over 16.9K followers on Instagram. He has helped different brands to promote their products to a global audience. Paul's work has earned him accolades from the automotive industry.
If you are looking for Montreal-based automotive content, don't miss the chance to give him a follow.
17- Alex Hirschi (@supercarblondie)
Super Car Blondie aka Alex Hirschi is one of the most professional car bloggers with 10.3M followers on Instagram.
She traveled to Dubai to work as a radio host after receiving her degree in journalism. She uses all social media platforms, including Twitter, YouTube, Instagram, and Facebook, to win over her millions of fans.
She is the envy of many, as she tests the most expensive and fastest cars in the world. She is featured in Forbes, Maxim, GQ, and Esquire.
18- Ms Motors (@msmotorsofficiel)
Ms Motors is a garage based in Cannes that buys and sells high-end vehicles. The three partners are experts in customizing cars and are enthusiastic mechanics and race car fans. They have been providing individualized service and caring for their clients since 2007.
They are quite active on social media platforms, especially Instagram, where they have 390K followers, and have a sizable showroom to welcome guests in the center of the French Riviera city.
19- Maxime Langlais (@maximelanglais)
After appearing on the TV game program Pekin Express, Maxime Langlais and his friend Alizée gained attention. As a fan of cars but also of travel and fashion, Maxime regularly partners with car companies. Maxime Langlais is one of the well-known car influencers on Instagram, with 218K followers.
20- Sophia Floersh (@sophiafloersch)
Sophia Floersch is a German racing driver who is considered one of the top auto influencers. She is included in our list of automotive influencers because she has gained 550K followers on her Instagram account.
Sophia is an outspoken advocate against sexism and discrimination that female drivers experience. A separate women's Formula 3 championship, according to her, is "not the way to help women in motorsport" and is a "step back on a sporting level."
Conclusion
In conclusion, following car Instagram influencers can be a great way to stay up-to-date on the latest car trends and technologies. By keeping an eye on these accounts, car enthusiasts can learn about new products and services, get styling tips, and see how different modifications can change the look of a car. So, the next time you're looking for some automotive inspiration, be sure to check out some of these top car Instagram influencers.
1- Who is the most successful Instagram influencer?
Cristiano Ronaldo is first on the list; he presently has 484.3 million followers. Justin Bieber comes in second with 420.54 million followers, followed by Ariana Grande with 398.3 million, Selena Gomez with 380.75 million, and Taylor Swift with 354.4 million.
2- Who is the biggest car YouTuber?
With a whopping 3.84 million subscribers, Doug DeMuro is one of the most amazing and must-visit car YouTube channels.