Recently, there have been many shifts in the marketing and advertising industries. A few years back, brands could use social media and SEO to increase brand awareness and make money. Those great times will, alas, soon be history.
Nearly 65% of Google queries result in no action.
Facebook posts typically only get seen by a small fraction of the page's followers (0.08%).
Less than 1.6% of followers see the typical Instagram post.
Consumers are now all too smart to fall for the simple tricks, and they can tell when they're being outsmarted. Therefore, modern marketers need to step up their games if they want to engage their target demographics.
Brands that want to overcome these obstacles are increasingly turning to experiential marketing, which is more effective and growing in popularity.
What Is Experiential Marketing?
Directly interacting with consumers in unique and memorable ways is at the heart of experiential marketing. It's a broad category that goes by the names "engagement marketing," "live marketing," and "participation marketing."
Some experiential tactics incorporate live events in the traditional sense, while others may consist of one-time installations that only last a few hours. These occasions can take place in the real world at events, trade exhibitions, demo days, or online via webinars and conferences.
Experiential Marketing and Influencers
You may already know the connection between experiential and influencer marketing, as many companies are beginning to see its benefits.
There is already evidence of the synergistic benefits of combining experiential and influencer marketing.
Status of Experiential Advertising
Brands are losing their enthusiasm for traditional advertising due to current changes. According to Forbes, "93% of customers say that live events have a stronger influence on them than TV commercials," published toward the end of 2019.
Therefore, most firms (about 75%) said they planned to boost spending on experiential marketing events and other mediums that provide a longer-lasting consumer experience. Live events and customized advertising come together seamlessly in an experiential marketing strategy.
The State of Influencer Marketing
While many brands have experience forming partnerships with influencer marketing, the market constantly evolves, requiring brands to adapt their approach. There are influencers for virtually every topic imaginable, and the market is growing at a rapid clip as a result.
There are advantages and disadvantages for brands when using each of these formats. Micro- and nano influencers are two other significant types of influencers that marketers are increasingly accessing.
By the end of 2022, brands spent as much as $15 billion on influencer marketing. There is a growing trend in experiential campaigns that combine influencers with events.
With the help of credible recommendations and the backing of industry leaders, influencer marketing initiatives have shown to be the most effective of all promotional channels, leading to increased revenue and brand awareness.
Merging the Two
It's not a coincidence that many brands using one of the marketing strategies mentioned above also use another.
Nissan's "4-day Titan Adventure" was one of its top experiential marketing events.
Nissan hosted the event to promote the release of its newest Titan pickup truck model and target influential people interested in outdoor activities.
"Influencer marketing campaigns are marketing efforts by which businesses promote their products, drive sales and traffic to their website, and increase brand awareness. How? By leveraging well-known figures, also known as influencers, on social media who influence their target market."
More and more companies are discovering the importance of cultivating connections with influencers in advance and then asking them to play a pivotal part in introducing an experiential campaign.
How To Choose The Right Influencer?
The fast-paced development of the influencer marketing industry is one of its many appealing features. Businesses today have many influencer finder tools, making identifying and connecting with influential individuals a breeze.
Some of these could answer your problem of finding influential people. Why? Their influencers database streamlines the process of finding key opinion leaders.
Ainfluencer is an influencer discovery tool that streamlines finding influential users on Instagram.
Ainfluencer: Find Instagram Influencers
One of the most convenient ways to connect with influential people is to use a top-tier influencer marketplace.
You must choose a jam-packed platform with valuable features to find the most relevant influencers to promote your business. In contrast to its rivals, Ainfluencer does not require any upfront payment to gain access to its extensive database of influencers.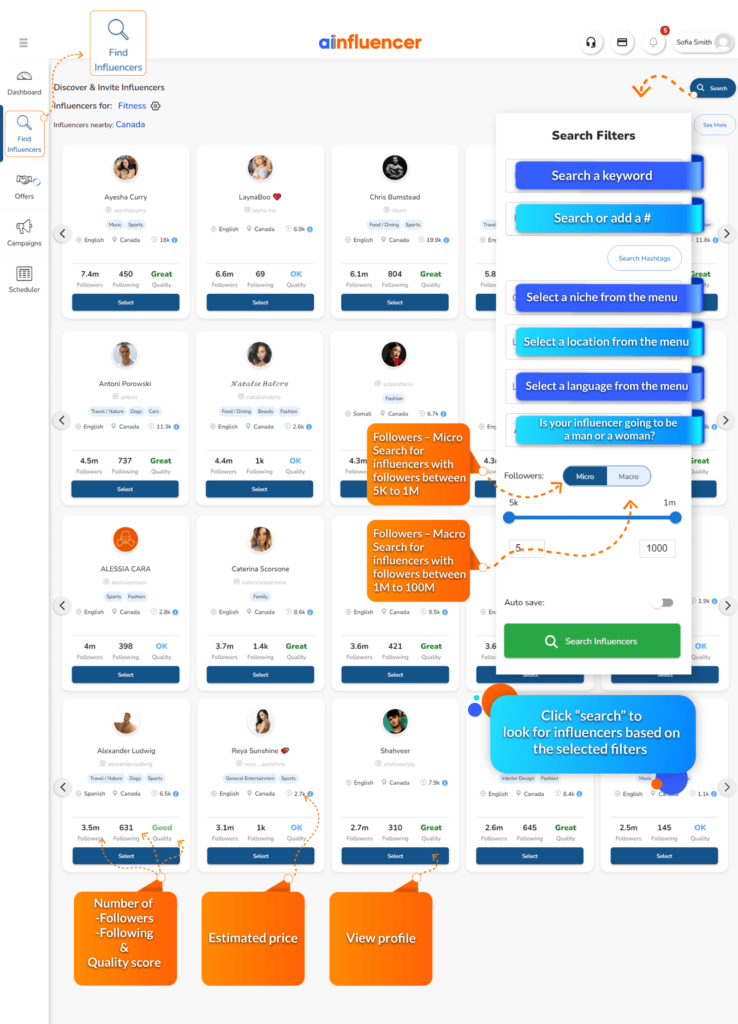 Additionally, you can negotiate with them for a price that works for both of you.
For this reason, Ainfluencer does not have a standard rate and lets brands and influencers negotiate a fee that works for them.
You may post a campaign in the marketplace soliciting influencers to collaborate with you or search the influencer database for the influencers you need.
Let's look at this video to learn about Ainfluencer and how to use it to discover Instagram influencers.
The success of your brand's campaign will depend on how well you plan to integrate influencer marketing and experience marketing. Consider implementing the following ideas and suggestions to get the best result and the most out of your brand's experiential campaign.
1- Create a Perfect Mix of Micro and Macro Influencers
According to Vicki Surprise, VP of Experiential Marketing at BI Worldwide, the right combination of micro and macro influencers may make or break a campaign.
Macro Influencers with a large following can generate much interest for your campaign. Involving macro influencers helps boost interest in your marketing initiative. If you want to get the attention of the influencer's followers, you need to come up with some entertaining and unique ways to interact with your brand. Giveaways and the ability to pick a specific flavor are examples.
Meanwhile, micro influencers tend to be well-known in their immediate vicinity and attract between 10K and 50K followers. Having micro influencers present at the event will be a more cost-effective option since they significantly boost attendance. Furthermore, influencers can promote deeper engagement if they give insights, tricks, and knowledge that are pertinent to the experience that your business creates.
2- Organize an Exclusive Event for Influencers
Your brand should hold a soft launch or invitation-only event for influencers to test the waters with experiential marketing for your company before going public. Select your influencers with care, and include those already interested in your brand.
Please participate in the event fully with them. You must give them clear instructions on what you want them to produce. However, they should be allowed some leeway to express themselves and use whatever methods they deem effective in engaging the target audience.
Let influential people weigh in on the event with their thoughts later on. They can get feedback from themselves and their viewers' reactions. You can make tweaks and adjustments to the event before it officially opens to the public, allowing you to make it the best it can be.
3- Utilize Influencer-Generated Content for the Post-Event
By advertising and attending your brand's event before it's accessible to the public, influencers and content creators are more likely to launch user-generated content. Make sure your brand owns the rights to the content these influencers create as part of a marketing agreement.
It would be best if you took advantage of the possibility of repurposing their content in your current advertising campaigns. It might save money and produce more genuine, engaging material for your audience.
You can use this influencer-generated material to keep the influencers you hired active and the buzz surrounding your experiential marketing campaign alive.
The Benefits of Experiential Marketing
Here are 5 of the top benefits experiential marketing could give you on a silver plate.
1- Try products out in a different context
Experiential marketing aims to provide customers with a comprehensive understanding of a product. Brands that exist exclusively online, such as direct-to-consumer and eCommerce marketing, would benefit significantly from this.
It's important to consider all five senses while marketing an event to the public.
Sight – Make sure the setting is colorful and lively; the more "Instagrammable," the better.
Touch – Consumers will be more likely to buy your goods if they can put their hands on them and use them. If that isn't an option, ensure your guests leave with a takeaway.
Smell – Scent is very significant in the marketing of food products. Make something new if you can, so others may get a whiff of your inspiration as they walk past your store.
Taste – Having something good to eat or drink at your event will make it more memorable, even if you aren't a food or beverage brand.
Sound – If your product necessitates the use of sound, give your customers a first-rate listening experience. If not, at least put together a good playlist or hire a band.
2- Share the backstory of your company
Experience marketing is an excellent way to introduce your brand to people. Why did you decide to launch this business? What do you hold yourself committed to? What is your enthusiasm?
3- Produce high-quality leads
In the time leading up to your event, try getting as many names and email addresses as possible. Following the event, you'll have a great list of prospects to retarget with ads once you've compiled a list of contacts who have expressed interest.
Remember to keep gathering information on attendees during the event. Consider it a chance to make connections. Anyone could be a potential customer or ardent supporter of your company.
4- Gather earned media and user-generated content
If the event is successful, there will be numerous opportunities to gather UGC. On the other hand, you shouldn't limit your invite list to the "typical" customers.
Consider contacting nearby journalists and bloggers to fill them in on the who, what, where, and why. It's great if your event can inspire individuals to make content in multiple ways.
5- An excellent pretext for a celebration
Simply put, your event's success depends on its attendees' enjoyment. Careful preparation is essential; you shouldn't let the experience overwhelm you. Consider it a chance to meet together some people who share your interests and have some fun.
6 Experiential Marketing With Influencers On the Scene
Here are six experiential marketing examples accomplished with the help of influencers:
1. The IKEA sleepover
The first experiential marketing example is the IKEA sleepover. To help educate people on how to obtain a good night's sleep, IKEA UK held a sleepover at one of their stores in Essex back in 2011. More than a hundred lucky winners slept over at a party hosted by reality TV star Sam Faiers, who served them hot cocoa and read them stories before bed. Numerous earned media opportunities were created for IKEA as a result of the event, and imitations of it have since been held worldwide.
2. Sprite's pop-up shower
In 2012, Sprite hosted a pop-up event at a beach in Rio de Janeiro where beachgoers could taste the soda fountain era. The company constructed a gigantic soda fountain with working nozzles to drench anyone who dared stand in its path. Because of this one-of-a-kind occurrence, Sprite became the focus of widespread media attention.
3. Tinder Pride Slide
Tinder 2019 built a 30-foot "Pride Slide" at New York City Pride celebrations, with the slogan "Slide Into Your Senators" printed across it. No anti-discrimination laws were in place to protect the LGBTQ+ community in 30 states, as shown by the slide's length. Tinder gave $10 to the Equal Rights Amendment campaign for each individual who went down the slide. All through that summer's celebration, they also gave away free ads to groups that helped the LGBTQ+ community.
4. Netflix's Little Italy takeover
To promote the premiere of The Irishman in 2019, Netflix completely redesigned a historic section of New York City. Several "wise guys" from the 1970s, movie clips from the phone booths, and articles about the notorious Jimmy Hoffa were all part of the makeover.
5. KFC x Jack Harlow
You may wonder what Jack Harlow, a prominent hip-hop singer, the most popular fried chicken brand in America, and experiential marketing have in common. KFC's cooperation with Kentucky's multicultural Agency, Nimbus, began in 2021 and will last for 12 months.
The first KFC x Jack Harlow food truck debuted on December 13, 2021, in Louisville, Kentucky, before the Grammy winner's debut performance. Then, big rigs drove around town on December 15 and 16, blasting Harlow's tunes.
The partnership's second stage began in March 2022, when customers in certain areas were offered the option of ordering Jack's favorites via the KFC app or website and having them ready for quick pickup. After parking in one of the restaurant's VIP spaces, patrons may make their way inside to the Quick Pickup shelf, where they can order their food to be prepared and ready in just minutes.
6. Doc McStuffins Check-up
Typically airing on Disney Jr., Doc McStuffins is aimed at kids between the ages of two and ten. A young girl named Doc (played by a 6-year-old) runs a garden clinic where she treats toys. Disney Jr. chose to put its daily audience of millions in Doc's shoes by re-creating the identical setting where he repairs toys.
In this interactive marketing campaign, youngsters are asked to check up on larger-than-life teddy bears in need of a diagnosis for 10 minutes at Doc McStuffins check-up clinics that will be touring the country.
Kids can pass the time with coloring books, puzzles, and Doc McStuffins toys while they wait for their turn to play doctor. Each kid gets a "Doc is in the House" door hanger and a Doc McStuffins certificate after they finish their diagnosis.
How To Create An Experiential Marketing Campaign With influencers?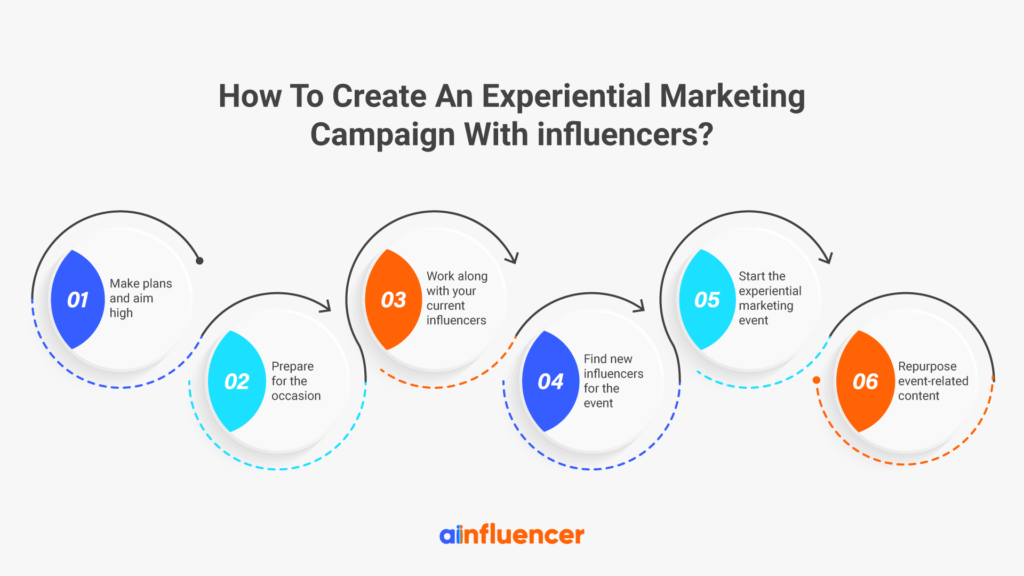 Here are six steps on how to create an experiential marketing campaign with the help of content creators or influencers:
Step 1: Make plans and aim high
Defining what "success" after your event looks like is the first step in any influencer marketing strategy. Whatever the objective, you should always begin with clear goals.
Experiential marketing events typically aim to accomplish the following:
Create a brand-new category of items.
Boost the market share of certain items.
You could improve how people feel about the brand.
Give your thoughts on a recent event.
Raise consumers' recognition of the company or its products.
Make user-generated content.
Boost the number of visitors to your website.
Goal-setting is the first step in developing a plan of action, including a spending plan and a list of KPIs.
Step 2: Prepare for the occasion
If you were to organize an event, what would it be like? Will we meet face-to-face? Live-streamed? Are we talking about a contest that takes place entirely online?
Make sure everyone knows what they're supposed to be doing once a decision has been made so that the event goes off without a hitch. Everyone who might have a hand in organizing or running the event should be invited.
It would help if you started thinking of hashtags, giveaways, and anything else that can assist promote the event after you've assigned tasks to your team and influencers.
If you want the big day to go off without a hitch, you should start planning for at least two months.
Step 3: Work along with your current influencers
Get your key opinion leaders involved early in the planning process, so they know you expect them to play a significant role in every step.
Keep in mind that your influencers are your best bet when it comes to creating engaging content for your target audience. Please take advantage of that by giving them room to express their individuality in the preparation process and generate buzz among their fanbase.
Brand ambassadors can be chosen from the existing group of influencers. Each creator's responsibilities should be spelled out in a separate campaign brief.
Step 4: Find new influencers for the event
During the planning stages, you may need the assistance of supplementary influencers to successfully pull off your event and attract a larger number of attendees.
Before you start reaching out to fresh leads, ask yourself these questions:
Do the goals and ideals of this potential influencer coincide with my own?
Have they been constant in their attempts to interact with their target demographic?
I need to see how they'll benefit my campaign.
How well do they complement my current circle of influencers?
Are they simple to collaborate with?
Please verify that your potential participants fulfill your requirements before including them in the campaign. A lack of compatibility between an influencer and your specific goals can cause significant headaches when organizing an event.
Step 5: Start the experiential marketing event
In the future, you will be able to observe the outcomes of your current plans. Ensure you have someone keeping tabs on the social media activity (check-ins, hashtags, tags, and more).
To ensure that all of your brand ambassadors are doing well, it's a good idea to periodically check in with them to see if they have any queries or need additional materials.
You and your team can continue capturing photos and recording videos even if your influencers share frequently. There is no way around it; you must share material created for your media outlets.
Step 6: Repurpose event-related content
Make sure you hold the rights to your influencers' posts before entering into any campaign agreements with them. By repurposing content in this way, you can use it for ongoing SMM and PPC campaigns.
Not only is content created by influencers more genuine, but it also costs less than having a design team create advertisements on your behalf. Moreover, repurposing content from the live event may extend the life of your influencer and experiential marketing.
3 Awesome Ideas For Experiential Marketing Events
Now, here are four great ideas for experiential marketing events that brands should check out for inspiration:
1- Use Pop-ups
As shown in the example of Sprite's use of experiential marketing events, Pop-ups are temporary stores or events that brands hold to achieve marketing or sales objectives. They may be designed to increase brand awareness, gather user input, foster community, find brand ambassadors, or boost sales.
They frequently revolve around a particular characteristic of a brand or a specific audience segment.
2- Host Classes and Workshops
The three main components of an experiential marketing campaign are participation, experience, and added value, and it's challenging to think of a more specific example than a class.
Inviting your audience to learn with you (and, in turn, to learn about your business) is a terrific approach to engage them, whether the class is held in-person, online, or in a hybrid format.
3- Create Product Showcases and Launches
Another brand that uses experiential marketing events in order to launch its products is Apple. They were always better than most businesses at transforming a product launch into a whole event.
The opportunity to display the aesthetic and values of their brand, create incredible sensory experiences for their audience, and provide participants with an inside look at what they've been working on are supplied by their superbly staged Apple Events.
Product demonstrations and experiential marketing efforts can both be practical together. Experiential marketing can include trade exhibitions, product expos, and even product videos on owned media channels.
What do the best experiential marketing campaigns have in common?
Campaigns for experiential marketing can succeed or fail. Four characteristics typically characterize success:
1- Specific, quantifiable objectives
Like any strategy, your campaign's effectiveness depends on understanding its motivations. Everything will depend on what you're attempting to accomplish, from the type of experience to the money. Increase brand recognition? Reach out to a new audience? Your aims will determine your campaign's setup and success measures.
2- Reliability and legitimacy
Louis Vuitton needed help to stage IKEA's interactive slumber play successfully. Louis Vuitton's extravagant pop-up display was too much for IKEA to handle. Strong brand values are the foundation of effective experiential marketing initiatives, including experiences that are true to the brand.
3- Participation and commitment
Interactive campaigns for experience marketing are thriving. They create an environment where their audience may participate, ask questions, take pictures, and add to the experience. Experiential marketing is more about creating a narrative with a brand's audience than making a point—our product is good, or our brand is excellent.
The finest ads encourage individuals to continue sharing that narrative on their platforms, opening up a world of social sharing and producing tons of user-generated content (UGC).
4- Data-driven understanding
Data for experience marketing might range from post-event surveys to demographic data from registration. The most effective advertisements examine such data and use it to segment consumers, personalize experiences, deal with problems or suggestions, and assess impact.
Conclusion
Your customers care most about the story that your brand can tell about your products and services. Marketers have found success with influencers because they are skilled storytellers. Providing influencers with an experiential marketing event allows them to popularize an experience that influencers can only have through your business.
1. Is influencer marketing experiential marketing?
Most often, influencers will utilize social media marketing to reach their audience of admirers. However, marketers may create a more dynamic strategy that connects with consumers on a deeper level by combining social media marketing with experiential marketing.
2. What type of marketing do influencers use?
Advertising on social media.
An influencer is a person who can sway the opinions of others. One type of social media advertising is influencer marketing, in which a brand pays an individual to endorse the brand's product or service to the individual's fan base. The first examples of influencer marketing were celebrity endorsements.
3. What is an example of experiential marketing?
Business events, festivals, trade show games, booths, and award shows are all examples of experiential marketing.