Did you know that Instagram stories are 80 times more common than normal posts? Well, I think that's enough reason for you to decide to use this amazing option.
But why is the story so popular? Because the Instagram story is created exactly for the times when you want to share your daily experiences and current events with others. Share what you like with your friends or audience. In fact, Instagram stories are compelling short stories that followers like to see.
If you're not using Instagram Stories for business, you will lose a huge opportunity.
What is Instagram Story?
As the name defines, the Instagram story is actually a short story. Instagram Stories—a camera-first full-screen visual format that disappears after 24 hours, modeled after Snapchat—doesn't show up in the Instagram news feed. This means that users can post easily and rapidly to their followers without worrying about overloading them.
Of course, this is not the end of the story. In Story, you can take pictures and videos attractive with different effects, put different emoticons on them, color them, and in fact, you will have so many features in Instagram Stories that you may feel that you have a TV channel and you can do whatever you want.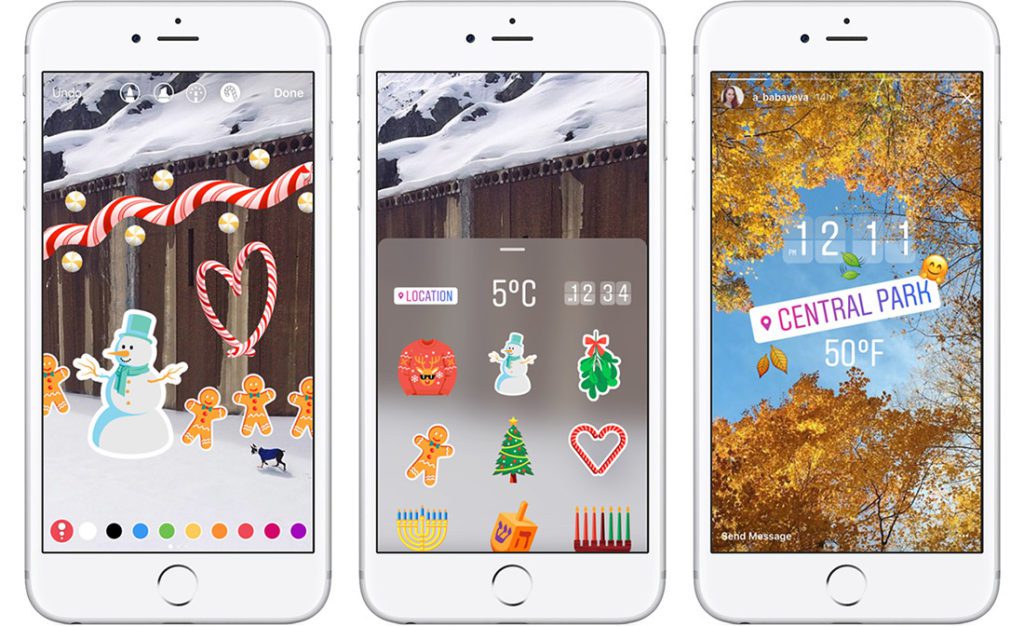 How to post Instagram Stories?
To create a story on Instagram, you have to tap the camera icon at the top left-hand corner of the screen, or you can reveal the story camera by simply swiping left.
Once the story camera is open you can take a photo or record a video, just as you would normally on Instagram. After you've recorded your video or taken a photo, you can use a range of filters and also add text and drawings to your content.
How to make Instagram Stories?
In the app, click the camera icon in the top left corner to access the Instagram Stories camera
Tap the white circle at the bottom of the screen to take a picture, OR
Press and hold the white circle to record video, OR
Swipe up (or select the square gallery icon on the left) to use pre-existing visuals
At the bottom of the screen, you can select a format to experiment with: Type, Music, Live, Boomerang, Superzoom, Focus, or Hands-free.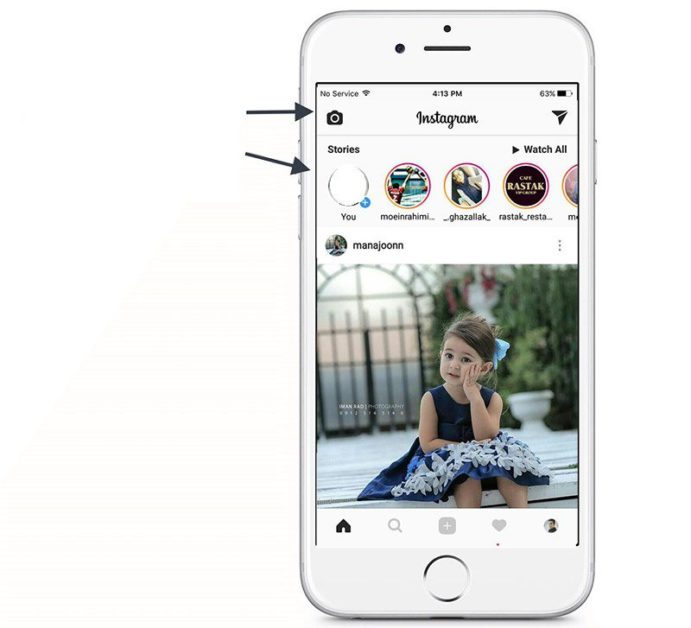 What format should we use to publish the story?
One of the most important features in the Instagram story section are the various formats that a story post can have. When your camera is active in the story section, you have access to these options at the bottom of the page (below the shutter button), and you can move between them by moving your finger.
Normal Mode: A photo or video is perfectly normal, just like when you took a photo with your phone's camera app. In this mode, tap the button to capture the photo and hold it down for up to 15 seconds to record the video.
Boomerang mode: A GIF-style video that frequently moves back and forth. Boomerang mode is a creative way to capture and publish your fun moments and naturally has a lot of fans.
Hands-free mode: This mode is similar to normal mode. The only difference is that it is only for video and you no longer need to hold the camera button while recording. You only tap once and then press it again whenever you try to stop recording. Note that there is a 15-second limit for you here as well.
Live Mode: In this mode, your video will be streamed live to your audience. We will talk more about this feature in the next section.
How do I optimize my Instagram stories?
The power of Stickers
Instagram Stories stickers are interesting and enable you to add extra context to your Instagram Stories content.
Instagram Stories also a neat interactive poll sticker that lets you ask a question and see results from your friends and followers as they vote.
After you've taken a photo or video for your story, open up the Stickers menu and select the "poll" sticker.
Once you've tapped the "poll" sticker, Instagram will prompt you to write a question and customize the poll choices. After you've created your poll, post your story and your followers will be able to vote right away.
Build excitement for a big event or product release with your followers using the countdown sticker.
To add a countdown sticker to your story:
Select 'Countdown' from the sticker tray after taking a photo or video
Name your countdown
Add an end date or time and customize the color
Share your story.
Once you've created a countdown sticker, it will stay in your sticker tray to reuse in future stories until the countdown is complete. If one of your followers taps on your countdown they will get a notification when the countdown ends.
The other stickers include:
Temperature sticker: With the help of a temperature sticker, you can specify the air temperature (when your image was taken).
Time sticker: Using the clock sticker, the time when your image was taken is specified for the contact.
Day Sticker: Using the day sticker, you can specify the day your photo was taken.
Location Sticker: When you use this sticker, Instagram asks you to specify the exact location of the image so that you can tag it on the photo. Note that when you use the location sticker, others can access your post by searching for this location.
Hashtag sticker: If you want to hashtag your story, you can use this sticker. This way, your post will be visible in the hashtag search. We suggest you always use this sticker because it has a good effect on increasing your audience.
@Mention: Tag another Instagram user
Questions: Ask your audience a question, responses are sent to you as DMs
Chat: Start conversations with a group of friends right from your story
Music: Share your favorite songs to your story
Quiz: Create multiple choice quiz questions for your audience to answer
Emoji Slider: Ask questions in a fun way. Choose an emoji that represents your question and your audience can just drag the emoji to the left or right to show how they feel
How to add a sticker to your Instagram Story:
Share a photo or video to your Story (or use Create mode to work with blank background)
Tap the sticker icon at the top of your screen—it's the square that's smiling and has a folded corner
Select the type of sticker you'd like to use. Each type has its own tips and tricks that take a little bit of experimentation.
Resizing and moving stickers: You can move stickers by dragging them across your screen and resize them by pinching or expanding them with two fingers.
Instagram Stories Highlights
Stories Highlights as a way to keep your stories around for more than 24 hours.
Stories Highlights appear on your profile below your bio
Alongside Highlights, Instagram also introduced the stories archive. Stories you post are now automatically saved to your archive when they expire, so you can repost your favorite stories at any time.
To create a highlight:
Tap the "New" circle at the far left
No, you can choose any stories from your archive
Select a cover for your Highlight and give it a name
Once you're done, your highlight will appear as a circle on your profile. You can have as many highlights as you like, and they will stay on your profile until you remove them. To edit or remove a highlight, just tap and hold that highlight on your profile.
Choosing who can see your Stories
Your story follows the privacy settings of your account. If you set your account to private, your story is visible only to your followers. However, you can also easily hide your entire story from anyone you don't want to see, even if they follow you.
You can make a close friends list on Instagram and Stories with just the people you've added. To add people to your list, go to your profile and tap on "Close Friends" in the side menu. Only you can see your close friends list and no one can request to be added, so you can feel comfortable adjusting it at any time.
Instagram Stories sizes
all the thing you should know about Instagram story sizes:
Recommended image ratio: 9:16 (all feed ratios are supported, but this ratio maximizes the Stories format)
Recommended resolution: 1080×1920 (minimum resolution is 600×1067 with no maximum, though the very high resolution may increase upload times)
Maximum file size: 30MB for images, 4GB for video
Maximum video duration: 15 seconds (longer videos will be split up)
Maximum video duration for video ads: 120 seconds (note that viewers must choose to watch the full thing, so if you're going long, make it enticing)
Title-safe area: Leave a 14% title-safe area at the top and bottom (in other words, don't put text or logos in the top or bottom 250 pixels of the Story, to avoid overlapping with the app's interface)