Everything you need to know about Instagram Story Ads
If you are a social media marketer, you must pay special attention to Instagram. Instagram is now one of the top digital and social marketing platforms in the world, along with Facebook and YouTube, and is much more powerful than Twitter and Snap Chat.
Instagram has been developing rapidly in recent years, and by providing frequent updates, it is able to gain more active users from around the world during its years of activity. A community that is growing day by day and welcomes new features in every section is a good place for marketing.
Advertising on Instagram is categorized in different ways. In order to be able to have effective ads on Instagram, you must be familiar with these methods; one of these methods is advertising in the Instagram story, which we try to talk more about in this article. If you want to learn more about story ads, one of the most effective methods of advertising on Instagram is to place your ads in the story. This has many benefits, which I will talk more about later so do not miss the rest of this article.
What are Instagram Story Ads?
The Instagram story ads appear in between the organic stories posted by Instagram users. Stories Ads are full screen, vertical, and will display up to 15 seconds for videos and up to 5 seconds for single images each time they're served. These ads are unique, due to the possibility to craft ads with links and make them clickable.
As a result, advertisers can drive results for the bottom end of the marketing funnel. Unlike the organic Instagram Stories that only last for 24 hours, these ads are not limited in life span. Story ads exist as dividers between Stories themselves but, like News Feed ads, it's difficult to tell them apart from the rest of the organic content within the format: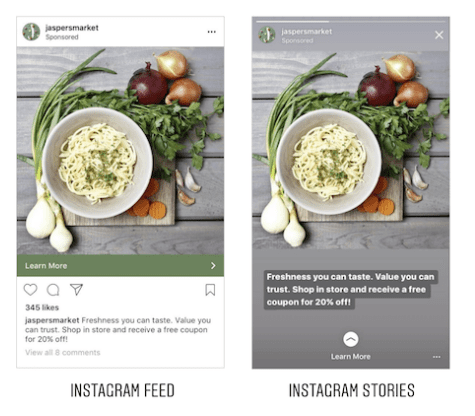 Why Story Ads Are Important?
Aside from the "Sponsored" denotation, and, presumably, an increase in production value, they look just like organic posts. As you'll also notice in the above image, Story ads give you the ability to link within your post—which, in the world of organic posts, is a function reserved for accounts that are either verified or have more than 10,000 followers.
To access your post link, users need merely swipe up on your CTA arrow, at which point they'll be taken to your landing page. If this is functionality you're interested in—if you want to send prospects to your product page, to your blog, or to a lead form—you were at one time limited to the four of the six marketing objectives for which Story ads were available. There are now seven objectives for which Instagram Story ads are available (Brand Awareness was added recently), and you can add CTA links to any of them:
Brand Awareness: Increase awareness for your brand by finding people more likely to be interested in it.
Reach: Show your ad to the maximum number of people.
Video views: Get more people to view your video content.
Conversions: Drive valuable actions on your app or website.
App installs: Get more people to install your app.
Lead Generation: Drive sales leads like email addresses and phone numbers.
Traffic: Send more people to your website.
Types of Instagram Story ads
Image Ads
Image ads may seem a little static to seem too exciting, but there's a lot you can do to jazz it up. You can always build the add within the Story upload feature (camera button on the top right of your home screen) and add all your favorite add-on elements – stickers, polls, location, doodles, etc.
This can then be saved and launched separately as a campaign – this way your ad content can blend in excellently with other posts, carrying the look and feel of an organic post, even if it carries the "sponsored" tag.
Video Ads
This has a higher chance of doing well here in Stories, since Instagrammers always have their volumes up, thanks to the copious video content going around. The network is also seeing increased visibility of video content, so the time is ripe for promoting video ads, using this space.
Naturally, both these formats have their own little specifications and guidelines. But we didn't want you to sweat the small stuff, so here's a chart for your quick and easy reference anytime you're creating ad content, or just any branded Story content for your business on Instagram.
How to Create Instagram Story Ads?
Head to Facebook Ad Manager
In order to run an ad on Instagram, you will need a Facebook Page for your business, since all advertisements for both platforms are routed through a single portal, the Facebook Ad Manager.
What do you want to accomplish through your ad campaign? You can choose from several objectives for Stories ads including reach, brand awareness, traffic, engagement, app installs, video views, lead generation, and conversions.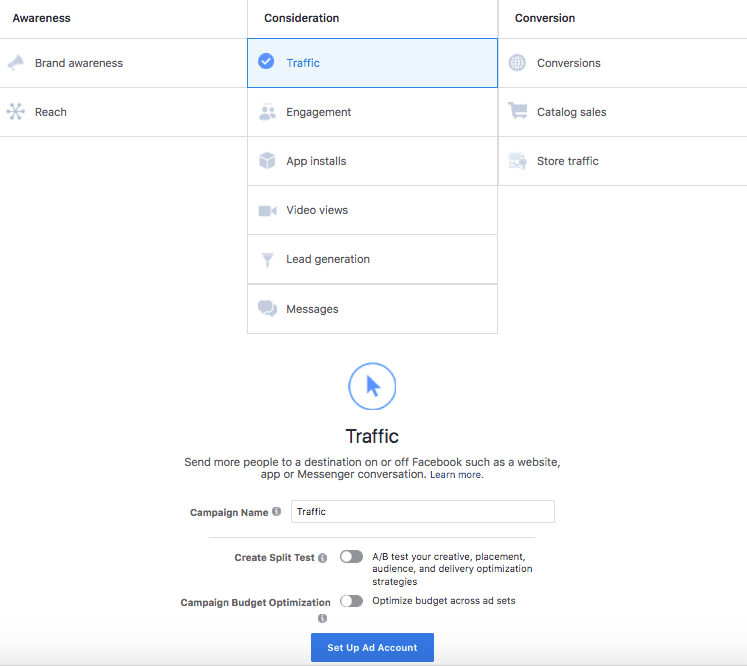 The next step is to create ad content that will fulfill your objective. This could either be images or videos along with other creative elements like an ad headline and copy.
You have three sizing formats to choose from when creating your story ad: Square (1:1), Landscape (1.91:1), and Vertical (4:5). The recommended resolution is 1080 x 1920 pixels, but you can go as low as 600 x 1067 if you have to. Other specs to be aware of:
Image Creative
File type: .jpg or .png
File size: 30MB max
Length: Images show for 5 seconds by default
Video Creative
File type: .mp4 or .mov
File size: 4GB max
Length: Up to 15 seconds
Supported codecs: H.264, VP8
In the next step, you can choose to target your ad campaign to specific people that are relevant to the campaign and your business at large.
Use Facebook Custom Audiences to remarket to prospects that are familiar with your brand. Using Custom Audiences, you can target Instagram users based on the five following segments:
Customer File: Email addresses, phone numbers, or any other information you've acquired in lead generation.
Website Traffic: People who have visited your website, blog, or a specific landing page.
App Activity: People who have interacted with your app.
Offline Activity: People who have interacted with your business, either in-store or by phone.
Engagement: People who have engaged with your content on Facebook or Instagram.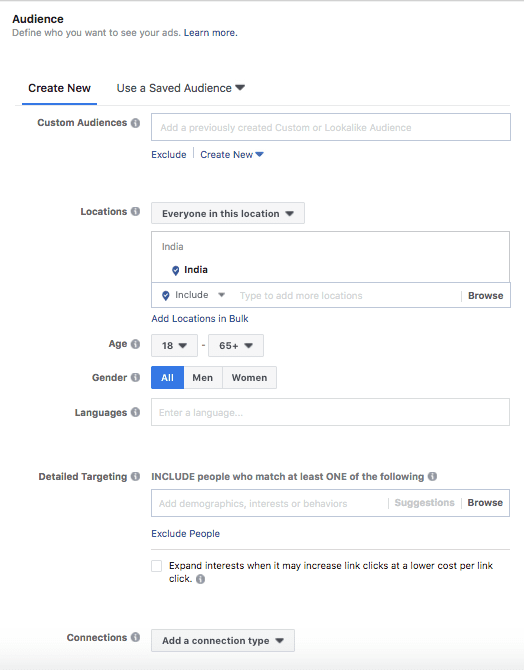 There are two ways to go about this. You could sit back and let Facebook automation do its thing, with 'automatic placements' that are decided by the network's algorithm.
Or you could specify the ad placements yourself—we recommend this option. While it's easier to let FB do all the work, only you know the nitty-gritty of what's working for your brand, and can take a more nuanced approach to your ad spending. This is how it looks.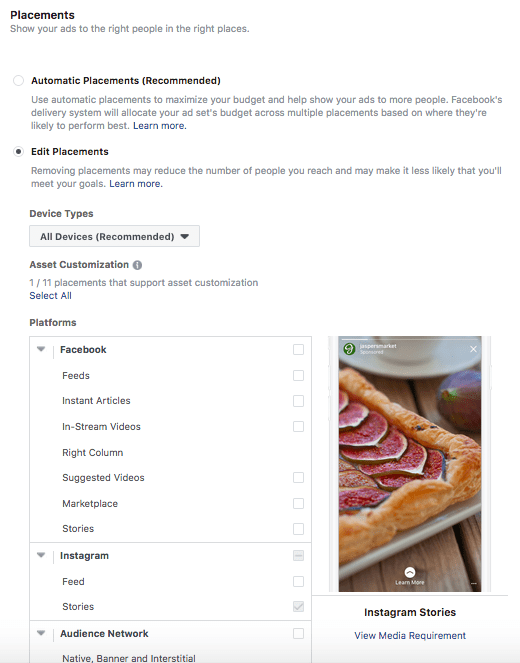 Conclusion
These basic rules and best practices can help you get started with successful Instagram Story ads that convert. But that doesn't mean you should stop there. Keep testing and trying out different ad formats, messaging, visuals, targeting options, etc. to see what works best for your brand.