In the world of social media, Instagram has had immense development in the past decade. This fantastic platform has become a source of income for many content creators and influencers worldwide. These individuals use a tool like Instagram money calculator to determine their revenue.
Nano-influencers to mega-influencers earn a good amount of money by collaborating with brands for partnership on influencer marketing platforms, selling products, using affiliate marketing, etc. This amount ranges from $50 to a million dollars per post according to their followers and engagement rate (depending on the influencer's status).
And this is when an Instagram Money Calculator pops up to save significant time for these content creators in estimating their potential earnings.
In this article, we'll dig deep into the core of Instagram money calculators and how these third-party tools estimate considering specific metrics.
What Is Instagram Influencer Marketing?
While scrolling through Instagram, you will spot promotions, advertisements, partnerships, and many more from the influencers you follow. These are the collaborations influencers have with brands.
The concept is simple and understandable. Various companies and brands use Instagram influencers to promote products with the best brand awareness strategies. This cooperation is known as Instagram influencer marketing.
What Is Instagram Money Calculator?
Content creators usually start businesses with numerous brands simultaneously. These collaborations have different income rates and profits for them. They often need clarification with the earning evaluation. This moment is where Instagram money calculator free can help!
Instagram money calculator is an app or web app that allows you to estimate the amount of money you earn as an influencer or content creator on Instagram. This clever tool considers the account's followers count (number of followers) and engagement rates (number of likes, shares, comments, saves, etc.) to calculate and provide an imprecise income.
However, certain factors might affect this calculation, including niche, target markets, fake followers, quality of the content, ad format, and market trends. You need to know that each of these aspects can alter the final estimation results.
Therefore, users must consider these while using the Instagram money calculator.
In addition to the apps or web apps, there are other ways to estimate social media income, including spreadsheet templates, analytics platforms, and manual calculations that content creators can use for evaluation.
Furthermore, content creators that are willing to evaluate their earnings on TikTok can use the TikTok money calculator.
Stay with us while we examine 5 of the best Instagram money calculators below.
1. Influencermarketinghub: An Instagram Influencer Sponsored Post Money Calculator
Want to calculate the amount of money you make with each post/Reel? Try Influencermarketinghub, where the estimation is online and free.
This Instagram influencer money calculator lets you evaluate your earnings directly on its website.
Another perfect reason you should use Influencermarketinghub is the factors it considers during its calculation. It examines your follower growth via Instagram Follower Growth Tracker and checks your fake followers with Instagram Fake Follower Checker, providing you with your account statistics.
Despite these, you should know that the Instagram calculator money tool is slow and time-consuming to give results.
2. InBeat: An Instagram Influencer Money Calculator Tool
Find your engagement rates, follower count, and collaboration cost with this online Instagram money calculator application.
InBeat is an easy-to-use Instagram followers money calculator with a simple UI that you can use to achieve your potential income. This online application has three free toolkits: an engagement rate calculator, a fake follower checker, and a collaboration cost calculator.
In addition, it also offers other premium influencer marketing features for a specific price.
Nevertheless, InBeat seems to be a good Instagram post money calculator for estimation.
3. NinjaOutreach: An Instagram Influencer Earnings Calculator
Manage your Instagram account and campaigns with simple steps. Use NinjaOutreach, an Instagram influencer money calculator, to find out how much you make with each post, Reel, story, and more!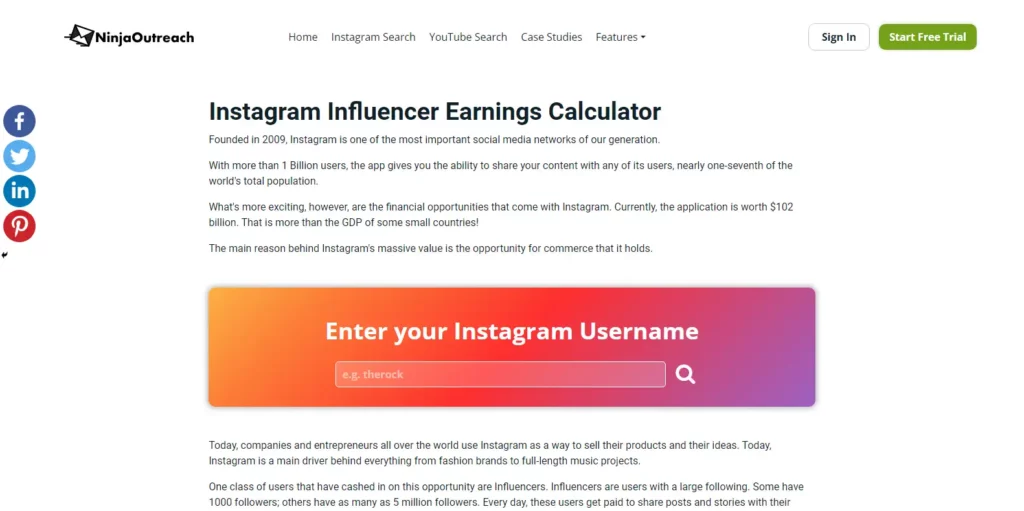 NinjaOutreach is a powerful online tool where you can enter your Instagram username and evaluate the amount of money you can make using specific factors.
The online calculator claims to estimate your income with audience count, content type, and campaign period. This estimation means having more followers, posting top-quality content, and extending post duration (not deleting it) will have more potential earnings!
For instance, consider the influencers Khaby Lame (@Khaby00), with nearly 80 million followers, and Daniel Negreanu (@Dnegspoker), with a quarter million followers. They collaborate with well-known brands for promotions and more. The number of followers Khaby has is incomparable to Daniel's subscribers.
Therefore, Khaby makes an appreciable amount of money compared to Daniel. This potential income also depends on the time they keep the ads and promotions and the quality of the content.
Sadly, this professional calculating tool is not free and has three premium memberships, including:
Flex (for individuals),

For a monthly payment: $389/ per month
For a yearly payment: $155/ per month (60% off)

Silver (for professionals),

For a monthly payment: $589/ per month
For a yearly payment: $255/ per month (60% off)

Silver Plus (for businesses).

For a monthly payment: $849/ per month
For a yearly payment: $459/ per month (60% off)
Despite not being free, NinjaOutreach offers a free trial for users to get familiar with the app's features and benefits.
Furthermore, content creators can use other features of NinjaOutreach and calculate their earnings on YouTube and TikTok with the TikTok money calculator or YouTube money calculator.
4. HypeAuditor: A Free Instagram Money Calculator
The simple, free-to-use, and complete Instagram earning calculator you are looking for is here. HypeAuditor is another tool you can use to calculate your potential income thoroughly.
It is a free online calculator with a user-friendly interface that allows Instagrammers to estimate earnings according to the type of content.
Despite being free, the Instagram Reels money calculator has many paid features.
By visiting the HypeAuditor website, you can enter your Instagram username, select the content type (Reel, Post, Story, and Live), and mention your follower counts and engagement rate.
In addition, the tool has advanced options where you can choose the size of the brand/sponsor, provide rights to your content, whitelist the content, etc.
After entering your information, you can calculate your earnings. Simple and easy!
With HypeAuditor, you can also find out how much you make on TikTok and YouTube.
5. TheLeap: A Good Instagram Followers Money Calculator
Are you willing to know how much you make with Instagram? Start estimating your earnings with TheLeap and get specific details.
TheLeap by THINKIFIC is an intelligent easy-to-use tool that allows you to calculate your income. This web application considers certain metrics, including your audience and engagement rate (similar to other calculators), and provides an imprecise result.
Although the software application is remarkable, they are currently in a private beta phase. You can fill out a form to sign up and get early access.
By entering your email, full name, social media platform, and username, you can get on the waitlist to be the first to access the tool.
If you don't know where brands and influencers connect to collaborate? No need to worry. These influencers and companies can link on influencer marketing platforms, like Ainfluencer. Ainfluencer is a free DIY influencer marketplace where brands can find their ideal influencer perfect for their niche, and influencers can cooperate with top companies for sponsorships. Click the button below and sign up now for free!
Conclusion
In today's digital marketing, Instagram has become the primary source of income for countless content creators. Whether you're a nano-influencer or a mega-influencer, you can make a substantial amount of money with brand sponsorships, promotions, ads, etc.
At this moment, when you are cooperating with various brands, you require an Instagram reel money calculator or Instagram earning calculator to evaluate how much you are receiving.
With these tools, you can figure out how much you earn per post and manage a successful business.
However, you should consider that the money calculator Instagram tools do not give a precise amount but provide an approximate result.
FAQs
1. Are Instagram Earning Calculators Free?
Most of these websites offer free-to-use tools with limitations. Instagrammers can use these to estimate their income but don't have further options. To get additional features or advanced options, you require a premium membership.
In addition, some web apps are not free, but a free trial is available for users to get familiar with the estimation tool.
2. Is Instagram Money Calculator Easy To Use?
Instagram cost calculators are easy-to-use software programs with a straightforward user interface. Content creators can simply enter their usernames or follower counts and evaluate their potential income accordingly.
3. Can I Only Calculate My Reels Using Instagram Earning Calculator?
Yes, some of these estimating tools have an option where you can select the type of post you want to calculate.
Moreover, there are Instagram Reels money calculators where you can evaluate your Reels earnings exclusively.
4. How Can I Connect With Brands/Sponsors To Make Money And Use Instagram Cost Calculators?
Smart question! You can link with numerous brands/sponsors on influencer marketing platforms and start successful collaborations. After cooperating with companies, you can calculate your potential earnings using Instagram post money calculators.
If you're wondering which platform to start with? We recommend Ainfluencer, one of the best influencer marketing platforms worldwide.
5. Are Instagram Income Rate Calculators Safe To Use?
Not all Instagram money calculator tools are created equal. Some of these third-party programs are risky, and you should approach them with caution. They might ask for personal information, provide wrong results, or scam and hack.