In this digital age, the art world has changed dramatically. The traditional way of selling art is no longer as efficient as it used to be. In addition, the internet has allowed selling art online and a much greater variety of art styles and mediums to be showcased, drawing even more buyers to the market.
To be successful, you need to understand how to sell art online, how the art market works, and, more importantly, increase brand engagement. This article will discuss the different best ways to sell art online and make money in 2023.
20 different ways to market and sell art online
Here you learn how to sell art online and make money in many different ways. Make sure you try these options or feel free to mix and match them to develop multiple income streams.
1. Sell art on Instagram
If you're interested in selling artwork online through social media, Instagram may be an excellent fit for you. Instagram is a social media app that specializes in sharing images and videos. The platform has 2 billion active users, and it is constantly growing. Instagram gives you the opportunity to become acquainted with other artists and fans.
But you need to know how to increase brand awareness and reach more people!
How To Advertise Your Artwork On Instagram
To advertise your art on Instagram, it's simplest to use influencer marketing these days.
Ainfluencer is a free DIY influencer marketplace that connects brands and influencers. You can Sign up free of charge on Ainfluencer to find influencers who've been verified and look narrowly focused on niche requirements.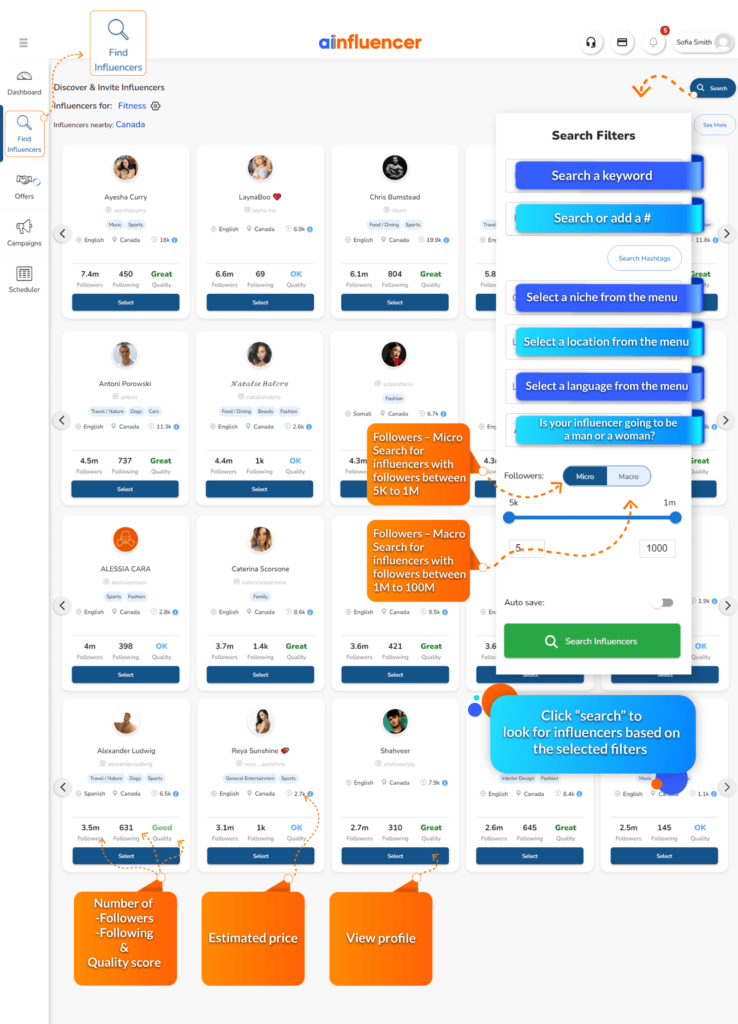 You can contact niche Influencers to help market your art to their focused fans. Once you reach your goal, you've obtained consumers, which in turn will improve your art selling online on Instagram.
Also, as your Instagram following grows, companies might be willing to pay you to post ads in your content. In that case, you can register with AInfluencer as an Influencer and collaborate with various brands.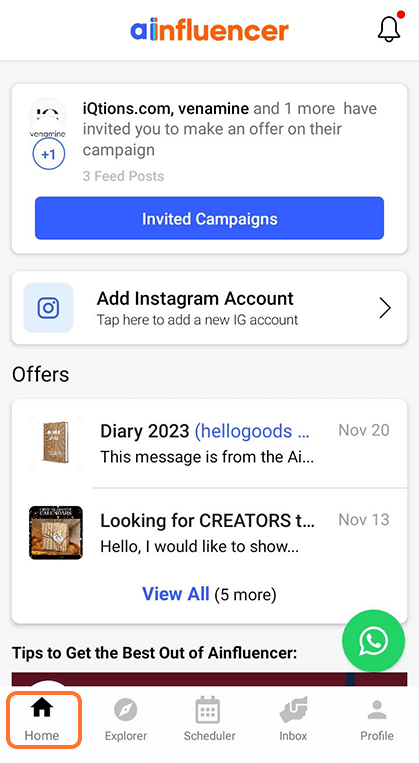 2. Set up your online store
Setting up an online store is an excellent way to sell art online and promote your items. This can be set up quickly and easily, letting you take complete control of your sales and inventory.
The first thing is to set up your website or blog to display your work. A website can be made simply with a free service such as WordPress or Wix.
Market your online art store
To make your online art store successful, you need to market it correctly!
You can start by creating a website and optimizing it for search engines. You can also promote your store on social media platforms and through online directories. Additionally, you can reach out to potential customers through email marketing and paid advertising. By using a variety of marketing tactics, you can increase traffic to your store and boost sales.
3. Sell On Online Marketplaces
Nowadays, there are many platforms and marketplaces where artists can sell art online for free. This is an excellent opportunity for artists, as they can get their art in front of a large audience and may be able to make a profit.
However, it is essential to do your research before selecting a platform to sell art online.
Selling art online on marketplaces has some advantages over other methods:
Different platforms for certain types of art
A large audience of potential buyers
Handling logistics like shipping and payment processing
4. Online galleries
Showing your works in online art galleries allows you to expand your target audience. Aside from saving the hassles of starting your own online business, online galleries allow you to gain access to a large target audience. Reliable online galleries allow you to display your works to a large, established user base that is actively looking to buy art.
Before enrolling with an online gallery, ensure it is reputable and offers:
Promotions
Payment protection
Guidance throughout the process
One of the best online galleries and marketplaces is Artfinder.
Having established the sustainability and accessibility of art, Artfinder provides artists a way to make a living while doing what they love the most.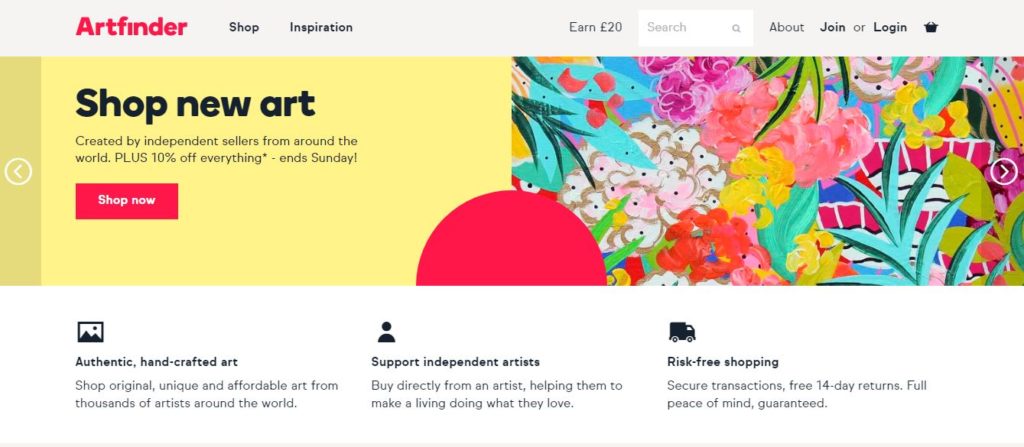 5. Teach art online
As an artist, you can share your skills and knowledge by teaching art online. This is a great way to connect with other artists and help them learn new techniques. You can also build your portfolio and share your artwork with others.
Try teaching and selling art online by giving lessons or creating courses through video chat programs like Skype or posting lessons and artwork on websites like YouTube or Flickr.
6. Write an art blog
If you're an artist, whether experienced or amateur, you should start a blog to share your work with the world.
Starting a blog is a terrific way to do it and an easy way to improve your expertise.
You can use your blog to sell your latest products, get to know your customers and potential customers, and so much more.
In addition to selling your art, you can use your blog to earn a commission promoting other people's products. This is called affiliate marketing.
7. Sell art on Facebook groups
Facebook groups are popular among those with artistic talent. Also, as an artist, you can create a community where people can go to kick start their newest projects. You can also sell your brand-new creations on the Facebook marketplace.
Lastly, since you already have a Facebook Business Page, setting up a shop that allows you to sell directly on Facebook would be easy.
8. Start a YouTube Channel
I enjoy watching artists' videos on the internet and find it very relaxing to watch the process whereby these artistic masterpieces are produced by them. Since YouTube influencer marketing is growing day by day, starting a YouTube channel to display art and culture is a great idea to expand your sales into new channels, and it is completely free!
Just set up your profiles, begin recording video clips while you create, and then hook up your work store or representative links in your profile. Once you achieve billing targets on these platforms, you'll be permitted to begin getting earnings from your income funds, advertising, and sponsorships.
9. Work on Freelance Projects
Are you an artist who is looking for more work?
If so, freelance projects may be the perfect opportunity for you. Start by looking online. Many websites allow artists to post their portfolios and search for freelance projects.
Freelance work can be a great way to:
Get your name out there and showcase your work.
Help you build your portfolio and increase personal brand awareness
It can be an excellent way to make some extra money
10. Start a Crowdfunded Project
Crowdfunding is an excellent approach to launching your product or idea and raises the necessary funds for development. Think about the items that folks want out of life and then contemplate ways you could bring those products to life. Before signing up with an organization, find out what the cost is expected to be to bring your concept to life. Not all of these are free of cost to you.
The bigger the platform you use, the greater your exposure will be. Social media and YouTube marketing are an essential part of building your campaign.
You can select from one of the following crowdfunding platforms:
-GoFundMe
-Kickstarter
-IndieGoGo
11. Collaborate with Other artists
Collaborating with other artists can be a great way to sell your art online. When you team up with another artist, you can share marketing and sale resources to help you sell more art. You can also work together to create new pieces of art, which can attract buyers who might not have been interested in your work before.
To collaborate effectively, artists need to clearly understand what they want to achieve. They should also be able to communicate effectively and work together harmoniously.
12. Selling other merchandise with your art
It's no secret that many artists supplement their income by selling prints or other merchandise with their art. But there are other ways to sell art online and make a profit. If you have an online store, you can sell other items along with your art. You can also sell your art through consignment shops or stock photo agencies. Diversifying how you sell your art can increase your profits and build a more successful business.
13. Earn passive income by selling wall art
One of the most exciting and underrated ways is to sell wall art. Wall art can be anything from paintings to photographs that can be sold online or in person. There are a few things to keep in mind when selling wall art, such as choosing the appropriate medium and price point, but once you get started, it's a great way to make passive income.
14. Sell art on Etsy
Selling art on Etsy can be a great way to make money and share your art with the world. Etsy is a website where people can sell handmade or vintage items. It's a great place to sell your art because so many people visit the website looking for unique items.
Artists selling their work on Etsy can expect a lot of traffic from potential buyers.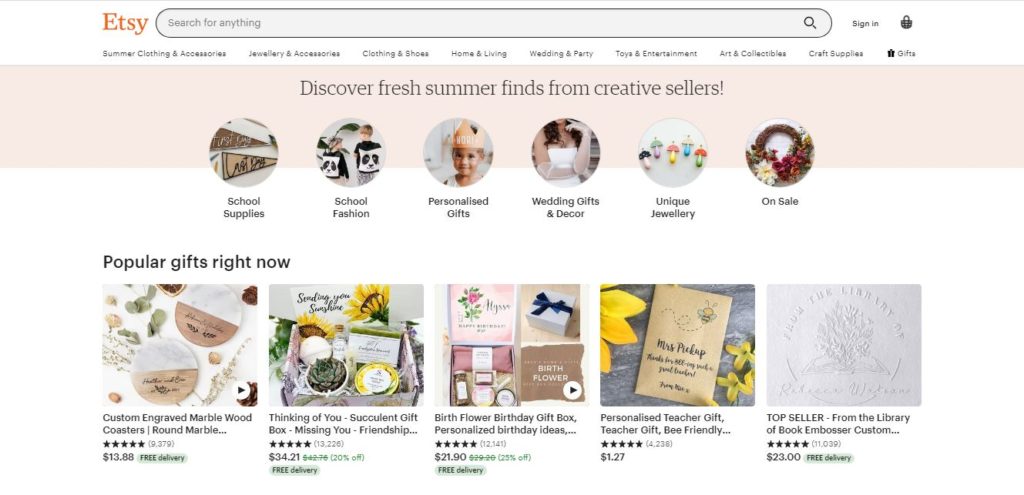 15. Seeking commissions for original work
Nowadays, more and more people are beginning to appreciate the beauty and rarity of original art. This has led to a growing demand for commissioned pieces, and as an artist, you should seek to capitalize on this trend. By charging a commission fee for your work, you not only ensure that you are compensated fairly for your time and effort, but you also guarantee that the person purchasing the piece receives an exclusive work of art that is one-of-a-kind.
When seeking commissions, you must have a portfolio of your work to show potential clients. It is also essential to be able to communicate with clients and understand their needs.
16. Selling vectors designs
Designers are always looking for ways to make money, and one way to do that is to sell vectors.
A vector is a simple graphic that can be used in many different applications. In addition, they can be used for various other marketing materials, such as brochures, flyers, and website graphics.
Several websites allow you to sell your vector designs, and some even pay you royalties on the sales of your designs.
Shutterstock, iStockphoto, GraphicRiver, and Vecteezy are some of the most famous examples of vector designs. You can also post your work on online forums or sell directly to customers on your website. When choosing a site to sell your art online, be sure to compare the commission rates and other fees involved. Some sites charge a membership fee, while others take a commission on each sale.
17. Sell at art fairs, conventions, or festivals
If you're an artist, selling your artwork online might seem difficult. You might find it hard to get your work seen by the right people and even harder to get them to buy it. One way to sell your work is to participate in art fairs, conventions, or festivals. These events provide an excellent opportunity for artists to connect with potential buyers, other artists, and art professionals.
Each of these venues has its benefits and drawbacks. Let's take a closer look at each option.
18. Sell digital art on Creative Market
Creative Market is a site where artists can sell their digital art.
There are a variety of items that you can sell on the site, including fonts, graphics, templates, and more.
The site has a large audience of buyers who are looking for unique and creative products.
In this day and age, it seems like everyone is into the creative arts. From Facebook profile pictures to wedding invitations, people are looking for unique and personalized designs to represent their lives. If you're artistically inclined and looking for a way to make some money, consider selling your digital art on Creative Market.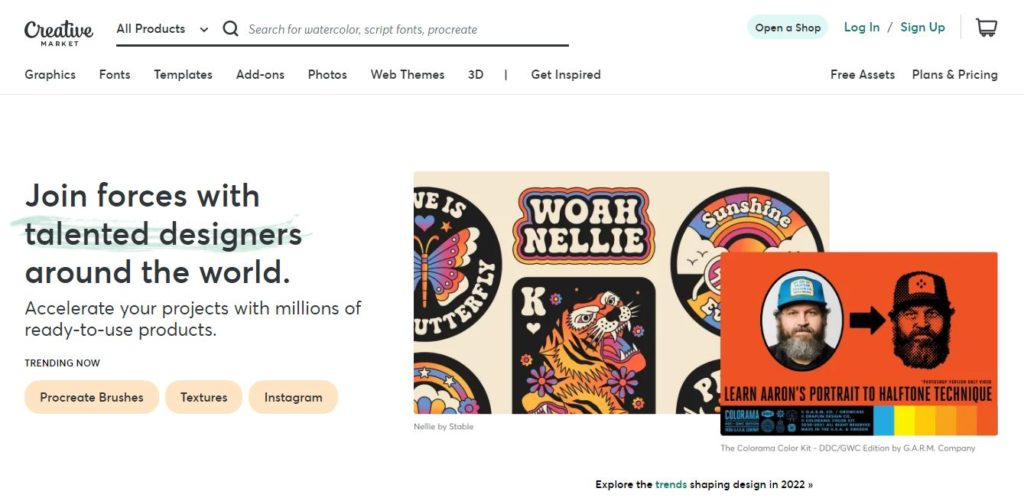 19. Sell canvas paintings on SaatchiArt
Canvas paintings have been around for centuries and are still a popular form of art today. You can find canvas paintings in almost any art museum or gallery, which can be pretty expensive.
But what if you want to own a canvas painting but don't want to spend much money?
Or maybe you're an artist who wants to sell your artwork online, but you're not sure how to get started. SaatchiArt is a website that can help.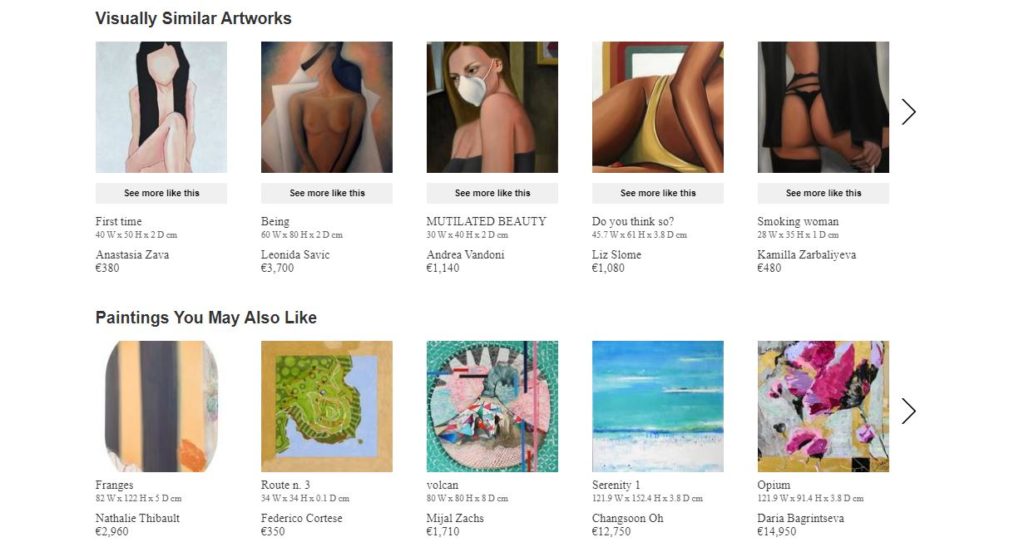 There is still a place for the hand-painted canvas in a world of digital art, photography, and online galleries. Sell your paintings on Saatchi Art to reach buyers worldwide looking for unique artwork to hang on their walls. With this international platform and extensive network of art buyers, you're sure to find the perfect audience for your work.
20. Create TikTok videos
As an artist, you may seek new and innovative ways to market your work and engage with your audience. TikTok videos could be the perfect way to do this! TikTok is a social media app where users can create and share short videos. The app is top-rated among teenagers and young adults.
The app has recently taken off, and as an artist, it's crucial to understand how to utilize it to your advantage.
8 top art influencers you need to follow in 2023
1. Takashi Murakami (@takashipom)
Takashi Murakami ranks among the most famous and top selling artists on Instagram, working in fine arts and media. He popularized the term "super flat" to describe pop art produced in Japan after the 1990s.
His Instagram page has more than 2.5M followers, and he shares posts from various illustrated artworks alongside photos with his friends, such as Kim Kardashian and Kanye West.
2. Damien Hirst (@damienhirst)
Damien Steven Hirst is a fantastic English artist who has been named the Sunday Times's richest living artist since 2020. He is also a great lifestyle influencer showing his daily routine as an artist.
He became best recognized for developing artworks with dead animals preserved using formaldehyde. He's also known for his hand-created paintings, which he has dedicated to his concepts.
3. Daniel Arsham (@danielarsham)
Among so many Instagram-based artists, Daniel Arsham is the leading American star in the contemporary art market, a macro influencer with 1.3M followers on Instagram.
This visual artist usually posts images of the sculptures of his flatly dark portrayals of ordinary objects.
4. Alexa Meade (@alexameadeart)
Alexa Meade has more than 240K Instagram followers, making her one of the more significant artists to follow on Instagram. She started posting pictures there to present her innovative painting process.
Meade can convert three-dimensional paintings into two-dimensional paintings. After her work rapidly went viral on the blog Kottke.org, her rapid increase in abilities presented her with many great prospects to improve her artwork and boost her income.
5. Tugrul Karacan (@tkaracan)
Tugrul Karacan is an artist and illustrator from California who learned visual communication design at Bilgi University in Istanbul, Turkey. But his initial passion proved to be telling a good story more than drawing a picture.
He had spent several years writing and illustrating for children's magazines in Turkey. Within this duration, he composed a 150-piece comic series and around 500 illustrations for children.
Tugrul moved to California in 2017 and currently creates his own children's picture books. When he's not busy drawing, he enjoys creating stickers and emojis.
6. Aileen Quintana (@haiiileen)
Aileen Quintana is a micro influencer and a multidimensional artist who is considered one of the most successful Instagram artists. She is an art teacher, events director, designer, producer, set and costume designer, documentary filmmaker, sculptor, and installation artist.
Haily's practice is unique because of her synesthesia, a rare condition in which she interprets sensory experiences through sight. This has enabled her to study physics. She can comprehensively understand how sound, light, and color interact with each other.
Aileen then utilizes her findings to create three-dimensional media and installations, in which she can stage her synesthetic visions and transport her viewers to far-off, magical worlds.
7. Shantell Martin (@shantell_martin)
Shantell Martin has been on the list of top-selling artists on Instagram. She is known for creating stylized centennial illustrations and covers on large sheets of paper and then creating smaller drawings around them. She is a British artist and sometimes performs her work at venues in the UK. Her artwork has amassed more than 203K Instagram followers.
8. Dan Lam (@sopopomo)
Among Instagram's top art influencers, Dan Lam is an American artist who curates an account on Instagram with more than 441K followers. So how to sell art online attempts to keep things organic by posting updates of her completed artwork instead of having a structured schedule of uploading each day.
In 2020, Dan exhibited her exhibition, Fort Works Art, in Dallas to represent her art more effectively. Afterward, she re-exhibited her previous exhibition by adding reputable buyers who are capable of paying with more consistency. Currently, Lam meets with galleries to finalize a list of dealers who will best exhibit her work.
Conclusion
The ways described in this article offer you an initial idea of how to sell art online. If you decide to do freelance work, collaborate, open up an Etsy shop, or start your website. Remember that persistence and consistency are vital. If one method does not work, try another.
It's a good idea to have several different income streams, so if one area doesn't bring in steady revenue, you can be safe as long as you have another source of income to fall back on. You must have a source of passive income to ensure you're vigilant if one of your revenue streams shuts down.
1- How can a beginner sell art?
To sell art, beginners need to identify their audience and what type of art they are trying to sell. After that, they must create a portfolio showcasing their work and establishing themselves as artists. Finally, they need to start networking and marketing themselves to connect with potential buyers.

2- Can I make money selling art online?
Yes, you can make money selling art online. There are many ways to do it. You can sell your work through online galleries or auction sites or create and sell your products, such as prints or T-shirts with your artwork. You can also offer commissions to other artists or create custom pieces for clients. Whatever route you choose, you can do several things to increase your chances of success.