Instagram is one of the most popular social media networks for brand advertising, with over a billion users worldwide. However, many people and brands have been running into issues with signing up on the platform.
Many users have reported difficulty signing up and even getting error messages during the sign up process. Fortunately, this article will provide step-by-step instructions on how to fix any Instagram sign up errors you may be experiencing. By following these instructions, you'll be able to successfully create your Instagram account without any problems.
Why won't Instagram let me create an account?
Instagram sign up problem might have several reasons. Here are a few reasons you can't sign up for Instagram:
1- Your account is banned by Instagram.
2- You may have reached the maximum limit to the number of accounts you can create using an email address.
3- Users can't sign up for Instagram due to issues with the Instagram network or server.
4- You may have a weak internet connection.
5- There might be a bug in your login process.
How to Fix Instagram Sign Up Error?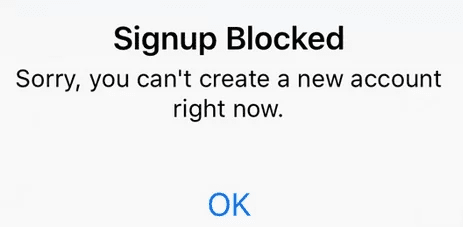 If you have Instagram sign up problem and you keep receiving Instagram sign up errors, here are a few solutions that might work before attempting the slightly complex ones:
As there is a five-account limit, be sure you don't already have any of those accounts. If Instagram won't let you establish a new account, then sign up using a new email address and device.
Check to see if Instagram is down where you are. To check, you can use Downdetector or another social networking site.
Make sure the time and date on the device you're using to sign up for an account are set correctly.
Sometimes Instagram sign up errors are due to its own bugs. In this situation, the best thing you can do is to wait a few hours and try again.
1- Change your network connection
Make sure your Internet connection is established and stable. Then turn it off and on to restart your network connection to notice whether your Instagram issue is fixed or not.
It would also work best if you try to change your network connection from wifi to mobile data or vice versa.
2- Change your email address or phone number
If you keep receiving Instagram sign up error while trying to sign up with your email address or phone number, try to create your new Instagram account with another email address or phone number. Because there is a possibility that Instagram may have blocked your email address or phone number.
3- Use a VPN
Download a VPN, turn it on, and connect it to any server. Now try to create a new Instagram account. If signing up for a new account is solved now, you can disconnect the VPN.
4- Change your browser
Change your browser to get rid of the Instagram sign up not working error as quickly as possible. For instance, if you use Instagram and receive the error in the Google Chrome browser, you can use Firefox or Opera to create the account and you will no longer receive the error.
5- Use another device
You may have faced Instagram sign up error because Instagram might have blocked access to the app on your device for a variety of reasons. In this situation, you can register for Instagram using a different smartphone and then log back in using your device.
6- Log out of your Facebook account
The Instagram sign up issue may happen when you already have a login to your Instagram account with Facebook in the past and Facebook is signed-in on the device. So, facing Instagram sign up error is typical. Now sign out of Facebook and then create a new Instagram account to solve the problem.
7- Update your Instagram app
Sometimes the reason for encountering an Instagram sign up error can be that your Instagram app is out of date. By installing the latest update, you can get rid of the bugs that there might be in the app.
The problem can also be a defect from the Instagram server. What you can do is wait for a while and try again at another time of the day.
8- Deactivate your Instagram account temporarily
Regaining access to your Instagram account can be done in a few different ways, one of which is temporarily disabling it. Follow the instructions below to deactivate your account.
Use a web browser to access Instagram.
Go to the "Edit Your Profile" tab through your profile.
Deactivate your account after providing a valid explanation.
Do not log into your Instagram account right away, so please wait a few hours.
After a few hours, attempt to log in to your account.
9- Uninstalling and reinstalling the Instagram application
To resolve the Instagram login issue and determine whether the issue is actually a bug brought on by corrupted application files, you should think about uninstalling the application. Clear the application's data and cache as well. This will remove any corrupted application files. After uninstalling, reinstall the application with uncorrupted files and see if you can log in now.
10- Reach out the Instagram help center
In case none of the above-mentioned solutions help you get rid of the Instagram sign up problem, have a chat with Instagram help center professionals.
Conclusion
In conclusion, Instagram sign up errors can be a frustrating and time-consuming problem. However, with the help of this article, you should now have a better understanding of what might be causing the error and how to fix it.
First, make sure that your device meets all the system requirements for Instagram. Second, check if there's an update available for the Instagram app. Thirdly, make sure to enter valid information when signing up for an account. Then give the other mentioned solutions a try and see which can help you fix the issue.
1- Why Instagram is not letting me create an account?
Here are some reasons why you can't sign up for Instagram:
1. Poor Internet connection
2. Instagram servers are down.
3. Your Instagram app needs to be updated.
4. You have up to five Instagram accounts.
5. An IP address has been blocked.
6. The email address is blocked or in use on another account.
2-  How long does Instagram block you from making a new account?
Instagram's most prevalent action block is the temporary block. It can last up to 24 hours on average.

3- Why does Instagram say something went wrong when I try to make an account?
Sometimes during the sign in process, you may face "Sorry, something went wrong when creating your account. Please try again soon," It might correspond to any of the subsequent explanations:
1. You are not connected to the internet.
2. You are banned by Instagram.
3. You have created too many accounts.
4. Your Instagram app is outdated.
5. Instagram's technical issues.