You can find cat pictures all over the internet, and some of them are really funny and amazing. What if you could see more videos and images of a cat that piqued your interest? Then a cat influencer is a way to go!
So let's enter the world of cats on Instagram to see more pictures of super cute cats and discover the most famous catfluencers. There are numerous methods for finding different types of influencers. We discuss how to find them here.
Therefore, this article is for you if you're looking for cat pictures, have a cat that you want to turn into an influencer, or are a brand looking for cats on Instagram to collaborate with.
How to Find A Cat Influencer?
Finding a catfluencer on Instagram is similar to finding other Instagram influencers. For example, in the Instagram search bar, enter your keyword, which could be "catfluencer," "cat influencer," or simply "cat." Then tap on "see all results" and choose between hashtags, accounts, location, etc.
You can also use Google to find a cat Instagram influencer. For example, if you type "site: https://instagram.com/ cat influencer," you'll get a list of Instagram catfluencers.
However, using an influencer marketplace is the best way to find Instagram influencers. Continue reading to learn how to find a catfluence using the best one.
Find Cat Influencers Using Ainfluencer
Among the various influencer marketing hubs on the market, Ainfluecer is one of the best AI-powered influencer marketplaces. Thanks to its powerful filters, you can find influencers related to your niche and specify them based on their size, location, audiences, engagement rate, etc.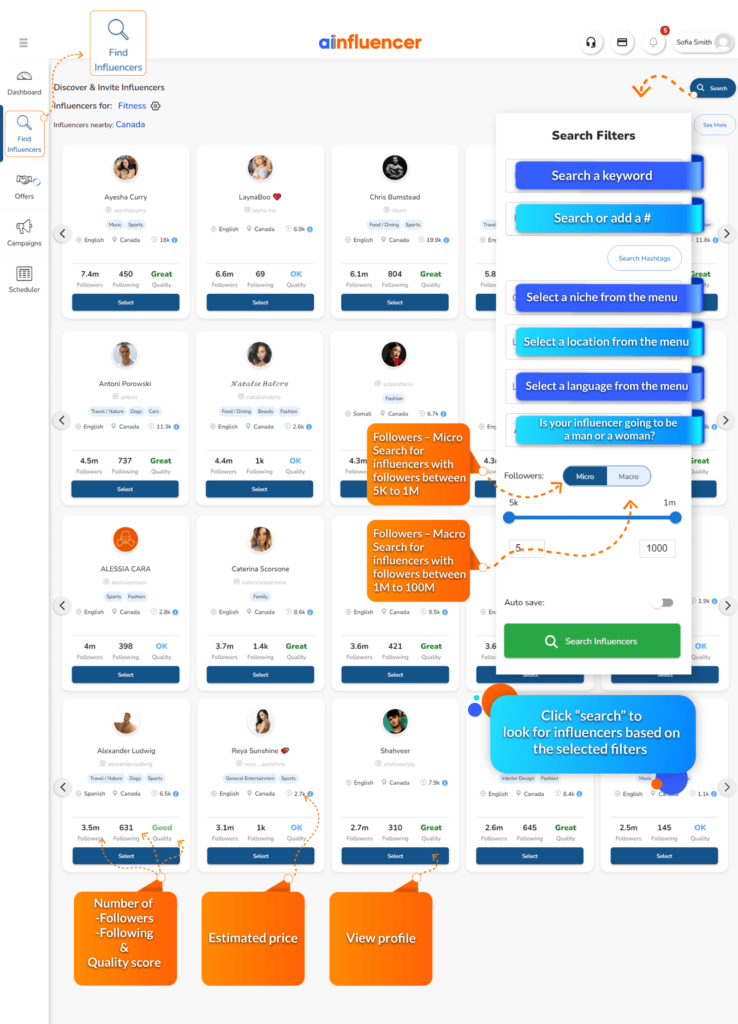 To collaborate with influencers and promote your brand, you simply need to create an account on Ainfluencer, create your campaign, select influencers, and reach out to those you want to collaborate with. You can also take advantage of Ainfluencer's built-in chatbox to negotiate your terms with influencers and close deals right in the app.
You may now want to create a page for your cat, attract followers, and connect with brands in order to profit from your cat's Instagram images. Ainfluencer has a solution for this as well. Continue reading.
How Do I Make My Cat An Instagram Influencer?
According to one study, pets, particularly catfluencers, can capture the attention of audiences more effectively than human influencers and increase Instagram engagement rates. As a result, cat pictures and videos have the potential to instantly transform a cat into a micro influencer.
So, many pet owners want to start their own Instagram or other social media platforms where they can share their pet's images and earn money.
Make Your Cat An Influencer Using Ainfluencer
Using the best influencer marketplace, Ainfluencer, you can promote your cat on Instagram through influencers. After reaching a certain number of followers, you can use this marketplace to connect with brands and monetize your cat's Instagram account.
If you target the right content creator and make the right offer, Ainfluencer helps you reach your Instagram marketing strategies. You can easily connect with brands on Ainfluencer and make money. Ainfluencer provides an app for Android And iOS to facilitate your job.
Now let's enter the realm of famous cats on Instagram!
34 Most Famous Instagram Cats
Instagram is home to many cat influencers, from grumpy cats to adventurous felines, these cats have captured the hearts of millions of people all over the world.
Here we collect 34 of the most famous cats on Instagram. These cats are more than just cute pets. They are internet sensations that continue to bring joy and laughter to their followers.
1. Maple Cat (@maple.cat)
A golden British shorthair boy, Maple Cat, is one of the most famous Instagram cats, with 603K followers and the IG handle @maple.cat. This adorable cat has three cuddly kittens with the Instagram handle @cheeky.cats. Our fluffy buddy lives in Los Angeles, where his owner creates and shares lovely videos and images of him.
2. Mango Brown Bengal Kitty Cat (@justmangobrown)
Under the username @justmangobrown, Mango Brown Bengal Kitty Cat has 530K Instagram followers. Mango the cat, a Bengal cat, sadly died, but you can still watch old videos of him on this page. Other helpful activities for cats on this page are carried out by the owner of the deceased cat.
3. Phillip The Cat (@philliptheorangecat)
Playful catfluencer Phillip The Cat has 36.8K followers and goes by the handle @philliptheorangecat. The owner adopted Phillip from a shelter, according to the IG bio. On this page, you can see lovely images of this furry orange cat.
4. Grumpy Kitzia (@grumpy_kitzia)
Grumpy Kitzia, as its name shows, is an angry cat influencer on Instagram living in the US. This 7-year-old girl has 115K followers and the username @grumpy_kitzia. At first sight, you may be afraid of her face, but following the content, you will fall in love with this wild-looking kitty.
5. Catster Magazine (@catstermag)
Catster Magazine, which has 96.4K followers on Instagram, shares cat pictures on this page. You can also find the cat chef's cooking process for delicious cat-friendly recipes! If you want to reshare your cat's image with them, use the hashtag #catstercats for a chance to be featured! You can also subscribe to their magazine.
6. Mozzy (@mozzythecat)
Mozzy is a 7-year-old Siberian boy with 27.2K followers on Instagram and the handle @mozzythecat. He was rescued from a dumpster and is now on his way to spreading love and joy. He lives in Los Angeles and appears to be working as a brand ambassador for @vetpetbox.
7. Rocky (@rockythefluffyfighter)
Rocky The Fluffy Fighter Cat is from the United States and has 10.3K followers. Luigi is the name of a friend of this fluffy cat. You can find adorable videos of these two friends having fun together if you search @rockythefluffyfighter on Instagram. This adorable furry cat will keep you entertained for hours.
8. Bean & Lily (@beautynthebean)
Bean is an orang lovable cat under the @beautynthebean username on Instagram. This playful cat has 226K followers and can be considered a macro influencer. Cassidy is the cat's mom and shares videos on Instagram daily. Lily is beloved of Bean and plays hard to get with him.
9. The Dark Lord (@the.dark_lord)
On Instagram, the dark lord cat has 212K followers and the username @the.dark_lord. You might be scared of this cat's wild face. If you enjoy horror videos with a specific cat, you can follow its videos.
10. Mia (@hermiajesty)
Mia is a gray-striped cat with 15.9K followers who appears to be eager to work with brands and businesses as a micro influencer. This cat is from the United States and has two brothers, Louie and Franco. She is a Voluptuous New Jersey Queen!
11. Beau & Bambi (@beaudacious_siberian)
Beau is a gentle giant cat from Toronto with 92K followers. He is three years old and has a two-year-old brother named Bambi, who is a cuddle bear and a crazy boy. Photos of these two adorable fluffy brothers will take your breath away. This cat influencer has a lot of photos in the snow, and Whistler, Canada, is one of her favorite locations.
12. Atlas & Apolo (@atlas.and.apollo)
Atlas is 3 years old, and Apolo is 5 years old. They are two other famous Instagram cats with 42.1K followers. They both appear to have been rescued and raised in the United States by their owner. Atlas is a Siberian shorthair cat, and Apolo is a raga mese. This page @atlas.and.apollo has some nice photos of these two catfluencers.
13. Milla, AKA Princess Purrina (@siberian_cotton_candy_crush)
Siberian cat lovers will enjoy the @siberian_cotton_candy_crush page on Instagram, which is based in South Florida, USA. The head cat, Milla, also known as Princess Purrina, has two siblings named Jackie Bleu and Thomas. Milla has lovely blue eyes. This cat is a popular micro influencer with 40.8K followers. There are eight cats and one dog in the Fur family.
14. Glenn Cat (@glenn.cat)
Follow the page @glenn.cat to learn the delectable cat-friendly food recipes of the fluffiest sous-chef. With 90.2K followers, Glenn cat is one of the famous Instagram cats. Glen cat is another chef cat and is also active on TikTok.
15. Lili Blue, Mickey, And Spirou (@liliblue_mickey)
Three Siberian cats named Spirou, Mickey, and Lili Blue. On Instagram, these well-known cats have 26.9K fans. LiliBlue, the princess, has stunning blue eyes, while Spirou, aka Matcha, has nice green eyes and shares lovely images with her audience. Not to mention that Winnie and Mickey Mousse are additional family members.
16. Maruko (@maruko_sweet_cat)
Maruko is an absolutely gorgeous British Shorthair cat. This is a funny plumpy cat who has 17.3K followers on Instagram. After a long day at work, the cat videos and pictures will help you unwind. This sweet boy resides in Washington, United States.
17. Baili (@baili_the_cat)
With 38.7K followers, the super white cat is a British shorthair Boy. Baili is a lovely furry white cat with stunning blue eyes. This adorable Golden Chinchilla Point cat lives in California. This cat's pictures can be found on Instagram at @baili_the_cat.
18. Opal (@opaltheclumsycat)
Opal is a female bobtail cat with 25.5K followers on Instagram. She was adopted in 2013 and is now a famous Instagram cat influencer. Her owner posts amusing videos of this playful cat on her Instagram account, @opaltheclumsycat, just for fun.
19. KittyMojito & Lynx (@kittymojito)
KittyMojito and Lynx are two catfluencers with 17.5K Instagram followers. Senior adventurers and aspiring superstars create a page and engage in influencer marketing. On the @kittymojito page, you can find advertising stories and coupon codes.
20. Mr. Belvedere (@tomcatbelvedere)
Mr. Belvedere is a tomcat who was rescued from the streets and is now a well-known cat influencer on Instagram, with 33K followers. The owner of the cat survived and cured him; the page's username is @tomcatbelvedere. On their IG account, you can find coupon codes and advertisements.
21. Thunder Folds Cat (@foldscat)
As implied by its name, the Thunder Folds Cat is a Scottish Fold breed. On Instagram, this fluffy shorthair cat has 49.2K fans. According to its bio, the fur is a worn-in, velour sweats texture. On the Instagram page for @foldscat, you can follow its growth.
22. Eloise The Fluff Cat (@eloisefluff)
Eloise the Fluff Cat is an adventures catfluencer with 35.8K followers. With her stupid-looking blue eyes, this naughty girl cat makes you fall in love with her. It also serves as a brand ambassador for @stellaandchewys. The video and images of this super furry cat on @eloisefluff page on Instagram are both hilarious and endearing.
23. Seymour (@heyseymour)
Seymour is a well-known Instagram cat with 44.3K followers and the handle @heyseymour. It has the appearance of a stupid-looking cat. This catfluencer has been featured in Dodo, TMZ, and Wine Tourist Magazine. This cat has a lot of funny videos on its Instagram page.
24. ViviPet (@vivipetofficial)
With 42.8K followers on Instagram, ViviPet is a popular magazine for cat lovers. This page includes innovative pet lifestyle content and handcrafted and designed items for cat lovers. If you have a pet, use the hashtag #ViviPetSquad to be featured on the @vivipetofficial page.
25. Ruble the Russian Blue (@rubletherussian)
Ruble is one of the most famous Instagram cats, with 58.3K followers. It is a Russian Blue cat who looks to be smiling. He has excited green eyes and a funny face that makes you smile. With its soft fur, playful personality, and adorable purring, this cat will steal your heart.
26. Summer (@summerstravels)
Summer is a therapy cat and blogger with 90.6K followers on Instagram. It resembles the character Puss in Boots. It is a multi-award-winning cat blogger, a former show cat, and a current therapy cat for @loveon4paws. On Instagram, you can see Summer travels and see that cats are capable of adventures such as travel!
27. Pika & Family (@pika.purr)
Pika is another Instagram cat influencer with 14.8K followers. It is a lovely cat who lives with its furry and adorable family. The photos of these cats on the @pika.purr page will astound you. Chicago is where this cat lives.
28. Archer Adventure Cat (@archer_the_catcher)
Archer is a Toronto-based adventure cat with 19K followers. There are videos and photos of this cat traveling or camping with his owner on his page. This is a cat that you will most likely adore. The page's username is @archer_the_catcher, and this fluffy cat is owned by a couple.
29. Doby (@dobythehousecat)
Doby is a black cat with long ears that have 71.8K followers. Unfortunately, he was born with Cerebellar Hypoplasia. It is a wobbly cat that has a Cleft Nose. Doby aims to spread kindness and positivity. Following Doby with the @dobythehousecat username, you can enjoy your time.
30. Calvin (@catnamedcalvin)
With 21K followers, Calvin is another successful cat influencer on Instagram. This cat will make you smile and laugh, whether it's snuggling up for a nap or playing with a toy. Videos of cat tricks can be found on this page too. The location of this cat is Austin, Texas.
31. Smushie Cat (@smushie.the.cat)
"Hello. I'm Smushie cat, a stray alley cat from Richmond. This is the bio for this influencer cat on Instagram. Smushie cat has 31.7K followers on Instagram and appears to have been saved by its owner. On the @smushie.the.cat page, you can find advertising-related posts and stories from this catfluencer with a furry nose.
32. Scottish Fold Cats (@wunderfoldsscottishfolds)
Scottish Fold cats are a breed of domestic cats known for their distinctive, folded-over ears. They are medium-sized cats with rounded heads and bodies and are known for their sweet and affectionate personalities. On the page @wunderfoldsscottishfolds, you can find a variety of Scottish cats with different colors and patterns. This page has 12.7K followers.
33. Coby The Cat (@cobythecat)
Coby The Cat has since become a sensation on Instagram, garnering a huge following due to its adorable appearance and dramatic personality. With 1.9M followers, the cat has been featured in several articles, and its owner has been interviewed by media outlets to share its story.
In addition to being an influencer, Coby is a marketing expert for clothing, cat food, beds, and toys. Due to its popularity, the cat has become a favorite among cat lovers, and through its daily posts, it continues to inspire and make its followers happy.
34. Nala Cat Influencer (@nala_cat)
Nala Cat is a popular cat on Instagram with 4.4 million followers. She is known for her cute pictures and videos and has become an internet sensation. Nala cat was adopted from a shelter and is now the most famous cat on Instagram. On her page, you can find discount codes for the @lovenalaco cat food brand. Los Angeles, California is where this cat lives.
Conclusion
Cats have become popular influencers on Instagram due to their cute and entertaining nature. They have gained a large following and collaborations with brands. However, some criticism has arisen about the exploitation of cats for social media fame and the well-being of the cats involved.
In this article, we have collected a list of the most famous Instagram cats. Don't be surprised if you find yourself spending more and more time with these furry friends, as their love is infectious, and their antics are sure to brighten your day.
Additionally, if you have a cat and want to make it a catfluence, use Ainfluencer marketplace to achieve your aim. As a brand looking for cat influencers, you can also use the Ainfluencer huge database to locate the best ones.
FAQs
1- How do I become a cat influencer?
Becoming a cat influencer involves creating a strong online presence and building a following on social media platforms like Instagram and TikTok. To do this, you will need to have good quality and engaging content that showcases your cat, along with a strong and consistent brand image. 
Interacting with your audience and collaborating with other pet influencers can also help you grow your following. Additionally, it's important to have a deep understanding of your target audience and be active in pet-related communities. 
Building a personal brand, being creative and original, and consistently delivering quality content is key to becoming a successful cat influencer. Using a good influencer marketplace is also very useful.
2- Who is the most famous Instagram cat?
Nala the cat, Coby the cat, Grumpy Cat, and Mr White are four well-known Instagram cats. They all have over a million Instagram followers.