The food industry is constantly evolving, with new foods and drinks coming out on a regular basis. This has changed the way food is produced and led to people taking healthy eating habits.
It's no surprise that food companies are desperately searching for ways to get their products in front of more people. One way in which food companies are increasingly attempting to reach consumers is through social media, especially using influencer marketing.
In this article, we take a look at the change in nutritional habits, healthy eating tips and trends, health market growth, and the role of influencers!
The growth of healthy eating in the food industry
Healthy eating habits are important for both your physical health and your mental well-being. The rising adoption of healthy eating habits is driving the growth of the health food market globally.
Among the factors that could slow the growth of the global community health food market is the high cost of nutritious foods. However, the rise in awareness of the relevant health concerns stemming from the increasing danger of infectious diseases is creating abundant opportunities for the further expansion of the intervention food market and setting new healthy eating trends.
More and more people are choosing healthy eating habits in Europe, as a result of increased awareness, a change in culture, and influencers.
Until 2024, Europe will cumulatively put out 32% of the world's growth in the healthy eating market.
In the US, things have clearly been changing as well. Tips for eating healthy and reducing weight are ongoing hot topics in the US.
Nearly 93% of Americans specify their desire to eat healthily, but only 10% can truthfully say that they ALWAYS do. When choosing between eating healthy and eating other types of foods, the majority of consumers ultimately choose the former. Despite the incidence of obesity and major chronic diseases in the United States, many of these problems are still found.
In fact, approximately 75% of Americans think their diet is "good, very good," or "excellent," but with 42.6% of Americans being obese, there are other factors to take into account. There seems to be a gap between knowledge and actions.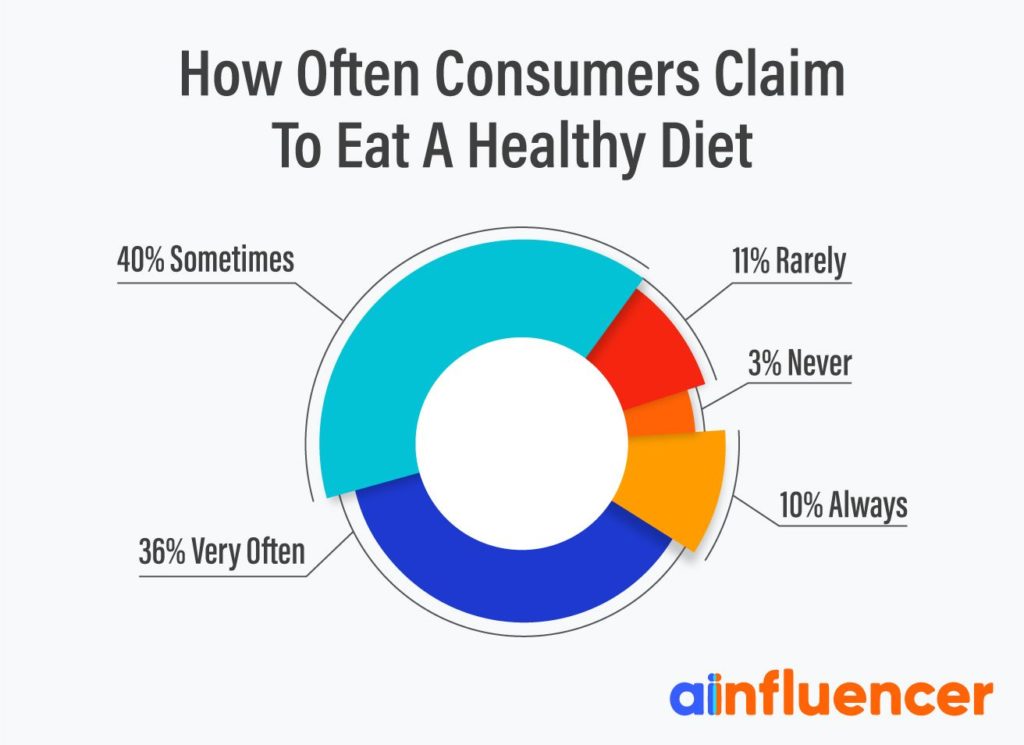 So what actions should you take as a healthy food brand?
Influencer Marketing and the Food Industry
The healthy food trend is slowly but surely infiltrating the influencer marketing space. With more and more people looking to find healthier ways to live, brands are starting to take notice and healthy food advertising is also on the rise.
Influencer marketing has become a popular way to communicate with consumers. This type of marketing can help food companies with their healthy food advertising. Influencers can help create a positive image for healthy eating habits and encourage people to adopt these practices.
A recent study showed that people are willing to pay up to 10% more for products and services from influencers who promote a healthy lifestyle.
Food Influencers on Instagram are often seen as key players in promoting healthy eating habits, and for good reason. They have an enormous reach, and their followers often take their recommendations to heart.
Compared to other sources of information, influencers have a significant impact on public health and healthy food trends. Not only do they help people learn about nutritional habits, but they also help to drive change.
There are many benefits of working with influencers including:
How to find top healthy eating influencers?
Finding healthy eating influencers can be a challenge. But there are a few ways to go about it. Try searching for hashtags, doing a Google search, or using influencer marketing platforms or marketplaces.
Ainfluencer is one of the best and easiest influencer marketplaces to find Instagram influencers in your niche. You can explore and invite influencers based on category, hashtag, engagement rate, number of followers, etc.
Check out this video to see how Ainfluencer works.
5 Best Healthy eating Influencers You Need To Follow
Check out these healthy lifestyle influencers to know what the fuss is about!
1. Ella Mills (@deliciouslyella)
Founded by Ella Mills in 2023, this page is 100% plant-based teaching you delicious ways to feel better.
Mills now has cookbooks, a podcast, and an Instagram profile with more than 2.1M followers. Her account is for people that want extra step-by-step instructions for developing meatless dishes and she is among macro influencers in the healthy food industry.
2. Russ Crandall (@thedomesticman)
The food blogger and NYT bestselling author, Russ has around 39K followers on Instagram. This micro influencer mostly focuses on traditional and international cuisines; typically gluten-free, and often paleo-friendly.
3. Serena Wolf (@serenagwolf)
Serena Wolf is a chef and the author of best-selling "DudeDiet" cookbooks.
She is a healthy lifestyle influencer whose mission is to provide people with straightforward recipes, new nutritional habits, and cooking tips and tricks.
4. Rachael DeVaux (@rachaelsgoodeats)
Rachael DeVaux is a registered dietitian, certified personal trainer, and one of the best female fitness influencers. She shares a lot of healthy eating tips, meal recipes, and fitness guides to show people that you can eat healthily and still enjoy life. Rachael is based in the US and has 625K followers on Instagram.
5. David Frenkiel (@gkstories)
The founder of Green Kitchen Stories, David Frenkiel is a food and lifestyle influencer who posts primarily health, vegetarian food, and recipes. He is a plant-based food entrepreneur and a best-selling cookbook author. David's Instagram has 396K followers.
Top healthy eating trends to expect in 2023
With so many different foods and recipes out there, it can be hard to know what you should be eating. But there are some healthy food trends that are definitely on the rise, and you should start incorporating them into your diet. Here are some of the most popular tips for eating healthy you should try them out:
1. Omnivore eating
Omnivore eating is a way of eating that allows for flexibility in what one eats. This type of diet allows for the incorporation of a variety of foods into one's diet. This healthy eating habit can be helpful for those who have food allergies or other dietary restrictions. Additionally, omnivorous diets tend to be more nutrient-dense than diets that are focused on one type of food.
2. Immunity-boosting ingredients
Immunity-boosting ingredients are in high demand in 2023. From Covide-19, colds, and flu to inclement weather, people are looking for ways to keep themselves healthy. Some of the most popular immunity-boosting ingredients include garlic, ginger, turmeric, and oregano.
3. Simplified food preparation
When cooking as someone who has taken healthy eating habits, it can be difficult to come up with recipes that are both healthy and simple to prepare. This guide provides simplified food preparation instructions for clean eaters, so you can easily create delicious, nutritious meals.
4. Eating less processed foods
The trend of eating less processed foods has been on the rise for a while now, and it's not just because they're bad for you. In fact, processed foods can actually be really expensive and often contain a lot of unhealthy additives. If you're looking to save money and eat healthier, stick to unprocessed foods!
5. Plant-based diets
There's a growing trend of people choosing plant-based diets. A plant-based diet is one that is made up of mostly plants and doesn't include any animal products. Some people choose this type of diet because they believe it's healthier, and others because they think it's more ethical. There are many different types of plant-based diets, so it's important to research which one is best for you when changing your nutritional habits.
6. Recycled Ingredients
Using recycled ingredients is what you see a lot in today's healthy food advertising. Manufacturers can reduce their environmental impact while still providing the same quality product. Recycled materials can include post-consumer plastics, food waste, and textiles.
7. Alcohol-Free Options
These diets vary, but rely heavily on 'free-from' products, whether that's dairy-free, sugar-free, or gluten-free.
If you're a clean eater, you're in luck: There are plenty of alcohol-free options out there for you to enjoy your food without giving up the good stuff.
8. Functional Beverages
Functional or "nutritional" beverages are beverages that are marketed to provide health benefits beyond those of regular water or soda. These beverages include drinks such as tea, coffee, smoothies, juice, and sports drinks that are high in antioxidants, vitamins, minerals, and other health-promoting ingredients.
While not all functional beverages are healthy, many are marketed in health food advertisements as being good for weight loss, preventing diabetes, improving mental focus and energy levels, and reducing the risk of cancer.
9. Seeded Foods
Seeded foods are a great way to add more variety and nutrients to your healthy eating habits. They're also a good option if you're looking for something that's easy to store and prepare. Some examples of seeded foods include beans, lentils, quinoa, and peas.
10. Lower-Sugar Foods
The lower-sugar food trend is on the rise. The lower sugar food trend is gaining popularity as people become more aware of the negative effects of sugar. There are many benefits to following a lower sugar diet, including weight loss and improved health.
Conclusion
It is evident that social media has a major impact on the success of healthy eating habits.
Healthy food brands are using influencer marketing to reach a wider audience. This type of marketing is beneficial because it allows customers to connect with the brand in a more personal way.
So it is important for brands to choose the right healthy lifestyle influencers to partner with, as this can make or break the campaign. You can take advantage of free influencer marketplaces like Ainfluencer to find the best food and nutrition influencers.
1- Who are the top healthy eating influencers?
Deliciously Ella
Nutrition Stripped
Ambitious Kitchen
Food Heaven
Russ Crandall
Serena Wolf
Rachael Devaux
David Frenkiel

2- Why is healthy eating becoming more popular?
There are many factors that have contributed to this change, including a growing awareness of the importance of nutrition, an increase in food allergies, and an increase in chronic illnesses. Additionally, the cost of unhealthy foods has increased, making it more difficult for people to maintain a poor diet.