Dance has become an increasingly popular form of self-expression and artistry, with the rise of social media platforms like Instagram providing a platform for dancers to get creative and showcase their talents. Everywhere you look, you can find incredible dance influencers who have amassed large followings, thanks partly to their captivating choreography videos. In this post, we will provide you with the best Instagram dancers.
How to Find Dance Influencers on Instagram
Are you looking to promote your business by using Instagram dance influencers? With the right Instagram dancers, you can reach many potential customers quickly and easily. But how can you find the perfect dance Instagram influencer?
The first step is researching which accounts have a large following in the relevant niche. You should look at their profiles, comments, and followers to see if they align with your goals. Additionally, make sure that their content resonates with your target audience and focuses on topics related to dancing or performing arts. Once you've narrowed it down, contact each account directly via Direct Message (DM) or email and explain why they would be an ideal partner for your brand. But it may take too much time and energy. So, you can take a shortcut and use an influencer marketplace, such as Ainfluencer.
Use Ainfluencer Marketplace
Utilizing a dace influencer is an ideal way to reach your target audience. Ainfluencer marketplace is one of the free ways to find influencers and connect with Instagram dancers who can help you create powerful content tailored to your business.
Find potential influencers on Ainfleunecr so you can successfully run influencer marketing campaigns. This Instagram marketplace is a good choice for those who want to link with macro influencers, micro, and nano influencers.
On the Ainfluencer dashboard, simply enter keywords such as "Instagram dancers" into their search bar, and you'll be presented with a list of relevant influencers who match your criteria. You can then view each profile in more detail, learning about the type of content they produce, their previous clients and collaborations, as well as how many followers they have.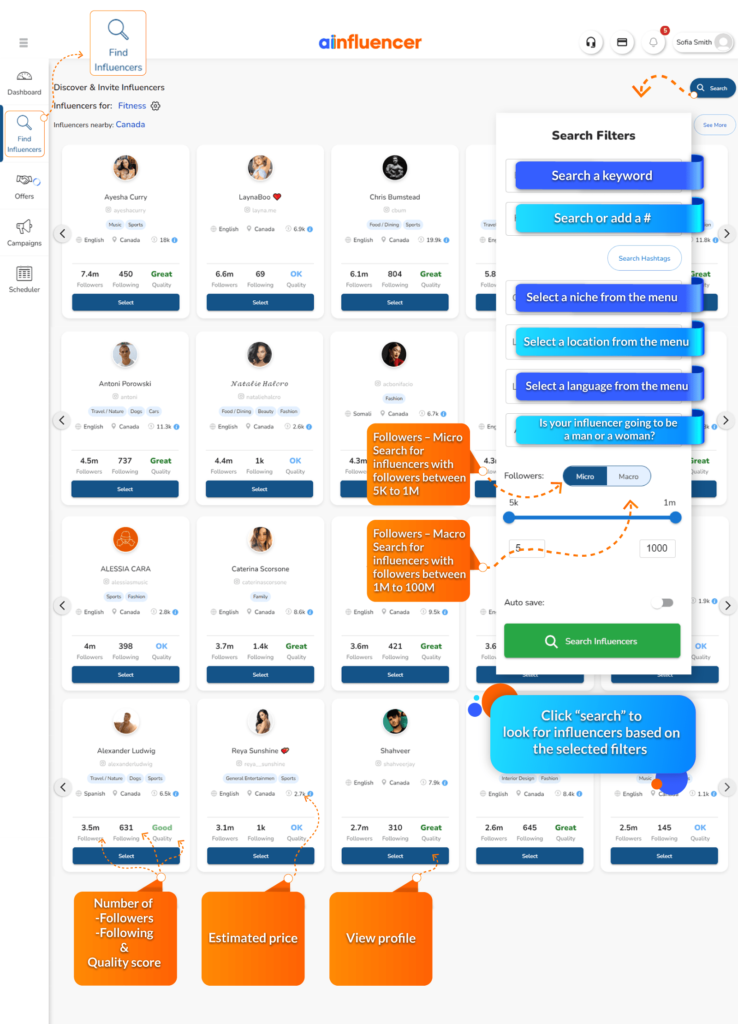 Influencer provides you with the most relevant dance influencers to your niche. This helps ensure that you are working with an influencer who is relevant and authentic to your brand. Moreover, Ainfluencer has lots of useful features to use in terms of running your campaign.
Top Instagram Dance Influencers
Are you looking to up your dance game? If so, then you should check out these top Instagram influencers who specialize in dance. From hip-hop to ballet, these influencers have it all!
1. Vortox (@Vortox13)
He is a young dance influencer, who lives in Navi Mumbai with 4K active followers n Instagram. He shares his dancing videos on his account. Vortex dances routine, Hip-Hop and casual.
2. Irishdancevids (@irishdancevids)
Irishdancevids is a special account for Irish dancers with over 37K followers. This Instagram account virals lots of videos about dance in different places and Irish dance schools. This is an amazing Instagram account that you shouldn't miss.
3. Rockbottommovement (@rockbottommovement)
He is a young creative Instagram dancer with over 2K followers. Always he has new ideas and creates very special videos.
4. Sasha.xiasha (@sasha.xiasha)
She is an attractive eastern dancer. She has a very sexy shape and she dances in an eye-catching way.
5. Bass.osuna (@bass.osuna)
Bass is a dance trainer and dance influencer with over 13K followers on Instagram, who lives in DC. He teaches his followers how to dance correctly. Bass mostly dances the Tango.
6. Karolinakuras (@karolinakuras)
She is a famous special ballerina and photographer, who has over 63K active followers on her Instagram account. She is one of the best dance influencers. Karplina is a Candian girl.
7. Justjerk_sone (@justjerk_sone)
He is a member of the Justjerk team and is a Korean dancer with over 37K followers on Instagram. Justjerk_Sone virals his dancing videos on his account.
8. vladkim (@vladkim)
Vladkim is a Russian dance influencer. He dances Hip-Hop mostly and shares it with his followers, Vladkim has more than 20K active followers on Instagram.
9. Burcuyahu (@Burcuyahu)
Burcuyahu is a Turkish dancer with more than 49K followers. She has her own dance type, which she calls Ta da da da.
10. Worlddancepageant (@Worlddancepageant)
The World Dance Pageant is the most prestigious solo competition of the year! This is a dancing Instagram account with more than 8K followers and shares lots of dance videos of their members.
11. Vitaliy_ulivanov (@Vitaliy_ulivanov)
Vitaliy Ulivanov is an Instagram dance influencer who has taken the platform by storm. His videos and tutorials offer a unique blend of contemporary dance style and creativity, making him one of the most sought-after content creators on the app. From his intricate moves to energetic performances, followers have come to love Ulivanov's work. Vitaliy is a Ukrainian dance influencer with over 88K followers.
12. Velocity Dance Convention (@VelocityDanceConvention)
Velocity Dance Convention is the premier dance event of the year, bringing together some of the world's most talented Instagram dancers. At Velocity Dance Convention, participants will be able to take part in master classes with renowned choreographers, learn from industry professionals and connect with fellow creatives.
Founded by Emmy-winning choreographer Mandy Moore, Velocity Dance Convention has become an important destination for dancers around the globe. The convention provides a unique platform for dancers to network and have their work seen – giving them an opportunity to make connections that can last a lifetime! From workshops on career development to Q&A sessions with top performers, Velocity Dance Convention offers something for everyone.
At this year's edition of Velocity Dance Convention, Instagram dancer Jayden Rodrigues will be headlining alongside other established artists such as Travis Wall and Kyle Hanagami.
13. Joey Fontana (@JoeyFonataa)
Joeyfontanaa is an Instagram dancer with a rapidly growing fanbase. His videos have been liked and shared by lots of viewers worldwide, making him one of the most popular dancers on the platform. Joey Fontana has made a name for himself by combining his unique dancing style with his signature humor and witty quips that make each video even more entertaining.
14. did_crafty (@did_crafty)
He is a young talented dance influencer with over 5K followers. This Instagram dancer's unique style is a combination of hip-hop, contemporary, and ballet techniques – all blended to create something entirely original.
15. Twerk Videos (@twerkvideos)
This Instagram dancer is an up-and-coming phenomenon on the popular social media platform. Followers of @twerkvideos are able to witness the amazing dancing ability of this mysterious Instagram sensation. Few have seen their face, but many recognize the signature dance moves that accompany each video post.
16. Colic Aleksa (@colicaleksa)
Colicaleksa is a fascinating Instagram dancer. His moves are highly infectious and have earned him the title of one of the most influential dancers in today's online community. Colic has 1K followers on Instagram.
17. Josmery Brito Do (@JosmeryBritoDo)
Josmery, also known as itsjosieb on Instagram, is an amazing dancer and content creator. Her videos show off her incredible talent, skill, and creativity – often combining hip-hop with contemporary dance styles for spectacular effects.
18. Sanchez_bboy (@sanchez_bboy)
Sanchez, the Russian Instagram dancer taking the world by storm. His electric performances have earned him over one million followers on the platform and a reputation as one of today's most talented boy dancers. He has 11K followers on Instagram.
19. Notneedyy (@notneedyy)
She is an Instagram dancer who has gained immense popularity with her skillful dance moves and creative choreography. Notneedyy has over 12K active followers on Instagram.
20. Maddie Ziegler @maddieziegler
Maddie Ziegler is a 19-year-old dance influencer who has made a name for herself on the Instagram dance community. With over 13M followers on the platform, she is one of the most influential dancers and choreographers in the world.
At 13, Maddie was part of Dance Moms with Abby Lee Miller before being featured in five music videos from Sia. This increased her visibility exponentially and led to numerous tours and book deals as well as brand campaigns for products such as Ralph Lauren and Target. In addition to her successful career, Maddie has also been able to inspire many young people to pursue their dreams by sharing her experiences on social media platforms like YouTube and Instagram. She currently has an active presence on these channels where she shares her latest projects, dance routines, tutorials, tips, advice, and more!
21. Melinda Marie (@Melinda Marie)
Melinda Marie is one of the most influential Instagram dance influencers today. With her unique dance style and creative choreography, Melinda has been able to captivate millions of viewers around the world. Her videos have become a source of inspiration for many aspiring dancers, who look up to her as a role model.
Throughout her career, Melinda has developed an amazing portfolio by exploring different styles such as jazz, hip-hop, contemporary, and even acrobatics. She often collaborates with other renowned Instagram dancers to create exciting new content that elevates the art form of dance to new heights. In addition to this, she also regularly shares tutorials and tips on her account for those who are looking for some guidance in their own practice.
22. Chloe Lukasiak (@ChloeLukasiak)
Chloe Lukasiak is one of the most popular Instagram dance influencers. The sixteen-year-old dancer, model, and actress has built a huge following on social media thanks to her inspiring posts and amazing dance moves.
Lukasiak first rose to fame when she became a top four finalist on season four of the hit show Dance Moms. She quickly gained notoriety for her incredible versatility as a dancer, taking on a variety of genres such as jazz, hip-hop, and contemporary. In addition to showing off her impressive technique in performances, Lukasiak is also known for regularly posting fun dance videos to Instagram that feature both classical moves and more modern twists.
Lukasiak's positive energy and carefree style have endeared her to millions of followers who appreciate her creativity and enthusiasm for the art form.
23. Ian Eastwood (@ian_eastwood)
Ian Eastwood is one of the biggest names in the world of Instagram dance influencers. Born and raised in California, he started his career by posting videos of himself dancing on YouTube and Instagram. His talent soon caught the eye of some of the top names in entertainment, leading to appearances on television shows like The Ellen DeGeneres Show, MTV's America's Best Dance Crew, and more.
Over time, Ian's following has grown from just a few thousand followers to millions around the world. He posts videos regularly that showcase his unique style and creativity when it comes to dancing – ranging from hip-hop to gymnastics-inspired moves. He also puts out instructional videos for aspiring dancers who want to learn how he does what he does so well.
24. Kendall vertes (@kendallvertes)
She is a 21-year-old American dance influencer and singer with over 8M followers.
This Instagram dancer began dancing when she was 2 years old and has continued professionally. Also, she is a brand ambassador of Band Energy drink. Her favorite dancing styles are Jazz and Contemporary.
25. Nia Sioux (@niasioux)
Nia is an Instagram dance influencer. She is an American IG dancer and YouTuber with more than 5M followers on Instagram. This famous Instagram dancer is 21 years old and is studying American literature at UCLA. She is a brand ambassador of Savage X Fenty.
This dance influencer draws from Tai Chi, Tae Kwon Do, Aikido, jazz dance, modern dance, Duncan dance, yoga, Alexander Technique, and the Teachings of Moshe Feldenkrais.
26. Matt Steffanina (@mattsteffanina)
He is an American dance influencer with over 3M followers on Instagram and 12M subscribers on YouTube. Matt is a 31-year-old dancer. His favorite dance type is hip-hop.
In 2016, Matt won season 28 of The Amazing Race, which propelled his fame to a new level and allowed him to work as a dancer and host as well as an actor.
27. Aliya Janell (@thealiyajanell)
Aliya Janell is the Instagram dance influencer with over 2.5M followers that you need to know about! The 24-year-old dancer and choreographer have had an impressive career since moving to Los Angeles from her hometown of Oklahoma City.
Her dance moves have been seen by many, as she has gained massive attention on social media for her unique and creative choreography. She consistently posts a range of videos on Instagram, featuring everything from hip-hop-inspired dances to contemporary pieces.
28. Lauren (@laurengottlieb)
Lauren is an Instagram dance influencer taking the world by storm! With her unique blend of jazz, hip-hop, and contemporary styles. Lauren has quickly become one of the most popular dancers on the platform.
She began dancing at a young age with dreams of becoming a professional dancer. Today, Lauren has accomplished that dream through her many successful performances and her growing online presence. She has been able to use Instagram as both a way to showcase her talent and reach out to other aspiring dancers who can look up to her as an inspiration.
29. Vanesa Seco (@vansecoo)
Vanesa is quickly becoming one of the most popular Instagram dance influencers out there, with more than 600K followers. Her fast-paced choreography and creative moves have made her a favorite among her thousands of followers.
Originally from Mexico, Seco moved to Los Angeles to pursue a career in dance at age 19. In just four years, she's made quite a name for herself as an influencer on social media platforms like Instagram. From posting videos of herself dancing to creating tutorials that teach others how to follow along with her moves, Seco has become one of the top Instagram dancers around.
30. Galen Hooks (@galenhooks)
Galen Hooks, one of the most successful and inspiring Instagram dancers, is a force to be reckoned with. With more than 2M followers on the social media platform, Hooks is no stranger to using her moves and attitude to inspire others.
Since hitting the dance scene in 2008, Galen has gone from strength to strength. She has worked with some of the biggest names in Hollywood and music, including singing icons such as Jennifer Lopez and Beyonce.
31. Michael Damesk (@michaeldameski)
Michael is a 27-year-old Instagram dancer, actor, and singer. He has been dancing since the age of five, winning multiple world titles in formation ballroom and Latin American dancing. As an Instagram influencer, Michael shares his journey as a dancer while inspiring others to follow their own passions too.
Having appeared on shows like So You Think You Can Dance Australia and America's Got Talent, Michael has become a household name in the world of dance. His videos on Instagram are filled with high-energy moves that both inspire and motivate viewers.
32. Amanda LaCount (@amandalacount)
The Instagram dance influencer from St. Louis, Missouri, has been sharing her unique style of dance on social media for years now and is quickly becoming one of the most sought-after dancers online.
Since launching her own YouTube channel in 2016, Amanda's captivating moves have earned her over 40M views and a loyal fan base that continues to grow each day. What sets Amanda apart from other Instagram influencers is her innovative choreography that blends hip-hop, traditional African, and Latin styles with contemporary flair. Her signature twerks and high-energy routines draw in viewers eager to learn her distinctive technique.
33. Melvin Timtim (@melvintim2)
Melvin Timtim is a 26-year-old Instagram dancer who has over 280K followers. He's been dancing since he was 3 years old, and now his account is one of the most popular in the dance world. Melvin's moves are both innovative and classic, and he always finds new ways to push the envelope. His fans love watching him perform live, but they also enjoy watching his tutorials and learning from his techniques.
34. Mariel Madrid (@_marimadrid)
Mariel is a dance influencer and choreographer known as Mariel Madrid, Mariel Martin, or Mari. She is a part of the YouTube collaboration channel Keone and Mari. She has choreographed various acts and was both a choreographer and dancer for the competitive hip-hop dance team Choreo Cookies until 2015. Also, she has over 300K active followers on Instagram.
35. Talia Favia (@taliafavia)
Talia Favia is a Los Angeles-based Choreographer, Dancer, and Artist with more than 74K followers on Instagram. She has taught and choreographed all over the world, including the United States, Czech Republic, Poland, and Russia among others.
36. Gabriela Barra (@gabibbarra)
Gabriela is an American Instagram dancer. She has 43K active followers on her Instagram account.
A professional dance influencer who specializes in ballet, contemporary, jazz, tap, hip-hop, and salsa is nicknamed the "Rotodancer." She is also known for her affiliation with the LUX Dance company and posts photos and videos of dance-related activities on Instagram.
37. Jared Jenkins (@_jjenks)
Jared Jenkins is originally from Philadelphia, PA, but now resides in New York, NY. After graduating from Georgetown University in 2006 with a degree in Finance, he took his first dance class. Since then, he has had the opportunity to train with some of the top choreographers in the industry.
Now, Jared is a current faculty member at Broadway Dance Center in New York City and a guest teacher at Movement Lifestyles and Millennium Dance Complex.
38. Dana Alexa (@danaalexa_)
One of the most popular and influential dancers on Instagram is Dana. She has captivated her followers with her unique style of dance.
39. Robi (@robirawks)
Robi is a young dancer, choreographer, and American hip-hop dancer. He has an active Instagram account and shares his dancing videos on her page. This Instagram dance influencer has 9K followers.
40. Abhilasha Jain (@dancewithabby_)
Born in India, Abhilasha grew up watching television shows and movies of India's Bollywood film industry and dancing to them. She learned to express her own Indian style through Bollywood dance and incorporated her own hip-hop style into it. Her passion for exploring the world brought her to the US, where she learned a variety of dance styles, including hip hop, locking, popping, waacking, and salsa.
Conclusion
All in all, the best Instagram dance influencers have something special to offer. They bring creativity, passion, and love for their craft. Their artistry is inspiring and can be seen in each of their performances. It's clear that these individuals are pushing the boundaries of dance and creativity in exciting new ways. We should all strive to recognize their talent and support their work. Let's get out there, follow them on Instagram and show these incredible dancers some love!
1. Who is the Best Dancer on Instagram?

When it comes to Instagram dancing, there's no shortage of talent out there. Some of our favorite dancers include Janelle Ginestra, Dana Alexa, and Poppin John. Janelle has been featured in videos by some of the biggest names in music, like Justin Bieber and Nicki Minaj, and is known for her signature high-energy hip-hop style. Meanwhile, Dana Alexa's sultry jazz funk always impresses her followers, while Poppin John's popping technique has earned him a huge fanbase around the world. 

2. What is a Dance Influencer?
A dance influencer is a person who uses their platform to promote and share different aspects of the dance world. Dance influencers are often dancers themselves, but they can also have backgrounds in music, production, or even teaching. They provide an inside look at the industry by creating content like tutorials, choreography, and events. 

Dance influencers create content that connects with viewers on a personal level while providing valuable knowledge to aspiring dancers. Through their videos and posts, they're able to bring people together from all over the world in celebration of the art form. By actively engaging with fans in comments and direct messages, these influencers create meaningful relationships within the dance community.