Having your Instagram account hacked happens a lot with the booming of many businesses on Instagram. It doesn't matter if you have an online shop page, own a brand or business page, or have a personal page; you should know some Instagram account hacked signs, ways to prevent it, information you lose, and similar things.
Installing the password of an Instagram account by profit-seekers and other people and viewing the private information in it by others is called Instagram hacking. Hackers gain access to users' passwords in various ways.
Beginner users of Instagram, who need to become more familiar with its security issues and follow the necessary conditions, are more vulnerable to being hacked than others. Now, to find out if you have your Instagram account hacked or not, follow this article.
We'll walk you through the steps to recover your Instagram account based on Instagram algorithms, so you can regain control of your account and keep your personal information safe. So let's get started!
How to determine that your Instagram account has been hacked?
Imagine you open your Instagram and discover you have been hacked or logged out of your account. If you are a professional influencer or a business or brand owner offering services through the platform, having your Instagram account hacked is a suffering moment.
Here are some of the most common Instagram account hacked signs:
1. You are unable to log in to your account even though you are entering the correct login details.
2. You notice posts you didn't upload or approve on your account.
3. Your account information, such as your username, email address, or phone number, has been changed without your permission.
4. You receive notifications of suspicious login attempts from unfamiliar locations.
5. Your friends and followers report receiving spam or phishing messages from your account.
6. You are unable to access your account settings or make changes to your account.
How to cure a hacked Instagram account that you still have access to?
If your Instagram got hacked and you still have access to it, here are some steps you can take to recover your account and secure it:
1- Use Instagram account recovery
If you forget your password, you can request a login link directly from Instagram. Enter your phone number or email address and click the "Send Login Link" option. Then, Instagram will email you so you can recover your account.
Sometimes hackers quickly change your username and password. In this case, this step will not work. So, if your username is found to be invalid, go to step 2.
2- Report account hacking to Instagram
If you cannot recover your Instagram account because the hacker quickly changed your password, the next step is to email Instagram to report the hack.
To directly report an Instagram account hack, you must use your browser to enter the Instagram hacking report page link and fill in a form with all the details of your account. Then select the "My Account was hacked" option and click "Request Support." After that, an email will be sent to you by the Instagram support team to confirm your identity again for more security. The process is as follows:
Instagram will send you a code via email.
They ask you to take a selfie and send it.
You will also be asked for the primary email address or phone number you used for your Instagram account.
Finally, Instagram verifies that you are indeed the account user by comparing the photo with your Instagram photos.
3- Check your login activity (Login Activity)
This step is also found in your Instagram settings. By checking the login activity, you will see when someone has logged into your Instagram account using your username and password. Therefore, by doing this continuously, you can detect suspicious logins to your account.
Of course, sometimes it is difficult to check the login activity and remember the login date and time. However, if you notice that you have followers you disapproved of, or photos shared on your account that weren't yours, you'll know that someone hacked your account.
How to regain access to a hacked Instagram account?
1. Try to reset your password
To reset your password, click the 'Forgot Password link on the login page and follow the instructions to reset your password. If you cannot reset your password, click the 'Need more help?' link and follow the prompts to provide additional information and recover your account.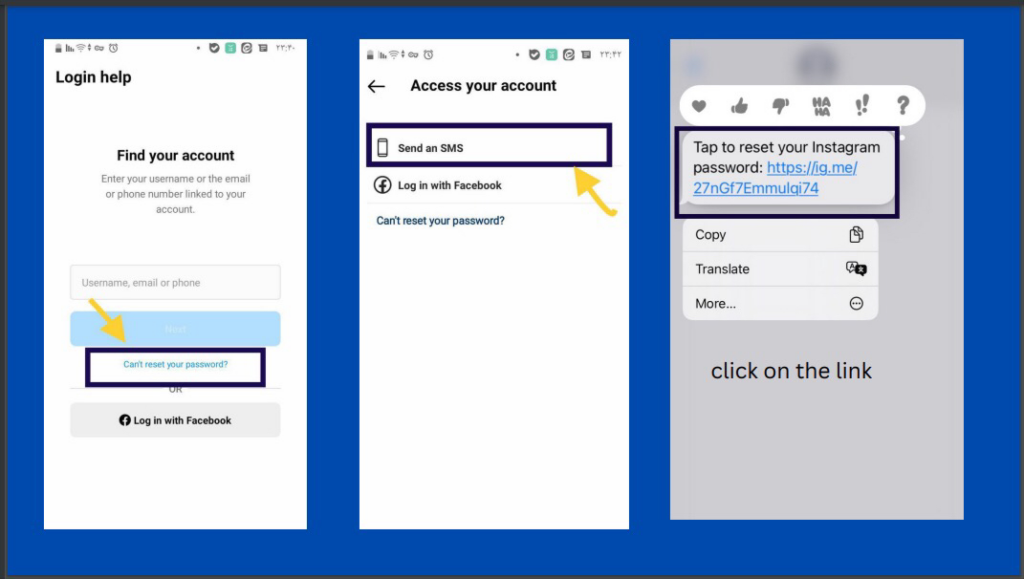 2. Check your email
Once you have reset your password, Instagram will send a confirmation email to your registered email address. Follow the instructions in the email to confirm the password reset.
3. Verify your identity
Instagram may ask you to provide some information to prove that the account belongs to you, such as your email address, phone number, or photo ID. You can send your information to Instagram through the app or via email.
4. Use an alternate email or phone number
If you have linked an alternate email or phone number to your Instagram account, you can use it to reset your password.
5. Report the hack
Report an Instagram account hack through the Instagram app or website. Provide as much information as possible to help Instagram's support team verify that the account belongs to you.
How do hackers hack your Instagram account?
So now the question is how hackers have your Instagram account hacked?
Hackers are able to gain access to an Instagram account using mundane methods, the most common of which is by guessing a user's password.
1- Brute Force
In this method, the hacker uses an automated program that tries different combinations of passwords until it finds the right one. So to protect your account, make sure to use strong passwords.
But if your current password is easy and guessable, change your instagram account password. To prevent password hacking, you should use complex passwords. You should also try to create a monthly or every-month policy of changing passwords so that the passwords are not easily guessed.
2- Phishing scam
One of the most useful hacking methods that hackers have used is phishing. In the Phishing trap, the hacker tries to steal information related to your user accounts by falsifying the original sources. The hacker creates a fake login page or a pop-up window asking for your login credentials. When you enter your details, the hacker might have access to your account.
3- Buffer Overflow
Another technique that smart hackers use to infiltrate systems is Buffer Overflow. In this technique, by sending too much data to the inputs, the hacker causes the buffer boundary to overflow and uses this to damage or steal information. Buffer Overflow technique cannot be detected normally, and UTM should be used to prevent this type of attack.
Conclusion
In conclusion, recovering a hacked Instagram account in 2023 is an easy but time-consuming process. It involves changing passwords, setting up two-factor authentication, and reviewing past posts for suspicious activity. It also requires checking all other accounts linked to the platform and removing any unauthorized access. Finally, users should remain vigilant about keeping their accounts secure by regularly updating passwords and monitoring for suspicious activities. Following these steps will help keep users' data and personal information safe from malicious actors online.
FAQs
1. How long does it take for Instagram to respond to a hacked account?
The recovery process of a hacked account looks different for everyone, but you should expect this to take a couple of weeks on average (a minimum of 5-10 business days).
2. Can I contact the police if my Instagram account is hacked?
The FBI recommends that cybercrime victims call them first — not your local police. The agency has an Internet Crime Complaint Center, where you can file details on what happened and analysts will review the case to determine what actions to take. Often, though, nothing much is done.