With the rise of social media, companies are provided with many opportunities. One highly effective strategy is influencer marketing.
Influencer marketing is the umbrella term that includes affiliates and ambassador programs.
Affiliates and ambassadors can help your brand get noticed and increase revenue. You may successfully engage new target audiences by offering people money for promoting your business, such as commission, a discount coupon, or freebies.
In this article, we'll help you define the difference between affiliate programs and ambassador programs, so you can figure out what types of programs and campaigns are best for your brand to be more successful.
Let's first put it simply: what is a brand affiliate program, and how does it work?
What is an affiliate program?
Affiliate programs can be quite fruitful. According to a Forrester report, 81% of advertisers and 84% of publishers use affiliate marketing.
When someone registers on your affiliate referrals, each brand affiliate will usually expect a personal promo/discount coupon code or an invitation link mailed to them to promote. Every succeeding sale "affiliated" with their link will be credited to their account balance as commission.
If I want to simplify the definition of Brand affiliate programs, it stands for a performance-based business in which revenue is generated by marketers who are called brand affiliates and they earn a fixed amount of commission paid only when sales are made or a qualified action takes place.
Perhaps one of the largest and most famous affiliate program examples by far is the Amazon affiliate referral known as the Amazon Associate program. In fact, it was the first online affiliate marketing program in the world.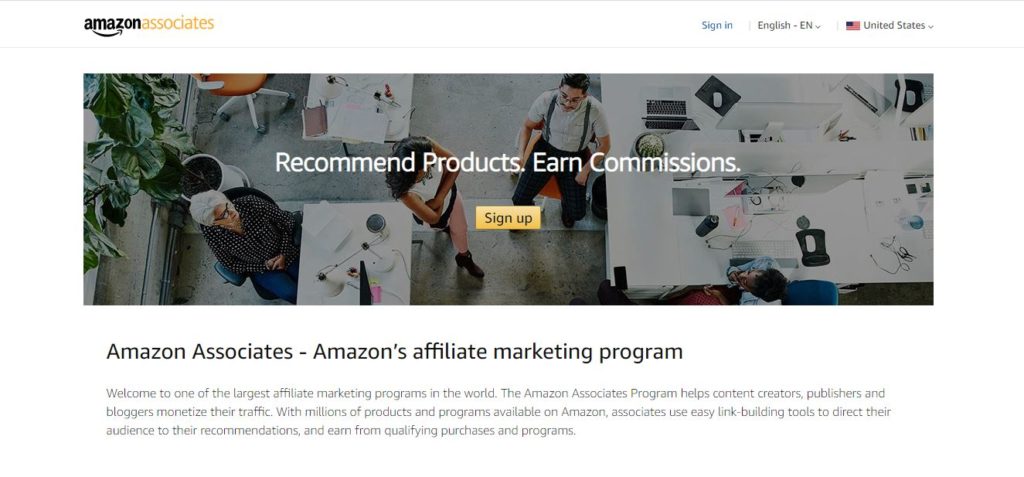 Anyone can sign up and then generate a custom affiliate referral link to Amazon products. If someone purchases through your link, you earn a small commission.
How can you as a brand use affiliate marketing on Ainfluencer?
Follow the steps below to run your affiliate campaigns on Ainfluencer:
1- Change your account to a creator account
To start using affiliate marketing on Ainfluencer, you need to have an Instagram creator account.
2- Create an account and set up an ad on Ainfluencer
You can create ads on Ainfluencer easily and fast after registering as a brand.
Then you are all set to explore and find influencers.
But make sure your website converts and is well set up before finding Instagram influencers.
3- Pay influencers based on performance
You pay a one-time fee to post on Ainfluencer and find influencers to promote your product/service through a link.
Like all other businesses, affiliate marketing has its merits and demerits. Let's explore each good and bad part of affiliate marketing.
Here are some pros and cons of affiliate marketing:
Affiliate programs' pros and cons
To begin with, we can start with the pros of affiliate programs, and they are as follows:
1- Performance-Based Income
You pay affiliates nothing unless they make sales. As a result, these programs are cost-effective and a great way to grow your audience's reach.
2- Easy to start
This is probably the most reasonable factor for choosing referral platforms. You just need to perform some basic steps to complete the whole process while starting with the platform.
3- Passive Income – Earn Money While You Sleep
Yeah, that's right, this is a promoted motto by Neil Patel "Make $$$ while you ZZZ". The opportunity to make a passive income means earning money while you sleep.
4- Flexible Working Schedule
One of the most important aspects of affiliate marketing is you run your business staying from anywhere in the world no matter what time. This will also allow you enormous flexibility and an enhanced capacity to build an income stream.
5- High Income Potential
Although it seems that affiliate marketers get a small portion of revenue from each sale, it still has enough potential to generate more sales. Influencer affiliate programs with a high engagement rate with their niche will find something unbelievable.
6- Zero/Minimal Investment
Affiliate programs are inexpensive to run and, at the same time, an excellent method to increase revenue.
Like any other platform, affiliate programs have their weak points too. Let's have a look at them:
7- You Don't Control Affiliate Marketing Programs
You may not have much control over the context of an affiliate's marketing efforts. Unsatisfactory poor written reviews and websites could ruin your brand's reputation if you're not careful enough.
8- You Can't Establish Your Customer Base
Customers gained through affiliate marketing efforts might not be "quality customers," meaning they might not return.
9- You Don't Control Your Competition
Competition varies depending on the industry. As there are strong benefits of joining an affiliate business, such as low costs of investments, high-profit opportunities, and no expertise needed, a lot of people try their hand at affiliate marketing. Practically anyone can join and be successful.
Influencer affiliate programs can win this competition due to their strong relationship with their community.
10- No Guarantee of Revenue
Pay-per-performance can be a tremendous opportunity as well as a significant risk. No one promises that working as a brand affiliate will be easy and that you are going to earn the expected revenue right away. Affiliate programs usually only pay when a purchase takes place.
How to measure the performance of your affiliate campaign?
Whether you're new to affiliate marketing or an experienced pro, measuring the performance of your affiliate campaign can be essential for optimizing your campaigns and ensuring success. Here are five metrics to help you measure the success of your affiliate campaigns:
1- Traffic
Another way is to look at the amount of traffic you're getting from your affiliate campaign.
2- Shares
In order to determine the maximum number of clicks that an ad will receive, it is important to understand how many shares your ads will generate.
3- Likes
An affiliate marketing campaign with a low number of likes will have a harder time getting people to invest in it. On the other hand, a high number of likes can indicate that people are interested in the content and are likely to promote it.
4- ROI ( Return on investment )
Return on investment (ROI) is sometimes referred to as return on ad spend (ROAS). This is the revenue you generate from your affiliate program after you've covered the costs of your program
5- CTR (click-through-rate)
This tells you how many people clicked on your ad or link compared to the number of people who were supposed to.
6- CR ( Conversion rate )
It will demonstrate the effectiveness of individual affiliates, and the performance of this channel compared to others.
7- Number of clicks on an affiliate link
Since affiliate links are one of the most important forms of advertising on the internet, it is important to understand how many clicks they generate.
What is a brand ambassador?
Ambassadors are usually people who actively love your brand and want to talk about it to the world. A brand ambassador is engaged to promote your products or services on a long-term basis through unpaid or paid ambassador programs.
Once an influencer joins brand ambassador programs, they usually start receiving a set amount of compensation for their consistent activity. However, they would have to follow a certain set of guidelines, like a minimum number of Instagram posts mentioning the brand per month to stay an active ambassador.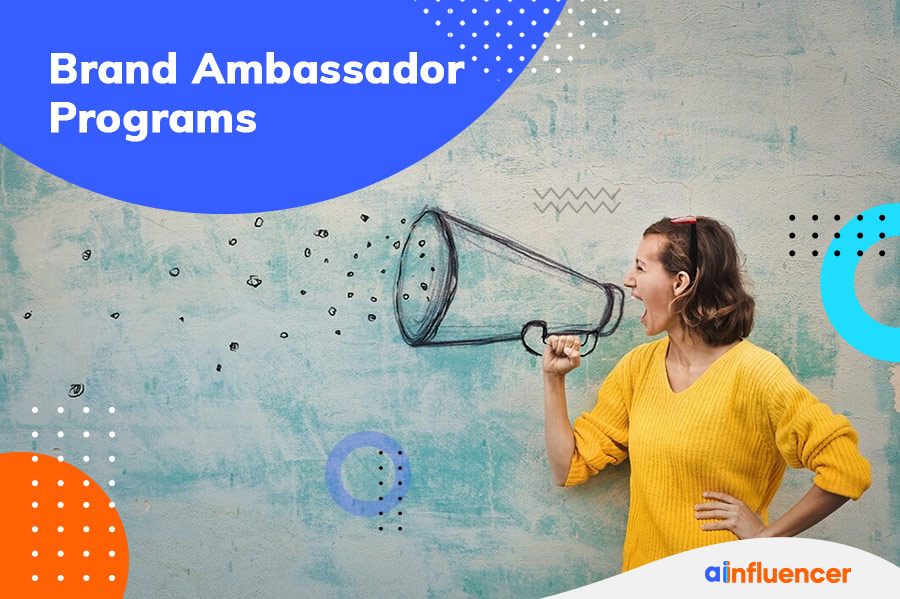 Brand ambassadors are the face of your brand, and their ultimate goal is to increase brand awareness by word of mouth.
Ambassador referral marketing is a great strategy since ambassadors grow a wide range of audiences in their niche. But finding influencers and ambassadors with a good following and great engagement rate altogether is not easy.
You can find them on different influencer marketplaces such as Ainfluencer. This DIY marketplace makes Instagram influencer marketing and ads on the marketplace super easy and fast. Ainfluencer allows brands and influencers to connect and make deals.
Brands can create a free marketplace ad that is uploaded where thousands of qualified influencers can see and make offers. Brands themselves can browse and send invitations to targeted influencers.
Influencers can install the Ainfluencer's app to explore the marketplace and make offers to brands that fit their needs as well.
Check out this video if you are interested to find different ambassadors in your niche:
Affiliates vs brand ambassadors
Two ways to use advocates to promote your brand are brand ambassador programs and affiliate programs. But when it comes to brand ambassador vs. affiliate, which one is a better fit for your business needs and building brand awareness? Or would taking advantage of both be the best growth decision?
The debate on affiliate programs vs ambassador programs is both fascinating and a little confusing.
Affiliate programs typically offer commissions based on sales generated by ambassadors. Once you've been accepted to an affiliate program, you'll have access to a custom coupon or link to promote. When someone from your audience purchases via your coupon or link, the sale will be credited to your account.
Ambassador programs may sometimes be affiliate programs in a nutshell, but in other cases, they're a specific program set up by a brand. These brand ambassadors could be loyal fans and customers, or they could simply be influencers. They may include compensation in the form of paid sponsorships and/or free products. Usually, these programs are more strict and have requirements to post a brand a specific number of times every month to stay active. Ambassador programs are great for consistent revenue, and brands tend to promote their ambassadors on their social media pages, resulting in more exposure for you.
Brands value the added promotion and compensate their ambassadors with many enticing perks. Similarly, an affiliate cannot expect many returns without converting customers into buyers, which takes time.
Conclusion
Comparing affiliate programs vs ambassador programs, ambassadors and affiliates have different roles working in the same spot; their goal is to promote your brand while growing their own business alongside yours. Although they are not quite the same, they have many things in common; and most importantly, they can work together.
You don't always have to choose between an ambassador program or an affiliate program. Based on your business's requirements, you might benefit most from a collection of brand ambassadors, brand affiliates, or a combination of both.
It's time for you to consider the tips given and choose the kind of program you need to set up. If you want:
A group of dedicated people giving authentic reviews on your brand,
Compensate with freebies and product samples instead of a current cash flow,
Put a face to the name of your brand,
You might be better off working with brand ambassadors. But if you're looking for:
More security and ease of mind with your marketing efforts,
Less involvement and monitoring with marketing,
Prefer to give out a set contract payroll,
Pay based on accomplished sales results rather than upfront,
Not promoting any other influencer on the company page,
Then, brand affiliates might be what you need.
We hope this brief comparison between affiliate programs and ambassador programs helped you make your decision about your marketing programs.
1- Is being an affiliate worth it?
Affiliate marketing is only worth it if you can match the right product with your audience. While it's recommended to choose a niche that you're passionate about, paying attention to the demand for products in that niche is also important.

2- How do affiliates get paid?
Affiliate marketing works when someone (an affiliate) refers to a product or service by sharing it on a blog, social media platform, podcast, or website. The affiliate earns a commission each time someone makes a purchase through the unique link associated with their recommendation. You get paid a commission.

3- How to Become an Affiliate?
It's pretty simple to be an affiliate for any affiliate program. What you need is to promote the respective products or services. You can do such independently for any kind of affiliate program. You will become basically an independent promoter of the respective products or services.

4- Is Ambassador Marketing Just Affiliate Marketing?
An affiliate marketing program is not driven by a passion for a product but by receiving a cash payout to promote and close a sale. Here, the connection between the affiliate and the brand is usually short-lived. Brand ambassadors have a meaningful role in convincing their close network about their brands' true value and benefits. Their influence can frequently help transform the brand image and bottom line for the brands they endorse and promote.