There are many LGBTQ influencers on Instagram, and their accounts can provide a great window into the LGBTQ community. By sharing their empowering stories and images, they are helping to break down barriers and create a more inclusive society. These stars are not only changing how we see LGBTQ people but also inspiring others to get involved and support the LGBTQ community.
Some of the most famous LGBTQ influencers out there are creating positive, affirming, and Instagram branded content for their followers. From fashion bloggers to fitness influencers, these remarkable individuals are helping to build a more inclusive community. 
Here are the best 50 LGBTQ influencers taking over Instagram!
How to find LGTBQ influencers on Instagram?
If you're looking for the best LGBTQ influencers on Instagram, there are a few ways to go about it. Try searching on Google, searching for hashtags, or influencer marketing platforms.
Google can be a great help in finding influencers on Instagram. For example, you can type "gay Instagram influencers" into the Google search bar and check the results to see if they are a good fit for your brand or not.
You can also search LGTB influencers by hashtags on Instagram. By typing "#gayinfluencers," you can check many gay Instagram influencers and go through their profiles.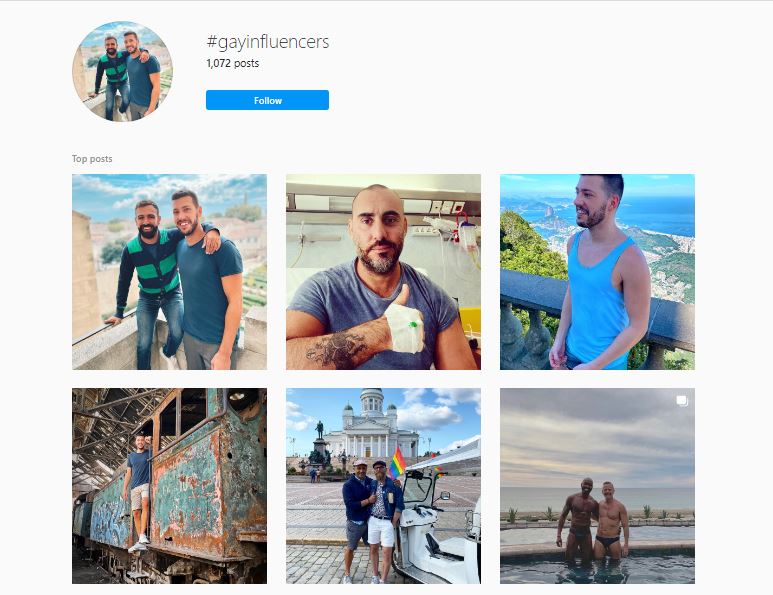 Finding LGBTQ influencers on Instagram can be daunting if you go through the search process yourself. Using influencer marketplaces, you can easily find influencers most relevant to your brand.
Ainfluencer is a free DIY marketplace and one of the best and easiest ones that connects brands and influencers to ease collaboration.
With the help of Ainfluencer's AI engine, you can find Instagram influencers in your niche and explore thousands of influencers based on hashtags, quality score, category, engagement rate, number of followers, etc.
Check out this video to see how Ainfluencer works.
10 Top Gay influencers you need to follow
1. Daniel Franzese (@whatsupdanny)
Known as WhatsupDanny, an actor, comedian, and activist, Daniel is one of the funniest and most popular gay Instagram influencers with more than 140K followers.
He is the CEO of funny gay besties and Italian big boy beefcakes.
Famous for the best portrayal of "Mean Girl," he inspires a lot of people. He also has an epic sense of humor with a sense of responsibility to put a light on the community.
2. Alexander Joe (@alexbegs)
Alexander has 38K Instagram followers and 600K followers on TikTok. The posts showcase a particular flair for fashion, making them unique and intriguing.
3. Devin Norelle (@steroidbeyonce)
Devin is an advocate, actor, diversity, model, and writer with 50k Instagram followers, talking about topics like gender-affirming surgery, neopronouns, and openly about AIDS/HIV.
4. Owin Pierson (@owinpierson)
Owin is one of the top Asian LGBTQ Influencers who has been vocal about sexuality, mental health, and equality. Showing the importance of supporting others is important but crucial to supporting them before, during, and after they come out.
5. Doug and Sanjay (@Thetravellinggays)
Doug and Sanjay met at Manchester Pride in 2009, and since then, these gay influencers have traveled the world together, documenting their journey on their Instagram with 264K followers and their Youtube channels. They recently shared their journey with surrogacy and are currently celebrating the arrival of their first child!
6. Matt Bernstein (@mattxiv)
Being on the list of the most famous LGBT influencers and activists, Matt's profile is all about fantastic makeup, mashed up with strong messages, political challenges, and LGBTQ community issues. His creativeness is a significant medium for altering thoughts and raising awareness concerning several LGBTQ-related subjects.
7. James Barr (@imjamesbarr)
James Barr is one of the hosts of the UK's top-rated LGBTQ podcast, 'A Gay and a Non-Gay', which has amounted to over 5M listens and won the award for Best Entertainment Podcast at the 2021 British Podcast Awards. He is also a successful stand-up comedian with nearly 10K followers on Instagram.
8. Daniel Webster (@danielwebster92)
With a fanbase of 26K engaged followers on Instagram, Daniel shares bits and pieces of his life as an LGBTQ influencer living in London. He has also recently started his own YouTube channel, hoping to share more of a visual look into his daily life. The gay influencer has collaborated with "Avaj" which focuses mainly on male styling.
9. Bailey Mills (@gayglobetrotter)
Bailey is among the food influencers on Instagram who enjoys sharing new recipes with his 9K followers. He is also the founder of "The Gay Globetrotter" website, which focuses on LGBTQ issues.
Bailey hopes to inspire and show people that the risks for their identities and sexualities are worth it. He is one of the best gay micro influencers on our lists who has joined hands with several other LGBTQ influencers to create unique content.
10. Terrell and Jarius (@terrell.and.jarius)
The black gay Instagram influencers, Terell and Jarius, are two same-sex parents who produce content on parenting and family lifestyle.
Recently, they were featured in an article by 'Gay Parents Magazine.'
In addition to posting wholesome family content on Instagram for their 342K followers, they also collaborate with brands such as Target, Domino's Pizza, Six Flags, and the American Dental Association.
Our gay influencers run their website, which tells their story as a married couple from start to finish. You might also enjoy their YouTube videos, which create fun and relatable parenting content.
10 top lesbian influencers you should follow in 2023
1. Roxeanne and Maartje (@Onceuponajourney)
Roxeanne and Maartje are lesbian influencers who travel the globe and record their travels using Instagram stories and posts. Their shared blog, named "once upon a journey," is a popular source for those interested in traveling, especially the LGBTQ community.
2. Jessica & Claudia (@jessieandclaud)
Among our favorite LGBTQ influencers of ours are Jesse and Claud. Jessie and Claud document their day-to-day lives and relationships on their Instagram and YouTube channels highlighting Jessie's experience living with disabilities. Also, in 2021, they became mothers, welcoming Rupert into their family. They now have 187K followers on Instagram, mostly sharing their adorable baby photos.
3. Lena & Aga (@lena_and_aga)
Based in Amsterdam, Lena and Aga call themselves the 'femme couple' of Instagram. Through their IG account with almost 17K followers, Their content focuses on their life as an LGBTQ+ couple.
The lesbian influencers hope to empower LGBTQ couples and the community, no matter where they are.
These LGBTQ influencers also appear on TikTok, predominately making creative videos, and on YouTube, where they upload brief clips of their relationships from time to time.
4. Rose Dix (@roseellendix)
Rose and Rosie grew their profiles by creating content through comedy and lifestyle across Youtube, Instagram, and podcasts. With over 550K IG followers, they are among the most popular LGBTQ influencers.
These lesbian influencers share their journey to conceiving their first child, who arrived in 2021.
5. Calle y Poché (@calleypoche)
Calle and Poche are among the most well-known and successful Latin American LGBTQ influencers. With 5.3M followers on Instagram and a TikTok following of 4M, these lesbian influencers have skyrocketed their careers since their vlogging origins in 2015.
6. Hannah Hart (@harto)
Hannah Hart is a much-loved LGBTQ influencer with 1M Instagram followers. This lesbian influencer has been creating content around her sexuality since 2009.
Hannah creates content for her YouTube channel, and her podcast, Hanahlyze This. Moreover, she also creates instructional content about mental illnesses and encourages others to erase the stigma associated with these topics.
7. Gabi and Shanna (@27travels)
With 61.5K followers on Instagram, Gabi and Shanna are LGBTQ travel influencers helping people find LGBTQ-friendly destinations.
The lesbian influencers started sharing their experiences with the world by combining their videography and photography skills. Gabi and Shanna hope to guide anyone who might be hesitant to travel because of their LGBTQ identity through their content. They believe representation and support are the two main aspects of helping someone accept themselves and the LGBTQ community.
8. Jess Guilbeaux (@jesslayica)
With more than 135k followers on Instagram, Jess is a black lesbian influencer. She is a speaker, a successful model, and an activist.
Jess is well-known for her commentaries on LGBTQ-related matters, such as mental health and self-compassion. She is an enthusiastic voice in the community on some matters. Her appearance in episode 5 of the Netflix series Queer Eye aided her in getting considerably more visibility. This makes her a valuable LGBTQ influencer for brands wanting to speak about social issues.
9. Lisa and Bianca (@lisbia_bianca)
Based in Austria, Lisa and Bianca, also known as lesbians, are undoubtedly one of the hottest lesbian influencers on Instagram, with 117K followers.
Now they showcase their beautiful love story to the world, inspiring LGBTQ people worldwide and proving love is love.
10. Jessi and Millie (@jessi_and_millie)
Jessi and Millie are one of the first lesbian influencers on Instagram that inspire us daily.
They got married in 2019, and after a few years, they are now foster parents and recently welcomed their first-born baby, Tide, into the world.
10 top Bisexual influencers to follow in 2023
1. Dodie Clark (@doddleoddle)
Dodie is a British singer-songwriter who came out as bisexual in 2017. Her music discusses her experiences with her sexuality, detailing her romantic endeavors with both men and women. With 1.1M followers on Instagram, this bisexual influencer shows her adoring fans her experiences while on tour and photos with her other LGBTQ influencer friends.
2. Blair Imani (@blairimani)
Blair Imani isn't just an educator and famous author; she's also an outspoken member of the black, Muslim, and bisexual communities. She launched the microlearning series "Smarter in Seconds" on Instagram Stories and used her YouTube channel to promote minority and feminist history to her viewers. With over 500K followers, she is one of the most famous LGBTQ influencers on the list.
3. Shane Dawson (@shanedawson)
In 2015, YouTuber Shane Dawson gave in to rejected bisexuality and went public with his 6.7M subscribers on YouTube. With 8M followers on Instagram, he is a widely viewed bisexual influencer. Dawson has only opened up about his regretful split up with Lisa Schwartz after a high-profile breakup, so he has settled down with boyfriend Ryland Adams.
4. Billie Joe (@billiejoearmstrong)
The pioneer, alongside the lead vocalist of Green Day, Billie Joe Armstrong, has also spoken out about his bisexuality. In 1995, he told the Advocate, "I think I've always been bisexual. I mean, it's something I've always been interested in. I think people are born bisexual." Fisher became happier advocating for the bisexual community after his revelation.
He is a famous singer and LGBTQ influencer with 2.7M followers on Instagram.
5. Jason Mraz (@jason_mraz)
Mraz's love songs are known worldwide, yet he wants to be known as bisexual. Two-spirited is a term Native Americans coin, meaning an individual who represents both male and female identities, and it was even as Mraz was using the word. He later apologized for this and thanked the commenters for their help. With over 1M IG followers, Marz is among the top bisexual influencers.
6. RJ Aguiar (@damnitrj)
This LGBTQ influencer dedicates a large part of his work to advocating for the Bi community and helping everyone live a more 'enhanced' life.
With 62K followers on Instagram, RJ has successfully landed many brand deals, most of which have to do with clothing.
RJ also has his own YouTube channel, where he creates various videos on different topics.
7. Jonatha Ness (@jvn)
Jonathan has been openly gay his whole life and has been bullied for being a woman throughout his childhood. A well-known figure in the LGBTQ+ community and admired by many other LGBTQ influencers, he now hosts his podcast, "Getting Curious with Jonathan Ness."
8. Travon Free (@travon)
Travon was a college basketball player who succeeded in his chosen profession as an actor, comedian, and writer. He won an Emmy Award in 2015 for outstanding writing for a variety series for his work on the daily show with Jon Stewart. Travon also wrote this informative article about his experience as a bisexual man.
9. Stephanie Beatriz (@stephaniebeatriz)
Stephanie is most widely known for her role on Brooklyn Nine-Nine. Her Instagram account is heavily tinged with photos of her and her dogs.
With 2.4M IG followers, she is one of the most famous LGBTQ influencers.
10. Loreen (@loreenofficial)
Loreen, the winner of the 2012 Eurovision Song Contest, appeared on television and identified herself as a bisexual, stating, "Sexuality is such an important part of human nature that many people are fixated on it. People often overlook love."
10 top transgender influencers you need to follow in 2023
1. Miss Peppermint (@peppermint247)
Peppermint is a favorite of Ru Paul's Drag Race. Many of her acting performances are aspirational and popular. Her glamour shots are daring and innovative. She is all over social media, particularly on Twitch and Youtube, where she discusses trans rights and backs BLM. With around 700K followers on Instagram, she is one of the best transgender influencers on the list.
2. Charlie Craggs (@charlie_craggs)
Creator, activist, and actor Charlie is one of the best-known transgender influencers in the UK. Craggs gained recognition for launching her campaign, Nail Transphobia, which provided free manicures to attendees, inviting them to converse with a transgender person, reducing transphobia, and fostering interactions.
With over 45K followers on Instagram, Charlie uses her wit, eloquence, and humor to share stories from her life and battle with transphobia there. Craggs is also the editor of a collection of essays called "To My Trans Sisters." The book includes quotes from politicians, musicians, and models who impart their wisdom on transitioning into womanhood.
3. Kenny Ethan Jones (@kennyethanjones)
Kenny Ethan Jonas is a trans influencer who focuses on various subjects, including body politics, mental health, and intimate relationships. With his focus on transgender equality, Jonas has been willing to educate himself and actively communicate on social media to address questions and concerns around the transgender community.
4. Chella Man (@chellaman)
Charismatic Chella is a notable LGBTQ influencer who deftly translates popular American music into sign language on his YouTube account, which has thousands of viewers. This successful model and actor also advocates on behalf of the Chinese-American culture and deaf community. He also models for Calvin Klein's one-of-a-kind collection.
5. Hawk Snipes (@bhawksnipes)
This black trans influencer is a quotient of fashion and glamour, on and off the runway inspiring 36K followers on Instagram. You'll mainly spot her hosting LGBTQ events, groups, and rallies.
6. Munroe Bergdorf (@munroebergdorf)
Munroe is among the first transgender influencers and models from the U.K. She shares images of her fashion shots and views on global politics and social unrest issues. Munroe Bergdorf is not afraid to call a spade a spade! When she openly criticized LOreal in 2017.
Due to her comments on racism, she got chucked out of one of their campaigns. Later LOreal offered her a spot on their diversity board which she politely welcomed as she said sharing her views on a campaign for black, queer, and trans models was much more critical for her.
7. Alysse Dalessandro (@readytostare)
Plus-size model and traveler, Alysse is a famous LGBTQ influencer who uses her website and Instagram to campaign for LGBTQ rights. She never shies away from taking on issues relating to LGBTQ advocacy. She celebrated International Day Against Homophobia, Transphobia, and Bisexuality with powerful arguments. She addressed the issues faced by transgender individuals in day-to-day life and their daily struggles.
8. Charlie Allan (@charlieallan164)
Scottish LGBTQ influencer Charlie has around 48K IG followers and a following of more than half a million on TikTok alone due to his honest and funny transition documentation, including his experience of gender-affirming surgery, HRT, and providing a space to demystify people's understanding of transitioning.
9. Bretman Rock (@bretmanrock)
Bretman is a transgender influencer passionate about fitness, fashion, and travel. He recently joined Nike's #betruecampaign to entertain audiences with unboxing videos and skits on his YouTube channel.
10. Lex Horwitz (@lex_horwitz)
Lex is a trans influencer and activist in the LGBTQ+ community. He hopes to spread awareness about the difference between gender identity and gender expression through his Instagram profile, with 15K followers.
In addition to being an activist and educator, Lex is a model for LGBTQ-friendly brands and has collaborated with the clothing brands Berries and Camouflaged.
10 top Queer influencers to follow in 2023
1. Pattie Gonia (@pattiegonia)
Pattie is a queer drag queen environmentalist building a community for LGBTQ folks, allies, and the planet. What started as a fun drag costume on a hiking trail turned into a platform of over 488K followers who care about coming together in the name of intersectional environmentalism.
Pattie is among the most popular LGBTQ influencers.
2. Skyler Jay (@trans.ginger)
Skylar Jay is one of the queer influencers, activists, and speakers with a following of 56K on Instagram, where he talks about rights related to the LGBTQ+ community while also having an epic fashion and beauty sense. He also helped run Pink Sofa Series and created scholarships for gender-conforming surgeries.
3. Maya/Sebastian Noir (@cosmicphenomenon)
Maya/Sebastian is a trans/nonbinary/bigender who advocates for the queer. On his Instagram account, you'll get to see a lot of honesty and vulnerability, like showing scars of the surgery, playful videos, and loving shots of vacation with his partner.
4. Anna Zoe (@annazoequirke)
Anna is one of the lesser-known LGBTQ influencers who have spoken on mental health issues and eating disorders. She identifies herself as a queer femme and has many photos of the vibrant colored outfits and her impeccable style on her Instagram handle.
This nano influencer shares her experiences as an autistic person and talks about her recovery from eating disorders. She even offers hope through her social media handles for autistic individuals like her. Her tips for neurotypical people to help them handle neurodivergent people are handy among her followers.
5. Erika Hart (@ihartericka)
The list would be incomplete without including Erika as one of the most famous LGBTQ influencers. She is a breast cancer survivor and posts her mastectomy scars very confidently. She is a black queer and non-binary femme who encourages individuals to come out and talk about their experiences and creates equality and support for all.
On her Instagram account, with 480K followers, she shares gender, race, sex, health, and gender posts. She motivates black women to break the norms and inspire people just as they are.
6. Char Ellesse (@ellessechar)
Unapologetically herself, Char uses her profile to raise awareness of both LGBTQ+ and racial inequality, alongside sharing her day-to-day life with her 65K followers. Check out her profile for real, honest content that shines the light on topics we all need to discuss more.
7. Lindsay Cale (@lindscale)
Lindsay is a gender non-conforming queer whose passion lies at the intersection of travel, food, and androgynous style. She firmly believes that food is a love language and fully understands a new culture you must taste. Lindsay is best described as an adventure-seeking introvert with no sense of direction.
According to this queer influencer, travel is possible for gender non-conforming people, and Lindsay wants everyone to know that your gender expression doesn't have to limit your travels.
8. Jenna Howieson (@thejennaway)
Jenna is a Scottish LGBTQ influencer passionate about travel and LGBT+ activism. By day she works at Skyscanner in inclusion and diversity. By night she's a blogger, explorer, and photographer. She has been creating content for about three years around the travel and queer issues niche.
9. Marquis Neal (@marquimode)
He is an LGBTQ influencer, model, and fashion creator with an infectious smile. His content includes loads of "get ready with me" videos and outfits of the day, all tracked with irresistible pop music and bright colors.
He has around 28K followers on Instagram, where he brings much-needed representation to social media for queer men of color and brings together "big babes who like to get dressed."
10. ALOK (@alokvmenon)
The macro influencer, Alok is a non-binary author, speaker, comedian, and activist with 1M engaged followers on Instagram. They created #DeGenderFashion, a movement to de-gender fashion and beauty products, which has inspired broad discussions concerning gender, beauty, and culture.
Conclusion
The LGBTQ community is full of talented and influential people who use Instagram to share their stories and connect with others. These LGBTQ influencers are changing the social media landscape and helping to make the world more inclusive.
If you're looking for some inspiration or just want to learn more about the gay influencers, bisexuals, lesbian influencers, queers, and generally LGBTQ community, be sure to follow these amazing people on Instagram.
1- What does LGBTQ+ mean?
The acronym stands for lesbian, gay, bisexual, and transgender. At times, a Q will be added for Queer.

2- Who was the first openly gay artist?
In the 1960s, many music artists experimented with androgyny and sexual fluidity. Meanwhile, in 1973, a music performer with the stage name Jobriath became the first counter-culture celebrity to be elected to a major record label after presenting himself as outrageously excessive.