Dad influencers are a new breed of social media personalities who have emerged in recent years, celebrating fatherhood in all its forms. With the rise of social media, these dads have found a platform to share their parenting journeys, offer advice, and create a community around their experiences.
For brands and marketers, partnering with dad influencers can be a powerful way to reach new audiences. One influencer marketing platform that makes it easy to find and connect with influencers is Ainfluencer.
In this article, we will explore the world of dad influencers, their impact on social media, and the role of influencer marketing platforms such as Ainfluencer.
The Emergence of Dad Influencers
For decades, fathers were often portrayed in the media as aloof, distant, or uninvolved in their children's lives. However, in recent years, fathers have taken on more active roles in parenting, challenging traditional gender roles and redefining what it means to be a dad.
Social media has played a crucial role in this shift. it has provided a platform for dads to share their parenting experiences and connect with others who are going through similar situations. Through platforms like Instagram, YouTube, and TikTok, dad influencers have been able to build their own communities, where they can offer support and advice to other dads.
One of the most significant benefits of dad influencers is that they provide a positive representation of fathers in the media. By showcasing their parenting experiences, they challenge traditional stereotypes and offer a new perspective on fatherhood. They also provide a platform for dads to connect with other fathers, creating a sense of community and belonging.
Dad influencers have become increasingly popular in recent years. With many brands and marketers recognizing the value of partnering with them for influencer marketing campaigns, they are truly an asset. As a result, many dad influencers have been able to monetize their content, turning their passion for parenting into a full-time career.
Overall, the emergence of dad influencers represents a positive and important shift in the way we view fatherhood. By embracing and supporting these influencers, we can challenge traditional stereotypes and celebrate the diversity of parenting experiences.
Top 12 Dad Influencers
Here are 11 dad influencers who are making an impact on social media and beyond:
#1 Mike Julianelle
Mike is a Brooklyn-based dad who shares his humorous take on parenting through his blog, Dad and Buried, and social media accounts.
He's known for his witty observations and relatable anecdotes about fatherhood, as well as his honest conversations about the challenges of parenting.
Mike also hosts a podcast called Dad and Buried, where he interviews other parents and experts on topics related to family life.
#2 Doyin Richards
Doyin is a father of three who uses his platform to challenge stereotypes and celebrate the joys of fatherhood.
He's an author and speaker who has been featured in various media outlets, including The Today Show, CNN, and The Huffington Post.
Doyin's message is one of inclusion and positivity, inspiring other dads to be present, engaged, and proud of their role as parents.
#3 Beau Coffron
Beau is a dad who became famous for his creative and fun lunchbox designs, which he shares on his Instagram account and website, Lunchbox Dad.
His lunchbox creations range from cartoon characters to movie themes. He's even published a book called "Lunchbox Dad's Guide to Awesomeness."
Beau's approach to parenting is all about finding joy in the small moments and making memories with your kids.
#4 Clint Edwards
Clint is a writer and dad who shares his humorous and honest take on fatherhood through his blog, No Idea What I'm Doing, and social media accounts.
He's published several books, including "I'm Sorry…Love, Your Husband" and "Silence Is a Scary Sound: And Other Stories on Living Through the Terrible Twos and Threes."
Clint's posts and books offer a relatable and often hilarious perspective on the ups and downs of parenting.
#5 Devon Still
Devon is a former NFL player and dad who uses his platform to raise awareness and funds for pediatric cancer research.
He gained national attention when he shared his daughter Leah's battle with cancer on social media. He's now a motivational speaker and advocate for families affected by childhood cancer.
Devon's message is one of hope and resilience, reminding other dads to cherish every moment with their children.
#6 LaGuardia Cross
LaGuardia is a filmmaker and dad who shares his comedic and heartwarming videos about fatherhood on his YouTube channel and social media accounts.
He's known for his "New Father Chronicles" series, which documents his experiences raising his daughter Amalah.
LaGuardia's videos offer a glimpse into the joys and challenges of parenting, with a focus on the everyday moments that make it all worth it.
#7 Chris Pegula (@diaperdude)
Chris is a dad who founded the company Diaper Dude, which makes stylish and functional diaper bags for dads.
He's also the author of the book "From Dude to Dad: The Diaper Dude Guide to Pregnancy," which offers practical advice and humor for expectant fathers.
Chris's message is all about empowering dads to be involved and confident parents, starting with something as simple as a diaper bag.
#8 J.D. Andrews
J.D. is a photographer and dad who shares his love of travel and exploration with his son through his social media accounts and website, EarthXplorer.
#9 Pat Flynn 
Pat Flynn is a dad influencer who is also a successful entrepreneur and author. He shares his experiences and insights on parenting, work-life balance, and personal development with his followers. He also hosts a podcast where he interviews other successful entrepreneurs and shares their stories and advice.
#10 Jim Higley (@jimhigley)
Jim Higley, also known as Bobblehead Dad, is a dad influencer who shares his experiences and insights on parenting, health, and wellness. He is a cancer survivor and often shares his journey and tips for staying healthy and positive.
He is also an author and speaker, inspiring and motivating his followers to live their best lives.
#11 Casey Palmer 
He's a dad influencer who shares his experiences and insights on fatherhood, marriage, and life. He uses his platform to promote diversity, inclusivity, and mental health awareness. He is also a writer and speaker, sharing his knowledge and expertise on various topics related to parenting and personal development.
Each of these dad influencers brings a unique perspective and voice to the parenting space. It makes them valuable assets to brands and a source of inspiration and entertainment for their followers.
Ainfluencer recognizes the value of these unique voices and provides a platform for dad influencers and brands to connect and collaborate. So let's take a closer look!
Ainfluencer: The Ultimate Platform for Influencers and Brands
Whether you're an influencer looking to grow your following or a brand looking to tap into this valuable demographic, Ainfluencer has everything you need to succeed in the influencer marketing world.
As we mentioned earlier, Ainfluencer is a powerful influencer marketplace that connects influencers with brands, making it easier for them to collaborate and create content.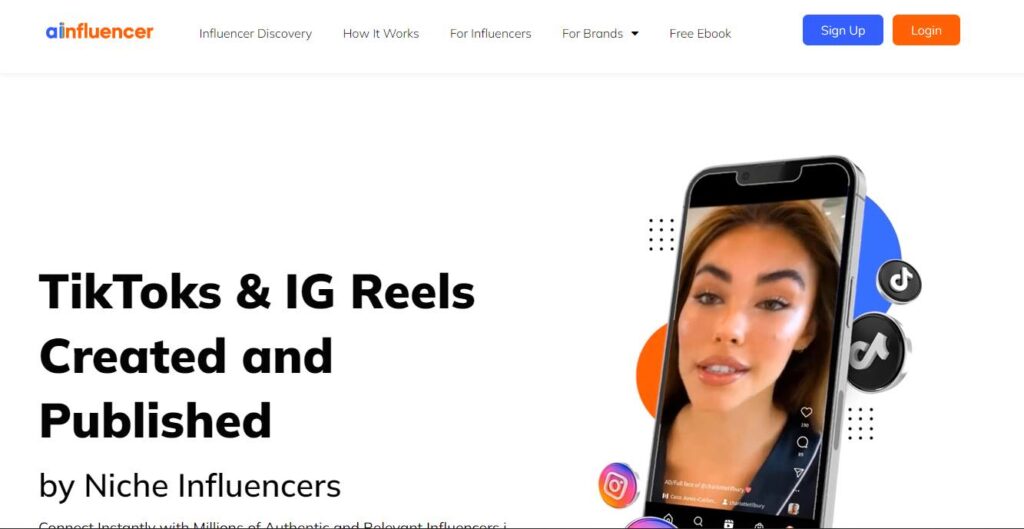 With Ainfluencer, influencers can find brand collaborations that align with their niche, and brands can connect with influencers who match their target audience. The platform provides a streamlined process for collaborations, making it easier for both parties to communicate and work together effectively.
Ainfluencer offers a range of features that make it stand out from other influencer marketing platforms. The platform offers a search engine that allows brands to find the right influencers based on their niche, location, and engagement rates. Influencers can create a profile and showcase their work, making it easier for brands to find them. And it's all FREE!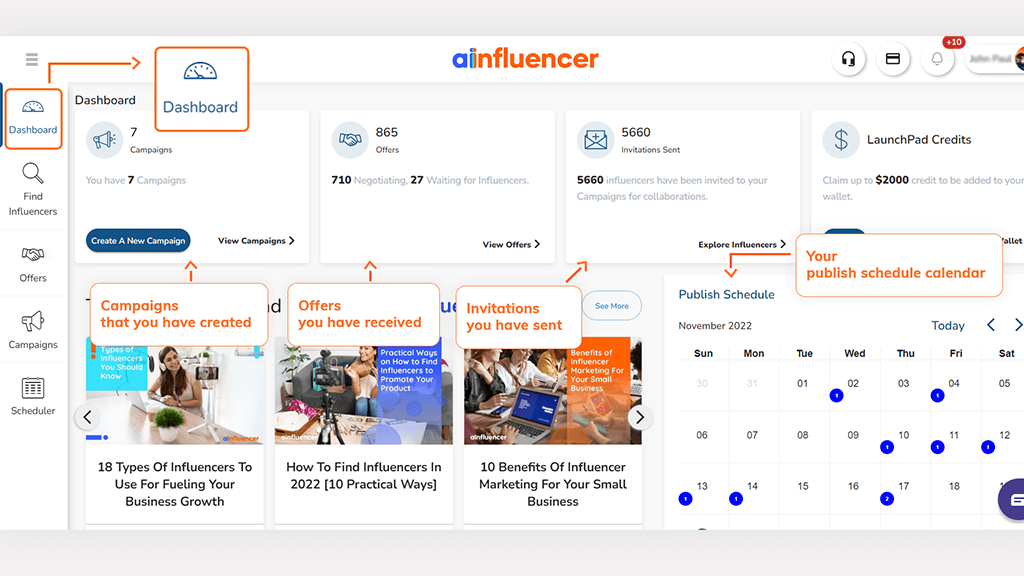 Another feature of Ainfluencer is its campaign management system. It allows brands to track the progress of their collaborations with influencers. The system provides real-time data on the success of the campaign, allowing brands to adjust their strategies accordingly.
Overall, Ainfluencer is an excellent platform for influencers and brands looking to collaborate and create successful campaigns. With its user-friendly interface and streamlined process, Ainfluencer is the go-to platform for influencer marketing.
If you're an influencer looking to expand your reach and connect with top brands in your niche, sign up for Ainfluencer today and start taking your influencer career to the next level!
The Impact of Dad Influencers
According to Google Trends data, searches for "dad influencers" have increased by over 1,000% since 2015. It shows that dad influencers have made a significant impact, not just on social media, but also in the real world. 
By portraying fatherhood in a positive light, dad influencers are challenging traditional gender roles and expectations related to parenting. This role is equally significant as that of mom influencers in shaping societal perceptions of parenting.
By sharing their unique experiences and perspectives, dad influencers are fostering a sense of community and support among parents. It has created a space for both moms and dads to connect and share their parenting journey.
Moreover, dad influencers have become valuable partners for brands and product collaboration, offering increased engagement, building brand awareness, and access to a previously untapped demographic.
A 2021 study by Mindshare North America found that dads are more likely than moms to share branded content on social media, with 34% of dads doing so compared to 28% of moms. So businesses can use it to their advantage to increase their brand awareness.
Conclusion
The rise of dad influencers has opened up a new world of opportunities in the influencer marketing industry. As more and more brands recognize the value of dad influencers, we can expect to see even more dads stepping into the spotlight.
To tap into this growing market of dad influencers, brands and influencers alike can turn to Ainfluencer. With its comprehensive features and user-friendly platform, Ainfluencer is the perfect tool for connecting brands with dad influencers and reaching new audiences.
So what are you waiting for? Sign up for AInfluencer today and start making your mark as an influencer!
FAQs
Now that you've learned about the top 10 dad influencers, you may have some questions. Here are some FAQs to help you better understand this growing trend and how you can get involved.
Q1. What Is a Dad Influencer?
A dad influencer is a social media personality. He shares their experiences of fatherhood and parenting on platforms such as Instagram, YouTube, and blogs.
Q2. Why Are Dad Influencers Important?
Dad influencers challenge traditional stereotypes of fatherhood and offer a positive representation of dads in the media. They also provide a space for dads to connect and share their experiences, fostering a sense of community and support.
Q3. How Do Brands Partner With Dad Influencers?
Brands can partner with dad influencers by reaching out directly, or by using influencer marketing platforms such as AInfluencer to find and connect with influencers.
Q4. What Are the Benefits of Using AInfluencer for Influencer Marketing?
AInfluencer offers a range of features to streamline the influencer marketing process. It includes influencer search, campaign management, content collaboration, and analytics and reporting. This platform is free and is a great option for brands and influencers alike.
Q5. Can Anyone Become a Dad Influencer?
Anyone can become a dad influencer by sharing their experiences of fatherhood on social media. However, building a successful brand and audience requires dedication, authenticity, and a clear content strategy.