If you are looking for affiliate programs to join, Amazon has a perfect opportunity. However, some might not know the difference between the Amazon influencer program vs. the affiliate program. You need to know how each one works to decide your best option.
In this article, we will provide you with a full guide on the difference between Amazon influencer programs and affiliate programs. You can check how to join each one and know their requirements.
Amazon Influencer Program Vs. Affiliate Program
Before talking straight about the Amazon influencer program vs. the affiliate program, you need to how does each one work. So, let's start with a look at each one and the requirements to join them, 
What Is the Amazon Affiliate Program?
The Amazon Affiliate Program, also known as Amazon Associates, is an affiliate program for bloggers, website owners, and social media influencers. This program allows participants to earn referral fees by promoting Amazon products through unique affiliate links.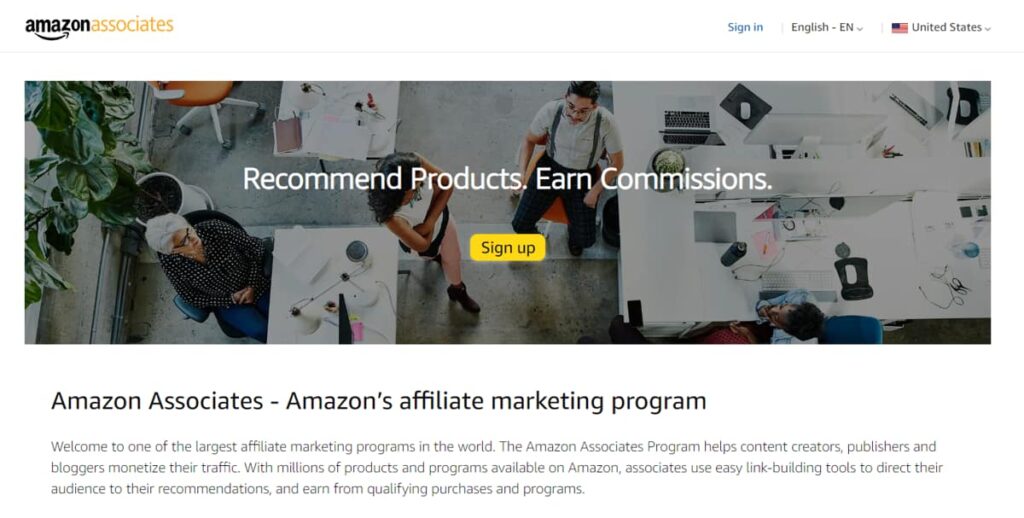 In this program, content creators use and review products on their channel and share a link to its Amazon page. Amazon keeps track of each sale by providing an Associate ID for each content creator. If readers decide to buy the products from the link in the posts, the affiliate receives a commission.
For this purpose, you need link-building tools such as SiteStrip and Mobile GetLink to build an affiliate link. After that, you can earn up to 10% in associate commissions from qualifying purchases made by your audience.
How To Join Amazon Affiliate Program?
If you like to join the Amazon Associates program, you can visit the Program's page on the Amazon website and complete an application. The application will ask for your website's URL where it must contain original content. Then, an Amazon professional will check your application and let you know if you are accepted or not.
What Is the Amazon Influencer Program?
You have definitely heard about TikTok and Instagram influencers; but are you familiar with Amazon influencers? If you are running a social media page such as Instagram, TikTok, YouTube, Twitter, and Facebook, you can earn money by promoting Amazon products and earns a commission on sales made by them.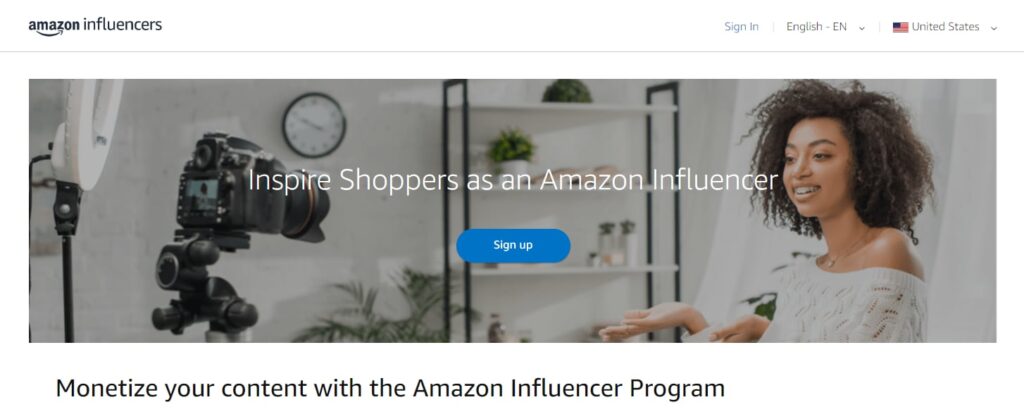 In the Amazon influencer program, you can create and customize your page on Amazon with a personalized URL. On this page, you can add your favorite products, publish your live streams, shoppable photos, and videos. Then, add the link on your social media posts to derive your traffic to Amazon.
How To Join The Amazon Influencer Program?
If you read about the Amazon influencer vs. associate and decide to join the influencer program, here are the steps to submit your application.
Go to the Amazon Influencer Program page on your browser and click "Join Now".
Signup for an Amazon account or log into your account if you already have one.
Fill out the application form with your personal and social media account information, as well as additional details about your niche and audience.
Submit your application and wait for the response.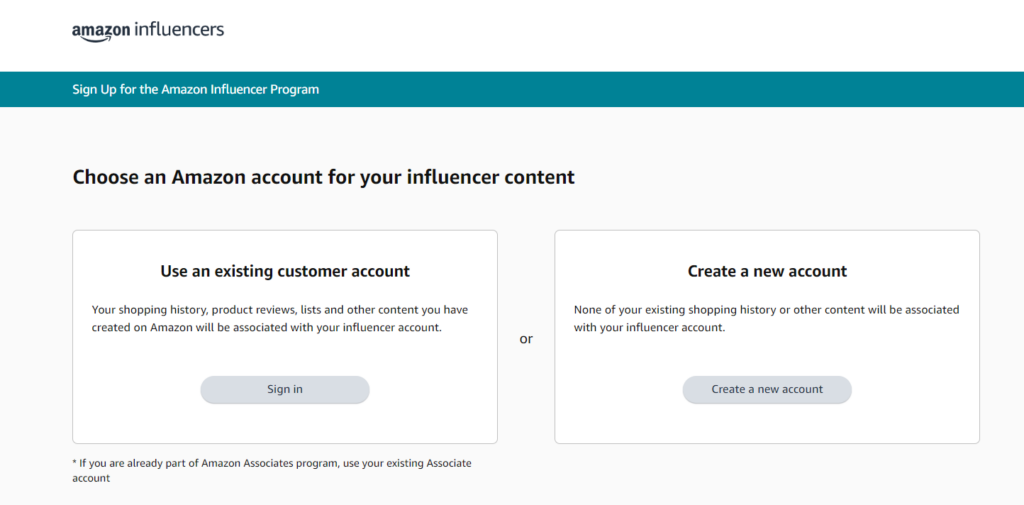 Differences Between Amazon Influencers and Amazon Affiliates?
Now that you know everything about Amazon influencer marketing and affiliate programs, it's time to see their differences. At first look, they might look the same, but they are different in some aspects. Here's what is the difference between an Amazon influencer and an Amazon affiliate.
1. Affiliate Links
As we mentioned in the last parts, in affiliate programs you share affiliate links directly to the product shopping page on Amazon. But in the Amazon influencer marketing program, instead of promoting product links, influencers have their own storefront on Amazon filled with favorite products.
This storefront page is customizable and you can design it by adding headers and profile pictures. This was the first factor about the Amazon influencer program vs. the affiliate program to consider, but there are more!
2. Amazon Associates Vs. Amazon Influencer: Requirements
The second difference between the Amazon influencer program vs. the affiliate program is the requirements for joining each program. Requirements to join the Amazon affiliate/associate are much easier than they are for joining the Amazon Influencer program. If you have a public website, you can sign up and get to work for affiliate marketing.
Keep in mind that in most cases, you need to have a website or blog for the affiliate program. Other than that, You are required to make 3 sales in the first 180 days to get your account approved.
But to become an Amazon influencer, you need to meet these requirements:
Have an active and public social media account on YouTube, Instagram, Twitter, Twitch, or Facebook,
You need to have a business account on social media,
Have a high engagement rate on your posts,
Have an Amazon account.
3. Monetizing International Traffic
When it comes to monetizing international traffic, it's important to understand the options available through the Amazon Affiliate/Associates Program and the Amazon Influencer Program.
Amazon operates various marketplaces worldwide, catering to buyers based on their geographical location. Here are some examples of different Amazon marketplaces:
United States: Amazon.com
Canada: Amazon.ca
Germany: Amazon.de
France: Amazon.fr
Japan: Amazon.co.jp
Now let's check the Amazon influencer program vs. affiliate program marketplaces.
1. Amazon Associates Program
The Amazon Affiliate/Associates Program allows you to join as an affiliate for multiple Amazon marketplaces worldwide. By using Linkstripe, you can set up the One Link system, which automatically connects your international accounts.
These affiliate links will be geo-located based on where your audience is clicking from, directing them to their local Amazon website. This way, you can tap into international sales and earn global commissions. This feature is particularly valuable if you have a diverse global audience.
2. Amazon Influencer Program
On the other hand, the Amazon Influencer Program currently does not provide a direct way to monetize your international audience. As an influencer, you can only create one store per marketplace. If you didn't get the monetization for the Amazon influencer program, let's make it simple with an example.
For example: if you join as an Amazon Influencer, your Storefront will showcase products available for purchase in the United States. Unfortunately, any international audience that discovers your Storefront won't be able to make purchases through your links, and you won't earn a commission for those sales.
Alternative Way To Monetize Your Social Media Account
If your applications for the Amazon influencer/affiliate program got rejected or even if you look for additional ways to earn money, collaborating with brands is one of the best options. There are hundreds and thousands of brands looking for industry influencers to work with. But how to find them?
Ainfluencer is an influencer marketing platform that connects brands and influencers of different niches. With a powerful search engine, you can search for brands based on niche, hashtag, location, language, budget, etc.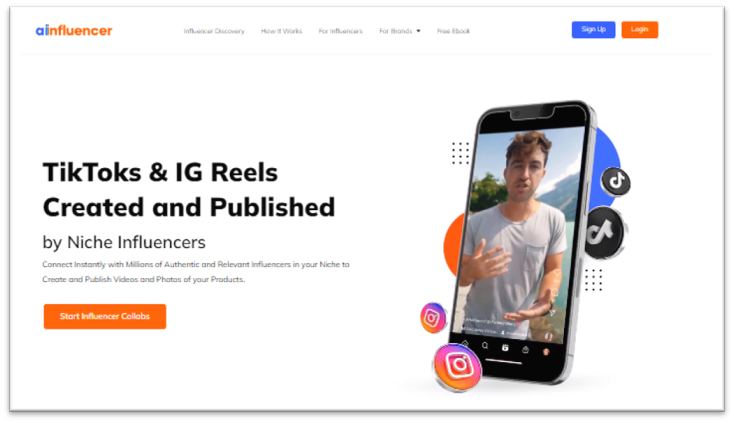 After finding your best match, you can invite them and chat with them inside the app. Also, you can make safe payments inside the platform. The best part is all of these processes are available for free for everyone.
Conclusion
Both the Amazon Influencer Program and the Amazon Affiliate Program provide opportunities to earn income through product promotion. However, they are different in some aspects.
In this article, we've provided a complete guide on the Amazon influencer program vs. affiliate program. You can apply for both or the one that works better for you to earn money from your social media presence.
FAQs
1. Can I Participate In Both The Amazon Influencer Program And The Amazon Affiliate Program?
Yes, you can participate in both programs, as long as you meet the eligibility criteria for each program. Keep in mind that the strategies and approaches may differ for each program, so it's important to tailor your content and promotions accordingly.

2. Do I Need A Certain Number Of Followers Or Subscribers To Join The Amazon Influencer Program?
Yes, the Amazon Influencer Program has specific eligibility requirements, which may include having a minimum number of followers on your social media platforms. The exact criteria can vary, so it's recommended to review the program guidelines and requirements to determine if you meet the necessary qualifications.

3. Are There Any Costs Associated With Joining These Programs?
No, both the Amazon Influencer Program and the Amazon Affiliate Program are free to join. However, keep in mind that there may be costs associated with maintaining and promoting your online presence, such as website hosting or social media management tools.