These days almost all businesses are looking for new ways to grow their customers and beat their competitors. Using a paid media agency is one of the new ways brands can try to grow their visibility and leads on digital platforms.
In this article, we will show you new methods of business advertising with the help of top agencies around the world. Also, we will introduce you to some of the best paid social media agencies, their features, and benefits. If you are looking for ways to boost your business's growth and success, make sure to read the article.
What Is Paid Media?
One of the new ways of brand advertising that is becoming popular is Paid media. Paid media refers to online advertising where businesses pay to promote their content, products, or services on different platforms.
With the help of Paid media, businesses can reach new audiences and generate leads, but it can be costly, and there's no guarantee that the right people will see the ads. Other than the cost, using paid media incorrectly can harm a brand's image if the ads are too aggressive or irrelevant to what the brand offers.
So, if you decide to use paid media, make sure to create relevant and targeted ads, track results, and adjust your strategy as needed.
What Do Paid Media Agencies Do?
There are different types of paid marketing channels that businesses can try for boosting their presence and increasing visibility. Here are some examples of what a paid social media agency helps you with.
Paid Search
This includes paid search advertising on search engines like Google and Bing using top and trend keywords. You can measure and track your success using Google Analytics and Google Ads accounts.
Social Media Advertising
Paid media agencies create and manage targeted ad campaigns on popular social media platforms like Facebook, Instagram, Twitter, and TikTok. On these platforms, you can use hashtags to make your ad visible to targeted users. Also, with the help of Instagram and TikTok influencers and collaborating with them, you can access their potential followers.
Display Advertising
If you want to be successful with your advertising, it's important to make sure users can hear your name everywhere. Display ads by placing visual banner ads on websites with relevant content can help you attract potential customers.
Amazon Advertising
Without any doubt, Amazon is the biggest product-focused company with thousands of purchases every day around the world. If your business is producing products, Amazon can be one of the essential platforms to attract customers.
Note: Amazon itself offers different advertisement programs such as the "Amazon Affiliate Program" and 'Amazon Influencer Program' to help brands increase leads.
Top 5 Paid Media Agencies
Are you looking for new advertisement ideas? Here are some of the best paid social media agency options available for businesses of all sizes.
1. Single Grain
If you are looking for a full-service digital marketing agency that helps you grow your revenues online, Single Grain seems to be a good option. This paid media agency claims to increase revenue and lower CAC with strategic marketing for businesses of all sizes.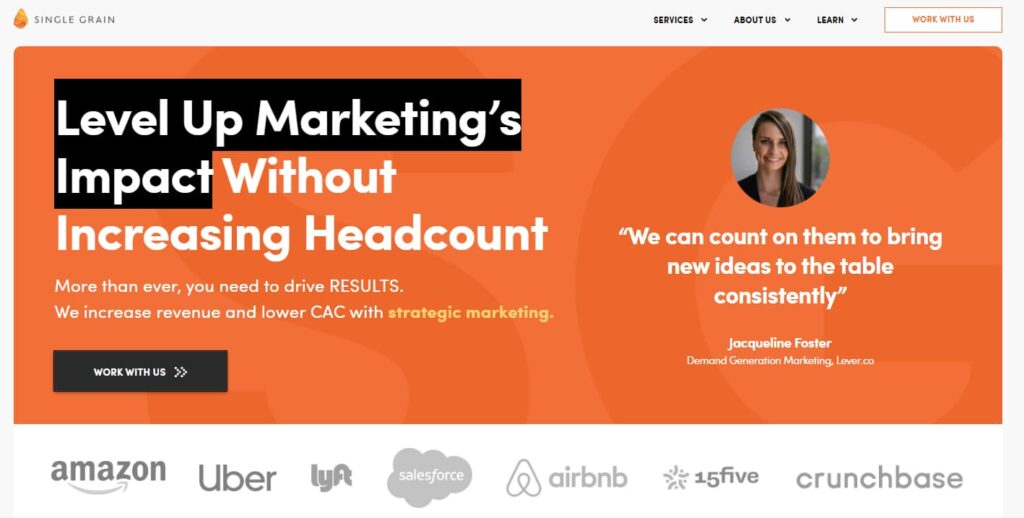 With this paid social media advertising agency, you can monitor your competitors using deep industry analytics and find gaps in their strategies. Then, with the help of the Social Grain managers, you can create your ad on the platform that works best for you.
Single Grain Features
Now that you know everything about this paid media agency, let's see what it offers. Single Grain paid ads include:
Google Ads(SEM),
Facebook Ads,
PPC (Pay Per Click),
Spotify Ads,
Paid Social Media Agency,
Adwords Ads,
Amazon Ads.
2. Hoopla
For those who want to get their business in front of customers, Hoopla paid media advertising agency is one of the available options. This platform helps you run advertising campaigns with the help of content creators and influencers that commands attention. So, if you are looking for original content for your social media, Hoopla can help you.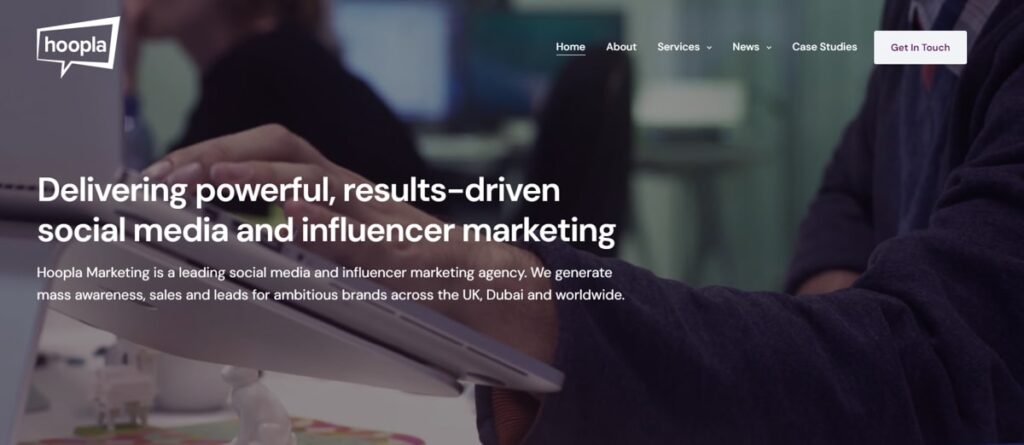 In Hoopla, you can target customers based on advanced filters such as specific demographics, interests, behaviors, and even location parameters. This tool ensures that your campaign ads are visible to the most relevant audience who are more likely to be interested in your service/products.
Also, you can track your campaign metrics to see how your ads are performing. If you decide to work with this paid media marketing agency, you can book a meeting with their team on the website and they will reach out to you within 24-48 hours.
Hoopla Features
Are you thinking about using this paid social media marketing agency to run your campaigns and increase customers? Here is what this service offers.
Email Marketing,
Influencer Marketing,
Public Relations,
Search engine optimization,
Social media campaigns,
Google Advertising.
3. PBJ Marketing
Based in Washington D.C. and NYC, PBJ Marketing is a top global paid media agency that helps brands stand out. This paid media agency connects you to a team of world-class Paid Media Specialists to grow your brand, revenue, and audience by using multiple strategies.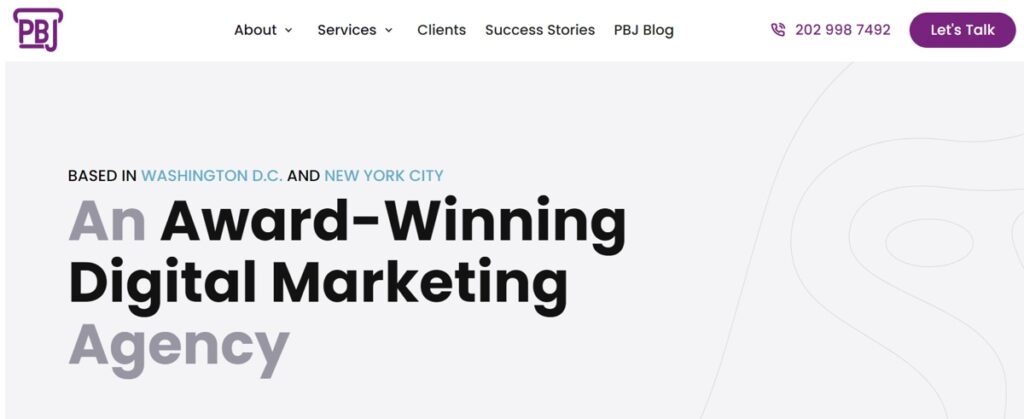 With PBJ Marketing you can create high-quality and engaging ads to get a higher click-through rate and keep it consistent by running campaigns once in a while. Their paid media tactics include a pay-per-click option for those on a budget. ‍This way you only pay when a customer clicks on your ad.
Other than this, other types of ads ( paid social media ads, display ads, native ads, and video ads) are also available with this platform.
PBJ Marketing Features
Now that you know how this paid media advertising agency works, let's see what features it offers.
Paid Media Services( for Instagram, TikTok, Amazon, etc),
SEO Services,
Website Design & Development Services,
Social Media Management Services,
Conversion Rate Optimization Services.
4. JumpFly
If you are looking for paid social media with customized strategies for generating better returns, JumpFly is one of the solutions. With almost 20 years of experience in digital marketing, Jumpfly claims to be at the forefront of digital marketing.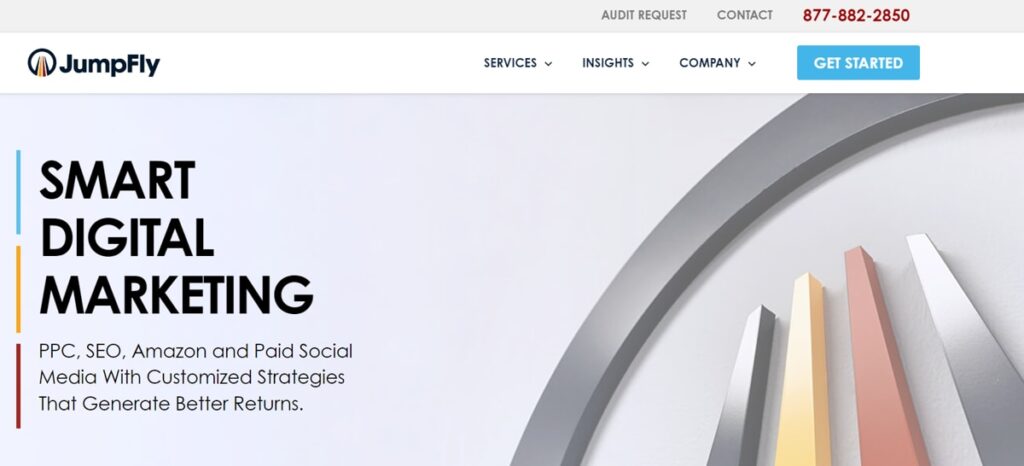 There are 34 Google-certified specialists that claim to have created over 100,000 ads and managed more than $5M million since Jumply was founded. By using this platform, you have access to Google Primer Partner, Microsoft Select Agency Partner, Meta Marketing Partner, and Amazon verified Partner.
JumpFly Features
Let's take a quick look at the features offered by this paid media agency.
Pay Per Click Marketing (PPC),
Search Engine Optimization (SEO),
Paid Social Media,
Advertising for Amazon,
Creative Media Strategy.
5. Ainfluencer
The last platform we want to introduce to you is a bit different from the previous ones. Influencer marketing has become a powerful tool for businesses to connect with their target audience and grow their presence on social media. These influencers can help promote your products or services in a way that feels genuine and engaging. That's what Ainfluencer is focusing on.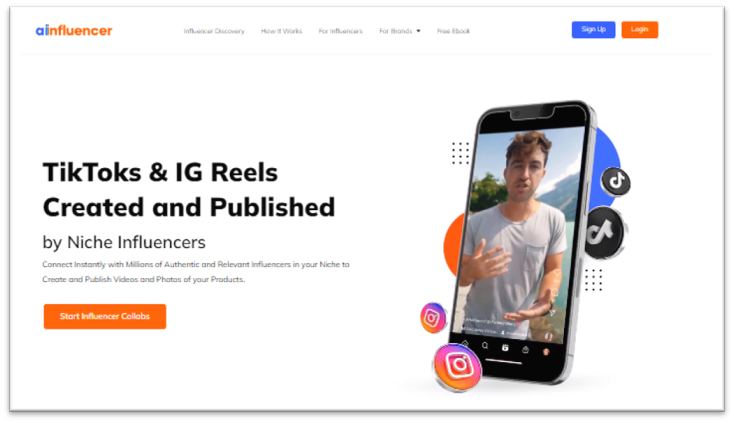 Ainfluencer is an influencer marketing platform that helps brands find the best creators in their niche on Instagram and TikTok and run influencer and advertisement campaigns. Using a powerful search engine, brands can find influencers based on hashtags, location, niche, budget, engagement rate, and more than 20 filters.
With Ainfluencer, brands, and businesses can create their advertisement campaign and invite influencers (the best ones in their niche) to join this campaign. You can also follow the payment process on the Influencer app using safe payment methods.
FAQs
1. What Is The Cost Of Hiring A Paid Media Agency?
The cost of hiring a paid media agency varies depending on the scope and scale of your advertising campaigns. Most agencies offer customizable packages to suit different budgets.

2. How Long Does It Take To See Results From Paid Media Advertising?
Results may vary, but some businesses start seeing positive results within a few weeks of starting their campaigns. However, it's essential to be patient and allow the agency to optimize the ads for better performance over time.

3. What Makes Paid Media Advertising Different From Organic Methods?
Paid media advertising involves paying for ad placements to reach a specific audience, while organic methods rely on natural, unpaid visibility through SEO and content marketing.

4. Is It Necessary To Hire A Paid Media Agency For Small Businesses?
 While small businesses can handle their advertising, hiring a paid media agency can provide expert guidance, save time, and yield better results in the long run.