Why should you be looking for campaigns and offers on Ainfluencer?
Today, both brands and users rave about influencer marketing as a novel approach to expanding a business and following up on recommendations for high-quality products and services. On top of that, the interest in becoming an Influencer is dramatically growing.
The thing is, as an influencer you can play a major role in promoting a brand by building up a close relationship with your audience based on trust. Who wouldn't love that idea?
However, the question is how to start an influencer career? Or as an influencer with a considerable number of followers, how can you find the best job opportunities?
If you look in the right direction, the answer is simple – a powerful influencer marketing hub. In this article, we'll show you how to browse through thousands of premium brands to promote on your Instagram and access the best campaigns and offers on Ainfluencer app to enhance your career.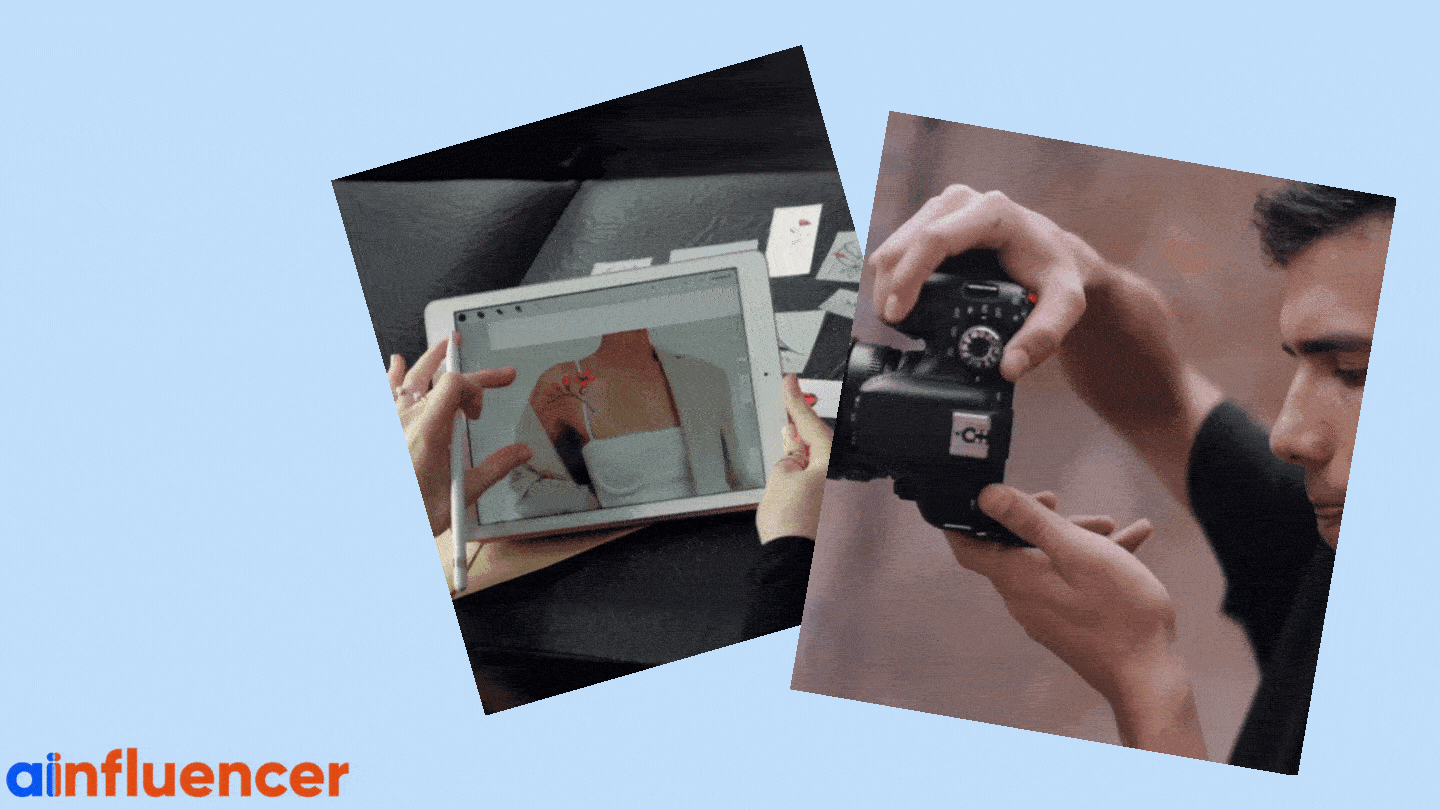 How to use Ainfluencer as an influencer?
To find the very best campaigns and offers, you should sign up on Ainfluencer first. It's free, safe, and probably takes you less than a minute. All you need to do is in the following list:
First, create an account using a name, email address, and password. 
Secondly, add your Instagram profile. Note that you can add multiple Instagram accounts to your Ainfluencer account.  
Next, select your country.
Finally, set out your niche and category.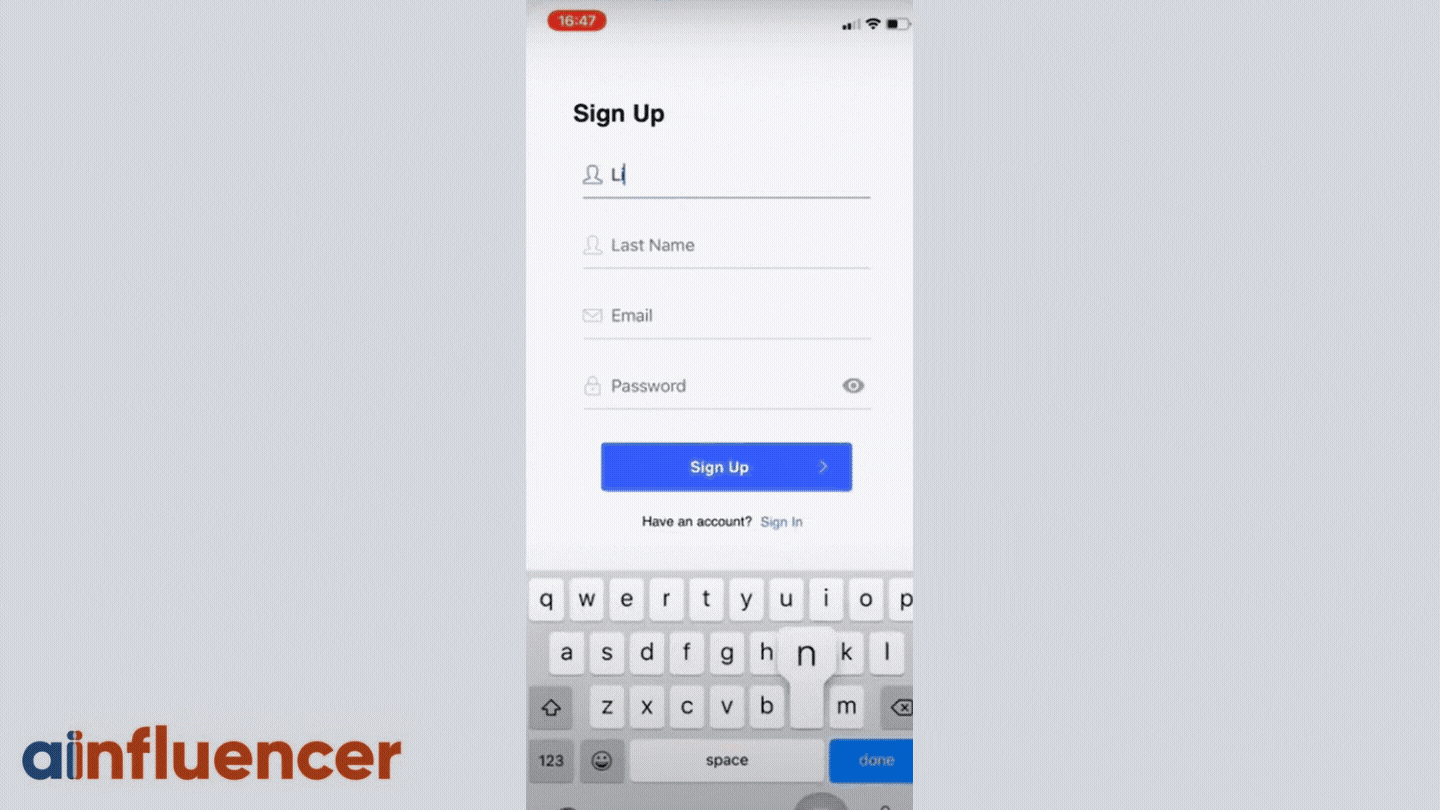 The App is available for both Android and iOS and can be downloaded through our "For Influencers" page or directly from your phone's app store.
Once you've successfully logged in, you'll see 5 tabs on your Ainfluencer dashboard.
Home
You can easily access your "Wallet" and "Library", view the invitations, add or disconnect Instagram accounts, see recent offers, and manage your post scheduler.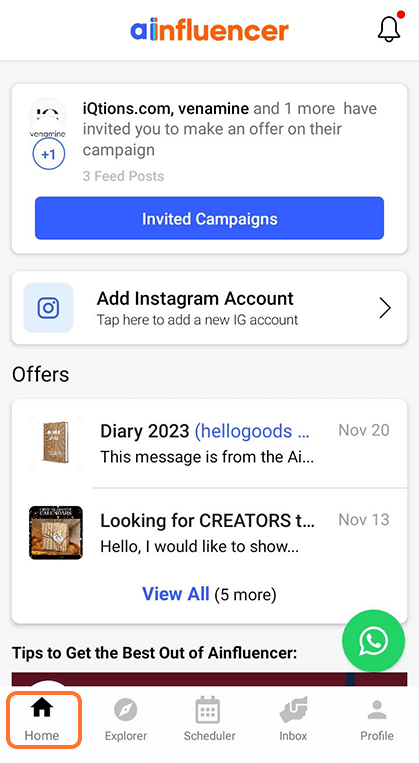 Explorer
Ainfluencer is also used by brands. So, you can use the "explorer" tab to see both campaigns that you have been invited to by a brand and campaigns that you haven't. Simply, explore through thousands of promotional programs to get your hands on the best campaigns and offers on Ainfluencer.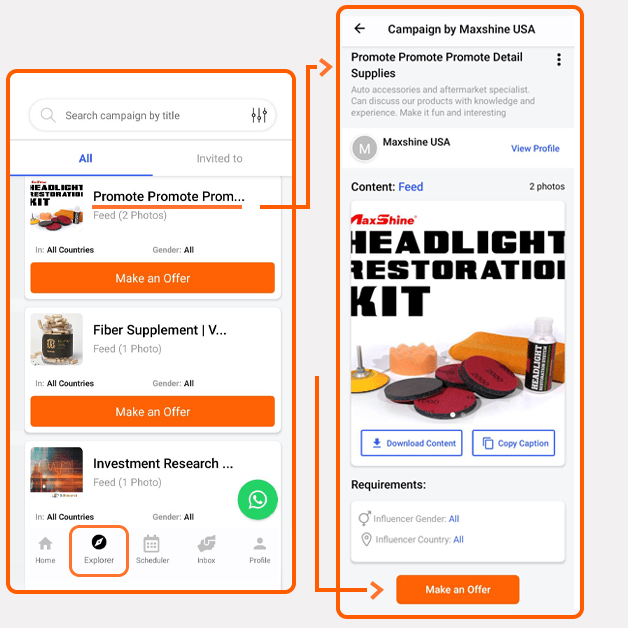 Scheduler
Here, you can organize all campaigns and accepted offers you are dealing with categorized by 3 filters – scheduled, published, and failed.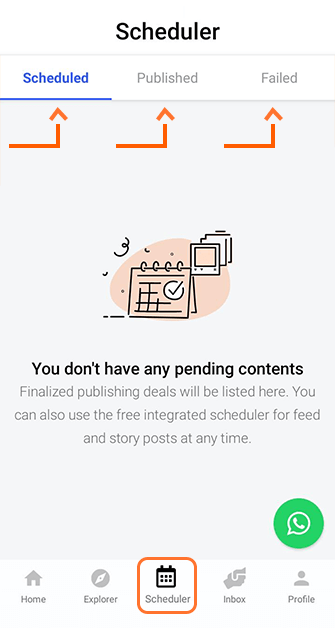 Inbox
This is not an ordinary message box, on the contrary, it works more like a control tower. Here you can manage all your conversations to see whether they are pending, accepted, or rejected. On top of that, you can see the published campaigns, failed ones, and deleted accounts.
Profile
As you can see by its name, you can edit your profile, and add or remove IG accounts to your dashboard on Ainfluencer. What's more, you can see the insights and analytics related to your engagement rate, check your wallets, and much more.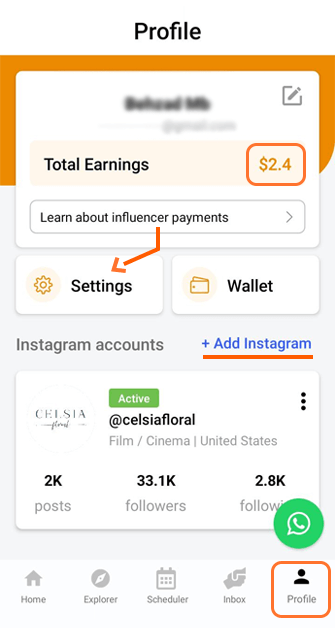 How do I connect with a brand to make an offer on Ainfluencer?
There are two ways to connect with brands and work with the best campaigns and offers in the Ainfluencer Marketplace:
You can explore campaigns through the App, and once you find a campaign that interests you, you can simply click the "Make an Offer" button to get started.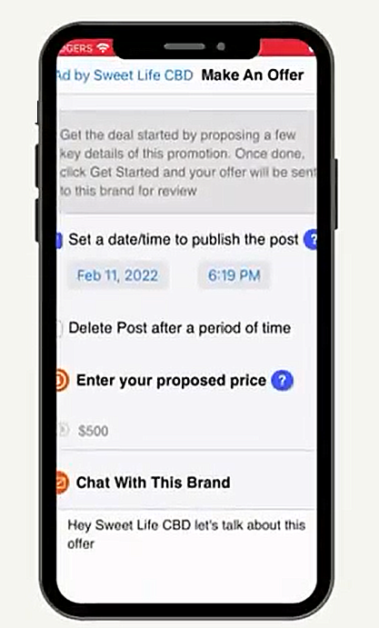 The second way to get connected is when a brand finds you via Influencer search and invites you to collaborate.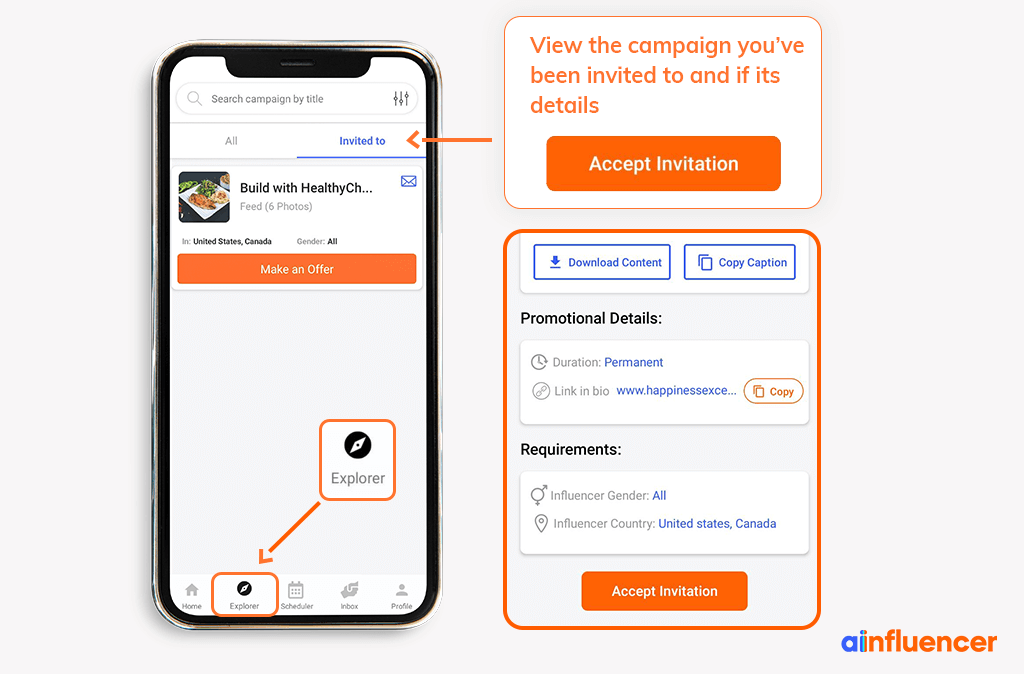 Note: The two types of collaboration posts that brands can create campaigns for and invite Influencers to are Instagram posts and Stories.
When brands create a campaign, they detail their campaign requirements and specify the type of Influencers they are looking for. Each campaign also includes the time-duration of the content and other details of the promotion. This way, Influencers can make an informed decision when responding.
If Influencers like the look of a campaign, they can simply click "Make an Offer" at the bottom of the campaign. In the case of negotiable campaigns, Influencers will discuss specifics like post types, timeline, and price with the brand. For fixed price campaigns, Influencers simply need to confirm that they'll do the job for the price listed.
Tips for Influencers on working with brands:
Once you get the hang of finding campaigns and offers on Ainfluencer, you should be careful about what offers to accept and how to perform well. The following are the top tips to remember when working with brands.
Focus on quality
Most brands would rather work with an Influencer who has 10k followers and high-quality content than an influencer with 500k followers and blurry, low-quality images.
Brands want to collaborate with Influencers whose content will make them look good. Additionally, brands will often use Influencer content for marketing purposes. This is why it's important to focus on content quality by capturing images with the right equipment and improving image composition & editing.
Post content that aligns with the brands you're trying to attract
Instead of waiting for brands to take an interest, Influencers should create content within their niche to attract brands. For example, if you're a luxury travel Influencer who wants to work with brands, you should already be producing luxury travel content. Otherwise, these types of brands won't see your platform as a good fit for their promotional goals. Align your content with the brands you're trying to attract.
Ensure the brands you're working with follows your niche & values
A big mistake influencers make (particularly when they're just starting out) is accepting any and all collaborations that come their way. It's easy to see why – when that first brand reaches out, it's exciting!
When a brand approaches you, ask yourself…
Will my followers be interested in this brand or potentially purchase anything from them?
Does this brand fit my niche?
Do I personally support this brand and its products?
Do this brand's values fit with mine?
Are they working with a diverse group of Influencers?
If the answer to all of these questions is yes, go ahead with the collaboration. But if the answer to any of them is no, it's worth thinking about whether the opportunity is a good fit.
It can be hard to walk away from a collaboration, especially when there's money involved. At the same time, you don't want to develop a reputation as an Influencer that takes any opportunity, regardless of whether or not it's a good fit. Keep your standards high, your values in mind, and make sure that the brands you're working with align with your niche & values.
Conclusion
For you, as an influencer, the most important thing is having the opportunity to collaborate with a brand. And you can find so many campaigns and offers on Ainfluencer. All you need to do is hit the button below, sign up for free and enjoy the greatest free service designed for influencers to start collaborating with brands.