Marketing on Instagram is literally turning all Instagram communities into major customers. On top of that, the best Instagram marketing services are getting the attention they deserve by playing a significant role in the Instagram growth strategies developed for businesses.
Actually, you may already have the tools of your trade, such as reels, shopping posts, Stories, how-to guide videos, branded content, and so forth. Still, it is an exemplary Instagram marketing service that helps you work out a viable strategy to make the most of these tools.
This article introduces the 40 best Instagram growth services with different uses in the modern market on Instagram.
What Is Instagram Marketing?
Instagram marketing refers to using IG tools, and in many cases, an Instagram marketing service that you have at your disposal to promote a brand.
Doubtless, Instagram tends to be at an advantage when it comes to SMM (Social Media Marketing) as marketing on Instagram and a reliable Instagram marketing company can work together to benefit you by humanizing your content.
Consequently, the human side of your business leads to enhancing the following elements of your brand.
With a great Instagram branding strategy, you are able to:
Increase brand awareness
Promote content to potential online customers
Boost traffic website
Have more interaction
Improve your brand recognition
Find loyal customers
Gain a deeper insight into what your competitors are doing
Why Is Instagram Important to Marketers?
Whether or not you use an Instagram marketing service, the platform itself has clearly proved that it is not just for personal use. On the contrary, the balance it has created between its personal and business IG tools has outranked other social media networking sites on an unprecedented scale. Instagram has taken the modern market to another level by placing the focus on the engagement rate rather than solely on its 1.39 billion monthly active users. In fact, what makes it even better for marketing on Instagram is that, according to HubSpot, about 59% of these active users are actually engaged.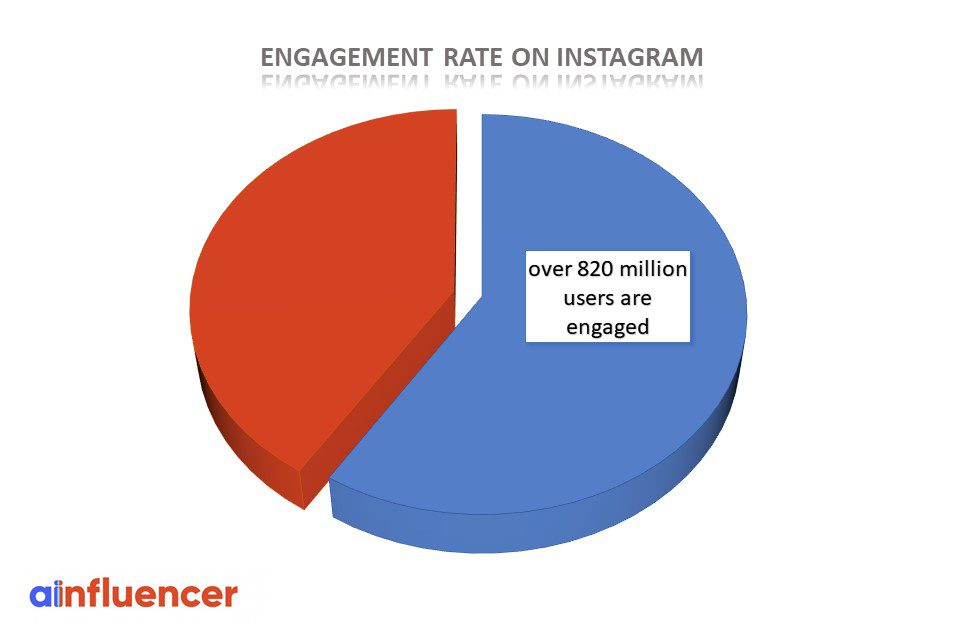 Pro tip: Having an Instagram account for your business doesn't guarantee your Instagram marketing success. If you want to take your Instagram marketing to the next level, you need to know how to use Instagram growth services and IG tools, and smart ways to increase Instagram engagement.
What Do Instagram Marketing Services Offer?
You should think of an Instagram marketing service as an assistant or an Instagram helper that provides targeted Instagram growth strategies for the most effective IG tools within your access.
Top marketing companies are using at least one of the best Instagram marketing services to figure out how to grow Instagram followers organically and improve their marketing on Instagram.
Overall, the best Instagram marketing services fall into three categories.
Influencer marketing service
Management and Instagram growth service
Instagram DMs
Each Instagram marketing service gives you a unique opportunity to fulfill your requirements, and here is how.
1- Instagram Marketing Service: Influencer Marketing
IG influencer is a well-known expression nowadays, wherein a specific brand of products or services is now promoted by an influencer.
In other words, influencer marketing is the type of marketing in which you collaborate with influencers, which can serve different purposes, to endorse your products or services.
With the right strategy adapted by the best Instagram marketing services, you can ideally position yourself in marketing on Instagram and reach the following goals.
Create brand awareness
Expand your reach and brand visibility
Increase brand engagement
Drive conversions and boost sales
So, if your strategy aligns with one of the goals above, it is very likely to fit into influencer marketing. But why use an Instagram marketing company for it?
Top Influencer Marketing Hubs
Thanks to top Influencer marketing hubs, you can set your goals more specifically to create better ads, find the right influencers who are more niche and targeted, make formal contracts, and secure your payments.
However, without the right Instagram marketing service, this could be a bit frustrating to realize where to start, who to collaborate with, and whether your overall budget is sufficient.
The Best Instagram Marketing Services: Top Influencer Hubs
1. Ainfluencer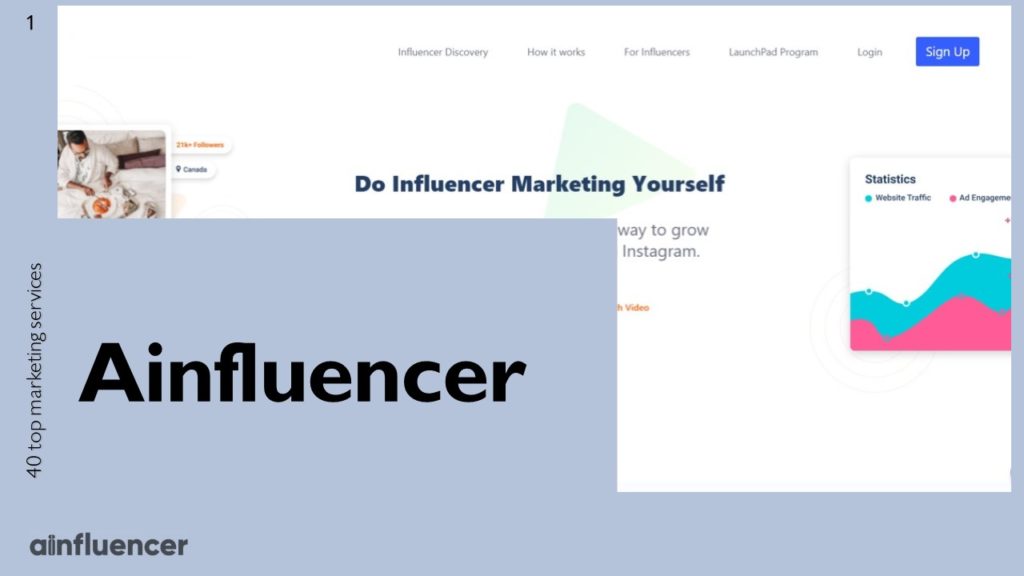 The number one Instagram marketing service to implement an influencer marketing strategy is Ainfluencer.
Once you join the Ainfluencer influencer marketplace as a brand, you have access to its free service to access the most user-friendly dashboard, set your marketing goals, Initiate a relationship with influencers through an in-app chatbox, explore thousands of influencers with a state-of-the-art search filter and evaluate their Instagram activity by the insight you get from their profile, such as their Q-score, estimated price, engagement rate, and their average likes and comments per post.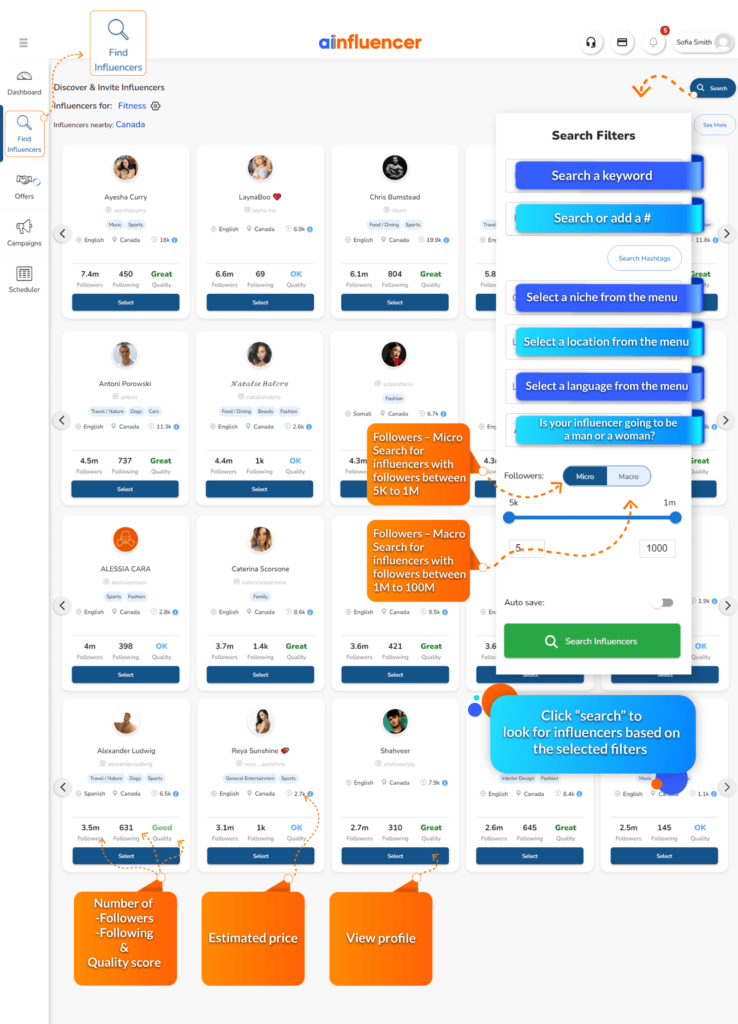 In addition to inviting influencers, you can also get lots of offers from them as they also have access to the ads you create and schedule, so successful influencer marketing is guaranteed on Ainfleuncer.
Features
Free to use (It's 100% free to use with no hidden fees.)
Risk-free (The automatic system keeps track of your campaigns and holds funds until you confirm the necessary material.)
AI-powered (Artificial Intelligence is used on the platform to help users discover influencers.)
Influencer audit (Ainfluencer shows you account information like engagement rate, average comments, and likes, comments to followers ratio, and likes to followers ratio for influencers.)
Fast, easy, and smart
Creating marketplace campaigns (brands can create a free marketplace campaigns that is posted to the marketplace where thousands of qualified influencers can see and make offers.)
Built-in chatbox (brands and influencers can negotiate the marketing terms and close the deal right in the app.)
Real-time analytics (Ainfluencer tracks your performance from start to finish.)
| | |
| --- | --- |
| Pros | Cons |
| You are not the only one who is always looking for the right partner. Instead, publish your campaign and get offers from influencers who found you the right partner. | It doesn't offer designer tools, so while creating your campaign, you should craft your ad (images or videos) by yourself and upload it if you are not going to ask the influencer to make the content for you. |
| Ainfluencer is a 100% free Instagram marketplace for influencer finding. | |
| It offers insights into influencers' profiles to learn more about their engagement rate, the real number of followers, the quality of their content, and the estimated price you can negotiate with. | |
| You don't have to leave the platform and switch to another app at any stage because it offers on-platform payments, contracts, and messaging. | |
| Your money is safe, and you can be sure all your conditions and terms for your campaign will be fulfilled. | |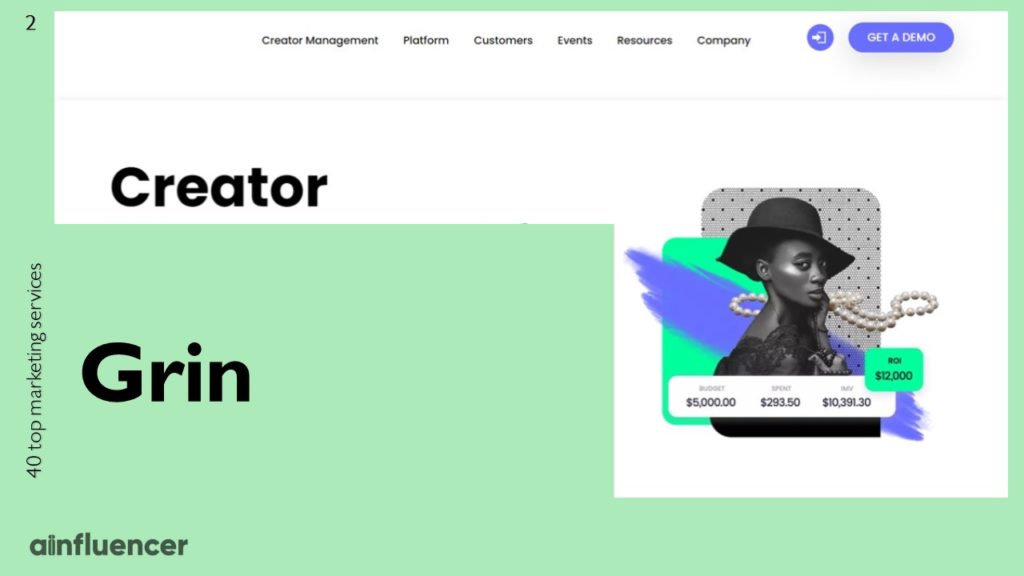 Grin is simple to use and has all of the important features that a top-tier Instagram marketing service should have. The platform groups everything into workflows to keep users from getting lost.
Also, Grin can be seamlessly integrated into the existing systems of even the largest companies. It imports all of your eCommerce site's registered users and locates their social profiles. This gives you a list of possible influencers, together with their relevant statistics, who have all purchased and appreciated your products in the past.
Features
1- Grin's searchable database comprises Instagram, YouTube, and TikTok influencers. You may search over 100M influencers, with about 37M of those profiles including email addresses.2- You can track each of your KPIs and produce customized reports within the influencer marketplace.
3- Keep track of content and repurpose it so that it can be shared on other social media platforms.
4- You may control payouts inside the influencer management tool.
| | |
| --- | --- |
| Pros | Cons |
| You can identify influencers among your consumer base. | Grin's pricing plan is not transparent before accessing the influencer networks. |
| Grin offers real-time tracking of sales and referrals. | Grin doesn't offer many details and insights into influencers' profiles. |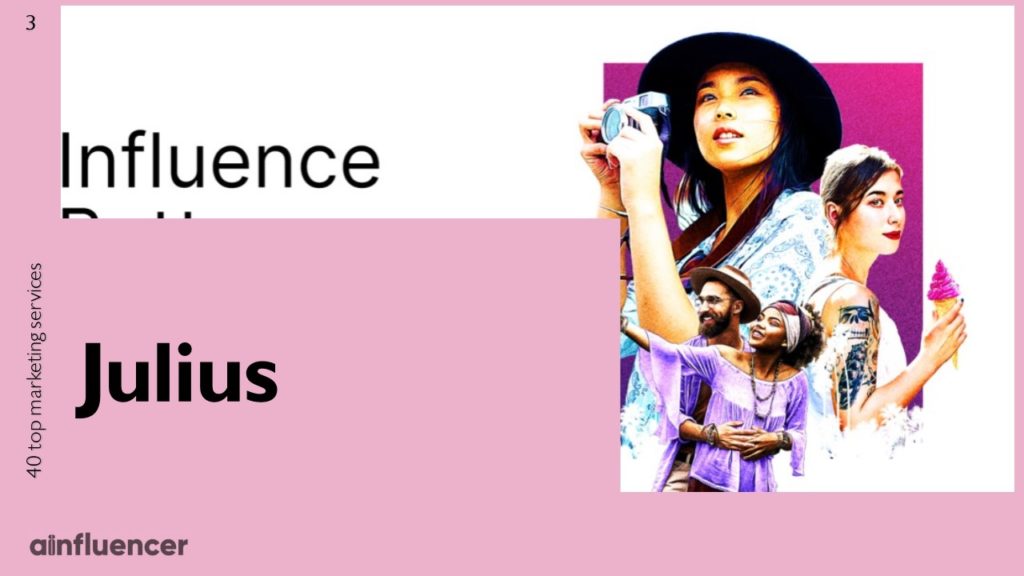 Julius' influencer database has expanded to over 50K influencers, each of whom was thoroughly vetted before being added to the database. It includes Facebook, Twitter, Instagram, Pinterest, Vine, Snapchat, and YouTube, among other social media platforms.

Julius has access to a comprehensive and simple-to-use search tool, which includes more than 50 data pieces that may be combined in any way. This Instagram ad agency also benefits from an integrated campaign management tool.
Features

1- You'll receive alerts on new influencers joining the site, new brand/influencer interactions, and a customized stream of industry news on Julius dashboard, which is similar to a social feed.
2- The Julius campaign management tools make it simple to find out everything you need to know about a campaign.
| | |
| --- | --- |
| Pros | Cons |
| Julius features 50 search filters, allowing you to narrow down your influencers even further – which will come in handy with a database of over 100,000 people. | For small to medium businesses or those wishing to try out the technology for a few months, the annual price may be too expensive. |
| Julius channels include Facebook, Instagram, Twitter, YouTube, Twitch, and Pinterest. | |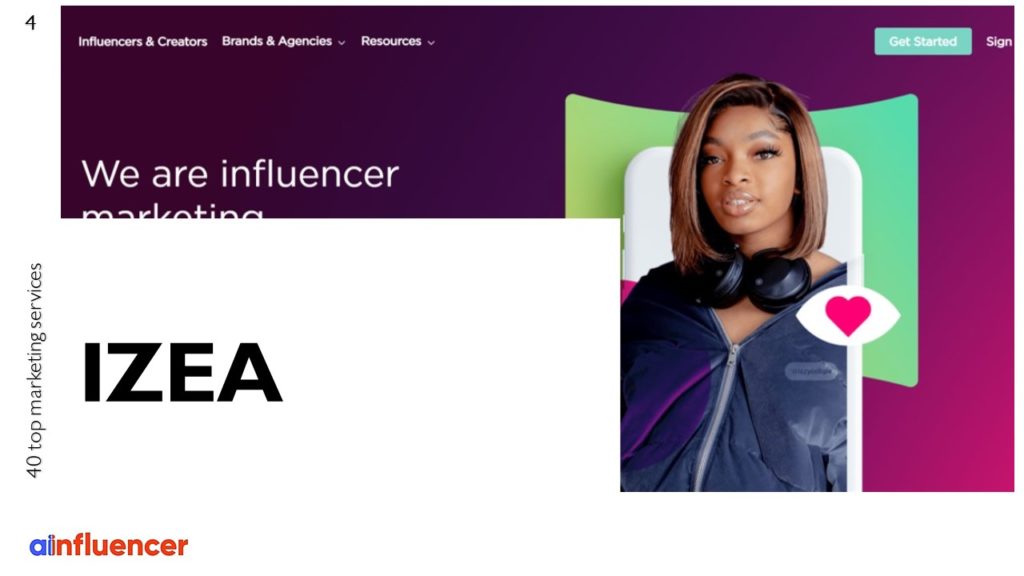 The Instagram marketing company, IZEA, provides you with a robust platform search tool that allows you to compile lists of macro and micro influencers who might be able to help you achieve your goals. Depending on their social reach, the IZEA IG marketing company assigns a score to each creator.
Features
1- With the help of the robust search tool provided by the Instagram influencer marketplace IZEA, you may compile a list of macro and micro influencers who might help you accomplish your goals.
2- Your influencer marketing campaigns may be planned, carried out, and managed more easily with the help of IZEA's campaign management tools.
| | |
| --- | --- |
| Pros | Cons |
| IZEA's reporting engine goes much beyond most influencer marketplaces' conventional influencer engagement measurement features. | You might need some tutorials before you can take all the full advantages of this influencer marketing marketplace. |
| Performance metrics, media value, and ROI are all displayed in an easy-to-read interface via the reporting engine. | IZEA costs you at least $149 per month. This may not be good for brands and businesses that have just started investing in influencer marketing. Also, the pricing gets higher as your business and requirements get bigger. |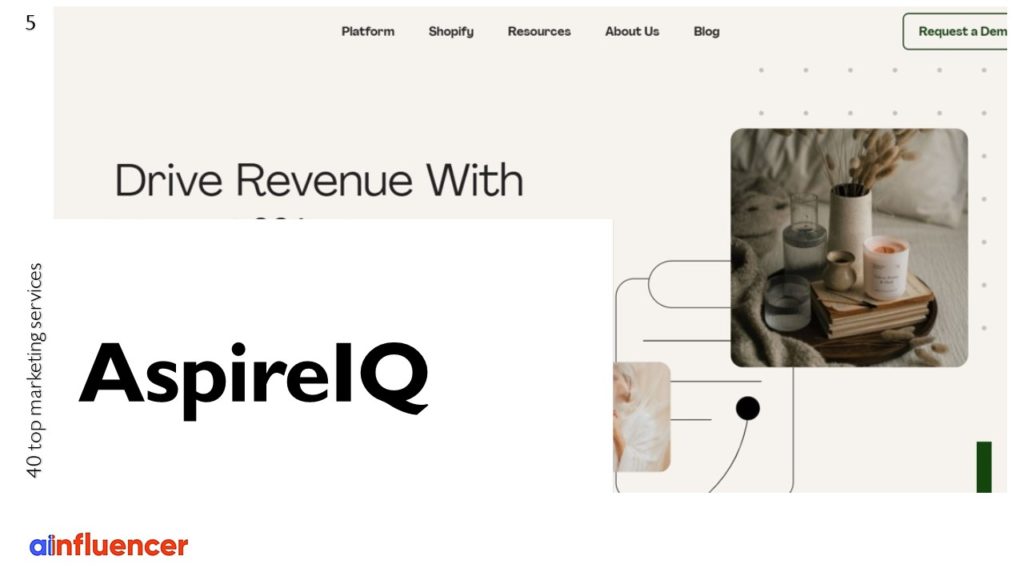 With a database of over 150K nano to macro influencers who have opted into the system, AspireIQ works with Instagram and YouTube. Although everyone can join AspireIQ, creators must meet certain criteria in order to view brands or campaigns. To be deemed an influencer, you must currently have 500 Instagram likes or 2,500 YouTube views.
Any influencer who satisfies the criteria is added to AspireIQ's searchable database, where they can view any brand proposals. It offers a basic search engine, as well as a Tinder-like "Quickmatch" feature that tries to match businesses and influencers for a specific campaign.
Features
1- The "Quickmatch" feature, which is described as a "Tinder for Influencers," provides you with an influencer based on your preferences. A short bio, name, follower count, average likes, and profile image are all displayed.
2- You'll also get a list of influencers talking about the companies on your Watchlist when you use the "Watchlist" option. You can keep track of the social media activity of your competitors using this AspireIQ feature.
3- Another core feature on the AspireIQ Instagram influencer marketplace is "Campaign Lifecycle Management," which lets you monitor and analyze your campaigns, find out which creators are in which campaign stage, or see a summary of what you got for your money (also known as ROI).
| | |
| --- | --- |
| Pros | Cons |
| The ease of use and necessary features are the highlights of AspireIQ. | Pricing on AspireIQ requires a yearly commitment, and many users don't rate the value for money highly unless you are a big enterprise with a big budget. |
| The support team is great. | It is also the customer service that is pilloried in many reviews of influencer marketing websites. |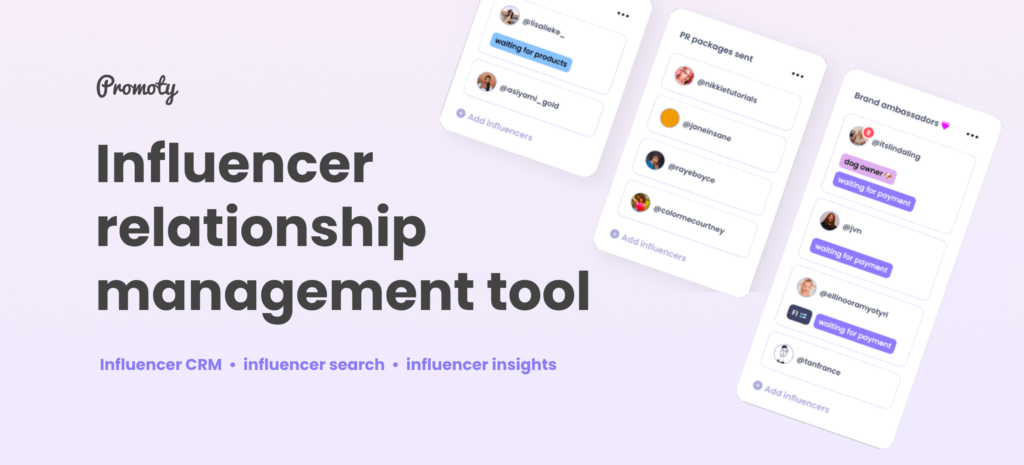 With Promoty, you can manage all of your influencers, chats, collaborations, and branded content in one location. They also offer a global influencer search and incredibly thorough insights into each and every TikTok and Instagram influencer.
Features
1- Influencer CRM (Customer Relationship Management) is what it is all about.
2- Discovering influencers is possible.
3- You receive automated influencer ideas from it.
4- You can get in-depth influencer data with this influencer marketing tool.
5- On this marketplace for Instagram and TikTok, content monitoring is allowed.
| | |
| --- | --- |
| Pros | Cons |
| It has affordable pricing. | Search only includes Instagram and TikTok. |
| This influencer marketplace is easy to use. | It may take some time to set up the details of your campaign. |
| It provides you with an in-app chat to connect with influencers. | |
| You can use advanced filters in the influencer search. | |
| It gives you Instagram and TikTok insights. | |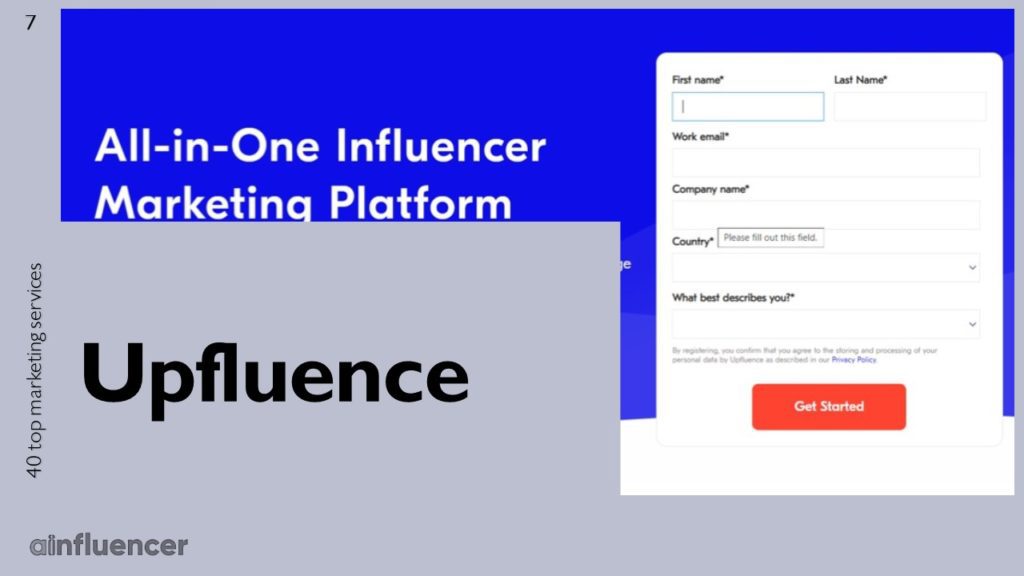 Another best Instagram marketing service is Upfluence, with pricing categories for small and medium-sized businesses.
Upfluence makes use of a large database that contains 500M pieces of material from Facebook, Twitter, Instagram, YouTube, Pinterest, and blogs.
Businesses can use the database to locate influencers who meet their unique requirements. Each influencer has a significant quantity of information in the database.
Features

1- Based on more than 20 factors, including keywords, location, engagement rates, etc., you can do an influencer search.
2- Brands may use the influencer management system to handle each influencer relationship. They can, for example, compile lists of relevant influencers for certain campaigns and monitor the success of their influencer efforts and work together on content.
3- Analyses and mentions can be tracked using its free influencer database.
4- You can monitor the progress of each influencer collaboration from a single dashboard.
| | |
| --- | --- |
| Pros | Cons |
| It's among the easiest influencer sites that let you get in touch with influencers. | It has only annual plans. |
| This platform gives you detailed metric reports of the data. | It has a complex structure and may not be easy to use, at least for newbies. |
| It has a free Chrome plugin. | |
| Individual affiliate links and promo coupons can be generated with Upfluence. | |
| Each client is assigned a personal manager. | |
8. Heepsy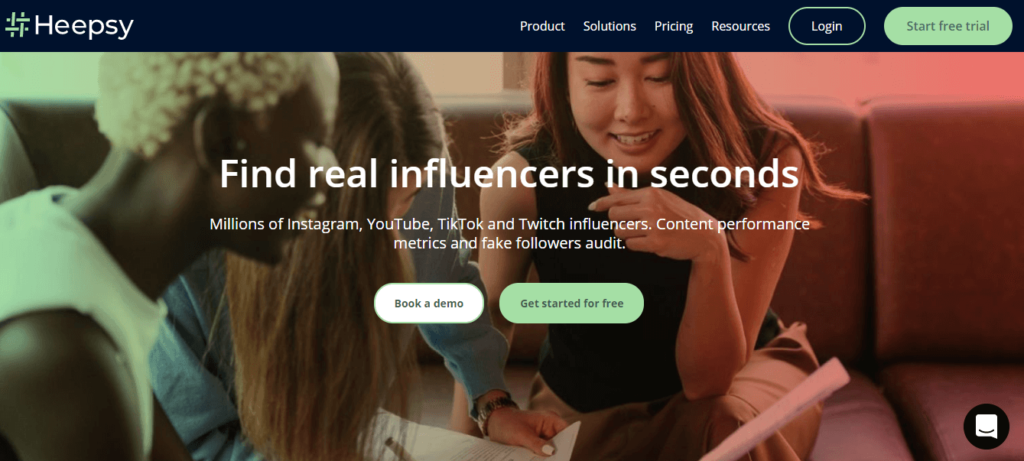 Heepsy is a top-notch influencer marketplace that emphasizes authenticity and genuine impact. Heepsy's network of micro and macro influencers provides everything you need to locate, launch, and evaluate your influencer marketing campaign.
Features
1- It allows you to search for influencers on Instagram, YouTube, TikTok, and Twitch with filters that help you find what you're looking for faster.
2- Heepsy provides you with data for each of the influencer profiles.
| | |
| --- | --- |
| Pros | Cons |
| It has affordable pricing with also one free package. | The free plan is very limited compared to other free influencer marketplaces, such as Ainfluencer, that allow you to have full access to the features, influencer database, and analytics. |
| You can have a great user experience. | |
| You can have enormous influencer networks. | |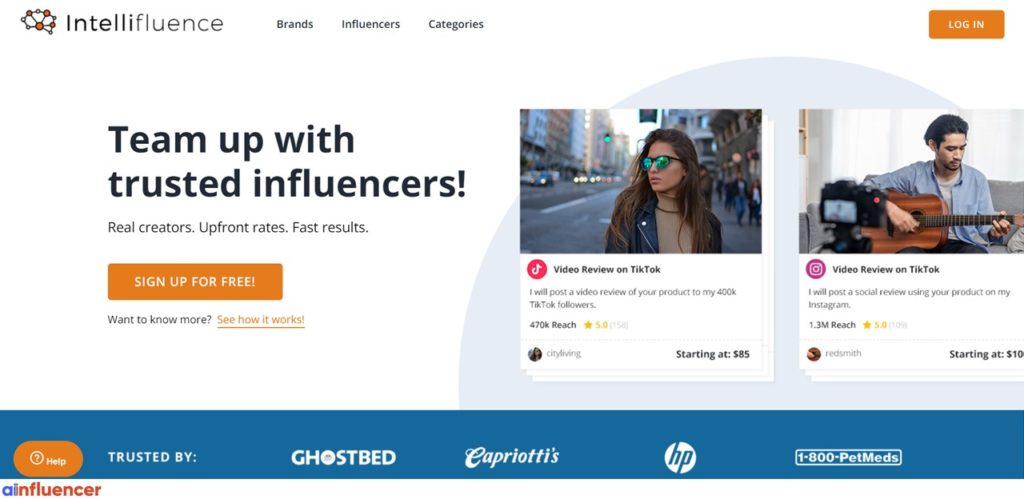 With a huge influencer network that caters to a wide range of influencers, from peer-level micro influencers to celebrities with millions of followers, Intellifluence is one of the greatest free influencer marketing platforms available.
Their flexibility in channels, as a platform-agnostic network, leads to a wide range of application cases, from Amazon to YouTube.
Features
1- You can make influencer discovery.
2- It has tools for messaging.
3- Its payment system is secure and safe.
| | |
| --- | --- |
| Pros | Cons |
| Intellifluence doesn't require any lengthy commitments. | If you forget to use the coupon code when signing up, you will miss the chance to have the 30-day free trial. |
| It offers a 30-day free trial. | |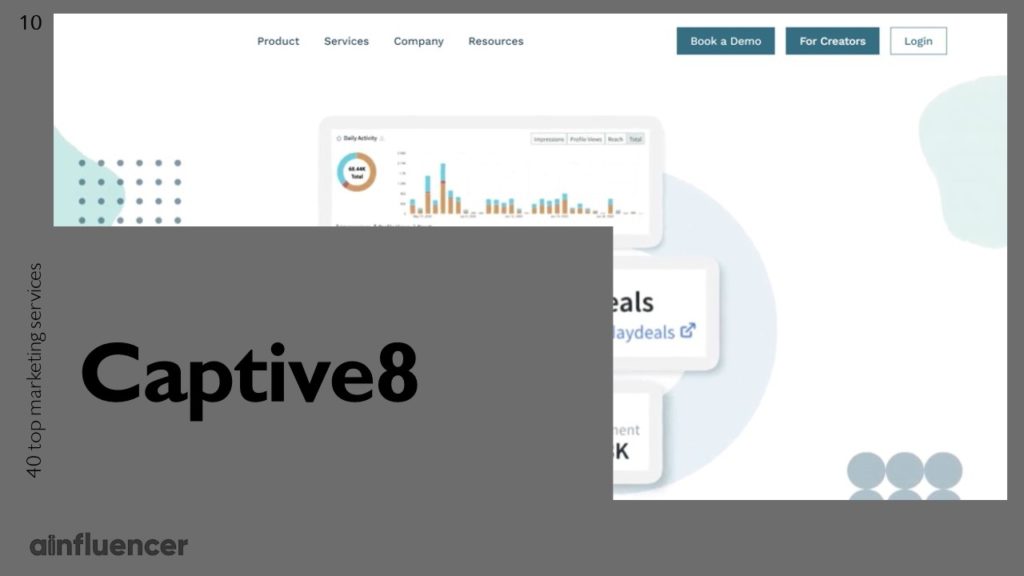 You can use captiv8 to look into one of these three categories: accounts, hashtags, or location. For each of them, the number of distinct datasets they give you is mind-boggling.
The Discovery feature on this Instagram advertising service uses searching filters like gender, interests, and firms mentioned. You can, however, search by content too. The AI can name and categorize all of the information that influencers create, making it searchable by topic.
Features
1- It provides you with campaign management software.
2- Captiv8 offers you influencer tracking and ROI tracking features.
3- Captiv8 has completed the package with Discovery, Management, and a Reporting analytics component.
| | |
| --- | --- |
| Pros | Cons |
| Captive8's hashtag and location social listening service aids in discovery and strategy. | Captive8 doesn't provide enough onboarding/training, which means a slower learning curve. |
| With automated tools, you can analyze your performance and obtain recommendations for when and where to post. | On Captive8, new features are stealthily introduced with minimal warning or fanfare. |
11. TapInfluence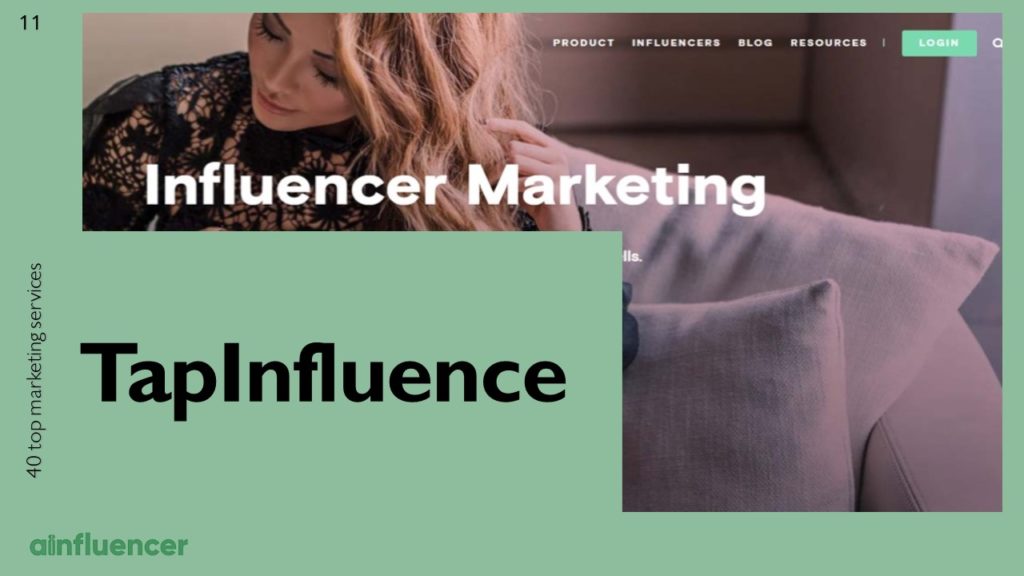 Another IG marketing company to help you develop your influencer program and find influencers is TapInfluence.
Influencer search, influencer outreach, analytics, and campaign management are all covered in depth by TapInfluence. Users can utilize the search option to find influencers based on their niche, demographics, and interests. It includes information on the influencers' past performance as well as an estimate of the cost per engagement. Based on this insight, you can increase Instagram engagement of your brand.
Features
1- To find the right influencers, use tools for keyword and image searches.
2- Automatically add a disclosure of sponsorship.
3- For click traffic, look into fraud detection and third-party click scoring.
| | |
| --- | --- |
| Pros | Cons |
| It's integrated with Google Analytics and all major social media networks to provide easily downloadable information for campaign tracking. | Many users found Tagger a bit complex, from the pricing plans to using its features. |
| Ability to provide or deny access to specific campaigns to team members or clients. | |
| With their publishing and scheduling tools, they can automate campaigns. | |
12. SocialBakers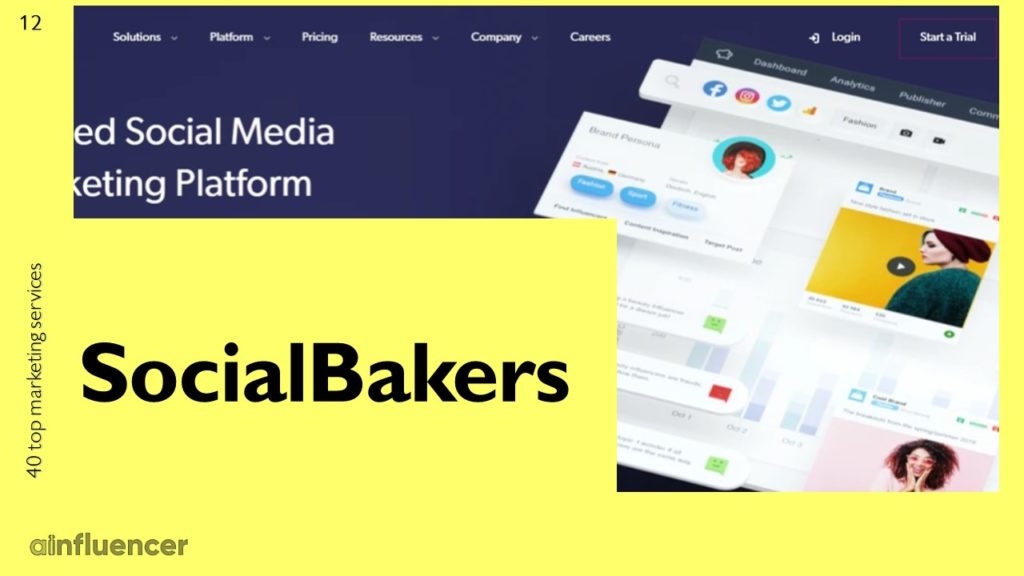 SocialBakers gathers a lot of information about your active audience to define your buyers' persona. Then the Instagram advertising service's AI connects you to Instagram and Youtube influencers based on that information.
Features
1- Social media monitoring
2- Posts scheduling
3- Content management
| | |
| --- | --- |
| Pros | Cons |
| AI-powered "Persona Mapping" detects your brand's target market. | No TikTok support |
| AI identifies influencers within your own audience as well as influencers whose audiences match the Persona. | Costly if all you want is the influencer tools |
| A comparison tool identifies the influencers who are most valuable. | |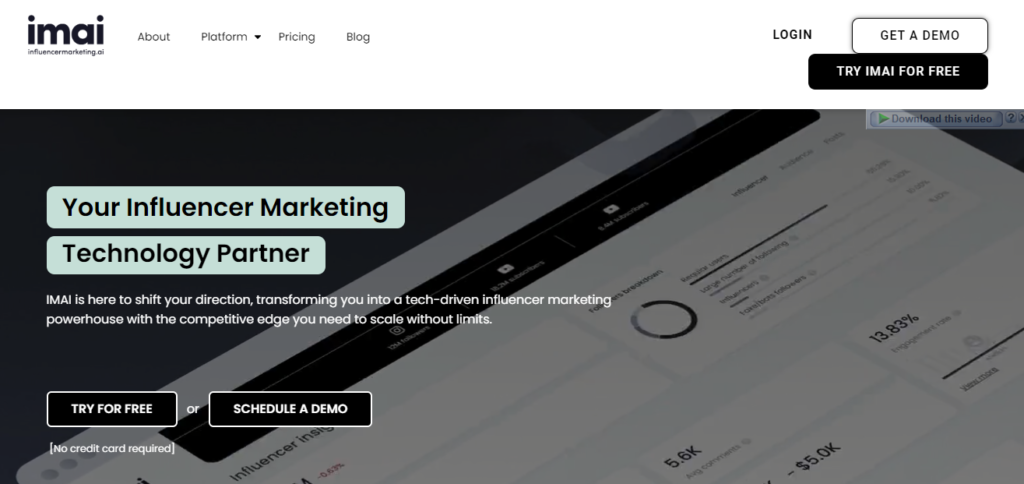 You can access over 230 million influencers from Instagram, YouTube, TikTok, Twitch, and Twitter through IMAI, one of the best influencer marketing platforms. It's one of the top influencer networks with analytics powered by AI.
Features
1- Demographic and psychographic information about influencers and their audiences is available.
2- On this influencer network, you can search for influencers using a variety of filters.
3- Organize your campaigns and measure their success.
| | |
| --- | --- |
| Pros | Cons |
| The influencers' community is big. | The search process is often slow. |
| It has a custom-branded influencer app to connect with influencers via the platform. | |
14. CreatorIQ
CreatorIQ's AI-powered algorithm examines over 1 billion public social accounts, comparing them to a set of criteria to determine whether they are worthy of being included in the platform database. On the system, there are presently over 15M influencers.
CreatorIQ examines all of the individual components of a piece of content, such as the image itself, the location, mentions, and even emojis, and draws logical conclusions. As a result, the influencers it spotlights are extremely relevant.
Features
1- Influencer recruitment
2- Data Importing and Exporting Tools
3- Campaign Analytics
| | |
| --- | --- |
| Pros | Cons |
| To collaborate with your personal influencers, create a private gateway | Discovery tool can be overwhelming at first |
| AI-backed discovery shows amazingly relevant influencers | Many sub-product names (Creator Core, Creator Pay) cause product and pricing confusion |
| Influencers show up ready to create: all forms, information, etc. are completed before you ever contact the influencer | |
15. FameBit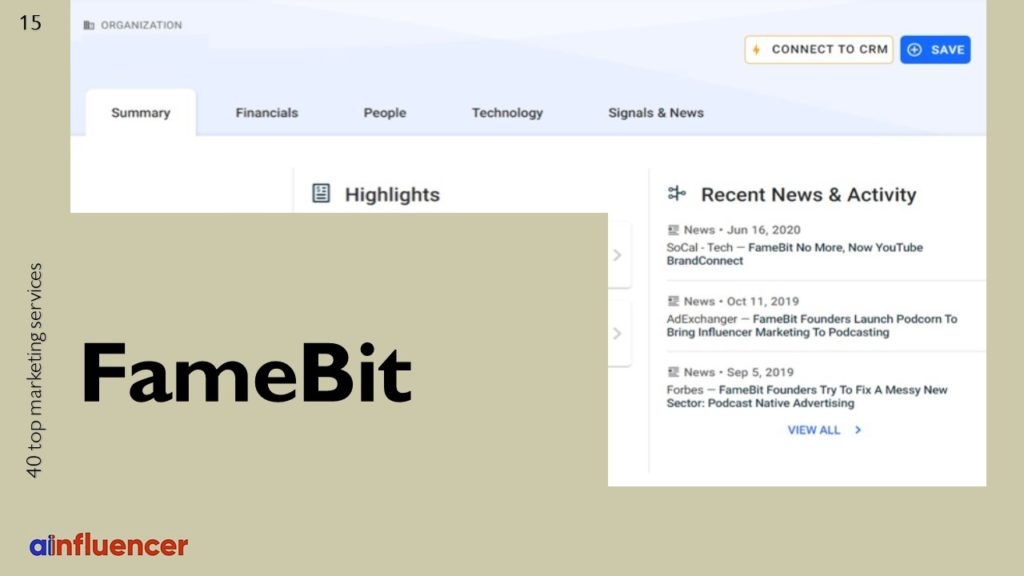 Famebit is another Instagram ad agency that both you and influencers can sign up for. However, Famebit essentially tries to help influencers find ads rather than you find influencers to collaborate with.
Features
1- Brand/influencer matching
2- Campaign analytics
3- Content creation
| | |
| --- | --- |
| Pros | Cons |
| Brands can launch campaigns and receive proposals for free. | It doesn't have an SSL certificate. |
| FameBit has expanded its platform to several other social media channels, including Facebook, Vine, Twitter, Tumblr, and Instagram. | Its database is not so large. |
| The website is easy to navigate. | |
16. Klear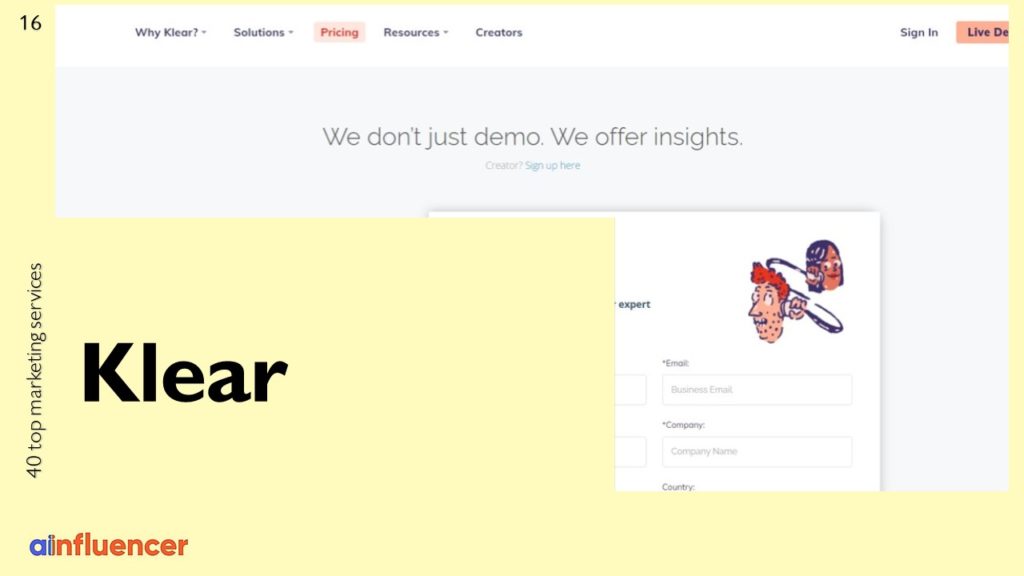 Klear offers two plans; one is limited and free, while the other one is designed for small businesses for a fee of $250 per month. Although this Instagram marketing service is not totally free, it is still popular with businesses for the following features.
1- Find influencers
2- Manage your relationship with influencers
3- Undertake campaign monitoring and social monitoring
4- Have one on one consultations as part of their account management
| | |
| --- | --- |
| Pros | Cons |
| Klear's AI learns about your brand thanks to the social listening tools and only offers you search results that are relevant to your brand. | You may have trouble obtaining past data. |
| All platforms are supported, including Instagram Stories and TikTok Live, and a custom sample is provided. | Klear doesn't provide reports for TikTok. |
| Make super-informative and easy-to-understand reports. | |
17. Traackr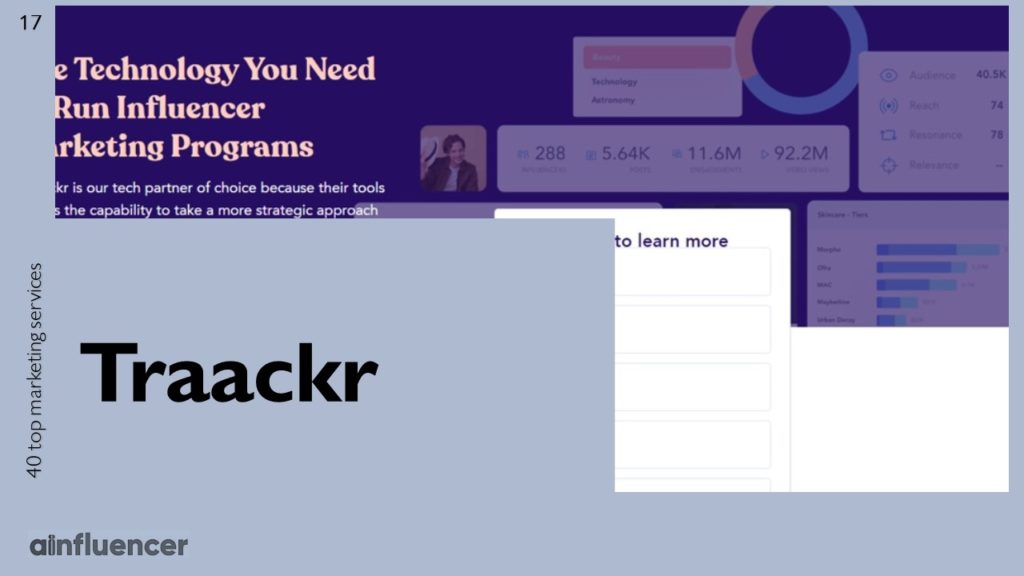 Traackr uses Facebook, Twitter, Instagram, YouTube, Pinterest, Tumblr, and blogs to provide influencer finding, relationship management, and campaign management.
Features
1- A network visualisation tool can be used to examine an influencer's close connections.
2- It provides easy-to-use collaboration tools for big groups.
3- You can research the strategies used by your competitors.
4- Relative influence and affinity can be determined using the resonance score.
| | |
| --- | --- |
| Pros | Cons |
| Several instructional resources are available, as well as the option to sort influencer profiles by your relationship. | Traackr currently doesn't share data for Instagram Stories. |
| Traackr features a powerful search engine. | |
| All important social media networks are included. | |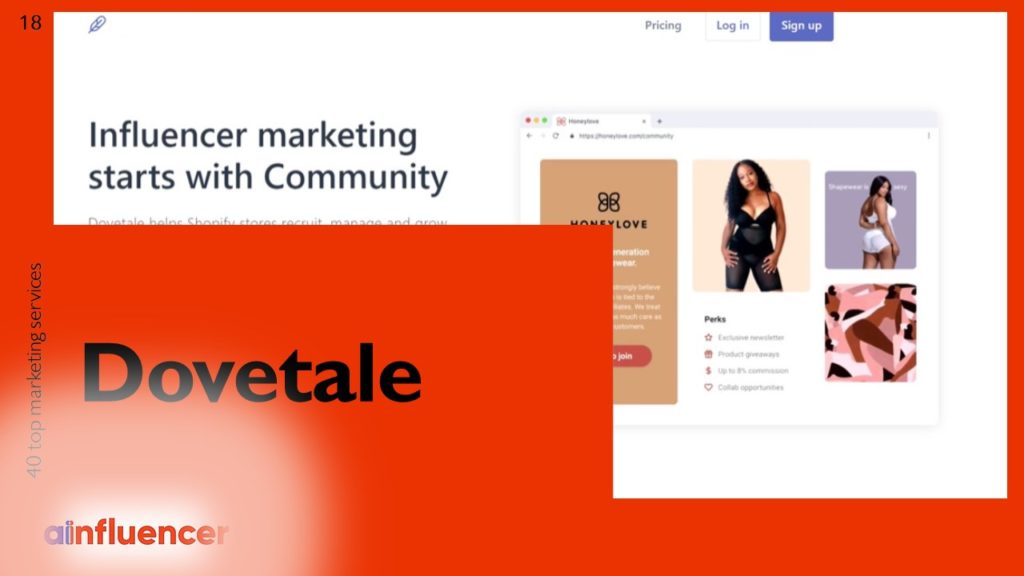 Dovetale is very similar to Ainfluencer in one respect. Once you join as a brand, you can rely on getting offers from influencers as much as you are likely to find influencers by exploring and inviting them to your influencer program.
Features
1- It includes a variety of tools for managing and tracking your campaigns.
2- It provides sales and commission statistics.
3- Dovetale gives you access to a variety of campaign templates.
| | |
| --- | --- |
| Pros | Cons |
| It has a clear workflow. | It doesn't have a chat box. |
| You can track your campaigns | Influencers can only connect to the platform via their Facebook accounts. |
| Its free influencer database and search filters are precise. | |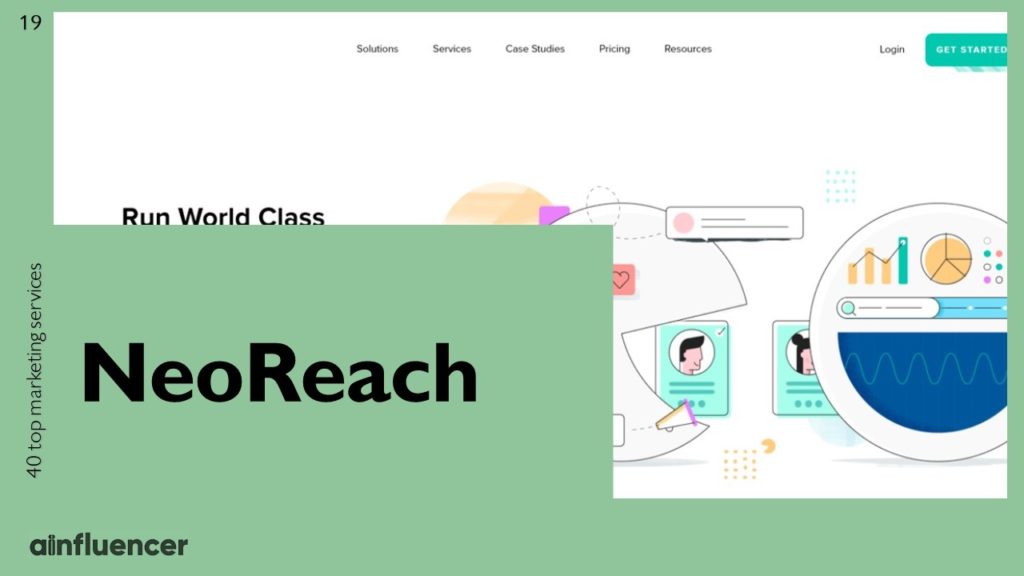 You can use NeoReach to find influencers, run campaigns, and track their success.
However, the NeoReach Ig marketing company is geared toward large corporations and is not suited for small to medium firms, with annual subscription fees ranging from $50,000 to $500,000.
Features
1- You have access to 40 advanced criteria that can be used to find the influencers who are most appropriate for your campaign.
2- Verify an influencer's authority in their target market.
3- To contact influencers, use the marketplace's in-app chat function.
4- You may design automated procedures to run your campaigns automatically.
5- Additionally, you can monitor and measure the progress of your campaigns.
| | |
| --- | --- |
| Pros | Cons |
| It has a clear workflow. | It doesn't have a chat box. |
| You can track your campaigns | Influencers can only connect to the platform via their Facebook accounts. |
| Its free influencer database and search filters are precise. | |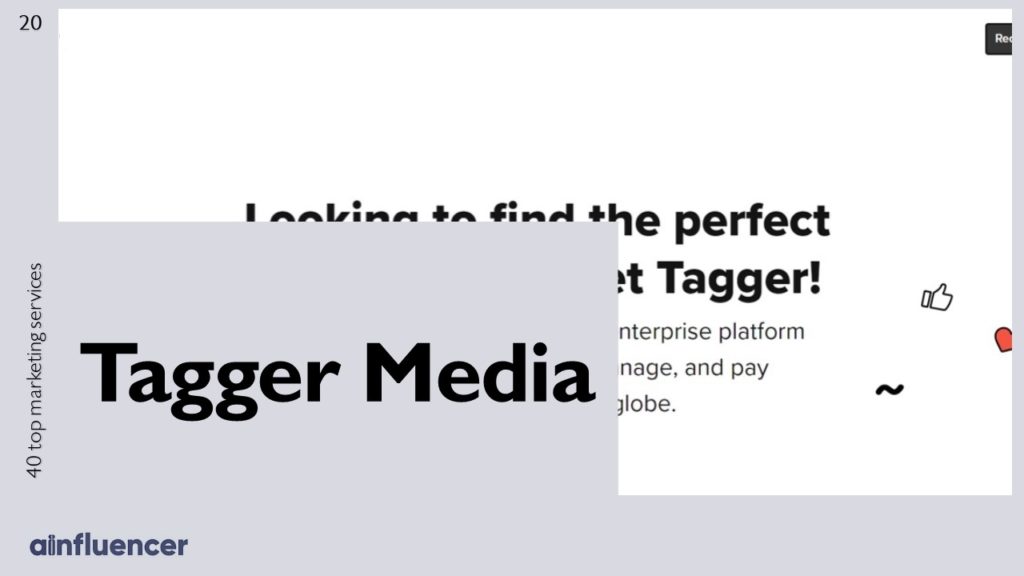 What sets Tagger Media apart from other Instagram marketing services of the kind is its ability to employ influencer psychographics.
The platform listens to what people say in order to figure out their common interests and affinities. It can clearly identify the issues that people are interested in and are likely to discuss. This makes it simple to identify influencers with audiences who are interested in your brand.
Features
1- Influencer discovery
2- Campaign management
3- ROI tracking
| | |
| --- | --- |
| Pros | Cons |
| More than six million social media profiles with complete data for companies and influencers | Steep learning curve |
| Audience analysis directs you to the most effective goal and identifies the influencers who will achieve that aim. | Users complain of inaccurate categorization of influencers |
| The social listening function is excellent for competitive analysis. | |
2- Instagram Marketing Service: Organic Growth and Management
Instagram is everyone's playground now. You are all in constant competition to win brand recognition in some way. The new way to become the best is through the best Instagram marketing services.
It is easier than ever to gain followers on Instagram with the right tricks, but what are the most effective tactics?
IG tools have evolved within the past years, and so has the right strategy to use them.
It is evident that today's modern market banks pretty much on marketing on Instagram, so the Instagram followers increase is inseparable from Instagram marketing growth.
Top Instagram growth services
Be it for personal or business purposes, Instagram has become a powerful way to reach customers and grow brand awareness. As many small businesses are soon learning, user growth can be an uphill battle which is why there are now Instagram marketing services that specialize in providing Instagram growth services.
The three main goals of these companies are to increase followers, engagement rate, or impressions.
The following is a list of top Instagram organic growth services and how they help you with Instagram follower increase.
21. Hootsuite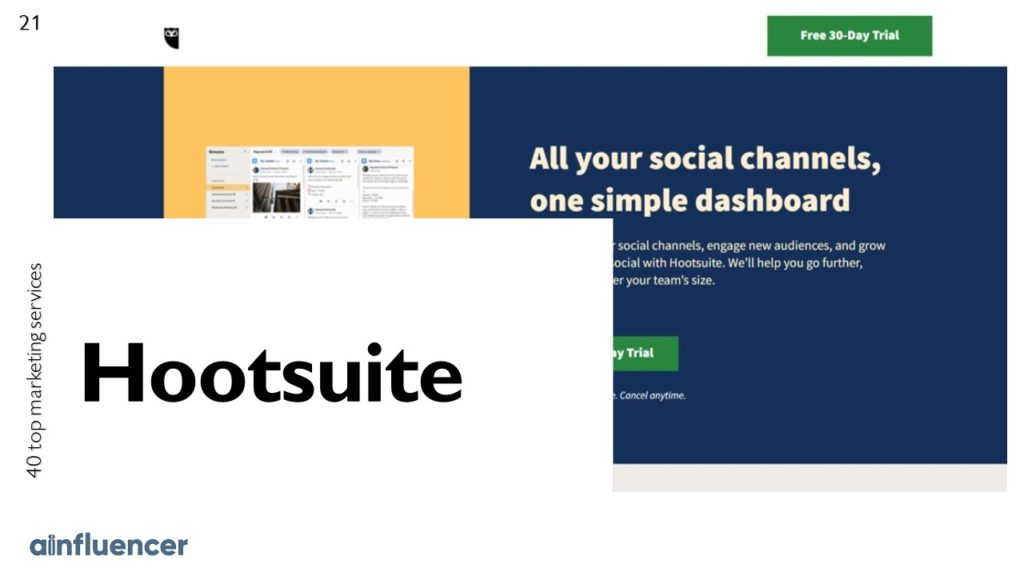 Hootsuite is the perfect Instagram advertising service for social media management. It is a web-based service that allows users to manage social media accounts from one place.
You have the ability to post content on multiple social networks, monitor how content performs, and get notifications when things happen on your social accounts.
Hootsuite also makes it easy for teams of people to collaborate through its team publishing feature, which assigns rights to different individuals for posting content on different channels.
Features
1- Competitor monitoring
2- Contact management software
3- Campaign management software
4- Conversion tracking
| | |
| --- | --- |
| Pros | Cons |
| The ready-to-integrate plugin to add 3rd party services | Poor customer support and longer TAT on query resolution |
| The most impactful feature is the scheduling feature | The price is a bit steep and once your content has been posted, you will not be able to edit it. |
| It's useful to connect more than one social platform and manage all of them from one channel. | |
22. AiGrow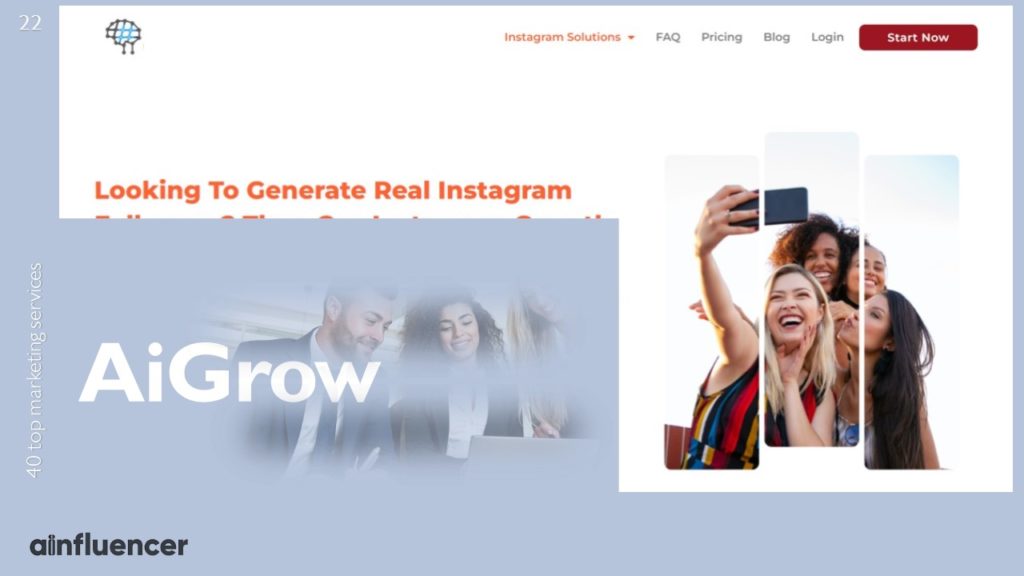 Another top Instagram marketing service that helps you increase Instagram followers organically and boost your engagement rate is AiGrow.
AiGrow offers a host of features to develop the marketing of your brand on Instagram, including post and reward, giveaway picker, scheduling your posts, and more. However, what sets it apart is the growth team it offers with online meetings to realize your goals and monitor your performance.
Features
1- Automated publishing
2- Content management system (CMS) software
3- Conversion tracking
4- Post scheduling
| | |
| --- | --- |
| Pros | Cons |
| It offers dedicated account managers. | While they do have a chat box in the bottom right-hand corner of their website, this isn't available to customers all the time. |
| Aigrow helps increase organic growth. | |
| .You can schedule your posts directly on Aigrow. | |
23. Later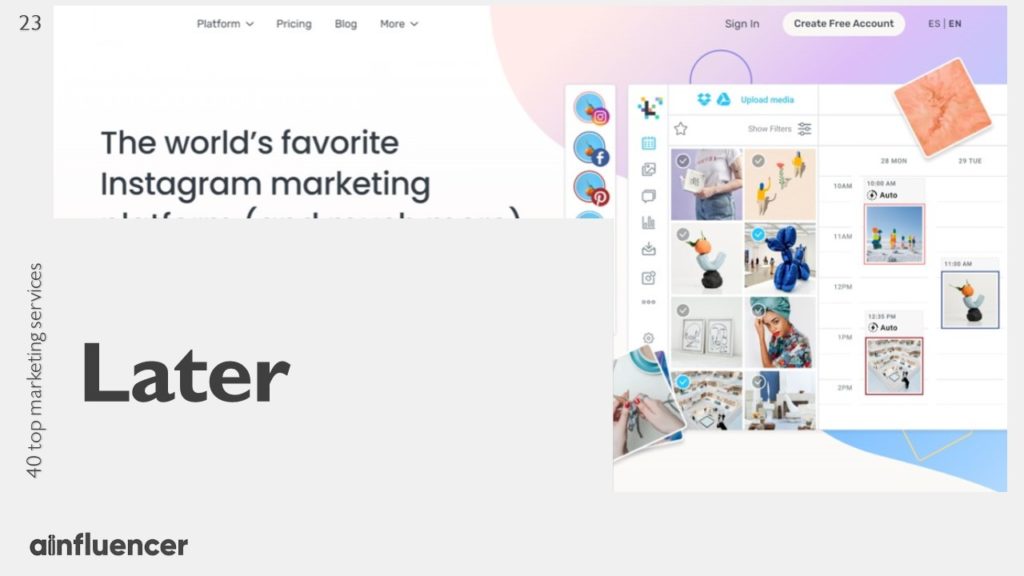 Later allows you to schedule images and posts while also tagging users and locations. The subscription services also offer hashtag ideas and Instagram Story management.
Later offers its Instagram marketing service, such as hashtag monitoring too. As a result, you'll be able to see statistical data about tags and locate the ones that work best for your ads.
Features
1- Social management
2- Report exporting
3- Competitor analysis
4- Content calendar
5- Content library
| | |
| --- | --- |
| Pros | Cons |
| Easy to use, simple interface and media gallery | It is costly to have unlimited edits. Instead of at the second tier being unlimited we are having to go top tier. |
| Later offers a wide variety of post scheduling features for most popular platforms but at a more modest price point. | Lack of eCommerce integration |
| Competitive pricing plans |  |
24. Tree Frog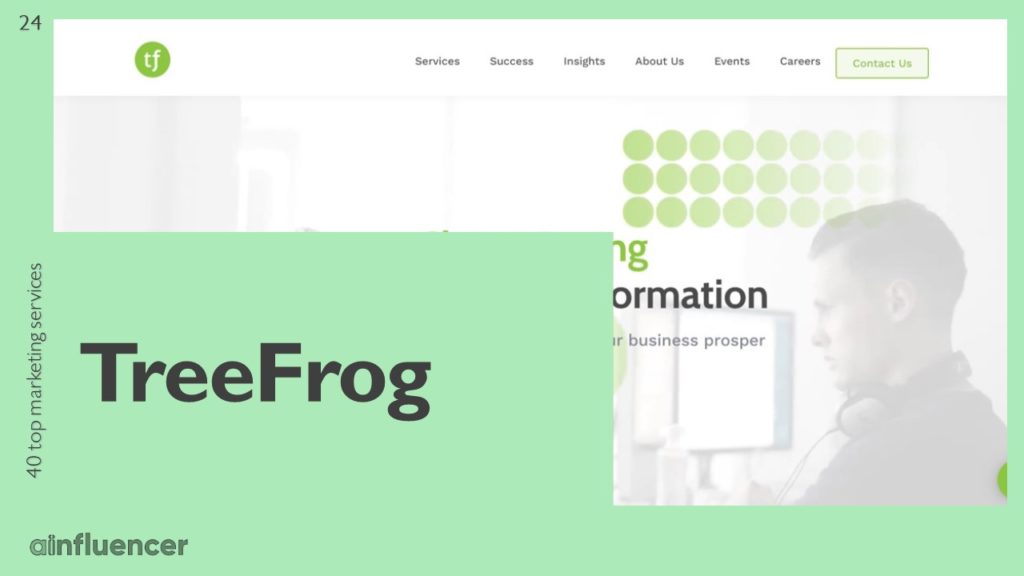 Another Instagram ad agency, Tree Frog, promises its users' Instagram followers increase organically. Tree Frog, which is run by a team of social media experts, is results-oriented and attempts to increase your Instagram following as well as engagements.
Tree Frog allows you to target your audience based on the industry, specialization, or general topic of your material. They target depending on the accounts you provide – simply provide 5 accounts that are comparable to yours (either competitors, relevant companies, or whatever you think is appropriate). The Tree Frog team will utilize those to discover suitable followers for your account.
Features
1- They offer custom tailored audience targeting.
2- It can help you convert your fans into followers.
3- They say you build and boost your presence and engagement on Instagram by relying on them.
| | |
| --- | --- |
| Pros | Cons |
| The website is https secure, protecting your information from being hacked. | They don't have what we can refer to as onsite reviews, but they do have a few images and usernames of potential customers along with information about where they were when they first started working with the business and where they were a few months later after Tree Frog Social had worked with them. |
| Your payment information is secured using secure, verifies payment gateways. | You can see no signs of 24/7 customer support. |
| They do offer a FAQ and Help page. | |
25. Sprout Social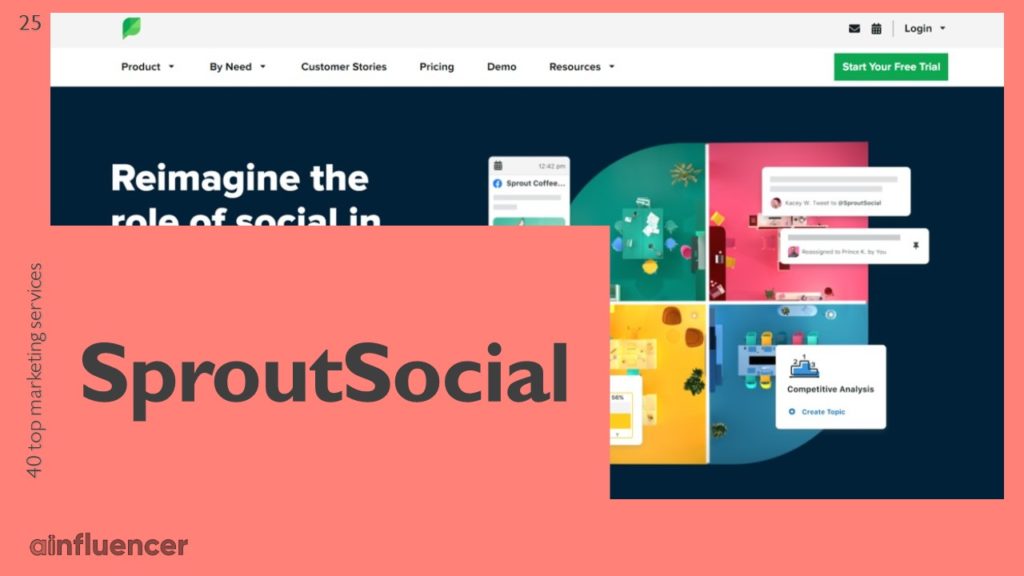 Without a determined publishing schedule, even the best content calendar is pointless. Sprout Social is a simple and easy-to-use Instagram marketing service that allows you to schedule content ahead of time so you can concentrate on creating rather than logistics. You can also use the platform to modify social pictures and share posts across numerous networks with a single click in the modern market.
Features
1- Campaign optimization
2- Competitor analysis
3- Activity dashboard
4- Social listening
5- Publishe scheduling
| | |
| --- | --- |
| Pros | Cons |
| The ability to schedule social media posts for all platforms in one centralized environment is fantastic. | Pricing when you're adding multiple additional accounts is confusing, especially for agencies who may want to use Sprout to manage all agency accounts. |
| It makes managing several social media accounts so simple. | It is very expensive and their customer support ignores the problems reported to them. |
| The template collections help creators to create contents very fast and smoothly. | |
26. Ingramer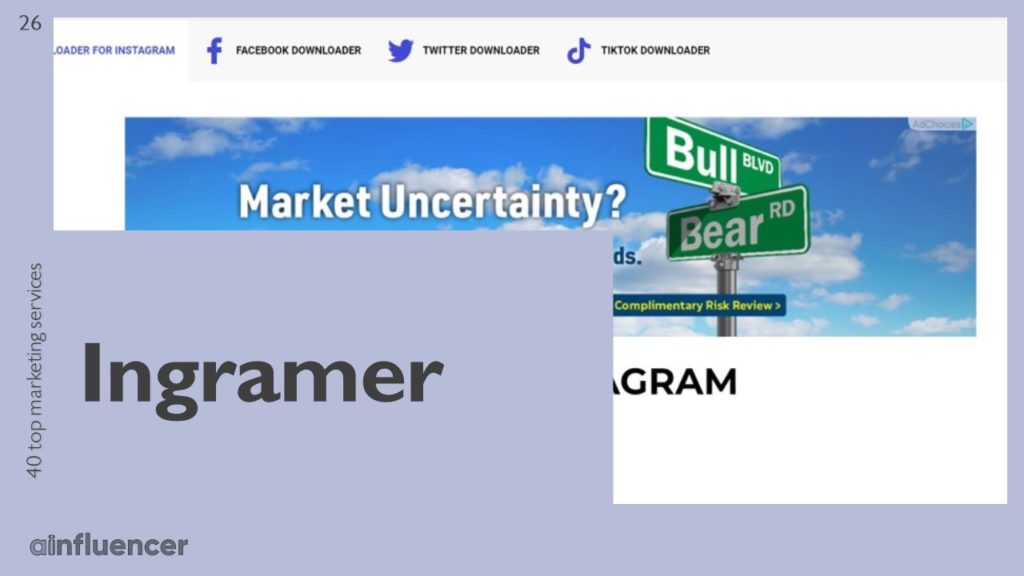 Ingramer is an Instagram marketing service that focuses on speed. So, if you are looking for a service that will help you create a large audience quickly, this could be the perfect resource for you.
Perhaps most notably, Ingramer, AKA Inflact, makes it simple to post on a frequent basis and expand your following by using hashtags. You may utilize the AI hashtag generator to schedule posts, as well as scan for hashtag trends.
Features
1- Ingramer helps you automatically like, follow, and unfollow IG accounts.
2- Using the DM tool, you can send auto-DMs to all your Instagram followers.
3- It enables you to schedule your Instagram posts and stories in advance.
| | |
| --- | --- |
| Pros | Cons |
| The website is https secure. | It uses Instagram bots. |
| Payment gateways are secur and verified. | It has no significant FAQ or help page. |
| Packages and pricing are visible. | |
27. Kicksta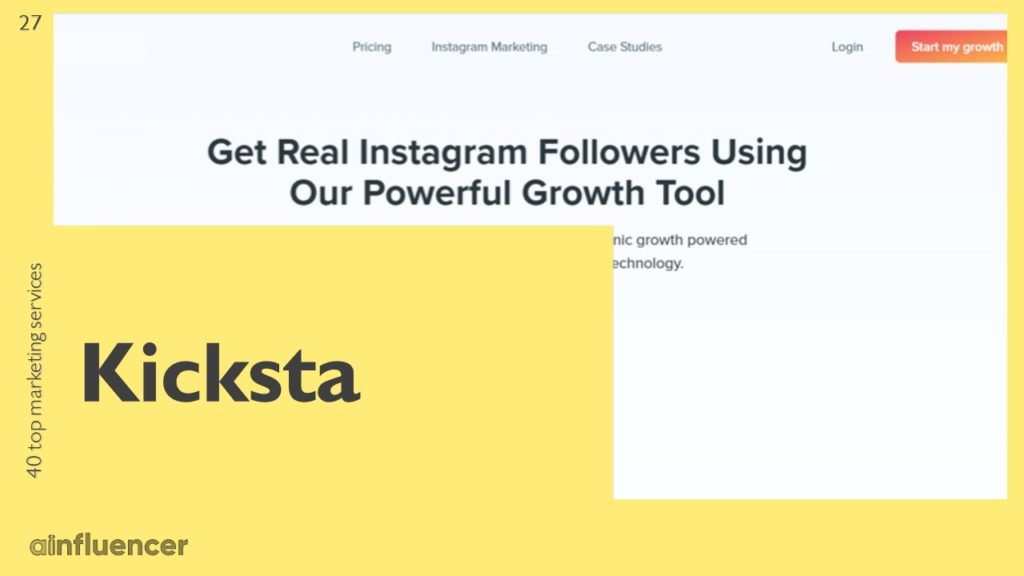 Kicksta is one of the top Instagram growth services that is both popular and effective. This service promotes organic Instagram followers increase by avoiding the use of bots, spam, or phony followers. You'll get actual followers who are also interested in your account when you use Kicksta.
Kicksta uses AI to locate, target, and communicate with potential Instagram followers. Kicksta will ask for the names of your Instagram competitors, relevant influencers in your niche, complementary businesses, and other objectives when you sign up.
Then they go for accounts that follow or complement those competitors or complementary accounts, assuming they will be interested in your brand as well. Kicksta will automatically follow and like other people's posts, increasing the likelihood that other accounts will follow you back and connect with your material.
Features
1- Customer success manager
2- Smart targeting algorithm
3- Data encryption
4- Analytics dashboard
| | |
| --- | --- |
| Pros | Cons |
| Kicksta provides a secure https website. This enables them to prevent putting your personal information at risk. | No free trial |
| They have visible and clear plans and pricing | |
| 24/7 Support via chat box, though they still take some time to get back with you | |
28. AiSchedul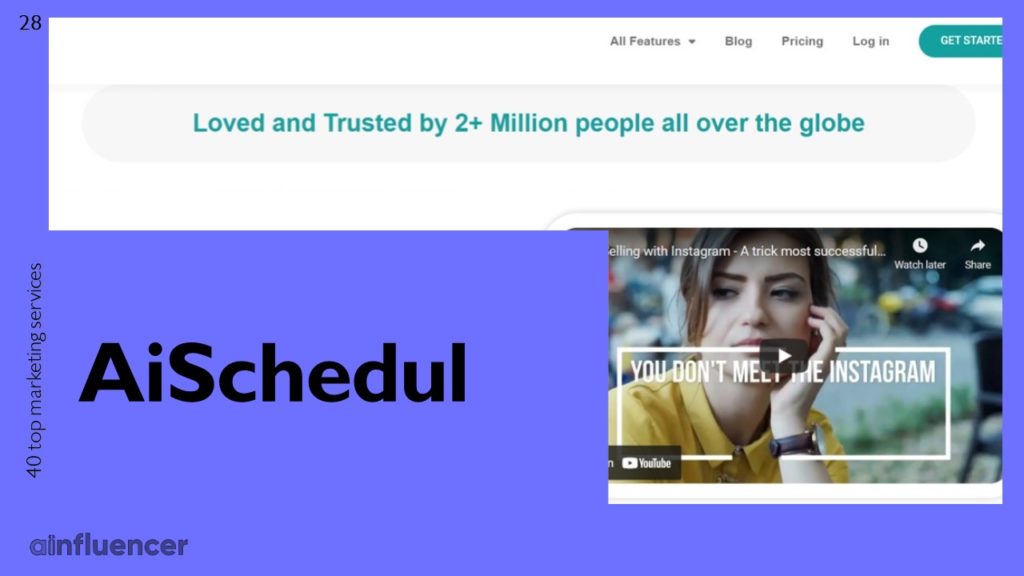 AiSchedul is an excellent example of an Instagram marketing service that provides a DIY system to develop your own Instagram marketing strategy as it helps you share YouTube videos to your feed or IGTV without a download required, schedule your posts, mass delete Instagram posts, run your own contest and automate its rules, and monitoring or reposting from other IG accounts.
Features
1- Automated feed & story scheduling
2- Social monitoring
3- Contest Builder and Giveaway Picker
4- Bulk post deletion
| | |
| --- | --- |
| Pros | Cons |
| It is easy to use. | No free trial or free version |
| 24/7 Support team | |
| The website is https secure, protecting your information from being hacked. | |
29. StormLikes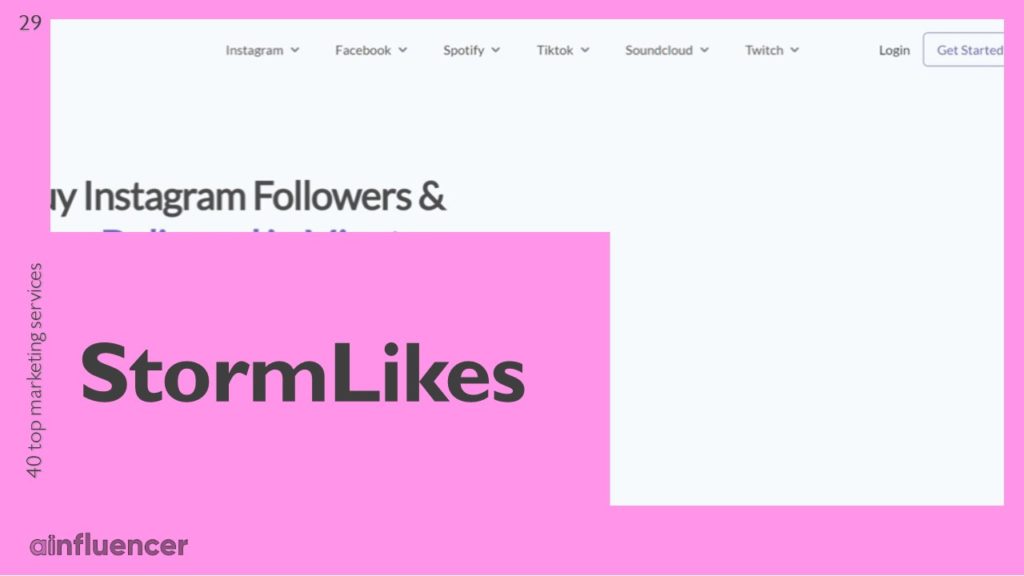 StormLikes specializes in swiftly increasing the number of people who see your content by using its network. This Instagram marketing service aid you in the growth of followers and likes. StormLikes, on the other hand, has plans specifically designed to boost each of these.
Because the StormLikes network is free of bots and ghost accounts, you can be confident that all new engagement is genuine.
Features
1- Purchase likes, views, and followers
2- Country targeting
3- Gender targeting
4- Automatic post detection
| | |
| --- | --- |
| Pros | Cons |
| You'll get temporary followers and likes | No retention guarantee |
| they pose a low level of risk to your Instagram account | Questionable reviews |
| The service offers affordable packages. | |
30. Repost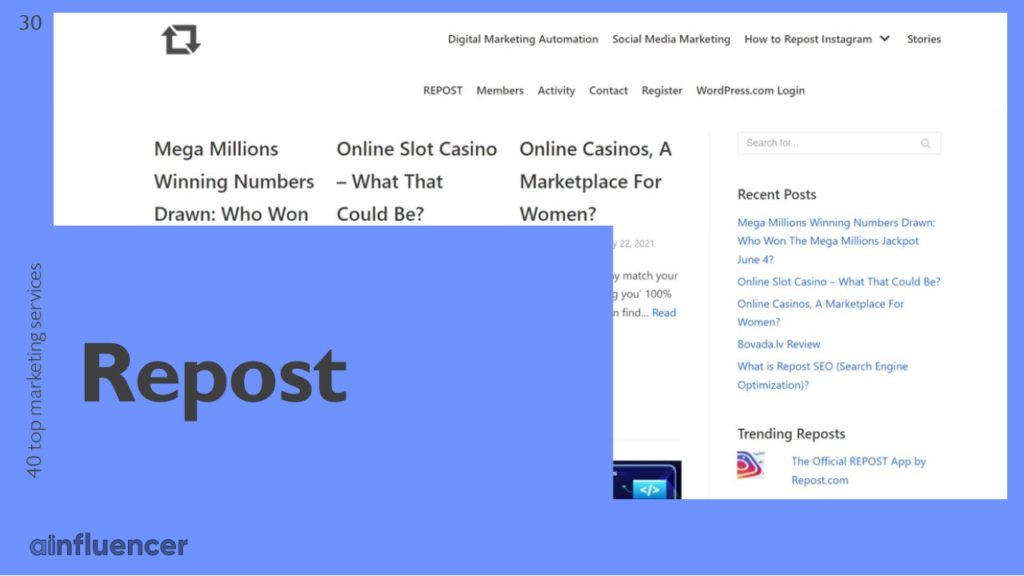 Many people use Repost as part of their Instagram branding strategy. Although there is no PC user interface, it is available for Android and iOS.
This program allows you to repost influencer-generated content and user-generated images and videos while ensuring that the original uploader receives credit. This improves your account by demonstrating to brand followers that you value their opinions.
You'll also be able to save items for later viewing and look for photographs using hashtags or a specific user's name.
This Instagram marketing service is all about establishing trust and strengthening relationships between your company and Instagram users. By sharing other people's postings, you create an atmosphere of interaction, which makes people feel good about themselves and the brand.
Features
1- Repost influencer-generated content and user-generated images and videos
2- Be able to save items for later viewing and look for photographs using hashtags or a specific user's name.
3- It allows users to add their content to the Library and connect their social accounts and automatically shared on these social networks to increase the long-term reach.
| | |
| --- | --- |
| Pros | Cons |
| Being able to easily share customer Instagram posts to a business page. | No support on Soundcloud. |
| This app is super easy to use. | |
| It's easy to build up a content library. | |
31. Crowdfire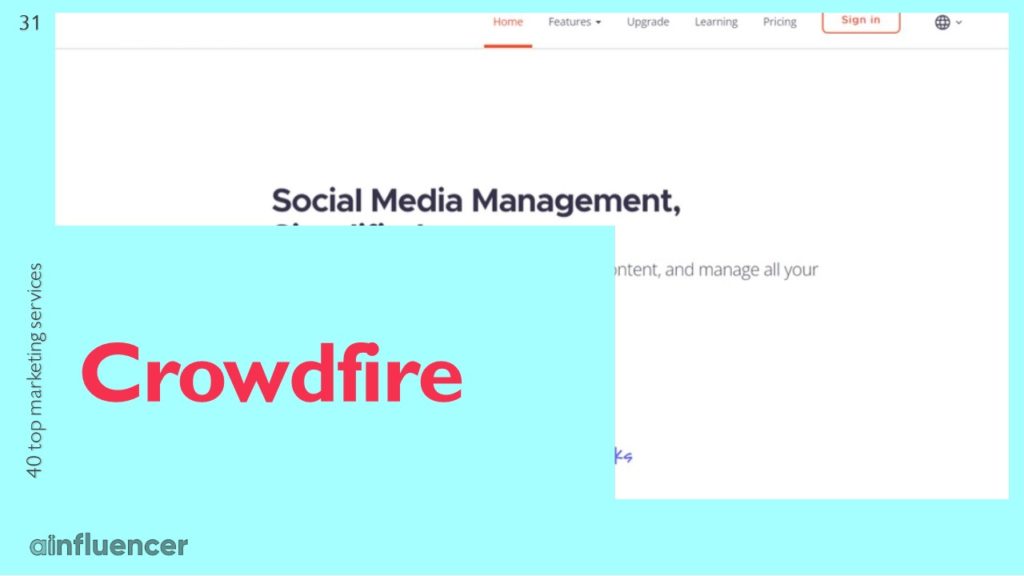 Crowdfire is an Instagram marketing service that allows users to manage several profiles from a single location. This includes providing a no-cost method for gaining Instagram followers.
Crowdfire comes with a Chrome browser extension that makes it easy to distribute articles rapidly, and the system also helps with content selection. You can also get hashtag recommendations, social analytic data, and posts that are automatically tailored to meet each social site.
Features
1- Content curation, and scheduling
2- Analytics/reporting
3- Multi-account management
4- Social media monitoring software
| | |
| --- | --- |
| Pros | Cons |
| Automated scheduling suggestions | Limited accounts are linked and it is not very easy to link accounts |
| Tailor posts to each platform in one view | Some processes can take time to set up |
| The app has a great interface. Posting and scheduled is easy to do and track. | |
32. Growthoid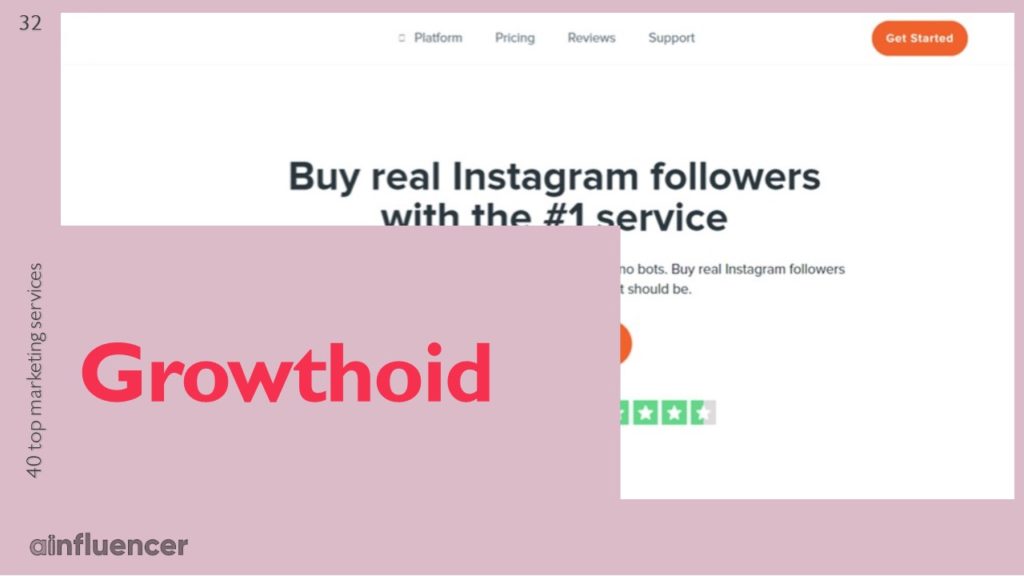 If you want to strike a balance between security and flexibility, Growthoid is the way to go.
The Growthoid Instagram marketing service manages your account from start to finish.
This frees you up to focus on other important responsibilities, such as improving the quality of your material and your business or product, rather than accumulating followers. It also motivates you to keep a careful eye on how your account is developing and to intervene if necessary.
Features
1- Dedicated account manager
2- Growthoid claims to provide you with relevant and high-quality followers.
3- 14-day money-back guarantee.
| | |
| --- | --- |
| Pros | Cons |
| Growthoid offers extensive reports. | There's a lack of options for pricing packages. |
| It brings you no bots or fake followers. | |
| Growthoid users have an account manager who is available to answer any questions. | |
33. Upleap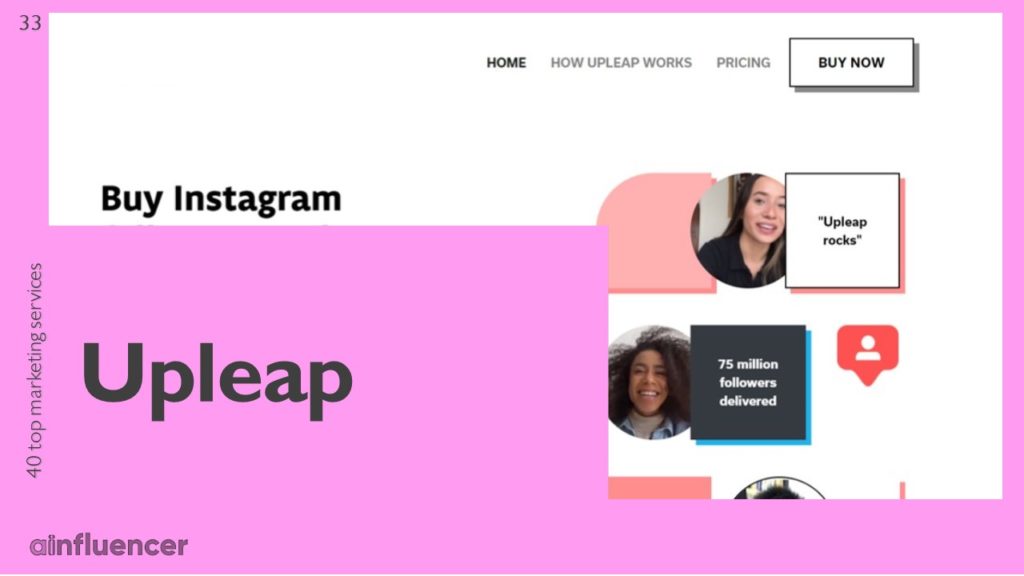 Looking for a reliable Instagram growth service to manage your account in 4 simple ways? Then Upleap is probably another perfect tool to consider.
To assist you to build your audience, Upleap employs a multi-tiered system of support (MTSS).
To begin with, there will be a team that tracks you, comments on your stories, and interacts with your live broadcasts.
Upleap provides a free three-day trial to new customers and does not require any payment information upfront.
Features
1- A specialized account manager is assigned to you, who gives you highly tailored feedback.
2- They claim to ensure they only work with real users that are part of your targeted audience.
3- Upleap makes your profile public so that it may be indexed by search engines, resulting in more traffic.
| | |
| --- | --- |
| Pros | Cons |
| Https secure website | No phone/email form |
| Transparent pricing | |
| 24/7 customer help | |
34. Combin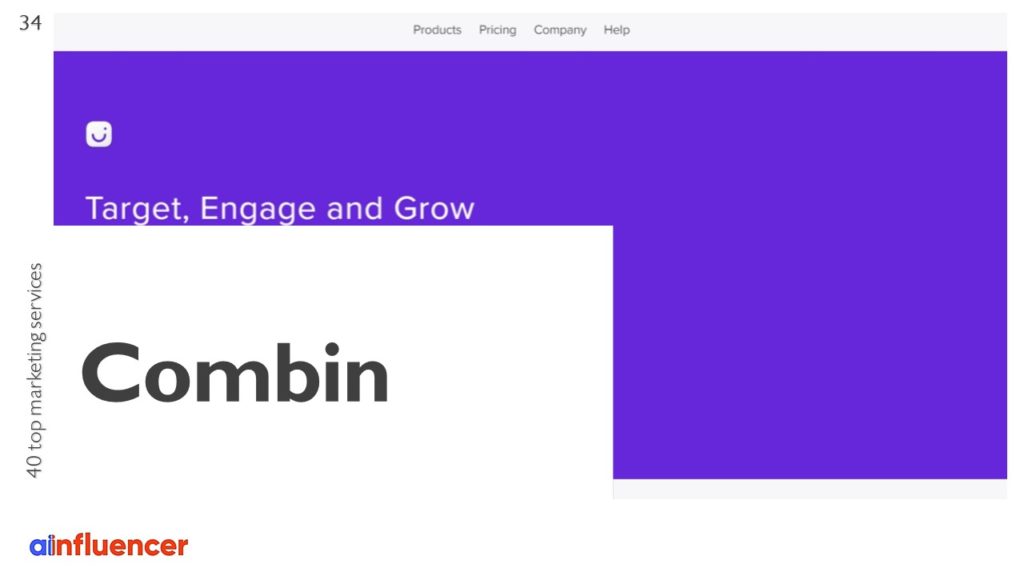 Basically, the Combin Instagram marketing service focuses on growth by scheduling posts.
The Combin Instagram advertising service works by identifying, engaging with, and increasing your Instagram follower count. They provide a number of criteria to help you target followers who are interested in your material and, as a result, are more likely to return the favor and engage with your posts. This platform employs machine learning to identify and target high-quality accounts with whom to engage.
Features
1- Advanced Instagram search
2- Targeted people search
3- Unfollow/follow system
4- Multiple account management and posting schedule
| | |
| --- | --- |
| Pros | Cons |
| Super easy to use and understand | The free trial has limited features |
| Advanced search feature helps you get specific | It requires you to do a bit of the work |
| Schedule Instagram posts on 15 different accounts for free. | |
35. SimplyGram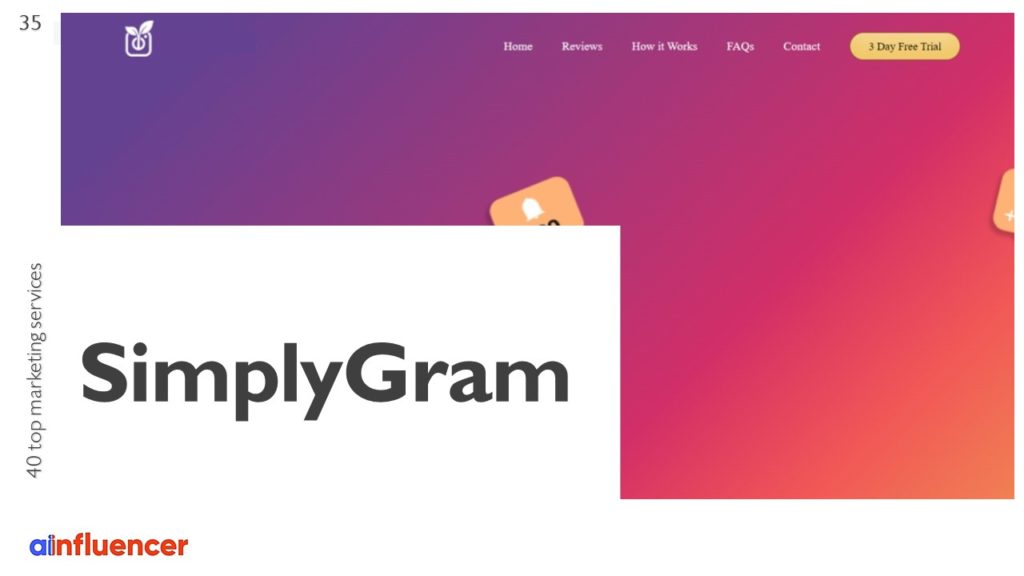 This Instagram marketing service creates 25 to 100 Instagram accounts for you. Then, each day, hundreds of Instagram users will be DM'd by those accounts, inviting them to check out your main account (a tactic that will come across as highly spammy to users).
SimplyGram's AI technology has taught the algorithm to only communicate with demographics that are likely to be interested in your account. Choose from three weekly payment plans that cost $69, $99, or $199.
Features
1- Rapid growth
2- Increased social influence
3- Targeted audience – based on hashtags and usernames.
4- Filter by competitors
| | |
| --- | --- |
| Pros | Cons |
| Simply Gram does have their prices visible and available for you to see. | The packages are expensive, especially when you realize they show weekly payments while you need to pay monthly in action. |
| They've included FAQ and Help Page. | |
| 3 day free trial | |
3- Instagram Marketing Service: Instagram DMs
Is an Instagram marketing service that focuses on DMs worth trying? Generally speaking, Instagram direct messages are best known for facilitating one-on-one communication.
However, it is a feature that should be highlighted because it is used to generate significant revenue via Instagram DM.
Here are some examples of how to make the most of DMs in your marketing on Instagram.
Listen to your customers' feedback and respond.
Show you care about your customers and their interests.
Announce your events, launches, new products, and services to your customers.
Top Instagram DM Apps
The best Instagram marketing services that offer features regarding Instagram DMs can simply help you send purposeful Instagram messages in bulk and reach out to potential customers using different attainment targets such as followers of an influencer or those who search specific hashtags relevant to your niche.
Let's see what are the top Instagram DM apps and how they can help you as an Instagram helper to grow your business.
36. DMpro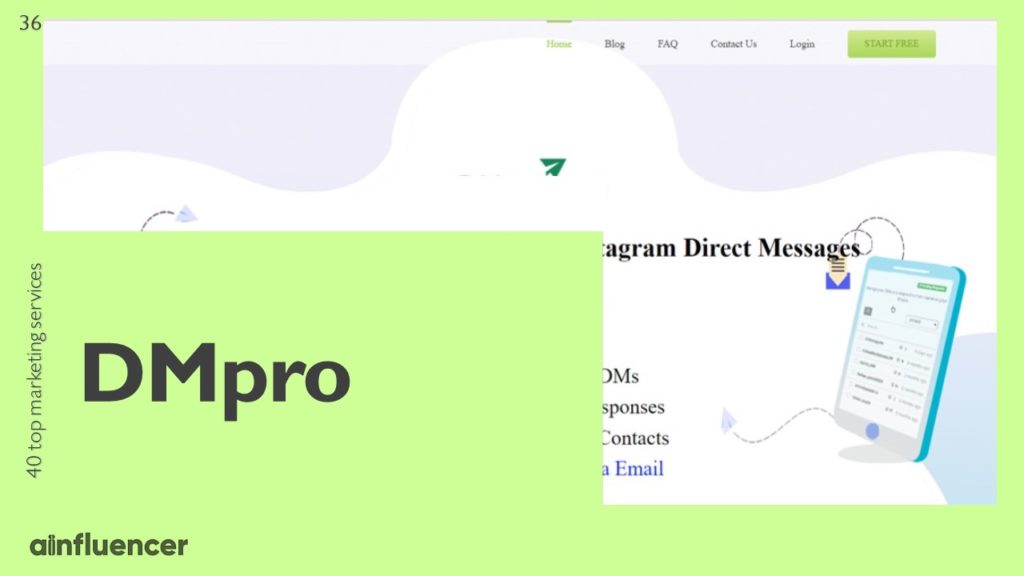 DMpro offers its Instagram marketing service in 5 parts.
Send bulk DMs to the target audience of your choice – your current followers, your new followers, a list of IG users you have gathered in an excel list, all followers of an influencer, and hashtag users.
Set an auto-reply as an immediate response to IG users before you can get to them.
Send a DM, say to invite or inform, to your DM leads simultaneously.
Connect your Instagram DMs to your email so you can read, manage, and respond to them through your email.
Access your DM inbox on your DMpro dashboard.
Remember that all your pre-set messages on DMpro use alternatives by paraphrasing parts of our text so it will not be detected as spammy behavior by Instagram.
Features
1- DMpro allows you to read and answer your DMs through your email without the read receipt.
2- The DMpro mass-DM feature allows users to send DMs to multiple users all at the same time.
3- You can target your audience and provide them with news on your new services, products, etc.
| | |
| --- | --- |
| Pros | Cons |
| There is a desktop inbox in which you are able to organize all your DMs in a single place. | The customer service is not always available to reply emails and answer questions. |
| It has a free plan. | |
| The SSL certificate is valid. | |
37. Instazood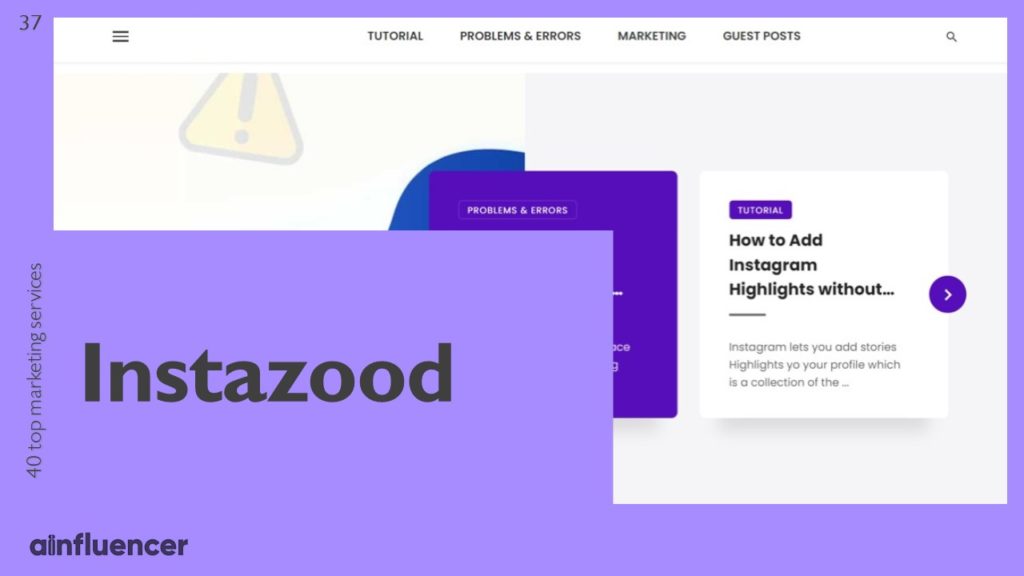 Instazood is a very popular Instagram marketing service, and with good reason. It offers an assortment of automation services made to optimize your brand's visibility and online presence. It can send direct messages to your supporters, schedule direct messages automatically for new followers, create contact lists, among other DM-related features.
Features
1- It automatically finds your target audience by customizing the settings.
2- Instazood lets you schedule your posts.
3- Its follow/unfollow feature should follow users who post stuff similar to yours and auto-unfollow those that don't follow you back.
| | |
| --- | --- |
| Pros | Cons |
| It helps to boost your Instagram account and gain more followers It can post, comment, like follow and unfollow for you. | When starting out, it can take a bit of time to figure out how the application works but once you do, it's pretty straightforeard. |
| It is Relatively cheap. | The comment section is complicated. |
| Intuitive, use of proxy and development of a specific app for local IP, lots of options, good value for price. | |
38. BigBangram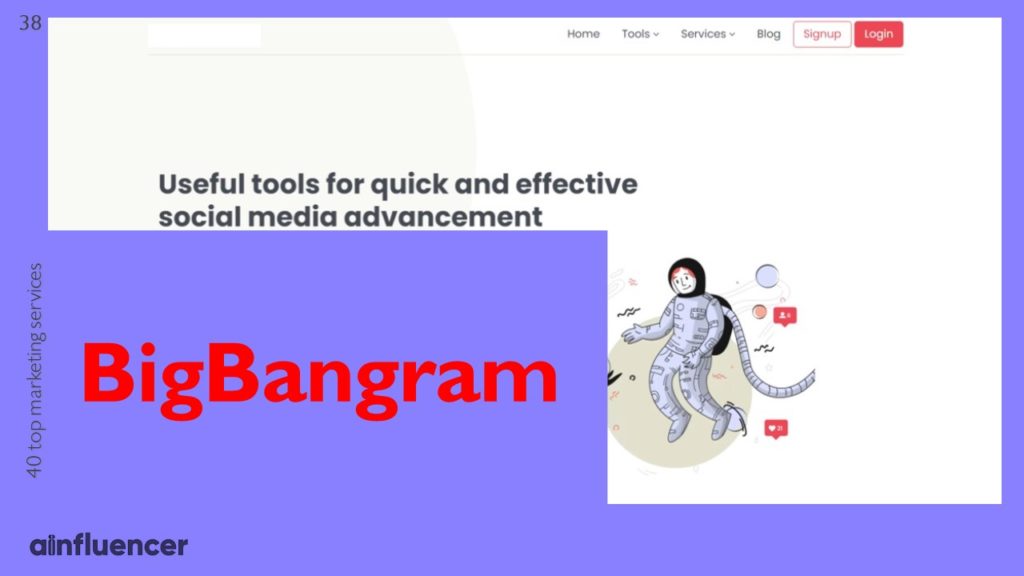 Bigbangram has features like automatically following or unfollowing users for you, liking and commenting on others' posts, and obtaining genuine followers and engagement. BigBagram focuses on helping you gain true followers and engagement.
Features
1- Social media monitoring
2- Content management
3- Brand tracking
4- Posts scheduling
5- Multi-account management
| | |
| --- | --- |
| Pros | Cons |
| BigBanGram's site has HTTPS, which is good when you're giving out your details. | Poor Customer Support |
| Their prices are available on their website, and they are true to form, which means that you don't run the risk of having to pay more than you think in the future. | |
| They provide you with a form to fill out with your details which helps with the overall safety rating. | |
39. IGdm (IG:DM)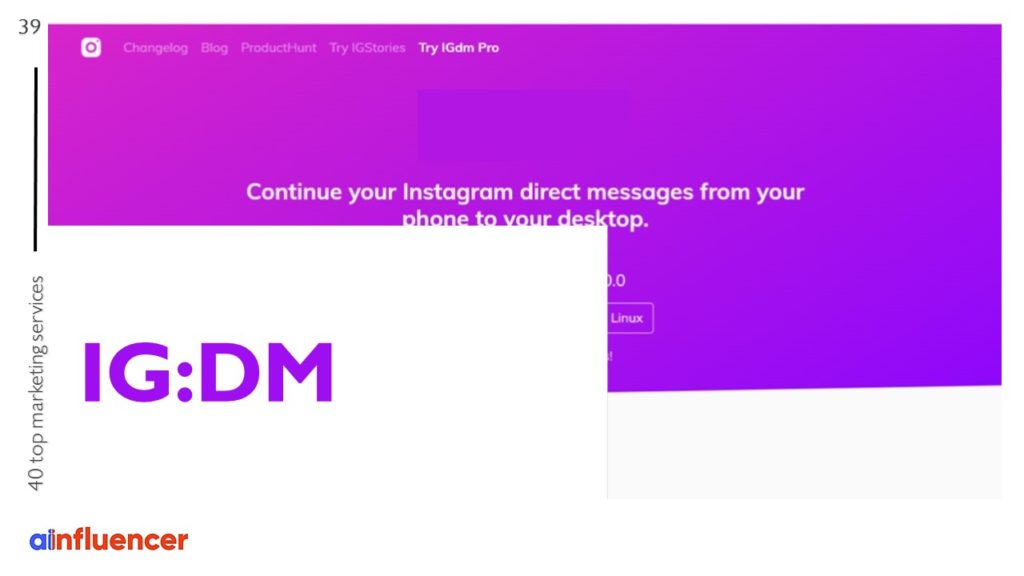 IGdm (IG:DM) is an aging brand in the automation of Instagram marketing services for sending desktop Instagram messages.
You will have to use the program from a computer to log into their program. Their two-week free trial is a plus, so you can see for yourself if it is worth using without paying.
Features
1- Disabling DM read receipts.
2- Login support for the accounts that have enabled two-factor authentication.
3- Deleting and unsending messages and conversations.
4- Sorting messages based on read and unread status.
| | |
| --- | --- |
| Pros | Cons |
| IGdm offers you a free version besides a pro one. | There is no pricing page on the website, and you won't know how much it costs until you check out. |
| It can be used on Windows, Mac Os, and Linux. | You need to install an app to run IGdm. |
| It lets you search for any user and start a conversation with them. | |
40. Instamber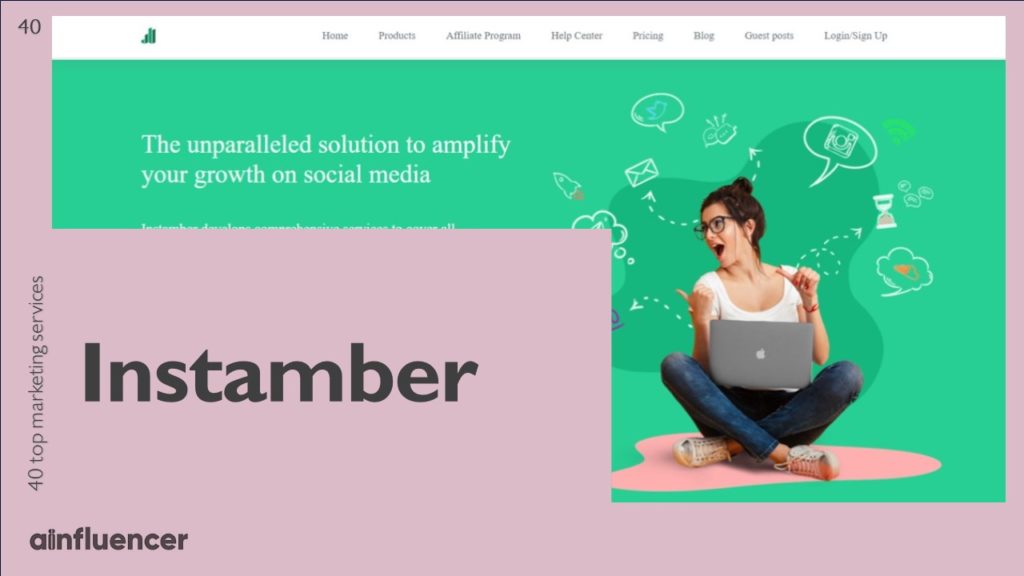 Instamber is also an increasingly popular Instagram marketing service for those who wish to market on Instagram. Like Instazood, it works effectively with the following goals.
Mass auto messaging (up to 120 messages per day)
Attachments
Message status
Features
1- The Instamber app sends DMs to potential followers, inviting them to visit or follow your Instagram profile.
2- Instamber's post manager allows you to schedule Instagram posts from your computer and post them at the best time on Instagram.
3- Auto comment manager helps track all your comments on Instagram in one place.
| | |
| --- | --- |
| Pros | Cons |
| It supports several social media platforms, including Instagram, Tiktok, and Twitter marketing. | No free trial |
| Affordable pricing | According to Instamber reviews, it is not refundable. |
Conclusion
The best Instagram marketing services can help you grow your business and reach new audiences. With the right strategy, marketing on Instagram will enable you to engage your audience and increase sales of your brand.
If you are thinking of using an Instagram marketing service, it's important to set your goals and pick the right strategy – influencer marketing, Instagram growth, Instagram DMs – to help you reap the advantages of your IG tools and Instagram marketing agency evenly balanced.
1- What is Instagram marketing? 
Marketing on Instagram refers to the use of IG tools, and, often, an Instagram marketing service to promote your business.
2- What are Instagram marketing services?
An Instagram marketing service works as an Instagram helper with a specific focus on features to assist your IG tools and develop an influencer marketing program, or an Instagram growth service that manages and schedules your posts, and tools to boost your Instagram DMs. 
3- Can Instagram be used for marketing?
Marketing on Instagram allows you to grow your brand recognition and introduce new products month after month, thanks to content submitted onto the platform. According to recent statistics, Instagram is the most promising social networking site to join the modern market.