Social networks have become increasingly influential in the last decade, and almost everyone has an Instagram account. "How much do Instagram models make?" some may wonder. People also want to know if they themselves can make money from their accounts and followers.
This article walks you through several points about Instagram models monetizing their accounts.
If your Instagram account has many followers, brands and companies will send you free products or a big fat check in exchange for positive reviews about their products and services. That's what we call Instagram influencer marketing. Companies know that people pay lots of attention to what their favorite influencers like and share.
This marketing strategy breaks the barriers of online marketing. It might as well be your trump card. 
How do Instagram models make money?
To get the answer to how much Instagram models make money, we should first get to know the different ways they can make money. An Instagram model makes money through four different ways that are listed below. 
1. Joining an Influencer marketing hub
If you are an Instagram model or influencer and looking to generate more revenue from your page, it is wise to consider Instagram influencer marketing hubs.
What they essentially do is create a two-sided marketplace that connects influencers and brands. By joining one, you can quickly scroll through dozens of offers every week and make the most of advertising, and brand ambassadorship on Instagram. Choosing the best platform can be challenging.
Ainfluencer
Ainfluencer is a safe, secure, and free marketplace that lets you connect with particular influencers with ease. It also has a mobile app for influencers which makes things a lot easier for them.
Check out how Ainfluencer's influencer marketing website can help you find new customers.
2. Getting paid by sponsorship posts
A sponsored post on Instagram is when an Instagram model or influencer gets paid to promote a product or brand on their account. They talk about a brand or product and share details about how to use it or how it can be beneficial. Posts with "Ad," "Promotion," or "Sponsored" labels are sponsored posts.
But how much do Instagram models make from each sponsored post?
The price for a sponsored Instagram post can vary from $300 to $25,000 per post, depending on different factors.
3. Taking advantage of affiliate marketing
Another meaningful way from which Instagram models make money is using different affiliate marketing strategies to promote a product or brand. 
It means putting a link on your profile, called an affiliate link, through which you get a commission when someone buys a product by clicking on it.
4. Establishing an online Instagram store
Instagram models make money also by creating their own brand and selling their own products. They promote their brand on their account and persuade their loyal Instagram followers to buy their products.
How much do Instagram models make?
If you wonder, "how much do Instagram models make?" you should first get to know different types of Instagram models, and then we will tell you about their estimated salaries. 
Celebrities: Celebrities such as Kim Kardashian and Kylie Jenner are among the highest-paid Instagram models because they have already established their own brands on social media, grabbing a lot of attention. They sometimes get paid over $1 million per sponsored Instagram post.
Style bloggers: Accounts with more than 100K followers start charging brands at least $1,000 for each post.
Influencers: Influencers are famous in their particular niche by creating relevant content. They use their social influence to promote sponsored posts and monetize Instagram. Their salaries vary depending on the number of their followers.
a) Micro influencers: Influencers with fewer than 10,000 followers can make from $25 to $88 per post on Instagram.
b) Macro influencers: The number of followers for macro influencers can start from 100K Instagram models with more than 100,000 followers usually earn $10 per every 1,000 followers per post. Accounts with more than 500K followers make about $600-$700 per post.
Effective factors on Instagram models' salary
Although we provide you with an estimation of how much Instagram models and influencers make, you should consider the fact that there are so many factors that can affect the price of each sponsored post and, all in all, an Instagram models' salary.
Let's look at some of these factors:
Number of Instagram account followers
Influencers' niche and their authority in that field
Content quality
Engagement rate of the account (likes and comments)
Influencer's location
How to find Instagram influencers?
As the number of Instagram models and influencers is increasing rapidly, finding the ideal ones for our business can be difficult. You can search on Google and read different blogs about them, search by hashtags on Instagram and find them in different categories, or you can use different marketplaces to find Instagram influencers in your niche.
We used the best marketplace, Ainfluencer, for finding the top paid Instagram models.
Top paid Instagram models
Here's a list of top paid Instagram models and celebrities with whom you can collaborate to reach millions of people.
1. Cristiano
Cristiano Ronaldo is a Portuguese professional footballer and Instagram model, with 415 million followers on Instagram. In 2021, he has announced the world's highest-paid athlete by Forbes, and by getting about $1,600,000 per sponsored post, he tops the list of the highest-paid Instagram models.
2. Therock
Dwayne Douglas Johnson, also known as The Rock, is one of Hollywood's highest-paid and most successful actors. His Instagram account has 305 million followers. In 2020, he has named the highest-earning potential of any celebrity on Instagram but slipped down to second place in 2021 and 2022. For each sponsored post, he charges about $1,530,000.
3. Arianagrande
Ariana Grande-Butera is one of the most popular on the list of Instagram models. She is titled the third-highest paid celebrity. Her Instagram account has 300 million followers, and she earns about $1,510,000 per sponsored post.
4. Kyliejenner
Kylie Kristen Jenner, the youngest member of the world-famous Kardashian-Jenner family, is currently the most followed woman on Instagram. In 2020, she topped Forbes' list of the highest-paid celebrities. She charges over a million dollars per sponsored post. Having 320 million followers, she gets about $1,495,000 per post and is the fourth highest-paid celebrity on Instagram.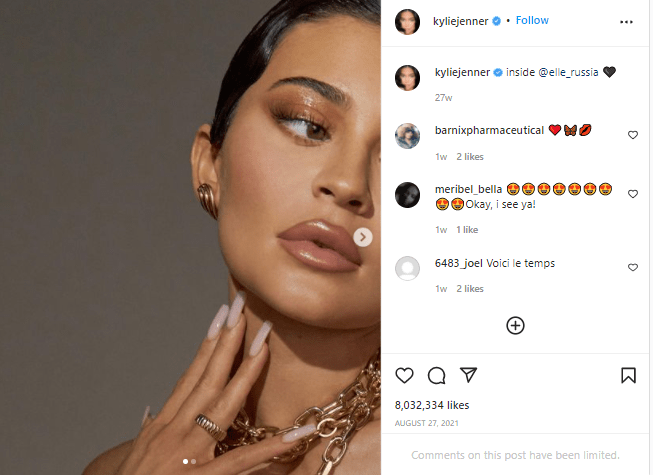 5. Selenagomez
American singer Selena Marie Gomez is the fifth-highest paid star on Instagram. With 305 million followers, she is among the most popular Instagrammers. She gets approximately $1470,000 per sponsored post on her Instagram account.
Conclusion
All in all, to know the answer to "how much do Instagram models make", you need to be aware of different types of influencers and models. In this way, you can estimate an ig models' salary. You can also use Ainfluencer to browse through thousands of influencers' profiles in the modeling industry to get a gist of their income.
Who is the highest-paid Instagrammer?
With 415 million followers on Instagram, Cristiano Ronaldo gets about $1,600,000 per sponsored post and tops the list of the highest-paid Instagram models.
Who is the highest-paid model in the world?
Kendall Jenner, known as one of the Kardashian sisters, is now the highest-paid model in the world. She was first named the "world's highest-paid supermodel" by Forbes in 2017 and has been topping the list ever since. She made about $40 million last year.